Matt Coyer Introduced as new Carmel FC DOC
 New Carmel FC Director of Coaching Matthew Coyer is now on the job.  Coyer has more than 20 years of experience coaching youth players from the Academy to High School level.  Coyer started right here in Carmel at Carmel Dad's club as a 7 year old where he played rec soccer until moving to the first travel club in Carmel 3 years later.  He played Indiana ODP and served some youth US National team duty.  He was a starter on the 1985 and 1987 Carmel High School State Championship teams as both a goalkeeper and a #9 (Forward), Indiana University 1991 and 1992 Big Ten Championship and Final 4 teams, where he was the first INDIANA kid to start and play for 4 years, and as a US National "B" Team player in 1992.  He also played 4 seasons professionally, 2 for the Indiana Twisters.  Coyer holds a number of national soccer certifications including a NSCAA Director of Coaching diploma, USSF National Youth License, USSF E License, Rene Meulensteen 100 and 200 level Diplomas, and a NSCAA Goalkeeping Level 1 Diploma.  Matt is thrilled to return to his "home" club and preaches an approach that is player centric.  "We want to coach our players to play soccer the right way and make a positive impact in our players lives first and foremost," says Coyer.  "And we want to do this with class from our coaches, our parents, our players and our administration."  Welcome aboard Matt – can't wait to see the continued growth of this club many of us love so much!
USA LADIES LOSE IN OLYMPIC QUARTERFINALS TO SWEDEN 
What can I say but wow – disappointment city for the US in Brazil as they bow out in the Elite 8 – the earliest a US women's team has ever loss in a World Cup or Olympics.  Give Sweden and former US coach Pia Sundhage credit – the US has never beaten her team they have tied but never beaten their former head coach.  Honestly I thought when Megan Rapino was inserted in the 65 th minute that the game changed and the US quickly took control and started peppering shots toward the Swedish goal – Morgan's tying goal was inevitable and it looked like time and time again the US would finally take the lead.  But the Swedish keeper made some saves, got lucky a few times and the US – despite some solid offensive subs late – could not finish them off.  I have to give the US coach credit though – she had 4 forwards on down the stretch but they just couldn't find the go ahead. When it went to PKs I had a bad feeling – of course who would have guessed Alex Morgan botches her first shot and Christen's Press's shot was well the Game Loser.  I thought Hope Solo played fine – I think she could have come off her line on the first goal but I understand why she didn't with her defender Johnson closing hard.  But her comments after the game were CLASSLESS!  I am done defending her – yes the US outplayed and outshot Sweden but they are not Cowards.  You can take the girl out of the trailer park but you can't take the Trailer Park out of the Girl I guess.  Huge disappointment for the US ladies – but unlike the men at least they got there.  Will be interesting to see how many fans show up now for the ah non victory tour now.  I am hoping Brazil can make a finals run and maybe Marta can lift a trophy for her home fans now.  Wow that Brazil vs USA game would have been really cool next week.  Oh well.
So disappointed in Hope Solo and her comments – seriously I try to coach Goalkeepers and get young girls excited about one of the toughest positions in soccer by giving them role models – but Hope Solo is an embarrassment to her team, The US national program, the sport of soccer and the entire country. Honestly how do her coaches even let her speak to the media.  She's 35, we don't play another major competition for 3 years – I think its past time she not be allowed to represent our country anymore !
Sweden ousts U.S. women in penalty shootout

US Women Lose in Shootout Loss

Sweden's Sundhage hands US Women earliest Olympics Ouster Ever – Grant Wahl SI

Foudy: Solo's comments are classless

Sundhage on Hope solo comments- I'm going to Rio – She's Going Home! 

Holden: Failure for new era of USWNT
Full Hope Solo quote on Sweden after US was eliminated from the Olympics today.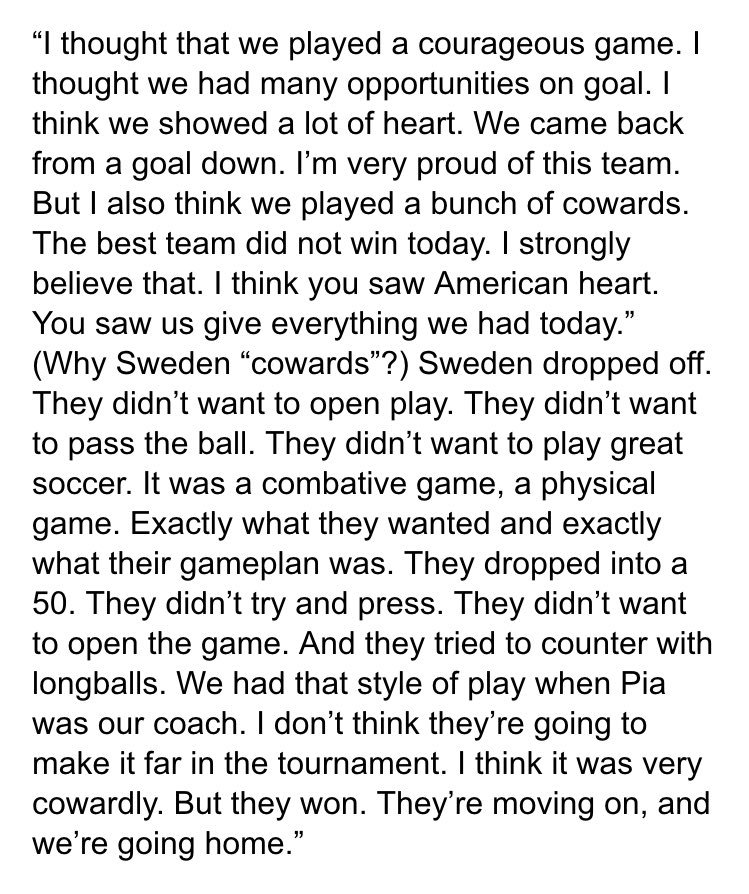 Women's Quarterfinals schedule
USA vs. Sweden — Friday, noon ET  NBCSN
China vs. Germany — Friday, 3 p.m. ET MSNBC
Canada vs. France — Friday, 6 p.m. ET CNBC
Brazil vs. Australia — Friday, 9 p.m. ET NBCSN
English Premier League Kickoff Sat
I can't wait for the EPL season to kick of this weekend with 6 or 7 legit contenders – Leceister City, Tottenham, Aresenal, Man City, Man U, Liverpool, Chelsea – new coaches in Conte, Mournho, Pep, Klopp – and all the new signings – this squares up to be one of the most competitive EPL season in years. (check the full previews and predictions below -I will save my official predictions till after week 1).  Games start Sat with Leciester traveling to Hull City at 7:30 am on CNBC – come on FOXES and Man City hosting Sunderland at 12:30 on CNBC.  Sunday has Arsenal vs Liverpool at 11 am on NBCSN and the German supercup Bayern vs Dortmund at 2:30 pm on Fox Sports 1.
Indy 11
Our League leading Indy 11 host first year club Oklahoma FC this Sat night at 7:30 pm at the JAKE– and on TV8. Enjoy the $15 Craft Brew Corner special – gets you a ticket in the Brickyard Battalion section (general admission) and vouchers for two 16 oz. craft beers, which can be redeemed for selections by People's Brewing, Urban Chestnut and other great brewers at the special stand in the NW corner of the stadium. Please note that YOU MUST PURCHASE THE CRAFT BREW CORNER OFFER IN ADVANCE ONLINE! 
Congrats to former Carmel High – now Dallas FC star defender Matt Hedges scoring in overtime last night vs the LA Galaxy to advance to the US Open Cup Final.  Seattle hosts Real Salt Lake on Sun eve Fox Sports 1 at 7 pm fresh off 2 straight wins and a Dempsey hat trick. I always love watching the home crowd of 40K+ at the Emerald City – and I certainly hope one of my favorite teams makes a move off the bottom of the table.
GAMES of the Week TV
Fri, Aug 12         Quarterfinals Olympic Women
12 pm NBCSN                         USA vs. Sweden — Friday, noon ET
3 pm  MSNBC                                         2F vs 2F  China vs. Germany
6 pm CNBC                                              1F vs 2G Canada vs. France
9 pm NBCSN                                           1 E vs 3F Brazil vs. Australia                                
Sat, Aug 13                                              EPL Season Starts
7:30 a.m., CNBC:                                 Hull City vs. Leicester City 
10:00 a.m., NBCSN                            Everton vs. Tottenham Hotspur, Middlesbrough vs. Stoke City, Southampton vs. Watford
12:30 p.m., CNBC:                             Manchester City vs. Sunderland
2 pm  ESPN2       ICC             Inter Milan vs Celtic
Quarterfinals Olympic men
12 pm NBCSN                        Portugal vs Germany
3 pm NBCSN                           Nigeria vs Denmark
6 pm NBC Olympics.com   Korea vs Honduras
9 pm NBCSN                           Brazil vs Colombia
7:30 pm Tv8 + ESPN3         Indy 11 vs OKC
Sun, Aug 14
8:30 a.m., NBCSN:                              Bournemouth vs. Manchester United
11:00 a.m., NBCSN:                           Arsenal vs. Liverpool
2:30 pm Fox Sport1                          Dortmund vs Bayern Munich –German Super Cup -Will US Christian Pulisic feature?
7 pm  Fox Sport 1                              Seattle Sounders host Real Salt Lake
Tues, Aug 16 
12 pm NBCSN                                        Semi-Finals Women (final 4)
3 pm NBCSN                                           Semi-Finals Women (final 4) US/Brazil?
Weds, Aug 17 
12 pm NBCSN                                        Semi-Finals Man (final 4)
3 pm NBCSN                                           Semi-Finals men (final 4)
Fri, Aug 19                                               
12 noon MSNBC                                   Women's Olympics 3rd place game
2:30 pm USA Net                                Man United vs Southhampton
4:30 pm NBCSN                                    Women's Olympics Gold Medal Game
Sat, Aug 20                                            
7:30 a.m., NBCSN                                Stoke City vs. Man City 
10:00 a.m., NBC Live Extra           Tottenham vs Crystal Palace, Burnley vs Liverpool, Chelsea vs. Watford
12 noon NBCSN                                    men's Olympics 3rd place game
12:30 p.m., CNBC:                             Leciester City vs Arsenal
4:30 pm NBCSN                                    Men's Olympics Gold Medal Game
7:30 pm ESPN3                    Indy 11 @ Carolina
US Ladies and Olympics
US follow Calm leadership of Carli, Becky
US Alex Morgan finding fun at Rio
Hope Solo Struggles as US ties Colombia 2-2 ESPNW
Solo's error leads to Colombia draw with U.S.
After Rare off game – Solo looks to Regroup after loss – SI Grant Wahl
US Ladies Shocked by Colombia in 90th minute –SI Grant Wahl
 Brazil's Neymar not right to be captain – ESPNFC
Hard for Concacaf to win both men's and women's with Mexico out
 Women's Quarterfinals schedule
USA vs. Sweden — Friday, noon ET
China vs. Germany — Friday, 3 p.m. ET
Canada vs. France — Friday, 6 p.m. ET
Brazil vs. Australia — Friday, 9 p.m. ET
 Indy 11
2 Craft Beers and Ticket for $15 for this weekend's game
Vote for Indy 11 player of the Week
3 Players make NASL Team of the Week
Zayed player of the week vs Jax
EPL and WORLD
Premier League Previews – ESPNFC
New Managers bring intrigue to EPL – ESPNFC Marcotti 
The other new Managers in the EPL
Mahrez to Stay at Leciester City?
All about Middlesborough – Guzans new Stomping Ground
US Players in Europe Who to Watch Where
MLS
US Open Cup – FC Dallas beats LA Galaxy, NE Revs Win
See Carmel's Matt Hedges Goal in Extra Time to Tie LA in US Open Cup
How NOT to Cover a Back Post on a Corner!!
Is Bodoya and recent US Players move to MLS worth it?  – Jeff Carlisle EspnFC
More GAMES ON TV
Fri, Aug 12                                               France Legue 1 starts
2 pm beIn Sports                                Bastia vs PSG
Quarterfinals Olympic Women
12 pm NBCSN             USA vs. Sweden — Friday, noon ET
3 pm  MSNBC                                         2F vs 2F  China vs. Germany
6 pm CNBC                                              1F vs 2G Canada vs. France
9 pm NBCSN                                           1 E vs 3F Brazil vs. Australia
Sat, Aug 13                                              EPL Season Starts
7:30 a.m., CNBC:                                 Hull City vs. Leicester City 
10:00 a.m., NBCSN                            Everton vs. Tottenham Hotspur, Middlesbrough vs. Stoke City, Southampton vs. Watford
12:30 p.m., CNBC:                             Manchester City vs. Sunderland
Quarterfinals Olympic men        12, 3, 6, 9
7:30 pm Tv8+ESPN3           Indy 11 vs OKC
Sun, Aug 14
8:30 a.m., NBCSN:                              Bournemouth vs. Manchester United
11:00 a.m., NBCSN:                           Arsenal vs. Liverpool
2:30 pm Fox Sport1                          Dortmund vs Bayern Munich –German Super Cup
7 pm  Fox Sport 1                              Seattle Sounders hosts Real Salt Lake
Tues, Aug 16 
12 pm NBCSN                                        Semi-Finals Women (final 4)
3 pm NBCSN                                           Semi-Finals Women (final 4)
Weds, Aug 17 
12 pm NBCSN                                        Semi-Finals Man (final 4)
3 pm NBCSN                                           Semi-Finals men (final 4)
Fri, Aug 19                                               
12 noon MSNBC                                   Women's Olympics 3rd place game
2:30 pm USA Net                                Man United vs Southhampton
4:30 pm NBCSN                                    Women's Olympics Gold Medal Game
Sat, Aug 20                                            
7:30 a.m., NBCSN                                Stoke City vs. Man City 
10:00 a.m., NBC Live Extra           Tottenham vs Crystal Palace, Burnley vs Liverpool, Chelsea vs. Watford
12 noon NBCSN                                    men's Olympics 3rd place game
12:30 p.m., CNBC:                             Leciester City vs Arsenal
4:30 pm NBCSN                                    Men's Olympics Gold Medal Game
7:30 pm ESPN3                    Indy 11 @ Carolina
Sun, Aug 21
8:30 a.m., NBCSN:                              Sunderland vs Middlesborough
11:00 a.m., CNBC                               West Ham vs Bournemouth
2:30 pm Fox Sport1                          Dortmund vs Bayern Munich –German Super Cup
9:30 pm  Fox Sport 1                       Seattle Sounders host Portland – CASCADIA CUP 2!
Fri, Aug 26                                              German Bundesliga Starts
2:30 pm Fox Sport1                          Bayern Munich vs. Werder Bremen
Sat, Aug 27
7:30 AM NBCSN                                   Tottenham vs Liverpool
9:30 a.m., Fox Sports 2:                 Borussia Dortmund vs. Mainz
9:30 a.m., Fox Soccer Plus:         Hamburg SV vs. Ingolstadt
12:30 pm  NBC                                     Hull City vs Man United
12:30 p.m., Fox                                   Borussia Mönchengladbach vs. Bayer Leverkusen
Sun, Aug 28
9:30 a.m Fox Sport1                         Hertha Berlin vs. Freiburg
11 am NBCSN                                        Man City vs West Ham
2 pm ???                                                   Ottawa vs Indy 11
7 pm  Fox Sport 1                               Orlando City vs NYCFC
EPL TV Schedule on NBC + NBCSN
German Bundesliga TV Schedule on Fox Soccer and Gol TV 
U.S. women's soccer team out of Olympics after shootout loss
5:24 PM ETESPN.com news services
Alex Morgan and Christen Press missed penalties in a shootout and the United States women's soccer team crashed out of the Olympics without a medal after losing to Sweden in the quarterfinals on Friday.Morgan's 77th-minute goal had canceled out Stina Blackstenius' opener for Sweden before the game went to penalties at 1-1, where Sweden won 4-3 and eliminated the three-time defending gold medalists.After the U.S. failed to medal for the first time since women's soccer became an Olympic sport in 1996, goalkeeper Hope Solo criticized Sweden's defensive style of play."I thought that we played a courageous game," Solo said. "I thought that we had many opportunities on goal. I think we showed a lot of heart. We came back from a goal down, I'm very proud of this team."I also think we played a bunch of cowards. But, you know, the best team did not win today; I strongly, firmly believe that. I think you saw America's heart. You saw us give everything that we had today. Unfortunately the better team didn't win."Told about Solo's comments, Sweden coach Pia Sundhage said: "It's OK to be a coward if you win."The U.S. threatened three minutes into the game when Morgan's header was cleared off the line, and Morgan Brian's follow-up attempt was tipped over the bar by Sweden keeper Hedvig Lindahl.Morgan started another U.S. charge in the 27th minute when she carried the ball wide of the goal then cut back for Carli Lloyd, whose first-time shot was saved.The Americans' best chance in the first half came just before the break when Mallory Pugh played through Lloyd, but Lindahl came off her line to make a good save.Lloyd came close again as the second half began, but her free kick sailed over the bar.Sweden, led by former U.S. Sundhage, took the lead in the 61st minute when Lisa Dahlkvist split the U.S. center-backs with a long through ball from within her own half. Substitute Blackstenius ran onto the ball, took one touch and sent a low shot past Solo inside the far post.The U.S. pushed for an equalizer and came close 10 minutes later when substitute Crystal Dunn squared the ball to a sliding Morgan, who could not keep a shot on target, and Lloyd's follow-up went wide.With Sweden packing defenders into the box, Pugh's shot went high, before Brian's header drifted wide of the post.But the U.S. were back level in the 77th minute when Dunn flicked on a long pass with a header that caromed off the face of Sweden's Jessica Samuelsson and fell to Morgan, who slotted home with her first touch from 10 yards.Lloyd nearly found a winner moments later, but her shot from just inside the box was sent wide with the slightest of deflections from a defender.With the game still level at the end of 90 minutes, the game went to extra time, where in the 101st minute Morgan tried to round the keeper, but again Lindahl was there to save a shot from a tight angle.Lloyd thought she had scored a winner in the closing stages, but her goal was ruled out for a foul before her header.And moments later the U.S. was lucky not be behind as Lotta Schelin's goal for Sweden was controversially ruled offside after the U.S. defenders failed to clear a cross.The U.S. controlled the large majority of possession for the rest of the extra 30 minutes but could not find a winner, and the game went to penalties for the first time in Olympic history.Morgan opened the shootout but saw her penalty saved by a diving Lindahl, and Sweden was ahead until Solo tipped Linda Sembrant's attempt over the bar in the third round.But Press fired her shot in the fifth and final round over the bar, and Dahlkvist fired past Solo as Sweden, ranked sixth in the world, advanced to the semifinals for the first time in its history.
Germany 1, China 0
Melanie Behringer scored to help Germany reach the semifinals with a tight win over China.China's Wang Shanshan came on as a half-time substitute but was sent off for a second yellow card 12 minutes later, before Behringer hit a bouncing ball into the back of the net from 25 yards for the only goal in the 76th minute.China had a chance to level the score when Leonie Maier brought down Wang Shuang in the 83rd minute, but the striker hit the resulting penalty off the post.
Sweden moves on to semis after ousting U.S. women in penalty shootout
By Graham Hays | Aug 12, 2016espnW.com
BRASILIA, Brazil — The tour of Brazil is over. And Rio de Janeiro didn't make the itinerary.For the first time since women's soccer was added to the Olympics 20 years ago, the United States won't play for a gold medal. It won't play for any medal. The Americans are instead headed home after losing to Sweden after coming out on the wrong end of the first penalty shootout (4-3 in penalties) in Olympic women's soccer history. That followed a 1-1 stalemate over 120 minutes against the resilient Swedes and former U.S. coach Pia Sundhage.Alex Morgan scored the goal that brought the United States level late in the second half, but her penalty kick to open the shootout was saved by Hedvig Lindahl, and U.S. teammate Christen Press put her attempt over the bar in the fifth round. After a lengthy delay before the final kick as goalkeeper Hope Solo changed her gloves, Sweden's Lisa Dahlkvist went left when Solo guessed right. So ended the bid for a fourth consecutive gold medal by the United States.Perhaps Sweden is too experienced an international side — and Sundhage too good a coach — to call the result in Brasilia a stunning upset, but it is nonetheless shocking to see the reigning World Cup and Olympic champions, unbeaten in 2016, out before medals are at stake.More to come from Brasilia, but here are three observations at the final whistle.
1. Year of the counter
We saw it from Leicester City when that team stunned the soccer world by winning not a sprint of a tournament but the long marathon of the English Premier League season. We saw it from the Icelandic men's team in the Euros. And we saw it with little more than an hour elapsed in Brasilia. If a team is organized, committed and precise, it doesn't need much of the ball to win the game. It just needs to make the most of a chance. So while there will be plenty to dissect in the autopsy of a defeat, first give Sweden all the credit it is due.The plan was no surprise. U.S. coach Jill Ellis talked about it the day before the game. Sundhage made no secret of it, either. But whether level early, ahead or holding on for dear life and penalties late, Sweden looked nothing like the team that was outclassed earlier in this tournament.A lot of teams park the bus against the United States. Few do it so courageously.
2. For the love of technology
Two wrongs don't make a right, but they can produce a penalty shootout. In quick succession in the waning minutes of overtime, both the United States and Sweden had goals waved off — incorrectly by every available replay — as a result of offside calls.Neither call looked close, the flag on the ball that sneaked between two U.S. defenders to Lotta Schelin particularly egregious. If the quality of officiating remains a question mark for the sport, and it does by most accounts, then wouldn't it be a perfect place to welcome technology?
3. No chance to peak at the right time
The United States wasn't exceptionally unlucky when it came to injuries during and leading up to the Olympics. It had its share of issues, but so does every team in a tournament like this.At the same time, it seemed obvious Friday that the slow trickle of issues it did have took a toll. The U.S. women weren't sharp on set pieces for much of the game, making it easy to wonder what might have been different with a healthy Megan Rapinoe. Beaten on the run that produced the goal, Julie Johnston looked rusty at times after sitting out the past two games with a groin injury.It isn't an excuse. The United States had chance after chance to win this game with the players it had on the field. But it also wasn't a team peaking at the right time.Graham Hays covers college sports for espnW, including softball and soccer. Hays began with ESPN in 1999.
Sundhage's Sweden hands USWNT earliest Olympics ouster ever
GRANT WAHL  SI
BRASÍLIA, Brazil — The United States, the reigning Women's World Cup champion and three-time defending Olympic gold medalist, was eliminated from the 2016 Olympics on Friday by Sweden in a tense penalty-kick shootout that Sweden won 4-3 in the fifth and final round following a 1-1 draw. The U.S.'s Christen Press launched her spot kick, and the USA's fifth, over the bar, and Lisa Dahlkvist converted hers to finish the monster upset. Swedish goalkeeper Hedvig Lindahl had saved Alex Morgan's kick to open the shootout, while Hope Solo had done the same to Linda Sembrant on Sweden's third try.The U.S. dominated possession in the game but failed to create many good scoring chances, and Sweden went up 1-0 on a brilliantly executed counter finished by Stina Blackstenius in the 61st minute. But Morgan equalized for the U.S. in the 76th, running onto a ball that had bounced off the head of Jessica Samuelsson into her path.The shocking finish sends the U.S. home in the quarterfinals, the earliest U.S. exit in women's Olympic soccer history. The U.S. had had won four of the five Olympic gold medals and had never failed to reach the final.Here are three thoughts on the game:
Give Sweden and coach Pia Sundhage credit
The Swedes had played poorly in this Olympic tournament, losing 5-1 against Brazil and looking mediocre against China and South Africa. But the Swedes always seem to raise their game against the U.S., and the same was true again here. They defended deep and tried to strike on the counter, which worked for the go-ahead goal, and then Sweden kept its cool when the U.S. regained momentum with the equalizer.Sundhage's squad simply had more composure than the U.S. in the penalty round, and it was somewhat surprising that the U.S. misses came from Morgan and Press, two forwards who usually are more precise with their shooting. (Press's confidence has always been a concern, though.) Sundhage is a great coach, and in a tight game she made the better calls against her counterpart and former assistant Jill Ellis on Friday.
Not starting Crystal Dunn is a head-scratcher
If you know that your opponent is going to sit deep for the entire game, as everyone knew Sweden would do, then it makes little sense not to start Dunn instead of Allie Long. Dunn could play in the 3-person midfield with Carli Lloyd and Morgan Brian in those situations. Dunn did come on for Long in the 65th minute after Sweden had scored, and she made an instant impact, beating defenders on the dribble and creating problems for the Swedes.Long makes more sense as a starter against teams that won't sit deep, as would've been likely for the rest of the Olympics, but starting her against Sweden was an awfully conservative move.Both the U.S. and Sweden had goals wrongly disallowed in extra time by New Zealand referee Anna-Marie Keighley and her sideline assistants. First, Lloyd had a header–reminiscent of her opening goal of the tournament against New Zealand–whistled off for an apparent offside call. Moments later on the other end, Lotta Schelin had a ball squeeze through the U.S. defense into her path from close range and she scored the would-be winner, only to be wrongly called for offside as well.In a sense the bad calls offset each other, but you can't have that happen in the decisive moments of a major tournament knockout game.
Hope Solo: 'The best team did not win today'
By Graham Hays | Aug 12, 2016ESPN Staff Writer
BRASILIA, Brazil — Hope Solo didn't hold back in her criticism of the Swedish team that eliminated the United States from the Olympic women's soccer tournament in a penalty shootout Friday."I thought that we played a courageous game," Solo said. "I thought that we had many opportunities on goal. I think we showed a lot of heart. We came back from a goal down; I'm very proud of this team."I also think we played a bunch of cowards. But, you know, the best team did not win today; I strongly, firmly believe that. I think you saw America's heart. You saw us give everything that we had today. Unfortunately the better team didn't win." As expected, the Swedish team that had finished third in its group during the tournament's initial phase adopted a defensive strategy against the United States, which had won its group.The United States dominated possession and finished with 27 shots, but Sweden scored on a counterattack in regulation — one of only two shots on goal it had in the game.After playing to a 1-1 stalemate over 120 minutes, Sweden edged the U.S. 4-3 in the shootout.Asked to elaborate on what she meant by cowards, Solo referenced Pia Sundhage, the Swedish coach who formerly coached the United States and won two Olympic gold medals."Sweden dropped off, didn't want to open play," Solo said. "They didn't want to pass the ball around. They didn't want to play great soccer, entertaining soccer. It was a combative game, a physical game. Exactly what they wanted and exactly what their game plan was. They dropped into a 50. They didn't try and press, they didn't want to open the game and they tried to counter with long balls. We had that style of play when Pia was our coach."I don't think they're going to make it far in the tournament. I think it was very cowardly. But they won. They're moving on, and we're going home."Told of Solo's criticism and asked whether she felt her strategy was justified, Sundhage said only that she was content with it, and she did not address Solo specifically.undhage also said, "It's OK to be a coward if you win."Former USWNT star and current ESPN analyst Julie Foudy questioned Solo's comments."To call them cowards for playing a tactically smart game is ridiculous and classless and it really doesn't represent the house that we built in the U.S. team," she said.Graham Hays covers college sports for espnW, including softball and soccer. Hays began with ESPN in 1999.
=========================
Despite 2-2 draw, U.S. women win Group G, advance to quarters
By Graham Hays | Aug 9, 2016espnW.com
MANAUS, Brazil — The United States played Germany and Japan en route to a World Cup title a year ago. It played France a few days ago in this tournament. But it was Colombia that handed the Americans their first deficit in a major tournament since a 2012 Olympic semifinal.The same Colombia that hadn't scored a goal in any previous meeting with the United States.It wasn't the likeliest opponent to force the United States to chase a game.It might have been the unlikeliest opponent to chase back after the Americans regained control. But chase back the Colombians did. A set piece goal in the 90th minute from Catalina Usme, her second of the game, earned the South American underdogs a stunning 2-2 draw against the reigning champions.
The United States controlled the game, both in possession and chances created. It won Group G despite the draw, while Colombia was eliminated despite the same. But this was Colombia's night, a result in many ways as impressive as its shocking win against France in the World Cup. The United States won't know its quarterfinal opponent until after Sweden and China play in Tuesday's late round of games. The opponent in Brasilia could be whichever of those two teams finishes third in Group E (assuming Brazil finishes first), or Australia, the third-place finisher in Group F that clinched advancement with a win earlier Tuesday. Here are three more observations from Tuesday's draw:
1. Credit the Colombians
Perhaps rare for a South American rival, Colombia had the full backing of the large crowd on hand to watch host Brazil play later in the evening. And while much of the talk entering the game was about a Colombian team in disarray — its coach said players like Lady Andrade wouldn't even play Tuesday, only to reverse course and start her — it played a spirited, if imperfect, game throughout, and Usme made the most of two set pieces.There are vast swaths of the globe that women's soccer needs to grow more competitive, but South America is clearly chief among them. This was a night the Colombians will remember.
2. Hope Solo again in the spotlight
The crowd in Manaus, which was considerably larger even at the start of the night's first game than either of the crowds the United States played in front of for its first two games, didn't even wait for Hope Solo to touch the ball to continue the taunts that began in Belo Horizonte. As Solo jogged to her position on the field before kickoff, the crowd launched into the now familiar "Zika" chants. Later, they added a new twist on a familiar chant that became "Ole, Ole, Ole, Zi-ka, Zi-ka."  It appears the chants will follow her wherever the United States travels in this tournament.
Solo heard the heckling in the game against France and turned in a quintessentially stellar performance in a game with enormous stakes. And while she generally draws rapturous cheers when playing for the national team in her own country, it's not as if she is unfamiliar with hostile fans in other international and club settings. So let's not get carried away in connecting dots to link the heckling on this night and the admittedly glaring error that allowed Usme's free kick to slip under Solo and into the net. Solo has heard a lot of boos in her life; she hasn't let in a lot of goals like that. It was undeniably a gaffe. It is debatable if it was crowd-aided.
3. Rapinoe's return overshadowed
The unexpected scoreboard drama took precedence over the story that appeared likely to dominate the night beforehand. For the first time since last October, and the first time since suffering a torn ACL in December, Megan Rapinoe took the field as a starter for the United States. The midfielder played just 30 minutes, although her first-half substitution had every appearance of a planned change rather than any kind of forced move.It took Rapinoe only 90 seconds to put a cross into dangerous space in Colombia's box. Perhaps as important, it took her only four minutes to go crashing to the turf after being fouled — and get back up to continue playing. And it took her not that much longer to wave her hand at the referee in frustration with a foul call (one that set up Colombia's goal).She looked, in other words, like herself. And as long as her exit really was part of the plan, her short cameo all but justifies the decision to bring her to this tournament.
Long finally finds right fit with U.S. national team
Resilient U.S. women hold off France again
Solo keeps shining despite being constant lightning rod
U.S. women set sights on fourth straight gold
Wunderkind Pugh graduates to Rio Games
Graham Hays covers college sports for espnW, including softball and soccer. Hays began with ESPN in 1999.
 U.S. soccer draws with Colombia, still makes Olympic quarters
playESPN.com news services
With time running out, Catalina Usme beat Hope Solo with a free kick from a tight angle to give Colombia a 2-2 draw against the United States on Tuesday at the Olympics.Usme also scored in the 26th minute, booting a free kick that went between Solo's legs, to give the Colombians an early 1-0 lead. It was the team's first-ever Olympic goal and first-ever goal against the United States.Despite the draw, the top-ranked Americans still finished atop Group F.Teenager Mallory Pugh became the youngest player to score for the United States in an Olympics with her goal in the 59th minute, giving the Americans a 2-1 lead. Crystal Dunn also scored for the defending champions.The U.S. women's team, the reigning World Cup champions, is vying for its fourth straight Olympic gold medal.Pugh, just 18, came into the game as a first-half substitute for midfielder Megan Rapinoe, who played in her first match since having ACL surgery in December.In addition to Rapinoe, United States coach Jill Ellis made several other changes to her starting lineup, sitting regular starters Alex Morgan, Tobin Heath and Meghan Klingenberg. Julie Johnston, who sat out the second game with groin injury, was also on the bench.Morgan came in after the half for Carli Lloyd. Pugh, who hurt her ankle in the 2-0 opening win against New Zealand, went in when Rapinoe was pulled in the 33rd miute as temperatures hovered in the upper 80s.The match in Brazil's Amazon rainforest was an announced sellout, with many fans awaiting the late game between host Brazil and South Africa. The crowd was on the side of the underdogs from the start and cheered wildly when Usme scored her first goal. The free kick bounced between Solo's legs. The fans also taunted Solo by chanting "Zika! Zika!"The jeers have accompanied the U.S. goalkeeper throughout the Olympic tournament because of posts she made on social media about the virus that is spread by mosquitoes. It was just the fifth goal that Solo has allowed this year. The veteran goalkeeper has a record 102 shutouts in international play.Solo told NBC after the game that she would be able to move past Tuesday's performance before the quarterfinals."I personally gave up a goal I wish I could take back, but I've been around long enough to know these things happen," Solo said. "So I'm going to choose to have short-term memory and move forward."Dunn, playing in her first Olympics with the national team, tied the match with a rebound after Lloyd's shot bounced back off the crossbar in the 41st minute. Pugh's goal slid between numerous Colombia players before finding the back of the net in the second half.Colombia had already been eliminated with losses in its first two matches.On Monday, coach Fabian Taborda said Usme had an injured left knee, while Lady Andrade and Carolina Arias were suffering from "exhaustion." But all three started. Colombia is considered one of South America's top teams, along with neighboring Brazil. Las Cafeteras, as they're known, surprised many when they advanced to the knockout round in the World Cup last year.
France 3, New Zealand 0
France finished second behind the U.S. in Group G to advance with a straightforward victory and set up a matchup with Canada in the quarterfinals.Eugenie Le Sommer put Les Bleues ahead in the first half before Louisa Cadamuro added a second goal with a header and a third from a penalty in the second half.New Zealand finished third in the group and were eliminated from the tournament. France will take on Canada in the quarterfinals.
Canada 2, Germany 1
Melissa Tancredi scored twice, and Canada completed a perfect run through Group F.The Germans took the lead in the 13th minute after Allysha Chapman brought down Mandy Islacker in the box, and Melanie Behringer converted the penalty.But Canada, the bronze medalists four years ago, equalized in the 25th minute when Germany gave the ball away deep in the own zone. Tancredi gathered the loose ball and beat German keeper Almuth Schult from the top of the box.And Tancredi put Canada ahead on the hour mark by heading home Rebecca Quinn's cross from a set piece.Germany also advanced to the quarterfinals despite the defeat, though that was not certain until Australia's result against Zimbabwe was confirmed.
Australia 6, Zimbabwe 1
Australia will face a mammoth quarterfinal showdown with Brazil after securing their pathway out of the Olympic group stages.The Matildas led 6-0 in the 66th minute and needed only to hit the back of the net once more to avoid a meeting with world No. 8 Brazil, which beat them 3-1 in a pre-Games friendly.Lisa De Vanna, Clare Polkinghorne and Alanna Kennedy all found the net for Australia in the first half, before Kyah Simon and substitute Michelle Heyman (two goals) extended their lead after the break.But a 91st-minute strike from Zimbabwe's Emmaculate Msipa means Australia will go through as one of the top two third-place teams across the three groups and tread the more difficult road.
China 0, Sweden 0
China and Sweden both ensured their passage through to the quarterfinals with a 0-0 draw.Both nations had chances to win the match, with Linda Sembrant almost conceding an own goal in the first half.Sweden will face reigning champions the U.S. on Friday, while China will go head-to-head with Germany.
Brazil 0, South Africa 0
South Africa fought hard in front of a sellout crowd to hold hosts Brazil to a goalless draw in Manaus in the last match in Group E.Five-time FIFA Women's World Player of the Year Marta began the match as a substitute, and was brought on at halftime to try and break the deadlock, but could not find the back of the net.South Africa exit the tournament with the lone point, while Brazil will face Australia in the quarterfinals.
After rare game to forget, Hope Solo aiming to put mistakes behind her
Hope Solo was uncharacteristically bad against Colombia. For the USWNT to progress through the knockout rounds, it's vital that she have a short memory. GRANT WAHLWednesday August 10th, 2016
MANAUS, Brazil — She is the best women's goalkeeper in the world, a change agent who regularly influences the outcomes of games. Just last Saturday, Hope Solo had made the difference in the U.S.'s 1–0 victory against France, denying a point-blank shot by Marie-Laure Delie. With jeers raining down on Solo from the Brazilian fans all tournament, the result of a Zika-related social media post, it seemed like Solo was completely ignoring the catcalls.And so it was stunning to see Solo commit an outright howler on Tuesday against Colombia, letting Catalina Usme's first-half free kick go through her hands and her legs on its way to the net. Usme scored on another free kick in the 90th minute, and while the late equalizer was hardly another howler by Solo, she could have done better on that play, too.• USWNT gets Olympic wake-up call in disappointing draw against Colombia
But give Solo some credit. The two-time Olympic gold medalist didn't hide from the media after the game. Not at all, in fact. And she didn't try to provide any spin or excuses, because she said there weren't any."It's part of the position, and I don't wish it on anybody," Solo said in the mixed zone after the 2–2 tie, which still clinched first place in the group for the U.S. team. "Being a goalkeeper is extremely difficult mentally. But I've been around long enough to know that these things do happen. They've happened to me before. You just hope they happen few and far between."The last time Solo had a significant gaffe in a major tournament was in the opening game of the 2007 World Cup, when she let a routine North Korean shot go through her hands and into the goal. That was nine years ago. Her mistakes in a U.S. uniform are so rare that when they do happen, you want to pinch yourself to make sure you're not imagining things."I have learned to have a short-term memory," Solo said on Tuesday, "so I'm just going to put this game behind me and move on. Because I think there's going to be some great football in the coming games, and I'm going to have to come up big and keep our team in it."There's a reason goalkeepers are different from the rest of us. The mental pressure they deal with is extraordinary. Howlers get no easier when you're 35 than when you were 22. "It always stings," Solo said. "Honestly, if I ever have kids they will not become a goalkeeper, I assure you that. I don't wish it on anybody. I think it is the most unforgiving position in all of sports."Soccer is a game of fine margins. On Saturday, Solo made the split-second save that gave the U.S. a chance to win a 1–0 game. There was a margin for error on Tuesday night, a margin that Solo helped earn. But now that the U.S. is in the knockout rounds—it will face Sweden and former U.S. coach Pia Sundhage in Brasília on Friday—there is no margin for error.When asked what she'll say to Solo after Tuesday's game, U.S. coach Jill Ellis said: "Respectfully, kind of: Crap happens. Move on. Sometimes when a field player makes a mistake it's not going to cost you. But she's so solid, she's had a great tournament to date. I just think mentally she's got to put it behind her and focus on the next game. Knowing Hope and her mental strength, I think she'll return fine from that."Sweden is an intriguing opponent. On the one hand, the Swedes have been less than impressive in this tournament and in last year's World Cup. On the other hand, Sweden has given the U.S. fits in major tournaments, including a tie in last year's World Cup and a Sweden win at World Cup 2011. If any opposing coach knows the U.S. well, it's Sundhage.The U.S. players weren't all gloom and doom after Tuesday's tie, either. They knew the lineup had been shuffled, that players had been rested and that they will enter Friday's quarterfinal with no suspensions and all 18 players available."I would rather this happen now to maybe light some fire under us and motivate us even more," said co-captain Carli Lloyd. "Every tournament is a different journey. In the World Cup we tied Sweden. In the 2008 Olympics we lost our first match. I'm not worried. I still think we're going in the right direction.""In every tournament I've played in, nothing has gone perfect," said Solo. "In last year's World cup, we won but we weren't playing great every single game. In my first major tournament, the ball went through my hands. It happens. These things happen. And you have to get through them in order to hopefully stand on top of the podium."
USWNT draws to win Olympic group but gets wake-up call from Colombia
The USWNT was given a scare in Manaus and settled for a draw after a pair of Hope Solo gaffes, but it managed to win its Olympic group anyway.
GRANT WAHLWednesday August 10th, 2016
MANAUS, Brazil — The U.S. women's soccer team finished Olympic group play with a disappointing 2-2 tie against Colombia that featured two mistakes by the usually reliable Hope Solo in goal. But the point still gave the U.S. first place in Group G as the Americans advanced to the quarterfinals.Colombia's Catalina Usme scored her second free kick of the night in the 90th minute to equalize when Solo tried to punch the left-footed blast and missed. It was the second mistake of the night by Solo, who let Usme's 26th-minute free kick go between her hands and legs into the net..The U.S. had equalized 1-1 on Crystal Dunn's 41st-minute follow on a rebound of Carli Lloyd's shot. And the Americans thought they had sealed it when 18-year-old Mallory Pugh had put them ahead 2-1 in the 59th minute.The U.S. will play Sweden–coached by former U.S. manager Pia Sundhage–in the quarterfinals in Brasília on Friday at noon ET.Here are three thoughts on Tuesday's game:
This was a strange game
Coach Jill Ellis left several prominent players on the bench to start—Alex Morgan, Tobin Heath, Meghan Klingenberg and Pugh—and the U.S. still dominated possession. But there weren't enough golden scoring chances given that dominance. Christen Press failed to convert two of the best opportunities, including a two-on-one break in which she and Pugh were alone on goal. Instead of shooting, Press tried to pass it to Pugh, who was offside.That allowed the U.S. to let an overmatched Colombia team that had lost its first two games hang around in the game. The U.S. will need to sharpen up things once the opponents get better in the knockout rounds.
Gut-check time for Solo
After two sterling performances in this tournament, especially against France, Solo had a night to forget in goal. The last time Solo had committed a howler on such a stage for the U.S. came in the 2007 World Cup opener against North Korea, which shows you how rare it is for her to make a big mistake. But Solo was at fault on both Colombia free-kick goals on Tuesday.
She wasn't the only one: The U.S. committed bad fouls in the first place that led to those free kicks. But this U.S. team has to know moving forward that it can't give away cheap set-piece opportunities, because that's how superior teams can end up losing games. Until now, it didn't seem like the jeering from Brazilian fans had affected Solo. Things seemed different in this game.
Mixed results in Rapinoe's first action
Playing in her first game since tearing an ACL last December, Rapinoe got the start and lasted 33 minutes before coming off for Pugh (as planned by Ellis).Rapinoe had some decent crosss, but she also committed a bad foul that gave Colombia the free kick on which it scored.It remains to be seen whether Ellis will consider using Rapinoe as a starter in the knockout rounds, but it seems unlikely with Tobin Heath and either Pugh or Dunn ready to start on the wings. Most likely, Rapinoe will be a super-sub the rest of the way.
ESPN FC's predicted Premier League table and writers' picks
Our predicted Premier League table for the coming season.
ESPN FC's editorial desk has made its choice for the 2016-17 season, with Manchester City our choice to top in the Premier League.But who do our writers think will win the title? Who will finish in the coveted Champions League spots? Who are the three clubs who will go down at the end of the season? And which players will finish as top scorer and Player of the Year, respectively?
Gab Marcotti:
Top four: 1. Arsenal 2. Manchester United 3. Chelsea 4. Tottenham
Relegated: Hull, Burnley, Crystal Palace
Top scorer: Sergio Aguero
Player of the Year: Mesut Ozil
Iain Macintosh:
Top four: 1. Manchester United 2. Manchester City 3. Arsenal 4. Chelsea
Relegated: Hull, Burnley, Bournemouth
Top scorer: Sergio Aguero
Player of the Year: Paul Pogba
Nick Miller
Top four: 1. Manchester City 2. Manchester United 3. Tottenham 4. Liverpool
Relegated: Hull, Swansea, Burnley
Top scorer: Sergio Aguero
Player of the Year: Kevin De Bruyne
Tony Evans
Top four: 1. Tottenham 2. Manchester City 3. Arsenal 4. Manchester United
Relegated: Hull, Burnley, Swansea
Top scorer: Sergio Aguero
Player of the Year: Dele Alli
John Brewin
Top four: 1. Manchester City 2. Manchester United 3. Liverpool 4. Chelsea
Relegated: Hull, Sunderland, Middlesbrough
Top scorer: Sergio Aguero
Player of the Year: Paul Pogba
Nick Ames
Top four: 1. Manchester City 2. Manchester United 3. Chelsea 4. Arsenal
Relegated: Swansea, Hull, Burnley
Top scorer: Sergio Aguero
Player of the Year: Henrikh Mkhitaryan
Michael Cox
Top four: 1. Manchester City 2. Tottenham 3. Arsenal 4. Manchester United
Relegated: Hull, Burnley, Watford
Top scorer: Alexis Sanchez
Player of the Year: Kevin De Bruyne
Miguel Delaney
Top four: 1. Manchester City 2. Manchester United 3. Chelsea, 4. Arsenal
Relegated: Sunderland, Burnley, Hull
Top scorer: Sergio Aguero
Player of the Year: Kevin De Bruyne
Richard Jolly
Top four: 1. Manchester City 2. Chelsea 3. Manchester United 4. Liverpool
Relegated: Bournemouth, Burnley, Hull
Top scorer: Sergio Aguero
Player of the Year: Kevin De Bruyne
Raphael Honigstein
Top four: 1. Manchester City 2. Manchester United 3. Chelsea 4. Liverpool
Relegated: Hull, Burnley, Sunderland
Top scorer: Sergio Aguero
Player of the Year: Sergio Aguero
Julien Laurens
Top four: 1. Manchester United 2. Manchester City 3. Chelsea 4. Liverpool
Relegated: Hull, Sunderland, Watford
Top scorer: Sergio Aguero
Player of the Year: Kevin De Bruyne
Mattias Karen
Top four: 1. Manchester United 2. Manchester City 3. Arsenal 4. Chelsea
Relegated: Hull, Swansea, Burnley
Top scorer: Sergio Aguero
Player of the Year: Kevin De Bruyne
Jonathan Smith
Top four: 1. Manchester City 2. Manchester United 3. Chelsea 4. Liverpool
Relegated: Hull, Bournemouth, Swansea
Top scorer: Sergio Aguero
Player of the Year: Kevin De Bruyne
Arindam Rej
Top four: 1. Manchester United 2. Manchester City 3. Chelsea 4. Arsenal
Relegated: Watford, Burnley, Hull
Top scorer: Sergio Aguero
Player of the Year: Zlatan Ibrahimovic
Liam Twomey
Top four: 1. Manchester United 2. Manchester City 3. Chelsea 4. Liverpool
Relegated: Hull, Swansea, Burnley
Top scorer: Sergio Aguero
Player of the Year: Eden Hazard
Glenn Price
Top four: 1. Manchester City 2. Chelsea 3. Manchester United 4. Liverpool
Relegated: Hull, Sunderland, Burnley
Top scorer: Harry Kane
Player of the Year: Alexis Sanchez
Dan Kilpatrick
Top four: 1. Tottenham 2. Manchester United 3. Chelsea 4. Manchester City
Relegated: Swansea, Burnley, Hull
Top scorer: Harry Kane
Player of the Year: Erik Lamela
Have your say in the comments section below and join the debate on ESPN FC.
The Premier League has never seen managerial talent like this before
Is it talent or is it scheme? Is winning simply a function of having better players than your opponent or does a great coach genuinely add value? It's the perpetual debate in any team sport and odds are, you stake a position somewhere on that continuum between talent and coaching.The 2016-17 Premier League season may be remembered as the one where the biggest clubs decisively decided to throw their resources at the coaching end of the spectrum. In fact, the men managing England's six biggest clubs are arguably as good as any half-dozen ever assembled in any single league at any point in history.Five of the six have won multiple league titles in major European leagues. (The one who hasn't, Tottenham's Mauricio Pochettino, finished second in the Premier League last year.) Four of the six have reached the Champions League final and, of course, Pep Guardiola and Jose Mourinho, who coach Manchester City and Manchester United respectively, have both won the biggest prize in club football more than once.That will likely be one of the defining qualities of the 2016-17 season: outsized personalities and storylines on the bench often eclipsing the guys who are actually on the pitch. In many ways, it's the reverse of what has happened of late at Barcelona and Real Madrid, where the narrative focuses on the superstars.Guardiola, whose arrival in England was as telegraphed and as eagerly anticipated as any manager's, outshines both his incumbent stars (Kevin De Bruyne, Sergio Aguero, Vincent Kompany) and his bright young signings (Leroy Sane and John Stones above all). Across town, the same is true of Jose Mourinho even after the arrival of Zlatan Ibrahimovic and Paul Pogba.Arsene Wenger, the ageless redwood in the North London forest, continues to dominate every sinew at Arsenal in part because his biggest stars (from Mesut Ozil to Alexis Sanchez) are more of the low-key variety. The same could be said in Liverpool: A club defined by outsized icons like Steven Gerrard, Jamie Carragher and Luis Suarez is now epitomized by Jurgen Klopp, the gangly, bespectacled coach, more than the likes of Philippe Coutinho and Sadio Mane.After their limp season last year, Chelsea's Eden Hazard and Cesc Fabregas are edged out of the spotlight by their new, combustible drill sergeant, Antonio Conte. And at White Hart Lane, Dele Alli does have the stuff of superstars — maybe more so than the understated Harry Kane — but he doesn't even turn 21 until April. So, for now, it really is all about Pochettino, the man who pulls the strings, Poch.It's not just the big personalities on the bench. It's the commitment they've received from the clubs and the expectations it has generated.Manchester United's net spend in this transfer window is almost equal to what was spent under Louis Van Gaal (who wasn't exactly thrifty) in the previous four. (It will come down, of course, provided the club can shift some assets as Mourinho hopes but it's still a massive and necessary commitment.) The Special One said he wanted four signings and he got them: A one-man wrecking crew (Ibrahimovic), a subtle creator (Henrikh Mkhitaryan), an imposing center-back (Eric Bailly) and the world's most expensive player (Pogba).City, having already been hard at work Guardiola-izing the club for the past few seasons, have spent more in net terms thus far this summer than ever before. With Stones on board, he has the ball-playing center-back his system demands while Ilkay Gundogan is the creative brain of the operation. Nolito is the unsung hero who gets Pep's system; Sane and the South American boys (Gabriel Jesus and Marlos Moreno, who'll start the year elsewhere but can be recalled) are the ones for the future.Liverpool's net spend is in line with previous seasons but the big difference is the faith shown in Klopp, who was given a monster extension through 2022 less than eight months after arriving at Anfield. Critics point out that Liverpool will once again be too reliant on Daniel Sturrridge's fitness, which has let him down time and again. But this is where you need the leap of faith. This is the team Klopp wants and these are the players he wants. And if he thinks that a raft of tricky midfielder-forward hybrids (Roberto Firmino, Coutinho, Mane) are what he needs as an alternative to Sturridge, you tend to believe him. At least, the club did with their six years extension.Chelsea's net spend with Conte at the helm is roughly equal to what they spent in net terms over three seasons with Mourinho. N'Golo Kante stiffens up the midfield, Michy Bathshuayi is an exciting up-and-comer and you get a sense that their transfer business isn't quite over: there's a lot of ground to make up after the club's worst league finish in 20 years.Tottenham are also ahead of previous campaigns in net spending. Pochettino got the dynamic midfielder he wanted (Victor Wanyama) and the legit center-forward to help out Kane (Vincent Janssen). And he got the peace of mind that comes with the huge extension through 2021 he signed in May.At Arsenal, Wenger again marches to the beat of his own drummer. Like last season, his business was both early and minimalist: he's signed just one significant newcomer but like Petr Cech a year ago, it is a cast-iron starter in Granit Xhaka. That's how he rolls and he usually finishes above most, though crucially not all, of his high-end peers. Even after two decades and with a one-year contract, you sometimes feel he's more secure than any of his Premier League colleagues.What all this points to is a greater number of proven, hugely respected and sometimes hero-worshipped managers being given more of the tools to strut their stuff than at any point in recent history. We get to see some of the sharpest minds in the game bring their vision to life. And that's new and different and to a certain type of fan, it's more exciting.In some ways, all of this is curious. Because you look back just three months to last season and the team lifting the Premier League trophy, Leicester City, featured a manager who few would describe as visionary, fewer still would see as a long-term choice and possibly nobody at all would call "exciting." And yet Claudio Ranieri tiptoed into the Leicester job, tweaked a few roles, kept everyone grounded and together and finished ahead of everyone, pulling off perhaps the greatest upset in the history of team sports.But hey, that was just a blip, a quirk of history, Richard III's body under the parking lot and other supernatural hoodoo, right?Because titles are won, above all, by genius managers with clearly defined philosophies, plenty of "attention to detail" — quick thought: find me a top coach who isn't described as "detail-oriented" in those familiar, fawning profiles — tons of charisma and, of course, that intangible quality we like to call "a winning mentality." At least, that's the thinking in the Premier League this season.We've got more of those than ever before. And it's going to be one heck of a ride, the kind that might well bruise egos and burst reputations.Enjoy every minute.Gabriele Marcotti is a columnist for ESPN FC,  
Riyad Mahrez to stay at Leicester but no contract agreement yet – sources
Leicester City have ruled out selling Riyad Mahrez this month but the Algeria international is yet to commit to a new contract, sources close to the club have told ESPN FC.Mahrez's future at Leicester has been the subject of speculation this summer with the likes of Arsenal and Chelsea linked with a move for last season's PFA Player of the Year.Sources have told ESPN FC that Mahrez was open to a move away from Leicester this summer, but the club will not allow him to follow N'Golo Kante in leaving this summer.Foxes boss Claudio Ranieri told Sky Sports News on Wednesday: "Kante had a clause and Chelsea paid it, but Riyad does not have the clause and he will stay with us."Mahrez has been offered a new long-term deal but the player has so far rejected the club's advances, although the offer of a new four-year contract remains on the table.A source close to the player told ESPN FC that the 25-year-old attacker, who joined Leicester from Le Havre in 2014, could ask for a release clause to be inserted into his new contract if he is to put pen to paper.Mahrez is set to be in the starting lineup for Leicester's opening game of the new Premier League season against Hull City this weekend. 
Liverpool look to Coutinho, Sturridge, Firmino and Mane for inspiration
Jurgen Klopp replaced Brendan Rodgers last October and led Liverpool to the League Cup and Europa League final. However, Liverpool's domestic form suffered, the club finishing a disappointing eighth. With no European football at Anfield, Klopp has fewer distractions this season. Here's a look ahead to 2016-17.
At a glance
Improvement must be measured by the Reds' league points total after two seasons of inadvertent focus on cup competitions.
Quick predictions
Premier League: 6th
FA Cup: Fifth round
League Cup: Quarterfinals
Transfer business
Klopp has brought in quite a lot of players and his public utterances certainly portray a man happy with the resources placed at his disposal. Injuries may affect that before Aug. 31, however.Big money has been spent on attack-minded players, an area where Liverpool seemed largely comfortable last season. Their Achilles' Heel, defence, has been largely ignored and haggling over a quality left-back seems like a false economy.Supporters may feel slightly underwhelmed so far but there are three weeks left in this transfer window to change that. A small net spend in a time of plenty has antagonised some, especially when you see what some of the other clubs are doing and realise how far Liverpool have fallen behind them.A smaller squad for a smaller workload seems to be the club motto, ignoring all the injuries that have hampered Liverpool in recent seasons and those that have already disrupted their preseason plans. Fans still have faith in Klopp's ability to make a little go a long way but perhaps feel the club might have gone a little stronger in adding quality despite the obvious cost.
Key questions
The physical effort that will be needed to fully implement Klopp's infamous "gegenpress" is bound to have some physical impact on some of the players. While the reduction in workload that goes with a failure to qualify for Europe will certainly help, it seems as though a consistent first-choice eleven is not even remotely within Klopp's reach yet.Flexibility is one thing; confusion and not knowing one's own mind is quite another.There is little doubt about how good some of these players can be because they've shown their potential on numerous occasions. Consistency will be key. Too many of them are errant in their passing and also tend to disappear when the going gets tough.Players like Philippe Coutinho, Daniel Sturridge, Roberto Firmino and Sadio Mane can be lethal on their day and if they can be given the right platform, they can perform to an extremely high standard. The everyday tasks of hard work, defensive organisation and solidity must come from the training ground and may be more indicative of how far Klopp has progressed.Fans will tend to be patient and accepting of tangible improvement. It's important the team learns to walk before it can run and ill-considered ruminations on Liverpool's part in the title race will only end in disappointment for those who indulge in them.
Potential pitfalls
Liverpool can be very good — as the 4-0 win against Barcelona amply demonstrated — but they can also be very poor. Consistency will be the main problem.Injury to key players, like the notoriously fragile Sturridge, might hamper any attempt to get a run of decent results going.Liverpool have another potentially sticky start to the season and dropping too many points early on will hamper their season overall, as it has done so many times before.Confusion over formation and where various attack-minded players will fit into it may result in Klopp trying too many things at once to stop any rot that sets in after poor results.Accepting your team probably won't win the league is one thing. If they couldn't even get over the lower bar they've been set then a refusal to fully invest in the squad will be raked over again and cause further consternation in the ranks.
One to watch
Emre Can has spoken about "leadership" on the pitch and at the beginning of his third season at Anfield many will want to see a promising talent deliver with actions rather than words.He's been very flattering towards the manager and on how much he personally is learning but with Liverpool having so many attacking players the burden of midfield work rate will fall on him and perhaps Jordan Henderson.He was given a place in Germany's Euro 2016 semifinal team against France but was disappointing and removed from the field after an hour. It was a sign of his potential that he was trusted with such a key role but that confidence wasn't vindicated.If Klopp intends to place further responsibility on his countryman at club level it's vital that Can meets the challenge. After selling Joe Allen and with rumours of Lucas Leiva leaving too, there aren't many other options left.Steven Kelly is one of ESPN FC's Liverpool bloggers. Follow him on Twitter@SteKelly198586.
Antonio Conte must restore Chelsea to Champions League after dire
Chelsea's title defence in 2015-16 was the worst in Premier League history, the Blues eventually finishing 10th following a wretched season.Antonio Conte has been charged with getting them back on track. Here's a look ahead to Chelsea's 2016-17 campaign.
At a glance
Another season, another high-flying manager in the Stamford Bridge hot-seat trying to satisfy Chelsea owner Roman Abramovich's unquenchable thirst for silverware.
Quick predictions
Premier League: 3rd
FA Cup: Winners
League Cup: Quarterfinals
Transfer business
The swift signing of Leicester City midfield dynamo N'Golo Kante for £30 million is one of the best pieces of transfer business done by any Premier League club this summer, but Chelsea's failure to bolster their defence in time for the start of the new campaign could be a problem as Conte is forced to rely on a backline which underperformed badly last season.Since the Italian was appointed in April, there has been plenty of speculation specifically regarding centre-backs, but with long-term target John Stones signing for Manchester City and little progress made elsewhere, the Chelsea board's hit-and-miss negotiating skills for targets are hamstringing their lofty ambitions.Further evidence of haphazardness and the Blues' glaring inability to prioritise player requirements has come this summer in the form of comparatively unknown striker Michy Batshuayi. Spending £33m seemed a lot of money to pay for the 22-year-old Belgium international, who will be vying for a place up front with Diego Costa and Bertrand Traore. Of course, should he fire Chelsea to glory then Batshuayi could prove to be a shrewd acquisition, but there's no guarantee — which goes some way to explaining the club's ongoing pursuit of Romelu Lukaku.Lukaku's return to the Bridge for an astronomical fee likely to be more than double the £28m received from Everton for his services two years ago would see critics pour scorn on the club's transfer strategy (if indeed there is one) particularly if they fail to bring in a much-needed world class defender and Chelsea suffer as a result.
Key questions
The Premier League has never been as competitive. Last season, Leicester City and Tottenham broke the traditional top four mould which regularly comprised Chelsea, Manchester United, Manchester City and Arsenal. The Blues finished a calamitous 10th, and the key question is whether Conte can propel the club back up the table.Without hesitation the answer has to be yes — for the sake of job security he has to — but how far, and what is deemed acceptable, is open to conjecture. Champions League qualification as a minimum will be the primary objective, but it won't be easy.The pressure to succeed will be intense. The Italian is clearly a passionate man with a temperament that could combust in the heat of the moment. Questionable refereeing decisions, a dressing room with a reputation for stroppiness when things aren't going right and the close scrutiny of Abramovich could make for an incandescent cocktail — how will Conte cope with these potential challenges?The first three months of the season are going to be critical. A decent start will breed confidence and belief that Conte can restore Chelsea's fortunes. Abramovich is clearly prepared to back his new manager in the transfer market, but time is getting tight before the summer window closes.At present, there is the real possibility the Blues will commence the campaign with the same backline of Cesar Azpilicueta, Branislav Ivanovic, John Terry and Gary Cahill that was exposed time and again at the start of last season. How will they fare this time around? With quality defensive reinforcements nowhere in sight, it has to be a worry.
Potential pitfalls
The main obstacle Chelsea face is the same every season. Abramovich's unbridled impatience and expectation of success has ensured the procession of managers he has hired since he bought the club in 2003 have had little time to get things right. If Conte endures a poor start, his reign as boss could be over in the blink of an eye.A lack of European competition could prove problematic. Historically, the group stage games have provided an even mix of feeble opposition, thereby providing the opportunity for the manager to rotate lineups and interchange tactics. Kurt Zouma is the primary recent example of a squad player whose path to Chelsea's first team was expedited via sterling performances in the Champions League.
One to watch
Will 2016/17 finally be the campaign when a product of Chelsea's academy breaks through to provide the first established, regular homegrown player since John Terry imposed himself on the first team? Earlier this year, opportunities came the way of midfielder Ruben Loftus-Cheek and striker Bertrand Traore and both players featured regularly in Conte's early preseason lineups.With the Italian seemingly looking to convert Loftus-Cheek into a forward, the 20-year old will be in competition not only with Traore, also 20, but big money summer acquisition Batshuayi and possibly Diego Costa should he remain at the Bridge or indeed Lukaku should he return.Even playing with two up front, with a lack of European competition, game-time for the youngsters is likely to be limited, meaning the academy players' dreams will remain frustratingly unfulfilled.Batshuayi, whose 17 Ligue 1 goals for Marseille last season propelled him into the limelight, has a couple of years' experience over Loftus-Cheek and Traore and will undoubtedly benefit from playing in front of international teammate Eden Hazard.If Chelsea make a positive start to the campaign and Batshuayi finds the net regularly, it's hard to see Conte chopping and changing his team — with the exception of injuries, there would be no reason to do so. It's a fantastic opportunity for the Belgian, who appears to have settled in well and looks ideally suited both in temperament and physique to cope with the rigours of the Premier League.Mark Worrall is one of ESPN FC's 
Tottenham must balance Premier League with European commitments
It was a sour end to last season for Tottenham. A 5-1 humiliation at relegated Newcastle meant Spurs were overtaken for second by arch rivals Arsenal, but with a new season comes renewed optimism.It's the final campaign at White Hart Lane and with Champions League football on the agenda, boss Mauricio Pochettino will have to balance matters in Europe with his side's exploits in the Premier League.Here's a look ahead to Spurs' 2016-17 …
At a glance
Tottenham are back in the Champions League but must also aim to finish in the top four of the Premier League again to keep their seat at Europe's top table — competition will be fierce.
Premier League: 4th
FA Cup: Fifth round
League Cup: Quarterfinals
Champions League: Quarterfinals
Transfer business
Sensible business has been done so far. The priority has been to strengthen the squad, securing quality cover for Harry Kane and Eric Dier and closing the gap between Tottenham's strongest line-up and second-string side. Vincent Janssen and Victor Wanyama tick the boxes and have already shown enticing glimpses of what they can offer.The powerful Wanyama strode forward to win the ball in opposition territory and set up a goal for Erik Lamela in the friendly against Juventus, while Janssen found the net while also setting up Dele Alli's strike in the 6-1 victory over Inter Milan.Spurs seemed set to complete a deal for Marseille winger Georges-Kevin N'Koudou too, but that is on hold and it is unclear whether he would be much better than last summer's recruit Clinton Njie.Mauricio Pochettino has stated he does not intend to replace the experienced but pedestrian centre-back Federico Fazio and while some may wonder what Alex Pritchard could have offered if he had ever been given a real chance before his move to Norwich, Tottenham have nonetheless banked £8 million for one of their academy products.
Key questions
Can Spurs maintain their progress in the Premier League and even replicate last season's title challenge and also make the most of their Champions League adventure? Meanwhile, it also remains to be seen how much importance Pochettino will attach to the domestic cup competitions, which remain the club's best chances of winning a trophy.How will their internationals react to what was, with the exception of Wales' Ben Davies, a generally disappointing and even, in some cases, a painful Euro 2016? The answer looked positive in the 6-1 victory over Inter, when Kane struck twice and Alli was also on target.Squad rotation will also be more important than ever, and Spurs' reserves — including some of last season's signings — will need to consistently step up to the plate and prove they belong at a club with Tottenham's status and ambitions.Can Son Heung-Min and Kieran Trippier be fully trusted and what can Njie offer? Can Ryan Mason silence his critics and does Tom Carroll have a part to play? Will there be a chance for more academy players to step up to the first team this season and, if so, who will be chosen?
Potential pitfalls
Last season, Tottenham took advantage of the fact that most of their Premier League rivals slipped up at the same time and endured disappointing campaigns. If they all get their acts together this time, Spurs' task will be much tougher.The north Londoners must also start without the influential Mousa Dembele, who will miss the first four domestic games due a ban carried over from the end of last term; the Belgian has not played at all during preseason, either, so might be lacking match practise when he returns.Meanwhile, after waiting for five-and-a-half years to get back into the Champions League, Tottenham will play home games at Wembley instead of White Hart Lane, which may negate some of the benefits of "home" advantage. It would certainly be a shame if that factor undermines their ability to produce their best form and progress in the competition.Spurs now have cover for Kane and so are less reliant on him than they were last season, but the Golden Boot winner last season is still a key man and he has not had a full summer off for two years. He looked tired at Euro 2016 and fatigue may become a factor.
One to watch
Cameron Carter-Vickers was the only academy player to start the final preseason friendly against Inter and it seems the 18-year-old centre-back may get the chance to be Toby Alderweireld's understudy. His first start could come in the third round of the League Cup in September.Meanwhile, Josh Onomah will hope for further opportunities after making 19 first-team appearances last season, while Harry Winks looks ready for a step up to senior level. There is a lot of excitement about 17-year-old attacking midfielder Marcus Edwards and 19-year-old striker Shayon Harrison scored against Inter just after coming on. 
USMNT PLAYERS IN EUROPE 2016-17
AUGUST 8, 2016 By Clemente Lisi – NEW YORK, NY (Aug 8, 2016) US Soccer Players – It's time for the seasons to start in Europe. In the coming weeks, all of the major leagues return to action. In the mix in England and Germany are several high-profile American players. Coming off of the Copa Centenario run earlier this summer, some of those players are looking for time. Some are in new situations. All are looking to grab headlines over the next nine months. Whether it's playing for silverware or avoiding relegation, there are opportunities for American soccer players.The number of Americans playing in the Premier League has fallen in recent years. Players opt to return or stay in Major League Soccer. The appeal of seasons under the glare of the EPL isn't what it was. Credit the growth of MLS, the rise in salaries, and wanting to play in front of American fans. The choice is tougher now than it was for players with options. Meanwhile, the Bundesliga has turned into a major source of talent for the USMNT.With the start of another European club season upon us, here are five Americans to keep an eye on:
Brad Guzan (Middlesbrough – Premier League)
Aston Villa now plays in the Championship. Their goalkeeper for the last eight seasons isn't making the drop with them. Guzan moved on. The 31-year-old goalkeeper was the US's starter at the Copa Centenario. He had a phenomenal tournament, helping lead the Americans to a fourth-place finish.This season, Guzan gets a new start, but he's not the starter. He'll have to show manager Aitor Karanka that he's the one who should get the job against real competition. Goalkeeper is a position where Middlesbrough has a lot of depth. Guzan will have to compete with former Barcelona 'keeper Victor Valdes, last season's starter Dimi Konstantopoulos, and Tomas Mejias.Middlesbrough loaded up on goalkeepers for their promotion season. They'll spend the next few months trying to show the difference between fighting off relegation and slotting comfortably into the middle of the table.
John Brooks (Hertha BSC – Bundesliga)
The towering defender was a big reason why the US backline was so stingy at the recent Copa Centenario. He's developed into one of the Bundesliga's top defenders at 6-foot-4 also one of its more imposing. Last season, the center back played in 23 league games, scoring one goal.It's easy to forget that Brooks is only 23. He's proven that he can handle the pressure of big international tournaments, but he still needs to show that he can make an impact at the club level.  Brooks' Copa performance has drawn interest from other clubs. Hertha's recent preliminary-round Europa League elimination is fueling speculation Brooks may get a transfer deal.
Matt Miazga (Chelsea – Premier League)
The former New York Red Bulls defender will play his first full season at Chelsea. His move to the London club last January was a sign that Major League Soccer is developing elite talent. While Chelsea had its troubles last season, the 21-year-old Miazga was able to play in two games under interim coach Guus Hiddink.This season, Chelsea has a new manager in Antonio Conte. Miazga will need to show him that he belongs on the roster. While Conte continues to assess which players he will start or bench, the former Italy coach has hinted that Miazga could be sent out on loan this season.
Julian Green (Bayern Munich – Bundesliga)
Once praised as the next American superstar, Greene, at 21, remains a work in progress. He is a member of Bayern Munich but has never played for them in a Bundesliga match. Instead, he has spent his time since 2014 either on loan with Hamburger SV or with Bayern's second team.While Green regularly trains with the first team, he will need to get playing time if he wants to advance his career. His recent hat trick in the International Champions Cup against Inter Milan showed that Green can shine when he needs to. After all, he did score a goal for the United States at the 2014 World Cup against Belgium. Only time will tell if the promising striker gets some real minutes at Bayern or somewhere else this season.
Christian Pulisic (Borussia Dortmund – Bundesliga)
Another highly touted American prospect, Pulisic is even younger than Green. Last season, Pulisic joined Dortmund's first team. He scored two twice in nine games. His first goal came against Bayer Leverkusen (at age 17 and 212 days), making him the youngest non-German to score a Bundesliga goal.Pulisic has done a great job taking advantage of the players surrounding him. The midfielder earned a call-up to the USA's Copa America roster, something that certainly helped him grow as a player. He also scored against Manchester City in the recent International Champions Cup. His hope is to be a bigger part of a bulked-up Dortmund team that wants to compete with Bayern Munich for the league title.Based in New York City, Clemente Lisi is a regular contributor to US Soccer Players.
 Is Alejandro Bedoya "worth it?" Recent U.S. players' moves to MLS suggest so
When Alejandro Bedoya signed with the Philadelphia Union last week, the reaction to the financial details was wide-ranging. Some viewed the $1 million transfer fee and $1 million annual salary as a steal for a two-way player who has become a U.S. national team mainstay. Others thought Philadelphia (and, by extension, the league) had paid too much for a 29-year-old midfielder who hasn't been a prolific goal scorer during his career.Such difference of opinion is usually an indication that the deal was fair, but it also made for an interesting comparison to other U.S. internationals who have come to MLS after spending considerable time in Europe.Over the past three years, some of the biggest names on the U.S. national team have made precisely that move. Clint Dempsey opened the tap back in 2013 when he moved from Tottenham Hotspur to the Seattle Sounders. Michael Bradley, Jozy Altidore, Jermaine Jones and Tim Howard have since signed with MLS teams, as have others. Along the way, MLS has shelled out some hefty sums for these players either in transfer fees, salaries or both.Back in 2013, the Dempsey deal involved a reported $9 million transfer fee, and while the salary numbers published by the MLS Players Union have some wiggle room, they do show that Dempsey has so far averaged over $5.2 million in annual compensation. Bradley has earned $6.5 million per year while garnering a transfer fee of $10m for his 2014 transfer from AS Roma.Lately, the cost required to bring U.S. players to MLS seems to be lessening, though each deal has its own unique set of circumstances, and those moving parts impact any assessment of value both on and off the field. There's the age of the player and his position on the field, of course, as well as his off-field impact in terms of marketing, jersey sales and more. And does one consider just the player's salary cap hit of $457,500 for Designated Players, or the total cash outlay instead?Out of the U.S. internationals to move to MLS in the past three years, Dempsey has provided the highest level of return. While the Sounders have failed to win an MLS Cup, they have claimed two trophies during his time there. And while reports surfaced that Dempsey had fallen out with now-former manager Sigi Schmid, the forward has done his part on the field, scoring 35 goals in 74 league and playoff appearances. He has also been at or near the top in terms of jersey sales for the past three seasons, thus adding to the club's bottom line.A case can be made that Jones has provided good value as well, especially after seeing his salary reduced from $3.05m in 2015 to $650,000 this year. Though injuries have limited his playing time over nearly three MLS seasons, his presence on the field has proved immense; his teams have gone a combined 24-7-11 during that span.Jones' Colorado teammate, Tim Howard, has been mostly impressive since arriving in July, but it's still too early to tell if he'll be able to justify his $2.57m salary. That said, his signing helped drive a three-year extension of Colorado's jersey sponsorship agreement with Transamerica.Altidore, meanwhile, has yet to fully justify the cost of his 2015 transfer from Sunderland. Hamstring injuries have limited his time on the field, though he's actually logged more minutes over the last two seasons than Jones. The difference is that Jones arrived on a free transfer while Altidore cost around $10m in a cash-plus-swap deal for Jermain Defoe. That said, when he's been on the field, Altidore has been effective, tallying 15 goals in 37 appearances. His holdup play this year has been impressive as well. If Altidore can stay healthy, he may yet fulfill the high expectations that accompanied his move.Bradley's value might be the toughest to quantify. Toronto FC have without question been better since his arrival, though Sebastian Giovinco's presence has been a bigger factor. Bradley has also been more effective since adopting more of a deep-lying role earlier this year. But is $6.5m per year really what should be spent on a holding midfielder?The amount seems steep, though timing did play a part in the outlay; MLS had to overpay in order to entice him and Dempsey to return to North America. If TFC can make a deep playoff run with Bradley orchestrating things from deep, it's doubtful any Toronto fans will begrudge him for his salary.That still leaves Dempsey atop the "value-meter" of returning U.S. internationals, yet there is an unheralded player, relatively speaking, who is challenging his position: New York Red Bulls midfielder Sacha Kljestan.When the former Anderlecht midfielder arrived prior to the 2015 campaign, he was looked upon as nothing more than a solid addition, even as his national team prospects evaporated. But Kljestan is in the midst of his second straight impressive season with the Red Bulls, with his five goals and a league-leading 13 assists seeing him creep into MVP conversations. Such performances stand in stark contrast to another midfielder playing in New York, NYC FC's Mix Diskerud, whose career looks to be in limbo due in no small part to his annual salary of just over $750,000.While Kljestan's transfer fee to Anderlecht remains undisclosed, his salary is costing the Red Bulls a relatively modest $687,500 per year. That counts as a fine bit of business by GM Ali Curtis.As for Bedoya, it remains to be seen precisely what role he'll play in manager Jim Curtin's lineup. But Union fans will gladly take anything approaching Kljestan's numbers. If that's the case, there will be no argument as to whether Bedoya has been worth the money.Jeff Carlisle covers MLS and the U.S. national team for ESPN FC. Follow him on Twitter @JeffreyCarlisle.
Earn your Degree While You Watch Your Kids Soccer Practice – ½ the time and cost of Traditional Schools
Check out The Ole Ballcoach online www.theoleballcoach.com –  Proud Member of the Brick Yard Battalion – http://www.brickyardbattalion.com , Sam's Army- http://www.sams-army.com  , American Outlaws  http://www.facebook.com/IndyAOUnite