Champions League Tues/Wed
We are nearing the final 2 games of the Group Stage in Champions League (Europe's best teams) and Europa League with some big games this week featuring Americans this week on Paramount plus with Wrap-Around shows on at 3 pm on CBS Sports Network.  Tues at 12:45 pm Chelsea and Pulisic (who has started) still need wins to advance as they travel to Salzburg, while Celtic and Carter-Vickers must win vs Shaktar Donetsk at 3 pm. Dortmund and Gio Reyna are 2nd as they host Man City vs their former Talisman #9 Halland also at 3 pm. Wed Barcelona must win vs Bayern Munich to stay alive at 3 pm on Para+, while Liverpool needs to at least tie Ajax at home at 3 pm to secure advancement.  Rangers and Americans James Sands and Malik Tillman must win @ Napoli at 3 pm to stay alive.  Watch the Golazo shows on CBSSN at 3 pm on both Tues/Wed to see wrap-around coverage with pregame and postgame as well.  Thurs Arsenal's American Goalie Matt Turner will look for his 3rd straight shutout vs PSV at 12:45 pm while Jordan Pefok and Union Berlin needs a home win or tie vs Braga to stay in contention at 12:45 pm in Europa League action on Paramount plus. Live Update Pulisic Asst vs Salzburg  Goal in Spanish as it should be. UCL Permutations.
MLS Conf Finals Sun + NWSL Final Portland vs KC Sat 8 pm CBS
Again wow – theMLS Playoffs continue to excite as we are down to the final 4 teams this Sunday. The East has the Philly Union facing NYCFC on Sunday at 8 pm Fox Sports 1 Prime time. While the West has Supporter Shield holders LAFC hosting Austin FC at 3 pm on ABC. The NWSL Finals will feature the Portland Thorns (Crystal Dunn, Sophia Rodriguez, Sophia Smith) vs the Kansas City Current at 8 pm on CBS. Portland's Crystal Dunn a 2nd half sub scored the game winner vs Seattle 2-1. Listen to that soldout Crowd in Portland – Soccer Capital of the US! KC vs Seattle highlights, Portland vs San Diego highlights.
Indy 11 & USL
Great to see former Carmel FC GK Coach and Indy 11 GK Jordan is headed to the playoffs with his #1 Seed In the Western Division San Antonio vs Colorado Switchbacks Saturday on ESPN+ at 8 pm. Jordan was just edged out for GK of the Year. USL Playoff Bracket
High School – #2 Carmel Girls to the State Finals on Sat 4 pm vs #1 Noblesville@ IUPUI (Indy 11 Michael Carroll Stadium)
The Carmel High Girls defeated Center Grove 1-0 to advance to a DREAM State Final match-up vs #1 Ranked Noblesville Sat at 4 pm.  For Carmel and Legendary Coach Frank Dixon its the 4th state title game if 5 years. Noblesville beat Carmel mid-season 3-1 at home but Carmel has certainly found their scoring touch over the last month of the season.  Carmel FC has a ton of current and former players on the that Carmel squad, also a player on Park Tudor – best of luck this weekend ladies.  Also Carmel FC coach Carla Baker is Asst coach for Park Tudor they play Fort Wayne Canterbury right after the Carmel game (6:30 pm).  If you are interested in going down to watch, tickets are $15 and should be purchased prior via GoFan.
State High School Soccer Finals
Saturday, Oct. 29
Class 1A Boys
Greenwood Christian (11-7-3) vs. Park Tudor (18-2-1) | 6 pm ET / 5 pm CT
#1 – Derek Etherington / #2 – Michael Crump / #3 – Chris Smith
Class 2A Girls
Evansville Memorial (20-0-1) vs. Leo (18-4) | 8:15 pm ET / 7:15 pm CT
#3 – Dottie Outcalt
Saturday, Oct. 29
Class 2A Boys | Brebeuf Jesuit (16-4-1) vs. Mishawaka Marian (17-1-2) | 11 am ET / 10 am CT
Class 3A Boys
Columbus North (18-1-1) vs. Noblesville (14-3-3) | 1:30 pm ET / 12:30 pm CT
#1 – Eric Bozeman
Class 3A Girls
Carmel (18-2-2) vs. Noblesville (19-1) | 4 pm ET / 3 pm CT
#2 – Chris Doerner / #3 – Jerry McClatchey
Class 1A Girls
Park Tudor (20-1-1) vs. Fort Wayne Canterbury (12-8-2) | 6:30 pm ET / 5:30 pm CT
#4 – Chuck Mayfield
If you are interested in going down to watch, tickets are $15 and should be purchased prior via GoFan. The names in Red are local referees who are doing these games – Congrats guys!!
BIG GAMES ON TV
Tues, Oct 24 CHAMPIONS LEAGUE
12:45 pm Para+ Salzburg vs Chelsea (Pulisic)
3 pm Para+ Benefica vs Juventus (McKinney)
3 pm Para+ Real Madrid vs RB Leipzig
3 pm Para+ Dortmund (Reyna) vs Man City
Wed, Oct 25
12:45 Para+ Club Brugge vs Porto
3 pm Para+ Barca vs Bayern Munich
3 pm Para+ Tottenham vs Sporting
3 pm Para+ Ajax vs Liverpool
3 pm Para+ Napoli vs Rangers ()
Thur, Oct 26 EUROPA
12:45 pm Para+           PSV vs Arsenal
12:45 pm Para+           Union Berlin (Pefuk) vs Bragga
3 pm Para+ Man United vs Sheriff
3 pm Para+ West Ham vs Silkeborg
Sat, Oct 29
7:30 am USA Leicester City vs Man City
9 am CBSSN Napoli vs Sassuolo
9:30 am ESPN+ Bayern Muchen vs Mainz
10 am USA Chelsea (pulisic) vs Brighton
11 am bein Sport PSG vs Troyes
12:30 NBC Everton vs Fulham (Robinson, Ream)
12:30 ESPN+ Dortmund (Reyna) vs Frankfort
2:45 pm USA Liverpool vs Leeds United (Aaronson, Adams)
3 pm ESPN+ Valencia vs Barcelona
8 pm CBS Portland Thorns vs KC Current
Sun, Oct 30
10 am USA Arsenal vs Nottingham Forest
10:30 am ESPN+ MGladbach vs Union Berlin (Pefuk)
12:15 pm USA Man United vs West Ham
1 pm Big 10 Net Indiana U Men vs Maryland
3:45 pm Para + Torino vs Milan
3 pm ABC LAFC vs Ausstin West Con Final
8 pm Fox Sport 1 Philly Union vs NYCFC East Con Final
8:15 pm Univsion Pachuca vs Toluca Mexico playoff
Tues/Wed Nov 8 &9 Champions League
Sat, Nov 5
4 pm Fox MLS Finals
Sun, Nov 10
7 pm FS1 USWNT vs Germany
Thur, Nov 13
5 pm ESPN USWNT vs Germany
8 pm ESPN2 USL Finals
Sun, Nov 20
11 am Fox World Cup Starts
Mon, Nov 21
8 am FS1 England vs Iran
2 pm Fox USA vs Wales
Mon, Nov 22
11 am Fox Mexico vs Poland
Soccer Saturday's are every Sat 9-10 am on 93.5 and 107.5 FM with Greg Rakestraw
===================RackZ BAR BQ ====Save 20% ======================
AFTER YOUR PRACTICE AT BADGER FIELD
Try out the Best BarBQ in Town right across the street (131st) from Northview Church & Badger Field on the corner of Hazelldell & 131st. RackZ BBQ
Save 20% on your order
(mention the ole ballcoach)
Check out the BarBQ Ribs, pulled Pork and Chicken, Brisket and more. Sweet, Tangy or Spicy sauce. Mention you heard about it from the Ole Ballcoach — and Ryan will give you 20% off your next meal. https://www.rackzbbqindy.com/ Call ahead at 317-688-7290 M-Th 11-8 pm, 11-9 Fri/Sat, 12-8 pm on Sunday. Pick some up after practice – Its good eatin! You won't be disappointed and tell 'em the Ole Ballcoach Sent You!
=====================RackZ BAR BBQ ======Save 20% ======================
CARMEL FC PLAYERS : Winter Players League (WPL) – Badger Indoor Fieldhouse
As the fall season comes to a close over the next month, we wanted to let you know that we will be launching an indoor soccer league over two six week sessions within our new Badger Fieldhouse. Games will be played on either Friday night ( 6pm to 10pm) or Sunday afternoon (1pm-5pm) depending on age groups: U8s, U9&U10, U11&U12, U13-U15 and U16+ (Coed Teams allowed). Referees for each game, 50 minute games, 5v5, 7v7 and 9v9 matches.
Session One (6 weeks): Jan 6th, 13th, 20th, 27th / Feb: 3rd, 10th $100 (includes Tshirt)
Session Two (6 weeks): Feb 17th, 24th / Mar 3rd, 10th, 17th, 24th $100
Registration Information coming shortly, gather teammates and be ready to play!
Also CFC Goalkeepers we'll have Indoor Training at the Fieldhouse on Wed nights – U11 5:30, U13 6:30 and U14/Highschool 8:30 pm starting Dec 3.
Carmel girls soccer may not have a 'star' player, but Greyhounds are back in state finals
Lewis Bagley Special for IndyStar
SEYMOUR — For the fourth time in five years, coach Frank Dixon will take Carmel to the Class 3A girls soccer state finals. This time, however, his team is a bit different. Third-ranked Carmel netted the only goal it would need in the 31st minute and took down No. 7 Center Grove, 1-0, in the semistate contest at Seymour High School. It's the 14th semi-state title for the program.
IHSAA soccer state tournament: Semistate pairings, schedule
Up next: Noblesville leaves no doubt with 7-0 win. Up next? Carmel for a state title.
Carmel (18-2-2) will meet top-ranked Noblesville in the title game at IUPUI's Carroll Stadium. Date and time to be announced Sunday by the IHSAA. "What's different with this team?" Dixon asked, pondering the question a second. "Well, what's the same is that we have a lot of good players, but the difference is I don't think we have a 'star' player. "Look at this game. It was a freshman that got us through. We're not a star-studded team, but a hard-working team that gets the job done." The "freshman" Dixon referred to was Adalyn Cameron, who notched the only goal. Cameron camped out to the left of Center Grove goalkeeper Sophia Gorall and picked up a corner kick from junior Megan Hamm and tallied only her second goal of the season. The assist for Hamm was her team-leading ninth of the season. The goal came on the north end of the field with a strong, brisk wind at Carmel's back. That helped the Greyhounds stymie a Center Grove offense that was a victim of a 2-0 shutout loss to Carmel in their last meeting Sept. 21. Carmel had nine shots on goal in the first half, while CG couldn't muster any on Greyhounds keeper Aubree Empie. Carmel also had a 7-0 advantage in corner kicks. With the wind at its back in the second half, Center Grove coach Myron Vaughn made an adjustment that helped his team mount more of a challenge, "We added a couple more attackers going with the wind," Vaughn said. "It helped us get some more set pieces (in our offense) and we've been able to score on those all year." This time, Empie and the Carmel defense stood tall to complete the shutout. The loss ends Center Grove's season at 17-3-2 and brighter days seem to be ahead for the program. "From August until now, it's like night and day," Vaughn said of his team. "This group really came together and bought in and that's why we were here. We have 16 juniors on our roster and the experience of playing in the semistate will help them. Carmel, meanwhile, will be seeking its 11th state title (all under Dixon) and the first since 2018. Carmel finished as runner-up in 2019 and last season. "I thought we played Noblesville well last time, until the final minute," Dixon said, referring to a 3-1 loss to the Millers Sept. 19. "I think we are a better team now, but they probably are, too." Bishop Chatard girls fall in Evansville No. 1 Memorial scored twice in the second half of a 2-0 win over No. 5 Chatard in the Class 2A girls semistate. Myla Browning opened the scoring with 35 minutes left. An Avarie Zeller cross was saved but Browning poked the loose ball over the line. Zeller netted the final goal, a header over the keeper, with 6:32 remaining. Memorial (21-0-1) will face the Mishawaka Marian-Leo winner in the state championship. Chatard finished with an 18-3-1 record. No. 1 Park Tudor girls advance in Class A No. 1 Park Tudor advanced to the state championship with a 1-0 win over No. 4 Mater Dei.Paige Dill recorded the only goal for the Panthers with 16 minutes left in the first half. The sophomore connected on a 40-yard free kick that hit the crossbar and deflected off the hands of the goalkeeper.Park Tudor (20-1-1) will face the Andrean/Fort Wayne Canterbury winner in the 1A state final. Mater Dei finished with a 14-8 record. Noblesville girls soccer leaves no doubt with 7-0 win. Up next? Carmel for a state title. Richard Torres Special for IndyStar KOKOMO – No. 1 Noblesville wasn't taking any chances.A year removed from losing a shot at a potential third straight Class 3A girls soccer state championship, Noblesville opened up its offense during the Kokomo semistate and showed why its only lost two games in four seasons.The Millers (19-1) converted four goals in the first 28 minutes against No. 12 Crown Point Saturday and didn't allow a shot until the 68th minute to win 7-0 with a chance to claim their third state crown in four years. 'Always Find a Way.'Noblesville boys soccer does just that on road back to state finals.
Sophomore Meredith Tippner recorded a hat trick to give the Millers a 3-0 lead by the 24th minute, and she finished with four goals overall with her finale making it 6-0 by halftime. "Honestly, you don't get four goals unless you have people around you that can put in you that position," said Tippner, who has 15 goals on the season. "I know at least two or three of those were gimmes based off a teammate and the team working up. Couldn't ask for a better team to be with right now."The Millers have won 15 games by shutout, including five consecutive state tournament contests. The only team to score against the Millers this postseason was No. 8 Fishers in the sectional quarterfinals on Oct. 4."We have set the bar high for ourselves, but that's what we keep looking to achieve. We knew this wasn't our last game of our season. We knew we wanted to get another chance," Noblesville coach Mike Brady said. "To get to the state final the way we've played all year, now, again, we're going to have to play our best game of the season, if we want to bring home the trophy."Noblesville's seven-goal performance was its highest output of the season, and it came at the ideal time with No. 3 Carmel (18-2-2) sitting in between the Millers and another state title. "It's the biggest stage you can be on, and I think we're ready to compete," Tippner said. "I'm ready and excited for it."Tippner unveiled her focus with her first two goals coming off assist from senior Ava Bramblett in the 6th and 18th minutes. Her third goal was assisted by Atley Pittman, a sophomore, and her fourth was a header off a corner-kick pass by senior Victoria Goodwin in the 78th minute.Pittman increased the lead 4-0 in the 28th minute off an assist from senior Mia Brake. Bramblett made it 5-0 in the 36th minute on a pass from Tippner, which initiated the mercy-rule running clock in the first half.The Millers' final goal was a putback by junior Stella Scroggin in the 43rd minute, wrapping up the program's third semistate title in four years."Last year, we lost to a great Homestead team, who ended up winning it all. We were all crushed and felt this was our season," Tippner said. "I'm just glad that we've all come together this season and now get a chance to play a really good Carmel team. I wouldn't want it any other way."In 2021, Noblesville lost to eventual state champion Homestead in the regional semifinal, 4-2. Since the loss, the Millers have focused on redemption and will join the Noblesville boys team that will also contend for a state title enxt weekend at IUPUI's Carroll Stadium."I still put that Homestead loss on me. For some reason, I feel like we didn't play the way we were able to, and that's kind of what we've done all year. There was one game earlier this season (against No. 4 Zionsville) we didn't show up and we lost (2-1), but we learned," Brady said."We haven't lost since. It's an attitude that's addictive in this program. And again, we're all pushing ourselves because when you're ranked No. 1, there's only one goal you set for yourself and we have a chance to play for it."
MLS Playoffs Sun 3 pm ABC, Sun 8 pm FS1
Austin join holders New York in MLS Cup conference finals
Austin FC Proves Doubters Wrong
Conference Finals Review Show Video Goals from the Conference Semi Finals
NWSL Finals Sat 3 pm CBS
Portland Thorns defeat San Diego Wave in NWSL playoff after wild final minute of stoppage time
Crystal Dunn sends Portland Thorns to 2022 NWSL Championship with stoppage time goal
Kansas City continues historic NWSL playoff run with 2-0 win over OL Reign USA
US Men Rounding Into Form Just in Time – Henry Bushnell Yahoo
USMNT World Cup preview: 22 questions about the U.S. at Qatar 2022, answered – Bushnell Yahoo MLS Players Gather for US Mens Pre World Cup Training Camp
US Women's World Cup Draw 'Signed, sealed, delivered':
New stamp celebrates U.S. women's soccer Chris Wright
Women's World Cup 2023 draw: Group-by-group picks, X factors, must-see games and more ESPN
Inside the United States' Amputee Soccer World Cup campaign Tony Mabert
Champions League
Champions League: Barça on brink of exit, Messi powering PSG
Dortmund vs Man City: How to watch live, team news, prediction
Dortmund put faith in teenage trio ahead of Haaland return
RB Salzburg vs Chelsea: How to watch live, team news, prediction
Hart adamant Celtic 'not far away' from European joy
Juve crisis continues as Champions League elimination looms
EPL
10 things we learned in the Premier League: Week 13
Fulham keeps firing as Leeds fightback falls short at booing Elland Road
Mitrovic continues to prove Premier League quality
Villarreal's Emery appointed Villa coach
Top PL goals and saves from Matchweek 13
Watch out, Emery: Are Aston Villa a toxic club?
Newcastle into top-four with win at Tottenham
Chelsea still struggling for goals despite Potter's bright start
Saudi-owned Newcastle into CL positions amid speedy rise
Conte claims Spurs can't stand the schedule as Newcastle move into
Jesus urges Arsenal to 'wake up' after Southampton draw
PL Update: Late drama between Chelsea, Man United
Chelsea vs Manchester United player ratings out of 10
Reffing
LaLiga's refereeing hits low point: Ridiculous red cards, confusing calls Graham Hunter
Horrible VAR Decisions cost US Game vs England
The Ref Didn't Even Blow his whistle
Goalkeeping
Saves of the Week MLS Orlando City SC's Pedro Gallese wins 2022 MLS Save of the Year presented by Allstate fan vote  
LAFC down crosstown rival LA Galaxy to advance to MLS Western Conference final
By Paul Tenorio Oct 21, 202217
---
Somehow, someway, El Trafico always delivers.Thursday night's rivalry game between LAFC and the LA Galaxy in the MLS Cup playoffs delivered plenty of excitement, including three goals in the final 18 minutes of play, as LAFC downed its crosstown rival, 3-2, in a back-and-forth affair.The third goal of that crazy final stretch, scored by LAFC forward Chicho Arango three minutes into second-half injury time, set off the home crowd in a raucous celebration and eventually sent LAFC back to the Western Conference final for the first time since 2019.It was yet another thrilling chapter in this nascent LA derby.Arango's 93rd-minute goal, scored from the doorstep after Dénis Bouanga's volley was stopped by Galaxy goalkeeper Jonathan Bond, provided an exclamation point on what was a frantic final 20 minutes.Bouanga netted his second goal of the night in the 80th minute after a beautiful sequence from LAFC. Diego Palacios found Arango near the top of the box, and the Colombian laid it off to an overlapping Ryan Hollingshead, whose cross just missed a sliding Kwadwo Opoku only to land on the foot of Bouanga at the far post. The designated player did not miss.Just five minutes later, however, the party at Banc of California Stadium was silenced.Dejan Joveljic was on the field just 86 seconds before adding to what was a legendary super-sub season. The 23-year-old scored his ninth goal as a substitute this year with a brilliant right-footed finish curled to the far post, seemingly saving the Galaxy's season.Eight minutes later, however, Arango found the game-winner.Bouanga was the hero on the night for LAFC. When the Frenchman joined LAFC as a designated player in August on a reported $5 million transfer fee, there was some question about what type of impact he could make as a late addition to a star-studded squad.Doubts increased about the 27-year-old when he managed just one goal in seven games with LAFC in the regular season. But Bouanga made a huge impact in his first MLS playoff game.Bouanga opened the scoring in the 23rd minute by jumping on LAFC's first big chance in the game. Carlos Vela dropped into space to get on the ball, then threaded a pass through the Galaxy back line to Bouanga, who showed his strength to stay in front of Douglas Costa, control the ball and finish to the far post.That 1-0 lead surely felt like a huge relief to the home side after the Galaxy had found the better chances through the opening 20 minutes.The Galaxy, though, snagged an equalizer just before halftime when Samuel Grandsir jumped on a poor clearance to power a shot to the far post and past LAFC netminder Maxime Crépeau.Grandsir's goal set up a fantastic second half, and behind Bouanga and Arango LAFC was able to find its way to the Western Conference final for the first time since 2019. LAFC beat the Galaxy, 5-3, to get to that conference final before bowing out to the eventual MLS Cup champion Seattle Sounders.LAFC will now await the winner of Sunday's FC Dallas-Austin FC semifinal.
Philadelphia Union top FC Cincinnati on Leon Flach's goal, advance to conference finals
By Jeff RueterOct 20, 2022
---
In one of the most anticipated matchups of the MLS Cup Playoffs quarterfinals, the Philadelphia Union overcame an FC Cincinnati side that was largely rebuilt by sharing its identity. Jim Curtin's side withstood a worthy challenge by his former assistant and first-year Cincy head coach Pat Noonan, with Leon Flach proving an unlikely hero with his first goal since October 3, 2021.
With captain Alejandro Bedoya absent due to a hip flexor, 19-year-old Jack McGlynn took his place in midfield. McGlynn was part of the U.S. side which won this summer's CONCACAF U-20 Championship but made just nine starts in the regular season. As for Cincinnati, Geoff Cameron was limited to a bench role due to injury and replaced by rookie Ian Murphy, while Yuya Kubo was omitted for family reasons.
While Cincinnati was the only team to win away from home in the first round, they hardly started the match as a distant underdog. The Orange and Blue were the aggressors for the first five minutes, keeping 70 percent of the ball in the early interval and working to pressure the Union backline. However, they struggled to turn the time into chances, and Philadelphia quickly worked back into the game.Although the match was evenly contested through 30 minutes, Cincinnati talisman and Best XI candidate Luciano Acosta fell to injury in the 34th minute. The playmaker caught his left foot in the grass and had it buckle underneath his weight as he tried to keep a ball in play under minimal defensive contest. Acosta was able to stay in the game but was visibly hobbled for several minutes after his return. Ultimately, the two sides headed to the locker room for halftime in a scoreless deadlock — although the half was anything but dull.The second half started much as the first had, with Cincinnati looking to force the issue. Andre Blake (who was named MLS Goalkeeper of the Year earlier on Thursday) was forced into action several times, keeping the stalemate while his defense absorbed pressure. Finally, the Union was able to get the ball into the attacking third with intention in the 59th minute. While the ball bounced through the team's attacking triumvirate of Mikael Uhre, Julian Carranza and Dániel Gazdag in the box, it spilled out to midfielder Flach.While the midfielder only managed one goal in 2021 and didn't score during 34 regular season appearances, the former FC St. Pauli man didn't waste a rare chance despite three Cincinnati defenders converging on him. Flach got his laces through it and sent the ball above a diving Roman Celentano, giving the hosts a breakthrough with half an hour remaining.Once again, Cincinnati was quick to respond with a convincing string of attacks. The visitors kept the possession battle at a near 50/50 split through the 75th minute, regularly moving the ball into the final third. However, the staunch Philadelphia defense kept its shape and ensured that the dangerous trio of Acosta (who appeared less hobbled after halftime treatment), Brenner and Brandon Vazquez was limited to shooting in less threatening areas. Even when they did make attempts, Blake was up to the occasion, with the Union faithful chanting "M-V-P" after his most impressive parries.Center official Timothy Ford let the two sides live up to the moment's intensity, staying hesitant to show cards and allowing for persistent infringement by some of the matchup's feistiest players. Philadelphia had a golden chance to put the game away just before stoppage time, but a corner kick bounced off several Union men before Cory Burke's touch from two yards out went wide of the post.Burke had another chance to ice the game a minute later, but his looping shot went over the far corner of the goal. Cincinnati sent many players forward as they desperately chased an equalizer. A last-gasp shot by Álvaro Barreal was blocked before it could reach the goalmouth, and Ford blew his whistle as the rebound settled back toward the center circle. The Union will host the winner of CF Montréal – New York City on Sunday, Oct. 30.
NWSL Championship set with Portland Thorns screamers, Kansas City Current's resilience
By Meg Linehan and Steph YangOct 24, 2022
---
Portland Thorns FC and the Kansas City Current are heading to Washington, D.C. In the first match of Sunday's duo of semifinals, the Thorns needed all 90 minutes plus stoppage time to dispatch the San Diego Wave, with Crystal Dunn providing the storybook ending. Portland is now back to another final to play for a third star. The Current went into OL Reign's home stadium and walked away with a 2-0 win, thanks to goals from Alex Loera and Kristen Hamilton, plus yet another clutch performance from Adrianna Franch in goal.There are so many narrative threads to follow leading into next week's NWSL Championship: two first-year coaches, KC's worst-to-championship turnaround, Portland's players banding together for each other as the club faces huge systemic challenges following the Yates report. That's in addition to more player-focused stories like Dunn's incredible return to action after giving birth, Franch's importance on this Current team and the role of rookies like Sam Coffey for Portland and Elyse Bennett for KC. Portland may be heading to the East Coast as the No. 2 seed, but as we've seen this season in the NWSL, there's no such thing as a clear favorite this year. Before we fully turn our attention to next Saturday's primetime final, let's savor these two semifinals.
Portland: bangers only
That is not an exaggeration. Both of the goals Portland scored to close out the Wave on Sunday were absolute screamers. Let us relive them together. First: Rocky Rodriguez. After this game, the laces part of that boot should be preserved in a museum.
And then the winner from Dunn, substituted into this game and hitting it sweet from almost the same spot as Rodriguez.The Thorns had about three weeks of rest between the last game of the regular season and Sunday's semifinal, and they looked pretty good throughout despite going down early. Head coach Rhian Wilkinson hinted before the game that so much rest isn't necessarily good for a team; too long between games and players can get antsy, go flat, and lose cohesion. But that rest ended up coming in handy as the Wave tired and eventually got pinned in their own box as the Thorns generated ever more chances. Credit to Wilkinson for setting the team up well, and for starting young Yazmeen Ryan with team captain Christine Sinclair on the bench. Wilkinson told the media after the game that she knew the matchup would probably be highly transitional, and she wanted Ryan's ability to cover the wing.The game also featured a great crowd; something that clearly meant a lot to players at a club where there's been a lot of understandable tension over attendance, with fans debating whether or not they want to boycott games, while players ask fans for their support. "I think when we heard that there were many, many people showing up today it really allowed us to get hyped for this game," said Dunn after the game. "Our fans have been through a lot as well this year, along with players, and I think them showing up is exactly what we want for this community. We want everyone to obviously be able to voice their opinion and be able to share their feelings, but at the same time we also understand without the fans, I mean, the game is just not as fun. And being able to deliver that moment today for them was really special because it made me feel like we're all in this together. It's a tough year but we have lived and survived to fight for another game."
So long, San Diego
The mood in the Wave camp postgame was certainly down, but it was also pretty clear that head coach Casey Stoney — along with Taylor Kornieck and Naomi Girma — still had plenty to be proud of in their 2022 season. Stoney, once again with her kids beside her on the podium, credited the two amazing goals as well as Thorns goalkeeper Bella Bixby's clutch saves for the end result. "My overriding emotion is huge pride in the team, the players and the club," she said, "and what we've been able to do in a short space of time. Now we need to use this feeling to fuel us to get better."Kornieck said multiple times how she could not wait for preseason to kick off in February; Girma was also already considering what the team would take away from this result to use in the future. "I think there's a lot for us to learn as a group and for me individually from my rookie year," Girma said. "I think the sky's the limit for this group, so just really excited for next year."Stoney expanded on a few specific areas where she thinks the Wave can improve. "This team has grown from week to week, strength to strength," she said. "Now, how can we consistently, when we're not playing well, get results? I think we struggled with that midseason. We'll look at how we can be really hard to beat when we're not necessarily on our game, and then when we are on our game, finishing our chances and being clinical in that final third is something that we'll look at."San Diego truly did set a standard for themselves — and the current NWSL teams and any future expansion team — in 2022. Stoney has lived through her first NWSL postseason and now gets a few months to figure out how to take her team to the championship next season. It's almost a scary thought to think about how there's still so much room to grow for year two.
End of the line for OL Reign
Ohhhh, OL Reign. Another NWSL shield win, another defeat at the hands of Kansas City to show for it. This loss was obviously quite different than it was in 2014 and 2015, but this one might hurt even more in many ways. Thinking back to the tail end of the regular season, the three Reign OGs in Megan Rapinoe, Jess Fishlock and Lu Barnes talked about this particular edition of the team — this was supposed to be the year that they broke through to the championship and won it all. There weren't any excuses after the game. Both head coach Laura Harvey and Rapinoe dismissed any concerns about the bye week playing a role in the loss, especially considering the international travel that impacted so much of the team. "I don't even really know if we deserved more out of the game. We didn't really take our chances and impose ourselves on the game," Rapinoe said. "Tough, tough moment for us, especially playing the way we've been playing and having the season that we've had."Mostly, it seemed, it was having to face the fact that they simply had not been anywhere good enough on Sunday. "We lacked quality when we needed it, and that was the game really," Harvey said. "That was my message at the end of the game. We're a very honest group with each other, and at the end, I was honest with them to say that I truly believe that over the course of the season, do we deserve to get closer to that championship? Yes. On tonight's performance, we didn't show quality when we needed it."It's now been two years in a row where the Reign looked like they had the team on paper to win it all. And — to agree with Fishlock once again — winning the Shield does not get enough credit in the NWSL; it is a much harder task, especially this chaotic season. But the Reign showing up and simply not having it on Sunday night has to be one of the most painful ends of the season this team has ever had.
Kansas City!
What a statement game for Kansas City. They've grown into their roster and their tactics over the course of the season, showing a steadiness both in their gameplay and in their mental resiliency that has brought them to the brink of a championship. From their fourth-minute goal off of Alex Loera – who also had herself a goal-line clearance – to their direct team effort on Kristen Hamilton's 63rd-minute follow-up, they just never looked rattled."Alex loves to express herself on the attacking side of the game and she was allowed to do that a little bit more this evening," said head coach Matt Potter after the game. Hamilton's goal in particular was a great encapsulation of KC's desire to always win the ball and the attackers' ability to be disruptive with their movement It was also the result of a little bit of luck."I was kind of fortunate enough to be on the sideline talking to Matt at the moment," said Hamilton after the game, "Where we were talking about the subs coming in and what we were going to do from there. And I just happened to see (Franch) decide to play the ball early and I was like, 'Well, I gotta go Matt'. Kind of in the perfect spot of the perfect time. So thanks, Matt."Potter, Hamilton, and Franch expounded further on the way that KC has built a team culture together, something that perhaps carries additional meaning for a club going from last on the table to championship game in one season. "You have to come together to be a championship team," said Franch after the game. "You have to have some type of togetherness and everybody on the same page and moving to where we want to go and wanting to get better every single day and wanting to achieve the things that we were achieving. And that's every single person on the team, staff included, putting in the time and the effort to be here.""The players that were here (last season), I'm so excited for them because they've worked hard as professionals in this league for a long time," said Potter. "Some of the names you've talked about, you know, Lo'eau LaBonta, Kristen Edmonds, Desi Scott, Kristen Hamilton, AD, I mean, the list goes on. I'm so, so proud of them in many ways, but also so excited for them because they're getting to experience something that brings so much joy in anybody's life and I couldn't be more delighted for them and for the new players. Hopefully, this becomes the norm for them."
Other items of note
A note to the moms in the league
A notable moment from the Thorns-Wave postgame was Wilkinson being asked several questions about Dunn's return to soccer after giving birth to her child in May, questions that both Wilkinson and Dunn have been asked in multiple press conferences. It's obviously quite an achievement from Dunn and yet further evidence that Dunn is one of her generation's greatest athletes. But Wilkinson also had a good point with this:
"I'm not a mother and that experience with your body, unless you've had a child, I can't speak to it. What I can say is that I tried my best to make everything possible for her and just see how she adapted, because some women might be like Crystal Dunn, and some might need a year and a half. I don't know. But what I do know is we never pushed her. We supported her but we never tried to push any limits. And it just turns out that she's ready for the end of the season. It's such a unique experience for every mother…. I don't also want other mothers in the league to now think they've got to do what Crystal Dunn did. It is incredible what she did. But it was done very carefully with a lot of very, very skilled people supporting her return to play."
Goal line technology when?
Let's revisit that aforementioned goal-line clearance from Loera for a moment. In the end, it wouldn't have changed the outcome — but once again, we're all struggling to have a definitive take on if this ball fully crossed the line using broadcast angles that ultimately tell us nothing definitive at all.
VAR is incoming next season (honestly, we're still undecided on just how to feel about it but mostly think that the league could have prioritized other investments), and goal-line technology is not fully within every team's control… but if there's one big splurge in this area the league could choose to focus on, that might be the one.
One more thing
Let's talk about attendance for these NWSL playoffs, and why it's been so important for the continued success of the league — particularly at this complicated moment in time. Every single match surpassed 20K fans — and while that's the capacity for Audi Field, a league spokesperson confirmed they're trending well for a sell-out next Saturday at the championship (the stadium is currently around 70% sold).
The Houston Dash drew 21,284 fans for their quarterfinal against Kansas City last week, setting a new record for playoff attendance that was immediately surpassed in San Diego. 26,215 attended their quarterfinal victory against the Red Stars.This weekend, 22,035 fans filled Providence Park for the first semifinal between the Thorns and the Wave, then a new record at Lumen Field was set with 21,491 in the house for the KC upset.The four best NWSL playoff crowds all happened in the last four NWSL playoff games. The 21,144 who attended the 2018 NWSL Championship in Portland are now in 5th place.There is a virtuous cycle at play here. Full, loud stadiums for the biggest games means a better product on TV, which means more viewers, which means more coverage and sponsors. Sponsors and their money can apply pressure on the league and the teams, especially for better player health and safety — consider all those ad boards in Providence Park on Sunday, pleging their support to the players first and foremost.There's power in showing up. Bella Bixby asked that of fans in Portland before the semifinal, and she got it on Sunday. It happened in Houston, in San Diego, in Portland, in Seattle. There's energy here that needs to be carried through into DC, into 2023, through all levels of the sport.I (Meg here) can't stop thinking about something Andrea Brimmer, chief marketing officer of Ally, said about her approach to the brand's sponsorship of the NWSL, about the role she has to play for the league right now. She said in an interview that the players are "using their power to take their league back. I want 'em to have a league to take back." We'll see you in D.C. next week.
How Portland Thorns fans balanced protest and support for the NWSL semifinal
By Leo BaudhuinOct 24, 2022
---
The afternoon before the Portland Thorns battled the San Diego Wave for a spot in the NWSL championship game, a group of 20 people gathered outside the northeast entrance to Providence Park. They had three main goals: support the players, build community, and pressure Peregrine Sports LLC to sell its two pro soccer teams: The NWSL's Portland Thorns and MLS's Portland Timbers.The crowd held signs, declaring that "Thorns belong to us, not 'good guys'" and "you knew."The latter is a refrain that has echoed across the league this year, in the wake of allegations of abuse against multiple former NWSL coaches and staff. Portland had its own reckoning when The Athletic published a story on former Thorns head coach Paul Riley's sexually coercive behavior toward several of his former players in September 2021 and accounts of the Timbers covering up former player Andy Polo's domestic violence emerged in February.
This week in NWSL chaos: Bangers only in Portland, KC Current upset OL Reign
Last year, the club temporarily suspended general manager Gavin Wilkinson from his Thorns duties, but many fans felt that his stepping away was not close to the restructuring that both PTFC teams needed. A collection of those fans started Soccer City Accountability Now (SCAN) in April. The organization has arranged protests, contacted club sponsors and media and demanded that Timbers and Thorns owner Merritt Paulson sell both teams."The front office has just continued to give us reasons to keep coming out," said Amy Cothron, who's been a fan of both teams since 2018. "They've demonstrated time and time again their inability to treat people with respect and really support their employees."At the start of October, former U.S. Attorney General Sally Yates released a U.S. Soccer-commissioned investigation into the allegations of abuse in Portland and a handful of other NWSL teams, detailing the systemic failures to protect players across the league. Both Wilkinson and President of Business Mike Golub stepped away from the teams following the Yates report. Paulson resigned from his role as CEO soon after — though he remains financially involved as an owner of Peregrine Sports.For SCAN and other PTFC fans, Peregrine Sports' continued ownership of the clubs meant Paulson's removal wasn't good enough. Hence, the demonstrations ahead of Portland's semifinal match — the first Thorns or Timbers home game since the Yates report was published.For fans like Cothron, PTFC games are community events where she gets to spend time with friends who she may not see in other areas of her life. Paulson's continued silence around abuses has "sullied" the idea of that community, she said, and he's passed on enough opportunities to address abuse in his club that she thinks him leaving completely is the only way to ensure that those patterns don't continue.For some fans, the solution is simple: transfer the clubs to the ownership of their supporters. They've started the Onward Rose City project, which has seen 65,000 pledged shares totaling around $7.3 million since Friday.SCAN member and Timbers and Thorns supporter Sofia Freja said she's seen overwhelmingly positive responses to the group's protests. But, she said, "tomorrow's going to be about supporting the players" in their semifinal game.rs group, the Rose City Riveters — gathered outside the west side of Providence Park, across the street from the players' entrance. By noon they'd grown to a crowd of 50, holding signs that read "Sauerbrunn is my hero" and "Christine Sinclair GOAT" and larger two-sticks that said "This club was made for you and me" and "Keep your eyes on the prize" accompanied by an NWSL shield drawing. As players showed up, they erupted into cheers."We know that there are a lot of emotions and feelings," Gabby Rosas said of the group gathered outside the stadium. Rosas is a member of the Riveters and board president of the 107ist, a nonprofit for Portland soccer supporters. She said she's talked to people that don't feel comfortable going into the stadium — some because they don't want to give money to PTFC ownership, others because it's a place of trauma for them — but the Riveters rally is a way "to be able to show the players we love you, we care about you, we want to support you."It's also about making sure that the players know that fans have their back, SCAN member Tina Ettlin said. Although SCAN planned a demonstration in the stadium — fans held up red "for sale" and "sell the club" signs in the 10 minutes leading up to kickoff — its members emphasized that once the ref blew the starting whistle, everyone's attention would be on the players. After goalkeeper Bella Bixby urged fans to come show their support for players by packing the stadium, over 22,000 turned out for the match — the second-largest playoff attendance in league history. Their attention paid off. Despite going down early when an unmarked Taylor Kornieck capitalized on a header opportunity to put the Wave up 1-0, the Thorns were able to secure a victory with two brilliant goals.
Kansas City Current advances to NWSL final
Rocky Rodríguez leveled the play in the game's 20th minute, getting on the end of the third ball off a Thorns corner just outside the 18 and hitting a rocket volley into the back of the net.
But, despite a handful of strong looks from the Thorns and a brilliant first-half save from Bixby, it would take until second-half stoppage-time for either team to strike again — through none other than 2015 NWSL golden boot-winner, new mom, and second-half substitute Crystal Dunn.In the dying minutes of the game, Dunn got on the end of another poorly-cleared ball from a Thorns corner and — as she put it in the postgame press conference — "literally hit it with all [her] might." And it was enough to put Portland through to its first NWSL final since 2018."Our fans have been through a lot this year, as well as the players," Dunn said in the postgame presser. "I think them showing up is exactly what we want for this community. We want everyone to be able to voice their opinion and share their feelings. But at the same time, we understand that without fans, the game's just not as fun."The goal was "an explosion of emotions" for everyone in the stadium, Rodríguez said – a feeling backed up by those in the stands."I wouldn't do what I do for a millionaire," said Ettlin, who also serves as a capo for the Timbers and Thorns. "I'm not doing this for Merritt. These players and non-male-centric sports are super important to me, personally, so making sure that people who are involved in that, centering them is all I want to do."
Studying World Cup winners' form reveals bad news for England, US, Germany and France
By Jacob Whitehead Sep 28, 2022
---
International football is a strange beast.
Bring together players who are not usually team-mates, ship them thousands of miles around the world, stoke expectations beyond all reasonable measure and let them play.It is little surprise that in such odd circumstances, surprise teams often reach the semi-finals and beyond — hosts South Korea in 2002, unfancied Uruguay in 2010, losing finalists Croatia in 2018.Could the World Cup be understood in isolation? A half-tournament, half-fever dream in which events rely more on randomness than destiny or logic? In short, does form matter?To clarify, this is not referring to individual form — whether a striker is in a purple patch or whether a goalkeeper is filled with confidence — in the days preceding the tournament.This is analysing the form of a team, ie, their collective results in the five games preceding the tournament.It is particularly pressing for sides such as England, the United States, Germany and France. The latter three nations have only won one game in their last five, and England have failed to win in their last six matches.On the other hand, sides such as Brazil, Argentina and the Netherlands — who have not lost between them in their last five matches — will want to ensure the likelihood of their form being rewarded in Qatar.So, what do the results say?
---
For teams with designs on winning the World Cup, the importance of form is clear. Of the World Cup-winning sides of the 21st century, only one team — France in 2018 — lost a single match in their five games before the tournament.In 2002, Brazil won four and drew one. Italy, a more pragmatic side, won two and drew three. Vicente del Bosque's Spain had a perfect record before the 2014 Germany side won three and drew two.Even that singular France defeat was followed by three successive wins before a much-changed side drew against the United States.Between them, those sides had a win percentage of 68 per cent. If you were to allocate league points to each team's build-up, the worst form would be the 2006 Italy side, who still took nine points from a possible 15.The last occasion a team had a truly poor build-up and still won the tournament was in 1986, when a Maradona-inspired Argentina won the 1986 World Cup with a record of one win, two draws and two losses. That single win, however, was a 7-2 thrashing of Israel immediately before the tournament.
The worst pre-tournament record by a winning side? That's Uruguay, from 1950, who lost four of their five games before the tournament. Two of these, at least, were against Brazil, who they shocked in the final. When England won, in 1966, they won each of their five games before the tournament.
ADVERTISEMENT
https://a73680112066228b219da0a032f651f8.safeframe.googlesyndication.com/safeframe/1-0-38/html/container.html
England, France, and Germany will have to rely on events unprecedented for 72 years if they are to add to their tally in Qatar.
---
The importance of form is still evident, even for those sides who narrowly missed out on the trophy.
This century's losing finalists average a pre-tournament win rate of 60 per cent. Croatia — with the worst record — still won twice and drew once in their five preceding matches.
Extend the parameters to semi-finalists and the pattern continues. In a small quirk, losing semi-finalists actually have a slightly better win rate than losing finalists — 62 per cent.
Belgium and England, who reached this stage in 2018, were both undefeated in the lead-up to the tournament.
In total, teams who reach the final four win 63 per cent of their pre-tournament matches. Of the 100 matches analysed, they only lost 12.
---
What does this mean for the upcoming tournament? The likely contenders can be roughly separated into three groups.Brazil, Argentina and the Netherlands are all unbeaten in their last five games and will enter Qatar in sparkling form. Brazil, in particular, have produced some impressive results, albeit against slightly weaker opponents than several European nations. Nevertheless, 18 goals scored for only three conceded is nothing to be sniffed at.Five teams are in mediocre form, with a loss dotted here and there — Belgium, Spain, Uruguay, Portugal and Denmark.Then, at the bottom, are the aforementioned strugglers, which includes several sides for whom anything but victory will be a disappointment — France, Germany, England, Mexico and the US.Since 2002, no side has reached the semi-finals having lost more than two of their five pre-tournament matches. Turkey's 2002 side and Croatia's 2018 team have the poorest record, with two wins, one draw and two losses.Of the groups listed above, none of the struggling sides exceed Turkey and Croatia's record. Their progression would be a significant outlier.
Looking at potential winners, 21st-century champions average 11.6 points from their five pre-tournament games, if matches were allocated the same points as league matches.
Want to place a bet on a World Cup winner? The only sides who have earned at least 10 points are Brazil (15), Argentina (13), Netherlands (13), Spain (10) and Uruguay (10). Victory for any other side would be unparalleled in modern tournaments.
The words of legendary American football coach Vince Lombardi ring true: it seems winning is a habit.
Premier League managers and referees: 'What sort of message does this send?'
By The Athletic UK StaffOct 22, 2022
---
After Jurgen Klopp was sent off in Liverpool's ill-tempered 1-0 win over Manchester City last weekend, Dr Tom Webb posted an image on Twitter similar to the one above of the Liverpool manager screaming at assistant referee Gary Beswick."What sort of message does this send to people watching?" wrote Webb, who co-ordinates the Referee and Match Official Research Network. "It's images like this that make people think #referees are fair game… 'if coaches and players in the Premier League are doing it, then it must be OK'… it isn't and it certainly won't help the trend of referee #abuse."Klopp's actions came in the Premier League's marquee Sunday afternoon game on a weekend where Merseyside Youth League matches were postponed "following multiple incidents of inappropriate and threatening behaviour towards our league and match officials".Klopp, of course, is not the only manager to lose his cool with an official this season and the abuse of officials is a problem throughout the pyramid — and in children's football, too. So what responsibility do Premier League managers have to set a good example? Does the fish rot from the head down?"I know about our role in public and how difficult it is to be a ref," said Klopp two days later. "Oh my god, I know all that. I am a ref five times a week in different situations in training and you can never do it right.
Klopp on the sideline in Liverpool's win over Manchester City (Photo: Peter Byrne/PA Images via Getty Images)
"But in the end, we are all human beings and you react how you react. For 99 minutes, in this case, it was pretty intense and always being the perfect version of yourself is actually not possible in life and in these moments (it is) more difficult."I went over the top in the moment but I don't think I was disrespectful to anyone. I apologised to the assistant, of course."This is about much more than the Liverpool manager getting upset with referee Anthony Taylor's decision not to give a foul on Mohamed Salah by Bernardo Silva. It is a problem deep-rooted in the English game and one that shows little sign of getting better any time soon.So, The Athletic asked Premier League managers whether they think they should set a better example and if it is something of which they are conscious.Do they ever look back at footage of themselves on the touchline and feel embarrassed about their ranting and raving? Or is it just part of the game now; the natural consequence of the pressure and scrutiny which managers find themselves under?
And what can be done to improve the situation?
---
Do Premier League managers have a responsibility to be role models on the sidelines?
"I think we all do," said Leicester City manager Brendan Rodgers. "That's always been the notion for every manager. It is a very passionate game and obviously, from time to time, those passions and those pressures will come out on the side of the field. Sometimes that can spill over, but I think we all have that responsibility as managers, coaches and players to uphold the values of the game."I was over in Belfast during the international break and I was watching a five-a-side tournament. I was laughing to myself because my own nephew was rolling about the floor and holding his knee and he's only six. So it definitely does (translate from the professional game to grassroots). It follows through and it's something that we always need to be aware and conscious of."
Rodgers thinks what happens in the top flight translates to grassroots (Photo: John Walton/PA Images via Getty Images)
"I think we need to be role models," agreed Brentford manager Thomas Frank. "We need to be very aware of what we are doing out there."I think it's important for, especially Sunday league or grassroots football, they play for fun. Here it's a professional game and there is so much at stake. So much (media) focus, but even with all that said we still need to be calm and be role models."I have also been on the touchline and watched my son play, but because I have got a professional career I never said anything. I understand it's difficult out there because you just want your son or daughter to do well. People need to remember it is the most beautiful game, it gives everyone so much joy and we need to remember that when we are a little bit heated."Nottingham Forest manager Steve Cooper has a unique perspective given his father, Keith, became a Football League linesman in 1975 and went on to referee in the Premier League before his retirement in 1996."There are a lot of people watching, of course," said Cooper. "You always want to be the best version of yourself and a good role model. But at the same time, being a good role model can be about showing that you care; showing that you are ready to stand up and be counted, particularly if things go against your team, which you don't believe are right."There are ways and means of going about that. That might sometimes mean a bit of animation or aggression and I think that is OK.""We all have to act as a role model," said Crystal Palace manager Patrick Vieira, who was sent off eight times in the Premier League as a player. "When I say all, I'm not just talking about managers, I'm talking about yourself (journalists). We all have an impact on youth so how we conduct ourselves is important."
"For 90 minutes or a bit longer, it becomes an emotional game and maybe sometimes you can change your character from what your true character is," said West Ham manager David Moyes. "If you were in Jurgen Klopp's position you would probably do the same. But we've all got great respect for referees and the work they have to do. I hope, in their way, they will understand that for 90 minutes or a bit longer we can sometimes lose our heads here and there a little bit."But I think if we stood there and did nothing then our supporters, the public, you (the media) would probably be questioning why not?"Everton boss Frank Lampard picked up this theme, highlighting how after former Chelsea boss Thomas Tuchel and Tottenham manager Antonio Conte had a skirmish in August, a lot of the rhetoric centred on the passion of Premier League football.
Things boiled over between Tuchel and Conte in August (Photo: Getty Images)
"I remember earlier this season when Tuchel and Conte had this," he said, "and afterwards it was 'This is great! This is what the Premier League is all about, people showing passion and showing themselves!' so you can't have everything in one go."We have a responsibility I understand that, but there is also a microscope on managers in the modern day where we're in highly pressurised jobs. It's easy for me to sit here in a calm moment and say we should be better, but the amount of pressure we're under and sometimes the decisions that go against you can throw you."Lampard also argued that it is more about everyone taking personal responsibility for their actions than Premier League managers acting as role models.He said: "If you're trying to draw a line from (the Premier League) to a Sunday league game or someone going and physically attacking a referee, then that's just the personal responsibility of someone who did that, as it would be if they did it on the street."I understand our responsibility but I don't draw the line directly from that. I don't see it much. I see managers in our position handle themselves really well for 99.9 per cent (of the time) and sometimes that little bit comes out.""We have a lot of cameras on us," said Manchester City's Pep Guardiola. "It's happened to me as well many times (getting too emotional). I'd like to control my emotions but during those moments, in certain stadiums, sometimes it can happen. We want to respect the referees and everything involved in the game, but sometimes emotions are there."
Klopp and Guardiola at Anfield on October 16 (Photo: Laurence Griffiths/Getty Images)
Are you conscious of the way you act during a match?
"I am very aware that I am going to be looked at by millions and millions of people, especially children," said Newcastle boss Eddie Howe. "And I think you have an expectation to make sure the game is upheld in the right way and with the right spirit."I am certainly aware of my demeanour and behaviour on the touchline. That's not to say I don't want to win and I don't want to win with every fibre of my being, because I do, but I've always just had that inside me not to lose my discipline."Also, my players are looking at me and what are they going to think of me? I'm not going to be able to help them in that moment if I'm not in control of my emotions."Frank admitted he has reflected on his behaviour "a few times"."I think in general the fourth official gets too much abuse," he added. "What can they do? Sometimes it seems like they are only there for us to let the steam out and can say something and I'm definitely doing that myself sometimes. We need to be better in that aspect.""It has always been my way to be calm," said Rodgers. "There are obviously games that are more intense but it doesn't take away your passion for the game. You don't need to be running up and down the line and shouting, jumping and gesticulating to be passionate, you know. But I think we're always aware of our conduct.""I'm certainly conscious of it," said former Aston Villa boss Steven Gerrard earlier this week. "I've made mistakes previously on the side and it takes time to calm down. But it's because we all want to win games and do as best as we can individually for our teams. We want to show our supporters that we're the leader of those teams. We're human and mistakes happen.""We have to show, always, respect," said Conte. "Sometimes you agree, sometimes you don't agree with a decision. In the past, I was angry much more with the VAR, not with the referee's decision, because the decision during a game sometimes is positive and you can take advantage. Sometimes it's negative and you can argue."
What can we do to change the narrative?
"Keep talking about it, keep being aware of it, try to create the relationship between each other," said Frank. "Let's say you and I went out for a drink every Thursday. We would create a relationship. Then I think that's better."If you have a very good relationship with a very good friend, it's more difficult to be really angry with him. Of course, in the heat of the moment, we are all professionals, but I think it's about creating a relationship which is most likely difficult because when do we have the time to do it?""I can always live with good arguments," said Southampton manager Ralph Hasenhuttl, who suggested officials should explain their decisions more to help managers' understanding. "It is not good when we are always jumping on referees. This is definitely not the way we should do it."It should be always in a respectful way and the referee should explain what he thinks. The fourth officials should also explain the reasons why and then I can live with it.""I think it's constant reminders," said Rodgers. "Behaviour is very, very important. You can be competitive, you can fight tomorrow, but there always has to be a level of behaviour. It's sometimes harder to do that because there's emotion, which at times wants to come out and explode but you try to remain calm and keep it inside but it has to come out somewhere.""We have to try and use common sense in every moment," said Conte. "I know it's not simple — I live the game with a great passion and you're totally involved in the situation."The best is to find the right balance, for us to have great respect for the referee, the linesman, the fourth official. At the same time, it's good (for referees) to understand the moment and to look at what happened and be intelligent."The respect has to be there for them and the referees have to show respect for us. Honestly, in England, there is great respect, I see that.""When we have our group chats as managers with the LMA (League Managers' Association, the managers' union)," said Gerrard, "and everyone is together with the referees — when we're in a calmer situation — we make an effort to try and decide how we look as managers."But we're not perfect. If you feel hard done by, it hurts. We want to win football matches. We're also professional as well and we're aware that sometimes we can overstep the mark and it doesn't look good. When the dust settles we understand and recognise that we need to stay on the right side of it."
USWNT 2023 World Cup roster prediction 2.0
By Meg Linehan and Steph Yang Oct 24, 2022 The Athletic
---
The 2023 World Cup creeps ever closer. We now know the group-stage schedule for the United States, so all that's really left to find out is what the final roster will be — a process that will be shaped by the seven to eight months of international and club form, and multiple players working their way back from significant injuries. There are two final tests on home soil against Germany that await in this calendar year before the pressure cranks up even higher at the start of 2023.We've made an attempt to guess what those rosters will (or should) look like, although there's a healthy dose of personal wish-fulfillment in here, too. We've also assumed these will be 23-player rosters instead of an expanded 26, and that any players we include will be fully healthy and fit for the World Cup.
Steph's USA World Cup squad
Goalkeepers (3): Alyssa Naeher (Chicago Red Stars), A.D. Franch (KC Current), Bella Bixby (Portland Thorns)
Defenders (8): Kelley O'Hara (Washington Spirit), Crystal Dunn (Portland Thorns), Tierna Davidson (Chicago Red Stars), Naomi Girma (SD Wave), Alana Cook (OL Reign), Emily Fox (Racing Louisville), Sofia Huerta (OL Reign), Hailie Mace (KC Current)
Midfielders (6): Andi Sullivan (Washington Spirit), Sam Coffey (Portland Thorns), Lindsey Horan (Lyon), Rose Lavelle (OL Reign), Catarina Macario (Lyon), Ashley Sanchez (Washington Spirit)
Forwards (6): Mal Pugh (Chicago Red Stars), Megan Rapinoe (OL Reign), Alex Morgan (SD Wave), Christen Press (Angel City), Sophia Smith (Portland Thorns), Trinity Rodman (Washington Spirit)
Meg's USA World Cup squad
Goalkeepers (3): Alyssa Naeher (Chicago Red Stars), A.D. Franch (KC Current), Casey Murphy (NC Courage)
Defenders (8): Becky Saurberunn (Portland Thorns), Alana Cook (OL Reign), Naomi Girma (SD Wave), Tierna Davidson (Chicago Red Stars), Emily Fox (Racing Louisville), Crystal Dunn (Portland Thorns), Kelley O'Hara (Washington Spirit), Sofia Huerta (OL Reign)
Midfielders (6): Rose Lavelle (OL Reign), Lindsey Horan (Lyon), Andi Sullivan (Washington Spirit), Ashley Sanchez (Washington Spirit), Sam Coffey (Portland Thorns), Jaelin Howell (Racing Louisville)
Forwards (6): Sophia Smith (Portland Thorns), Mal Pugh (Chicago Red Stars), Catarina Macario (Lyon), Alex Morgan (SD Wave), Trinity Rodman (Washington Spirit), Megan Rapinoe (OL Reign)
Who is the one player the U.S. really can't do without?
Yang: It's such pressure to put on a young player, but in my mind it's Naomi Girma. You'll notice I left Becky Sauerbrunn off my roster just because, with a healthy Davidson, I don't know that bringing a fourth center back makes sense. I still think Sauerbrunn is absolutely World Cup-caliber and, more than that, she's a calming veteran presence. So you'd have to maybe displace Cook, or one of the fullbacks, to bring Sauerbrunn. But Girma is a must. If she's healthy, she's going to play so, so much of the World Cup. She's the future of this squad and so far she hasn't seemed fazed in the slightest by the pressure.
Linehan: It feels a little scary to say, considering the rehab is ongoing, but I still think it's actually Catarina Macario. I definitely agree with Steph that, defensively, it's Girma — I was ready to crown her number one on my center back power ranking back in July. Offensively, Macario is the player who feels essential to build around, wherever she's playing on the field.
Is there an area where you think the U.S. is light?
Yang: I've written about it before, but I think the U.S. needs to focus on its midfield. I think more time has to be given over to developing say, Jaelin Howell, or Coffey, whom I listed above. Maybe even Alex Loera from the Current, although I think part of that is hindsight being 20/20. But that's also such a difficult question — these are all newer players who haven't been around for a super long time, so how do you apportion finite resources between working with the players you've got and investing in the players who might not even be ready for this cycle, as opposed to the next one?
Linehan: If Sam Mewis' injury continues to be a problem into 2023, then I think the U.S. does have an issue with options for another box-to-box midfielder. We're going to get into the midfield (once again) more here in a second, but the USWNT has options to either double-pivot at the 6, or overload a team with two 10s. Providing a look beyond Horan at the 8 does not have an immediate answer as of October.
More midfield questions
Linehan: After the trip to London, I have really come around on the USWNT opting for dual 6s in the midfield and shifting to a 4-2-3-1. We have all talked about it so much at this point, but trying to replace Julie Ertz and the role she played on this team is an impossible task. There's no one-to-one solution, it's simply a matter of trying to solve it with multiple players. The team has two young options ready to pair with Andi Sullivan: Sam Coffey (who has been so impressive during her rookie season in Portland) and Jaelin Howell (who has been around the national team program for longer, and has the physicality and bite that Ertz frequently provided). Start building that chemistry yesterday.
Yang: So we have a midfield question. And I think a lot of people are clamoring for the answer to be Crystal Dunn, especially seeing that she's getting time in the midfield for the Thorns. But I do want to note that her beautiful, beautiful goal for the Thorns actually wasn't a result of her playing out of the midfield — it was off a set piece, and Dunn was following up on an improperly cleared ball. She easily could have been in that position as a left back, too. I am not arguing against Crystal Dunn's efficacy and talent in midfield, but I think if you want to play her there instead of fullback, where she's now had several years with the USWNT, you then have to ask who gets pushed out of the formation.
Where does she go in the 4-3-3 — does she displace Rose Lavelle? She can't displace Sullivan or Horan unless you want to ask her to play more of a 6 or 8, which would be a waste of her enormous talent. In a 4-4-2 diamond, is she at the tip? That's probably Catarina Macario's place and, again, on the wings, maybe she could work on the left side? But that's maybe where you want a Mal Pugh or a Christen Press, and you pair Alex Morgan and Sophia Smith up top. In a 4-2-3-1, where does Dunn go if Macario is back? The USWNT has developed its midfield based on the premise that Dunn is now a fullback for the national team, and asking her to again switch back into a midfield role causes ripple effects that ask the whole team to adjust in ways that could impact the efficacy of other players, like Lavelle, Macario or Pugh.
The answer is to go back in time and keep Dunn in midfield and develop the WNT around that, but barring a slingshot maneuver around the sun, the reality is that she is an extraordinarily good fullback, too — a testament to her ability to think about the game multi-dimensionally from different areas on the field.
Linehan: BRB, need to go build a time machine. More seriously though, I do think if the game state calls for it and the USWNT is desperate to throw numbers at goal, Dunn is at the top of the list of players who are on the field and able to step up in a critical moment.
How do injuries play a factor in squad selection?
Yang: The list of injured players right now includes Kelley O'Hara, Tierna Davidson, Catarina Macario, Christen Press, Abby Dahlkemper, Sam Mewis and Lynn Williams. Some of these players are more likely to be included than others. For example, it really looks like Sam Mewis' injury rehab is going to be a lot longer and more complicated than anyone would want. If she's not back with the Current by the start of their season, then she may not have the time needed to get World Cup match fit. I think maybe the biggest players returning who could change how the squad looks are Macario and Press, with O'Hara right behind them.
Linehan: The worrisome part is that we're talking about injuries that have already been sustained and timelines for players to come back. I'm a nervous human being who's watching all the injuries currently happening on the men's side ahead of their World Cup, and just wondering what potential fresh hell awaits us between now and next July.
Are there any bubble players you think will make a case for themselves in the next nine months?
Yang: I would absolutely love to see Trinity Rodman cement a place in this squad. I included her in my World Cup lineup for a reason. If you're searching for a ruthless 9, I don't think it's a bad idea to put more eggs in that basket. I'd also enjoy seeing a Midge Purce resurgence, no matter how slim a chance she has due to the depth of the forward pool. Really, so much of that will rely on her having a good NWSL season, and…well…Gotham.
Linehan: There's absolutely a battle ahead for the final forward roster spots — Christen Press, Midge Purce and Lynn Williams are leading that charge, but Ashley Hatch, Mia Fishel, Morgan Weaver… I mean, the depth here remains ridiculous. (I also think there should be zero question about Rodman on this roster.)
But the player I'm absolutely watching is outside back Carson Pickett (NC Courage). She's been rock solid in the league for a long time, but her contributions from the wing are what might finally get her called up more regularly rather than being added to a roster as an injury replacement.
How far will your squad go at the World Cup?
Yang: Why did we include this question? It's a jinx question. It's dependent on so many factors that are TBD, like injuries and upcoming friendlies and maybe even NWSL preseason. If everyone is truly healthy and the vibe in camp is good, it's a squad that reaches the final. If the same weird problems from the Olympics follow them? Quarters.
Linehan: No matter what's happening in terms of results before the World Cup, the talent is here to make it to the final. But ask me this question again after the two Germany friendlies, and I might have a real answer (I won't have a real answer, just a better read on what actual level of panic we should maybe be at.)
2023 FIFA Women's World Cup draw: Group picks, predictions, more
Oct 22, 2022 ESPN
England, who beat Germany in the final of Euro 2022 at Wembley, could face co-hosts Australia in the round of 16 if they top Group D as expected, after being paired with China, Denmark and the winners of the Chile/Senegal/Haiti playoff path.
– 2023 Women's World Cup full bracket and fixtures schedule
New Zealand will face 1995 world champions Norway in the opening game of the tournament at Eden Park, Auckland, on July 20, with Australia kicking off their campaign against Republic of Ireland at the Sydney Football Stadium later the same day.In other stand-out pairings, France will meet Brazil in Group F, with Sweden and Italy pitched together in Group G.How will it all play out? ESPN's Marissa Lordanic (Groups A, B), Mark Ogden (Groups C, D), Sophie Lawson (Groups E, F) and Becky Thompson (Groups G, H) have assessed each group to predict the big games and the teams who will advance.
---
GROUP A
New Zealand, Norway, Philippines, Switzerland
If ever there was a time for New Zealand to nab their first-ever Women's World Cup win, 2023 is surely it.
WWC GROUP A FIXTURES
| | |
| --- | --- |
| July 20 | New Zealand vs. Norway |
| July 21 | Philippines vs. Switzerland |
| July 25 | New Zealand vs. Philippines |
| July 25 | Switzerland vs. Norway |
| July 30 | Switzerland vs. New Zealand |
| July 30 | Norway vs. Philippines |
The perks of hosting are such that the Football Ferns may never have a better chance at creating a little bit of Kiwi history. Standing in their way, however, are Norway, Switzerland and the Philippines.
Norway's Euro 2022 campaign was nothing short of a disaster so redemption will be front of mind for Hege Riise's side. Switzerland, meanwhile, will be enjoying their return to the world stage for the first time since 2015 but will likely be just as disappointed at their group stage exit from this year's continental tournament. The Philippines are one of a number of countries who will taste World Cup football for the first time. Alen Stajcic has big-tournament experience, after his stint with Australia, but can he impart that wisdom into his side and get a historic first win as well?
Must-see match: New Zealand vs. Norway
Is it a little bit of a cop out to put the opening game as the must-watch one? Maybe so. But opening matches truly are something special.
In countries like Australia and New Zealand, who don't get to experience moments like these in football very often, if ever, the enthusiasm of a home crowd will be worth the price of admission.
X factor: Can Hegerberg do it on a cold night in Auckland?
Ada Hegerberg had long been the asterisk when it came to Norway's chances at big tournaments, but her return to the national team certainly didn't go to plan in England for the Euros. In what will be her first Women's World Cup since 2015, Hegerberg will once again be the focus of a Norwegian team which has plenty of big-name players but has yet to put in a big-team performance on the world stage.
Predicted finish: Norway, Switzerland, New Zealand, Philippines
---
GROUP B
Australia, Republic of Ireland, Nigeria, Canada
Australia's hopes of a best-ever result at a Women's World Cup will be dependent on how Tony Gustavsson's team navigates Canada, Republic of Ireland and Nigeria.
WWC GROUP B FIXTURES
| | |
| --- | --- |
| July 20 | Australia vs. Rep. Ireland |
| July 21 | Nigeria vs. Canada |
| July 26 | Canada vs. Rep. Ireland |
| July 27 | Australia vs. Nigeria |
| July 31 | Canada vs. Australia |
| July 31 | Rep. Ireland vs. Nigeria |
Canada's gold medal at the Olympics signified progress from Bev Priestman's side, though the team will undoubtedly be disappointed that they could not best the United States in the CONCACAF W Championship final this year.
Republic of Ireland's historic run will see them take part in a Women's World Cup for the very first time, while Nigeria are a perennial presence at the biggest tournament in women's football. However, Nigeria will enter this tournament without a WAFCON title behind them, failing to win the competition for only the third time.
Must-see match: Canada vs. Australia
This clash, the final one of Group B, could well determine who finishes top and who finishes second. The teams have a history at major tournaments, most recently at the 2016 Olympics, as well as in friendlies, with Canada earning two wins on Australian shores in the September window. Only six places separate the two sides in the world rankings and this closeness is replicated on the pitch. With Sam Kerr vs. Christine Sinclair, it is sure to be a knockout contest.
X factor: How will Sinclair's (assumed) swan song play out?
An undisputed GOAT in world football, the all-time leading international goal scorer, Sinclair's legacy is already secured. The Canadian gold medal in Tokyo ensured that Sinclair would always end her career with some level of international success, but a World Cup is a different beast. A fourth-placed finish is Canada's best-ever result but there is no doubt they will want to send Sinclair out a little better than that.
Predicted finish: Canada, Australia, Nigeria, Republic of Ireland
---
GROUP C
Spain, Costa Rica, Zambia, Japan
Spain had been tipped to win Euro 2022 before losing to hosts England in the quarterfinals, but with 2022 Ballon d'Or winner Alexia Putellas likely to be back in action after missing the Euros with a cruciate knee ligament injury, they will be among the favourites at the World Cup.
WWC GROUP C FIXTURES
| | |
| --- | --- |
| July 21 | Spain vs. Costa Rica |
| July 22 | Zambia vs. Japan |
| July 26 | Spain vs. Zambia |
| July 26 | Japan vs. Costa Rica |
| July 31 | Japan vs. Spain |
| July 31 | Costa Rica vs, Zambia |
But an ongoing dispute between several players and the Spanish Football Federation (RFEF) over the management style of coach Jorge Vilda — the RFEF claimed 15 players said they would refuse to play for the team last month unless Vilda was removed — remains unresolved and could yet affect Spain's prospects.
But with Japan the only likely threat to claim the top spot in Group C — Costa Rica and World Cup debutants Zambia complete the group — Spain should progress comfortably, despite their problems.
With a second-round clash against the winners of Group E — likely to be the U.S. — waiting for the runners-up, the key for Spain and Japan will be to avoid that by topping the group for a more favourable route through the latter stages.
Must-see match: Japan vs. Spain
It's all about Japan vs. Spain in the final group game on July 31.
If this group goes to form, the two teams are likely to meet at the Wellington Regional Stadium with top spot up for grabs and the need to avoid a possible meeting against the USA.
While both Japan and Spain are capable of testing the world champions, it is a tie that neither would choose, so the stakes will be high when they meet in New Zealand.
Japan, ranked 11th in the FIFA World Ranking, will be outsiders against Spain, but could take advantage of problems within the Spanish camp to win this game.
X factor: How will the group's minnows perform?
The group lacks the unpredictability and tension that we are likely to see in Group B, F and G, but with the World Cup expanding into a 32-team tournament, the focus will be on how the likes of Costa Rica and Zambia shape up against two heavyweights in Spain and Japan.
During their first World Cup in 2015, Costa Rica claimed surprise draws against South Korea and Spain in the group stage and were only denied a place in the second round by a narrow defeat against Brazil.
Measuring Costa Rica's progress on the big stage will be fascinating, while Zambia are making their debut in the tournament after finishing third in the Africa Cup of Nations this year.
But having suffered a 10-3 defeat against Netherlands in 2021, the World Cup could be a steep learning curve for Zambia.
Predicted finish: Japan, Spain, Costa Rica, Zambia
---
GROUP D
England, Group B playoff, Denmark, China
While this group looks to be a routine section for European champions England, the Lionesses will be wary of the strength of China, despite their relatively low world ranking of 15 going into the tournament.
WWC GROUP D FIXTURES
| | |
| --- | --- |
| July 22 | England vs. Playoff |
| July 22 | Denmark vs. China |
| July 28 | England vs. Denmark |
| July 28 | China vs. Playoff |
| Aug. 1 | China vs. England |
| Aug. 1 | Playoff vs. Denmark |
The Chinese are seasoned performers at the World Cup, finishing as runners-up in 1999, and will be aiming to qualify for the knockout stages for the eighth successive tournament.With Denmark ending a 16-year absence from the World Cup next year and the final spot in the group to be taken by the winners of the Chile vs. Senegal/Haiti playoff, this section should be a straightforward path for both England and China.But with the group winners and runners-up facing the teams who finish first and second in Group B, there is no clear advantage to topping the section with a likely encounter against either co-hosts Australia or highly rated Canada in the round of 16.
Must-see match: China vs. England
England's clash with China at Adelaide's Hindmarsh Stadium on Aug. 1 should be the fixture which decides the winners of the group.The two nations have met just four times previously, with China winning 2-1 in their most recent encounter in 2015.Sarina Wiegman's Lionesses will be favourites to top the group and beat China, especially after ending England's long wait for major tournament success at Euro 2022.But China, nicknamed the Steel Roses, are a well-established power in the women's game and could pull off a shock win if England aren't fully focused.
X factor: Can England live up to the hype?
Having won Euro 2022, England have established themselves as one of the box office teams in the women's game and are arguably the biggest threat to the USA's hopes of achieving a World Cup "three-peat." So all eyes will be on how the Lionesses cope with the pressure of being one of the favourites to win the tournament.But they passed a big test of their new status by beating the U.S. at Wembley in October, and Sarina Wiegman's team will want to build on that during the early stages of the World Cup.
With world-class talents such as Leah Williamson, Beth Mead and Lauren Hemp, and emerging youngsters such as Alessia Russo, every game they play in the tournament will attract huge attention.
Predicted finish: England, China, Denmark, playoff winners
---
GROUP E
United States, Vietnam, Netherlands, Group A playoff
Containing both the winners and the runners-up from the last Women's World Cup, Group E has the scales firmly tipped in favour of the seeded teams; four-time winners, the U.S. are so far ahead of the rest in terms of ranking and women's football development.
WWC GROUP E FIXTURES
| | |
| --- | --- |
| July 22 | Vietnam vs. USA |
| July 23 | Netherlands vs. Playoff |
| July 27 | USA vs. Netherlands |
| July 27 | Playoff vs. Vietnam |
| Aug. 1 | Playoff vs. USA |
| Aug. 1 | Vietnam vs. Netherlands |
For Vietnam, who will play their first-ever World Cup match against the U.S. in Auckland on July 23, there were certainly kinder draws out there for a team ranked 34th in the world.
Even against the winners from playoff A (Cameroon, Portugal or Thailand), Vietnam might have a mountain to climb — as do the Netherlands, who find themselves in another period of transition having only just brought in a new coach, and would be right to be fearful of a Cameroon or Portugal team who could make it through the playoffs.
Must-see match: United States vs. Netherlands
It's the obvious one, with the top two seeds clashing midway through the group stage in Wellington on July 27.
These two teams didn't just meet in the World Cup final in Lyon back in 2019, they also played out a memorable quarterfinal tie at the 2020 Olympics. With both teams struggling to put their best football on the pitch, anything could happen when they meet in New Zealand next summer.
X factor: Which U.S. will turn up?
The back-to-back champions, who are going for a "three-peat," have been far from convincing in recent years and when many expected them to switch into tournament mode at the Olympics, they did just the opposite, looking a shadow of themselves. With the weight of expectation on their shoulders, the U.S. may well sink rather than swim; yet in a group that should be navigable, there is still the chance to tread water.
Predicted finish: U.S., Netherlands, playoff winners, Vietnam
---
GROUP F
France, Jamaica, Brazil, Group C playoff
It's very easy to call Group F on paper, but when you actually get to a tournament, things don't always go to plan — as Jamaica could tell you, with the Reggae Girlz being without key player Bunny Shaw for their debut four years ago.
WWC GROUP F FIXTURES
| | |
| --- | --- |
| July 23 | France vs. Jamaica |
| July 24 | Brazil vs. Playoff |
| July 29 | France vs. Brazil |
| July 29 | Playoff vs. Jamaica |
| Aug 2 | Playoff vs. France |
| Aug 2 | Jamaica vs. Brazil |
France, who have a history of peaking too early at major tournaments, will like their chances of having a strong group stage, wrapping up with a match against one of Chinese Taipei, Panama, Papa New Guinea or Paraguay — all four nations potential debutantes.
But Brazil are not to be taken lightly by anyone, the ever-presents with a glut of young talent coming through.
Must-see match: France vs. Brazil
It's the obvious one, the clash of the top two seeds in Brisbane on July 29, and it should be a litmus test for where both nations are at and just how likely either are to go the long yards at the World Cup.But it is worth noting that should a team such as Panama qualify for the World Cup through the playoffs, the clash with Jamaica could be one to watch for sheer fun on the pitch.
X factor: Will the real France please stand up?
We have long talked about France as a dark horse or even one of the favourites to win major silverware. Yet, for a multitude of reasons, it has yet to happen. Les Bleues started so well at the Euros and there was a rising belief that it was finally their time to shine, but the team looked less assured with each passing match.Even without a banana-peel draw, it's hard to know just which France will turn up and whilst they have the ranking to best anyone they face in the group stage, there are pitfalls everywhere for a team that have historically shown a mental fragility.
Predicted finish: Brazil, France, Jamaica, playoff winners
---
GROUP G
Sweden, South Africa, Italy, Argentina
Sweden have played in every edition of the tournament and have made the semifinals on four occasions. The Olympic silver medallists will be hard to match in this group with their experience in major competitions.
WWC GROUP G FIXTURES
| | |
| --- | --- |
| July 23 | Sweden vs. South Africa |
| July 24 | Italy vs. Argentina |
| July 28 | Argentina vs. South Africa |
| July 29 | Sweden vs. Italy |
| Aug 2 | Argentina vs. Sweden |
| Aug 2 | South Africa vs. Italy |
Sweden's biggest challenge will undoubtedly be in fellow European nation Italy, who are playing in their third World Cup and have been building momentum in recent years. The Italians topped their group in 2019 and will be looking to replicate that success.
South Africa are playing in only their second World Cup, while Argentina have played in three — and neither have registered a win. They face what seems to be a nearly insurmountable task against Sweden and Italy to get out of the group. However, a Cinderella story for either of these nations cannot be completely ruled out.
Must-see match: Sweden vs. Italy
Who will take the top spot in Group G? It's a rematch from the Euro 2022 group stage, which saw Italy win in a five-goal thriller 3-2.
Italy had a dominant qualifying campaign, only conceding one goal, to Switzerland. Meanwhile, Sweden, who finished third in 2019, boast experience and will be looking for revenge after their Euros defeat this year.
Sweden have one of the best defenses in the world, led by Chelsea star Magda Eriksson, while Italy's attacking power is equally exciting with players such as Cristiana Girelli.
X factor: Can Argentina find their first win at the World Cup?
In 2019, Argentina had their best-ever performance at the World Cup. Despite not making it to the knockout rounds, they notched two exciting draws — a 0-0 against Japan and a thrilling 3-3 with Scotland; their only loss was a narrow 1-0 defeat to England.
Four years later, the youth in the squad from 2019 have gained tremendous experience and will be ready to take on the challenges in front of them. While it is hard to imagine Argentina making it out of the group, a win would mark continued growth and success for this team.
Predicted finish: Italy, Sweden, Argentina, South Africa
---
GROUP H
Germany, Morocco, Colombia, South Korea
Germany will be hard to match in this group. The depth and talent of this squad carried them all the way to the final of Euro 2022, falling just short to England. Germany have qualified for all eight editions of the Women's World Cup and have topped their group in every appearance. Their route to the top spot here seems locked in; barring any major breakdowns, they should wrap this one up easily.
WWC GROUP H FIXTURES
| | |
| --- | --- |
| July 24 | Germany vs. Morocco |
| July 25 | Colombia vs. South Korea |
| July 30 | Germany vs. Colombia |
| July 30 | South Korea vs. Morocco |
| Aug 3 | South Korea vs. Germany |
| Aug 3 | Morocco vs. Colombia |
Colombia's best World Cup performance was in 2015 when they qualified for the knockout phase, but they failed to make it out of the group in 2019. Group H is well-poised for them to make another run into the elimination rounds, with a key game against South Korea in their way.
South Korea follow the same history as Colombia in the last two editions, making it to the round of 16 in Canada but failing to get out of the group in France.
Morocco will be making their first appearance in the Women's World Cup. When they take the field in Melbourne, they will make history as the first Arab nation to compete in the tournament. While it's next to impossible to see a way out of the group, this history-making moment will be another mark of growth for the women's game and the success of African women's football.
Must-see match: Colombia vs. South Korea
It's simple. This match will decide who will progress and who will go home. Both nations will be battling hard with something to prove after not qualifying for the elimination rounds in France. South Korea, led by former Chelsea player Ji So-Yun, boast the depth and experience, while Colombia are full of energy and creativity.
These sides have only met a few times in history, with South Korea beating the Colombians in the Olympic group stages in 2016. However, It has been many years since their last meeting and with everything on the line, this match is an unmissable watch for the tournament.
X factor: Lena Oberdorf
One of the most exciting players at only 20-years-old, Oberdorf is ahead of her time and has been nominated for countless awards this year after marshalling Germany's midfield at the Euros.
Oberdorf's expansive and creative play kick-starts Germany's attack and is a pleasure for any football fan to watch. This young star will be one to watch throughout the tournament next year.
Predicted finish: Germany, Colombia, South Korea, Morocco
My 3 Thoughts on the World Cup 2023 Draw

Grant Wahl Oct 22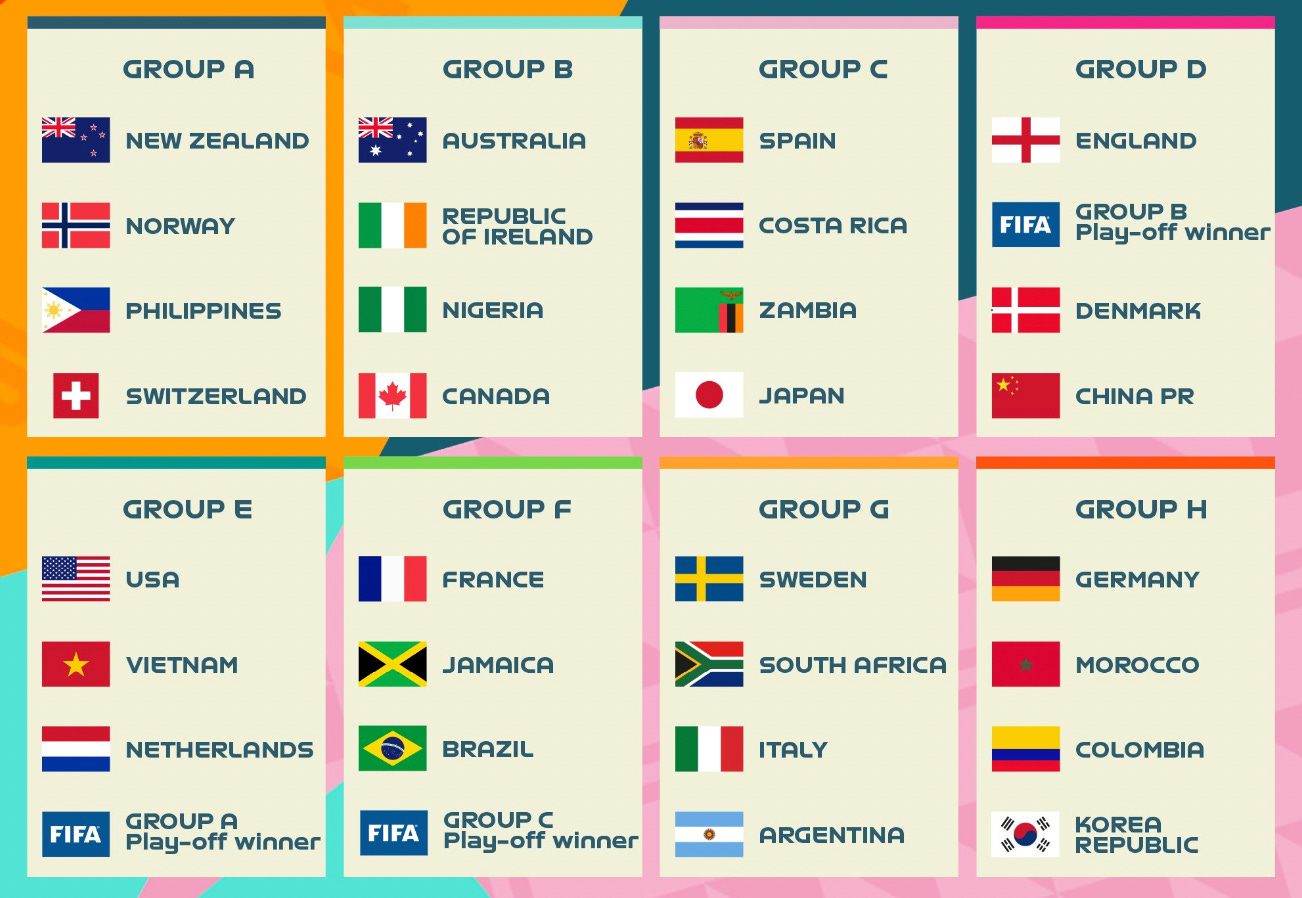 At the World Cup 2023 draw in Auckland, New Zealand, on Saturday, the U.S. drew Vietnam (July 22 in Auckland), the Netherlands (July 27 in Wellington) and the winner of an upcoming playoff (Portugal, Cameroon or Thailand; August 1 in Auckland) in Group E. Here are my three thoughts on the draw:
• There are plenty of reminders of recent tournaments for the U.S. here. USA-Netherlands is a rematch of the 2019 World Cup final (won by the U.S.) and the 2021 Olympic quarterfinals (also won by the U.S.). Both teams will be heavy favorites to be the two to advance from the group, though the Netherlands will have a relatively new coach in Andries Jonker (who has replaced Mark Parsons). Opening with Vietnam, a first-time World Cup team from Asia, has several similar characteristics to opening against Thailand in that infamous 13-0 game from 2019. And look, there are the Thais again as a possibility from the playoff (though Portugal will be the favorite). If the U.S. advances from its group, its Round of 16 opponent would come from Group G (Sweden, Italy, South Africa and Argentina) and take place in Australia (Sydney or Melbourne).
---
GrantWahl.com is reader-supported. Free and paid subscriptions are available. This is how I make a living, and quality journalism requires resources. The best way to support me and my work is by taking out a paid subscription now.
---
• In most groups, there are two clear favorites on paper to advance. The women's World Cup is a 32-team tournament for the first time, which is a good thing overall with more countries getting opportunities and thus the chance to grow the women's game globally. But there will be more mismatches in the group stage and likely a significant gap between the top two teams in most groups and the rest. That would include Group B (Australia and Canada), Group C (Spain and Japan), Group E (USA and the Netherlands), Group F (France and Brazil) and Group G (Sweden and Italy). However, that's not the case in other groups like Group A (New Zealand, Norway and Switzerland), Group D (England, Denmark and China) and Group H (Germany, South Korea, Colombia and Morocco).
• There are nine teams capable of winning this World Cup. For me, those are USA, Australia, Canada, Spain, England, the Netherlands, France, Sweden and Germany. (I'm not including Japan, Brazil or Norway.) Australia wouldn't be on that list if it wasn't hosting the tournament. But nine is a reflection of how much the women's game has gotten better in more countries, as well as the growth in Europe in particular. Spain, the Netherlands and France have significant coaching issues that may put their campaigns in peril, but what are likely to be unsurprising group stages will be rewarded with knockout rounds that should have some phenomenal matchups. I'm fired up to be in Australia and New Zealand for this tournament next year.
Friday Newsletter: Which Players' Lives Are About to Change at the World Cup?
The sense of possibility before a World Cup is one of the best parts about it. Which players have the best chance to break out when the tournament starts in 30 days?
Grant WahlOct 21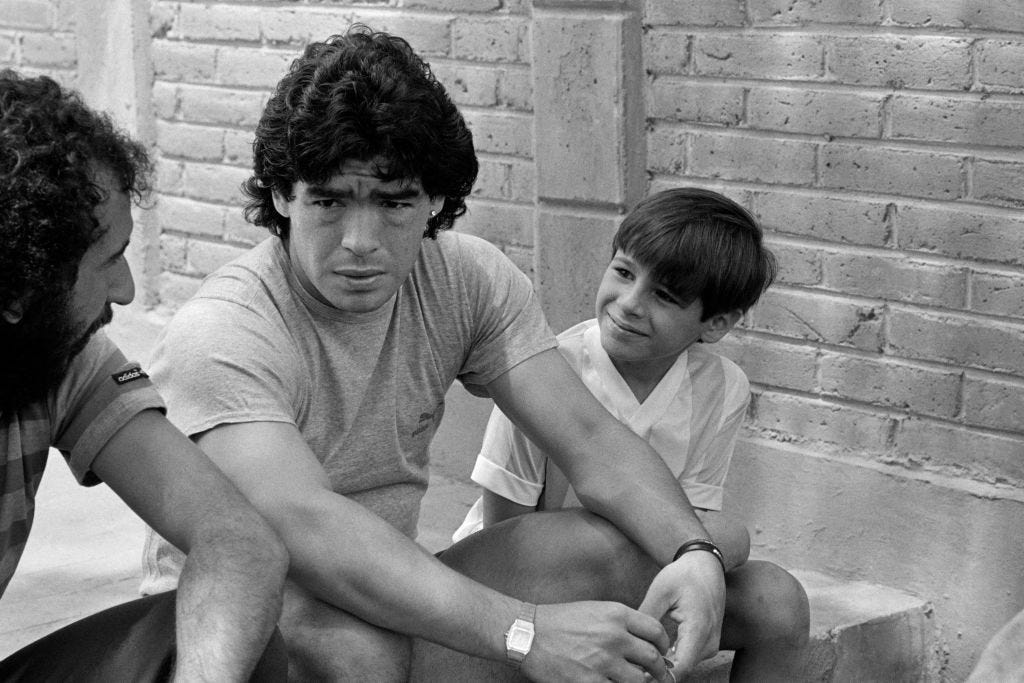 I love this photograph.
It captures the sense of possibility in the month before a World Cup. The image was taken by Renzo Gostoli of Diego Maradona in the Argentine training camp at Mexico's Club América on May 13, 1986, 18 days before the start of the World Cup that transformed the sport of soccer itself.
Was Maradona, then 25, globally famous at the time? Of course. He had just finished his second season at Napoli and was the most expensive player in the world. But truth be told, at this point he had been something of a disappointment compared to the enormous expectations placed on himMaradona's first World Cup, in 1982, had been a disaster, with defeats to Belgium, Italy and Brazil, the last of which saw Maradona sent off for a kick to the groin of Brazil's João Batista. Nor had Maradona's tenure at Barcelona (1982-84) gone well, which led to him being sold to Napoli.By the time Argentina arrived in Mexico for the World Cup, expectations for the national team were so low that Maradona made sure to point out the negative things that had been said when their fortunes changed. We all know what happened in that tournament: Maradona dominated a World Cup like no other player in history and cemented his legacy, becoming a mythical figure in the game.But this photograph catches something special: The player at the moment when he is on the verge of something magical, something that will change his life forever and alter how the world perceives him. When limitless talent meets a global launchpad possibility: That is an intoxicating moment. That is the power of the World Cup. We are in those last days before a World Cup again.It is possible that no player ever again will lord over a World Cup in the way that Maradona did in 1986. But there are a few players out there who could break out in a big way: Either to help win the tournament or to take their careers to the next level in front of billions watching on TV. Here are some possibilities from my perspective:
---
GrantWahl.com is reader-supported. Free and paid subscriptions are available. This is how I make a living, and quality journalism requires resources. The best way to support me and my work is by taking out a paid subscription now.
---
TEAMS THAT COULD WIN THE WORLD CUP
England: Phil Foden (22), Bukayo Saka (21). Foden has become one of the most potent attacking threats for perhaps the world's best club team (Man City) and a reliable choice for England boss Gareth Southgate. Saka is heating up at the right time and could become the same for the Three Lions.
Germany: Jamal Musiala (19). Hansi Flick already trusts the Bayern Munich attacking midfielder, and why shouldn't he? He's ready to become a global household name.
Netherlands: Jurrien Timber (21), Cody Gakpo (23). Louis van Gaal has no problem going with youngsters, and he's already choosing Timber to start on his back line ahead of Matthijs de Ligt. Meanwhile, PSV's Gakpo, an attacking central mid, is on the purchase list of all the top clubs and will get the chance to shine in Qatar.
Portugal: Rafael Leão (23). He's already the best player on reigning Italian champion AC Milan. The question is how much he gets to show as long as Cristiano Ronaldo is on the field.
Spain: Pedri (19). Wise and talented beyond his years, Pedri made a significant impact on Euro 2020 and should again at the World Cup.
Argentina: Julián Álvarez (22). There's a reason the Man City player didn't get loaned out by Pep Guardiola—and a reason he's getting starts for Argentina as Lionel Messi prepares for one last ride at a World Cup.
Brazil: Vinícius Júnior (22). We've been watching Vini Jr. for so long at Real Madrid that it's easy to forget he's still just 22. But he could be the difference-maker as Brazil tries to win its first World Cup since 2002.
PLAYERS WHO COULD BREAK OUT WITHOUT WINNING THE WORLD CUP
Ecuador: Moisés Caicedo (20). The Brighton midfielder is already making waves in the Premier League, so it wouldn't be a surprise if he did so at the World Cup.
Uruguay: Darwin Núñez (23). Yes, the Liverpool striker can be "agricultural," but he's also a chaotic force of nature.
USA: Yunus Musah (19). The Valencia central midfielder creates all sorts of danger carrying the ball up the gut, and he's the most likely U.S. player to break out in Qatar.
Canada: Jonathan David (22). We all know who Alphonso Davies is, but if David lights up the scoring chart the way he's done at Lille, he'll do even more to set up the big transfer that's inevitable.
Ghana: Mohammed Kudus (22). The Ajax forward has been tearing it up at club level, and Ghana would be smart to ride him as far as it can.
OPENING THE MAILBAG
What do you think is the best way to move the needle on the abuses in Qatar? I don't know if I'm strong enough to boycott watching the World Cup—when it comes to the USMNT, I'm a good example of why fan is short for fanatic. But I'm seriously considering it. If fans don't act, FIFA will have no motivation to change, and I can't think of anything that will get their attention other than the bottom line.
SoccerJohn
I have no issues with anyone who wants to boycott watching this World Cup, but honestly I don't with anyone who decides to watch it either. When it comes down to it, I have a deep understanding of anyone who has conflicting emotions about this particular tournament. I do too. As I reported in my recent story, public pressure has already caused some change in Qatar, which adopted new worker laws in 2019 that haven't been adopted in other Gulf states. The big questions are whether those laws are being observed on the ground and whether there will be a rollback after the Qatar World Cup. But there has been some much-needed progress. I certainly hope there will be more.
What's wrong with Leeds: America's team in the EPL?
richard greene
I watch every Leeds game, so I have some thoughts. The club knew it needed to buy a striker and left back in the transfer window, and it didn't end up pulling the trigger. Those two spots have been a real issue. The central defense hasn't been good enough, the cutting edge to score goals hasn't been there often enough, and there hasn't been as much advantage on set-pieces (attacking and defending) as I would have expected from a Jesse Marsch team. The Americans, Brenden Aaronson and Tyler Adams, have actually been among Leeds's best players, so it's not their fault. But I do feel a lot is riding on this weekend's game at home against Fulham. LUFC needs a win.
What group stage games at the World Cup not involving the U.S. are you most looking forward to?
Doug Steiger
Senegal-Netherlands. The Dutch are good enough to win the tournament, and Senegal has a chance to go deeper than we've ever seen an African team go at a World Cup. Plus one of these teams could be the U.S.'s opponent in the Round of 16.
Belgium-Canada. The Belgians will be favored, obviously, but we'll get a sense early in the tournament if the young Canadians will be able to hang with an older heavyweight. (Chance No. 2 comes against Croatia.)
Portugal-Uruguay. A rematch of the 2018 elimination game won by Uruguay. Lots of big names on the field for two soccer nations that punch way above their weight.
France-Denmark. Four of the last five defending men's World Cup champions have gone out in the group stage of the subsequent tournament. If France does a pratfall, this game will likely have something to do with it.
Argentina-Mexico. We've seen plenty of Argentina-Mexico matchups in the World Cup over the years, so why not one more?
Spain-Germany. The 2010 and 2014 champions will want to make a statement here.
What role will fatigue and rest play in the World Cup? Both for the USA and for all teams? I'm thinking of the Soccernomics chapter that explains how much fatigue plays a role in the World Cup because teams like England whose players play in the Premier League and have many more games do worse than teams that don't have so many fatigued players. That comes even with one month off before the start and in a longer tournament.
Joseph Radosevich
Well, you could say that players won't have a full club season, so it may not be as big of an issue this time around. The main thing to be concerned is injuries, especially of the kind that don't heal in the week off between club and World Cup games that might heal in the three weeks we usually see between the club season and World Cups. I will say that important U.S. players like Tyler Adams and Brenden Aaronson have incredible stamina from their typical Leeds workload, so those guys are not to be worried about.
Will you put out your projected USMNT lineup (aka, what lineup do you think Berhalter will go with, at least for the first match) and your preferred USMNT lineup (if you were the manager/coach)?
Chris Stowell
Me: Turner; Dest, Zimmerman, Carter-Vickers, Robinson; Adams, McKennie, Musah; Pulisic, Pefok, Aaronson.
Berhalter: Steffen; Dest, Zimmerman, Long, Robinson; Adams, McKennie, Musah; Pulisic, Ferreira, Reyna.
Who do you like for the MLS playoffs? LAFC seem bound for the final, but Supporters Shield winners rarely make it to (let alone win) the final. Philadelphia has been on the bubble for years and probably would've made the final last year had half the starting lineup not been out of the conference final because of COVID protocols. What are the odds this is their year? Or do you see someone else lifting the cup in the end?
Aaron
I actually think we're going to see a No. 1 vs No. 1 matchup with LAFC and Philadelphia in L.A. for the final. Which would be a great occasion. And I've seen Philadelphia impress me enough over the last couple seasons that I'd like the Union to win it.
Free to Read: My 3 Thoughts on Chelsea-Manchester United
An unexciting game for neutrals heats up in the final minutes. my thoughts on Pulisic.Grant WahlOct 22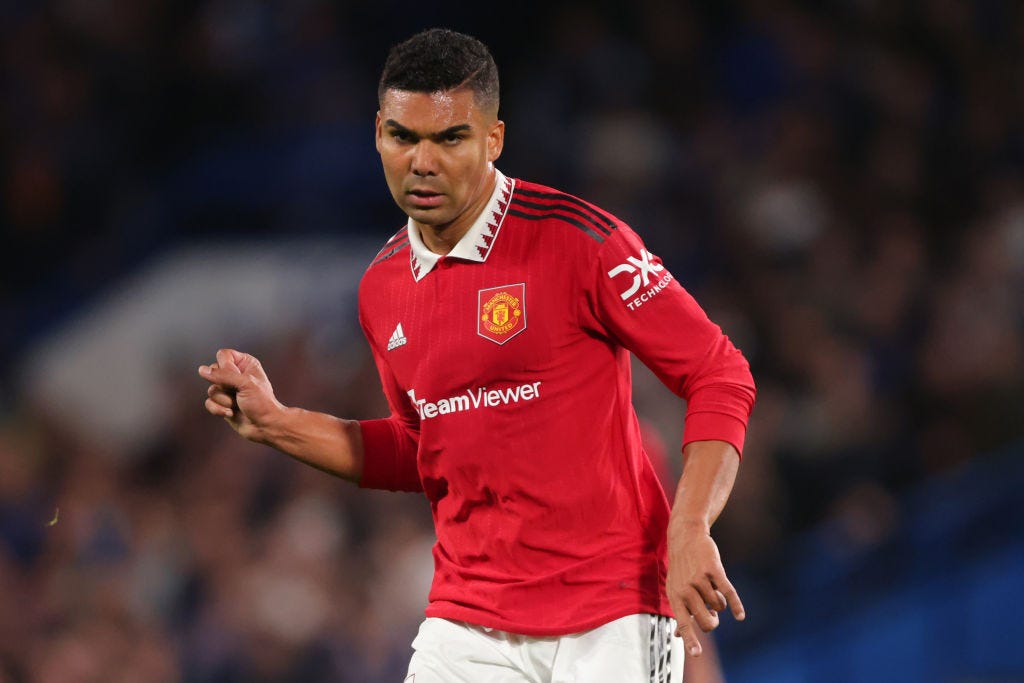 Manchester United got a 94th-minute equalizer on a header from Casemiro that barely got over the line and came away with a 1-1 draw in Saturday's marquee match. Here are my three thoughts on the game:
• This was a deserved point for United to cap off a really good week overall. In a game that only got exciting in the final minutes, Casemiro's equalizer was a just reward for a United team created more non-penalty chances over the course of the match. Chelsea looked like it was heading for three points against the run of play after Armando Broja essentially baited Scott McTominay into wrestling him down in the penalty box on a corner kick. But after Jorginho converted the penalty, United threw everything it had forward in the final minutes and was rewarded by Casemiro's first goal with the club, which ended Kepa Arrizabalaga and Chelsea's remarkable 623-minute scoreless streak. This has been a big week for United coach Erik ten Hag, who got four points from games against Spurs and Chelsea (taking United to within one point of the Premier League top four) and established new levels of control with his suspension of Cristiano Ronaldo. United did just fine without Ronaldo this week, which sets a tone that Ten Hag needs in his dressing room. After a miserable start to the season, United has a better tone these days.
---
GrantWahl.com is reader-supported. Free and paid subscriptions are available. This is how I make a living, and quality journalism requires resources. The best way to support me and my work is by taking out a paid subscription now.
---
• Christian Pulisic didn't start, but he did play a role. The American came on in the 74th minute and had some solid moments on the ball, including doing good work to earn the corner kick that Chelsea got its penalty on. If you're looking at things purely from a USMNT perspective, I would have thought Pulisic would get more starts during Chelsea's extremely busy seven-game schedule since the international break. Instead, Pulisic had had just one start (a game in which he scored) and his minutes since the break have been (starting most recently): 16, 29, 0, 0, 72, 0, 6. I still think it's possible to be 1) surprised Pulisic hasn't played a bit more, and 2) not buying the Twitter conspiracy theory that coach Graham Potter's choices are somehow anti-American. In fact, there's a wide gulf between those two things. But Potter doesn't operate from a purely USMNT perspective, obviously, and the fact is Potter hasn't lost yet in eight games, five of them wins, as Chelsea has completely turned things around in the Champions League. That said, this Chelsea performance at home wasn't great (the Blues now have two points from their last two league games), and maybe that will open the door to some extent for Pulisic.
• Injuries in the final days before the World Cup are just gutting to see. United centerback Raphaël Varane looked to be in tears after pulling up and coming off with a non-contact injury in the 60th minute. We'll have to wait and see if Varane's situation is serious enough to put his World Cup hopes in danger, but it could be yet another blow for defending champion France—which is already without N'Golo Kanté and likely Paul Pogba in Qatar due to injuries. The unique timing of this World Cup in November and December during the middle of the club season means that injuries that could have been overcome during the two to three weeks between the club season and the World Cup in the past won't have that opportunity this time when there are just seven days between the end of club games and the start of the World Cup. What's more, there is an absolute glut of games during this month before the World Cup as the top clubs are playing on weekends in the league and in mid-week Champions League games as that tournament completes its six-matchday group stage in just nine weeks before the World Cup. Sadly, Varane will hardly be the last image we'll see like that. Which is why I can put in perspective that while it's a bummer for U.S. fans that Pulisic hasn't been playing as much as expected, at least he's not injured ahead of the biggest tournament of his career (knocking on wood heavily).