The return of EUFA Champions League Play this week and next (Tues/Wed 3 pm) leads of the week of huge games.  Its Sweet 16 time – with huge match-ups including Defending Champions Liverpool vs Atletico Madrid on TNT 3 pm on Tuesday and Dortmund (with subbing American youngster Geo Reyna) hosting Paris St. Germain at the same time.  Wednesday we Tottenham, last season's 2nd place finishers, hosting RB Leipzig who will not have American Tyler Adams in the line-up as he is hurt.  That game is 3 pm on TNT.  Next Tues its Chelsea hosting German league leader Bayern Munich and Wed we get powerhouses Real Madrid hosting Man City.  Of course Liverpool will knock out my Atletico – so sad to see the spectacular coach Simeone on the bubble with Leti Madrid – injuries have crippled this team this season and I am not sure this is the same team in the new digs as it was at the legendary Caldron downtown.  Good to have Champions League back!
Concacaf Champions League
The CCL kicks off this Tues/Wed/Thurs on Fox sports 1 & 2 with evening games each next over the next 2 weeks and MLS squads Atlanta United, Seattle, LAFC, Montreal, NYCFC match up against teams from Mexico, Costa Rica, and other CONCACAF country teams.  Mexico has dominated the competition mainly because the season hasn't even started yet in MLS while they are mid season in Mexico and other countries – but with 3 powerhouse squads – perhaps MLS can break thru this year?  (see full schedule on http://theoleballcoach.com)
Man City UCL Ban?
Wow huge news with EUFA handing down a 2 year suspension of Man City for Champions League for breaking rules on how much they spend on players.  If this sticks it will be huge – imagine would Pep leave Man City – would their top players like DeBruyne or leave with no Champions League player for 2 full years.  With regards to money it could cost Man City 200+ million in Champions League payouts.  The ramifications are huge.  I can certainly say while I was excited to see City win their first title a number of years back – over the past 3 years since Pep Guadiola has arrived – they have become the best team money can buy and spent billions on players while winning back to back titles.
USA
Great to see the US Ladies have no issues with Olympic Qualifying as they destroyed everyone including Canada in the finals with a huge 3-0 blanking.  Great to see 2nd string forward/Wingers Christian Press and Amanda Williams get on the board with some huge goals.  The US seriously probably has the 2 most talented teams in the America's if not the world.  It will be interesting to see if the new coach will work in some youngsters – or stay with the same team that won the World Cup last summer.
GAMES ON TV 
Tues 2/18– Champions League
3 pm Gala, fubotv, B/R     Dortmund (Geo Reyna) vs PSG  
3 pm TNT                            Atletico vs Liverpool  
10 pm Fox Sport 2             Leon vs LAFC (CCL)
10 pm Fox Soccer/fubo     Motagua vs Atlanta United (CCL)
Weds 2/19– Champions League
2:30 pm NBCSN                 Man City vs West Ham
3 pm TNT                            Tottenham vs RB Leipzig (Adams?)
3 pm Gala, fubotv, B/R      Atalanta vs Valencia
8 pm Fox Sport 2               Deportivo vs Montreal Impact (CCL)
10 pm Fox Sport 2             Comunicaciones vs America (CCL)
Thur 2/20– Europa League+ CCL
3 pm TNT, TUDN fubotv,   Club Brugge  vs Man United
8 pm Fox Sport2                San Carlos vs NYCFC (CCL)
10 pm FS2                           Olimpia  vs Seattle Sounders (CCL)
Fri
10 pm   FS1                         USA Ladies vs Mexico (Olympic Qual Finals)
Saturday, 2/22
7:30 a.m. ET: NBCSN         Chelsea vs Tottenham
10 am NBCSN                     Crystal Palace vs Newcastle United
9:30 am Fox Sport2           Bremen ( ) vs Dortmund (Gio Reyna)
10 am beIN Sport               Barcelona vs Eibar
12 noon ESPN+                  SPAL vs Juventus
12:30 pm FS2                     Schalke vs RB Liepzig  
12:30 p.m. ET: NBC           Leicester City vs Man City
3 pm beIN Sport                 Levante vs Real Madrid
Sunday
6:30 am ESPN2                  Genoa vs Granada
9 a.m. ET: NBCSN               Man United v. Watford
11:30 a.m. ET: NBCSN       Arsenal vs Everton
3 pm beIN Sport                 PSG vs Bordeaux
Monday 2/24
.3 pm  NBCSN                     Liverpool vs West Ham
Tues 2/25– Champions League
3 pm TNT                            Chelsea (Pulisic) vs Bayern Munich  
3 pm TUDN fubotv, B/R    Napoli vs Barcelona
8 pm Fox Sport 1               Atlanta United vs Motagua  (CCL)   
Wed 2/26 – Champions League
3 pm TNT                            Real Madrid vs Man City  
3 pm TUDN fubotv, B/R    Lyonnais vs Juventus
6 pm Fox Sport 2               NYCFC vs San Carlos  (CCL)
10 pm FS2                           Montreal Impact vs Deportivo Saprissa
Thur 2/27– Europa League+ CCL
3 pm TNT, TUDN fubotv,   Man United vs Club Brugge
3 pm fubotv                        Olympiackos vs Arsenal
10 pm Fox Sport 1             LAFC vs Leon (CCL)
10 pm FS2                           Seattle Sounders vs Olimpia
Sat, Feb 29  MLS Season Opens
Sun, 3/1 
9 a.m. ET: NBCSN               Everton vs Man United
9am NBCSN                       Tottenham vs Wolverhampton
3 pm beIN sport/Fubo      Real Madrid vs Barcelona  (El CLassico)
3 pm ESPN                          Seattle vs Chicago Fire
5:30 pm ESPN                    LAFC vs Inter Miami
7:30 pm FS1                       Portland Timbers vs Minnesota United
WORLD, Champions League
How will Premier League clubs fare in UCL last 16?
Guardiola admits City can't be sure Sterling will be fit to face Real Madrid
Liverpool most difficult team in UCL says Atletico Boss
Could Neymar, Mbappe antics derail PSG as season enters crunch time?
'I don't fear Haaland' – Meunier backs PSG to overcome Borussia Dortmund in Champions League
Champions League squads changes for four PL teams
– Man City's ban: What it means and what happens next
– Source: Guardiola fears for players after UEFA ban
– Klopp reacts to ban: "Complete wow!"
USA 
US women beat Canada 3-0 in Olympic qualifying final
USMNT: Brooks is back! Defender makes Bundesliga return
Tyler Adams to miss out on UEFA Champions League clash vs. Spurs
Top 25 players in the USMNT pool right now
Klinsmann removed from Hertha board after "unacceptable" departure
MLS
Doyle: Which MLS team has the best CCL chance?
CCL Fever! Predictions, team-by-team capsules and scouting reports
Club Leon president calls LAFC match "life or death"
Vela among reasons why MLS can finally topple Liga MX
Atlanta hit by injury bug heading into CCL opener
Report: FC Cincy closing in on deal for Ajax attacking midfielder
"Oh my gosh, I'm getting traded:" Zimmerman talks Nashville
Cincinnati Season Preview: Will FCC's attacking makeover pay off?
40k and counting: Nashville eyeing attendance record
Wiebe: What Zimmerman trade means for LAFC, Nashville and the future
What the new CBA means for MLS: Players get their share  Jeff Carlisle
Champions League last-16 preview: don't miss Dortmund-PSG, Man City under pressure, Liverpool to get upset?
4:03 PM ET  ESPN
With the Premier League race over, PSG running away with Ligue 1, Bayern and Juventus seemingly in charge of the Bundesliga and Serie A respectively, we might have to look to the UEFA Champions League for our soccer drama between now and May. The action returns in force this week with the start of the last-16: all 16 teams still standing are from Europe's top five leagues and there's upset potential up and down the draw.Will holders Liverpool successfully defend their crown or are we destined to get a new champion? What can we expect from Manchester City, Real Madrid and Barcelona? How about RB Leipzig, who have soared from nowhere to challenge Bayern domestically but have more than enough talent to cause a shock in Europe, too? Consider this your ultimate guide to the first knockout round of the biggest club competition in soccer.
Jump to: Viewing guide and predictions | Burning questions
Your first leg viewing guide and predictions
Presented in order of watchability from "must-see TV" to "DVR for later," Gab Marcotti breaks down all eight first legs of the last-16.
REAL MADRID vs. MAN CITY
– First leg: 2/26, 3 p.m. ET
Despite a string of injuries this season, most notably to record signing Eden Hazard, Real are leading la Liga and would love nothing more than crushing Pep Guardiola's dream of a third Champions League crown. Especially given the fact that after his City side have been hit with a two-year ban from European competition, he won't be getting another crack at it for a while.
PREDICTION: Tense, thrilling draw sets up possible drama at the Etihad
DORTMUND vs. PARIS SAINT-GERMAIN
– First leg: 2/18, 3 p.m. ET
This has the potential to be the most wide-open and popcorn-worthy tie of the round. Both sides love to score, and score often: Kylian Mbappe and Neymar may be the most glamorous pair of forwards in the game right now, but the Dortmund duo of Erling Haaland and Jadon Sancho could one day supplant them. The German side aren't what they used to be defensively but have more than enough in attack to trouble the French champions.
O'Hanlon: Guess what, folks? PSG are going to win the CL
PSG have suffered their share of Champions League heartbreakers over the years, whether against Barcelona or Real Madrid. With former Dortmund boss Thomas Tuchel leading the way, is this the year it all comes together for PSG?
PREDICTION: Borussia Dortmund to strike first against French elite
ATALANTA vs. VALENCIA
– First leg: 2/19, 3 p.m. ET
Free-scoring Atalanta's high-energy, high-press, all-out attack have made them among the highest scorers in Europe and they've done it on a shoestring budget, coaxing goals galore from Papu Gomez, Josep Ilicic and Luis Muriel. Sometimes, it looks as if they're simply playing a different sport. Valencia have had a rough season and have already changed managers this year, but they're a classic feast-or-famine foe and you just don't know what you're going to get.
PREDICTION: Atalanta to take advantage
CHELSEA vs. BAYERN MUNICH
– First leg: 2/25, 3 p.m. ET
Bayern had a major wobble at the start of the campaign, but are back to their laser-focused selves in 2020, marching towards more silverware domestically and, they hope, in Europe. Interim boss Hansi Flick has revived Thomas Muller's form and gotten more out of Serge Gnabry, while Robert Lewandowski might be the best pure scorer in the modern game.
Chelsea have punched well above their weight with a bunch of home-grown youngsters in Frank Lampard's first season as manager, but it remains to be seen if they can hold their own against one of the most relentless and experienced footballing machines around.
PREDICTION: First-leg draw sets up fun in Munich
TOTTENHAM vs. RB LEIPZIG
– First leg: 2/19, 3 p.m. ET
Jose Mourinho — as he'll no doubt remind you — has won this competition twice and knows what it takes to get it done in a two-legged format, though he'll be without star striker Harry Kane, who is injured. Without the talismanic No.9, plenty will be expected of Heung-Min Son around goal while Giovani Lo Celso looks ready to be the anchor of Tottenham's midfield and transition game.
Leipzig are the ultimate intangible: at 32, manager Julian Nagelsmann is a veritable wunderkind who relies on a defensive beast (Dayot Upamecano), a deadeye pest of a scorer (Timo Werner) and plenty of hard running and tactical creativity in between. They have the talent to catch teams on the counter.
PREDICTION: Tottenham to seize control
ATLETICO MADRID vs. LIVERPOOL
– First leg: 2/18, 3 p.m. ET
The contrast in styles is sharp — deep defending vs. high energy, hunt 'em down, full court press — but the ethos is the same for both teams known for their gritty, tough and uncompromising attitude. The problem is that Atletico Madrid are trying to (unsuccessfully) transition from the system that brought them to a success to a more open style, whereas Liverpool boast clockwork efficiency and are finding many different ways to win games under Jurgen Klopp this season.
PREDICTION: Liverpool to walk on with first leg win
NAPOLI vs. BARCELONA
– First leg: 2/25, 3 p.m. ET
Funnily enough, these are the only two teams that have beaten Liverpool's first team since Jan. 3, 2019 but both are going through a bumpy patch. Napoli changed managers in December, have a number of players in contractual disputes and are midtable in Serie A. Europe appears their only hope for joy this season. Barcelona have suffered key injuries (Luis Suarez, Jordi Alba), have also changed managers and are still coming to grips with new boss Quique Setien's old school, press-and-possess style.
Past editions of Barca have been reliant on Lionel Messi for that burst of inspiration but it's become a dependence in 2020. If he's on, this game becomes routine. If he's not, they're in trouble.
PREDICTION: Barcelona to take a lead back to Camp Nou
LYON vs. JUVENTUS
– First leg: 2/26, 3 p.m. ET
Lyon are yet another club to have changed managers in midseason and while Rudi Garcia has righted the ship to some degree, they're still mid-table in Ligue 1. The silver lining: they're getting great performances from the most hyped 16-year-old in the game, Rayan Cherki.
After eight straight Serie A crowns, Juventus did a 180-degree turn in the summer, bringing in new boss Maurizio Sarri with a view towards becoming more attack-minded. It's definitely a work in progress though Cristiano Ronaldo's run of 10 straight Serie A games with a goal (and 20 league goals in 20 games) has been their saving grace on many occasions this season. At 35, he's in the form of his life: will that continue in the Champions League?
PREDICTION: Juve all the way given Cristiano Ronaldo's scoring spree
Big questions to be answered in the round of 16
Looking to make sense of the talking points in Europe's top competition? ESPN's writers have you covered.
Who's under more pressure: Zidane or Guardiola?
There's more pressure on Pep Guardiola, no question about it. It's not just the 25 points separating Manchester City from the top of the Premier League, or the fact that he may be watching the next two Champions' Leagues on TV due to his club's FFP violations, or even the fact that having won two Premier League titles delivering the biggest trophy in club football is the last unconquered peak. Rather, as Guardiola himself has admitted, he puts an absurd amount of pressure on himself. Not so much in terms of achieving results, but in terms of the process his teams go through to get there.
– Man City's ban: What it means and what happens next
– Source: Guardiola fears for players after UEFA ban
– Klopp reacts to ban: "Complete wow!"
Real Madrid, on the other hand, is a perpetual hot-seat, but Zinedine Zidane has more padding than most. The great stone-face has been there, done that and his team are sitting top of La Liga, a competition they've won just once in the last seven years. — Gab Marcotti
Can Simeone spring a surprise vs. Liverpool?
Something odd happened when Atletico Madrid played Leganes on Jan. 26. Or, perhaps more accurately, nothing happened. And that's exactly the point.
There was a moment in the second half when Diego Simeone turned towards the fans and began to do the kind of gesture he has done a thousand times before, raising his arms to try to get them going. But as he began, the reaction was not as immediate or as unanimous as it used to be (it barely existed at all, in fact) and almost as soon as he had started, he stopped again. It wasn't a big deal, perhaps, and most people wouldn't even have noticed, but for those that did and who know it wasn't normal, it added to the feeling that something is not right.
TOP FOOTBALL NEWS
For a brief moment, it was as if the man Unai Emery once described as "war personified" wasn't fighting any more. He stood alone. In front of him, Atletico don't look like his team, the players are not his sort of players, the demands are not what they once were, the identity is not either, and the results are worse than they have ever been under him. They're not even the second-best team in Madrid any more, let alone the first. Out of the cup, out of the league and, most suspect, soon to be out of the Champions League.
There is little faith, an inescapable, overwhelming awareness that Liverpool are the better team and that the odds are stacked against them. But then, that's the way Atletico always liked it. And if they are to get back in touch with themselves, if this is to feel like a Simeone side again, a rebellion with the odds stacked against them, maybe that's what they need. — Sid Lowe
Dortmund vs. PSG is the best game of the round, right?
I don't even need to tell you as you know this already. Regardless of your team or who you support, you know that this is the tie of the last-16. There is nowhere else this month where you will find so much attacking talent, so many ballers. Who will have the most nutmegs: Neymar or Jadon Sancho? Who will score the most beautiful goal: Erling Haaland or Kylian Mbappé? Who will be the most exposed defensively: Keylor Navas or Roman Burki? Who will get his tactics right: Lucien Favre or Thomas Tuchel?
– Okwonga: What makes Haaland so special
You know there will be loads of goals, loads of entertainment and loads of drama. The pressure is certainly on PSG and Tuchel, for his return to Dortmund (and it will be fascinating to see what reception he gets from the Yellow Wall). The French champions can't afford to be knocked out early again in this Champions League. They believe they have the best and most balanced squad they have ever had. But the Germans also have faith in themselves and in their ability to cause problems for any opponent. — Julien Laurens
Who will step up next to Messi for Barcelona?
If there was any quiet jubilation around the Camp Nou when the Champions League draw paired them with Napoli, it has firmly dissipated now.
Napoli don't have a pedigree in this competition, let alone one that bears comparison with FC Barcelona. Napoli closed out 2019 needing to change coach, seventh in Serie A and already 17 points off the top. Barca, under Ernesto Valverde, topped their Champions League group, led La Liga and their two strikers had shared 28 goals between Europe and the domestic title chase. Now Luis Suarez is injured, Valverde sacked, Messi goal-shy, Ousmane Dembele out for the season and Messi's other great playing ally, Jordi Alba, won't be fit to play in the San Paolo stadium.
Moreover, while new manager Quique Setien is introducing ideas that this team badly needs — a sharper use of possession, much more intense training sessions — it somewhat feels as if Barcelona's depleted squad are struggling to cope. His side looks obedient, but they also look sluggish. All Setien's victories have been by a maximum of one goal, have looked in jeopardy and are unlikely to frighten Rino Gattuso's re-energised Napoli.
Fundamentally, Barcelona's recently unrequited love-affair with the Champions League simply has to spark some kind of elemental competitive reaction, Messi must start scoring again and Marc-Andre ter Stegen needs to continue his glittering form or else, remarkably, Napoli will look like slight favourites to many. — Graham Hunter
Is the Champions League too top-heavy or should we just enjoy the show?
This year's last-16 feels like a logical end point to a direction of travel that's been glaringly obvious for some time. Obviously, there's nothing wrong with the best teams in Europe facing one another: that's the whole point of the competition and taken on its own, there are bound to be some exceptional games of football.
It is also true to point out that certain match-ups between the continent's elite are slowly gaining their own folklore in the eyes of the modern fan, such is their regularity. But the overwhelming domination of five super-wealthy leagues and their clubs comes at the expense of the diversity, intrigue and genuine unpredictability that makes the sport itself so great. It said plenty that Ajax, who have won this competition four times, were regarded with such astonishment when they reached the semi-finals last year.
Football's landscape is an ever-shifting one and nobody is expecting a return to the period between 1981-91, when sides from seven different countries – including Yugoslavia and Romania – won the European Cup, at least not yet. But surely the possibility of that is what should make this competition great.
The spectre of a closed shop is drawing ever nearer; it should concern everyone and, while nobody should be discouraged from enjoying the games in their own right, it's worth asking yourself if this is the future you want for our sport. — Nick Ames
Can Nagelsmann seal his status as the next "Special One" vs. Mourinho?
Julian Nagelsmann quickly became Germany's most promising coach, but now the 32-year-old is looking to take the next step. Before coaches become great by winning, most show signs of moving in that direction. Nagelsmann has done that, and now his next opportunity to move towards greatness has come. If Nagelsmann can get the better of a serial winner like Jose Mourinho, it will show that the young coach has more than promise: he has the ability to win when it really matters. The Bundesliga might be exciting, but the value of success on the European stage is unparalleled.
Victory against a Premier League opponent and a coach like Mourinho would be a massive step forward for Nagelsmann. He's already on the coaching map, but win here and he becomes a major attraction. To do that, he'll have to outfox a coach and a personality who has been here many times before. He will also have to prove that he can create a plan to handle deep-lying, counterattacking opponents. After RB Leipzig failed to do so against Frankfurt and only showed up for half the game vs. Bayern, this is the ultimate test for the young head coach. — Jonathan Harding
Which Serie A side has the best shot of moving on?
Jurgen Klopp has named Juventus favourites for the competition, which is odd timing considering how vulnerable the Old Lady appears at the moment. Napoli have tended to raise their game against top sides this season, taking four points from six against Liverpool and recently defeating Italy's top three. Honestly though, it's hard to look beyond Atalanta.
Manager Gian Piero Gasperini feels the draw for the Round of 16, against Valencia, couldn't have been kinder and his players have shown they're acclimated to the speed and skill expected at this level. After becoming the first team ever to qualify for the knockouts with zero points from their opening three games, impossible is nothing to the Bergamaschi. Atalanta have already made more in TV and prize money than the total cost of their wage bill and with a return to the competition looking likely next season, they can play with minds at rest and smiles on their faces.
It may still be a bit of a leap to nominate them this season's Ajax, but for now, Atalanta seem the healthiest and most in-form Italian side left in the Champions League. — James Horncastle
Which young talent will seize the spotlight in the last-16?
The latter stages of the Champions League is when whispers become roars regarding certain up-and-coming stars, so who should we keep an eye on as the last 32 approaches? Let's start with someone who has already announced his arrival. Erling Haaland has eight goals in 305 Bundesliga minutes for Borussia Dortmund, and is about to face a fragile PSG defence. They also have this kid called Jadon Sancho, too.
Ideally, Ansu Fati would only be on the fringes of the Barcelona team, but things are far from ideal at the Nou Camp. Injuries to Luis Suarez and Ousmane Dembele mean that the 17-year-old is a regular by necessity though he certainly has the talent: Fati could do some damage against Napoli. At 16, Lyon's Rayan Cherki is even younger than Fati: Lyon have been more cautious because they're able to be, but if things aren't going to plan against Juventus, we could see him unleashed.
Finally, Callum Hudson-Odoi has endured a slightly stop-start time at Chelsea since he rejected Bayern Munich and stayed at Stamford Bridge, but he's found some form recently. It would be very apt if he did some damage against the very team he turned down. — Nick Miller
Simeone's Atletico Madrid tenure may come to its Champions League conclusion in Liverpool tie
12:52 PM ETGraham HunterSpain writer
There's a scenario whereby, completely unnoticed, we might be witnessing Diego Simeone's last Champions League match at home in charge of Atletico Madrid on Tuesday.Those who've been thrilled by his intense, brooding, winning ways, his Johnny Cash-in-football-boots persona, will fervently hope that it's not so. Those at Atleti who've benefitted from the hundreds of millions of euros he's earned them across nearly a decade of exhilarating European exploits will be praying the same.But here's the deal: Who's the favourite in this tie? It's Liverpool, by a distance. And for several reasons. Not just because they are Champions League holders but because Jurgen Klopp has his side doing a passable impersonation of peak Simeone Atletico, only better: the intensity, the fervor for winning, the same squad unity, the same feeling that everyone at the club, all the fans and owners aren't just singing from the same hymn sheet, they wrote the words.Liverpool's footballers are all consistently performing on a range of eight-out-of-ten to ten-out-of-ten and have been doing so for a couple of seasons. It's an incredibly rare feat, but one that Simeone and assistant "Mono" Burgos also achieved for a couple of years around their 2014 La Liga title win. That was Atleti's first such triumph in 18 years, somewhat less of a drought than Liverpools will be when, some time in the coming weeks, they become England's champions for the first time in 30 years.Nevertheless, the similarities between the two clubs' ideas, attitudes and achievements make this an extra-intriguing tie. Sadly, it comes at precisely the wrong time for Atleti.To have seen Los Rojiblancos of 2013-14 or 2015-16 take on Klopp's Liverpool of the past two seasons would be reason enough for someone in Silicon Valley to finally confirm that, thanks to billions spent on research and development, time travel was now an app available to all of us.The stifling, aggressive press and rob of that Atleti era: the remorseless registering of clean sheets, their utter brilliance at imposing themselves in attacking set plays, the bullishness of peak Diego Costa, world-class Antoine Griezmann, Arda Turan's impishness, imperial Diego Godin; you'd pay handsomely to watch them play Alisson, Virgil van Dijk, Andy Robertson, Trent Alexander-Arnold, Jordan Henderson and the magical forward trident of Roberto Firmino, Mohamed Salah and Sadio Mane across two legs of knockout football.But Liverpool are not only a mirror, showing in stark detail how Atleti have declined, England's champions-elect are arguably a better XI and a better squad than even the remarkble levels Simeone has reached since taking over at the Vicente Calderon in 2011.The greatest thing that unites the two clubs has been messianic belief in the coach.From the day he crossed the threshold, taking a moribund bunch and immediately winning Atletico their fifth international trophy, Simeone has been the club's benign dictator. They are defined by his standards, his rules, his personality, his spiky, relentless need to win.Klopp's not too dissimilar, in effect at least. This is his Liverpool. The German's personality floods Melwood and makes him an all-permeating influence, from those who serve the tea to the leading goal scorer to the academy kids who polish the first team's boots to the data technicians. It is extremely evocative of how Simeone and Burgos have been at their Majadahonda training ground, the Calderon or now the Wanda Metropolitano during their golden years.But Klopp and Simeone want to see their football achieve different objectives: the Argentinian winning 1-0 at any cost, the German almost equally happy to win 4-3 or 6-0 so long as the three points head to Anfield and the game was entertaining. These two leaders of men convene with their most rabid followers, the fans, on a weekly basis. If they are angry, the fans are furious; if they are jubilant, the fans are ecstatic. They appeal a decision and the lava of fan anger pours down on the official. The supporters are a sea of certainty: "In Klopp/Simeone we trust."Or at least it was that way at Atleti. Not necessarily now.Once it was like an evangelical preacher exhorting his flock to raise their their voices heavenwards. Simeone would hop from foot to foot with anxiety, imagined or real, and after spinning around like the Tasmanian devil, often with three or four minutes left on the clock, he'd flap his condor-wing arms up and down and the response would be a guttural roar of beseeching, unconditional support from the supporters to the 11 souls in red and white on the pitch. Simeone's energy and standards were communicated via the voices of 50,000 disciples. It was magical.Then, last week, as Atletico were still holding on 80 minutes after Angel Correa gave them an early — and slender — lead over Granada, Simeone reached for the arm-flapping trick. It was like an old champion boxer knowing what punch to throw but with reactions so slow that the challenger sees it coming a mile off. There was no reaction from the fans, no messianic "we believe" roar. Instead, there was apathy, frustration and very little impact.Strange, changed times. Football is weird, let's agree on that.
More surprising things have happened than Liverpool perhaps feeling just a little gentler than they were before their winter break and the globetrotting holidays Klopp's players were able to cram in. They'll benefit from the time off, eventually, but can they get back to ramming speed immediately?Stranger things, too, have happened than the warriors at Atleti — Jan Oblak, Koke, Saul, Yannick Carrasco, Correa and perhaps even newly fit Alvaro Morata — bucking themselves up sufficiently for a home win. But over the two legs, with Simeone's troops now beginning to show the same "we're not really sure whether we believe in Simeone anymore' lethargy, Liverpool are demonstrable favourites to go through.Let's say that happens. There's a brilliant five-way race for the crucial fourth Champions League-qualifying slot in la Liga. Atletico will be most people's favourites and, should they qualify, it's much easier to see Simeone moving a year further towards the end of his contract, which extends until 2022. But the two clubs closest to Atleti in fourth, Sevilla and Real Sociedad, are either level on points or just two behind, while Valencia and Villarreal are, respectively, two and four points off Simeone's team. It's not comfortable. It will be a battle royal.If Atletico don't qualify for next season's Champions League, I doubt it would lead to Simeone being sacked — not after such lengthy success. However, do you doubt that Atleti are casting about just in case there's a better alternative out there?Talking of better alternatives, it's the gossip of the Spanish football industry that Mono Burgos — fluent in English — is starting to get itchy feet, beginning to wonder whether he could win trophies and earn a huge salary increase by heading out on his own. Will he? Would that damage Simeone at Atleti? You'd guess so.And Simeone's infamous, brutally demanding fitness coach, "Profe" Oscar Ortega? Atletico's players no longer maul other teams with their suffocating pressing, they no longer shut down a single-goal lead so effectively; in fact, they no longer look as if they are enjoying their football. Ortega, it would appear, has scalded those who've worked with him for years and, just as happened when Real Madrid said thank you and adios to fitness coach Antonio Pintus before appointing Gregory Dupont last summer, change seems both inevitable and vital.Some of you may believe that Atletico knocking out Liverpool is within Simeone's remarkable compass. Fair enough. Some may believe that even if he's defeated and has nothing to play for other than Champions League qualification from March onwards, he's certain to stay with Los Colchoneros next season. OK, no problem.But the concept of this elimination either leading to a mutual agreement to change at the end of this season or yet another year in the Europa League, and then either the club or their manager deciding it's time to part ways in summer 2021, well, neither of those scenarios now seem terribly unlikely. Each would mean that this gargantuan match against Liverpool would be looked back on as an unheralded "Adios" for Simeone in the Champions League with Atleti.It's not the right way for a great reign to end. I hope it isn't so.But don't rule it out.
PSG to win the Champions League? Neymar, Mbappe & Co. compare closest to past 10 winners
How do you win the Champions League?
It turns out that "be Real Madrid" is not a bad place to start. The Spanish giants have won 13 European Cups, and no other club has more than seven. They've won four of the past six, and their current manager, Zinedine Zidane, has never not won the Champions League. Three tries and three trophies for Zizou, so that's that, huh?
Although Zidane The Manager has yet to be eliminated from the Champions League, other teams have in fact won the tournament.
As I wrote about in my newsletter, Liverpool grabbed it last year with a slightly throttled-down pressing approach that relied on their defense and their goalkeeper — a sentence that would've been unthinkable just a year prior. Barcelona nabbed the trophy in 2015, thanks to the devastation wrought by Lionel Messi, Neymar and Luis Suarez. Bayern Munich did it the year before Pep Guardiola came to town by essentially fielding the entire World Cup-winning German national team, plus Arjen Robben and Franck Ribery. Chelsea took down Bayern the year before that despite finishing sixth in the Premier League, and the year before that was the most recent time Guardiola won it, with the Barcelona team that Sir Alex Ferguson said was the best side he'd ever seen.
Since the 2010-11 season, only five clubs have won the Champions League title. What did they have in common?
At first glance, there isn't a lot connecting any of those teams. But using domestic-play data from TruMedia, we can look at the statistical profiles of the past nine winners, see what the minimum benchmarks have been and compare them to all 16 remaining teams in this season's competition. We'll go through a number of categories and eliminate the 2020 teams that aren't up to snuff before landing on our One True Champion.
Let's get to it.
Measurement No. 1: Scoring enough goals
In domestic play, all of the previous nine winners averaged at least 1.7 goals per game. That low-point number, unsurprisingly, belongs to Chelsea. After all, they finished sixth in their own league that season; however, they sported a solid plus-19 goal differential and won the Champions League while Lionel Messi and Cristiano Ronaldo were at their peaks. We're not talking about a bunch of scrubs here. Plus, including an outsider team such as Chelsea in the numbers makes this exercise more interesting, as it accounts for the possibility of a non-favorite winning the whole thing.
We must say goodbye to Tottenham (1.6 goals), Napoli (1.57), Lyon (1.54), Valencia (1.43) and Atletico Madrid (1.00) at the first hurdle. No big surprises there, as none of those five sides is favored to advance to the quarterfinals, per FiveThirtyEight's Soccer Power Index. Goals, especially given that we're dealing with just more than half a season, can be statistically noisy; in other words, goals aren't necessarily predictive of more goals. But even if we look at expected goals — a more predictive measure — only Napoli (1.93) break the 1.7 threshold.
Teams eliminated: Tottenham, Napoli, Lyon, Valencia, Atletico Madrid
Teams remaining: Bayern Munich, Man City, Juventus, Real Madrid, Barcelona, Atalanta, Chelsea, Borussia Dortmund, Liverpool, RB Leipzig, PSG
Measurement No. 2: Goals against
Defense, it turns out, has tended to win championships over the past decade. Who knew?
Of the previous nine winners, five gave up fewer than one goal per match, and four of them — both Barcelona sides, Liverpool and Bayern Munich — were below 0.6. In fact, no team in this season's field is below 0.6 goals allowed per match, with Liverpool landing exactly on that mark. However, weaker defenses have won titles, too. Two of Zidane's Madrid teams, along with Carlo Ancelotti's Madrid team, allowed north of one goal per match. The worst defense, though, was, again, Roberto di Matteo's Chelsea, who let in 1.21 goals per game on their way to the trophy.
Despite that high figure theoretically creating a low barrier for entry into our exercise, four more teams are eliminated at this stage: Barcelona (1.22), Atalanta (1.35), Chelsea (1.36) and Borussia Dortmund (1.52). Dortmund are scoring at a higher rate than any team left in the tournament, a wild 2.82 goals per game, and Atalanta are third, with 2.65 goals per game. Plus, Atalanta are doing it in Serie A, where it has traditionally been difficult to score goals. Both teams should be neutral fan favorites, but their porous backlines mean their opponents are never out of a game.
Chelsea's defense doesn't seem likely to stand up against round of 16 opponent Bayern Munich (second among all teams with 2.76 goals scored per game), and as has been the trend the past few years in Catalonia, it's a shame Lionel Messi can't play defense, too.
Teams eliminated: Barcelona, Atalanta, Chelsea, Borussia Dortmund
Teams remaining: Bayern Munich, Man City, Juventus, Real Madrid, Liverpool, RB Leipzig, PSG
Measurement No. 3: Game control
Rather than looking at pure possession numbers, the next step after goals scored/allowed is to look at how the remaining teams control the field. How good are they at all the things that happen before the ball ends up in the net? To do this, we can see how many passes a team allows in their final third and compare that to how many passes a team completes in their opponent's final third. Then we can take those two numbers and determine a team's percentage share of final-third passes.
Unsurprisingly, Barcelona lead the way among the previous winners, but perhaps surprisingly, No. 1 is Luis Enrique's team, not Pep Guardiola's. The 2014-15 vintage completed 74% of the final-third passes in their matches, compared to the 10-11 side's measly 73.1%. Bayern, Liverpool and 2017-18 Madrid were also all north of 60%. Last place, once again, was Chelsea, with 56.1% of final-third passes.
More from Ryan O'Hanlon:
— What makes Lewandowski and Werner so good in front of goal
— The best and worst value transfers in past five PL seasons
— Is squad depth really an issue for top teams?
Of the remaining seven teams, none of them is below Chelsea's mark. City and Bayern are both above 70%, and Liverpool, Juventus, PSG and Real Madrid are all above 60%. RB Leipzig sit last, with 58.6%.
If looking at how teams tilt the field doesn't eliminate anyone, we can then look at how long a team keeps the ball when they get it. Opta records a statistic called "sequences" — essentially, an interrupted chain of possession — and no team that has won the Champions League since 2011 has had an average sequence time below 9.4 seconds. That low (again!) comes from Chelsea, but Ancelotti's Madrid weren't much higher, at 9.6. That means goodbye for Leipzig, whose average sequence time is 8.7 seconds, the second-lowest figure of all 16 knockout-round teams, above only Atletico Madrid's manic (7.3 seconds) approach.
Teams eliminated: RB Leipzig
Teams remaining: Bayern Munich, Man City, Juventus, Real Madrid, Liverpool, PSG
Measurement No. 4: Shots, shots, shots
The six teams left in this exercise are a bit harder to separate. If we look at how they press, all six are above the threshold of the previous winners. The minimum average starting point for all of their sequences — a proxy for how high up the field they win the ball back — is 47.7 meters from their own goal. That number belongs to Real, but they're still significantly above 2011-12 Chelsea's mark of 45.9 meters. Man City, for what it's worth, start their average sequence 53 meters from their own goal, which is higher than that of any of the past nine winners.
In terms of how fast they win the ball back — something known as "passes allowed per defensive action" (PPDA) — all six are lower than Chelsea's 13.26. Liverpool's high mark of 11.02 is still below where they were last season, when they, you know, won the Champions League. This season's most aggressive pressers are PSG (8.03), but they're still significantly behind Barcelona's mark of 6.98 in 2014-15. That side also scored more goals and gave up fewer goals than any other team in this season's field.
(Side note: Luis Enrique's team really might be the best of all time.)
Looking at how often the teams cross the ball doesn't do us any good either, so we're back to shots: How many do they take, and how many do they allow?
Like in PPDA, Liverpool are at the bottom, with 15.56 shots per game, but like in PPDA, that number is still better than that of last year's title-winning team. Because they're bottom in almost every number we've looked at so far, let us note that 2011-12 Chelsea took more shots (17.66) than all but three of the past nine CL winners.
How about shots against? Finally, some progress! Chelsea gave up 11.82 shots per game during the 2011-12 season, and this season, Juventus are giving up 12.3. That's actually the third-highest figure among all of the round of 16 participants, better than only that of Valencia and Tottenham. FiveThirtyEight's SPI gives Juve just a 3% chance to win the whole thing, and their inability to suppress shots is one of the biggest reasons they aren't in the top tier of contenders.
Burley sees Sancho as an investment in Liverpool's future
Craig Burley says Jadon Sancho could take pressure of Sadio Mane and Mo Salah if he joined Liverpool.
What about the quality of those shots?
All of the five teams left take above-average shots, in terms of their xG per shot. However, none of the previous nine winners allowed their opponents to take particularly good shots. The worst mark goes to Zidane's 2017-18 team (0.12), but that's right around the Europe-wide average. This season, though, there are two teams living by the mantra of "we don't normally give up shots, but when we do, we give up great ones."
Manchester City are conceding shots with an average of 0.15 per shot (worst among all remaining teams), and Bayern Munich are conceding chances with an average xG value of 0.13, which is third worst. Per FiveThirtyEight, Bayern (20%) and City (17%) are third-favorites for the title behind Liverpool (21%). The low-quantity-high-quality defensive approach works in domestic leagues in which both clubs have a significant talent advantage over almost all of their opponents, but it could implode once the competition heats up.
Teams eliminated: Bayern Munich, Man City, Juventus
Teams remaining: Real Madrid, Liverpool, PSG
Measurement No. 5: Fouls
Listen, we're nitpicking here, all right? One of the only remaining differentiating factors for these three teams is how often they foul their opponents. Among the past nine champs, only one committed more than 12 fouls per match: 2012-13 Bayern Munich, who hacked down the opposition 13 times per match. At the other end sit last season's Liverpool, who committed 8.29 fouls per game.
While the highlight of the Real Madrid season so far is Federico Valverde's game-saving, last-minute, last-man, red-card tackle on Alvaro Morata in the final of the Spanish Supercopa, the team's wider penchant for foul play earns them the boot from our list. Zidane's team commits 13.22 fouls per match.
For whatever reason, none of the recent winners other than Bayern has fouled anywhere near that much. It could speak to a larger lack of control that then shows up in other areas of the game. It could lead to too many set pieces, which lead to the kind of scripted moments that often decide knockout games. Or, as Madrid fans will surely be hoping, it could be totally random.
Teams eliminated: Real Madrid
Teams remaining: Liverpool, PSG
Measurement No. 6: Passes
And then there were two: Liverpool and PSG, who played a pair of the more thrilling group-stage matches in last season's tournament.
It sure seems as if PSG are trying to find a new absurd way to exit the competition every year. First, it was La Remontada, when they blew a 4-0 first-leg lead to Barcelona. Then they bought Neymar, the Barcelona player who led that comeback, only for him to miss the second leg of their round of 16 matchup with eventual winners Real Madrid. Then last year, of course, Neymar didn't play in either match against Manchester United, and despite winning the first leg at Old Trafford 2-0, PSG were eliminated by a last-minute penalty awarded by VAR for a handball on a shot that probably wasn't going to end up anywhere near the goal frame.
However, this season's PSG have more in common with the previous nine Champions League winners than anyone else, including last year's champ. None of those teams completed fewer than 84.5% of their passes, with both Liverpool and Chelsea tied at the bottom of the threshold. This season, Liverpool have dropped down slightly, to 83.7%, a barely perceptible shift that, for the purposes of this exercise, eliminates them from the list.
PSG, meanwhile, are completing 89.9% of their passes, which is a higher percentage than that of any other team left in the competition. Sure, they play in the worst league among the Big Five, and yes, they have an incredible resource and talent advantage compared to their domestic opponents. But is it really a surprise that a team with Neymar and Kylian Mbappe — arguably the two best non-Messi players in the world right now, the kind of talent who can decide a tie all on their own — has the profile of a Champions League champion?
As long as they're both out there, PSG can beat anyone. Of course, they've played together in only one Champions League knockout match since they joined the team in the summer of 2017.
PSG kick off the round of 16 against Dortmund next week, and like clockwork, Neymar hurt his ribs and hasn't played a league game in more than two weeks. (Mbappe is also skipping this weekend's game vs. Amiens.)
We'll give them one more shot, but depending on how things go over the next few months, next season's version of this exercise might include another filter, one that says "Not PSG."
UEFA's new Champions League Man of the Match award is truly a thing of beauty
With the Champions League due to resume this week, UEFA has introduced a brand new award to the mix and it is a glorious sight to behold…
The Toe Poke Daily is here every day to bring you all the weirdest stories, quirkiest viral content and top trolling that the internet has to offer, all in one place.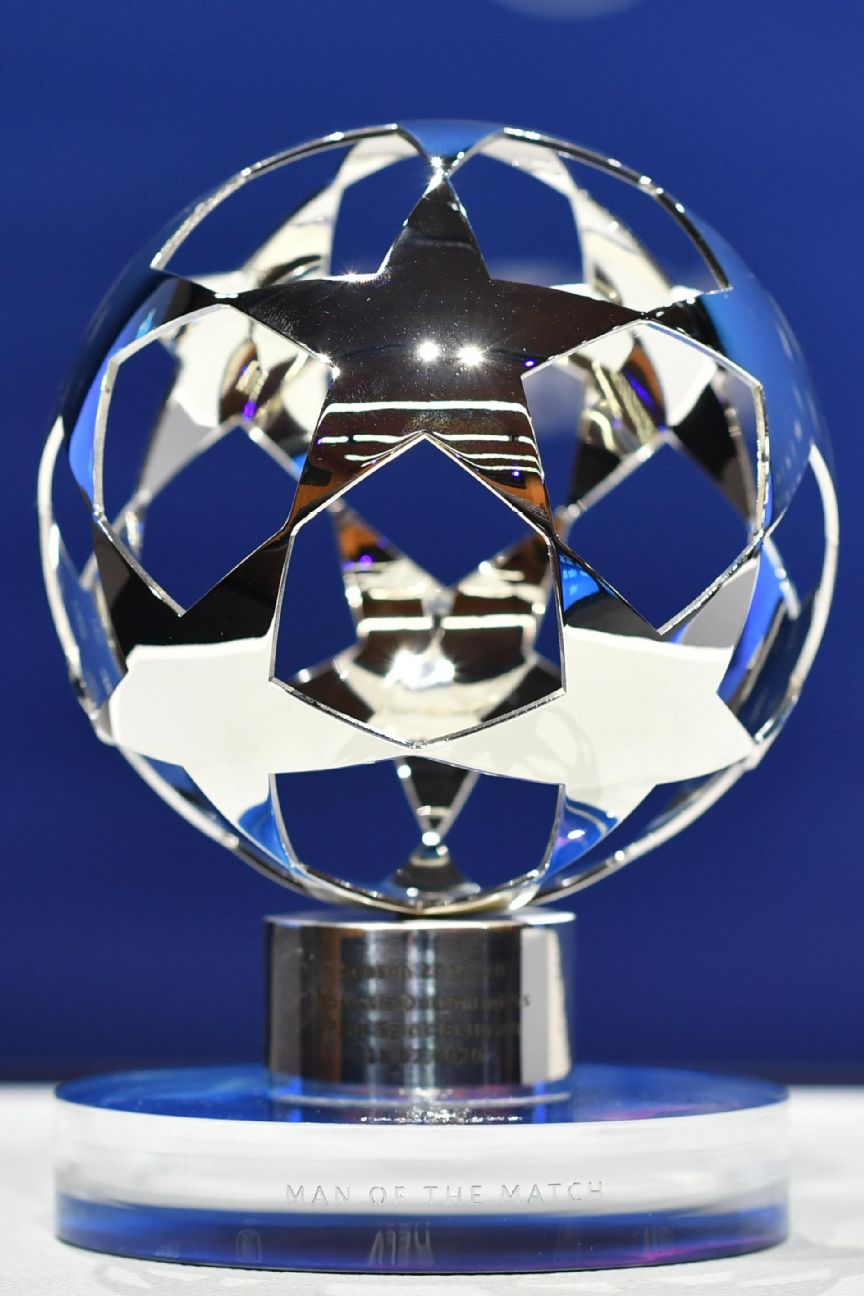 From the round of 16 onward in this season's Champions League, the best performers in every match will be bestowed with a dazzling new "Man of the Match" award after the full-time whistle.The award comes with a trophy, which is a gorgeous D manifestation of the ournament's iconic logo. You can hear the choir heralding "The Chaaaaaaampiooons" in your head just by looking at it.UEFA have previously handed out official Man of the Match awards as ordained by their technical observers, but only in the final — last year's winner being Virgil van Dijk.The recipients of the new award will be chosen by a special advisory panel of technical observers, including Gareth Southgate, Roberto Martinez, Aitor Karanka, Phil Neville and Robbie Keane.According to UEFA, the beautiful trophy will be awarded to the player deemed to have excelled in decisive moments as well as tactical maturity, creativity and inspiration, exceptional skill, and fair play.