So Black Friday has arrived – the largest ever TV Audience expected for a US Soccer game and the US could really use a tie here vs England. With Iran's win today – a tie vs England and win over Iran should put us thru to the next round. Honestly even a close lost it ok sh don't tell our team. I am going to pick England 2-1 still – I just don't think we have the fire power to win this one. We'll see if the Berhalter way has the US with 45-55 possession and continued high press vs England's back line. I think we go right at McGuire and his lack of speed. I look for Weah to really try to take advantage of that. If it was me – I would put Weah up top in the #9 and have Reyna on the right wing with our MMA or MAA midfield. But this is what I see below. Bottom line we would love the tie – NO US TEAM HAS EVER LOST TO ENGLAND IN A WORLD CUP BY THE WAY – Men or Women's. We'll see if that holds true today.
US Men Friday 2 pm vs England on Fox
Shane's Starters for Friday
Pulisic, Sargent, Weah
Musah, Reyna
Adams
Robinson, Ream, Zimmerman, Scalley
Turner
First off bench McKinney, Aaronson, Ferriera
So I start with the same front line as before – Pulisic and Weah combined to score and Sargent is bigger and stronger and more used to EPL play. We have to get Reyna on the field however so I look for Musah or McKinney to get the rest – it could be McKinney as he is on a yellow card and is still somewhat injured – or it could be Musah as he was a bit overwhelmed vs Wales I thought. I don't think Berhalter will do this but I would go with Scalley on the right side back today – as Dest is on a Yellow Card and we need THE BEST DEFENSE we can have vs England. I think Zimmerman stays a starter but I would not be upset to see Cameron-Carter Vickers he's a starter at Rangers and has Champions League experience.
I am sorry but I wish our American's loved their national anthem the way Mexico does. US Highlights – 5 minutes England vs Iran hightlights Your US Captain Tyler Adams Story Our CenterBack Captain Tim Ream Matt Turner Save US Goal by Tim Weah these 26 stories on our 26 players going to Qatar its awesome. More hype videos
Full U.S. Men's roster for 2022 World Cup:
GOALKEEPERS (3): Ethan Horvath (Luton Town/ENG; 8 appearances for U.S./0 goals), Sean Johnson (New York City FC; 10/0), Matt Turner (Arsenal/ENG; 20/0)
DEFENDERS (9): Cameron Carter-Vickers (Celtic/SCO; 11/0), Sergino Dest (AC Milan/ITA; 19/2), Aaron Long (New York Red Bulls; 29/3), Shaq Moore (Nashville SC; 15/1), Tim Ream (Fulham/ENG; 46/1), Antonee Robinson (Fulham/ENG; 29/2), Joe Scally (Borussia Monchengladbach/GER; 3/0), DeAndre Yedlin (Inter Miami CF; 75/0), Walker Zimmerman (Nashville SC; 33/3)
MIDFIELDERS (7): Brenden Aaronson (Leeds United/ENG; 24/6), Kellyn Acosta (LAFC; 53/2), Tyler Adams (Leeds United/ENG; 32/1), Luca de la Torre (Celta Vigo/ESP; 12/0), Weston McKennie (Juventus/ITA; 37/9), Yunus Musah (Valencia/ESP; 19/0), Cristian Roldan (Seattle Sounders FC; 32/0)
FORWARDS (7): Jesus Ferreira (FC Dallas; 15/7), Jordan Morris (Seattle Sounders; 49/11), Christian Pulisic (Chelsea/ENG; 52/21), Gio Reyna (Borussia Dortmund/GER; 14/4), Josh Sargent (Norwich City/ENG; 20/5), Tim Weah (Lille/FRA; 25/3), Haji Wright (Antalyaspor/TUR; 3/1)
Carmel FC GK Coach Headed to National Championships Carmel FC GK Coach Noelle Rolfsen GK for the Marian University Lady Knights in Indianapois is headed to Alabama next week for the NAIA National Championships. They play Thurs Dec 1 at 5 pm and again on Sat, Dec 3 at 5 pm if they win.
Indiana U Men – Advance to Round of 16 with Win over St Louis
IU men's soccer advanced to the round of 16 with a 1-0 win over St. Louis at Bill Armstrong Stadium in Bloomington on Sunday afternoon. Here's the Winning Goal
WORLD CUP GAMES ON TV
Fri, Nov 25
5 am FS1 Wales vs Iran
8 am FS1 Qatar vs Senagal
11 am Fox Ecuador vs Netherlands
2 pm Fox USA (0-1-) vs England (1-0)
Sat, Nov 26
5 am FS1 Tunisia vs Australia
8 am FS1 Poland (0-1-0) vs Saudi Arabia (1-0)
11 am FS1 France (1-0) vs Denmark (o-1-0)
2 pm FS1 Argentina (0-1) vs Mexico (0-1-1)
Sun, Nov 27
5 am FS1 Japan (1-0) vs Costa Rica (0-1)
8 am FS1 Belgium (1-0) vs Morocco (0-1-0)
11 am FS1 Croatia (0-1-0) vs Canada (0-0-1)
2 pm FS1 Spain (1-0) vs Germany (0-0-1)
Mon, Nov 28
5 am fS1 Cameron (0-0-1) vs Serbia (0-0-1)
8 am FS1 South Korea ((0-1-0) vs Ghana (0-0-1)
11 am Fox Brazil (1-0) vs Switzerland (1-0)
2 pm Fox Portugal (1-0-0) vs Uraguay (0-1-0)
Tues, Nov 29
10 am Fox Netherlands vs Qatar
11 am Fox Sport 1 Ecuador vs Senegal
2 pm Fox USA vs Iran
2 pm FS1 Wales vs England
Wed, Nov 30
10 am Fox Sport 1 Tunisia vs Frane
10 am Fox Australia vs Denmark
2 pm FS1 Poland vs Argentina
2 pm Fox Saudi Arabia vs Mexico
Thur, Dec 1 –
10 am FS1 Croatia vs Belgium
10 am Fox Canada vs Morroco
2 pm Fox Japan vs Spain
2 pm Fox Costa Riaca vs Germany
Fri, Dec 2 –
10 am FS1 Ghana vs Uruguay
10 am Fox Portugal vs South Korea
2 pm Fox Cameroon vs Brazil
2 pm Fox Serbia vs Switzerland
Sat, Dec 3 – Sweet 16 Knockout Rounds
10 am Fox 1A vs 2 B USA?
2 pm Fox 1C vs 2 D
Sun, Dec 4 –
10 am Fox 1D France vs 2C
2 pm Fox 1B England? vs 2A
Mon, Dec 5 –
10 am Fox 1E Spain? vs 2F
2 pm Fox 1G Brazil? vs 2H
Tues, Dec 6–
10 am Fox 1E Spain? vs 2F
2 pm Fox 1G Brazil? vs 2H
Fri Dec 9
Fri, Dec 9 Quarter Finals Final 8–
10 am Fox
2 pm
Sat Dec 10 Quarter Finals Final 8–
10 am Fox
2 pm
Tues Dec 13 Semis – Final 4
2 pm Fox
Wed Dec 14 Semis – Final 4
2 pm Fox
Sat, Dec 17 third Place
10 am Fox
Sat, Dec 18 FINALS
10 am Fox
===================RackZ BAR BQ ====Save 20% ======================
AFTER YOUR PRACTICE AT BADGER FIELDHOUSE
Try out the Best BarBQ in Town right across the street (131st) from Northview Church & Badger Field on the corner of Hazelldell & 131st. RackZ BBQ
Save 20% on your order
(mention the ole ballcoach)
Check out the BarBQ Ribs, pulled Pork and Chicken, Brisket and more. Sweet, Tangy or Spicy sauce. Mention you heard about it from the Ole Ballcoach — and Ryan will give you 20% off your next meal. https://www.rackzbbqindy.com/ Call ahead at 317-688-7290 M-Th 11-8 pm, 11-9 Fri/Sat, 12-8 pm on Sunday. Pick some up after practice – Its good eatin! You won't be disappointed and tell 'em the Ole Ballcoach Sent You!
=====================RackZ BAR BBQ ======Save 20% ======================
US Men 
Late red card changes everything for Iran, Wales — and USMNT
hy the USA can find vindication in World Cup's two big upsets
World Cup 2022 odds: Expect record-breaking betting on USMNT-Wales match
USMNT embracing underdog role against England ahead of Friday's match
Jedi Robinson has personal motivation to summon the force vs. England
What's up with England star Harry Kane's injury?
USMNT remains confident ahead of match vs. England
3 positives from USMNT's draw with Wales
Get to know the USMNT's 26-man World Cup roster
World Cup
Ronaldo Makes History as Portugal Holds On to Defeat Ghana in World Cup
Wednesday World Cup recap: Belgium outlasts Canada; Spain routs Costa Rica 7-0
Neymar Injures Right Ankle During Brazil's World Cup Win
GK
special guests. Wear your kits. Bring your signs. Raise a Tifo inside the theater if you want. And be ready for a can't miss night.
USMNT World Cup group scenarios: What does USA need to qualify for the round of 16?
By Jacob Whiteheadh ago
---
In Friday's first game, Iran beat Wales 2-0 after sensational late goals from Rouzbeh Cheshmi and Ramin Rezaeian at the Al-Rayyan Stadium.Iran had the better of the chances, hitting the woodwork on several occasions, but luck seemed to be smiling upon the Welsh, despite Wayne Hennessey's late red card. However, Cheshmi's 99th minute strike from outside the area gave Iran a famous win, with Rezaeian then finishing a counter-attack.Although England vs United States needs little more significance — more of that later — the result has clarified what the USMNT need to do if they are to escape the group stages.The USMNT has successfully reached the knockout stage at six of the 10 World Cup tournaments that have qualified for.
Will they be through if they beat England?
Not quite — but almost. That will put the USMNT on four points, England on three points, Iran on three points, and Wales on one point.
Group B if USMNT win
| TEAM | W | D | L | POINTS |
| --- | --- | --- | --- | --- |
| United States | 1 | 1 | 0 | 4 |
| England | 1 | 0 | 1 | 3 |
| Iran | 1 | 0 | 1 | 3 |
| Wales | 0 | 1 | 1 | 1 |
The USMNT play Iran in their final group game, and a point in that match would guarantee progression, while a win would see them win the group. England play Wales in the group's final fixture.
However, if Iran beat the USMNT, Gregg Berhalter's side would be knocked out if England beat Wales.
What about a draw?
It makes the situation fairly stark. England would have four points, Iran would be on three, the USMNT will have two points, and Wales only one.
Group B if USMNT draw
| TEAM | W | D | L | POINTS |
| --- | --- | --- | --- | --- |
| England | 1 | 1 | 0 | 4 |
| Iran | 1 | 0 | 1 | 3 |
| USMNT | 0 | 2 | 0 | 2 |
| Wales | 0 | 1 | 1 | 1 |
Simply put, a win against Iran will put the USMNT through, though whether that would be as group winners depends on England's result against Wales.
However, any other result will see the American team knocked out.
Are the USMNT out with a loss?
This is where it becomes more difficult. Their fate would be taken out of their hands.
Group B if USMNT lose
| TEAM | W | D | L | POINTS |
| --- | --- | --- | --- | --- |
| England | 2 | 0 | 0 | 6 |
| Iran | 1 | 0 | 1 | 3 |
| USMNT | 0 | 1 | 1 | 1 |
| Wales | 0 | 1 | 1 | 1 |
England will be through as group winners on six points, with Iran on three points, and Wales and the USMNT each on one point.The USMNT need to beat Iran, and then hope that Wales fail to beat England. If Wales do beat England, the USMNT require their goal difference (goals scored minus goals conceded) to be better than Wales, as both teams would be tied on four points.
Who could the USMNT play in the knockouts?
They will play one of the teams from Group A — which includes hosts Qatar, the Netherlands, Ecuador, and Senegal.
If the USMNT finish second their most likely opponent will be the Netherlands. They have lost four of their five games to the Dutch, but won the most recent 4-3 in 2015If the USMNT win the group, the most likely opponents are Ecuador or Senegal, who play in the final round of group games on Tuesday to decide progression. They have won five, drawn five, and lost five to Ecuador, but have never played Senegal.
What's the history of England vs USMNT at the World Cup?
England did not play in their first World Cup until 1950, and their first ever game at the tournament was against the United States, who entered the match in Belo Horizonte as massive underdogs.However, a 38th minute goal from USMNT forward Joe Gaetjens gave his side a famous victory, and led to England being knocked out in the group stages.England have only lost on one other occasion to the United States — a friendly in 1993 — but faced them again in the World Cup in 2010. Though Steven Gerrard gave England an early lead, a mistake from Rob Green allowed Clint Dempsey to equalise. The USMNT would go on to win the group.The Athletic's Oli Kay has explored the rivalry in more detail here.
We brought you some early US team news earlier but, according to men in the know, Sam Stejskal and Paul Tenorio, it's doubtful there'll be much rotation after three days to rest, recuperate and prepare.The fitness of Sergino Dest and Weston McKennie remains a topic to watch, though all 26 players were participating in the portion of training open to the media on Thursday nightGio Reyna is considered one of the most talented players on the US roster but our USMNT experts think it's unlikely Gregg Berhalter will bench Tim Weah or Christian Pulisic; we're more likely to see Reyna in the second half.One area Berhalter may weigh a change is up top.Josh Sargent was disconnected from his attacking colleagues on MOnday but he did contribute to the goal-scoring sequence, chesting down a pass into the path of Pulisic, who took off on a lengthy run up the field before finding Weah with a brilliant through-ball.Berhalter could opt for Jesus Ferreira up top, but our team thinks Sargent's physicality and ability on set pieces make him a better match-up for this game.
USA vs. England, 2022 FIFA World Cup: What to watch for
The big one's here.
By Donald Wine II@blazindw Nov 24, 2022, 9:00am PST
Share this story
The United States Men's National Team are back at it in their second group stage match of the 2022 FIFA World Cup tomorrow when they take on England at Al Bayt Stadium. The second this matchup was confirmed at the World Cup draw, the date on the calendar was circled: Black Friday. As most of America is off work today and tomorrow, the stage was set for one of the most anticipated USMNT matches of all time. And with it comes a ton of importance.
With the draw on Monday against Wales, the USMNT are sitting tied for second in Group B with 1 point, staring up at England. A result against the seeded team in the group would be massive to not only increase the USMNT's chances of advancing, but to also open up the group a bit entering the final group stage matchday. A loss doesn't eliminate the USMNT, but it will take destiny out of their hands and they'll have to count on other results happening to get out of the group.
We know that most of you already have a rooting interest in the World Cup. But that's probably just habit. SB Nation has devised a quiz based on your style of sports fandom that will scientifically* decide which team you really should be rooting for. Take it here!
*no actual science was used, your mileage may vary
Latest Form
USA
D (1-1) – Wales – 2022 World Cup Group B
D (0-0) – Saudi Arabia – Friendly
L (0-2) – Japan – Friendly
D (1-1) – El Salvador – Concacaf Nations League
W (5-0) – Grenada – Concacaf Nations League
England
W (6-2) – Iran – 2022 World Cup Group B
D (3-3) – Germany – UEFA Nations League
L (0-1) – Italy – UEFA Nations League
L (0-4) – Hungary – UEFA Nations League
D (0-0) – Germany – UEFA Nations League
What To Watch For
Keep eyes on Saka. Bukayo Saka had a terrific match for England against Iran, and he has emerged as a star over the last couple of years for the Three Lions. His creativity on the field combined with his knack for putting shots on frame means that the defense has to make sure they keep tabs on him and not let him get free.
Play like the first half against Wales. The team we saw in the first half on Monday was one of the best USMNT fans have seen in ages. They played extremely well and was aggressive in taking the game right to their opponent. Let's see more of that tomorrow against England, but this time, it has to be a full 90 minutes.
Go right at Harry Maguire. If Harry Maguire starts, there's your weak link at the back. Our midfielders should be able to keep Maguire on his back foot, where he tends to mess up at times. The USMNT needs to exploit any holes created by England's bad positioning and go right at them.
Lineup Prediction
With news that Gio Reyna is available to play on Friday, we really are at a squad that's fully ready to play. With all that in mind, here's the predicted lineup that Gregg Berhalter will start against England:
The prediction is pretty simple: no changes for the USMNT. We can expect to finally see Gio Reyna make his World Cup debut, while Brenden Aaronson will also see the field earlier in relief. There shouldn't be any surprise if Sergiño Dest or Weston McKennie come off early given that they both hold yellow cards, but Berhalter will still likely start them given their importance to what the team wants to do on the field.
Prediction
Call this a homer pick if you want, but it's another draw for the USMNT. 1-1.
England set to name unchanged starting XI to face USA, Kane fit to start
By David OrnsteinNov 24, 2022
---
The Athletic has live coverage of the USMNT vs England in World Cup Group B play.
England manager Gareth Southgate is set to name an unchanged line-up for the World Cup game against the United States on Friday, with Harry Kane fit to start.Southgate decided to hand Bukayo Saka and Jude Bellingham their first World Cup starts in England's first match of the tournament, and was rewarded with a thrilling 6-2 victory over Iran
The pair both found the target — Bellingham opened the scoring before Saka struck twice — alongside Raheem Sterling and second-half substitutes Marcus Rashford and Jack Grealish.Kane, England's captain, is poised to lead the line despite having a scan on his right ankle following a challenge during the Iran game.The 29-year-old was able to train with his team-mates on Wednesday and Southgate subsequently declared the Tottenham Hotspur forward was available for Friday's encounter.Manchester United defender Harry Maguire is also set to retain his place in England's starting XI, for what will be his 50th international appearance.There had been some question marks over the 29-year-old's participation after he was replaced in the second half of the Iran win after complaining of illness.Maguire, however, made clear he was fit to play against the USMNT in a press conference on Thursday."Obviously it was disappointing to have to come off the pitch," he said."I felt unwell in the second half but we have a great medical department. I have done all the tests and felt well since. I have been on the training pitch over the last couple of days and I feel good and ready to go."It is anticipated Southgate will keep the back four which worked so well on Monday, with Kieran Trippier and Luke Shaw playing either side of Maguire and John Stones.Bellingham is expected to partner Declan Rice in midfield, with Mason Mount, Saka and Sterling played behind Kane.
England have a number of in-form options to turn to from the bench, with Rashford and Grealish already making an impact as substitutes.Eric Dier, Phil Foden and Callum Wilson were also introduced. Wilson was absent from an on-field training session on Tuesday, with England believed to be carefully managing the 30-year-old's workload after a return from a hamstring injury earlier this season.England sit top of Group B and will secure progression to the knockout stage if they beat the US, who were held by Wales in their opening fixture.
Where England v USA will be won and lost: set pieces, Pulisic and pressing
Liam TharmeNov 23, 202227
England v USMNT is a game with many underlying narratives and there is likely to be a fascinating tactical battle on display.This will be the third meeting between the two sides at a World Cup — with all of them taking place in the group stages. USA produced a shock 1-0 win in Brazil in 1950 and the teams drew 1-1 at the 2010 World Cup in South Africa.Both teams went out in the group stages in 1950, while the USA finished above England, with both sides going through, in 2010.Here are the four tactical areas where The Athletic expects to see the game won or lost.https://theathletic.com/report/podcast-clip/?clip_id=6624
---
(1) Shape and wide area battles
US manager Gregg Berhalter sticks quite religiously to his 4-3-3, which against Wales saw Tyler Adams as the deepest of the midfield triangle.
To the left of him was teenager Yunus Musah, who kept pulling wide left to allow left-back Antonee Robinson to play in a more advanced space given that he is the best crosser in the team.
The pass network below shows how involved Robinson was in an attacking sense during the first 49 minutes. He played very high up the pitch and the blueness of his dot and the lines extending from it reflect a player who was highly involved in possession.
Robinson had the most passes in the final third of any American against Wales (23) and the second most crosses (six).
Viewing this rotation on the grab below, the full-back asymmetry is clear, with Adams deepest of the midfield three (blue dots).
But these rotations are also due to how passive and organised Wales are — under Berhalter the US have consistently struggled to break down defensively solid opponents.Gareth Southgate generally wants England to press but a slightly more measured approach, which allows Berhalter's side to play more expansively, would open spaces to hit them in transition.Read more: England set to name unchanged starting XI to face USA, with Kane fit to startThe biggest reason for the US's struggles against set defences is that it restricts the space Christian Pulisic has to operate in.
As a result, he has to drop deeper to become an option and has his back to goal when he does receive passes (see grab above). Anyone who has watched Pulisic knows his game is about exploiting big spaces and driving at opposition defences with space to play into.Southgate's decision to start with a 4-3-3 for England's opener versus Iran was more of a talking point — England have switched between a back three and back four in their last two major tournaments, but this move was seen as attacking by his standards.Declan Rice was the single pivot and he allowed Mason Mount and particularly Jude Bellingham to roam as 'free No 8s' between the lines.
England bossed the game, with 77.3 per cent possession and 34 sequences of nine or more passes in open play.The US will want significantly more of the ball than Iran, so Southgate could tweak personnel to move to a double pivot, perhaps bringing in Kalvin Phillips or Jordan Henderson to add midfield security.And while central midfield naturally feels like the area that needs to be controlled to win the game, both sides have key threats in wide areas, with Luke Shaw (left-back) and Kieran Trippier (right-back) pivotal in breaking Iran down from the wings.Wales' back five prevented them from being overloaded when the US pushed their full-backs forward, and given that the wide spaces are key, it would not be a surprise to see England adopt a back five without the ball before transitioning to a back four when they have it.
---
(2) USA's transition game and England's counter-press
"If we look at what Christian (Pulisic) can bring to the USA at this World Cup, from a purely tactical perspective, he's best in space," wrote Leeds head coach Jesse Marsch in his exclusive column for The Athletic.
"So in transition moments and when he can be on the run and use his combination of agility and speed and technical ability, that's when he's able to be at his best."We could see more of that in the England game."Marsch was vindicated inside the first half against Wales — this probably feels like a familiar pattern for US fans, controlling the game with possession and wide area rotations (see above), only to score from a vertical attack against a disorganised defence.The goal originates from a launched Wales goal kick, with the US winning the first two aerial duels, leading to Pulisic eceiving Weston McKennie's knockdown.The Chelsea winger drives forward into space, with right-winger Timothy Weah positioned in Neco Williams' blind spot.
He doesn't dribble far but crucially Pulisic engages centre-back Ben Davies and therefore gives Weah the time to make his perfectly arced run inside Williams, and the 22-year-old finishes with aplomb.
Pulisic came out as the top American ball carrier. He dribbled the ball 432 metres, almost 100 more than his next-best countryman, also making the most carries of 10+ metres.
"With the players, we've talked all week about setting the right tone and the right intent in our performance. That came through the way that we counter-pressed the ball," said Southgate after the Iran win.
Rarely is any defensive performance a focus when scoring six in a World Cup game, but England were well positioned and responded well to possession losses to prevent Iran from transitioning quickly and made rapid regains.
An example can be seen within six minutes. Trippier attempts to find Saka but his pass is blocked.
Iran defender Majid Hosseini recovers the ball but instantly Trippier and Saka start to press, which is important because they come from both sides.
Trippier cuts off an easy forward pass down the line and the England midfielders move in (see Mount on grab below) to stop anything central. Saka tackles Hosseini and then shows good control and restraint to force him back…
… and eventually, England have Iran penned in, forcing Hosseini to kick the ball out of play.
The counter-press will not need to look this extreme and will be more essential in preventing counter-attacks than being a tool to regain possession, but if England can eliminate or reduce the US's transition threat, it should help them control the game.
---
(3) England's build-up play
Southgate's reflections on England's approach play against Iran were particularly interesting for a side that usually desire so much control. "We mixed our game up, we didn't just play in front of the opponent, we constantly had runs in behind. We have to be that way and mix the game."
Jordan Pickford's pass map reflects this, with plenty of launched passes into the opposition half but a number of shorter ones, too, either out to the right or into the pivot.
The US press in a narrow 4-3-3, with their two wingers (yellow dots on grab below) close to the No 9, who tends to sit on the opposition defensive midfielder before pressing the back line.
Wales built up in their 3-5-2 against the US with a single pivot, so were matched three versus three against the press.
Naturally, this leaves space out wide for teams to play around the press, though Wales failed to exploit this effectively.
Outside centre-back Joe Rodon passes around Pulisic to wing-back Connor Roberts (white arrow), who bounces inside to Gareth Bale with one touch (blue arrow)…
… even though Bale miscontrols it, left-back Robinson was forced to jump onto Roberts and the knock-on effect is that centre-back Tim Ream steps out to engage Bale.
This vacates space in-behind that can be exploited with a clever passing pattern or better execution. Given England's attacking success against Iran was underpinned by adventurous full-backs, exploiting these wide spaces could be key in unlocking the defence.
The US centre-backs particularly struggled to defend against Kieffer Moore (6ft 5in) in the second half.
He was able to pin Ream to control a long ball and then play through Brennan Johnson, who made a run beyond from deep.
This looks particularly similar to Harry Kane's role in the build-up to the third goal against Iran, though the England captain is an injury doubt for the clash with USA.
He pins centre-back Rouzbeh Cheshmi and the ball ends up with Bellingham, who finds Kane's diagonal run…
… and he can cross for Sterling to score.
Even if Callum Wilson starts ahead of Kane, England should still look to target the centre-backs and have runners beyond them, as well as exploit the lack of wide-area coverage in the US press.
---
(4) Set pieces
England scored the most set-piece goals (13) in European qualifying and they showed against Iran how threatening they are from dead-ball situations, notably from out-swinging corners.
Harry Maguire headed against the bar from a Trippier corner from the right before Saka doubled England's lead with a volley following a Maguire knockdown from Shaw's out-swinging delivery from the left. The below video works in the UK:
And this video works in the USA:
https:
Comparatively, the US looked at their most vulnerable against Wales when defending set pieces. Excluding the penalty, the two best Welsh chances of the game came from consecutive set pieces with both being headers. This video works in the UK:
USMNT World Cup foe England looms large in the American soccer psyche
By Sam Stejskal Nov 24, 2022 32
---
The Athletic has live coverage of the USMNT vs England in World Cup Group B play.
It's probably not possible for countries as large, varied and divided as the United States, to have a defined national character. It's too nebulous a concept, too narrow a thing to pindown for such a big, diverse group of people.
It's undeniable, though, that some Americans are accustomed to moving through the world in a certain way. Some see it as fearless, others view it as arrogant, but, on the broadest level, they're used to setting the cultural, political and economic agenda in most places on the planet.
That has never been the case in men's soccer, though. Outside of select immigrant communities (particularly Latino), the men's game exists in the shadows in the U.S. It's more popular today than ever before, but it's still niche, engaged in a never-ending battle for hearts and minds both at home and abroad. In a world in which Americans are almost always the favorites, the U.S. men have forever been a global underdog.
U.S. head coach Gregg Berhalter, captain Tyler Adams and star attacker Christian Pulisic have spoken repeatedly over the last few months about their mission to change the way the world perceives American soccer. They won't have a better chance to do that than on Friday, when the U.S. will take on heavily-favored England in a massive clash at the World Cup in Qatar.
"I think it's obviously a huge opportunity to fast track the impact that we can have," Adams said on Thursday. "When you get a result in a game like this, people start to respect Americans a little bit more."
Our nations' shared language, special political relationship and England's status as one of the most important soccer countries in the world means the European nation holds an important place in the U.S. soccer psyche. We consume their league, are taught by their coaches at nearly every level from the grassroots on up and have long seemed to give added significance to anyone in the game who happens to speak with a British accent.The importance we give England isn't so much because of a direct inferiority complex as it is general insecurity about our standing in the game. Whether domestically or internationally, just about everyone involved in the sport has experienced the occasional disrespect that comes with playing, watching or being a fan of men's soccer in America. For kids, that may have come in the form of schoolyard taunts. For fans, it might revolve around the poor public perception of MLS or the men's national team. For professional players and coaches, it's historically meant being viewed as lesser than their counterparts from other countries, regardless of their actual ability.For the most part, this isn't such a fun experience. We want to belong; we'd like to be seen as real players. Getting a stamp of approval from England is by no means necessary, but it would no doubt feel good for many in the American men's soccer community.
Clint Dempsey understands this dynamic better than most. One of the greatest men's players in U.S. history, Dempsey was largely overlooked when he was growing up in Nacogdoches, Texas, where he learned the game primarily through playing in the town's mostly-Latino men's league. Despite his relatively anonymous beginnings, he scratched his way to the pros, first in MLS, then in Europe, where he had an excellent run with Fulham in the English Premier League and earned a big move to Tottenham before he returned to the U.S. to finish his career with the Seattle Sounders. Along the way, he played in three World Cups and tied the all-time record for most goals for the men's national team.
For all of his talent and success, Dempsey feels he never really got his due in Europe. He certainly wasn't a huge star among the general public back at home. The respect he did get, he had to earn — repeatedly."Being an American player, no matter where you are, you have a chip on your shoulder," he said during a recent interview in New York City.That was the norm for American players as recently as five or six years ago. It didn't matter if guys like Dempsey, Michael Bradley, Stuart Holden or, in eras before theirs, Claudio Reyna and Tab Ramos were as technically proficient and tactically sound as all but the absolute best of their peers. As Americans, they were often written off by folks from other countries as little more than hardworking and industrious.That kind of attitude trickled into how people thought about the national team. There's perhaps been no better example of that dismissiveness than the buildup to the last time the U.S. and England met at a men's World Cup in their opening group stage game in South Africa in 2010.
The morning after the countries were drawn together in December 2009, English tabloid The Sun splashed "EASY" across their backpage. The headline was an acronym for the four teams placed into Group C: England, Algeria, Slovenia, Yanks. The subhed was even more arrogant: "USA, Algeria, Slovenia: Best English group since The Beatles."Dempsey, Holden and fellow U.S. international Maurice Edu were all playing in the U.K. at the time, with Dempsey in the midst of his run at Fulham, Holden at Bolton and Edu at Scottish club Rangers. Each of them remembered that headline vividly."I definitely remember seeing those headlines, being over there and the banter with your teammates and the back and forth, the arrogance," said Edu. "It was arrogance. Blatantly, that's what it was. But that's the world that we live in, in terms of how we were viewed from a global standpoint.""We all saw that," said the Scottish-born Holden, who will serve as the color commentator for FOX's broadcast of the match on Friday. "And I think we all saw that as an opportunity."The idea that England would have no problems handling the U.S. added to the American players' general sense of indignation about how they were thought of in Europe. The night before the game, after coach Bob Bradley showed the U.S. a few final video clips, the talk among players turned to how they felt they were being underestimated by an England team they knew would be under massive pressure. England entered the 2010 World Cup with huge expectations, with the media and public putting pressure on Wayne Rooney, Steven Gerrard, Frank Lampard and Co. to win the nation's first World Cup since 1966.
Not that the external noise bothered them in the opening minutes, as Gerrard gave England the lead in the fourth minute of that match. The U.S. were no slouches, though — they had beaten an incredible Spain team and took a 2-0 lead against Brazil in the Confederations Cup the summer before. They were gifted an equalizer at the end of the first half when goalkeeper Rob Green fumbled Dempsey's shot from distance, then actually rattled the post through striker Jozy Altidore on a chance in the second half.
"Even when England scored, when Gerrard scored, I think there was still a feeling that we were right in in this game," Holden said. "We were worthy of a point that day, if not three. And all of those storylines going in, I think favored us in many ways. We were quite happy for the conversation to be aout England and not about us, to kind of fly in under the radar, a little bit low pressure."
The U.S. didn't win that game, but they did end up topping the group, finishing tied with England on five points but claiming the top spot ahead of them via tiebreaker. It remains the only time a U.S. men's team has won its group at the World Cup. For Holden, it's "forever bragging rights" whenever an English fan comes at him.Things have changed for individual American players in the 12 years since South Africa. Thanks in large part to the work of players like Dempsey, Edu and Holden and the generations that preceded them, USMNT stars like Pulisic, Adams and midfielder Weston McKennie have been afforded more and better European opportunities than any previous generation of American players.The stigma that past U.S. players faced overseas has evaporated a bit, too. Brenden Aaronson, who plays with Adams at Premier League club Leeds United, said in Qatar last week that he doesn't feel like he's ever been treated differently as a player in Europe than he was when he played in the U.S. Dempsey, Edu and Holden have all felt that shift, too.Collectively, though, the Americans still have a long way to go. The U.S. did fail to qualify for the 2018 World Cup, after all. They've still never done anything of serious repute on the world stage. They want that to change, and they want to change how they're perceived in the process.It'll be difficult to achieve that on Friday. England is better than the U.S. at basically every position. One could mount a serious argument that there isn't a single player on the Americans' 26-man squad who would make the England World Cup roster. The style of match should suit the U.S. better than how play unfolded in Monday's draw against Wales, but style can only go so far when there's a significant talent discrepancy. Another draw would be an excellent result for the Americans.If they can snag a point, they'd make a dent in their unending battle for respect and relevance, both at home and abroad. And if they can somehow pull off an upset win against England, well, as Pulisic said last week, that would change a lot of things."It hasn't been the top sport or whatever back in the States, but we want to change the way the world sees American soccer, to be honest, that's one of our goals," he said."I don't think people necessarily get anything wrong. I think we have to prove ourselves, we haven't been maybe at the level of some of these world powerhouses in recent decades. We've had good teams with a lot of heart in us, but I think we can take it to that next step. With a successful World Cup, I think that can change a lot of things.
The many layers of U.S. vs. England at the World Cup: Friends and teammates turned rivals
Paul Tenorio and Michael Walker Nov 24, 2022
The Athletic has live coverage of England vs USMNT at the World Cup.
As a young kid growing up in the north of England, U.S. men's national team assistant coach Anthony Hudson used to carry around the jersey his father, Alan, wore in his debut for the Three Lions against West Germany in 1975.
Hudson would pop in a VHS tape of his old man and brag to his friends.
ADVERTISEMENT
https://0ad06520827925aba08d30f9f3e7dc21.safeframe.googlesyndication.com/safeframe/1-0-40/html/container.html
"I was just very, very proud of him," he recalled.
Hudson was born in Seattle when his father played there for the NASL's Sounders, but he fell in love with the game back in England at the Victoria Ground in Stoke. He had dreams of following in the family footsteps, but even he probably never dreamed of where his career would take him: a World Cup game between his two countries.
"When the draw came out, it was an amazing moment," Hudson said. "I remember calling my family and they're all screaming and it was just a proud moment, an exciting moment. Any player or coach, the dream is to play or coach in the World Cup. So to be doing it and playing against one of the top teams, and one I have a connection with, is really special."
On Friday evening at Al Bayt Stadium (2 p.m. ET), Hudson will be one of a healthy contingent of U.S. men's national team players and staff with connections to their opponent, group-favorite England. Hudson, as well as midfielder Yunus Musah, left back Antonee Robinson, center back Cameron Carter-Vickers and goalkeeping coach Aron Hyde were either born in or have roots in England.
https://theathletic.com/report/podcast-clip/?clip_id=6624
It will undoubtedly be a special moment when they hear both anthems.
"I don't know how I'm going to feel that day," said Musah, who was born in New York, moved to Italy and then England as a child, and has not only played for but captained England youth sides. "But it's a special game, for sure, because I've been on both sides."
For many of the players with roots in England, it's created a bit of a fun rivalry with family and friends. Robinson, whose father was born in England but raised in White Plains, N.Y., said it's been an easy choice for his family: they'll cheer for the U.S. on Friday. Musah said most friends have told him they want him to play well, but are rooting for England to win.
ADVERTISEMENT
https://0ad06520827925aba08d30f9f3e7dc21.safeframe.googlesyndication.com/safeframe/1-0-40/html/container.html
Carter-Vickers smiled when asked during a news conference on Wednesday who his family would cheer for.
"Half of them want us to win and half of them want England to win," said the defender, who was born in Southend-on-Sea, in the county of Essex, to an American father and English mother. Carter-Vickers' father, Howard Carter, was a star basketball player for LSU in the 1980s. Carter-Vickers often went back to Baton Rouge, La., to be with family.
For Robinson, facing England will bring a bit of delayed gratification. He had a chance to play for the U.S. against England at Wembley in 2018, but was injured in training during the days leading up to the game. Robinson said he was devastated to miss the opportunity, but he'll now have the chance to one-up the experience by facing England on the sport's biggest stage.
"To actually finally get to play against England, and it's at a World Cup, kind of puts two joyous moments into one," Robinson told The Athletic. "It's just one of those days that you've just got to enjoy every minute of it."
Antonee Robinson (left) and Yunus Musah at Ahmad Bin Ali Stadium in Al Rayyan, Qatar. (Photo: John Dorton/ISI Photos)
The connections between this U.S. team and England run deeper than just the English-American contingent, however.
Several Americans currently play in or have previously played their club football in England.
Christian Pulisic is at Chelsea, Tyler Adams and Brenden Aaronson play at Leeds United, Matt Turner is the back-up at Arsenal, and Ethan Horvath starts in the second-tier Championship at Luton Town. Tim Ream has long been a stalwart at Fulham, Josh Sargent is at Norwich City, another Championship team, DeAndre Yedlin spent parts of five seasons playing for Newcastle United, Gio Reyna was born in England and head coach Gregg Berhalter spent 18 months at Crystal Palace.
The familiarity and friendships between the two teams will add an extra layer to the all-important game. The match will pit club teammates — like Turner against Aaron Ramsdale and Bukayo Saka; Pulisic against Mason Mount and Raheem Sterling; Reyna and Jude Bellingham, among others — as well as former teammates, like Musah and Saka, and Carter-Vickers and Kieran Trippier against each other.
Where England v USA will be won and lost: set pieces, Pulisic and pressing
On the day of the World Cup group draw in April, Pulisic said that the first call he got was from Mount. Reyna joked this week that he and Bellingham may not be able to swap shirts if they get into a fight during the game.
"Of course it gets to a point where you talk about it and of course leading up to the game how excited you are to play against him, and you kind of talk smack, for sure," Reyna said the other day. "But then, once you get on the field, it's nothing really like that anymore. You're kind of focusing, you don't really even think about it. … We'll text before, we're already texting now, and then we'll be ready to get after it."
That familiarity could also prove to be a benefit for the U.S.Even though England are coming off a run to the final of the European Championship last year and beat Iran 6-2 on Monday in their opening game, there won't be much of an intimidation factor for the Americans when facing an opponent with which they are so familiar. Many of them will be adapted to the English game.There are recurring themes and words to explain what U.S. players encounter in English football and what they take from it. "Speed" and "physicality" are mentioned repeatedly, which is not surprising. "Intensity," too, is an expected response, but it is interesting that it is felt not just on the pitch but also off it. "Under a microscope", is the phrase used by Horvath. It is an indication of the cultural environment of English football that strikes American players on arrival.
Horvath had been at a Champions League club, Club Brugge in Belgium, before joining Nottingham Forest last year. Prior to Brugge, he had been at Molde in Norway when they were managed by Ole Gunnar Solskjaer, the ex-Manchester United striker who went on to coach that club. Horvath had gone to Molde at age 16, straight from his native Colorado.
"Even though you're at a Champions League club, coming to England takes a bit of adapting, everything is that split-second quicker," Horvath says. "That's the main difference.
"Plus, in England everything is just under a microscope. That's one of the biggest differences on and off the pitch. The football culture is more intense. In Belgium you can feel the intensity in Champions League games, but then in the next game, if you're playing a mid-division team or lower, it's kind of mentally challenging to get up for those games."
At the international level, Horvath is coached by an Englishman. Aron Hyde, from Stourbridge, in the west Midlands, has been the U.S. goalkeeping coach for the past two years, having also done the job temporarily under Jurgen Klinsmann.
"The biggest things for me, when I think about football in England, is the speed and directness, power and aggression that's involved," said Hyde. "That competition drives quality, drives the environment. There's the savviness of competing to win, because that's what matters in England. And it's constant. Football is everything in England, that's the one thing that sticks out for these guys.
Can he tell when a U.S. player has been to England?
"Yes," Hyde said, laughing. "One thing I do notice is they all come in and start calling me 'mate'. … They try to make this conscious effort to fit in, to use the lingo, the banter. But you also notice they are improved by the natural competitive environment they're in. I wouldn't say it's night and day, but I see it in all of them. No question."Underneath it all, the connections and the familiarity, is the undercurrent of influence that English football has had in the U.S. From the influence of youth coaches who emigrated from England to the popularity of the Premier League, there is no European country that has had a bigger impact on the sport in the U.S.For that reason, the England game also creates somewhat of a proving ground for Americans.They know that back home, playing against England will be seen as a measuring stick for fans who have more familiarity with the Premier League than anything else.It's an idea that's been on the minds of those around the U.S. team going back to the day the groups were drawn.
"I know that there is a lot of respect for American soccer, but I think this is an opportunity, for sure," Berhalter said that day. "This is an opportunity for us to show what we're made of. They have a good team, but so do we. We have a young team, we have an athletic team, we have a team that doesn't have a lot of fear, and it's going to be a great game."And I think even for the fans to be so familiar with (the England) players, they're household names, and then to see us match up against them, I think it will provide some context and it'll be, I think, really interesting for the fans as well."
How Gregg Berhalter handles Gio Reyna against England will be one of the defining moments of his tenure.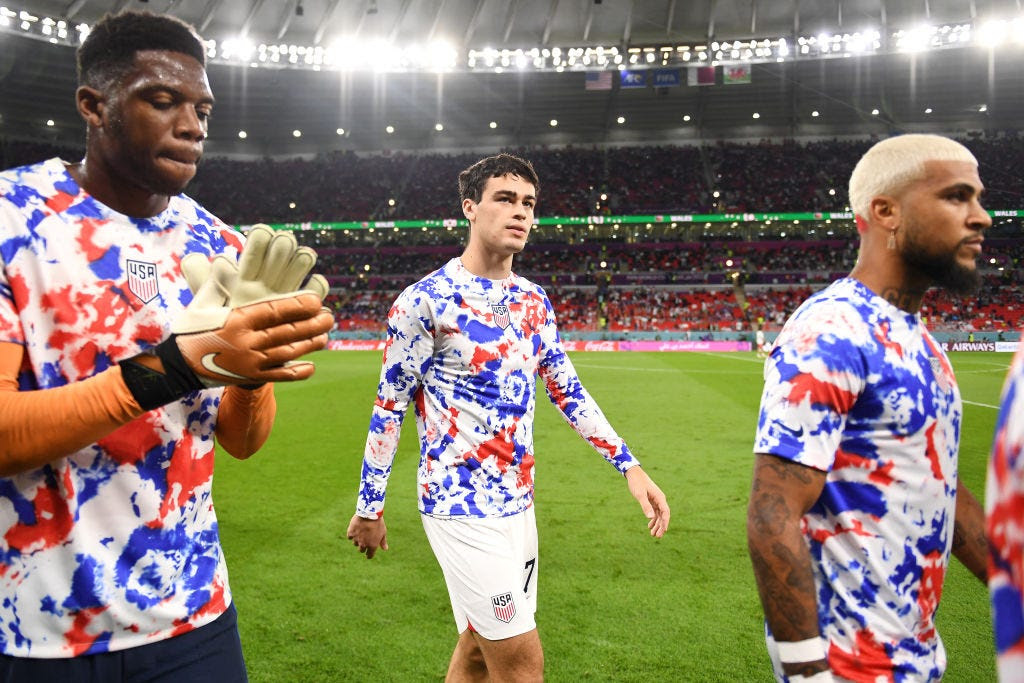 In this column:
It's Reyna Time against England. Does Gregg Berhalter know that?
Good Rivals on the USA-Mexico rivalry is OUT NOW on Prime Video
Thanksgiving in Doha!
The best stuff from Gregg Berhalter and Tyler Adams at today's press conference
DOHA, Qatar — It hit me like a lightning strike right as England's Jude Bellingham was bossing Iran early in the Three Lions' 6-2 win on Monday: The first full day of the World Cup was going to be defined by two emerging-star best friends from Borussia Dortmund, Bellingham and the U.S.'s Gio Reyna!
See, I thought the 20-year-old Reyna, the U.S. player at this World Cup with the highest ceiling, was going to start on Monday against Wales. Reyna has been dogged by injuries over the past year, but he got healthy heading into the World Cup, and his creative and ruthless skillset adds something to the U.S. attack that just isn't there otherwise.
So I was surprised when U.S. coach Gregg Berhalter omitted Reyna from the starting lineup. Still, the player he opted for instead, Tim Weah, obviously came good when he scored a terrific goal to put the U.S. ahead in the first half. The choice of Weah made the coach look good.
Then in the 66th minute, Berhalter pulled central midfielder Weston McKennie, who was gassed. Another chance for Reyna, who's probably even better centrally than out wide. And another Berhalter decision to the contrary with Brenden Aaronson coming on instead. (Aaronson, who has been in good form, was fine in his stint.)
But in the 88th minute, when Berhalter pulled Weah and the U.S. was desperately seeking a goal and a moment of invention in any way possible, it was plain to see: Reyna Time. And Berhalter opted instead for Jordan Morris.
Understand, Morris has his qualities and deserves to be at this World Cup. Few things in the USMNT fanbase are more annoying than the dogmatic section that reflexively says MLS player = bad. Berhalter said after the game he chose Morris due to his physicality for the moment. But it didn't make sense to me then, and it still doesn't now, that Reyna wasn't the choice.
---
GrantWahl.com is reader-supported. Free and paid subscriptions are available. This is how I make a living, and quality journalism and traveling to Qatar require resources. The best way to support me and my work is by taking out a paid subscription now.
---
To be clear, there is zero animosity between Berhalter and Reyna. Far from it. Berhalter went to high school with Reyna's dad, Claudio, and Berhalter's wife (Rosalind) and Reyna's mother (Danielle) both played for the legendary soccer program at the University of North Carolina (which Gregg also attended). The families are close. Gregg Berhalter has known Gio Reyna literally since Gio was a baby.
When Berhalter was asked (by Yahoo's Henry Bushnell) today about omitting Reyna entirely on Monday, the coach said: "I think I was pretty clear after the game saying he was available for the match, and it was a coach's decision that he didn't play, and he'll be available for tomorrow's match. We'll see what happens."
If there were just three substitutes allowed per team per game in this tournament, I might better understand a decision to hesitate on using Reyna. He's had a habit of being pulled out of games early with injuries for both club and country over the past year. But there are five subs allowed per game at this World Cup, which should render that concern moot.
And the benefits of using Reyna against England, a candidate to win the tournament, could be enormous. Reyna brings an attacking element the U.S. needs. He has the technical ability and the swaggering confidence to try things on the field. He has the ruthless competitiveness to want not just to beat his defender but to destroy him. He plays like someone who thinks he's the best player on the field against any team he might come up against.
Reyna is young, but he is special. Games like Friday's against England are an opportunity to help define the USMNT for this tournament and for years to come. Berhalter's tenure will also be defined by this World Cup and the decisions he makes. I hope he moves Weah to center-forward against England and goes with Reyna out wide from the start.
---
Happy Thanksgiving! I hope you're enjoying the holiday with your family and watching a ton of World Cup soccer on TV. I miss being with my family today, but we did have a nice Thanksgiving lunch with turkey and a lot of other stuff at an event hosted by MLS and U.S. Soccer.
Today's also a big day for another reason: Good Rivals, our three-episode documentary series on the USA-Mexico soccer rivalry, premieres today on Prime Video. I'm in the film and served as a producer conducting a lot of the interviews of the U.S. figures in it. I can't tell you how proud I am of the year-long project, the defining story of one of the greatest international sports rivalries, which is a co-production of Meadowlark Media, Skydance Sports and Ocellated Media.
The first two episodes are already up! Let me know what you think about them.
---
What stood out to me from the press conference of Berhalter and Tyler Adams today:
• I asked Adams if the U.S. would welcome a game against England in which they won't have the majority of the possession and the task of breaking down a low block like it had to do against Wales for much of the time.
"I play for Leeds. Have you seen the way we play?" Adams joked. "But I think that it sets up to our strengths in a way. We feel that one of the qualities and characteristics of our team that we've progressed and built over the past three years is our pressing, the amount of guys that we have on the team that can get in and around the ball with our athleticism to cover spaces and cover ground. We play in a very aggressive way against the ball, and that ultimately sets us up to create a lot of transition moments, which you did see against Wales. So we're going to see how we have to change little variations to how we do things and capitalize on those transition moments."
• How does Adams see the England game playing out?
"I see the game being a very fast-paced game," he explained, "if it's anything obviously like the Premier League and the quality of players that I've faced in the Premier League so far. We know that they're going to be able to counter quickly in transition. They're going to be good with the ball, against the ball. The defenders obviously speak for themselves. But again, that being said, yeah, we're going to have to adapt that at certain points in the game, but we think that our strengths play to our advantage in this as well, and it's going to be a good matchup."
• Berhalter, from a question by Jeff Carlisle of ESPN, didn't think the U.S. took advantage of its transition chances against Wales.
"There were opportunities," he said. "We just didn't take advantage of them. It's something we identified yesterday in the postgame meeting. And we need to do a better job of that. Especially those moments where the opponent pushes you back a little, which can happen in the match. We want to be in a high posture, we want to be pressing, but there's going to be moments where we're lower on the field, and we have to be able to take advantage of the space behind the defense. And we didn't do that effectively against Wales."
• Adams was asked (by Nancy Armour of USA Today) if having more familiarity with English players through club interactions has made England seem less intimidating than it used to be.
"England's still a big team at the end of the day," Adams said. "Intimidation factor? I wouldn't say there's many things out out there that intimidate me other than spiders. So it's fine for me to obviously have the opportunity to play against all these big players. I've done it before. But we also want to show what we're capable of and that U.S. Soccer is growing and developing in the right way."
---
In other news:
• How many of our subscribers are in Qatar for the World Cup? Would any of you like to do a subscriber meet-up here? Let me know in the comments below.
• I want to apologize for putting the score of the U.S.-Wales game in the headline of the email that post that went out at the final whistle. Some of you are recording these games while you're at work and got a spoiler as a result. I won't be putting the scoreline in future headlines.
• As for the cadence of my daily posts from the World Cup, here's what I'm aiming for: One good written post a day. That includes the 2,000-word magazine-style story I'll post by 9 am ET the morning after every U.S. game. I'm pretty shattered after finishing those, so you won't get a World Cup Daily post on days those U.S. stories publish. Hope you understand. I'm red-lining basically every day here as it is!
Get ready for USA-England at the World Cup!
Playing with Tyler Adams, USMNT's World Cup captain: 'He's a natural-born leader'
Phil Hay and Sam StejskalNov 24, 2022
The first scouting report on Tyler Adams in Leeds United's system is from January 2020.
Adams had been with Germany's RB Leipzig for a year and Leeds dispatched Gaby Ruiz, their head of European recruitment, to watch him in the flesh. Leeds were in no position to actually sign him because they were just a second-division club at the time and Leipzig were heavily invested in Adams but so often in football, that first glance at a player plants a seed.Adams was interesting, a player with technical promise and personality. He was young, a few weeks shy of turning 21, but to the naked eye, he did not look it. Self-assurance, arrogance, maturity; whatever it was, the midfielder had it and Ruiz submitted his thoughts with interest.The club revisited their files on Adams this past summer, when speculative interest turned into a concerted bid to sign him from Leipzig. Another report, written by a different scout, Alberto Cordero, was effectively a green light to make the deal:"Dynamic in all his movements… a very fast player in small spaces… perfectly prepared to carry out continuous pressing in different areas… constantly generates continuity in his passes… able to carry the ball into attacking zones with great precision and speed… simple and correct… generates effort…"Cordero's assessment continued in that vein before concluding that Adams was tailor-made for countryman Jesse Marsch's Elland Road midfield, the opposite of a shrinking violet.
(Photo: Marc Atkins/Getty Images)
At that stage of the transfer market, it was a toss-up for Leeds, who had already paid another German club, Bayern Munich, £10million ($12.1m) for another midfielder, Marc Roca. They could have Adams or they could have Mohamed Camara, the tenacious Malian who played for Red Bull Salzburg.The difference in their prices was not huge but Leeds, Marsch and director of football Victor Orta fell on the side of Adams. He and Roca would be a more consistent pairing, they believed. And with Adams, they were also acquiring strong leadership qualities — a surrogate captain. (Camara went to Monaco of France's Ligue 1 instead.)Those qualities were given a vote of confidence last week when Adams was named as the USMNT's captain for the World Cup.He had worn the armband internationally before but this was something else, a 23-year-old asked to lead the U.S. through a tournament in which expectancy of them was higher than ever. Previously, the Americans had rotated the captaincy among the members of a "leadership council" and tellingly, the decision to award it to Adams permanently did not come from head coach Gregg Berhalter. It came instead from the squad — they took a vote and Adams was the winner.That call, one former U.S. international tells The Athletic, was an "absolute no-brainer" and almost every conversation about Adams — with current team-mates, old team-mates, coaches past and present — yields the same validation.He was the kid who broke the convention that footballers know their place until they are settled, established and old enough to answer back or throw their weight around. Whenever stories about his spell at New York Red Bulls in MLS are told, they invariably come back to an incident in which an attempt to remind him of his lack of seniority ended in a physical altercation which Adams won.The U.S. need that bite and they will need it in spades during their second group game against England in the coastal city of Al Khor having drawn 1-1 with Wales in the opener.
USMNT team-mates Adams and Brenden Aaronson show they are up for a battle against Liverpool (Photo: James Gill – Danehouse/Getty Images)
The "no-brainer" remark came from Sacha Kljestan, who played alongside Adams in New York.Without over-egging his foresight, Kljestan saw this coming a while ago."Considering (the captaincy) was left to the players to decide, I'm not surprised it went his way," he says. "I've known him since he was about 16 and I had him down as a natural-born leader very early on. It shines through in the way he is and the way he plays, this ultra-confident guy who kind of shocks you a bit but then quickly earns your respect."I was 20 years old when I became a pro and I was one of those players who always deferred to the older guys. Always. It's what most players do. Tyler was nothing like that. He came through at 15, 16 and from day one, he was sure of himself, never the sort to keep his mouth shut if he had something to say. He speaks well, he plays well and that makes him an ideal captain."Adams' trick, and his route to respect from the rest of the dressing room, was to back up his talk in the only way a young player can.He wanted to be seen to be making the most effort and although the U.S. let a 1-0 lead slip late on against Wales on Monday, Berhalter got an archetypal Adams performance from his captain, a blend of tackles, interventions and recoveries. He won the most tackles (five) and duels (eight) of anyone on either team and ranked third for possession regains.Leeds, more and more, have been witnessing that industry in the Premier League, aided by stamina which allows Adams to marshal the area between both boxes and manipulate the ball there. His total distance covered against Wales, over 13km, was the furthest of the World Cup to that point.
He is, though, capable in possession and more than a midfield disruptor.On and off the pitch, people close to him see two sides of him. Adams is fiercely competitive when the chips are down but people at Leeds described him as "sweet and easy-going" in normal life.He and Brenden Aaronson, the other U.S. World Cup squad member on Leeds' books, live close to each other in the smart Yorkshire town of Harrogate and play golf together whenever matches and training sessions allow. Adams, according to Aaronson, is the more proficient golfer of the two and their competitive streak is such that both have hired instructors to improve their swings."I've played with Tyler enough now to see that he's a completely different person on the field," Aaronson says. "Sometimes we yell things back and forth at each other, get into it a little, but we're really good friends off it"On the field, he is just like… he puts his game face on and gives his all. Something that's really underrated about Tyler is that, not only does he win a ton of tackles and he's all over the place, but on the ball this year he's been unbelievable (at Leeds), switching the point of attack, connecting the little 10- or 15-yard passes in the middle. He's been fantastic, one of our best players."
Leeds, like the U.S. squad, have a leadership group of senior players who interact closely with the coaching staff and offer a sounding board.It was set up by Marsch, the club's American head coach, when he was appointed in February of this year.Interestingly, Adams is not part of that group yet but is a member of the council established by Berhalter, along with others including Christian Pulisic and Walker Zimmerman. The U.S. camp are fairly guarded in talking about the council in detail but it is essentially the voice of the squad, designed to keep people on the same page and maintain good channels of communication with Berhalter.Adams, who will turn 24 in February, is the youngest national captain in this tournament and Leeds' first at a World Cup since Lucas Radebe with South Africa in 2002. He has never been far from the USMNT picture since Berhalter took charge in 2018. "I can go on and on about the strengths of Tyler," Berhalter says, "but I think the other thing about him is his humility.
GO DEEPER My game in my words. By Tyler Adams
"He's a guy whose team-mates know exactly what they're going to get from him. They know he's going to go out on the field and compete, they know he's going to be thinking about the game, they know he's going to be into the details of the game. He's not just a competitor, he's also a strategist. That helps the group because he calms people down and he's the guy people get behind."Kljestan, a veteran of more than 50 USMNT appearances who is in Qatar as a host and analyst on Fox Sports' FIFA World Cup Now show, admits he needed to adjust to Adams' forthright personality."When he broke through as a kid, I definitely took time to warm up to him," Kljestan says. "What he was just wasn't what you expected of someone his age. There was nothing malicious in what he did or said. He just didn't seem to be afraid of anyone."He'd speak when he felt like speaking and he'd be totally honest so, to begin with, part of you is thinking, 'I don't know what to make of this guy'. But then he plays how he plays, he's 100 per cent for the team and you forget about everything, other than the fact that he's exactly what you want alongside you."A few months ago, Mike Grella, another former New York Red Bulls player, told a story of Adams getting into a fight with, and beating up, an older team-mate who pushed him too far. Kljestan remembers that incident too although, like Grella, he prefers not to name the recipient of the beating.
"This was someone who played in the same position as him, someone who'd been around the game for much longer," Kljestan says. "He'd get Tyler in headlocks from time to time, give him little digs — a bit of fun mostly, but maybe a way of showing who was in charge."One day we came out of a team meeting and this guy, he was jabbing at Tyler, like he did. I don't know, perhaps Tyler had just had enough. They started grappling and wrestling, serious all of a sudden, and, well, Tyler made this guy tap out. He didn't mess with Tyler again after that."It's a good way to sum Tyler up. He doesn't take s*** from anyone."England will find that out in what should be the biggest examination of Adams'leadership to date.Gareth Southgate's team are highly fancied to win the match, and are among the favourites to win the World Cup itself.For the U.S., a point or three might hinge on the player who will set out to attack England's midfield like a wasp, entirely in his element.Giving him the national-team captaincy required a dressing room vote, but.
VALENCIA, Spain — You can't help but notice it when you visit the Valencia CF megastore at the Plaça de l'Ajuntament in this sun-drenched city on the Mediterranean. Front and center at the entrance this season is a giant image not of star forward Édinson Cavani or captain José Gayà or coach Gennaro Gattuso, a World Cup winner with Italy. Instead the marquee attraction greeting fans is a 19-year-old midfielder who could be the breakout star for the United States at the World Cup.
Yunus Musah is a citizen of the world—born in New York City, blood from Ghana, raised in Italy and England, coming of age in Spain—and the global launchpad for one of the USMNT's first Muslim players may be in Qatar, at the first World Cup hosted by an Islamic country.
"The World Cup has changed so many players' careers," Musah tells me during a long interview at Valencia's training facility, his British accent shaped by seven years of living in London. "And I feel like so many footballers don't actually ever get to experience the World Cup during their careers. So it's an opportunity to grasp and to enjoy most of all. But also at the same time really focus and put your A-game out there. Because the whole world's watching, and anything can happen."
Musah fell in love with soccer at age 5, playing in a park with his older brother, Abdul, and a friend in Castelfranco Veneto, a small town in northern Italy. They would run around that park for hours during summer days, until they wore down the grass and only dirt remained in front of the goals. Yunus felt an exhilaration running with the ball and knifing through defenders who couldn't keep up with him. "That was the initial thing that made me love it: doing a mad run and having a shot go in," he says. "I still love doing that right now."
A mathematics professor explains why USMNT might be undervalued against England
Nov 23, 2022
---
The data is starting to come in. After the first round of World Cup games, we now have several ways to measure team performance. But what numbers give us the most insight about the upcoming games?
The first number to look at is the expected goals (xG). This is a measure of the quality of chances or, more technically, 'the probability a shot is scored in a typical football match'. I illustrate the xG below in two different ways, first as the position of the shots on the pitch, and then as a lollipop diagram of when the shots came during the USMNT vs. Wales match. The higher the stick of the lollipop, the better the chance.
While the 1-1 result was quite fair in terms of the chances created in xG (0.86-1.17), Wales' chances were boosted considerably by the 0.75xG from the penalty kick (75% chance of scoring provided by the penalty). So, it was the USA which had the best chances during open play.
ADVERTISEMENT
https://f459fdf5bab6ec857d7457919543ed89.safeframe.googlesyndication.com/safeframe/1-0-40/html/container.html
Digging deeper, the plot below shows a measure known as expected threat or xT. Here is the xT for both of the Group B matches.
Less well known than xG, expected threat measures the quality of attacking play: passes in to dangerous areas and dribbles won. Here we see that the USA dominated the game in the first half, although less so in the second half, when Wales came forward looking for an equalizer.
Most of this bodes well for the USMNT, going in to its match against England, whose expected goals for the first match against Iran are shown below.
Again, the late penalty boosts Iran's xG numbers, but the most interesting insight here is that England's six goals were not nearly equaled in terms of xG (1.99). England was a bit lucky to score so many goals.
To understand the matchup between the USMNT and England, I have plotted the transition maps for the USMNT and against England. The size of the circle shows the quality of chances created during transitions – when the ball is regained by a team in open play and they launch a counterattack.
The USMNT scored against Wales from a transition (marked with a star) and generated a couple more chances in this way (large circles). For its part, England conceded three big chances from transitions. It is here the Three Lions' weakness lies: when Iran did get the ball back against them, they were vulnerable to counterattack. With this in mind, I can see Christian Pulisic and Tim Weah doing the same thing to England that they did to Wales and get a goal in the first half.
I recommend you dig deeper in to the numbers for other matches, and live during the game, in the Twelve Football App, before you make up your mind where your money should go. For me, England are slightly overvalued in the current odds. And although I don't think the States will win it, I can see good value in backing a draw on moneyline.
ADVERTISEMENT
https://f459fdf5bab6ec857d7457919543ed89.safeframe.googlesyndication.com/safeframe/1-0-40/html/container.html
Wales against Iran is harder to call. Both teams were on the defensive in their first games, and neither got going until the second half. But, with the Welsh as favourites, the smart money is on a surprise from the Iranians.
MIB LIVE: THIS CUP'S FOR YOU – WORLD CUP TOUR PRESENTED BY BUDWEISER 🇺🇸
GFOPs – There is no need to go to Qatar because we're bringing the Cup to you. We cannot wait to raise a glass and make incredible memories all across this great country.
TICKETS FOR ALL SHOWS BELOW.
🗽 🏛 NOVEMBER 26 – D.C. @ CAPITAL TURNAROUND 🏛
🤘 NOVEMBER 29 – AUSTIN @ AUSTIN CITY LIMITS 🤘
🎸 DECEMBER 4 – NASHVILLE @ WILD HORSE SALOON 🎸
🍑 DECEMBER 5 – ATLANTA @ THE EASTERN 🍑
🎥 DECEMBER 9 – LA @ THE NOVO 🎥
🌉 DECEMBER 10 – SAN FRANCISCO @ THE WARFIELD 🌉
🐟 DECEMBER 13 – SEATTLE @ SHOWBOX SODO 🐟
We will re-live the day's on-field narrative. Celebrate your city's distinct football culture. And chop it up with a slew of very