USA vs Holland 10 am Sat on Fox – 9 am coverage starts
Gameday – update
Lets start with giving some credit to our manager
Let's start with giving some credit to our manager Greg Berhalter he has pulled the right strings to get this youngest team in the World Cup thru to the knockout stage.  Teams like Germany, former #1 Belgium, Mexico and Uruguay are all at home while the United States is playing with house money. Now my thought is for the US to get the experience they need to contemplate a run to the Final 4 and beyond in 2026 we need to win today's game and give Argentina a run in the Elite 8.  That would give our young team the experience they need to possibly make a run at the finals in 2026 at home in 4 years.  That is why today is so important.  News out of the Netherlands is they are battling the flu.  Maybe things are lining up for us to win today.  Now the huge questions that Berhalter must decide.  Who does he start?  Do you save an injured Pulisic for a 2nd half run that could very likely see Extra Time and a possible shootout?  What about center forward with Sargent hurt?  I see Weah at the #9 slot finally with Reyna sliding into the right and Aaronson on the left up front.  MMA in the middle and Vickers back in the line-up at centerback with Ream.  That gives you Pulisic coming off the bench to give you that 2nd half lift if needed.  Or do you start Pulisic try to score first – the US has never won in the World Cup without scoring first – and roll the dice you can win it in full time? . Does Dest score against his home country – the country who did not select him for national team duty as a youngster?    Cool by the Prez    Serginio Dest Story —  US Hype Video  
US Men Sat 10 am vs Netherlands on Fox – Winner Advances
Shane's Starters for Sat
Aaronson, Weah, Reyna
Musah, McKinney
Adams
Robinson, Ream, Vickers, Dest
Turner
First off bench Pulisic, Ferriera,
These 5 teams are undefeated in the group stage – USA, England, Netherlands, Morocco, Croatia
OK I was wrong – -here's the starters
12/1/22
Wow – so after 8 years of suffering the US Men are back in the Round of 16 knockout stages for third time in the last 4 World Cups. Captain America Pulisic was brilliant scoring the team's only goal on a sprinting effort into the Goalkeeper injuring himself in the process.  He gutted out the final 10 minutes before being subbed a the half and heading to the hospital.  Word is contusion on his hip-listing his status for the next game as day-to-day.  On the day the US played brilliant football in the first 40 minutes as they possessed almost 80% of the ball during the first half – outshooting Iran 8-0 in the process.  Center forward Josh Sargent returned to the starting line-up and was helpful in control and build-up even if he himself did not get  a shot on goal before retiring on what looks like a tourney ending ankle injury in the 2nd half.  Centerback Cameron Carter-Vickers also showed started in the back for Zimmerman as Berhalter was looking for better distribution from the back.  Zimmerman did come on late and had 13 clearances in the final 20 minutes as the US bunkered down to protect the lead.  I thought the gameplan by Berhalter was fantastic and even his 1 for 1 sub Aaronson for the injured Pulisic was perfect.  But his refusal to use Gio Reyna in at the midfield perplexes me – when we brought Acosta on for McKinney – the US basically signified we were going to bunker in rather than try to score the 2nd and decisive put-away goal.  I thought Vickers was lucky not to get called on 3 potential fouls in the box – that could have cost us the game especially the one in the final minute.  Honestly the last 20 minutes was excruciating as the US held on as ball after ball was sent in against our 5 man backline bunkering.  I had faith that Turner would protect his net – and he did fantastically late as Zimmerman and Ream headed ball after ball out.  I still think the bunker mentality subs at the 82 minute mark were wrong – and why Shaq Moore over Scally at wing back continues to perplex me.  Did Scally and Reyna get busted smoking in the boys room – I have no idea what Berhalter is thinking there.  Lets be honest though in the past the last 20 minutes and the angst that joined it was entire halfs if not entire games for the US when we would bend but no break and counter.   But credit where credit is do – Berhalter has his team in the Knock-out stages with a team that out-possessed Wales and Iran in this tourney and was literally 50-50 with England.  This is not the way the US has ever played in past World Cups – yes we have the players to do it now – but they are YOUNG.  Musah is 20, Weah, Dest and Adams are 22, Mckinney and Jedi 24, these are young players who need to get this taste of World Cup play as long as they can – if we expect to make a Final 4 run when we host in 2026.  Everything is right there for the taking we have a decent match-up with a good but not great Netherland's team on Saturday.   GO GO USA!   So my prayer – US 2-1.  Reality – US and Dutch tie 1-1 we go to PKs and ???               
US Men Sat 10 am vs Netherlands on Fox – Winner Advances
Shane's Starters for Sat
Pulisic, Weah, Reyna
Musah, McKinney
Adams
Robinson, Ream, Zimmerman, Dest
Turner
First off bench Aaronson, Ferriera, Sargent
Lets start with Reyna has to get on the field – I move Weah to the #9 slot – lets be honest none of our forwards has really shown anything this WC – let stop and get our best 11 on the field especially with Sargent out. With Reyna on the right wing – I go with Joe Scally at right back – Reyna and Scally are best buds so their chemistry should translate – with Scally a much better defender to cover for Reyna not coming back as much. The rest of the team stays steady with Pulisc (if he can go) and Musah on the left – I would still consider the 4-4-2 here again with Pulisic sliding to the 10 slot. McKinney played his best game in months and of course Adams is our BEST player period. The back line held steady last game with Centerbacks Ream and and Carter Vickers playing together of course Zimmerman can in as the center of the back 3 with 20 min to play and had 13 (yes 13 clearances). I thought Carter Vickers had 3 chances where he could have drawn a PK – I think Zimmerman flips back in as a starter. Of course Turner while making us nervous with his feet was still solid in the back. Shane likes the the US to tie the Netherlands 1-1 and go to shootout where the US will win on penalty kicks. I hope!!
Oh and England – NO US TEAM HAS EVER LOST TO ENGLAND IN A WORLD CUP BY THE WAY – Men or Women's !! US vs Iran highlights US vs England Hilights Your US Captain Tyler Adams Story US Defender Carter-Vickers Story US Goalkeeper Matt Turner these 26 stories on our 26 players going to Qatar its awesome. Love this answer by our Captain Adams
World Cup News The Bracket
Wow the Sweet 16 is getting closer – Mexico and Belgium are out? Wow – the DRAMA was dripping as both Mexico and Belgium pushed for late goals to advance only to have their dreams die. Nothing like World Cup Drama !! How About 3 Women reffing a World Cup Game for the First time ever – love it – today's 2 pm game Germany vs Costa Rica.
The World Cup commercials are out – which ones do you like best? Nike Addidas check them all out here. Its Called Soccer – Classic Commercial
I am going to continue to add stories daily thru kickoff on Saturday morning so check back in for new stories. Below
CARMEL FC GOALKEEPERS : Wednesday Night Trainings Dec-Mar – Badger Indoor Fieldhouse 5:30 pm U12//6:30 pm U13-U14//8:30 pm HS U15+.
Carmel FC GK Coach Headed to National Championship Game Sat
Carmel FC GK Coach Noelle Rolfsen GK for the Marian University Lady Knights in Indianapolis is headed to the NAIA National Championship game. Sat, Dec 3 at 5 pm after defeating Tennessee Southern 4-1 behind a hat trick for Naomi Walters. ALSO Congrats to IU Men's Soccer off to their 28th Elite 8 on Saturday at UNC Greensborough. IU Manages Marshall, Moment in Sweet 16 Win
WORLD CUP GAMES ON TV
Thur, Dec 1 –
2 pm Fox Japan vs Spain
2 pm Fox Costa Rica vs Germany
Fri, Dec 2 –
10 am FS1 Ghana vs Uruguay
10 am Fox Portugal vs South Korea
2 pm Fox Cameroon vs Brazil
2 pm Fox Serbia vs Switzerland
8:30 pm ESPNU NCAA Women's Semi Finals Bama vs UCLA
Sat, Dec 3 – Sweet 16 Knockout Rounds
10 am Fox Holland vs USA
2 pm Fox Argentina vs Australia
6 pm ?? Indiana U Men vs UNC Greensboro Elite 8
Sun, Dec 4 –
10 am Fox 1D France vs 2C Poland
2 pm Fox 1B England vs 2A Senegal
Mon, Dec 5 –
10 am Fox 1E Japan vs 2F Croatia
2 pm Fox 1G Brazil vs 2H Korea
Tues, Dec 6–
10 am Fox 1F Moracco vs 2E Spain
2 pm Fox 1H Portugal? vs 2G Switzerland
Fri Dec 9
Fri, Dec 9 Quarter Finals Final 8–
10 am Fox
2 pm
Sat Dec 10 Quarter Finals Final 8–
10 am Fox
2 pm
Tues Dec 13 Semis – Final 4
2 pm Fox
Wed Dec 14 Semis – Final 4
2 pm Fox
Sat, Dec 17 third Place
10 am Fox
Sun, Dec 18 FINALS
10 am Fox
Soccer Saturday's are every Sat 9-10 am on 93.5 and 107.5 FM with Greg Rakestraw
CARMEL FC PLAYERS : Winter Players League (WPL) – Badger Indoor Fieldhouse
As the fall season comes to a close over the next month, we wanted to let you know that we will be launching an indoor soccer league over two six week sessions within our new Badger Fieldhouse. Games will be played on either Friday night ( 6pm to 10pm) or Sunday afternoon (1pm-5pm) depending on age groups: U8s, U9&U10, U11&U12, U13-U15 and U16+ (Coed Teams allowed). Referees for each game, 50 minute games, 5v5, 7v7 and 9v9 matches.
Session One (6 weeks): Jan 6th, 13th, 20th, 27th / Feb: 3rd, 10th
Session Two (6 weeks): Feb 17th, 24th / Mar 3rd, 10th, 17th, 24th
Gather teammates and be ready to play!
US Men
What We Learned US vs Iran – Stars and Stripes
Analysis: USMNT defeats Iran 1-0 in a grueling battle to advance to knockouts ASN
Dest has Date with Destiny Against his Birth Country ESPN Jeff Carlisle
5 Things to Know USA vs Netherlands
USA's win over Iran a relief for Berhalter amid a tense and bizarre build-up dSam Borden
Injured Pulisic: 'I'll be ready' to face Netherlands 20hESPN
Pulisic punches US into World Cup knockouts, but injury adds to attack concerns Jeff Carlisle
Inserting Cameron Carter-Vickers into lineup helped propel USMNT
USWNT to earn more from men's WC than 2019 22hAssociated Press
World

Mexico coach 'Tata' Martino out after WC exit18hCesar Hernandez
FIFA investigate Mexico anti-gay chants again 3hCesar Hernandez
Milan Borjan howler perfectly sums up Canada's nightmare World Cup campaign
Romelu Lukaku distraught after his series of terrible misses eliminates Belgium
When is the 2022 World Cup final? Date and kick-off time in the USA
'El Diablo' Luis Suárez refuses to apologize for role in Ghana's 2010 exit ahead of rematch
Netherlands need to show they're not all talk against USA in round of 16
The Pat McAfee Show have the funniest reaction to Christian Pulisic's goal against Iran
FOX World Cup commentary teams, ranked
Mexico is out of the World Cup, but at least they scored a goal of the tournament contender
Mexico is out of the World Cup on goal difference!
Goalkeeping
'He always shows up.' How Memo Ochoa became Mexico's consistent World Cup hero
Morocco's Abdelhamid Sabiri Beats Thibaut Courtois for Free Kick Goal
Reffing
All Female Ref Crew to do Germany vs Costa Rica WC Game first time ever
Offsides rules at 2022 World Cup: Explaining how VAR technology impacts referee calls
===================RackZ BAR BQ ====Save 20% ======================
AFTER YOUR PRACTICE AT BADGER FIELDHOUSE
Try out the Best BarBQ in Town right across the street (131st) from Northview Church & Badger Field on the corner of Hazelldell & 131st. RackZ BBQ
Save 20% on your order
(mention the ole ballcoach)
Check out the BarBQ Ribs, pulled Pork and Chicken, Brisket and more. Sweet, Tangy or Spicy sauce. Mention you heard about it from the Ole Ballcoach — and Ryan will give you 20% off your next meal. https://www.rackzbbqindy.com/ Call ahead at 317-688-7290 M-Th 11-8 pm, 11-9 Fri/Sat, 12-8 pm on Sunday. Pick some up after practice – Its good eatin! You won't be disappointed and tell 'em the Ole Ballcoach Sent You!
=====================RackZ BAR BBQ ======Save 20% ======================
USMNT predicted XI vs. Netherlands: The World Cup round of 16 awaits
By Sam Stejskal and Paul TenorioDec 2, 2022120
---
U.S. men's national team coach Gregg Berhalter sounded optimistic when asked Friday whether star winger Christian Pulisic would be available for Saturday's World Cup round of 16 game against the Netherlands after suffering a pelvic contusion in the group-stage finale against Iran.That optimism was warranted: Pulisic was cleared to play on Friday after both he and striker Josh Sargent (ankle) tested their respective injuries in training.But while Pulisic is officially back in the picture, things felt a bit more complicated for Sargent."I think with (Sargent we're) a little less (hopeful than with Pulisic), but we'll see," said Berhalter. "He's gonna test it. … At this stage, it's go-time. If you can push through it, you do. So I'm sure he'll have that mindset."Sargent has been effective if not overly involved in two starts at this World Cup. He was a part of the build-up in the goal in the 1-1 draw with Wales and put in a solid shift in the 1-0 win over Iran on Tuesday. Sargent exited with an ankle injury in the 77th minute after landing awkwardly on the ball when avoiding a tackle. He was replaced by Haji Wright.Wright was not as effective in his substitute role, as the U.S. mostly defended against Iran's push for an equalizer. Fellow forward Jesús Ferreira has yet to play in this tournament, but could be an option to start against the Dutch. Berhalter said ahead of the Iran game that he had not considered using another player, such as Tim Weah or Gio Reyna, as a center forward.
While he wasn't officially announced as cleared to play, it is worth noting that in the 15 minutes open to reporters at training on Friday, Sargent looked relatively healthy.He took part in warm-ups, which included passing and juggling the ball between lines of teammates and sprints that started with cuts around a mannequin. If optimism for his play felt low after Berhalter's press conference, it was decidedly higher after those 15 minutes — though you have to remember that the players and team are keenly aware of the many, many cameras out during that portion of training.The U.S. relied on nine players to start all three group games. We don't expect much to change in that respect.Midfielders Tyler Adams, Weston McKennie and Yunus Musah are the core of this team. Left back Antonee Robinson has been solid, center back Tim Ream has had a standout tournament, while Weah and Pulisic have been effective on the wings.Right back Sergiño Dest may be playing his best soccer in a U.S. uniform and now will get a chance to face the country where he was born and raised."What I've seen from Sergiño in this World Cup in particular is just him tak(ing) it to another level with his mindset and his mentality," Berhalter said. "He has been fantastic for us this camp. I can't say enough about his defending in the penalty box, his ball security. Everything's been really good. Really happy for him, and I hope tomorrow he has a great game."
Here are the two main questions we think Berhalter and his staff will debate before Saturday's match.
Berhalter made a somewhat surprising decision in his starting lineup against Iran when he opted to bench center back Walker Zimmerman, who had been a constant in the U.S. lineup for most of World Cup qualifying and through the first two games of the tournament, in favor of Cameron Carter-Vickers.
Carter-Vickers had never started alongside Ream, nor had he played a role at all in qualifying for Qatar 2022. But, in a must-win game, Berhalter saw Carter-Vickers' experience playing against a low block for Scottish champions Celtic as important to have on the field. That decision paid off. He was good on the ball — he went 10-for-10 in line-breaking passes — and helped the U.S. control the game in the first half. In the second half, Zimmerman entered to help the U.S. close out the result.
It will be a different task against the Netherlands than against Iran. The Dutch are not expected to sit back in a low block. They have much more size and can be effective from attacking set pieces. This match-up may suit Zimmerman better. Berhalter didn't provide much of a hint on Friday when asked about the pairing at the position.
"We're looking at Holland, looking at what they do, how they create chances, how they press, every phase of the play we're analyzing, we're looking at set pieces, the whole thing," Berhalter said. "So we'll put all that together and we'll pick someone based on that."
Sargent's health
If Sargent is not able to start or play significant minutes, Berhalter will have an interesting decision to make.
ADVERTISEMENT
https://4868771c019997c14978c56e7a334c64.safeframe.googlesyndication.com/safeframe/1-0-40/html/container.html
Wright was solid enough in his start against England, but left much to be desired with his performance against Iran. Ferreira is solid in possession and tends to put himself in good attacking positions to score goals — though he has yet to prove he can be a finisher at this world-class level.
Wright also adds significant size to the U.S. roster, though he's not very physical nor overly effective in aerial duels. Berhalter may also want the option of bringing Ferreira off the bench to press and run and work in the late stages of a game that could require a half-hour of extra time if the score is tied after 90 minutes having seen Wright struggle in that role against Iran.
Berhalter could think about moving Weah up top and starting Brenden Aaronson or Reyna on the wing, but he seemed unlikely to consider such a move just a few days ago when asked. The update on Sargent didn't inspire much confidence on Friday, however, and that means Berhalter is probably considering every option.
Pulisic says he'll do everything in his power to play Saturday against the Netherlands
DOHA, Qatar — Christian Pulisic, the U.S. World Cup goal-scoring hero who came off with a "pelvic contusion" after providing the game-winner against Iran, said today that he will "do everything in my power to be out there on the field Saturday" in a Round of 16 match against the Netherlands.
---
GrantWahl.com is reader-supported. Free and paid subscriptions are available. This is how I make a living, and quality journalism and traveling to Qatar require resources. The best way to support me and my work is by taking out a paid subscription now.
---
And Pulisic made a statement of intent that he wants the U.S. not just to surprise the Dutch but to make a deep run in this tournament. When asked if he now had his "World Cup moment" to match Landon Donovan's 2010 goal against Algeria, the 2020-21 UEFA men's Champions League winner said: "I'm hoping I haven't had that moment yet, to be honest. I'm hoping it's in front of me. So it feels great to be where we're at right now, but there's still more to come."
For a guy who has been dealing with a painful ailment, Pulisic seems like he's in a much better mood in general than he was during the September window, when the U.S. was playing poorly and Pulisic's funk was deep enough that I wrote about it. The joy on his face was palpable as he welcomed the U.S. players back to the team hotel on Tuesday, and Pulisic's demeanor today was full of smiles and confidence. Forget the injury. He looks like a man reborn.
Speaking publicly for the first time since the injury, Pulisic took us through what happened from the moment he scored his first World Cup goal and instead of celebrating ended up keeled over in the Iranian goalmouth with his worried teammates gathering around him."I realized the ball went in," Pulisic said. "I was a bit confused because the guys around me, I think they were just trying to keep their distance and make sure I was okay. But it didn't really feel like a celebration, so I was worried I was offside. You never know nowadays. So I wasn't sure what was going on."After a few minutes on the side of the field receiving treatment, Pulisic made his way back into the game for the final minutes of the first half. But in the halftime locker room the decision was made to remove him from the game and send him to the hospital as a precautionary measure."It was a crazy kind of experience for me," Pulisic said. "Obviously the emotions were running so high, so I was doing everything I could to continue playing, and it all was kind of a blur to be honest. But then once I was told I was being taken to the hospital, I was able to follow it because a guy with me had it on his phone. It was the hardest thing. They were checking my blood sugar and it was flying through the roof, but it was just me stress-watching the game. But once I got through that and the final whistle blew, I was obviously very happy."
Pulisic was helpful in explaining a bit of his injury situation when asked what a "pelvic contusion" actually meant. "Like, I didn't get hit in the balls," he explained sheepishly. "I'm all right. It was very painful. That bone is there for a reason to protect you, I think, and I hit it."There was a time not that long ago—a bit more than a year maybe—when Pulisic didn't seem to trust his U.S. teammates very much. It would cause him to overdribble in attacking situations and often lose the ball. But he has come to rely on the other U.S. players more often since then. That has been a process of growth on a young team."This team helps me so much to take the pressure off of me," he said today. "More so a couple years ago, there were times where maybe I felt like I needed to do more. But with these guys, I don't feel that way at all, to be honest. I know they have my back. I know when I went down and I see Brenden [Aaronson] running on the pitch, I'm not worried at all."Sometimes it's good to see things from the perspective not just of the hardcore soccer fan (which I know most of you are), but rather from that of the Americans who are just falling in love with this team. We're a growing soccer country still, and so many new USMNT fans are being created every day now. Pulisic is aware of that as well, that a not insignificant number of Yanks will now find out when he's playing on Boxing Day after this World Cup is over and seek him out. Those people are already in for World Cup 2026 in North America. "I hope that they can see just the unity and the team spirit that we display," he said today. "I hope that's what's helping us gain fans. I hope people watching, especially back home in the States, can see, wow, these guys would really give everything for each other, for this country. And that's what really makes us special. You can see all the individual talent. You have guys playing at top clubs across the world, but without the brotherhood, without this family aspect, we wouldn't be in this position."
There's something about Pulisic's commitment to the national team, to the national idea, that is special. Certain athletes have it, this devotion to playing for their country. For all of Diego Maradona's otherworldly talents, his overwhelming feelings for the national team were remarkable. The same was the case for John McEnroe when he represented the U.S. in the Davis Cup. Pulisic is in that realm, and it's rare, and it's exciting to see it revealed in the crucible of the World Cup. On Saturday, we find out if the U.S. journey continues. I expect Pulisic to play a significant role.
IN OTHER NEWS
• Germany is out. Mexico is out. Belgium is out. And all of those things should remind everyone that the U.S.'s advancement to the knockout rounds was never guaranteed. This is a big deal. A new tournament starts now.
• I wrote a new USMNT mailbag column for CBS. You can read it here.
• Things at our Doha townhouse are fine. I'm a little worried that with Germany's elimination my housemate Rafa Honigstein might go home, but I'm hoping he gets a reprieve. Last night at 3:30 am water suddenly started coming through my bedroom ceiling. I think it's fixed, but not sure. And it's my birthday today. Never thought I'd spend a birthday at the World Cup, but here we are.
Have a good evening!
Dutch-born USMNT star Sergino Dest has date with destiny vs. Netherlands at World Cup
11:43 AM ET Jeff CarlisleU.S. soccer correspondent
DOHA, Qatar — The United States are set to square off against Netherlands on Saturday in a World Cup round-of-16 match, and while it's an occasion that will be special for all involved, for defender Sergino Dest, it will carry extra significance.Dest was born in the Dutch town of Almere, about 12 miles east of Amsterdam. He came through the famed Ajax academy and turned professional there. But thanks to his American father, Kenneth, Dest has played his international soccer with the US, so when the two sides line up on Saturday, he'll see plenty of familiar faces."I know almost every single guy over there," Dest said through a team spokesperson following Tuesday's 1-0 win over Iran that secured the US's passage into the knockout rounds. "Yeah, it's going to be fun of course. I was born there, I speak the language, I know all these guys. They want to go through, but we have the same dream. It's going to be a fight again."Dest featured prominently against Iran. The Group B standings heading into the final round of games meant the US had to win to advance, while Iran required only a draw. As such, Iran were content to sit back and soak up pressure and try to strike through counterattacks. And for the first 35 minutes or so of Tuesday's match, the US were banging their collective heads against Team Melli's defense. The approach work was fine, but then the US seemed content to play it safe. It was going to take something a bit special to break Iran down.That's where Dest came in. The US right-back began taking initiative, creating havoc in the 17th minute with a low cross that goalkeeper Alireza Beiranvand could only push away, and later with a dynamic run that ended with his shot getting blocked. But the pathway to goal had been established, and it was with the help of Dest that the breakthrough finally occurred in the 38th minute. Weston McKennie's lofted pass out to Dest was headed across goal by the defender, allowing Christian Pulisic to knife in and finish from close range.
EDITOR'S PICKS
The US had to do more defending in the second half, and endured tense moments, but a collective effort allowed them to see the game out and clinch a massive victory that sealed the second spot in Group B.
"I'm really proud of the guys," Dest said. "The way we played all the three games, we really fought for each other. We have a brotherhood. Iran was pressing us a little bit in the second half, but we got the job done. We are happy. We can relax now."
That Dest was involved in the goal isn't a surprise. His attacking instincts have long been his greatest asset. And he's shown a knack for popping up for big plays in important games, such as his goal against Costa Rica in a World Cup qualifier.
But heading into the World Cup, there were issues. Dest has logged just 373 minutes for AC Milan in all competitions since being loaned from Barcelona in September. The move came about as Barcelona struggled to balance their books. And in terms of his playing time at Milan, it didn't help that his competition at the position, Davide Calabria, is Milan's captain. Even without the worry about accumulated rust, Dest's defending hasn't always been consistent, with his positioning also a concern. During his Barca days, then-manager Ronald Koeman stressed that Dest would too often switch off in games.
"He needs to be more aggressive, he needs to be more concentrated," Koeman said in February of 2021, following a Champions League encounter with Paris Saint-Germain's Kylian Mbappe. "He had too many periods in the game where he's not 100% focused."
That hasn't been an issue in Qatar. Dest has been impressive on both sides of the ball at this World Cup, including instances when he was isolated against Iran's attackers. It's been noticed by the man with the best seat in the house to judge defenders: US goalkeeper Matt Turner.Herculez Gomez and Sebastian Salazar debate the biggest storylines and break down the best highlights that soccer in the Americas has to offer. Stream on ESPN+ (U.S. only)"He was unbelievable, free flowing up and down the field," Turner said. "I think what I've noticed the most about Sergino is he always seems to show up defensively in the big moments, and he's tracking runners in the box really, really well."The same could be said about the entire US defense, which conceded just one goal and none from open play in its three group-stage matches. For US manager Gregg Berhalter, it's been a collective effort, although the backline has excelled. And full-backs Dest and Antonee Robinson have been giving the manager what he wants."The full-backs have been doing a good job," Berhalter said. "We want them to be a little bit more offensive today. And we got an assist from [Dest]. So it's a good thing. We need our full-backs to be aggressive, and it was good that they showed that today."The Dutch have a talented team, finishing atop Group A with seven points, although there is a sense that Louis van Gaal's side haven't hit top gear yet. The same can be said for a US team that scored only twice. But for now, Dest and his teammates can look forward to taking on former Ajax teammates like Frenkie de Jong and Jurrien Timber."I can't wait to play the next match because it's going to be a pretty fun one, playing against the country I was born in," he said. "I have full confidence."
Christian Pulisic reveals extent of pelvic injury, says he 'didn't get hit in the balls'
Henry BushnellThu, December 1, 2022 at 10:33 AM
DOHA, Qatar — Christian Pulisic said Thursday that he is "feeling better" after suffering a "pelvic contusion" in the U.S. men's national team's Tuesday win over Iran, but did not commit to playing in Saturday's knockout-round game against the Netherlands.
He also explained what, exactly, a "pelvic contusion" is. After a team spokesman suggested that "it's what it sounds like," Pulisic said: "No, but at the same time, it's not.""Like, I didn't get, like, hit in the balls," he said with a laugh. Tim Weah and others in the room chuckled as well."It was very painful," Pulisic continued. "You know, that bone is there for a reason, to protect you, I think. And I hit it well. And it was sore, but like I said, I'm getting better."Pulisic suffered the injury while scoring the only goal of the USMNT's must-win game against Iran. "I took a knee … to a nice pelvis area — it was not nice," he said Thursday. He stayed down in the mouth of the goal for minutes while receiving treatment. He returned to the game and gutted out a few minutes until halftime, but winced in pain while he moved gingerly. Head coach Gregg Berhalter later said that Pulisic was feeling some "dizziness." Berhalter removed him from the game, and trainer Harris Patel accompanied him to a nearby hospital.While en route, Pulisic followed the game on Patel's phone, "and it was like the hardest thing," he said. Medics checked his "blood sugar and everything, and it was flying through the roof," but not because there was anything wrong with him; "it was me stressed watching the game," Pulisic said.A USMNT spokesman also said that Josh Sargent, who left Tuesday's game in the second half with an ankle injury, was "day to day."If Sargent can't play, Haji Wright or Jesús Ferreira would likely start in his place up top.
If Pulisic can't, Brenden Aaronson would be the most analogous replacement on the left wing. Aaronson has started in the past when Pulisic hasn't been fit — including against Mexico last November in World Cup qualifying — and replaced Pulisic at halftime of Tuesday's game. Gio Reyna would also be an option, but has only played eight minutes off the bench all tournament.
Pulisic and Sargent will likely remain "day to day" until lineups are announced within 90 minutes of kickoff on Saturday. U.S. Soccer has no incentive to give the Netherlands a jumpstart on preparing as if either player will or won't start. After initially saying that the first 15 minutes of Thursday's training session would be open to media, it closed training entirely.
USMNT to Face a European Hurdle It Hasn't Cleared in 20 Years
European teams in the World Cup have largely been kryptonite to the U.S., and another, the Netherlands, stands in between the Americans and the quarterfinals.
AL RAYYAN, Qatar — The American men have won a single World Cup knockout game in 92 years, and make no mistake, the opponent on that famous day mattered.
There was next to no anxiety when the U.S. kicked off the 2002 World Cup's round of 16 against Mexico. There wasn't a team in that tournament that was more familiar, or less intimidating and venerated. The U.S. arrived in Jeonju, South Korea, having beaten El Tri in four of their previous five meetings. And then the Americans won again, 2–0, to reach the World Cup quarterfinals for the first and only time in the modern era.There, in that rarified air, a team featuring current U.S. coach Gregg Berhalter, GM Brian McBride and sporting director Earnie Stewart lost to Germany, a three-time (and now four) world champion. That defeat, albeit by a one-goal margin, became another data point in a long-term trend even more reliable than "dos a cero." The U.S. struggles mightily to beat European sides at the World Cup.To be fair, lots of teams do—especially lately. As more and more TV and sponsorship money flows from around the world into Europe, especially Western Europe, the clubs and federations there have widened the developmental gap with the rest of the planet. From the inaugural World Cup in 1930 until the 2002 edition won by Brazil, South America had won nine titles compared to Europe's eight. But then the tide turned emphatically. The past four tournaments were won by four different UEFA nations, along with 11 of the 12 medals (Argentina's 2014 silver is the only outlier.)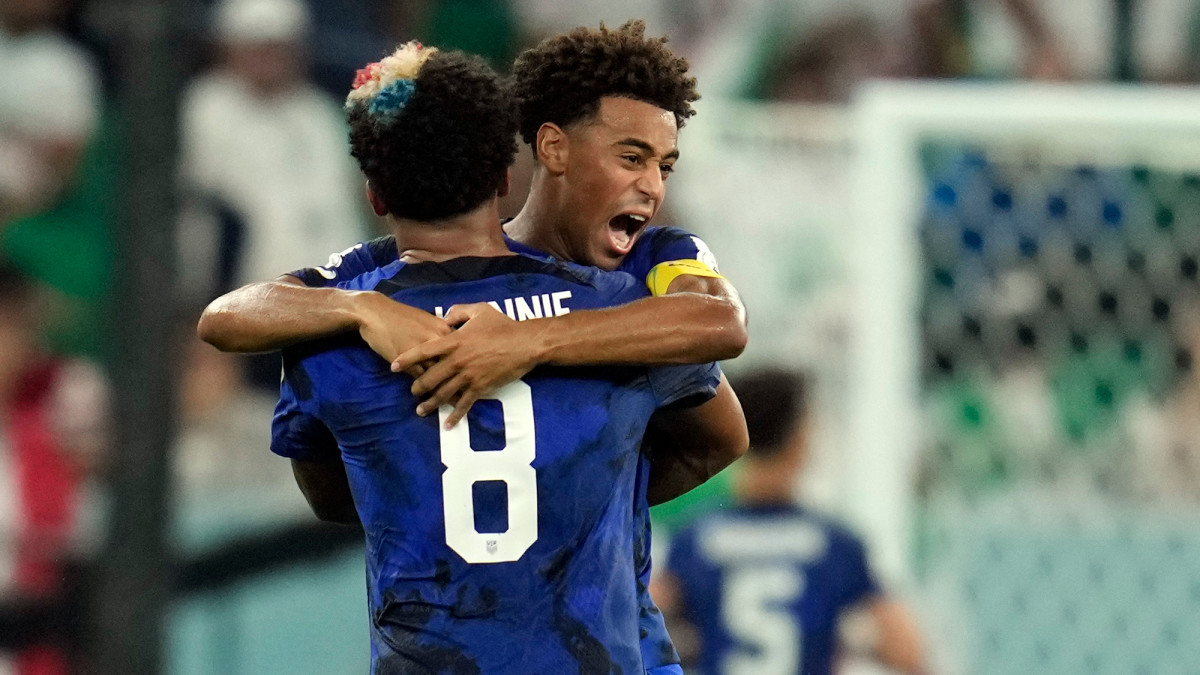 Meanwhile, the U.S.'s record against Europe has been a stark reminder of its place in the global pecking order. The 3–2 defeat of Portugal that catapulted the Americans to the 2002 knockouts is the only World Cup win over European opposition in 19 tries since the U.S. men returned to the World Cup in 1990. The record is 1-11-7, and the winless streak is now 11 following the two group stage draws against Wales and England here in Qatar.
You don't need to beat a European team to get out of the group. The U.S. leveraged wins over Algeria (2010), Ghana (2014) and then Monday's dramatic 1-0 decision against Iran to book a second-round berth. But you do have to beat a European team—probably teams—to go on a deep World Cup run. And so the test begins Saturday against Group A winner Netherlands here in Al Rayyan. This Dutch side isn't considered one of the country's best, but it's still loaded with talent and the sort of experience and pedigree that has proven so difficult for the U.S. to overcome. Its coach, Louis van Gaal, managed the Netherlands to the bronze medal at the 2014 World Cup and has won major trophies at the helm of Ajax, Barcelona, Bayern Munich and Manchester United.
"Traditionally European teams are very strong and that's just how it is," Berhalter said following the World Cup draw. "So when you play them in a World Cup, it means they got through European qualifying, which means they're a very good team. I can see a lot of teams struggling with that."That's a great opportunity," he said of facing UEFA opposition. "There's always opportunities to be the first team or do something that teams haven't done and for us, we just look at each opponent, we analyze their strengths and weaknesses and we try to figure out how to beat them."The Americans will feel good about the fact that they outplayed both England and Wales for significant stretches of those group-stage contests. The two points earned helped the U.S. (1-0-2) finish second in what was, statistically, the toughest group at this World Cup. The Netherlands won the tournament's easiest group based on average ranking with wins over Senegal (minus Sadio Mané) and lowly Qatar and a draw with Ecuador. The Oranje's efficient but unconvincing run has been sparked by breakout World Cup star Cody Gakpo, a 23-year-old PSV Eindhoven attacker who's scored in all three games."It's huge opportunity for us," U.S. captain Tyler Adams said after beating Iran. "It's gonna be an amazing game, I think. We've obviously played against good competition here like England, [and the] Netherlands could be another favorite to win the World Cup."Berhalter has significant exposure to the country. He left the University of North Carolina after his junior season and spent six years playing professionally in the Netherlands with PEC Zwolle, Sparta Rotterdam and Cambuur Leeuwarden. The bonds with Saturday's opponent don't end there. Sporting director Stewart and right back Sergiño Dest are Dutch natives. U.S. striker Haji Wright and midfielder Luca de la Torre also played in the Netherlands.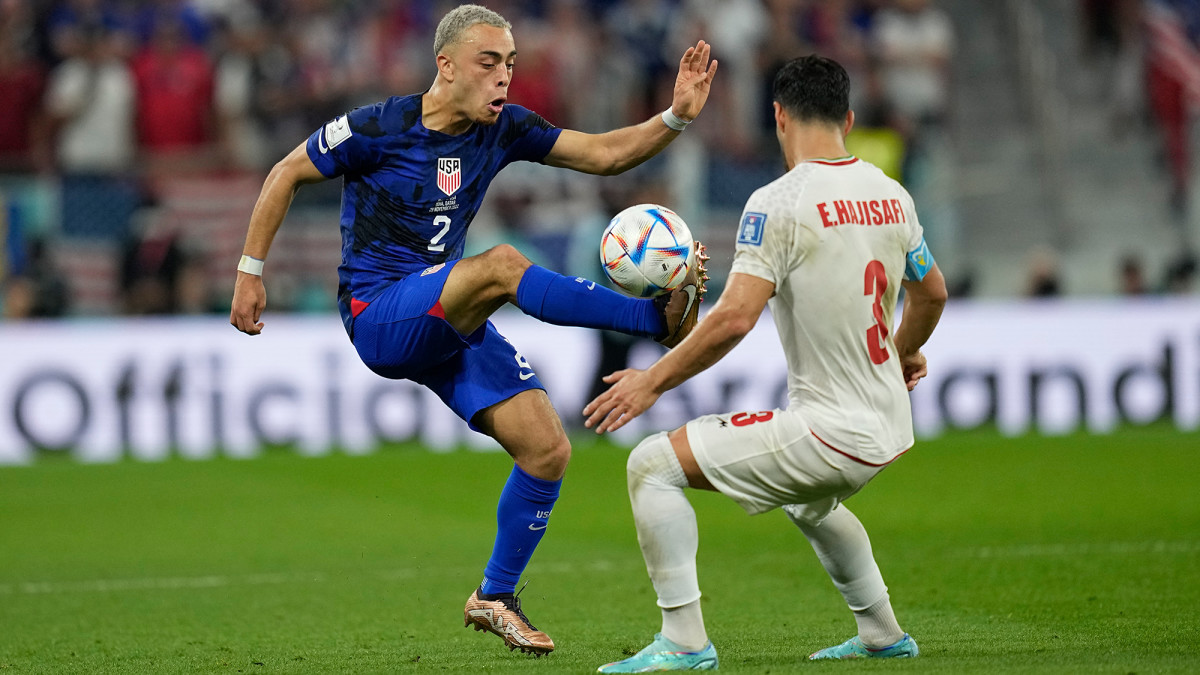 The U.S. will be banking on the hope that its increased familiarity with European soccer—17 of the 26 men on Berhalter's team play there—will help UEFA teams feel less foreign."We play in Europe, so we played against a lot of these guys, week-in, week-out," Adams said ahead of the England game. "It's not easier to play against European teams, but you're more familiar with how they're gonna play probably than Concacaf teams. So it is what it is. You have to be prepared for all the teams that you can play against."This U.S. team, the second youngest here in Qatar (and it's fielded the three youngest starting lineups), isn't burdened by predecessors' shortcomings or global trends older than they are. Almost all grew up as immersed in soccer as their Dutch counterparts, and they've worked their way into an echelon of the sport that was out of reach for so many compatriots who came before. Berhalter's squad is full of men with Champions League experience. There's a measure of confidence with this group that may be unprecedented.https://0c5c726ab65d35ea87a4c77c8529966e.safeframe.googlesyndication.com/safeframe/1-0-40/html/container.html
"I came here saying to everybody in the media and everybody [else], that we're coming here to try to win," forward Brenden Aaronson said. "We may be the underdog. The Dutch are a world power and they've been that for many, many tournaments. So I think for us, it's just going in there with no fear and playing the way we have been this entire tournament, and I think good things will come out of it."Midfielder Weston McKennie added, "We're here for a reason. … We know that a lot of people have [the Dutch] as the favorites. But a lot of people didn't think that we would make it out of the group as well. This team is young [and] has a lot of energy, and this team has a lot of people that doubted us. But we continue to prove them wrong. So we're just looking forward to going out against the Netherlands and playing a good game."
Since sealing qualification in March, Berhalter has talked about splitting the World Cup into two tournaments. The first, the group stage, was about navigating three matches in nine days, managing form and fitness and playing for points. The second tournament starts Saturday, and it's one where he's said repeatedly that "anything can happen." It's just one game, which can be decided by one play, one bounce, one inch. There's a sample size that suggests those small margins will still somehow fall the European team's way. But no UEFA nation has played this specific U.S. team on this stage."It's great to be in this knockout format. We relish this. It's an opportunity for our guys to keep grinding and to stick together and enjoy this experience," Berhalter said Tuesday."It's a great opportunity, but it's not something that we're going into it thinking it's an honor," he continued. "We deserve to be in the position we're in and we want to keep going. And we don't want to be home on [Sunday]. So for us, it's about how do we recover from [the Iran] game and prepare to play against a very, very good Dutch team—very, very well coached, a ton of quality all over the field. And we have to come up with an idea of how to beat them."
World Cup last 16: Why every team that escaped the group stage will, won't win it all in Qatar
6:22 PM ET Bill ConnellyESPN Staff Writer
A typical World Cup can feel like a marathon, but this one feels like a sprint. After a nonstop, 13-day group stage ends on Friday, there are no days off before the round of 16 begins with Netherlands vs. USA and Australia vs. Argentina on Saturday.
Therefore, we shouldn't wait to preview the knockout rounds. While the dance card continues to fill in, let's talk about each qualifying team's biggest strengths and weaknesses: basically, the reasons they advanced, the reasons they could make a run and the fatal flaws that will probably trip them up at some point.
Let's go!
---
Argentina (first place, Group C)
Title odds, per FiveThirtyEight: 12%
Round of 16 opponent: Australia (Saturday, 2 p.m. ET)
Why they will win it all: They've recovered from losing to Saudi Arabia. As incredible as the Saudis' 2-1 win was last Tuesday, it was a clear and obvious "sports are dumb sometimes" outcome. Argentina attempted 15 shots worth 2.3 xG, and Saudi Arabia attempted three worth 0.2, but the latter trumped the former, and the Saudis — to their credit — defended wonderfully down the stretch.
– Marcotti: The seven tendencies of Messi vs. Poland
That match almost ruined two matches; manager Lionel Scaloni made a ton of lineup changes for what turned out to be a dire and unimpressive performance against Mexico. Somehow a lineup with Lionel Messi, Lautaro Martinez and Angel Di Maria attempted only five shots worth 0.3 xG, but Messi's wonderful long-range goal in the 64th minute allowed them to relax. They saw off Mexico, then dominated Poland 2-0 in a match that was closer to about 4-0 than 2-1.
There was tension and there were unforced errors, but they finished the group stage atop Group C, with the second-best xG differential in the tournament to date (behind only France). Their defense barely allowed any decent looks over three matches, and they looked the part of the contender they were supposed to be all along.
Why they won't: Boy, the vibes got dark for a minute, didn't they? Indeed, despite the fluky nature of the Saudi Arabia loss, Scaloni made five changes to his lineup to bring a performance boost to a side that probably didn't actually need one. They played far worse, according to both the stat line and the eyeballs. Messi bailed them out, and they may have gotten a long-term boost with how well younger guys like Alexis Mac Allister and Julian Alvarez played against Poland. But another bout with that sort of panic likely won't be rewarded.
Australia (second place, Group D)
Title odds, per FiveThirtyEight: <1%
Round of 16 opponent: Argentina (Saturday, 2 p.m. ET)
Why they will win it all: They take their chances. If we were being particularly cynical (or perhaps realistic), we would call the Socceroos lucky. In three group stage matches, they attempted 21 shots worth just 1.8 xG but pulled three goals from them and stole a pair of 1-0 victories from Tunisia and Denmark. They attempted fewer than half the number of shots (21) as their opponents (50) in the group stage, but advanced
Dawson: Nobody will want to play Australia in World Cup knockouts
Rob Dawson reacts to Australia's 1-0 win over Denmark and speaks about their chances in the World Cup knockout stages.
However, one man's lucky is another's clinical. All three of their goals — Craig Goodwin's counter-strike against France, Mitchell Duke's flick of a header against Tunisia and Mathew Leckie's weaving counter against Denmark — were beautifully taken. Against both Tunisia and Denmark, they cluttered shooting lanes and left their opponents with low-percentage opportunities while maximizing the danger they created from minimal looks. If you don't need many chances to score, you don't need many chances to pull an upset.
Why they won't: Okay, fine, they're lucky. You don't get outshot more than 2-to-1, with the second-worst xG differential (per-match) of the 32 teams, and advance very far. They got their doors blown off by France, they allowed Tunisia to attempt three of the match's four most high-value shots (per xG) while scoring on a low-percentage flick, and they have completed just 73% of their pass attempts, second lowest in the competition (ahead of Iran, who still attempted way more shots and created far more shot value). The upsets were awesome to watch, as was the giddy reaction of Australia fans both in the stands and back at home. But this run of fortune isn't going to last four more matches.
Brazil (qualified from Group G)
Title odds, per FiveThirtyEight: 25%
Round of 16 opponent: TBD
Brazil join France in the knockouts, but who's looking stronger?
Luis Miguel Echegaray reveals whether he favours Brazil or France as the two sides in the World Cup knockouts.
Why they will win it all: Party in the front (eventually), veterans in the back. Hiring a conservative coach (Tite) to lead a squad full of flamboyant attackers can easily backfire without the right balance and man management. You play away from your strengths, the attackers get frustrated, and things fall apart.
In his six-plus years in charge of the Selecao, Tite has mostly found said balance. Brazil have allowed just 27 goals and lost only five times in his 78 matches in charge. Four of the five losses were by one-nil margins — which hints at how things look when they go wrong, but they don't go wrong often.
The veteran base of defenders Thiago Silva (38) and Marquinhos (28) and midfielder Casemiro (30) was an unsolvable puzzle for both Serbia and Switzerland, who combined to attempt just 11 shots worth 0.48 xG, putting none on target. And as both opponents grew tired and frustrated, the Brazilian attack eventually kicked in, and they booked their last-16 spot with two wins. What has worked for six years under Tite has worked in Qatar.
Why they won't: The attack runs through Neymar (who's hurt once again). Brazil overwhelmed Serbia with 19 shots and two goals in the second half. The ball was constantly at Neymar's feet — he had the most touches of any non-defender — and the eventual goals, both from Richarlison, felt inevitable.
Neymar left the match after 80 minutes, however, after suffering damaged ankle ligaments. Without their focal point, Brazil resorted to aimless crossing against Switzerland (25 of them, with only a 16% completion rate) and attempted only 13 shots. They eventually took control with a scruffy late goal from Casemiro, but the attack wasn't nearly as smooth without its center of gravity, whose return to the competition is unknown.
England (first place, Group B)
Title odds, per FiveThirtyEight: 9%
Round of 16 opponent: Senegal (Sunday, 2 p.m. ET)play
0:40
England fans erupt as the Three Lions score two quick goals
England fans at Boxpark by Wembley Stadium celebrate the two goals early in the second half.
Why they will win it all: Set pieces. They were England's secret weapon in the 2018 World Cup, where the team scored six set-piece goals (four from corners) in seven matches, two of which put them ahead in both the quarterfinals and semifinals.
They've only got two such goals so far — one from Bukayo Saka on a corner against Iran and one from a scorching Marcus Rashford free kick that opened the scoring against Wales — but it remains a clear advantage as they've created 10 shots from set pieces, and opponents have yet to attempt one. (The US created seven corner-kick opportunities but got no quality looks from them.)
When you've got as much talent as anyone in the competition, and you've got a cheat code for creating solid scoring chances, you're in great shape.
EDITOR'S PICKS
Why they won't: The subs are doing too well? It's an odd critique, admittedly, but the England attack is in a strange place at the moment. The Three Lions scored nine goals in the group stage with Gareth Southgate's first-choice attacking trio of Harry Kane, Saka and Raheem Sterling performing relatively well, scoring three goals and creating a combined 2.18 expected goals (xG) and expected assists (xA) in a total of 512 minutes. That's a rate of 0.38 combined xG+xA per 90 minutes. The trio of Rashford, Phil Foden and Jack Grealish, however, combined for a torrid five goals and 3.37 xG+xA in just 271 minutes, 1.12 per 90.
History suggests Southgate will stick to his guns when it comes to lineup selections, and having prolific bench players who are commanding a higher workload is a great problem to have. But it can still be a problem if you aren't putting your most in-form and effective lineup on the pitch as the matches increase in importance. The last thing you want to do is leave available goals unclaimed while trying to bring the World Cup trophy home.
France (first place, Group D)
Title odds, per FiveThirtyEight: 11%
Round of 16 opponent: Poland (Sunday, 10 a.m. ET)
Why they will win it all: Kylian Mbappe. France quickly secured advancement to the knockout rounds by taking care of Australia and Denmark by a combined 6-2 — which allowed them to field an extremely rotation-heavy squad against Tunisia — but that score line doesn't do justice to the levels of domination in those two matches. They outshot their opponents by a combined 44-14 and created 6.8 xG while allowing just 1.2; while Australia were obviously outmanned, Denmark were considered a World Cup sleeper by many and could manage just two shot attempts in the first 67 minutes.
At the heart of France's success, of course, has been Mbappe, the FIFA Young Player Award winner at the last World Cup and the current front-runner for Golden Ball winner at this one. As ESPN's Ryan O'Hanlon laid out after two matches, the best player in the world is playing some of his best-ever ball at the best possible time.
Furious Laurens lets rip on 'disgraceful' France performance
Julien Laurens doesn't hold back as he rips into Didier Deschamps and the French players after their 1-0 loss to Tunisia in Qatar.
Why they won't: The wrong kind of conservatism. The modern game is one of pressing and possession, and it would make sense that most of the tournament favorites do those things well. There are currently eight teams with betting odds of +1400 or better to win the World Cup, and six of them currently rank in the top eight in passes allowed per defensive action (PPDA, a common measure of defensive intensity), all averaging under 12.0 PPDA. Brazil (12.2, 11th in the competition) is close. France (18.5, 26th) is not.
For all of their absurd talent, they were downright passive against Denmark, allowing the Danes to average 6.4 passes per possession and end 50% of their possessions in the attacking third. This opened up space for transition attacks — something that the impossibly fast Mbappe and his teammates can thrive in at times — but it also raised a question: How will the French fare among the best possession teams in the field if they can't (or won't) take the ball away from them?
Netherlands (first place, Group A)
Title odds, per FiveThirtyEight: 5%
Round of 16 opponent: USA (Saturday, 10 a.m. ET)
Why they will win it all: They turn you over. Louis van Gaal's Dutch team is active. They lead the competition with the fewest passes allowed per defensive action (9.3) and despite leading for the majority of each group stage match, they started 29 possessions in the attacking third to opponents' 17. Midfielder Frenkie de Jong leads the team in ball recoveries, but the pressure is a full-team effort: Netherlands have commanded 57% of overall touches in the attacking third with a 57% possession rate.
They've got the raw defensive talent — Virgil van Dijk, Nathan Ake, Jurrien Timber, Matthijs de Ligt — to safeguard them while pressing heavily (goalkeeper Andries Noppert has been excellent, too), and they put the ball in more dangerous areas than opponents.
Ogden names Senegal, not Netherlands, the best in Group A
Mark Ogden explains why he think Senegal are the stronger of the two sides to advance from Group A at the World Cup.
Why they won't: No creativity. For such an active team, the Dutch sure are stolid in attack. Despite all that possession in dangerous areas, they managed just 10 shots worth 0.7 xG against Senegal and two worth 0.1 against Ecuador; they were fortunate to win the former match and draw the latter, and if Cody Gakpo hadn't scored with his only shot in each match, they wouldn't have.
Gakpo, the increasingly sought-after PSV Eindhoven attacker, has scored three goals from four shots worth just 0.3 xG. The rest of his teammates have scored just two goals from 21 shots worth 2.5. They neither create high-quality or high-volume shots — they averaged just 0.3 big chances created ("a situation where a player should reasonably be expected to score," as defined by Stats Perform) in the group stage; only two teams averaged fewer, and that will eventually become a clear issue if it does not change.
This makes their matchup with the United States an interesting one: the teams have a lot of the same strengths and same weaknesses.
Title odds, per FiveThirtyEight: <1%
Round of 16 opponent: France
Why they will win it all: They've got the hottest goalkeeper in the competition. Stat Perform's Goals Prevented measure compares the goals you've allowed to the post-shot xG value of the shots opponents put on your goal. Based solely on that xG figure, Poland should have allowed about six goals in the group stage; they allowed only two because Wojciech Szczesny stood on his damn head. He stopped penalties from both Messi and Saudi Arabia's Salem al-Dawsari, he stopped close-range efforts from al-Dawsari and Argentina's Rodrigo De Paul, and he saved 18 total shots on goal in three matches.
Allow even three goals instead of two — which would have still been overachieving — and Poland would be on a plane home right now.
Why they won't: They can't create opportunities for one of the best strikers in the world. In 19 matches with Barcelona this season, Robert Lewandowski has averaged 4.5 shots, 0.8 xG and 1.1 goals per 90 minutes. In three World Cup matches, he has averaged 2.3 shots, 0.6 xG and 0.3 goals. He scored his first ever World Cup goal against Saudi Arabia, but missed on a late chip in the same match and had a penalty saved against Mexico. Those were his only three shots on goal in three matches. He barely touched the ball against Argentina and attempted zero shots.
Lewandowski isn't Poland's only high-level player, of course — 14 other members of the roster play for clubs in Europe's Big Five leagues — but when your headliner is neither getting the service he needs nor taking advantage of the opportunities he gets, your ceiling isn't going to be very high. He could unleash a hat trick at any time, but if he couldn't do it against Saudi Arabia, it's fair to assume the odds aren't high that he will do it against France.
Portugal (qualified from Group H)
Title odds, per FiveThirtyEight: 8%
Round of 16 opponent: TBD
Why they will win it all: Where passing is harder, Portugal is better. One would assume that a squad featuring Bernardo Silva, Bruno Fernandes, Raphael Guerreiro and Joao Cancelo would be one of the more creative in the competition, and that has played out thus far. They have been fortunate in the finishing department — they created shots worth 3.3 xG in their first two matches but scored five goals from them, and they scored one of their goals when Cristiano Ronaldo whiffed on a Fernandes cross (which fooled the Uruguayan goalkeeper) — but they still created plenty of chances, and they made sure that they were the only team regularly completing passes into dangerous areas.
Pass completion rate into the attacking third:
Portugal 81%, Ghana 57% (Portugal won 3-2)
Portugal 79%, Uruguay 64% (Portugal won 2-0)
Fernandes and Silva have both completed 40 passes into the final third (with a ridiculous 86% completion rate), and the stalwart Portuguese defense, led by cent-backs Ruben Dias along with veterans Danilo Pereira (31) and Pepe (39), has fended off most threatening buildups. Even one of Ghana's goals came on a cross that a defender deflected.
Why they won't: You have to hold onto leads to win it all. When their first two matches were tied, Portugal dominated, controlling 69% of possession, attempting 19 shots worth 2.0 xG, allowing just six shots worth 0.7 and scoring three times. Dominant.
Once they were ahead, however, they sacrificed a dangerous amount of control. They allowed two goals to Ghana (one to tie the match at 1-1, one to make it 3-2), and in those two matches their possession rate fell to 45% with opponents attempting 14 shots to their seven. While Brazil's Tite has pulled off a solid balance of conservatism and attacking flair, one could argue that Portugal's Fernando Santos hasn't quite found that same balance.
Ogden: Portugal means more than Cristiano Ronaldo
Mark Ogden gives his analysis on the 2-0 win over Uruguay in Group H that takes Portugal into the round of 16 at the World Cup.
Senegal (second place, Group A)
Title odds, per FiveThirtyEight: 1%
Round of 16 opponent: England
Why they will win it all: Transition. Tuesday's Senegal vs. Ecuador match pitted two of the best transition teams in the competition. In their first two matches, Ecuador had scored two of their three goals from what I call "transition possessions" — possessions beginning outside of the attacking third and lasting 20 or fewer seconds — and had not allowed opponents a single shot in those possessions. But against Senegal, the shoe was on the other foot. Senegal created two early high-quality transition opportunities and allowed Ecuador none.
That's been the story of the competition for Senegal. Their xG differential in transition possessions is +0.8, fourth best among teams in the knockout rounds, and while they were decent in transition attack (one goal, 0.96 xG), their primary strength was in completely snuffing out opponents' opportunities. The defensive spine of keeper Edouard Mendy, center-backs Kalidou Koulibaly and Abdou Diallo and defensive midfielder Nampalys Mendy is as stout as just about any in the World Cup.
Why they won't: You've got to finish. When the news came down that star Sadio Mane was going to miss the World Cup because of injury, it was fair to wonder how the heck Senegal was going to put the ball in the net.
It's still fair to wonder, too. While they handled Qatar with ease, and they attempted plenty of shots against higher-level opponents Netherlands and Ecuador, the finishing indeed lacked. They attempted 28 non-penalty shots worth 2.14 xG in those two matches but scored just once from them, via a deflection to Koulibaly on a free kick. (They also scored on an Ismaila Sarr penalty against Ecuador.) They have been decent at generating set-piece opportunities, but in open play they are creating almost no threat against solid opposition.
United States (second place, Group B)
Title odds, per FiveThirtyEight: 1%
Round of 16 opponent: Netherlands
Why they will win it all: The midfield is relentless. Wales couldn't move the ball through the midfield, so they started booting long balls to a tall forward. Jude Bellingham had 10 touches in the first 13 minutes but only 40 thereafter as England found passing lanes through the midfield hard to come by. (Mason Mount had only 45 total touches in 90 minutes.) Iran only created 60 total touches in the attacking third until Weston McKennie went off the field in the 65th minute. (They created 64 in the final 25 minutes.)
– Stream on ESPN+: LaLiga, Bundesliga, more (U.S.)
Relentless running and pressing from the trio of McKennie (24), Yunus Musah (20) and captain Tyler Adams (23) and fullbacks Sergino Dest (22) and Antonee Robinson (25) have made advancing the ball into dangerous areas almost impossible and allowed the US to control large portions of games — granted, without generating a large number of quality scoring opportunities — against not only Wales and Iran but also England. And if they were able to control Bellingham and Mount, they can control most of the midfields in this competition.
Why they won't: Matches are 90 minutes long. One problem with relentless running and pressing: It wears you out, especially when some of your most important players came into the World Cup with recent injuries and fitness concerns. McKennie is only averaging 69.3 minutes per match, Dest 78.0. And as these players begin to tire, the Americans' effectiveness vanishes.
xG, first 60 min: USA 2.19, opponents 0.91 (actual score: US 2-0)
xG, last 30 min: opponents 2.23, USA 0.35 (actual score: opponent 1-0)
Fatigue has indeed limited certain key players, and manager Gregg Berhalter's substitution decisions (both timing and personnel) have been, to put it diplomatically, shaky. When things move into game management mode, the US quickly fray. The fatigue isn't going to suddenly get better as the tournament progresses.
TIL: The World Cup soccer ball needs to be charged before games
It's a new era.
Technology has taken the reins in the soccer world. The VAR system is the clearest example of the takeover, but it's not the only one. Al Rihla, the soccer ball created by adidas for the 2022 World Cup, incorporates chips and sensors that are revolutionizing the game.
And it also brings a new reality: soccer balls that need to be plugged in before a game.
Does the World Cup ball need to be charged before games? Why?
The idea is weird. However, you can find pictures online showing the Al Rihla ball connected to a power source, charging up before the game as you would with your phone.Yeah, it's a new dawn.But why? Because of that chip and those sensors, of course.
The combo captures different types of relevant data about the game. The chip is connected to cameras around the stadium and, according to adidas, "contributes to FIFA's semi-automated offside technology and offers Video Assistant Referees instantaneous information to help optimize decision-making."Recently, the sensors also determined that Cristiano Ronaldo didn't touch the ball in one of the two goals scored by Bruno Fernandes against Uruguay, despite CR7 claiming he did.
All this info requires energy, thus the need to be charged.
According to an adidas press release, the system "in the center of the ball hosts and stabilizes a 500Hz inertial measurement unit (IMU) motion sensor, which provides unprecedented insight into every element of the movement of the ball, while making this technology unnoticeable for players and not affecting its performance whatsoever".
The document also says "the sensor is powered by a rechargeable battery," which now makes total sense.
The ball doesn't have a USB port or something like that. It is charged up by induction, which means it needs a tray or pedestal to complete the process.
Matt Turner celebrated Christian Pulisic's first-half goal that ended up making the difference in the U.S. advancing to the World Cup Round of 16 (Photo by Dan Mullan/Getty Images)
DOHA, Qatar — The USMNT beat Iran 1-0 on Matchday 3 of the World Cup on Tuesday. The win gave the U.S. (five points) a second-place finish in Group B behind England (seven points) and set up a Round of 16 clash on Saturday between the U.S. and the Netherlands. Here are my three thoughts on the game:
---
GrantWahl.com is reader-supported. Free and paid subscriptions are available. This is how I make a living, and quality journalism and traveling to Qatar require resources. The best way to support me and my work is by taking out a paid subscription now.
---
• Christian Pulisic delivered in a game he'd been waiting his entire life for. This was a must-win game for the U.S. to stave off elimination and advance to the World Cup knockout rounds, and the U.S.'s best player scored the difference-making goal when his team needed it most—and with significant bodily sacrifice. With Iran playing 10 men behind the ball and needing only a tie to advance, the U.S. finally broke through in the 38th minute when Weston McKennie sent a gorgeous ball over the top to Sergiño Dest, whose delicate header across the goalmouth was met by an onrushing Pulisic in time to direct it past goalkeeper Alireza Beiranvand. The goal was reminiscent of the one Pulisic scored against Mexico in Cincinnati 12 months ago, in which he also anticipated the ball's location more quickly than defenders and barely beat them to the ball. Unfortunately for Pulisic, he couldn't celebrate his goal because he took a blow to the midsection from Beiranvand while sacrificing his body and ended up being attended to for several minutes before returning to cheers from U.S. fans. (Pulisic came off for the second half and was replaced by Brenden Aaronson.) The U.S. has been struggling to score goals this World Cup. It needed its superstar to do superstar things, and Pulisic most definitely did in a career-defining game.
• Even when the U.S. gets a goal, they don't make it easy afterward. In an ideal world for U.S. fans, the Yanks would have pushed to score again and make things less stressful, much like England poured it on over Wales in a 3-0 victory after breaking through the first time. But just as it did against Wales in Game 1, the U.S. wasn't able to add to its lead and risked paying the price. Tim Weah had a gorgeous goal disallowed for offside at the end of the first half, but scoring chances came few and far between for the U.S. in the second 45 minutes. The game changed in the second half. With Iran now needing a goal, Team Melli stopped time-wasting (it was getting bad even in the first half) and keeping 10 men behind the ball, started to try and create some attacks on the counter and eventually threw everyone forward as the U.S. played the last 20 minutes with a five-man back line. (Walker Zimmerman came on and seemed to win every ball in the air, though he had to make a scary clearance in the final moments of a ball that had squirted behind goalkeeper Matt Turner.) But the U.S. had a major advantage in athleticism in this game and a slight one in skill and possession, and Iran found it difficult to break through a U.S. defense that has been solid in this tournament with the exception of the penalty conceded to Wales. Which brings us to….
• The U.S. defense is putting the team in a position to succeed here. Not conceding a single goal during the run of play in three World Cup games is phenomenal and better than anyone would have expected entering the tournament. U.S. coach Gregg Berhalter made a surprise choice opting for Cameron Carter-Vickers in the central defense against Iran, replacing Zimmerman, but the idea made sense. While I'm always a little queasy about changing up centerback tandems in the middle of a tournament, Carter-Vickers is faster than Zimmerman, and the U.S. was pushing forward in the attack more this game and thus leaving itself more exposed to counterattacks. CCV showed that speed in a couple important moments. Who would have thought a month ago that Tim Ream and Carter-Vickers would be the starting centerbacks for the U.S. in a must-win World Cup game? Not me. And now Ream and Tyler Adams have been the best U.S. players of the tournament. But beyond the centerbacks, the overall 11-man team defending by the States has been exemplary. If you can post clean sheets at the World Cup, you give yourself a chance to advance against any team in the tournament. And you know what? The U.S. will be an underdog against the Netherlands, but I think they've got a real shot to advance based on what I have seen here so far. This was a great day for U.S. soccer.
Analysis: USMNT defeats Iran 1-0 in a grueling battle to advance to knockouts
The U.S. national team defeated Iran on Tuesday in a 1-0 win that was a hard-fought test of wills. The U.S. prevailed after Christian Pulisic delivered his biggest international goal and the U.S. defense closed the game out as a desperate Iran searched for an equalizer. The U.S. is now in the knockouts and ASN's Brian breaks the game down with his thoughts and analysis.
BY BRIAN SCIARETTAPOSTED
NOVEMBER 29, 2022
3:05 PM
THE UNITED STATES national team is through to the knockout stages of the 2022 World Cup after a hard fought 1-0 win over Iran on Tuesday night in Qatar. While the U.S. team did not need the last-minute heroics of 2010 or the fortunate results in other games to break their way like they did in 2002 and 2014 to qualify for the knockouts, this game ended with a grueling final 20 minutes to close it out.
Gregg Berhalter started with a similar starting lineup to England with the only two changes coming with Cameron Carter-Vickers replacing Walker Zimmerman in central defense to partner with Tim Ream and Josh Sargent replacing Haji Wright at center forward.
The U.S. team was strong to start the game and had the better of chances. Tim Weah had the first two very good opportunities of the game with the first coming in the 28th minute when a deflected shot from Sargent popped up to him. Instead of taking a volley, he headed it weakly to Iranian keeper Alireza Beiranvand. Then in the 35th minute, Weah hit an open 12 yard shot over the goal.
Then in the 39th minute, the U.S. team moved in front when a long sequence touched eight players and it ended with Sergino Dest heading the ball to Christian Pulisic for a close-range goal.
The goal came at a huge price to the U.S. team as Pulisic collided with Beiranvand and was down with an abdominal injury. He tried to play through it and made it to the half but was subbed out to start the second half for Brenden Aaronson.


In the second half, the U.S. saw Iran grow into the game albeit not to the degree Wales did in the group stage opener.
The last 20 minutes of regulation and the 10 minutes of injury time went by slowly and Iran sent a few dangerous balls into the box that came to nothing. They had two weak penalty appeals (one on a handball to Shaq Moore and a second for a foul on Carter-Vickers) but Spanish referee Antonio Miguel Mateu Lahoz quickly called for play to continue.
Here are some thoughts on the game.
Advancement caps a huge year
Advancing to the knockout stages was the minimum goal for success for the U.S. team in Qatar. They could soon turn this into a monumental success if they advance past the Dutch, but they won't leave Qatar without pointing to moderate success.
But there is no way that the greater American soccer community can't point to 2002 as being a very successful year on the men's side. The resume is impressive
The Seattle Sounders became the first MLS team to win the CONCACAF Champions League.
The U.S. team qualified for the 2022 World Cup
The U.S. U-20 team qualified for the U-20 World Cup
The U.S. U-20 team then ended the 16-year Olympic drought to qualify for Paris 2024
Americans abroad continued to have a big presence in Europe's "Big 5" leagues
MLS playoffs were a success and MLS Cup was arguably the best edition ever
The U.S. team defeats Iran to advance to the knockout stages of the 2022 World Cup.
The World Cup success is not necessarily groundbreaking. The U.S. team has now advanced out of the group stages in four of the last five World Cup in which it has participated. That's no small accomplishment.
But after the disappointments of the World Cup qualifying failure in 2017 and then trying to rebuild the team with an extremely young group of players, this success is, to many fans, as sweet as the wins over Portugal and Mexico in 2002 or the Landon Donovan heroics against Algeria in 2010.
Regardless of how the knockouts play out, this tournament will set the stage well for the upcoming cycle where the U.S. team will co-host the World Cup in 2026.
Adams was immense
It sounds like a broken record, but Tyler Adams put in yet another incredible performance. It's no overstatement that he's been perhaps the best defensive midfielder at the tournament, so far. Against Iran, he had perhaps his best outing. His numbers were eye-opening.
Tyler Adams: raw numbers in 1-0 win vs. Iran
90 mins
84 touches
62/69 passing
7/8 long balls
12 recoveries
3/3 tackling
6/9 ground duels won
1/2 aerials
1 clearance
11 passes into the final third
2x fouled
1 foul also a YC.
– WOWzers— Brian Sciaretta (@BrianSciaretta) November 29, 2022
But beyond his stats, it was the eyeball test. Just by watching him, he kept the game under control for the U.S. team on both sides of the ball. He broke up plays. He was key in the transition between the defense and the attack. He covered so much ground to get back into the defense and cover the entire field. He rarely touched the ball into the attacking third, but he was everywhere.
Adams' touchmap is below (attacking left)
Adams has been one of the tournament's breakout players and for long-time American fans it has been fun to watch as he has gone through so many of the country's modern developmental channels: U.S. U-17 World Cup, MLS homegrown, USL Championship (winning the title with the Red Bulls II), MLS (winning the Supporters Shield), the U.S. U-20 World Cup team, the Bundesliga, Champions League semifinals, the Premier League, and the U.S. World Cup team where he's been the captain.


When you list it all, it's remarkable. When you realize he still hasn't turned 24 yet, it's incredible.
Pulisic's big moment
There has been so much written about Christian Pulisic and when it comes down to his club career, it isn't always pretty. While he is at a huge club in Chelsea, we've seen him move in and out of the lineup under various managers. The British press has been on him about missing chances. There is speculation about whether he will get sold or replaced in the lineup.
But lost in all of this is that he is finding a way to deliver regularly when the U.S. team needs him. He is regularly there to deliver big goals or hit big assists – against Mexico in Cincinnati or the Nations League final in Denver. His assist to Weah against Wales was monumental. But he delivers the most for the U.S. team when needed and this was his big moment in the 39th minute when he risked injury on a dangerous play to ensure the U.S. team found a goal against Iran.

Pulisic puts it away! ????

???? » @FOXSoccer
pic.twitter.com/HPId4hsu4a— U.S. Men's National Soccer Team (@USMNT) November 29, 2022
It was his "Landon Donovan" moment and it resembled how Donovan was always there for the U.S. team when needed, scoring in two World Cup group stages and knockouts along with the Confederations Cup and Gold Cup wins.
But this was a moment where Pulisic stepped into being an all-time U.S. player. Yes, his club career has been groundbreaking for an American. But in terms of delivering for the U.S. team, he needed goals at the highest of stages and he did that here.

Christian Pulisic sends a message of support to his USMNT teammates ??????????

(via @AreaSportsNet, @Adimitri24) pic.twitter.com/Vk0yculZfA— FOX Soccer (@FOXSoccer) November 29, 2022
Dest and Robinson
The U.S. team's fullbacks were a big source of the attack. The U.S. clearly felt most comfortable going out wide. While the wingers in Weah and Pulisic often would cut into the middle, it was Antonee Robinson and Sergino Dest who pushed forward and stayed out wide. For the first 60-70 minutes, they helped stretch Iran's defense and open the game up.
For Dest, what has been important regarding him has been his defense. His offense has always been first-rate, but his defense has been in question. Against Iran, was beaten a few times but otherwise had a great defensive performance.

Dest's touchmap is below (attacking left)
For Robinson, his engine and work-rate were among the best in the tournament. The left-back position has historically been an Achilles Heel for the U.S. team, but Robinson is using this tournament to be the best natural left back the program has had. His crossing still needs to be better, but his pure athleticism requires so much attention that it opens doors.
Robinson's touchmap is below (attacking left)
Against Iran, Robinson's crossing was scattered but he had nine recoveries, won 4/6 of his total duels, and had nine passes into the final third. He also had 70 touches in 90 minutes. Meanwhile, Dest had 4/5 successful dribbles, had 76 touches in 82 minutes, was 37/42 passing with seven passes into the final third. Then, of course, Dest had the assist on Pulisic's goal via a header.
Both players had Iran at their heels but according to the stats, Robinson was 1/8 in crossing and Dest was 0/4. If these two can find a way to complete more than 1/12 combined crossing, the U.S. team would be even more dynamic offensively.


Yes, the team needs to get better in set pieces to score more. But having better fullback crossing would also pay big dividends. It doesn't change the fact, however, that both have been big net positives for the team.
Closing out the game
Closing out the win was tough for the U.S. team and if the team scores the opener against the Netherlands, it will need to be better controlling the tempo or else a good Dutch team will find an equalizer.
Losing a player like Pulisic puts Berhalter to the test but Berhalter made substantial changes to mixed results.
The injury replacement for Josh Sargent in the 77th minute was Haji Wright, and Wright struggled immensely to connect with players, to shoot properly, or even to take the ball to the corner to seal out the win at the end of stoppage time.
The decision to replace Dest might have been necessary as Dest is not in the best fitness given the time he missed in October and early November at AC Milan with his injury. He has rarely gone 90 minutes in a game this season. Shaq Moore is seen as a defensive 1v1 replacement but he was out of synch with his team getting forward.


The change in formation starting in the 82nd minute (for a total of 18 minutes, including stoppage time) was the toughest decision. When he brought Walker Zimmerman into the game, it was not a like-for-like sub and he went to five in the back. Iran had resulted to sending hopeful balls into the box to find a shot.Zimmerman did what Berhalter wanted in that he was clearing balls out of danger by winning headers. But a five-man backline left the U.S. team out-manned in the midfield. Kellyn Acosta came into the game in the 65th minute and he won some important duals and defensively forced Iran outside, but the U.S. team ceded a lot of possession and was too weak on its counterattack in missing open runners and not executing passes that create good chances.The U.S. ended up making this much harder than it had to be.
Looking ahead to the Netherlands
Looking ahead to Saturday's game against the Netherlands in the Round of 16, Berhalter will likely want to continue to keep most of his lineup in-tact. Their chemistry is an asset at this point.But will he be able to?The good news is that the U.S. team has no suspensions, but it has two injuries with Sargent and Pulisic.Following the game, it was announced that Pulisic went to the hospital for observation for a pelvic contusion. Pulisic has said that he will be ready for Saturday, but a little bit of perspective is necessary in that players are typically unreliable when talking about their own health for huge games. Players often say they are 100% or will be 100% for big games but this will come down to how Berhalter, his staff, and the U.S. medical team views him.
The injury to Sargent is not yet clear and he left the game holding his ankle/leg. Unlike Pulisic, he was unable to continue for even a brief period.


If Pulisic can play, he starts in this game. If he can't, Berhalter will have to make decisions. Does he go with Aaronson again or does he try someone else like Gio Reyna or Jordan Morris? For Aaronson, if he starts out wide for Pulisic, it removes the most important backup midfielder from the bench. Aaronson has begun to thrive in the midfield (his natural position) after playing as a winger for Berhalter.It also raises the question over Reyna's health who did not play against Iran and has only made one brief appearance (against England) in this tournament. He's one of the most talented players on the team, but if he is not playing right now the likely assumption is that there are questions over his fitness and health. He has suffered numerous reinjuries since his original September 2021 injury and last just a half in his recent game before the break with Borussia Dortmund. If he is not coming off the bench in must win game against Iran, it seems like a stretch he will start four days later against the Netherlands.
Another area where Berhalter will have to decide is in central defense. Ream has been excellent in Qatar but Berhalter has played him with Zimmerman and then Carter-Vickers. One of the reasons why Berhalter started Carter-Vickers against Iran is that he expected Iran to sit back similar to how Scottish opponents sit back against Celtic. But against the Netherlands, the U.S. will be back on its heels more. Does that then make Zimmerman the preferred option as he was against England?


Finally, what does Berhalter do about center forward? Sargent worked very hard against Iran, connected with his wingers, and was an asset in defense. He could be a good option against the Netherlands if he is healthy.
But if Sargent isn't healthy (which is a real concern), then it will come down to either Haji Wright or Jesus Ferreira. Wright hasn't played well in Qatar either off the bench against Wales and Iran or when he started against England. Because of that, Ferreira could have a realistic chance to start against Holland. He presses well, connects well with his teammates, and moves well. He had a great season with FC Dallas but struggled in the final weeks. Still, Berhalter might be looking for a different look.
Against the Netherlands, Berhalter is facing some serious decisions and ways to get the most out of his squad amid serious concerns over the health and form of several key players. If the U.S. team plays up to its ability, an upset is realistic.
Gregg Berhalter report card: How USMNT coach fared in World Cup win against Iran
By Jeff RueterNov 30, 2022120
---
The United States men needed all of their collective resolve to see out a 1-0 win over Iran, securing a place in the round of 16. So often, analyzing a match requires highlighting the heroes on the pitch and putting player performances under the microscope. With Paul Tenorio and Sam Stejskal expertly handling that angle from Qatar, we're going to take a different approach and focus on the man on the touchline.After earning a C-grade in his World Cup coaching debut against Wales and a B+ against England, let's take a look at the decisions Gregg Berhalter made against Iran. You'll get brief first-take reactions from during the action before longer insight from the hours following the match.And, for your peace of mind as you get beyond the first section: no, the Vibes grade does not impact his weighted final average, just as it didn't against England. Reframe your inevitable jokes accordingly.
---
Line-up/initial tactics
First impression: Long derided as "an MLS coach" by his critics among the fanbase, Berhalter broke from tradition by playing a line-up devoid of players from the domestic league. The final MLS regular, Walker Zimmerman, made way for Celtic defender Cameron Carter-Vickers, while Josh Sargent returned to the starting striker role after Haji Wright had played against England.
It's oddly assuring to see so much of the line-up unchanged for a third straight game. It's clear that Berhalter has established (most of) his first-choice team and the cohesion showed in their interplay and pressing against England. Sargent will need to do better than he did against Wales (when he was largely ineffective beyond early build-up) and it's a big call to trust Carter-Vickers for his World Cup debut in this spot.
Lasting impression: Throughout qualifying, the theme was that Berhalter entered a game with one idea and, too often, needed to make radical changes at the break. For a third straight match in this World Cup, it was his first impression which proved stronger than what was to come.Line-up consistency has been a major advantage for the U.S. in close games — use Iran for contrast, as only six starters from their win against Wales began the match on Tuesday. International soccer is often less tactically astute than its club alternative due to the lack of training these teams get before a tournament.Still, cementing a (high-level) midfield trio of Tyler Adams, Yunus Musah and Weston McKennie has ensured the United States don't get caught up in overly stretched games. The game management approach may make close contests intensely stressful in the final minutes, but it has lulled all three Group B opponents into playing as a worse version of their usual selves.
The real gambit was unleashing Sergino Dest and Antonee Robinson in the first half. Held in a more defensive mindset against Wales, the two were vital to keeping Iran from settling into a compact low block as they had intended. It stretched Iran's defense and forced marking shifts which unsettled their shape in the first half, allowing for several great scoring opportunities. It was just dessert that Dest got credit for the assist for Christian Pulisic's decisive goal, even if McKennie ought to get his flowers for an impeccable ball from deep.Out of possession, Berhalter kept the 4-4-2 shape which nullified England, but this time it was Musah moonlighting as a right midfielder rather than McKennie. The defensive awareness of the midfielders helped buy Dest and Robinson some time as they returned to their defensive positions and kept the relatively slow center-backs Carter-Vickers and Tim Ream from being overrun on the break.That first half was as sturdy as it was sexy. I can't think of a much more encouraging way to approach a must-win game.
Grade: A+
---
Vibes
We got a good omen early on, as Berhalter managed his first televised behind-the-back bounce pass of the tournament in the fourth minute. It came with some poetic justice, as Ream — who played just once in qualifying but has been beyond dependable in Qatar — was the recipient of his coach's standby gimmick.Berhalter was on his A-game for an elimination match. He stuck with a T-shirt, this time pairing a black shirt with black pants. Respected kicks artist The Surgeon gave a crucial assist by making some custom red-white-and-blue Air Jordan 1s for the occasion.
(Photo: Claudio Villa/Getty Images)
I agree with colleague Caoimhe O'Neill's assessment that the underdressed approach can often do his shoe game a disservice. Personally, a tee-and-blazer look would up that ante. Still, The Surgeon recognized the moment and came through.
Grade: If I say F, will you hold your comments?
---
Tactical tweaks/half-time adjustments
First impression: Once again, Berhalter took a pretty reserved approach to in-game management. If anything, the U.S. played a more conservative approach to the second half after Pulisic gave his body up for a goal late in the first. They created fewer clear-cut chances and were trying to control the match to avoid letting Iran back in. The big pivot came as stoppage time neared, leaving the team with just one true attacker and running out the prevent defense.
Lasting impression: I've got to show my hand here for posterity: I'm not a proponent of throwing in extra defenders and embracing a flurry of crosses. I've seen far too many examples of a team absorbing that pressure and wilting, losing points in the process. It would've been one thing if a draw would have taken the U.S. through but when a single goal would've turned triumph into tragedy, it was a gamble that seemed unnecessary to make.
Look, Iran waited a long time to turn the temperature up. Pulisic's injury and the related delay may have eliminated any chance of a quick response but the U.S. was as responsible as Iran in dictating the tempo of events for the first 20 minutes or longer of the second half. It wasn't until Timothy Weah (who was excellent again on the right and nearly added the second goal if it weren't for the finest of offside margins) and Dest made way for Nashville SC duo Zimmerman and Shaq Moore in the 82nd minute that Iran really put Matt Turner under duress.
There were ways to avoid this and nearly all of them will be more relevant in the next section. It still seemed like an unnecessary risk, the scale of which could have been lessened with a slightly less fortifying approach.
Grade: D
---
Substitutions
First impression: The first chance was one of necessity but I like the call for Brenden Aaronson in Pulisic's place. The Leeds United man is an expert at pressing and brings interplay potential with his midfielder's mentality, which could free up McKennie even more in attack. Kellyn Acosta makes sense to keep the engine room whirring in McKennie's stead and is the U.S's best set-piece specialist. It's unfortunate to see Sargent — whose hold-up play was invaluable on Tuesday — leave due to injury but Wright does offer better hold-up play than Jesus Ferreira.
But the bunkering in… must we?
Lasting impression: There are three mentalities of substitutions made in this game, so let's separate them accordingly.
The first is the most obvious: those necessitated by injuries. It was downright heroic to see Pulisic limp across the field until half-time to ensure Berhalter didn't need to use one of his three sub windows and Sargent was similarly dinged up by the time his number graced the fourth official's board. Aaronson made an immediate impact with his pressing, nearly creating a chance off a defender's heavy touch within the first two minutes of play resuming. Wright did little to change the game up top but became a vital outlet once stoppage time began.
The only example of the second type — that is, a coach being free to choose who comes off and who replaces him — was when McKennie made way for Acosta. The Juventus midfielder had started to look leggy as the second half progressed. Given how vital his work rate is to his overall effectiveness, a tired McKennie is undeniably a worse version of himself. Acosta kept up the intensity that the U.S. needed to carry them through the next 20 minutes.
The third came from a place of desperation, yearning to see out a 1-0 result when a single conceded goal would have knocked the United States out. Zimmerman made up for his gaffe against Wales with a result-saving clearance inside the six-yard box and was mostly imperious at heading away crosses.
As for Moore… I'll leave it up to U.S. legend and The Athletic columnist Clint Dempsey, working as a FOX analyst: "I saw him raise his arm saying, 'My bad' more than he completed a pass."
Grade: C+
---
Final marks
It was effective but it's easy to envision that a stronger attacking team would have done better with the chances Berhalter's side handed Iran late in the match.
The Iran manager Carlos Queiroz will understandably be wishing that Alireza Jahanbakhsh had kept himself free of suspension as the Feyenoord winger could have done wonders to help his team's attack in the second half. Queiroz worked with who he had. Even if they were clearly chasing a goal, it didn't seem effective until the U.S.'s response.
The decision to go for a prevent defense doesn't instil me with much confidence, especially when the U.S. had created so many chances for the opening hour of the match.
Ultimately, the U.S. didn't seem overpowered by Iran until Berhalter's changes let the opposition back in. It worked out this time and he's had a pretty good tournament to date, but one has to wonder if we really needed to bite through so many fingernails late in the game.
Grade: B
The key U.S. talking points you may have missed at the World Cup…
By Sam Stejskal 6h ago
---
The U.S. men's national team's dramatic 1-0 win against Iran on Tuesday will likely go down as one of the most memorable victories in their history: A must-win game, an intense atmosphere, a white-knuckle period of stoppage time and, ultimately, relief.We looked at the big picture of what the win meant for the World Cup here in Qatar and for a squad that is meant to grow together before a 2026 World Cup to be played largely on home soil.There were so many pieces to the Iran victory that, when looking back, were crucial in how the game played out. Walker Zimmerman's standout substitute performance, Cameron Carter-Vickers' solid first start of this entire World Cup campaign, including the qualifiers, at center-back, Sergino Dest's continued good play, and the U.S.'s inability once again to take full advantage of their attacking moments.There were also some controversial decisions from head coach Gregg Berhalter that dropped the U.S. into a more defensive posture in the second half. But the coach has had a very good tournament on the whole…
---
Berhalter's bold move at center-back paid off
Berhalter made a significant change to his starting XI on Tuesday, dropping Zimmerman and inserting Carter-Vickers alongside Tim Ream at center-back.Zimmerman has been one of the U.S.'s steadiest players since October, when he was called into the squad and inserted into the line-up after Ream and fellow center-back John Brooks withdrew from that window of qualifiers.He captained the U.S. in their final qualifier in March, then again in their second to last game before the World Cup in September. As expected, he then started the first two matches here in Qatar.
Cameron Carter-Vickers battles for the ball against Iran (Photo: John Dorton/ISI Photos/Getty Images)
For the most part, he played well, but he had a few shaky moments, including the costly penalty he gave up against Wales and a few errant passes and giveaways against England.To see Zimmerman benched for such a crucial game was still surprising. Berhalter said he felt Carter-Vickers' extensive experience playing against low blocks in the Scottish Premiership with champions Celtic would help the U.S. in its distribution against an Iran team that figured to sit deep. He was right. Carter-Vickers put in a solid shift and looked comfortable on the ball, completing 58 of his 65 attempted passes and, crucially, not committing any dangerous turnovers.Berhalter said it was difficult to let Zimmerman know he was being benched, but they spoke about an important role he could play in the late stages. "We talked to him beforehand about the plan to come into a back five," Berhalter said. "And we said it was gonna be really important for him to win the aerial duels — he did just that."Indeed, he did. Zimmerman came on with eight minutes of the 90 to play and was immense in the middle of the back five, dominating aerially and crucially clearing the ball off the line after it popped toward goal following a 98th-minute challenge between goalkeeper Matt Turner and Iran striker Mehdi Taremi. Zimmerman said after the match that he was naturally saddened when Berhalter told him on Monday he wasn't starting, but that he quickly shifted his approach to being as good a team-mate as he could while remaining focused on the job he might have to do off the bench to help the U.S. close out the match.That kind of mindset is critical in a tournament setting. It is natural for players to be disappointed when they are not on the field, especially those such as Zimmerman, who have been a big part of a team for so long, but being able to positively contribute from a reserve role can still make a difference. His performance did not go unnoticed by his colleagues."Obviously, he played well in the first game but gives away a penalty, then bounces back against England, has a really good game, keeps a clean sheet," said left-back Antonee Robinson."After that, he would have been disappointed to not be starting, but he comes on and I just remember seeing him jumping up and winning about three or four headers in a row and thinking, you know, 'That's someone not thinking about himself, that's someone giving everything, putting his body on the line for the team'."That's what's got us through — the overriding feeling that it's just everyone giving their all for the team."
Along with Turner, full-backs Robinson and Dest and midfielders Tyler Adams, Yunus Musah and Weston McKennie, the center-backs once again put in a top-tier defensive performance.The U.S. has defended excellently all tournament, with two clean sheets and only conceding through that Gareth Bale penalty.According to FBref.com, they have only allowed 2.3 expected goals in the group stage — the third-lowest total among the eight teams who had played all three group matches as of Wednesday morning. That number is also lower than 10 of the 24 teams who had played just twice. It has been impressive.
Are USMNT's World Cup last 16 opponents called Holland or the Netherlands?
---
Dest continues to dazzle
Entering the World Cup, there were zero doubts about Dest's talent, but there was a question about whether he would play with enough discipline to get the most out of his substantial gifts.
For club and country, Dest has a tendency to freelance. The right-back, on loan at AC Milan from Barcelona, is a skilled attacker but can sometimes become a bit too enamoured with that side of the game, dribbling into trouble or neglecting his defensive responsibilities in a manner that can cost his team.None of that has shown up in Qatar. Dest has been rock solid defensively, doing a good job of remaining organized and in touch with his fellow defenders and winning key challenges.
"He was unbelievable," goalkeeper Turner said after the win over Iran. "Free flowing, up and down the field. And what I've noticed the most about him is he always seems to show up defensively in big moments. He's tracking runners in the box really, really well."
Dest has also contributed plenty to the attack, teaming up with McKennie and Timothy Weah to control the right side against England before being involved in a few chances on Tuesday.His most notable involvement came with the goal. Dest made an excellent run in behind the left side of the Iran defense. McKennie played a lovely ball over the top that Dest got on the end of in the area. Instead of heading the ball toward goal, he smartly angled it towards the onrushing Christian Pulisic at the opposite post, allowing the winger to bury the chance from a few yards out for what turned out to be the winner which brought qualification for the knockout phase.It came through different players but, remarkably, the goal was a carbon copy of one the U.S. scored way back in the 2019 CONCACAF Gold Cup.It was a move the U.S. worked on explicitly ahead of the Iran match. They have drilled it repeatedly, drawing Iran to one side of the field, then dropping the ball back to a midfielder who has enough time to pick his head up and hit a diagonal ball to an advancing full-back on the opposite side."We talked about it before the game. That exact, exact play was how we were going to score," Ream said. "Credit to Serg, seeing that he could hit the ball back across. And Christian was told before the game. 'Crash that back post'. That's exactly what he did and it happened. Perfect, perfect, perfect setup."
---
Chances need to be taken in attack
The U.S. got themselves into some excellent positions against Iran. As The Athletic's Ahmed Walid outlined in his tactical breakdown on Wednesday, the Americans worked extremely well down the left flank, with the wide rotations between Pulisic, McKennie and Robinson unbalancing Iran.
Those rotations helped create space for McKennie to find Dest in the build-up to the goal.
Weah was one of the forward players guilty of missing a good chance (Photo: Claudio Villa/Getty Images)
Despite all of that, the U.S. still struggled once they arrived in the final third. That has been a common theme throughout their World Cup campaign. They have done well to control the run of play but have largely struggled to turn their pressure into chances and goals.Some of that is understandable — it's difficult for just about every team to score goals at a World Cup. Some of it, though, has been down to poor decision-making and execution in the most important areas on the field. We saw that again versus Iran.
The misfires started in the second minute, when Pulisic squandered an opportunity to play Josh Sargent through into the box, instead dribbling and losing the ball after a lengthy run forward.
There was another poor decision in the 19th minute, when McKennie did not see and failed to play a relatively easy through ball that would have put Pulisic in for a one-on-one with the goalkeeper. Weah had a chance that should have been far more dangerous in the 28th minute, heading a weak attempt on goal when he had the time and space to take the ball down and hammer a shot.
The U.S. made all the right choices five minutes later, but an open Weah missed the target entirely from about 12 yards. He and Sargent also failed to even attempt a shot on a two-on-two break they had on the stroke of half-time.
That came just before some excellent combination play between Weah, Musah and McKennie ended with Musah dribbling into trouble instead of playing a simple square pass that would have put an onrushing Weah into the area.
Excluding the Weah goal disallowed for offside, that's six different moments in the first half alone where the U.S. was in a great spot to attack, but failed to capitalize because of poor choices, poor execution or a combination of the two.
No team is ever going to finish every solid attacking movement, but the U.S. would have had a much, much less anxious evening had they been just a little bit more efficient against Iran.
If they want to make a run in the knockouts, they will need to be more clinical.
USA vs. Iran, 2022 World Cup: Man of the Match
One performance soared above all the others. By Donald Wine II@blazindw Dec 1, 2022, 10:11am PST Stars and Stripes
The United States Men's National Team qualified for the knockout stage of the 2022 FIFA World Cup with a 1-0 victory over Iran in their final group stage match on Tuesday. Christian Pulisic's first half goal was the difference in a match that had USMNT fans everywhere pacing with anxiety for much of the match.
The only chance for the USMNT to advance to the knockout stage was with a win, so it was important that Pulisic was able to score, and give up his body in the process. He left the match at halftime with what was diagnosed as a pelvic contusion, after he collided with Iran goalkeeper Alireza Beiranvand while scoring the game-winning goal. His performance in the first half was enough for the SSFC community, who voted him the Man of the Match with an average 8.40 rating.
We know that most of you already have a rooting interest in the World Cup. But that's probably just habit. SB Nation has devised a quiz based on your style of sports fandom that will scientifically* decide which team you really should be rooting for. Take it here!
*no actual science was used, your mileage may vary
The full set of community ratings:
Christian Pulisic – 8.40
Tyler Adams – 8.19
Sergiño Dest – 7.97
Tim Ream – 7.62
Yunus Musah – 7.49
Matt Turner – 7.35
Weston McKennie – 7.15
Josh Sargent – 7.15
Cameron Carter-Vickers – 6.94
Walker Zimmerman – 6.72
Tim Weah – 6.71
Antonee Robinson – 6.68
Brenden Aaronson – 6.45
How USA's left-side rotations wreaked havoc against Iran
By Ahmed Walid Nov 30, 2022 54
---
Perhaps the biggest compliment a national team can get nowadays, from a technical perspective, is for them to look like a domestic team.This winter World Cup has meant there is little preparation time; most countries only had a week before the tournament started. Therefore, it doesn't look out of place that we are witnessing poor attacking solutions with mid-blocks and off-ball organisation taking over.However, there are a few sides who do look like a domestic team. One of those is the United States, who are not only showcasing their organisation off the ball, but on it, too.
A feature of Gregg Berhalter's side in possession is their rotations out wide, and this aspect of their attacking game was essential in their win against Iran to secure a place in the round of 16.
The U.S. started in their regular 4-3-3, while Iran's shape without the ball was initially a 4-4-1-1.
Throughout the first half, it was common to see Weston McKennie in a left-back position with Christian Pulisic moving inside and Antonee Robinson, the actual full-back, ahead of both down the touchline.
Robinson is so high, below, that he isn't even in the frame.
McKennie regularly notified Robinson about these rotations, constantly signalling to the Fulham left-back to push forward so they could switch positions…
… and this disrupted Iran's right side. With Robinson pushing forward and Pulisic on that side, Ali Gholizadeh, Iran's right-winger, was unaware whether he should drop or keep his positioning…
… and Pulisic's movement inside into the half-space just added more confusion regarding who should pick up who.
Ahmad Nourollahi's movement towards McKennie could have created a gap in the centre of the midfield because Iran played with only two central midfielders.
That is why McKennie was always signalling for Robinson to push forward, so he could drop into that free left-back position (Berhalter, below, can be seen pointing for Robinson to push up).
Because of the threat of Pulisic in the half-space, Ramin Rezaeian, Iran's right-back, and Gholizadeh were dragged out of position…
… Nourollahi had to drop to defend the centre of the pitch, which allowed McKennie free reign.
Here, the Juventus midfielder signalled for the ball to be played into him because Nourollahi was dropping and Gholizadeh was dragged away by Robinson's movement up the pitch…
… but the ball isn't played into him and Tim Ream decides to go for the longer pass towards Robinson.
In the first half, McKennie was orchestrating the U.S. build-up, providing instructions to Robinson and telling his back line where he wanted the ball.
Once Robinson's movement forward dragged Gholizadeh away, McKennie became free to receive the ball…
… as Nourollahi couldn't leave the centre of the pitch; his starting position was often too far from the ball.
So, a pass from Tyler Adams into McKennie here was collected easily by the latter with room to take his time and pick the pass. These rotations didn't only allow McKennie more time and space, they created space out wide, with Pulisic's movement dragging Rezaeian inside the pitch as Robinson pushed forward.
Nourollahi's starting position in the centre of a midfield four positioned him too far from McKennie when the American dropped into that left-back position.
This meant McKennie had all the time he needed to ping those long passes.
And when the Iran midfielder pushed up, the smart movement from Pulisic and Robinson forced his right-back, Rezaeian, and right-winger, Gholizadeh, into uncomfortable positions…
… so he had to drop and protect the centre of the pitch, which meant McKennie was free to receive the ball.
In this attack, Adams played the pass first into Ream…
… who then found McKennie with Gholizadeh unable to move up because of the threat of Robinson and Nourollahi being too far from the American midfielder.Another effect of these rotations was that with Pulisic dragging Rezaeian with him…
… it created a gap in the Iranian defensive block, which McKennie played passes through.
Carlos Queiroz and his staff probably identified the problem as the switch to a 4-5-1 made sense. In this shape, Nourollahi moved up freely to press McKennie as there was now central cover behind him.
The problem for Iran was that Mehdi Taremi was late to arrive in the press on one occasion. So the five-man midfield became a four-man midfield and the U.S. rotations kicked in.
In the attack that led to the winner, Pulisic's inside positioning dragged Rezaeian with him. Out wide, Gholizadeh dropped even before Robinson did to fill the gap created because of Rezaeian's movement. This forced Nourollahi to retreat, especially with Taremi's late recovery making it a four-man midfield…
… which increased the distance between the Iranian midfielder and McKennie.
Adams' pass into Robinson dragged Nourollahi further away to support his right-winger…
… so the quick pass backwards from Robinson meant Adams and McKennie had more time on the ball without any pressure.
After McKennie received the pass from Adams, he plays it over the Iranian defence to the advancing Sergino Dest. While that was occurring, Pulisic's position in the left half-space allowed him to put himself in a good scoring position when Dest heads the ball into his path…
… and he eventually scored the priceless winner.
The U.S.' wide rotations have been a key theme for Berhalter's side during the World Cup and it helped in breaking down the Iranian defence.
Now the question is, can it help the Americans reach their first World Cup quarter-final in 20 years?
How Sergiño Dest, a 'different' sort of Dutchman, was drawn to the USMNT
Sam Stejskal Nov 14, 2022
To better understand the U.S. men's national team before it begins the World Cup in Qatar, The Athletic traveled to the hometowns of several of its most important figures. We found a squad shaped not only by American society, but also influenced by traditions from every corner of the globe.
---
"Art for the sake of art," bestselling Dutch author Auke Kok once said, means nothing in the Netherlands.
"It's not appreciated," Kok told David Winner in "Brilliant Orange," Winner's seminal work on the intersection of Dutch football, history and culture. "Art must have a goal. We say: What is the function? That's a very deep Dutch principle. What's the use? What's the purpose? What's it for?"That sort of mindset is borne of the Netherlands' geography. A full 26 percent of the country's land mass is below sea level. Most of that terrain was man-made, reclaimed from the water and now kept dry by a massive network of canals, pumping stations and dikes. It's a small and crowded nation, with nearly 18 million people squeezing into an area not much larger than the state of Maryland. The never-ending fight with the sea and the sheer number of humans in such a tiny country mean space is at a premium. Every slice of land must be accounted for, every building and public area meticulously designed and planned. "The Dutch are pragmatic, right? That's in our history," said New England Revolution assistant coach Dave van den Bergh, a native Amsterdammer who came up through the famed Ajax academy and earned one cap for the Netherlands before ending his playing career and beginning his coaching journey in the U.S. "We had to be pragmatic with space, with architecture. We had to be pragmatic in our battle with the water, to find new land, all that stuff."When Van den Bergh was growing up, that pragmatism governed the country's football. He graduated from Ajax's academy to its first team in 1995. That squad, which had won the UEFA Champions League weeks before Van den Bergh was promoted, is still considered one of the best in the history of the sport. But while the group was immensely talented, it didn't play with too much flair. Manager Louis van Gaal built the team more around clever solutions than fantastical visions. "Everything was very, very functional," Van den Bergh said. "There was not a whole lot of, let me say, YouTube-worthy moves. As a team, the soccer was really good, the spacing was good, everything was good about that team. They were world champions for a reason. But you do not go and watch that team to go for an individual highlight reel." Things have of course changed over the years, but Ajax, understandably, still broadly sticks with the same approach. With few exceptions, players are expected to understand their position and those of their teammates, to really think about their movements and actions, to play quickly and simply. It's largely the same for the Dutch national team, which is now led by Van Gaal. In Holland, in both soccer and life, function generally dominates form and egalitarianism usually takes precedence over individuality.Sergiño Dest never fit with that mindset. Perhaps that's part of why the Ajax product won't be suiting up for his native Netherlands at the World Cup. Instead, he will represent the homeland of his father, the United States.In 2016, Van den Bergh, then the head coach of the U.S. U-15 team, led the initial effort to bring Dest into the U.S. program in 2016 after a contact at Ajax told him about an academy player who happened to be an American citizen."He's different," said Van den Bergh. "That's a strength of his. Hopefully it doesn't become a weakness."
---
Dest's hometown of Almere. (Photo: Sam Stejskal)
Dest's story began in Almere, a city of slightly more than 200,000, about 25 miles east of central Amsterdam. Almere is the Netherlands' newest city. The land on which it sits wasn't reclaimed (through damming off portions of a body of water and then pumping all of it out) until the late-1960s. The first residents didn't move in until 1976. Where old Amsterdam is tight, cramped and vertical, with the tall, narrow buildings on some of the inner city's cobbled streets seeming to lean in toward each other, Almere is spread out, modern and colorful. The buildings here have an almost whimsical quality to them. Some of the homes wouldn't look out of place in a Dr. Seuss book. Almere has served as a fascinating laboratory for city planning, a destination for architecture enthusiasts and an illustration of how municipalities can successfully integrate nature into an urban environment. It's experimental — residents are regularly encouraged to give input and make choices about land use and infrastructure design. Politicians, architects and planners from every corner of the globe travel here to look at and learn from the city.The core of town, though, is a bit antiseptic. The exit from the central train station deposits riders into what amounts to an outdoor mall populated with international chains like Zara, H&M and Burger King. There are still canals and bikes everywhere. It's still Dutch. It's just a bit different than the norm."It was built up more or less like an American city, with suburbs," said Van den Bergh. "It's like suburbia, almost."Things get a little bit more interesting once you move out of downtown. De Fantasie, a cluster of about a dozen homes located across a small lake from central Almere, became reality through a contest commissioned by the city to build the simplest houses imaginable. There were a few parameters, including a rule banning the use of any foundations in construction.One of the most well-known homes there was designed in 1982 by architect Jan Benthem, who was responsible for modernizing Amsterdam's Schiphol Airport. It consists of four tiny, windowless box rooms and one large, open living space encased in glass walls overlooking a canal. It's held up by a latticework of radiant green steel triangles. It's a striking, modern home, a monument to simplicity. Benthem, whom Winner interviewed in "Brilliant Orange," still lives in it.
Architect Jan Benthem's home in De Fantasie. (Photo: Sam Stejskal)
"I think it is very Dutch to look for a simple solution," Benthem told Winner. "And the biggest thrill in our work is to find an even simpler solution. That is what we like. In the end the most satisfying solution is the one where you have cleared everything away and there is no solution at all any more but, at the same time, the problem has been solved."
Dest grew up not far from De Fantasie. His father Kenneth, now 74, was born in Suriname, which at the time was a Dutch colony, but he moved with his family to Brooklyn as a youngster. After playing soccer at SUNY Canton in upstate New York, the elder Dest was drafted into the U.S. Army and served in the Vietnam War. He remained in the military after Vietnam, and was eventually stationed in Germany. While there, he'd occasionally travel to Amsterdam for leisure time. He met Sergiño's mother, a Dutchwoman of Surinamese origin, on one such trip. They began dating, broke up due to the strains of long distance, but later ended up back together, with the couple ultimately settling in Almere, where they had Sergiño. At school, Dest stood out to his teachers from a young age — not because of any special talent, but for the way he held himself apart from the group."They always noticed that whenever the students had to do things together, he always was outside the circle a bit, observing the people, not really in the middle of it," said Kenneth Dest. "That was his nature. Seeing what type of individuals they were, not always jumping in, a bit quiet." Although he kept some distance at school, Dest was always comfortable with a ball at his feet. But even his football preferences were a bit unusual for a Dutch kid coming of age in the 2000s. Growing up, he didn't idolize Wesley Sneijder, Arjen Robben, Robin van Persie or the other stars who led the Netherlands to a runner-up finish at the 2010 World Cup. Rather, he latched on to a trio of big-name, flashy Brazilians."I watched little movies from Ronaldinho, from good soccer players — Robinho, Ronaldo Lima — and I was always practicing them outside of my home," Dest said from outside Zonnewiel in a video produced by U.S. Soccer in 2020. "I trained myself really hard, I tried to do every trick and I couldn't go inside 'til the trick worked out."
To anyone who has seen Dest play for Ajax, Barcelona, AC Milan or the U.S., the fact that he spent a good chunk of his youth trying to emulate Ronaldinho will come as no surprise. The 22-year-old, who spent part of his youth career as a winger, is masterful with the ball, capable of sublime tricks uncommon for any player, nevermind a right back.
Read more: England 0-0 USA: All-action McKennie, retreating Kane and how USMNT dominated right side
It's a special talent, but it's also antithetical to the classic Dutch approach. Dest can play simple, one- and two-touch soccer. Watching some of his better performances, it's clear that he understands tactics and knows how to play the role that his coach asks of him. But the strong undercurrent of individualism in his game rises to the surface fairly often. Dest sometimes looks uninterested in playing the role that his team requires of him. Occasionally, he'll neglect his defensive duties or dribble into trouble. His game is rarely simple. Sometimes that works in his favor, other times it burns him. Either way, Dest is decidedly not pragmatic.
"He works his ass off every single day, whether it's on the field, whether it's off the field, he does a lot of stuff for himself," said Van den Bergh. "Now, whether it is always the right thing? He loves to do tricks and all that kind of stuff, sometimes I think coaches would like to see him put a little bit more effort into the tactical part of his game, or functional technique instead of the tricks. When you're a right back, maybe you don't want to do too many of those in your own 18-yard box."
That kind of approach made things difficult for Dest at Ajax. He joined the club's academy from the youth system of second-division side Almere City FC in 2012 at the age of 12. He didn't start regularly for the club until he reached the U-17s, though. Part of the reason that Ajax staffer tipped Van den Bergh off to Dest in 2016 was because, as a reserve in the Ajax academy, Dest wasn't seen as a legitimate prospect for the Dutch youth national team setup. To them, his unpredictable style made him expendable.
Dest ended up joining and sticking with the U.S., in part because of the pride that both he and his father, who served in the U.S. military for roughly 25 years before retiring from the Army in 1994, feel in their Americanness, and in part because the program prioritized him in a way that the Dutch national team never did.
"He felt a sense of loyalty," said Kenneth Dest. "He played in the youth World Cup with the U.S. He got his chances with the U.S., not with the Netherlands. Only after he started growing as a player, then all of a sudden they had an eye for him. But you could always see the steady line with the U.S. The loyalty, that matters to him."
Dest with Ajax's U-19 team. (Erwin Spek/Soccrates/Getty Images)
His freewheeling tendencies weren't the only thing that put him at a disadvantage at Ajax. Dest, to this day, has a habit of questioning everything. His queries extended well beyond trying to understand tactics and his role in the team. Every drill, every task and every gym session at De Toekomst would be accompanied by him asking why he had to perform it, no matter how much the inquiries broke protocol or annoyed staffers.
In small doses, that curiosity is a great trait for a kid. It shows a natural desire to understand more about one's surroundings. But to do so every hour of every day? In an environment that puts as much emphasis on adherence to systems as Ajax? It wore on people.
"They're looking at you like you're here to learn, and you're not to question why," said Kenneth Dest. "You're just to do what we ask. Sergiño is not that. Maybe it's like me, his mother, we're both kind of headstrong, too. And in the States, the question in the States, when I went to school, you always ask 'why?' And the teacher gave you an answer. But not in the Netherlands. They don't like it if younger people are asking questions. And he did it in a naive way, which brought him into trouble with some of them at Ajax."
Dest, of course, didn't let anyone's negative perception of him close any doors. The bullheadedness that so aggravated some of his coaches at Ajax is the same quality that kept him working so hard when it seemed as if he didn't have much of a chance of making it to the big time. "He literally does not care about what anyone thinks of him," Van den Bergh said. "That is a really good trait to have, because he was told no a million times when he was younger at Ajax. 'No, you're not good enough. No, you're not a starter. No, no, no.' And he just didn't care. He kept on going. That's a great quality to have.
"The downside of that, what I hope doesn't become his downfall — he can be, how shall I put this politely, he can be difficult to deal with when he feels treated unjustly. That's a little bit of a Dutch trait in him, I think. The part where his mentality can work to his benefit, the part where he never gives up, is an American trait."
Up until now, Dest has gotten the balance mostly right. He stuck with it at Ajax, broke through with the club's reserve side early in the 2018-19 season, then, after well-regarded academy product and current Bayern Munich defender Noussair Mazraoui suffered an injury later that fall, Dest emerged with the first team. He was a regular starter as Ajax finished first in the pandemic-shortened 2019-20 Eredivisie season, performing well enough to secure a €21 million transfer to Barcelona in October 2020.
It was a dream move for Dest, a longtime Barcelona fan who, according to fellow U.S. defender Chris Richards, showed up to one of his first training camps with the U.S. U-20s wearing a full Barça tracksuit despite the fact that he hadn't even yet made his senior debut with Ajax.
Things didn't go all that smoothly for him in Spain, however. He played 30 up-and-down matches in his first campaign, had a famously weird moment in August 2021 in which he showed up to Leo Messi's farewell press conference straight from the beach and wearing a knockoff Chicago Bulls basketball uniform, then fell out of favor last season after Dutchman Ronald Koeman was fired as manager and replaced by Xavi.
This summer, with the club in financial turmoil, Barça made clear to Dest that he wasn't in their plans and that they would look to move him elsewhere. For a while, according to a source briefed on the situation, Dest was determined to stay in spite of that stance. He understood that he probably wouldn't play, but he's building a house in Spain and enjoyed life in the country. He eventually opted for a season-long loan to Milan that was sealed on the final day of the transfer window, but the fact that he even considered remaining at Barça after the club told him that he wasn't in line for any minutes was bizarre. For most players, that would have been completely out of the question, particularly in a World Cup year.
Dest, of course, isn't most players. Though he grew up in a country that prizes functionality and simplicity, he was born and raised in a town that's different from the national standard. To borrow the line from Kok, on the field, Dest creates art just for the sake of it. To him, there's plenty of meaning in that.
That approach probably fits better with the U.S. national team than it would with the Netherlands, but it doesn't mean Dest's style is a perfect match with that of U.S. head coach Gregg Berhalter, who spent much of his playing career in the Netherlands. He has a system, too, and he'd no doubt like Dest to not stray too far outside of it.
When his freewheeling style works, Dest can be transcendent, generating moments of brilliance like the thunderbolt he scored in the U.S.'s win against Costa Rica during World Cup qualifying last October. When it backfires, like it did in a disengaged performance he had in the U.S.'s qualifier at El Salvador last September, it can cause problems. At the World Cup, where the U.S. could very well end up playing the Netherlands if they advance to the round of 16, the Americans will be hoping Dest finds a way to do what the best players do: Effectively blend his creativity with just a little bit of pragmatism so that he's both secure and electric.
Dest, Van den Bergh said, is "atypical, regardless of nationality. He's not typical American, he's not typical Dutch. You can't characterize him fully either way. He's his own person, and he's in his own world."
Playing for Louis van Gaal: What USMNT can expect from a unique Netherlands coach
Nick Miller and Daniel TaylorDec 1, 2022 45
You don't get away with much under Louis van Gaal.Not even if you're literally the best player in the world.In 1999, during Van Gaal's first spell as Barcelona coach, Rivaldo had just won the Ballon d'Or, partly down to his performances in Catalonia, and partly down to his performances just behind Ronaldo in the Brazil side that reached the World Cup final. Thus, Rivaldo thought he could throw his weight around a bit: he made an oblique reference to being "abused" after collecting the Ballon d'Or and demanded that he play as a No 10 for his club, rather than on the left of a front three as Van Gaal's system dictated.No dice. Rivaldo was told that no such positional switch would take place and he was promptly dropped. The Camp Nou crowd took the side of their manager, whistling the planet's top player when he next appeared."He hates it if you are an individualist and only think about yourself," says Ronald de Boer, who was in that Barca team and first worked with Van Gaal in the late 1980s when they were both at Ajax."The newspapers were saying, 'He's the best player in the world, he should be playing No 10′. Louis thought, 'He's a No 10, but not in my team'. He's very strong against that: even if you're a star, he doesn't want you just to do your own thing."
Van Gaal with Rivaldo in happier times in 1997 (Photo: Owen Humphreys/PA Images via Getty Images)
Cut to 2002 and after an unsuccessful first spell as coach of the Netherlands, Van Gaal was back at Camp Nou, which was the Brazilian's cue to leave. "Van Gaal is the main cause of my departure," Rivaldo said. "I don't like Van Gaal, and I am sure that he doesn't like me either."
Van Gaal confirmed the latter statement. "He lacked commitment to the club, he was only interested in making more money and playing less… he had illusions about Barca and was requesting to take holidays when important Champions League games were approaching. He then hides back home in Brazil."
This is the man whose Netherlands team will face the USMNT in a World Cup round-of-16 game on Saturday. Van Gaal is older, now 71, and perhaps more aware of his own mortality after disclosing he has been treated for an aggressive form of prostate cancer. He is still, however, as uncompromising as ever.
Tim Krul will know the feeling Rivaldo once had. One of the stars the last time the Netherlands were at the World Cup under Van Gaal, he might have expected to be in Qatar even though he's playing in the second tier for Norwich. Not so.
Van Gaal invited Krul to what was essentially a penalty training camp but the Norwich keeper, not selected in the main squad, declined. Van Gaal recognised that was Krul's prerogative while explaining his own: "There is no future for him with the Oranje. That is the consequence of his decision."
ADVERTISEMENT
https://af74995170d76188727be1153bacf20c.safeframe.googlesyndication.com/safeframe/1-0-40/html/container.html
This ruthlessness has not come with age. Nor is it a tactic to take egos down a peg or two. Just ask Bryan Roy. He was a fan and media darling when Van Gaal took charge of the Ajax first team in 1991 — fast, technical and perfectly suited to the front three that Cruyffian fundamentalists demand in Amsterdam.
Van Gaal was not convinced. By the summer of 1992, Roy was out. "I feel pain when I see that Roy is not working on things he should be working on," said Van Gaal as the winger was waved off to Foggia. "I have tried to improve his effectiveness. But I do not see any improvement. I no longer believe in Roy."
Van Gaal shows his, er, eccentric side at Ajax in 1995 (Photo: Neal Simpson/EMPICS via Getty Images)
It's easy to conclude that the popular image of Van Gaal is correct: an intimidating, semi-authoritarian figure who will not take anything approaching s*** from anyone, whether Ballon d'Or winner or academy graduate. He is the hard-nosed autocrat Luca Toni once accused of treating "players like interchangeable objects".
And yet, for every story you can find to back that up, there are two others about him being a big cuddly softy.
"He's a demanding coach, but if you know him he's a lovely man," says De Boer. "On TV, sometimes he looks like a stubborn man who hates talking to the press, but overall he's a very warm person, a family person.
"He came for dinner at my house a couple of months ago. My partner has nothing to do with football. If you asked her where Louis was a coach she probably wouldn't know, but she loves him. It's an aspect people don't see. On the outside, he puts on a hardness, to maybe protect himself from the angry press."
Boudewijn Zenden, who played under Van Gaal for Barcelona and the Netherlands, agrees: "He's the type of manager who is really interested in the person behind the player. He will know when it's your missus' birthday, or your kids' birthdays, or if there's a problem on a personal level — he will always be there and support you, give you a day or two off if you need it. He's definitely not the same as the image you have from the outside."
ADVERTISEMENT
https://af74995170d76188727be1153bacf20c.safeframe.googlesyndication.com/safeframe/1-0-40/html/container.html
"I've seen how it genuinely affects him when he has to disappoint players," said Arjen Robben in a recent documentary about Van Gaal. "He believes in his principles. What you see is what you get. And he's not going to go behind your back and slag you off to one of his assistants or hide behind a mask. In football, people often put on a show. But he'll tell you things face to face because he's straightforward and he's genuine."
Maarten Martens, one of the key men in what was arguably Van Gaal's greatest domestic success, winning the Eredivisie with AZ Alkmaar in 2009, backs that up. "Sometimes he was really hard. He was not always friendly. But what I really liked is that he was as much interested in his two- or three-star players as his No 18 or No 19 from the squad. The No 19 is also a human he wants to improve, or feel good, or make better if it's not good enough."
Thomas Muller, who was given his senior debut by Van Gaal at Bayern, was even more succinct: "Van Gaal and I have a relationship that goes beyond that which is normal between a player and a coach."
Van Gaal comforts Thomas Muller after Bayern lost to Inter Milan in the Champions League final in 2010 (Photo: Sascha Schuermann/DDP/AFP via Getty Images)
One element of his public image that does seem right is the size of his ego. "Louis is damned arrogant and we like arrogant people here," was how Ajax chairman Ton Harmsen introduced his new appointment to the media back in 1992. Former Bayern president Uli Hoeness, who sacked Van Gaal in 2011, said: "His problem is that Louis doesn't think he's God, but God the Father. Before the world came into existence, Louis was already there."
De Boer offers another story: "We were in the kit room when I was about 17. He looked at me and said: 'Ronald, are you going to be a good footballer?' He said it in that way, right in your face, like you could not dare to say no. 'Because I know I'm going to be a great coach'."
But there's a subtle difference between arrogance and iron-clad self-assurance. The former is difficult to warm to, the latter is easier to respect. "I sat in my car and suddenly I realised, 'I am trainer of Ajax'. I began sweating profusely," he once said, of the moment he stepped up to his first big job. "That lasted for only one minute. Afterwards, I never again had that feeling." In the mid-1990s, Van Gaal said he wanted to become the national team manager, commenting: "Even if it were just to prove my way is right, I would like to give it a try."
There are also eccentricities: complaining that Robert Huth pulling Marouane Fellaini's hair was an act only acceptable in "sex masochism"; throwing himself to the ground at Manchester United to illustrate an apparent dive; the infamous story of him taking a literal approach to showing his Bayern Munich players he had the balls to drop all of them, undoing his trousers during a team meeting to display the goods.
Van Gaal takes a dive while managing Manchester United against Arsenal in 2016 (Photo: Simon Stacpoole/Mark Leech Sports Photography via Getty Images)
To call him demanding is an understatement. "He would see every small detail," says Martens. "He would not accept a lack of concentration or a lack of intensity. He would expect this from everyone — staff, players, everybody."
Detail is a word that keeps coming up. "He makes you really aware of everything — all aspects of the game," offers Zenden. "He always has a proper game plan, and whenever you face an opponent, I can assure you there will be no surprises."
"Behind each exercise, there is an idea," said Daniel van Buyten, who played under him at Bayern. "We have worked well and we have had fun doing it."
De Boer adds: "I once said, 'Coach, I did my best'. He said, 'What? Doing your best is what you should do always. You have to do more than only doing your best. Doing your best is nothing. It's what you should bring along always. I expect more. I want more. I demand more'. That was typical Louis."
That sort of thing can lead to friction, and you won't struggle to find players who dislike him. Brazilian defender Lucio, who was sold to Inter Milan as one of Van Gaal's first acts as Bayern coach, said that he "hurt me more than anyone else in football". Zlatan Ibrahimovic, who was at Ajax when Van Gaal returned for a brief and relatively ill-advised spell as technical director, called him a "pompous ass" who "wanted to be a dictator".
There are two places you're most likely to find criticism of Van Gaal, one of which is among the non-Dutch players from his spells at Barcelona. You've already heard what Rivaldo thought of him, Hristo Stoichkov called him "mediocre" and centre-back Oleguer said that "when the performances declined, there was only attention for his image". But the spiciest take came from Brazilian forward Giovanni.
"My life with him was horrible," he said, shortly after leaving Barcelona for Olympiacos. "The Brazilians did not want him; he put me down and also fought with Rivaldo and Sonny Anderson. He always gave us the excuse that we were not training well. I know that he must have some trauma. He has no idea of football, does not know anything. In the time I was with him he always did the same training. He's crazy." On another occasion, Giovanni said Van Gaal was "the Hitler" of the Brazilian players.
Van Gaal with Giovanni during training at Barcelona in 1998 (Photo: Matthew Ashton/EMPICS via Getty Images)
The other is from his spell at Manchester United, where his restrictive tactics and abrasive nature were not well received. His edict that first-time shots were not allowed baffled players, a symbol of how he — in the view of the players there at the time — completely stripped all semblance of individuality from them. The 'straitjacket' he placed on players was seen as one of the reasons Angel Di Maria failed in Manchester."He hated tricks," said Rafael da Silva in The Sunshine Kids, a book written with his brother Fabio. "He hated instinct. Everything had to be done by instruction. It felt like everything positive was being undone in these moments. Under Sir Alex, the emphasis had been on moving quickly. If you could go in one touch, go in one touch. Van Gaal hated that. He hated it. 'No, no, control the ball.' The difference seems so small but it had an incredible impact on the way we played. It slowed it down so much that it was unrecognisable."Even more unpopular was Van Gaal's habit of harshly criticising players in team meetings in front of their team-mates: it reached the point where some senior players met the manager to protest, which worked to a point, but led to a slightly comic to and fro. He took to emailing his criticism, complete with clips and extensive notes, but the players were so sick of his hectoring by this point that many of them would ignore the emails. However, Van Gaal got wise to this, so put a tracker on the emails that told him who did and didn't open them. So the players would just open the emails and just leave their phone for 20 minutes or so. Few tears were shed when he left Old Trafford after two seasons.There's little doubt that Van Gaal believes he's right about most things, but those who have worked with him suggest he's a little more open to feedback than you might expect."I always found a manager that was open for discussion," says Zenden. "If you thought that something was wrong, you could knock on his door, which was already open. You could have a conversation about the whole idea you have. He's the type of manager who is more likely to convince you that he's got it right, but it's not like he will be against you because you have a different opinion."Although, come prepared, warns Martens: "You had to have good arguments if you wanted to come to him with something or persuade him of something. You could not bring bullshit."That openness perhaps feeds into his willingness to select young players, often ahead of established stars. The list of youngsters to whom he gave senior debuts is impressive: Xavi, Muller, Edgar Davids, Carles Puyol, David Alaba, Clarence Seedorf, Marcus Rashford. Granted, some were so talented he can hardly claim to have spotted something everyone else missed, but Muller wasn't especially heralded before Van Gaal threw him into the Bayern team, and Alaba was a midfielder in their youth system before being told in no uncertain terms he was a defender. Van Gaal, it turned out, had a point.He's continued this approach even now. Twenty-year-old Kenneth Taylor has barely established themselves in the Ajax first team but was handed a place in the Dutch squad for Qatar.He's not averse to the new. "He's definitely a coach that listens," says De Boer, "and sees where he can make improvements, whether that's with a penalty coach, or with new technology, or a throw-in coach. The details can make a huge difference, and he's always open to that. He trusts his gut feeling, but he listens also."So what's it like to play for Louis van Gaal? Demanding, surprising, potentially stressful, occasionally unpleasant, happier and more light-hearted than you might think, frequently rewarding, rarely boring. It feels like it should be a players' rite of passage, something everyone should experience just for a bit.
This World Cup is his last hurrah. He had retired before being tempted back for one last job, and Ronald Koeman will replace him as the Netherlands' 'bondscoach' after Qatar. We'll miss him when he's gone.
It's over: Three thoughts as Mexico fails to qualify for the World Cup knockout round
November 30, 2022 7:18 pm ET
It's over. Mexico's World Cup. El Tri's streak of making it out of the group stage. Tata Martino's time leading the group.

A 2-1 win over Saudi Arabia wasn't enough for Mexico to secure passage to the round of 16, which saw El Tri's coach announce immediately after the game that his time in charge had come to an end.

"I'm the one responsible for this terrible disappointment we have," Martino said. "I totally take on the responsibility for this huge failure.

"My contract expired when the referee ended the match, and there's nothing more to do."

It will now be a long winter for Mexican soccer fans, even as Liga MX teams play a friendly tournament in December and rumors begin to emerge about who will replace Martino as the head of the men's national team.

But before thinking about the future, let's take a look at three things from Wednesday's match that sends Mexico home from Qatar:
Mexico's elimination was of its own making
It's easy to say results didn't go right for Mexico after El Tri nearly pushed into the second spot in the group with a convincing victory Wednesday. The North Americans were smashing Saudi Arabia essentially from the opening kickoff, creating chances and keeping the Saudi attack from seeing any of the ball.
But Mexico also put itself in this situation. It didn't convert any opportunities against Poland and settled for a draw in the opening game that always was going to be key.
In addition, Mexico conceded late to Argentina, failing to close down Enzo Fernandez as the Argentine scored a wondergoal in the 87th minute. That, combined with a 82nd-minute Robert Lewandowski goal against Saudi Arabia, meant Mexico was going to need a huge win and some help on the last day to get out of the group.
It almost happened, but the fact that it didn't doesn't come down to anyone other than Mexico for its approach and results from the first two matches.
"There's a lot of frustration. The first two games we didn't do enough, and that's what leaves us out. We didn't do what we'd been doing normally," Mexico midfielder Luis Chávez said after Wednesday's match.
Mexico's elimination was confirmed Wednesday, but it's not because of how it played against Saudi Arabia. It's out because the Poland game wasn't good enough for Mexico to get the result and the tactics were wrong against Argentina.
"We accept the failure we had in this World Cup. With Poland we couldn't show the superiority we had and with Argentina we could've faced the second half in our typical way," Martino said. "During tonight's match you saw Mexico was better all game."
Though Mexico got its only win of the tournament against the Saudis, Martino still pointed to this game to explain why advancement slipped from Mexico's reach.
"It was lost today. Tonight it was lost. Tonight was the day we played best, that we most were able to beat the opponent, we created the most chances and I dare to say we could've scored the quantity of goals we needed to not depend on the other result," he said. "But we failed. I don't find the elimination in the other games. I find it tonight."
Maybe so, but the job could've been so much easier by doing the needed work in the first games.
Mexico still missed those attacking stars
We knew Jesús "Tecatito" Corona wouldn't make it to the World Cup because of his summer ankle injury. We thought Diego Lainez and Santi Giménez might be there, but Martino didn't select them. And we've known for a while Carlos Vela and all-time leading scorer Javier "Chicharito" Hernández simply aren't in the picture for their own reasons.
And we knew Raúl Jiménez's injury that kept him out of action for more than a month before the tournament meant he only would be able to make cameos.
Henry Martín did what he could, getting two starts at this World Cup, while Hirving Lozano may end up feeling that he had too much asked of him. Alexis Vega started hot but failed to be the perfect replacement for Tecatito that Mexico needed him to be.
Mexico exits the tournament having scored only two goals. It doesn't take a tactical genius to say something might be wrong in the attack.
It's hard not to think that had a few of the players who were missing — whether because of injuries, manager's decision or external circumstances — been there, it would've been a huge boost for Mexico and maybe even made the difference between elimination and going through.
Luis Chávez is that dude, but who will help him in 2026?
For a player who wasn't in the Mexico picture until this year, it's remarkable just how crucial midfielder Luis Chávez ended up being for the national team. Chávez played the full 90 minutes of all three matches and in addition to showing strength both defending and getting forward, added one of the goals of the tournament with his free kick in the 52nd minute.
Martino called him the best player on the field in Wednesday's match, and he's right. In addition to the goal, he also created a scoring opportunity, put four of five shots on target and made seven recoveries. Bayer Leverkusen was openly flirting with him during the contest.
Chávez is a late bloomer who surged this season as a 26-year-old helping Pachuca to a title. His 27th birthday is next month. Another Chávez may come from off the radar for Mexico in the next cycle.
But there is so little youth in this current Mexico team. Just four players on the roster are under 25.
Compared to North American rivals United States and Canada, who along with Mexico will host the World Cup in 2026, it's a huge lack of players who now have the seasoning of a World Cup as they enter the primes of their careers.
"We'll see what's going to happen, who has to go from this national team because this can't happen" Chávez said. "Mexico has to get out of the group. We put the quinto partido as the goal and we couldn't do it. The goal and the result leaves me with a bittersweet feeling."
One of the few sweet moments in this tournament is Chávez's emergence. Mexico now needs to find a way to get the most out of Liga MX stars like him and get more talented young players to the top levels of the club game in Europe, or else it will once again be set up for disappointment.
===================RackZ BAR BQ ====Save 20% ======================
AFTER YOUR PRACTICE AT BADGER FIELDHOUSE
Try out the Best BarBQ in Town right across the street (131st) from Northview Church & Badger Field on the corner of Hazelldell & 131st. RackZ BBQ
Save 20% on your order
(mention the ole ballcoach)
Check out the BarBQ Ribs, pulled Pork and Chicken, Brisket and more. Sweet, Tangy or Spicy sauce. Mention you heard about it from the Ole Ballcoach — and Ryan will give you 20% off your next meal. https://www.rackzbbqindy.com/ Call ahead at 317-688-7290 M-Th 11-8 pm, 11-9 Fri/Sat, 12-8 pm on Sunday. Pick some up after practice – Its good eatin! You won't be disappointed and tell 'em the Ole Ballcoach Sent You!
=====================RackZ BAR BBQ ======Save 20% ======================