USWNT Wins 4-0 Down Under Plays Tonight 10 pm on HBO Max + Peacock
The US ladies finally came around in the 2nd half Tues night at they vanquished New Zealand 4-0 in the end. After a few frustrating misses in the first half – the addition of Trinity Rodman on the right wing really opened things up for the US in the 2nd half. Rose Lavelle had some wicked passes including this backheel beauty to set up the 2nd goal for Alex Morgan. Rodman of course provided the first assist to Mallory Swanson ( formerly Pugh) as she started married life with a Brace downunder then later this one to Williams who has recovered from a year long injury. I thought Horniack played just ok in the #6 slot – as the US continues to look for a replacement for Julie Ertz, Overall the US ladies dominated from start to finish with 83% possession and 15 shots to 2 shots (full stats) on a day when the largest ever crowd to watch a women's game in New Zealand (13K LOL) was on hand. (full hightlighs)This series while not providing the best competition (New Zealand is ranked 24th in the world) it does serve as a test run for the US to play in 2 of the stadiums they will play in this summer during the world cup. A cup where they look to become the first team men's or women's to 3-Peat. The US plays NZ again on Friday night at 10 pm on HBO Max and Peacock.(tons of stories below)
HBO MAX – the Good & the Bad
So I thought the coverage from new TV/Streaming partner HBO Max was solid. They have good analyst who were free to say what they wanted to say. Julie Fowdy and Shannon Boxx were both solid in the full 1 hour pregame and post game show. I had issues with rewinding and fast forwarding the game last night which they need to fix. God forbid if you came online 20 minutes late and wanted to catch up. That's NOT ACCEPTABLE when we have to pay $15 dang dollars a month to watch the games. I still think US Soccer is shortsighted thinking that a few million dollars is more important than having these games on Fox or ESPN. The coverage on ESPN alone is worth a few million dollars to be more included on all the sports highlights and the like. That and the fact that HBO max hasn't even figured out how to deliver the games to Bars – so American Outlaws can host watch parties is just pathetic. Leave it to US Soccer to screw things up – what's new.
US Men Jan Camp & 2 Friendlies Wed 10 pm vs Serbia on HBO Max, next Sat on TNT 7:30 pm
Interesting to hear both DeMarcus Beasley and Julie Fowdy say they thought US Manager Gregg Berhalter should be out based on his handling of the Gio Reyna situation. Honestly he should have kept his mouth shut about Gio – a player would have eventually spilled the beans – making Berhalter look even better. Overall I don't know how I feel – Behalter did a great job working in all these new young players into a competitive team in the World Cup. He convinced Musah and Dest into choosing the US over other options and has lines on a center forward who has a choice to make soon. His family like atmosphere certainly seems to have worked with this young team. That being said I think we all can agree his tactics and lack of a true #9 has been perplexing. We have Center Forwards scoring goals in Germany, Turkey and England – how they don't score for the US seems more like a Berhalter problem than the players. So who's our next US Coach? I will have my thoughts next Week after the US men play Serbia Wed night 10 pm on HBO Max, Universo, Peacock and again Sat Night at 7:30 pm. Lots of exciting young players on this US Jan Roster as the B/C team takes center stage next week. WOW Late Breaking News that Brian McBride is out as USMNT GM. Brian McBride is out as USMNT GM.
The full USMNT roster
Goalkeepers (3): Roman Celentano (FC Cincinnati), Sean Johnson (free agent), Gaga Slonina (Chelsea)
Defenders (8): Jonathan Gómez (Real Sociedad), Julian Gressel (Vancouver Whitecaps), DeJuan Jones (New England Revolution), Aaron Long (LAFC), Jalen Neal (LA Galaxy), Sam Rogers (Rosenborg), John Tolkin (New York Red Bulls), Walker Zimmerman (Nashville)
Midfielders (6): Paxten Aaronson (Eintracht Frankfurt), Kellyn Acosta (LAFC), Aidan Morris (Columbus Crew), Paxton Pomykal (FC Dallas), Alan Soñora (free agent), Eryk Williamson (Portland Timbers)
Forwards (7): Paul Arriola (FC Dallas), Cade Cowell (San Jose Earthquakes), Jesús Ferreira (FC Dallas), Matthew Hoppe (Middlesbrough), Emmanuel Sabbi (Odense), Brandon Vazquez (FC Cincinnati), Alejandro Zendejas (Club América)
Games to Watch
Friday we get 2 of Germany's best as RB Leipzig and American Gio Reyna host Bayern Munich.  Liverpool hosts Chelsea Sat morning at 7:30 am on USA as the normally top 4 clubs try to battle their way back from 9th and 10th currently.  US CB Chris Richards started last game for Crystal Palace they play New Castle at 12:30 on NBC. Sunday top seeded Arsenal hosts Man United in a top 4 showdown that could put more room between the Gunners and 2nd place Man City.  This after Leed's United State with American Coach Jesse Marsch and midfielders Adams and Aaronson try to parley their 5-1 feelgood FA Cup win this week into a needed home win vs top 10 Brentford at 9 am on Peacock.  Monday Fulham America hosts Tottenham looking to flip to 5th above them with a win at 3 pm on USA Network.  Next Friday Man City finally faces Arsenal albeit in League Cup play on ESPN+ at 3 pm leading into an FA Cup weekend in England.   American's Abroad
Boy the Goalkeeping was fantastic in El Classico last weekend as Courtois and Ter Stegan had some Great Saves see those saves and more in Goalkeeping below. Also my Reffing section below reviews Unusual calls by VAR in the EPL. Ronaldo & Messi may have played each other for the last time as PSG faced a Saudi Allstar team a glorious 5-4 game where Ronaldo got 2 goals and Messi 1 as PSG won it.
CARMEL FC 2 GKs make Indiana ODP Teams for Memphis
Super proud that 2 of our Carmel FC Goalkeepers Emma Bukovac (2010) and Olivia Aft (2012) have each made the Indiana ODP Red team rosters for the upcoming tournament President's Day weekend in Memphis, Tenn. Pretty sure we have other CFC field players who also made rosters check it out . https://www.soccerindiana.org/odp/odp-news-and-events
Carmel FC Boys selected to FC Cincinnati's Academy Program
Congratulations to coach CFC Coach Jim Ruden and his 2012 Boys Gold Team which had two players selected to FC Cincinnati's Discovery Program, an elite player development pathway within the MLS franchise. Evan Lefort and Bennett Hendrickson have been selected to the 2023 player pool.
Carmel FC 2010 Boys is extending tryouts this winter for the Spring Season.
Contact the Ole Ballcoach at shanebestsoccer@gmail.com if your son was born in 2010 or 2011 and interested in working out with us.
CARMEL FC PLAYERS : Winter Players League (WPL) – Badger Indoor Fieldhouse
As the fall season comes to a close over the next month, we wanted to let you know that we will be launching an indoor soccer league over two six week sessions within our new Badger Fieldhouse. Games will be played on either Friday night ( 6pm to 10pm) or Sunday afternoon (1pm-5pm) depending on age groups: U8s, U9&U10, U11&U12, U13-U15 and U16+ (Coed Teams allowed). Referees for each game, 50 minute games, 5v5, 7v7 and 9v9 matches.
Session Two (6 weeks): Feb 17th, 24th / Mar 3rd, 10th, 17th, 24th
Register NOW, gather teammates and be ready to play!
GAMES ON TV
(American's names in Parenthesis)
Fri, Jan 20
2:30 pm ESPN2 & Des RB Liepzig vs Bayern Munich
10 pm HBO Max US Women vs New Zealand
Sat, Jan 21
7:30 am USA Liverpool vs Chelsea
9:30 am ESPN+ Union Berlin (Pfuk) vs Hoffenheim
10 am USA West Ham vs Everton
12:30 pm NBC                    Crystal Palace (Chris Richards)vs New Castle United
Sun, Jan 22
9 am Peacock Leeds United (Aaronson, Adams) vs Brentford
9 am USA Man City vs Wolverhampton
11:30 am NBC Arsenal vs Man United
11:30 am ESPN+ Mgladbach (Scally) vs Bayer Leverkusen
3 pm ESPN+ Athletic Club vs Real Madrid
2:45 pm CBS SN Juventus (McKinney) vs Atalanta
Mon, Jan 23
3 pm USA Fulham America (Ream & Robinson) vs Tottenham
Tues, Jan 24
2:45 pm CBS SN Lazio vs AC Milan
3 pm ESPN+ Southampton vs Newcastle League Cup
Weds, Jan 25
3 pm ESPN+ Nottingham Forest vs Man United League Cup
10 pm HBO Max, Peacock USA Men vs Serbia
Fri, Jan 27
3 pm ESPN+ Man City vs Arsenal League Cup
Sat, Jan 28
9:30 am ESPN+ Hoffenheim vs MGladbach (Scally)
9:30 am ESPN+ Hertha vs Union Berlin (Pfuk)
10 am ESPN+ Lufton Town (Horvath) vs Grimsby Town FA Cup
1 pm ESPN+ Preston vs Spurs – FA Cup
3 pm ESPN+                Man United vs Reading
7:30 p TNT USA Men vs Colombia
Sun, Jan 29
8:30 am ESPN+ Brighton vs Livepool FC Cap
11 am ESPN+ Wrexham vs Sheffield United
11:30 am ESPN+ Leverkusen vs Dortmund (Reyna)
2:45 pm beIN Sport Reims vs PSG
Thu, Feb 16 She Believes Cup
7 pm Fox Sports 1? USWNT vs Canada
Sun, Feb 19
3:30 pm Fox USWNT vs Japan
Wed, Feb 22
7 pm FS1 USWNT vs Brazil
Soccer Saturday's are every Sat 9-10 am on 93.5 and 107.5 FM with Greg Rakestraw
US Ladies play Fri 10 pm HBO Max
The USMNT Roster for NZ
ROSTER (club; caps/goals)
GOALKEEPERS (3): Adrianna Franch (Kansas City Current; 10), Casey Murphy (North Carolina Courage; 11), Alyssa Naeher (Chicago Red Stars; 86)
DEFENDERS (8): Alana Cook (OL Reign; 19/0), Emily Fox (Racing Louisville FC; 22/0), Crystal Dunn (Portland Thorns FC; 126/24), Naomi Girma (San Diego Wave FC; 10/0), Sofia Huerta (OL Reign; 25/0), Hailie Mace (Kansas City Current; 8/0), Becky Sauerbrunn (Portland Thorns FC; 211/0), Emily Sonnett (Washington Spirit; 69/1)
MIDFIELDERS (7): Sam Coffey (Portland Thorns FC; 4/0), Lindsey Horan (Olympique Lyon, FRA; 122/26), Taylor Kornieck (San Diego Wave FC; 7/1), Rose Lavelle (OL Reign; 84/22), Kristie Mewis (NJ/NY Gotham FC; 46/7), Ashley Sanchez (Washington Spirit; 17/3), Andi Sullivan (Washington Spirit; 37/3)
FORWARDS (6): Ashley Hatch (Washington Spirit; 14/4), Alex Morgan (San Diego Wave FC; 200/119), Midge Purce (NJ/NY Gotham FC; 20/4), Trinity Rodman (Washington Spirit; 10/2), Mallory Swanson (Chicago Red Stars; 82/25), Lynn Williams (Kansas City Current; 47/14)
USWNT WAKES UP IN SECOND HALF TO DEFEAT NEW ZEALAND 4-0
Slow-starting USWNT blitz New Zealand in second half as Lynn Williams scores on return ESPNFC 2dJeff Kassouf
THESE KEY SUBS GAVE USWNT SECOND-HALF BOOST VS. NEW ZEALAND Just Women's Sports – Emma Hruby
NEW NAME, SAME GAME: MALLORY PUGH SWANSON KEEPS ROLLING FOR USWNT Just Women's Sports Emma Hruby – Jan 18, 2023
WHAT DOES LYNN WILLIAMS' TRIUMPHANT RETURN MEAN FOR THE USWNT? – Just Women's Sports – Kate Yanchulis
How to watch USWNT vs. New Zealand in second January international friendly
Swanson-Pugh leads USWNT burst past New Zealand (video highlights)
United States thrash New Zealand in World Cup warning
When is the 2023 FIFA Women's World Cup? How to watch, schedule, streaming, groups
THE CASE FOR THE MOST ESSENTIAL USWNT PLAYER: ALEX MORGAN
ALEX MORGAN IS SOLE USWNT NOMINEE FOR FIFA BEST PLAYER
US MEN 2 games next week
US Mens Roster has new names
Klinsman sad about Reyna – Berhalter Spat
USMNT's 24-man roster for next World Cup cycle is announced
Klinsmann ann: Reyna-Berhalter spat 'sad' for US soccer
Klinsmann 'sad to see' fallout from Reyna-Berhalter dispute
Musah named U.S. Young Male Player of the Year ESPNFC 2dJeff Carlisle
USMNT PLAYERS IN THE FOURTH ROUND OF THE 2022-23 FA CUP
WORLD

Arsenal take big step towards Premier League title, Barcelona's statement win over Real Madrid, more ESPNFC Gab Marcotti
Leipzig host Bayern hoping to keep Bundesliga 'exciting'
Messi, Ronaldo score as PSG, Saudi clubs stage nine-goal friendly (video)
Ronaldo punched but scores twice in Saudi reunion with Messi
Bayern sign goalkeeper Yann Sommer from Gladbach to replace Neuer
Dzeko-inspired Inter win Milan derby Super Cup
'Spectacular' Gavi shines as Barca beat Madrid to win Spanish Super
Barca's young stars hoping Super Cup trophy is first of 'new era'
EPL

English Premier League betting: Arsenal is now the title favorite near the halfway point
Illan Meslier: Leeds only just getting started under Jesse Marsch
Gnonto, Bamford bag braces as Leeds crush Cardiff in FA Cup
Manchester City roars back to throttle Tottenham in six-goal show
'No excuses' for troubled Everton – Lampard
Elliott's rocket sends troubled Liverpool into FA Cup fourth round
Klopp has no plans to quit as he plots Liverpool overhaul
MLS
2023 MOVES HIGHLIGHT THE IMPORTANCE OF MLS CENTER BACKS BY JASON DAVIS
THE ORIGINAL MLS TEAMS PREPARE FOR AN INTERESTING 2023 SEASON
29 TEAMS TRY TO FIGURE OUT HOW TO SUCCEED IN MLS IN 2023
REFFING
 How VAR decisions affected every Prem club in 2022-23
All ages 13-99 invited to become a new licensed referee close by course. New info: much now be 13 years old to register. It is ok to register on one's 13th birthday for an upcoming course. NOTE: registration cut off is a week prior to the course as there are 10 hours of online work to complete. More information here.
Goalkeeping
Great Saves in El Classico last weekend
50 Best Saves of the Year so Far
Alyssa Naeher saves vs England WWC
===================RackZ BAR BQ ====Save 20% ======================
AFTER YOUR PRACTICE or GAMES AT
BADGER FIELDHOUSE
Try out the Best BarBQ in Town right across the street (131st) from Northview Church & Badger Field on the corner of Hazelldell & 131st. RackZ BBQ
Save 20% on your order
(mention the ole ballcoach)
Check out the BarBQ Ribs, pulled Pork and Chicken, Brisket and more. Sweet, Tangy or Spicy sauce. Mention you heard about it from the Ole Ballcoach — and Ryan will give you 20% off your next meal. https://www.rackzbbqindy.com/ Call ahead at 317-688-7290 M-Th 11-8 pm, 11-9 Fri/Sat, 12-8 pm on Sunday. Pick some up after practice – Its good eatin! You won't be disappointed and tell 'em the Ole Ballcoach Sent You!
=====================RackZ BAR BBQ ======Save 20% ======================
USWNT start slow vs. New Zealand, but improve in second half with Lynn Williams scoring on return
Jan 18, 2023 ESPNFC Jeff Kassouf
The United States women's national team opened 2023 with a 4-0 win over New Zealand on Wednesday in Wellington.Mallory Swanson (nee Pugh) scored the opening goal seven minutes after halftime, bringing life to a U.S. attack that looked mostly absent in the opening 45 minutes. Swanson added a second goal nine minutes later, and Alex Morgan and Lynn Williams also got on the scoreboard.– The teams will meet again on Saturday in Auckland as the Americans use the trip to prepare on and off the field for this summer's Women's World Cup. The U.S. will play the entire group stage of the World Cup in New Zealand and at the two venues being used this week, giving the two-time defending champions a dry run of what their tournament life will look like.
---
Rapid reaction
1. The U.S. still needs to put its collective foot on the gas
Urgency, urgency, urgency. Little has changed in the pattern of collective U.S. form: the Americans are best when playing at a faster pace. A major piece of success in recent years has been high press that forced opponents to turn the ball over in dangerous positions.Wednesday's first half was a dud from the U.S., who tried to methodically break down New Zealand's compact 4-4-2 by playing central. The result was a lot of center backs Becky Sauerbrunn and Naomi Girma playing between each other, followed by unforced turnovers in the middle of the park. The saving grace for the U.S. is that New Zealand, missing several starting players due to the games taking place outside of FIFA windows, offered nothing going forward.Superior fitness and four substitutions to start the second half was part of the reason the floodgates opened. But the general urgency from the Americans was markedly different. Swanson and Trinity Rodman attacked space on their respective flanks. Emily Fox and Sofia Huerta pushed higher from their fullback positions.The U.S. decided to take the game to New Zealand. Why it took 45 minutes to do so remains a point for improvement.
2. The No. 6 position remains an enigma
The Julie Ertz-sized hole remains in place for the United States. Wednesday brought a different attempt at a solution. Taylor Kornieck made her first start for the U.S., playing in the No. 6 role that Andi Sullivan mostly occupied in 2022.Kornieck plays higher up the field for San Diego Wave FC, so the move was a gamble to some degree. U.S. head coach Vlatko Andonovski told the HBO Max broadcast during pregame that Kornieck offered "an opportunity for us to try something different" and experiment with unpredictable movements.The latter did not really happen. Lindsey Horan often dropped deep to create a double-pivot and get on the ball, but the Kornieck-Horan combination found little room to play out in the first half, often getting pulled wide in attempts to find space. Kornieck was replaced by Sullivan at the start of the second half, when the match changed significantly.Whether Kornieck is an answer in the role or not, her very presence as a starter there on Wednesday suggests that Andonovski is yet to settle on an answer in the position. Sam Coffey is another, less experienced option, as well.
3. Lynn Williams is back at just the right time
Lynn Williams is back on the field after nearly a year away due to a hamstring injury, entering Wednesday's match in the 67th minute. Williams last played for the U.S. in February 2022 and did not play at all during the National Women's Soccer League regular season. She was traded from the Kansas City Current to NJ/NY Gotham FC last week, on draft day.A healthy Williams offers the best defensive presence of any forward in the U.S. pool. She changes the way the team defends from its highest point and allows for a higher, more relentless press. Williams returns at just the right time for a U.S. team in need of that spark.On Wednesday, she marked her return with a goal, too — and an impressive one. Seven minutes after checking into the match, Williams adjusted her body mid-air to get her head on Rodman's cross and generate enough power to comfortably beat New Zealand goalkeeper Erin Nayler.The goal was an exclamation mark on Williams' long-awaited return. Even in a crowded forward pool, Williams offers two-way play that Andonovski will need at the World Cup.
---
Best and worst performers
BEST: Rose Lavelle — Once again, Lavelle remains the one (healthy) U.S. player capable of breaking lines against defensively disciplined opponents. On the dribble or making a delayed run, Lavelle is the catalyst of this team. That backheel assist? Come on.
BEST: Mallory Swanson — A quiet first half gave way to a quick brace in the second half. For club or country, Swanson running at defenders in isolation is a recipe for success.
BEST: Margaret Purce — A dull first half from the Americans was highlighted by Purce's desire to attack defenders 1-v-1. It was an encouraging return for the winger who was dropped from the roster in October and November.
WORST: Ashleigh Ward — Caught out of position on a few occasions and exposed 1-v-1, particularly in the second half.
WORST: Gabi Rennie — Even as the hosts defended well in the first half, they had no outlet going forward.
WORST: Grace Neville — The U.S. found its most joy by isolating Neville on her flank.
---
Highlights and notable moments
In the first half, the U.S. dominated possession, but mostly in areas that didn't pose a threat to the New Zealand defense.
Swanson scored the first two goals of the game in quick succession.
---
After the match: What the players/managers said
USWNT's Lavelle: "We had to find the ball a little more in between their seams, and give it a little in the more in the middle for them to collapse and then find our wingers. Tough first half for us, obviously some things to clean up, but a really good response."
USWNT's Williams: "It feels amazing, but I give it to my teammates – they've been there with me through the whole way and supporting me and being like, 'You've got this, Lynn.' So it feels incredible."
---
Key stats
– Swanson scored her fourth brace for the U.S. national team
– Morgan scored her 120th international goal
– This was the biggest ever home crowd for a Ford Football Ferns game with 12,508 fans in attendance
---
Up next
United States: The U.S. face New Zealand in a friendly again on Jan. 20, before playing in their first match of the SheBelieves Cup against Canada on Feb. 16.
New Zealand: After their friendly against the U.S., New Zealand face Portugal in a friendly on Feb. 17.
NEW NAME, SAME GAME: MALLORY PUGH SWANSON KEEPS ROLLING FOR USWNT
Mallory Pugh Swanson wasted no time in finding the back of the net in the second half of the U.S. women's national team's 4-0 win over New Zealand.After scoring seven goals in 2022, including one in the USWNT's last game of the year against Germany, she picked up right where she left off to start 2023.The 24-year-old forward opened the scoring with her goal in the 52nd minute, and then she found the back of the net again 12 minutes later. Her goals helped open the floodgates for the team in the victory at Wellington Regional Stadium.Swanson, who recently changed her last name from Pugh after she married Chicago Cubs shortstop Dansby Swanson in December, earned Woman of the Match honors for her effort Wednesday afternoon in New Zealand."Ultimately, I just want to be a positive impact on this team," Swanson said after the game. "My job is to score goals and try and set people up to score goals."The offseason gave her some time to identify areas for improvement in her game, she said."I think that just going over my performance from the past couple of months and reviewing it this offseason, there were some easy chances in games previous that I should have put away," she continued.The team will now look to its second match against New Zealand, this one at Eden Park in Auckland, which will kick off at 10 p.m. ET Friday."We just keep trying to build off of this," Swanson said. "It was a good win."
THESE KEY SUBS GAVE USWNT SECOND-HALF BOOST VS. NEW ZEALAND – EMMA HRUBY
The U.S. women's national team scored a 4-0 win Wednesday against New Zealand thanks in large part to several key second-half substitutes, who helped open up the team's offense.After a shaky start, a dominant performance in the final 45 minutes secured the team its first victory to open a World Cup year since 1999.Trinity Rodman proved one of the biggest substitutions of the match. After she came on for Midge Purce to start the second half, she provided assists on the USWNT's first goal, from Mallory Swanson, and the final goal, from Lynn Williams.The assists were the first and second of her national team career. Rodman, at 20 years and 243 days old, is the youngest player to have multiple assists in a single game for the USWNT since Swanson did so at 18 years old in 2017.Ashley Sanchez also made an assist on a Swanson goal after entering in the 61st minute for Rose Lavelle. The 23-year-old midfielder's long pass shot through defenders and found Swanson for the team's third goal of the night.Andi Sullivan came on in place of Taylor Kornieck at halftime, which enabled the team's midfield to open up a bit and break down the New Zealand defenders. With Sullivan, the team could run its attack up the middle of the field, which also enabled her fellow midfielder Lindsey Horan to take a more central approach.
Lynn Williams, too, shined off the bench. In her return from injury, the 29-year-old forward entered in the 67th minute and soon after scored a header off a perfectly placed cross from Rodman.USWNT players acknowledged the importance of the second-half adjustments after the win."We had to find the ball a little more in between their seams and get a little bit more in the middle for them to collapse and then find our wingers," Rose Lavelle said after the game. "Tough first half for us, obviously some things to clean up, but a really good response."
USMNT's first post-World Cup roster includes players you've never heard of — and exciting ones, too
Henry Bushnell Wed, January 18, 2023 at 12:00 PM EST Yahoo Soccer
The first U.S. men's national team roster of the 2026 World Cup cycle features 11 newbies and a few players you've likely never heard of.There's a defender whose entire professional career spans the United Soccer League and the Norwegian Eliteserien. There's a newly minted American citizen and a 25-year-old winger who plays in Denmark. There's even a Major League Soccer teenager who has never played a first-team game in Major League Soccer.There's the typical sprinkling of MLS veterans, of course, including a few who were in Qatar last month, but this squad, more than most, comes from everywhere and nowhere.It will play Serbia (Jan. 25) and Colombia (Jan. 28) next week in the USMNT's first two games since the 2022 World Cup. They'll occur amid coaching uncertainty and outside an official FIFA window, meaning clubs weren't required to release their players to national teams. With U.S. stars increasingly populating European clubs, therefore, many were unavailable — as they are every year for this annual January camp, colloquially known as "Camp Cupcake."
But the camp, which will be led by caretaker coach Anthony Hudson while incumbent coach Gregg Berhalter is under investigation, is an opportunity for the stars of the next generation to emerge.It will welcome Gabriel "Gaga" Slonina, the 18-year-old goalkeeper expected to someday challenge Matt Turner for the USMNT's No. 1 gig.It could offer debuts to Paxten Aaronson, the brother of Brenden, and Alejandro Zendejas, a Mexican American dual national who has been excelling for Club América in Liga MX. Despite the Mexican league season overlapping with the USMNT's January camp, América agreed to allow Zendejas, a regular club starter, to participate in one of the two games.There will be eight players, including Slonina, Aaronson and Cade Cowell, who'll be eligible to represent the U.S. as under-23 participants at the 2024 Olympics, in its first men's soccer appearance at the Games since 2008.There are 24 players in total, some of whom might never see the field for the USMNT after this month. But several surely will.
The full USMNT roster
Goalkeepers (3): Roman Celentano (FC Cincinnati), Sean Johnson (free agent), Gaga Slonina (Chelsea)
Defenders (8): Jonathan Gómez (Real Sociedad), Julian Gressel (Vancouver Whitecaps), DeJuan Jones (New England Revolution), Aaron Long (LAFC), Jalen Neal (LA Galaxy), Sam Rogers (Rosenborg), John Tolkin (New York Red Bulls), Walker Zimmerman (Nashville)
Midfielders (6): Paxten Aaronson (Eintracht Frankfurt), Kellyn Acosta (LAFC), Aidan Morris (Columbus Crew), Paxton Pomykal (FC Dallas), Alan Soñora (free agent), Eryk Williamson (Portland Timbers)
Forwards (7): Paul Arriola (FC Dallas), Cade Cowell (San Jose Earthquakes), Jesús Ferreira (FC Dallas), Matthew Hoppe (Middlesbrough), Emmanuel Sabbi (Odense), Brandon Vazquez (FC Cincinnati), Alejandro Zendejas (Club América)
The most exciting USMNT newcomers
Among the 24 players, Slonina is the biggest name. The Illinois native turned pro at age 14 and moved from the Chicago Fire to Chelsea for an eight-figure fee at age 18. He was in the mix for a 2022 World Cup roster spot. He and his former Fire teammate, 18-year-old Chris Brady, are considered the USMNT goalkeepers of the future.
The most notable inclusion in this squad, though, is Zendejas, an attacking midfielder who has been the subject of a controversial recruiting battle between the U.S. and Mexico. He was born in Ciudad Juárez, then moved to Texas as a child. He played alongside Christian Pulisic and other current USMNTers with the U.S. under-17s, including at the 2015 U-17 World Cup — but later played for Mexico U-level national teams as well.He accepted a Mexico senior-team call-up in 2021 and debuted for El Tri in a friendly, and that's where his situation got messy. To play for Mexico, per FIFA rules, he would have needed to file a one-time switch of association away from the U.S. He apparently never did. With the 2022 World Cup approaching and Zendejas presumably a candidate for El Tri's roster, the Mexican soccer federation reportedly asked Zendejas to sign a document "renouncing" his affiliation with the U.S.; he reportedly declined.
Amid the confusion and controversy, he established himself as a regular at Club América. He has now accepted his first USMNT call-up — though his international soccer future won't be tied to the U.S. until he appears in a competitive senior game, the first of which could be in March.
Hudson said in a Q&A published by U.S. Soccer that the USMNT staff "didn't think" they'd get Zendejas for the January camp and expressed "huge appreciation" to América for allowing him to join. Hudson said Zendejas is "going to play [for América on Jan. 21], that day that camp starts but they're going to let him fly in and play [for the U.S.] against Serbia." He'll then fly back to Mexico City and play for América on the 28th instead of staying with the USMNT for its second match of the week against Colombia, a team spokesperson confirmed.The other players with the brightest futures are Aaronson, a 19-year-old attacker who joined Bundesliga club Eintracht Frankfurt from the Philadelphia Union this month; John Tolkin, an adventurous 20-year-old left back for the New York Red Bulls; and Cowell, another Mexican-American dual national who has burst onto the scene with the San Jose Earthquakes as a teen. Cowell debuted for the USMNT in a December 2021 friendly.Other notable call-ups include Brandon Vazquez, a breakout MLS striker who'll attempt to establish himself as a potential No. 9 throughout the 2026 cycle, and Alan Soñora, a New Jersey-born midfielder who has spent most of his life in Argentina. He played regularly for Independiente, a top-flight Argentine club, in 2021 and 2022, and has been linked with a move to MLS.
Then there are the out-of-nowhere inclusions: Sam Rogers is a 23-year-old Seattle Sounders youth product who started his pro career in the USL before moving to HamKam and then Rosenborg in Norway. Emmanuel Sabbi is an Italy-born product of Ohio and Chicago-area youth clubs. He then moved to Las Palmas in Spain as a teen and has spent his first-team career with Hobro and Odense in Denmark.The Danish and Norwegian leagues, like MLS, do not play through the winter months, allowing those players to join the January camp. Others, such as Slonina, Jonathan Gomez and Matthew Hoppe, meanwhile, are available because they are not regulars for their respective clubs.Many will be fringe players at best for the USMNT going forward. Of the 27 players called into 2019 January camp, only one (Walker Zimmerman) started games and two played minutes at the 2022 World Cup.The following year, though, January granted opportunity to players such as Matt Turner and Brenden Aaronson, and that, precisely, is the point. Even if just a few someday make a meaningful impact, the week in Southern California will have been worthwhile.The games will be played at the homes of MLS' two Los Angeles clubs, Banc of California Stadium and Dignity Health Sports Park. They kick off at 10 p.m. ET Jan. 25 (HBO Max, Universo, Peacock) and at 7:30 p.m. ET Jan. 28 (TNT, Telemundo, Peacock).
USMNT, Leeds' Tyler Adams named U.S. Soccer Male Player of the Year
By Paul Tenorio and The Athletic Staff Jan 13, 2023
---
U.S. men's national team and Leeds United midfielder Tyler Adams has been voted the U.S. Soccer Male Player of the Year for 2022, the federation announced Friday. Here's what you need to know:
Adams captained the USMNT at the 2022 World Cup in Qatar. The 23-year-old was the youngest captain at the tournament and the youngest USMNT captain at the World Cup since 1950.
He moved from Bundesliga's RB Leipzig to the Premier League with a $24 million transfer to Leeds in July 2022. Upon completion of the move, Adams signed a five-year deal with the English club.
Of the five finalists for the Male Player of the Year Award, Adams earned 71.6 percent of the votes followed by Christian Pulisic (14.7%) and Matt Turner (8.2%).
The Athletic's instant analysis:
How Adams distinguished himself in 2022
Adams distinguished himself as the best and most consistent U.S. player through World Cup qualifying, which wrapped in March, and again at the World Cup in Qatar. That was evident simply in how rarely he came off the field; he led the U.S. in minutes played in 2022 and played every minute at the World Cup.
https://b68cd0f376232f3d6638e6db0a407b6f.safeframe.googlesyndication.com/safeframe/1-0-40/html/container.html
Adams' stellar play in defensive midfield in Qatar helped the U.S. control the center of the park against both Wales and England in the group stage, and he covered ground, broke up attacks and helped solidify a U.S. team defense that ended up allowing just one goal through the first three games of the tournament.
His performances with the U.S. paired with his strong first season in England with Leeds made him an easy choice for the federation's player of the year award. It should be noted, however, that Adams' leadership away from the field was one of the most notable aspects of the World Cup for the U.S. — Tenorio
What they're saying
"Receiving this type of recognition is certainly special, but for me the team's success is the most important thing," Adams said in a statement. "Having the experience of going to the World Cup, performing well as a group and moving the sport forward in the United States was super important to me this year, and I couldn't have done it without my teammates."
Yunus Musah named U.S. Soccer Young Male Player of the Year
Jan 17, 2023 Jeff CarlisleU.S. soccer correspondent ESPN
Yunus Musah has been voted the 2022 U.S. Soccer Young Male Player of the Year after logging the most minutes and starts for a teenager in team history, as well as playing a vital role at the 2022 World Cup in Qatar.This was the third time Musah was nominated for the award after making his senior international debut for the U.S. in 2020, and he secured a whopping 83.9% of the overall tabulated votes, followed by Paxten Aaronson (8.8%) and Diego Kochen (3.4%).
Musah was informed of the honor through a surprise video call from four-time World Cup veteran DaMarcus Beasley, who won the award in 2001 as a 19-year-old."It feels crazy to think out of all people that I was the one chosen to be the Young Male Player of the Year," Musah said. "To get this award is really huge. I've said it many times — I've had the trust from the manager, the team, the U.S. to play so many games at this young age. It shows me that I just have to carry on the way I'm doing, keep being humble and keep working hard to try and be more. As a player, you just want to keep improving."
Musah started all four matches for the United States in Qatar alongside captain Tyler Adams and Weston McKennie. The Valencia midfielder became the first teenager to start a World Cup match for the U.S., as well as the first to appear in multiple matches, as he logged 345 minutes out of a possible 360 during the tournament.Before his 20th birthday on Nov. 29, the day of the USA's knockout round-clinching victory vs. Iran at the World Cup, Musah's 1,578 minutes played and 20 starts set records for a teenager with the USMNT, while his 21 caps equaled the previous mark set by Jozy Altidore and Christian Pulisic.With Spanish La Liga side Valencia, Musah made 39 appearances while netting one goal and adding two assists across all competitions in 2022. He became the second U.S. international to appear in the Spanish Copa del Rey Final, coming off the bench in Valencia's penalty shootout defeat to Real Betis."To the fans from when they started the 'Can't spell Musah without USA thing', through qualifiers and the World Cup, I feel like the fans have been behind me for so long — since before I even did anything in football," Musah said. "As we went on playing games and they enjoyed the way I was playing and everything — I'd just like to say thank you for their unbelievable support and their trust since day one. The fans of the USMNT are great and I love them."Votes for U.S. Soccer Male and Young Male Player of the Year Awards are collected from respective national team coaches, national team players who have earned a cap in 2021, members of the U.S. Soccer board of directors, U.S. Soccer athletes' council, professional league (MLS and USL) head coaches, select media members and former players and administrators. For the second time, fans were able to vote for the U.S. Soccer Player and Young Player of the Year Awards with those votes weighted at 15% of the total.
USMNT weekend viewing guide: Bundesliga's back
Giovanni Reyna and the Bundesliga crowd return to on the field action
By jcksnftsn Jan 20, 2023, 8:40am PST Stars and Stripes
The weekend schedule expands quite a bit this week with the return of the Bundesliga after an extended break following the World Cup. Gio Reyna and Joe Scally headline the list of returning athletes as the players who were with the USMNT for the World Cup, and are joined by several other Americans who will be returning to action or even looking to make a first time break through. We're also going to take a stab at increasing our coverage to include any players who were called in to the 2022 World Cup squad, regardless of their league, if the match is available on one of the significant platforms. The increase in matches means quite a bit to cover, so let's get right to it.
Friday
Mallorca v Celta Vigo – 3p on ESPN+
Luca de la Torre came on as a half-time substitute last Friday for Celta Vigo and helped the team turn around a 1-0 deficit and pick up the point with a 1-1 draw against Villarreal. Luca looked quite sharp in the match and is making the case for additional playing time for a Celta Vigo side that sit just one point out of relegation in a very crowded bottom half of the La Liga table. Celta's opponent on Friday is a Mallorca side that sit in 10th place, six spots above them but with just five more points. It will likely be a tight race for the remainder of the season (which has yet to make the halfway point) and it would be good to see de la Torre work his way into that battle.
Other notes:
A little bonus Friday action as Daryl Dike and West Bromwich Albion face Burnley at 3p on ESPN+ in the English Championship.
Saturday
Union Berlin v Hoffenheim – 9:30a on ESPN+
Jordan Pefok notably did not receive a callup to the USMNT for the World Cup, so he should return to action well rested as Union Berlin resume their 2022-23 campaign. The club currently sit in 5th place as they had stumbled a bit heading into the break, loosing three of five and drawing a fourth to slip back in the standings. They'll look to get back on track as they face a Hoffenheim side that also stumbled into the break, losing four of five and picking up just one point over that time, they currently sit in 11th place. Hoffenheim have added a fresh face to the roster, American Justin Che who seems unlikely to see significant playing time but will have us checking the lineups on a regular basis to see if the Bundesliga continues to increase their American influence.
Other notes:
Cameron Carter-Vickers and Celtic play Greenock Morton at 7:15a on ESPN+ Saturday morning in Scottish FA Cup action. Greenock Morton are a second tier club so it could be an opportunity for CCV to get some rest this weekend.
Liverpool and Chelsea face off in a matchup of two sides that expected more but need to go on a serious run to crack the EPL top four. Christian Pulisic remains out but the match is available on Peacock at 7:30a.
Josh Sargent and Norwich City face Coventry City at 7:30a on ESPN+. Norwich City won their first match under new manager (and fellow American) David Wagner but still sit two points out of the promotion playoff spots.
Timothy Chandler and Eintracht Frankfurt face Schalke at 9:30a on ESPN+. Paxten Aaronson also joined Eintracht Frankfurt over the winter break but the club released him for the USMNT January camp which would seem to indicate they have little plans or expectations for him in the near future.
Kevin Paredes received his first start for Wolfsburg in October but then missed the team's next four matches before the World Cup break due to a calf injury. Wolfsburg return to action with a matchup against Freiburg at 9:30a on ESPN+.
Haji Wright and Antalyaspor will face league leading Galatasaray at 11a on beIN Sports. There have been rumors that Wright may be moving to another league but for now he'll look to contribute to an upset result and pick up a precious point for his team as they try to avoid relegation.
Chris Richards received his first league start on Wednesday as Crystal Palace picked up a huge point against Manchester United. Richards played well but his spot is a bit dependent on the health of his teammates. Palace now face fourth place Newcastle United at 12:30p on NBC.
Sunday
Gio Reyna will look to make some headlines on the field as Borussia Dortmund return to action on Sunday. Reyna struggled throughout the World Cup, not seeing the field as much as he would have liked, and by his own admission not responding well, and that's just the tip of the iceberg though much of the drama was not of his doing. Regardless, there's no better way to put all that behind him than to be able to take the field and let his play take over. Injuries have long been a concern for Reyna and BVB has been careful with him so it wouldn't be surprising if he is in a substitute as the team returns from a long break and he is gradually worked into more action. BVB have been disappointing so far this season and currently sit in sixth place, two points back of Champions League qualification and already nine points back of league leading Bayern Munich. This weekend they will face an Augsburg side that sit just two points out of the relegation zone.
Other notes:
Tyler Adams, Brenden Aaronson and Leeds United fell to Aston Villa last weekend and Jesse Marsch's side will look to pick up their first win in six matches when they face Brentford at 9a on Peacock. Leeds currently sit in 14th, two points out of the relegation zone though they do have a game in hand.
Joe Scally and Borussia Mönchengladbach face Bayer Leverkusen at 11:30a on ESPN+. Scally has started every match for Gladbach though he did not appear for the US at the World Cup.
Tim Weah's Lille face Pau at 12:30p on FS2 in French Cup action. Weah is being used all over the place by Lille recently including getting the start last Sunday at left back.
Weston McKennie and Juventus will look to bounce back from an embarrassing 5-1 loss to Napoli when they face Atalanta at 2:45p on CBSSN.
Tim Ream, Antonee Robinson and Fulham look to continue their improbable run in the EPL as they take on Tottenham Hotspur at 3p on USA Network.
Yunus Musah and Valencia face Almeria at 3p on ESPN+ and ESPN Deportes. The two teams are both a part of that crowded bottom half of the LaLiga table.
Stejskal: In USMNT's Berhalter/Reyna saga, everyone involved faces uncertain future
By Sam Stejskal 7h ago
---
This should be an exciting, anticipatory moment for the U.S. men's national team. A young core of players performed admirably at the World Cup in Qatar and could take a step forward by 2026, when the U.S. will co-host the tournament with Canada and Mexico.
But instead of looking ahead in anticipation, we're caught up in a Shakespearean drama, and the future is uncertain.
For those who need a quick recap: At the World Cup in Qatar, talented attacker Gio Reyna showed an alarming lack of effort in training, which frustrated his teammates and coaches and contributed to his lower-than-expected playing time at the tournament. Reyna eventually apologized to the group and by all accounts, the team moved on.
A few days after the U.S.'s elimination, head coach Gregg Berhalter detailed the saga at a leadership conference in New York City. Berhalter's comments were supposed to be off the record and he never mentioned Reyna by name, but they were nonetheless published in a newsletter after the event. And for anyone paying attention, it was clear who he was referring to.
Gio's parents, Claudio and Danielle Reyna, upset that their son's unprofessionalism was being aired publicly, called U.S. Soccer sporting director Earnie Stewart to voice their anger. Danielle told him about a 1991 domestic violence incident in which Gregg Berhalter kicked his now-wife, Rosalind, when they were dating while at the University of North Carolina.
"I told Earnie that I thought it was especially unfair that Gio…was still being dragged through the mud when Gregg had asked for and received forgiveness for doing something so much worse at the same age," she said in a statement.
Stewart then took the allegation to his superiors at U.S. Soccer, who hired an outside law firm to further investigate. And before long, the whole thing became public knowledge.
Heightening all of this was how intertwined all these parties are. Gregg Berhalter and Claudio Reyna became friends playing under Claudio's father on a youth team in northern New Jersey. They went to high school together and were teammates with the U.S. at two World Cups. Rosalind Berhalter and Danielle Reyna were good friends, roommates and soccer teammates at UNC. They kept their families close over the ensuing 30 years. Stewart, too, has a long history with both families, playing with Claudio Reyna at three World Cups and with Gregg Berhalter at one.
https://embed.podcasts.apple.com/us/podcast/mls-apple-tv-announcement-reyna-berhalter-saga-josef/id1586833046?i=1000593926121&itsct=podcast_box_player&itscg=30200&ls=1&theme=auto
Apart from Rosalind Berhalter and Stewart, just about everyone involved acted shamefully.
The lack of effort was entirely inappropriate from the 20-year-old Gio Reyna, whose protracted fit about not starting the opener against Wales was disrespectful to his teammates, coaches and the players who narrowly missed out on the final roster.
Speaking about the situation in a room full of strangers was foolish by Gregg Berhalter. No matter the ground rules of the event, a U.S. national team head coach has to know that revealing inside-the-locker-room details in any unfamiliar setting may cause a leak.
ADVERTISEMENT
https://c04c82427a0bb5ff5c1fe5fb670748a4.safeframe.googlesyndication.com/safeframe/1-0-40/html/container.html
It should go without saying that Gregg Berhalter abusing Rosalind was reprehensible. She will have to always carry the trauma of the moment; he will have to live with the shame of it for the rest of his life. The knowledge of it should play a role in whether U.S. Soccer retains Berhalter, who was 18 when he abused Rosalind, as head coach. The ongoing investigation should also look into what the federation knew of the incident when Berhalter was first hired in December 2018. At that time, Berhalter's brother Jay was a high-ranking executive at USSF, though Stewart was most directly responsible for the hire.
The elder Reynas should feel shame, as well. Claudio Reyna admitted in a statement released earlier this month that he was texting Stewart and USMNT GM Brian McBride, another former U.S. teammate of his and Berhalter, about his frustration around Gio's lack of playing time while in Qatar. That would be inappropriate behavior for a parent of an under-12 player. For a former USMNT captain and current MLS sporting director whose son was then at the World Cup, it was extremely unbecoming.
Those kinds of actions seem to be part of a pattern for Reyna, who, as first reported by Fox Sports last Thursday and later confirmed by sources to The Athletic, previously tried to influence then-U.S. under-17 national team head coach Raphael Wicky regarding his treatment of Gio at the 2019 U-17 World Cup.
Of course, none of that is nearly as bad as Danielle Reyna detailing the incident in which Berhalter kicked Rosalind to Stewart. The issue there isn't with the revelation of the abuse, but how Danielle Reyna revealed it: without Rosalind's consent.
In her statement, Danielle didn't say she told Stewart of the abuse out of any concern for Rosalind, her friend of more than 30 years. She didn't say she told Stewart because she felt Gregg was morally incapable of coaching the USMNT. By her own admission, she naively didn't even realize that what she said could prompt an investigation.
It didn't seem to matter to her that it wasn't her story to share. It didn't matter that she was once close friends with Rosalind. It didn't even matter that the Berhalters dealt with the incident, reconciled and appear to have had a long, happy and fruitful marriage. The only thing that seemed to matter to Danielle was that Gregg made some comments about her son's poor behavior at the World Cup. That was enough for her to drag another family through the mud. What she did was spiteful, vindictive and entirely out of proportion.
Parts of Danielle's statement read like she feels those in her family are the victims. That's laughable. The only victims here are Rosalind Berhalter and her children, who have had to live through this uncomfortable experience under some incredibly bright lights.
For the others, the next period could be determinative, as the independent investigation commissioned by U.S. Soccer is still open.
Berhalter wants to stay on as U.S. head coach, and Stewart told reporters he's still being considered, but there were legitimate questions even before this drama became public about whether he should be retained. The 2022 World Cup cycle was a solid but not overwhelming success on the field with some missteps popping up along the way.
ADVERTISEMENT
Players who have been asked about the scandal over the last couple of weeks have been generally supportive of Berhalter, but it's possible, as U.S. legend DaMarcus Beasley mentioned on HBO Max's post-game show following the U.S. women's 4-0 win at New Zealand on Tuesday, that his comments at the leadership symposium hurt his standing in the locker room. U.S. Soccer may determine that bringing back Berhalter would be too problematic, especially if the federation aims to be wholly focused on building positive momentum ahead of 2026.
However, realistic alternatives to take over for Berhalter may be scarce. For one, coaching the USMNT might be a pretty dull prospect until 2026. As one of the host nations, there's no qualifying on tap for the U.S. and no guarantee that the Americans will get into the 2024 Copa America. The only meaningful games for the U.S. men between now and the start of the next World Cup could be against regional competition in the CONCACAF Nations League and Gold Cup. For big-name, world-class managers, those tournaments probably won't be all that attractive. And for all we know, U.S. Soccer, which has paid and continues to pay a mountain of legal fees thanks to various lawsuits and investigations, may not even be able to afford the kinds of salaries commanded by the top managers on the market.
Claudio Reyna's future might also be affected. According to a statement issued by the federation on Jan. 3, during the course of the investigation, USSF "learned about potential inappropriate behavior towards multiple members of our staff by individuals outside of our organization. We take such behavior seriously and have expanded our investigation to include those allegations." Given his statement about texting Stewart and McBride and the reporting about his messages about Wicky at the U-17 World Cup, that expanded scope could implicate Reyna, and may lead to repercussions by Austin FC, his employer.
Reyna said in his statement that "at no time did I ever threaten anyone, nor would I ever do so." But if the investigation confirms instances of inappropriate behavior by Reyna, Austin should seriously consider whether they want to continue employing him as sporting director.
Befitting the rest of this story, there's also some interpersonal awkwardness at play in Austin, which is coached by former U.S. international Josh Wolff. The two-time World Cup veteran came to the club after spending six years as Berhalter's top lieutenant, first with Columbus, then with the USMNT. Additionally, Austin is owned by Anthony Precourt, who hired Berhalter in Columbus in November 2013. That's a pair of individuals with deep connections to Berhalter on either side of Reyna on the Austin organizational chart.
Austin, for what it's worth, has already put some distance between themselves and Reyna — at least temporarily. Since Jan. 5, the day after news broke that the Reynas were involved in this scandal, the club has not quoted Claudio in either of its two first-team roster-related press releases, instead including color from Wolff or director of player personnel Sean Rubio. Under normal circumstances, Reyna is quoted in announcements regarding the roster. A club spokesperson declined to comment on the reasoning behind the change when reached on Tuesday.
There are questions to be answered for Gio Reyna, too. He's still young and can certainly grow from his poor behavior in Qatar, but not giving proper effort at the World Cup is a pretty significant red flag regardless of age. Reyna is talented, but feeling like he deserved to start for a U.S. team that he didn't play a significant role for during qualifying because of injuries suggests a degree of entitlement incommensurate with what he's actually done on the field. It also ignores the ability of fellow wingers Christian Pulisic and Tim Weah, who started and performed well in front of Reyna in Qatar.
ADVERTISEMENT
https://c04c82427a0bb5ff5c1fe5fb670748a4.safeframe.googlesyndication.com/safeframe/1-0-40/html/container.html
His first time back in the U.S. locker room could be a bit uncomfortable, too. It may not end up being an issue, but it's not hard to imagine some of his teammates looking at him sideways after his mom and dad escalated this drama.
If Reyna responds to this situation with humility, by putting his head down and using his substantial gifts to earn his place in the team, he'll be fine for both club and country. If he doesn't, it could negatively affect his career.
More than anything, this is an absurd, sad way for the U.S. men to close out one relatively successful World Cup cycle and enter into what should be an exciting moment for the entire American soccer community. We don't know what will come of this madness, but we do know that what should've been a positive moment has already been indelibly tainted.
Arsenal take big step towards Premier League title, Barcelona's statement win over Real Madrid, more
Jan 16, 2023 Gab MarcottiSenior Writer, ESPN FC
It's back! The first Marcotti Musings of 2023 is here, and the European soccer weekend offered up plenty to talk about, from Arsenal, Barcelona and Man United getting memorable, morale-boosting wins over their rivals Tottenham, Real Madrid and Man City respectively to more pain at Liverpool.
– Stream on ESPN+: LaLiga, Bundesliga, MLS, more (U.S.)
Also, Newcastle are for real, Chelsea picked up precious points (while also signing Mykhailo Mudryk, an Arsenal target) and Atletico Madrid's top four hopes in LaLiga are fading fast.
It's Monday, and Gab Marcotti reacts to the biggest moments in the world of football.
---
Arsenal take another big step towards the title, while Spurs have plenty to reflect on
Arsenal have been top of the Premier League table since day one, yet many of us expected them to falter at some point. Not least because, well, their pace doesn't look sustainable: At this rate, they'll collect 99 points, which would be the second-highest total in league history. And so you find yourself looking at the fixture list and trying to pick out games where they could drop points.Tottenham away on Sunday was one of those games. It's the North London derby, Spurs had beaten them the previous season, Arsenal had been held at home by Newcastle in their last league outing, Eddie Nketiah was still starting up front … except it didn't happen. On the contrary, Arsenal turned in a masterful, comprehensive performance at both ends of the pitch, winning 2-0.
EDITOR'S PICKS
It's true that the first goal was thanks to a howler by Hugo Lloris and the second was a long-range, low-xG shot by Martin Odegaard (and one that Lloris might have done better with, too). But the attacking display in the first half left Spurs fighting shadows and frankly, they could have scored more.
Mikel Arteta's set-up — whether you call it a 4-3-3 or 4-2-3-1 — becomes a tricky, asymmetrical unit when Oleksandr Zinchenko steps into midfield, combining with Granit Xhaka and Gabriel Martinelli down the left, while Bukayo Saka has the run of the right wing. It works because the players know their jobs and have fully bought into Arteta's instructions and are committed to them. It also works because they've largely stayed fit: even Gabriel Jesus' absence has been successfully weathered thus far, not because Nketiah is anywhere near his level (he isn't), but because he's smart and can replicate much of what the Brazilian brought to the table in terms of movement, on and off the ball.
Across the way, Antonio Conte could sit back and point to the xG, individual errors, some excellent saves by Aaron Ramsdale or the absence of Rodrigo Bentancur for an alibi. But if he did, he'd be lying to himself. Tottenham were passive and entirely lacking in the intensity we usually associate with Conte-led sides during the first half. On top of that, they defended deep and narrow, and Arsenal went to town on them.
– Ogden: Predicting the PL title race, top four
– Reaction: Arsenal are finally title faves
Some have criticised him for his substitutions, leaving Son Heung-Min (who was having a major off-day) on the pitch and giving Richarlison only 20 minutes to make an impact. I have less of an issue with that: replacing Son with Richarlison would have left him with no alternatives if he then wanted to send on another striker. Also, sending on Richarlison for a defender would have meant switching to a back four. Conte eventually did that, of course, but you can see how he did not want to go 4-2-4 too early.Fourth place is now five points away, and Tottenham have to continue to believe they'll catch somebody. But if they're going to have a prayer, they can't put on the sort of display we saw before the break.As for Arsenal, you're still looking at the fixture list and figuring out where they might stumble. It's just that with every week that passes, there are fewer and fewer of those games.
WHAT DOES LYNN WILLIAMS' TRIUMPHANT RETURN MEAN FOR THE USWNT?
Just Women's Sports – Kate Yanchulis KATE YANCHULIS
Lynn Williams made a triumphant return for the U.S. women's national team in Wednesday's 4-0 win against New Zealand.The 29-year-old forward had not played for the USWNT since last February, but she did not miss a step in her first game back. What does her return mean for the team as it prepares for the 2023 World Cup?
WHAT HAD KEPT HER OFF THE ROSTER?
In March 2022, Williams tore her hamstring in the Kansas City Current's opening match of the NWSL Challenge Cup."The [doctors] said that my tendon has probably been hanging off slightly for the past couple of years and it was too much," she said.She spent the next 10 months working her way back from injury before she was named to the roster for the USWNT's January trip to New Zealand.
HOW DID SHE PLAY VS. NEW ZEALAND?
While Williams started the match on the bench, she came on in the 67th minute for Mallory Swanson, who also shined in the win. Just seven minutes later, she headed a cross from Trinity Rodman past New Zealand goalkeeper Erin Nayler. The goal was the 15th of her career but her first since October 2021."It feels amazing, but I give it to my teammates — they've been there with me through the whole way and supporting me and being like, 'You've got this, Lynn.' So it feels incredible," Williams told ESPN after the match.
WHAT DOES HER RETURN MEAN FOR THE USWNT?
With Williams' return, the USWNT's talented forward line gets even more crowded.In 2022, Swanson, Alex Morgan and Sophia Smith featured most often in the starting lineup, with Megan Rapinoe, Trinity Rodman, Ashley Hatch, Midge Purce and Alyssa Thompson as substitutes. And Catarina Macario and Christen Press are working their way back from injury, with both expected back in the next several months."It's not easy to be a forward in the United States right now," coach Vlatko Andonovski said last June. And that sentiment is only becoming truer.Still, Williams provides a defensive presence on the forward line, which could make her a valuable addition to the roster. While she did not receive a roster spot for the 2019 World Cup under coach Jill Ellis, she fit well in Andonovski's system after he took the helm.
The VAR Review: Why Bruno Fernandes' goal in Manchester derby stood even though United's Marcus Rashford was offside
Jan 16, 2023Dale Johnson General Editor, ESPN FC
Video Assistant Referee causes controversy every week in the Premier League, but how are decisions made, and are they correct?
After each weekend we take a look at the major incidents, to examine and explain the process both in terms of VAR protocol and the Laws of the Game.
– How VAR decisions affected every Prem club in 2022-23
– VAR in the Premier League: Ultimate guide
JUMP TO: Newcastle 1-0 Fulham | Brentford 2-0 Bournemouth | Villa 2-1 Leeds | Forest 2-0 Leicester
Possible offside: Rashford on Fernandes goal
What happened: Manchester United equalised in the 78th minute when Marcus Rashford ran onto a ball from Casemiro down the centre, though was clearly played offside by Manuel Akanji. Rashford chased the ball but didn't touch it, and Bruno Fernandes ran over and took the shot instead. The assistant, Darren Cann, raised his flag for offside, but referee Stuart Attwell awarded the goal after a short discussion.
VAR decision: Goal stands.https://www.youtube.com/embed/GTIw4n0f2MM?start=87&wmode=transparent
VAR review: In the spirit of the game, and certainly in terms of "what football expects" (a phrase regularly used by the lawmakers), there seems little doubt that offside would have been a better decision. No one would really have argued had the goal been disallowed. But the Laws of the Game are not this straightforward, especially when it comes to subjective elements of offside.
While the assistant made the decision to flag Rashford offside, the referee remains in charge of the subjective elements and, from his viewpoint, decided at no point Rashford had impacted an opponent.
The key question for the VAR, Michael Oliver, is whether Attwell has made a clear error in law to overrule the assistant and allow the goal. And the answer under the current offside law, whether we like it or not, is undoubtedly no. Oliver would only send the referee to the monitor if he felt the decision was incorrect in law, and not just for a second look.
This doesn't mean we won't see similar incidents given offside, because it's so subjective and, in most cases, officials will err on the side of caution and give the offside. Indeed, had Fernandes not scored, then it's almost certain the game would have restarted with the offside free kick to Manchester City. Later on Saturday, Liverpool's Trent Alexander-Arnold was given offside when chasing a ball that went out for a throw-in, and just like in this example, he didn't touch the ball. The Alexander-Arnold offside was certainly an incorrect flag in law, and Liverpool should have had a throw-in.
To understand why it's not a clear and obvious error by Attwell, we need to delve into the law itself.
The moment the ball is passed sets offside position only. A player cannot be offside from where they are on the pitch, it's about their actions in relation to the ball or an opponent.
Rashford cannot be deemed to be "interfering with play," because this applies exclusively to "playing or touching a ball" and is an automatic offside offence. As Rashford didn't touch the ball, he cannot be "interfering with play."
Which leaves us with four tests for "interfering with an opponent." Rashford has to fail one of these to be offside.
1) Preventing an opponent from playing or being able to play the ball by clearly obstructing the opponent's line of vision
While some may argue this applies to Rashford because he is in front of Akanji, this refers to a player blocking another player's line of vision when the ball is played. This is more applicable to a situation where a player is stood in front of the goalkeeper when a teammate shoots on goal.
2) Challenging an opponent for the ball
Akanji and Kyle Walker were never within playing distance of Rashford or the ball itself during the move so, in law, the United striker cannot be deemed to be challenging an opponent. Had Akanji got back to Rashford, it would have been a different judgement.
3) Clearly attempting to play a ball that is close when this action impacts an opponent
Again, in law Rashford doesn't attempt to play the ball and as Akanji is a few yards behind him, he cannot be impacting on him. He cannot be offside purely by running towards the ball, he must be impacting an opposition player.
4) Making an obvious action which clearly impacts the ability of an opponent to play the ball
This is the one clause that Rashford could be deemed to break. However, this usually involves an attacking player either dummying the ball, or attempting to play it, with an opposition player directly impacted from intercepting or clearing the ball. One such example was Bryan Mbeumo's goal for Brentford at Newcastle, which was ruled out through VAR for offside in the buildup against Ivan Toney, who had moved his body to let the ball run through past a defender.
Rashford slows down as the ball reaches the edge of the box. It has been described by some as a "feint," or "shaping to shoot," but it's very much open to interpretation; equally, you could say he is simply stopping his run. In any case, remember this action has to "clearly impact on the ability of an opponent to play the ball." That cannot apply to Akanji, as he is never within playing distance of the ball; as Fernandes is the next player to the ball it's difficult to say that Rashford has directly impacted Walker.
The real case for discussion is about Ederson, and whether his actions would have changed had Rashford not been there. Perhaps, but Rashford doesn't impact the goalkeeper's ability to come and play the ball. He may affect his choice to do so, and how he might shape for a save, but the law doesn't discuss how a player might behave differently if the offside player isn't present; it only discusses the ability of an opponent to play the ball.
Goals like this are rare, and in most cases the offside will be upheld. But subjectively it isn't an incorrect decision by Attwell to allow it, and the independent assessment panel is unlikely to say this was a missed intervention.
It's as though Akanji is penalised for playing a good offside trap, as he checks his run initially. But again, this doesn't get taken into account in law.
The majority of referees would likely agree this is onside in law, but it wouldn't be a universal opinion. That's why there is a subjective argument on both sides, but most of the weight is probably on it being a goal when it's judged after the fact.
Of course, this kind of goal is only possible in a VAR league, because ordinarily the flag would have gone up against Rashford before Fernandes hit the shot. It's the second goal Fernandes has scored this season thanks to VAR protocol, the other coming against Tottenham in October. After a delayed flag against Harry Kane the ball fell to Luke Shaw and referee Simon Hooper played advantage, with United scoring on a fast break.
---
Possible penalty: Burn foul on Pereira
What happened: In the 64th minute, Andreas Pereira went down in the area when he appeared to be pulled back by Dan Burn, but referee Robert Jones waved away the appeals for a penalty.
VAR decision: No penalty.https://www.youtube.com/embed/YBnIHWKNcRw?start=397&wmode=transparent
VAR review: A decision which certainly wouldn't have been overturned if the referee had awarded the penalty, and it would have been a red card for Burn too, but there isn't quite enough in it for a VAR overturn in the Premier League.
There's no doubt that Burn had his hand on Pereira's arm, but was it enough to make the Fulham player go to ground in the way he did? Probably not, and that will influence the decision of the VAR.
Based upon past examples of on-field decisions supported by the independent assessment panel, it is unlikely to say this was a wrong decision.
Possible penalty: Foul by Trippier on De Cordova-Reid
What happened: Immediately after the Burn-Pereira incident, Bobby De Cordova-Reid was challenged by Kieran Trippier on the edge of the area, but again the referee wasn't interested in a penalty.
VAR decision: Penalty, goal disallowed for a double touch by Aleksandar Mitrovic.https://www.youtube.com/embed/YBnIHWKNcRw?start=417&wmode=transparent
VAR review: This was a poor VAR intervention from Mike Dean, as De Cordova-Reid appears to commit the first offence. The Fulham midfielder missed the ball and caught Trippier on the top of the foot before the Newcastle United player made contact with his opponent.
If referee Jones had given the penalty, you could probably see a subjective reason to stay with the on-field decision. But there was no clear and obvious error not to give the penalty to De Cordova-Reid, who also went to ground in an exaggerated fashion.
Jones didn't appear to be shown the clearest angle where De Cordova-Reid steps on Trippier, and this can be one of the problems with this part of the protocol. At the monitor, the VAR shows the referee the evidence to support the overturn, rather than a more complete picture of the incident — though the referee can ask for additional replays.
There's a high chance this will be considered an incorrect intervention.
As Mitrovic kicked the ball with his right foot onto his left foot to score the penalty, the goal has to be disallowed with play restarting with a free kick to Newcastle.
---
Possible penalty overturn: Senesi foul on Toney
What happened: Brentford were awarded a penalty in the 37th minute when Marcos Senesi brought Ivan Toney to the ground inside the area.
VAR decision: Penalty stands, scored by Toney.https://www.youtube.com/embed/lPW8CLRi-JA?start=32&wmode=transparent
VAR review: At first, this seemed to be a good decision by referee Jarred Gillett. However, once you look at the incident more closely there is a clear case that Toney first fouls Senesi. The Brentford striker appears to lock arms with his opponent, and as they spin round Senesi brings him to the ground as he falls.
Andre Marriner, the VAR, has decided that it wasn't a clear error by the referee to award the spot kick and not enough evidence for the decision to be overturned. After the two players have their arms locked, Senesi then brings his left arm around Toney causing both to go to ground, which can be the only reason the VAR has supported this decision.
There is very little chance the VAR would have advised a penalty had the referee not awarded it himself.
Last season, there was a missed VAR overturn when Brighton's Neal Maupay pulled the arm of Leicester City's Jannik Vestergaard, leading to a penalty for handball. That was more obvious than the Toney example, but it does show how officials should be looking for infringements by an attacker before any offence by a defender.
---
Possible penalty: Luiz foul on Rodrigo
What happened: In the 24th minute, Leeds United had a free kick just outside the area which was played quickly through the centre by Brenden Aaronson. Rodrigo went down under a challenge from Douglas Luiz, who had his arm across the attacker, but referee Michael Oliver waved play on.
VAR decision: No penalty.https://www.youtube.com/embed/VRboElbBvVs?start=139&wmode=transparent
VAR review: Much like the penalty claim for Pereira against Newcastle, this is an incident which in the Premier League has almost always been left to the on-field official. There is clearly an arm on Rodrigo by Luiz, but it debatable whether that had enough impact on the Leeds United player to warrant a VAR penalty to be advised by Andy Madley.
Another decision which would have stayed as a penalty if given by Oliver, but is unlikely to go down as a missed VAR intervention by the independent panel.
---
Possible onside: Johnson on disallowed goal
What happened: In the 56th minute, Brennan Johnson broke through on goal from a Morgan Gibbs-White ball and scored, but the flag went up for offside.
VAR decision: Goal.https://www.youtube.com/embed/m4j40YwDDtQ?start=242&wmode=transparent
VAR review: From the first replay on television it looked as though Johnson had to be offside, but once the technology had been applied the striker was clearly onside.
It wasn't even close enough for Johnson to need the tolerance level applied to the tech to be given onside.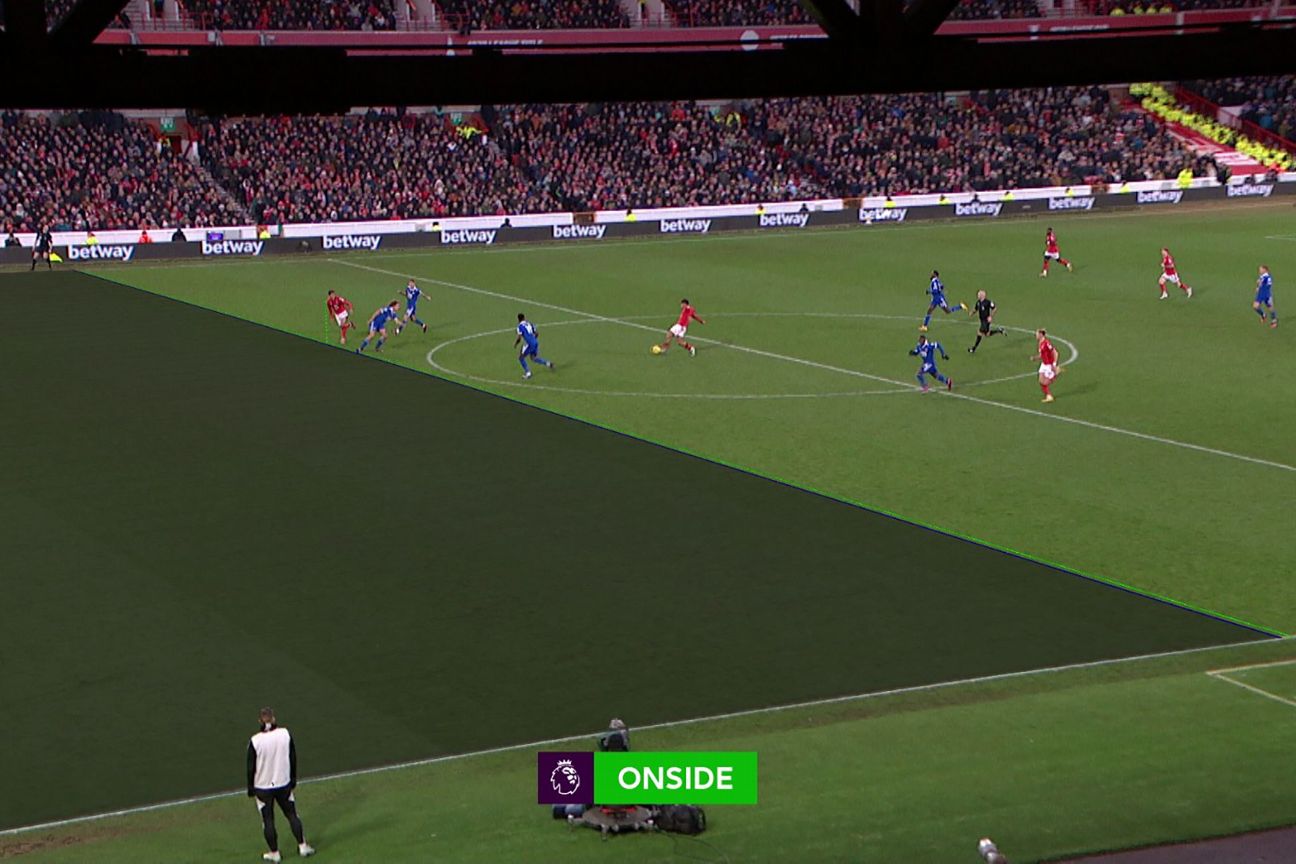 There were two other VAR overturns for offside over the weekend, both very clear decisions.
On Friday, Aston Villa were awarded a goal when Emiliano Buendia (the player who is further back on this offside image) was wrongly flagged offside — meaning two goals were added through VAR over the weekend.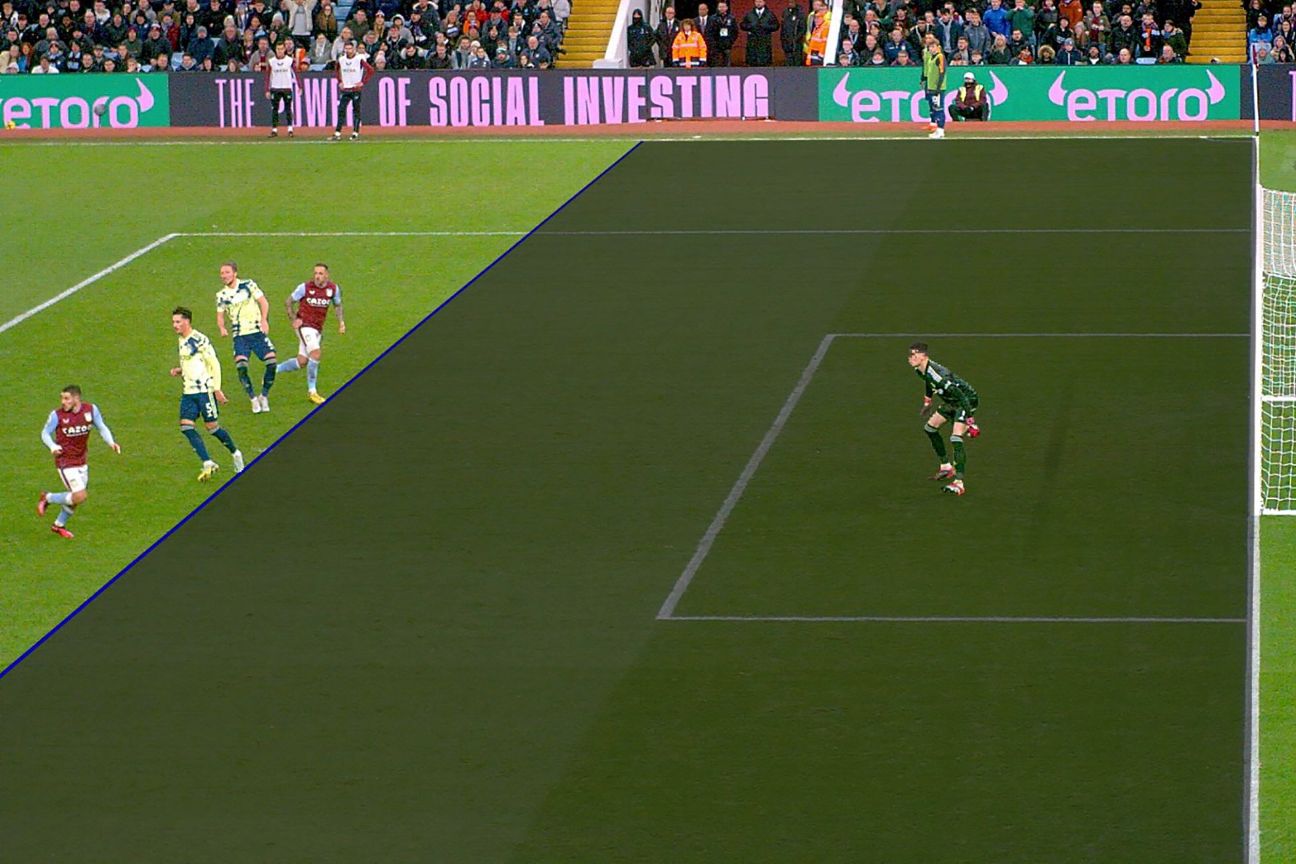 Brighton & Hove Albion, meanwhile, thought they had a penalty against Liverpool but Solly March was clearly offside in the buildup and the spot kick was overturned.
Information provided by the Premier League and PGMOL was used in this story.
Copyright: © ESPN Enterprises, Inc. All rights reserved.
Predicting the Premier League title race, battle for top four: Will Arsenal be champions? Can Liverpool save their season?
Jan 16, 2023 Mark OgdenSenior Writer, ESPN FC
The Premier League hits the halfway stage this week and the clubs chasing the title and or a top-four finish — and with it, Champions League qualification for next season — face a crucial set of fixtures in the days ahead.
– Stream on ESPN+: LaLiga, Bundesliga, more (U.S.)
Manchester City take on Tottenham Hotspur on Thursday, Liverpool play Chelsea two days later and leaders Arsenal meet a resurgent Manchester United at the Emirates on Sunday. Each of those games have become huge for different reasons for the teams involved.And with the so-called "Big Six" all facing games against each other (while Man United also play Crystal Palace on Wednesday), third-placed Newcastle United can maintain their surprise title challenge by beating Palace at St James' Park on Saturday.The prospects of each team will become clearer at the end of this pivotal week, but what are they all chasing and how will the season pan out from this point onward?
---
1st place, 47 points, +28 goal difference
The objective
At the start of the season, Arsenal simply wanted to finish in the top four and return to the Champions League for the first time since 2017. But the Gunners are now aiming much higher, and having opened an eight-point lead at the top of the table, Mikel Arteta's team are now favourites to win the title for the first time since 2004.
What do they need?
Arsenal have lost just once all season in the league, against Manchester United at Old Trafford in September, and have dropped only seven points in 18 games. If they maintain that kind of form, Arsenal could hit 100 points, but with all of their rivals displaying inconsistency at some stage of this campaign, it will not take such a high total to win the title. If they win all 20 of their remaining games, Manchester City would still only amass 99 points, so Arsenal simply need to hold their nerve and make the most of their eight-point advantage.
What can go wrong?
Arteta's team is just that: a team. They are a collective that doesn't rely on one outstanding player, but captain Martin Odegaard, winger Bukayo Saka and goalkeeper Aaron Ramsdale have grown as the season has progressed. If Arsenal were to lose any of those players, or midfielder Thomas Partey, for a lengthy period, they would find it tough to replace them. But they have not yet been impacted by Gabriel Jesus' absence through injury since the World Cup. The one question to be answered is how Arsenal react to a setback or poor run of results. Do they have the squad depth and experience to stay the course? So far, they have been unfazed by the pressure of being leaders.
Where will they finish?
As champions. Sunday's win at Tottenham was huge. Arsenal are now favourites, and rightly so.
---
2nd, 39 pts, +28 GD
The objective
Make no mistake, Manchester City's objective this season is to win the Champions League, and if they do that, a barren season in the domestic competitions won't worry anyone at the Etihad. But City are attempting to become only the fifth English club to win three successive league titles, and coach Pep Guardiola loves making history, so they will be desperate to reel Arsenal in.
What do they need?
City need to find some consistent form. They have won only four of their past eight games in all competitions and have lost their past two, so these are unusually difficult times for Guardiola's side. Back in 2017-18, City won a record 18 successive Premier League games, and they may have to do that again to turn the screw on Arsenal. With the champions still to play the Gunners home and away this season, they can turn the situation around with wins in both fixtures.
EDITOR'S PICKS
What can go wrong?
Maybe it has already started to go wrong. City have scored just six goals in their past eight away games in all competitions, and Erling Haaland, incredibly, has scored in just two away games since September. The free-flowing attacking football that City have mastered under Guardiola brought goals galore, but they have lost that fluency with Haaland in the team. Yes, they now have a formidable goal scorer, but away from home at least, opponents have found a way to stop City. Unless they can rediscover their cutting edge, the title will slip away.
Where will they finish?
Second. City have given themselves too much to do, and their margin for error is now too thin for them to catch Arsenal.
---
3rd, 38 pts, +22 GD
The objective
European qualification and a first trophy since 1969 would have been a dream scenario at the start of the season and Eddie Howe's team are on course for both. But a place in the Carabao Cup semifinals has been eclipsed by league form that sees Newcastle still in the title race and firmly in the hunt for a Champions League spot.
What do they need?
Newcastle need goals. Although they have the best defensive record in the league, the goals are beginning to dry up, with only one scored in their past three Premier League games. The return to fitness of club-record signing Alexander Isak could be crucial, however. The Sweden international scored the late winner in the 1-0 victory over Fulham on Sunday, and he now has three goals in four league appearances. If he can maintain form and fitness, Isak can be the man to score the goals to secure a top-four finish, especially if Miguel Almiron (nine in 19) continues his impressive season.
What can go wrong?
Newcastle are in unknown territory at the top end of the table having spent the best part of the past decade fighting relegation or attempting to win promotion back to the top flight. Their squad is still stocked with players who underperformed for years under previous managers, so can they sustain the team's remarkable run that has seen them lose just once in the league all season? Howe has made some astute signings and transformed the team's existing players, but when the heat is on, Newcastle's lack of depth and genuine top-four quality could be their downfall.
Where will they finish?
Fifth. Newcastle have exceeded all expectations so far, but their rivals have better squads and players who are experienced in dealing with the pressure of the run-in.
---
Burley: Man United are in the title race after win vs. Man City
Craig Burley believes Man United are in the Premier League title race after their 2-1 win over Man City.

4th, 38 pts, +8 GD
The objective
United's primary goal under new manager Erik ten Hag at the start of the season was to finish in the top four and stabilise after the club's worst-ever Premier League campaign in 2021-22. A nightmare start with two successive defeats made that target look optimistic, but United are back on course and still alive in four competitions as they attempt to end a six-year trophy drought. Saturday's win against City has sparked talk of a title bid. That seems premature, but if they beat Palace and Arsenal this week, United will be serious contenders.
What do they need?
Ten Hag has somehow brought results, consistency, confidence and belief back to Old Trafford in less than six months, and United simply need to sustain their revival. In the top 10, only Chelsea (22) have scored fewer goals than United (29), so there is obvious room for improvement in that department, hence the loan signing of Netherlands forward Wout Weghorst from Burnley. United have climbed into the top four thanks largely to Marcus Rashford's recent streak of eight goals in seven games, so Weghorst's arrival is well-timed with Ten Hag needing an extra threat up front. But this is a decisive week. United have won nine games in a row, and if they make it 10 and 11 at Selhurst Park and the Emirates, the momentum could push United very close to the title.
What can go wrong?
United have had too many false dawns to mention in the decade since legendary manager Sir Alex Ferguson retired. Louis van Gaal, Jose Mourinho and Ole Gunnar Solskjaer all saw great runs fizzle out into disappointment. While it feels different under Ten Hag, United could be knocked off course if any of Rashford, Casemiro, Bruno Fernandes or Raphael Varane were to miss a series of games. United are clearly on an upward trajectory again, but their lack of depth in key areas means they need to be lucky with injuries and suspensions.
Where will they finish?
Third. United are looking strong again, but they aren't ready to win the title, and Arsenal and City will pull clear.
---
5th, 33 pts, +10 GD
The objective
Spurs looked well-placed to comfortably finish in the top four this season, but coach Antonio Conte's team has been affected by inconsistency and injury to key players. So Spurs are once again facing a battle in the second half of the season to finish fourth and, at the same time, do enough to convince star striker Harry Kane that he can achieve his ambitions at the club. With Kane's contract due to expire in June 2024, this is a huge six months for the club and the England captain.
What do they need?
Spurs have won three of their past eight games in all competitions, but they now face a potentially decisive run of three games that will shape their season. Conte's team face City home and away, on either side of a London derby against high-flying Fulham at Craven Cottage, and they realistically need at least four points from those games to keep alive their flickering hope of a top-four finish. With a five-point gap between themselves and fourth-placed United, Spurs are already losing ground, and banking four points from their next three games looks a tall order considering their recent form.
What can go wrong?
The nightmare scenario is an injury to Kane, and the 29-year-old has had bad luck with injuries in the past, so his fitness will always be a worry. But even if Kane stays fit, Spurs have a mountain to climb to finish in the top four, and there is a risk that their form deteriorates further and they end up in a battle for Europa League qualification. And then there is Conte's combustible personality. Right now, results and performances suggest a meltdown might not be far away.
Where will they finish?
Seventh. Spurs are drifting and they are not only at risk of being caught by Liverpool and Chelsea, but also by Fulham, Brentford and Brighton & Hove Albion.
---
Was Liverpool's loss to Brighton their worst performance under Klopp?
Steve Nicol struggles to remember a worse Liverpool performance since Jurgen Klopp took over in 2015.
9th, 28 pts, +9 GD
The objective
Liverpool were expected to challenge for the title at the start of the season. It seems a lifetime ago now, but don't forget that they were just two results away from achieving the Quadruple last season. Their title hopes evaporated months ago, but Jurgen Klopp's team are targeting a top-four finish and, optimistically, Champions League glory.
What do they need?
A period of calm and stability, which can only come about with victories and key players returning from injury. Virgil van Dijk, Diogo Jota, Roberto Firmino and Luis Diaz are all sidelined right now, and the team has suffered badly as a result of their absences. Liverpool also need to find some consistency in midfield. But although they are now 10 points adrift of fourth, Liverpool still possess the goal threat to turn the situation around. Two years ago, they overturned a 10-point deficit with nine games to go to finish in the top four, so they know what it takes and can still come good.
What can go wrong?
Klopp would probably say that everything that could possibly go wrong has already happened this season. Injuries to Mohamed Salah or goalkeeper Alisson would probably be the final blow to Liverpool's top-four hopes, but the injured players are now on their way back to fitness. Maybe Liverpool have hit rock-bottom already, and the time has now come for a revival.
Where will they finish?
Fourth. Newcastle's inexperience and the inconsistency of the other Champions League challengers is Liverpool's way back into the top four, and they are the only team in the race who can go on a winning run to get there.
---
Can beating Crystal Palace kickstart Chelsea's season?
Tom Hamilton reports on the mood from Chelsea after they beat Crystal Palace and unveil new man Mykhailo Mudryk.
10th, 28 pts, +1 GD
The objective
Chelsea had a summer of turmoil due to a change of ownership, but they still had ambitions to challenge for the title, with a top-four finish the bare minimum. But after sacking Thomas Tuchel as manager in September and replacing him with Graham Potter, the bottom has fallen out of Chelsea's season, so fourth spot is now the only objective, aside from unlikely Champions League success.
What do they need?
Some kind of stability. Potter has yet to settle into the job — poor results means he might not get the chance — while the conveyor belt of new signings needs to stop at some point to allow them all to integrate and enable the manager to find a way to fit them into a functioning team. Chelsea have also had significant injuries to key players, including Reece James and N'Golo Kante, so Potter has been unfortunate, but there is too much noise on and off the pitch right now. Sunday's win against Crystal Palace was much-needed as it ended a woeful run of seven defeats in 10 games. But if Chelsea are to finish in the top four, they have to start a winning run of a similar length to get back in the race.
What can go wrong?
Potter has the backing of the Chelsea owners, but the former Brighton manager is walking a tightrope after such a dismal run. If Chelsea go out of the Champions League against Borussia Dortmund in the round of 16 and fail to close the gap on the top four, Potter might find that the support of the hierarchy ebbs away. But not much more can go wrong for Chelsea. They are probably one defeat away from being knocked out of the race for the top four, and if that happens, a huge squad of overpriced players could become unmanageable.
Where will they finish?
Sixth. Chelsea still have quality players, so at some point they will find some form. But it won't be enough to finish in the top four.
Real Madrid 1-3 Barcelona: Xavi's first trophy, brilliant Gavi and lacklustre Real
By The Athletic La Liga Writers Jan 15, 2023
---
Barcelona won their first piece of silverware under Xavi as they comfortably beat Real Madrid 3-1 in the Supercopa de Espana final in Riyadh, Saudi Arabia.
Gavi put Barca ahead in the 33rd minute after a slide-rule pass from Robert Lewandowski before returning the favour for the striker, who put his side in full control when he scored himself in the 45th minute.edri put the finishing touches on the rout when he turned home another fine pass from Gavi in the 69th minute. Karim Benzema scored a consolation goal in stoppage time, but it was nowhere near enough for Carlo Ancelotti's side.
Here's The Athletic's analysis of a big Clasico win for Barcelona against their fiercest rivals.
---
Who won the battle for midfield?
The two Clasico coaches often set up their teams in a 4-3-3 shape, but Xavi and Carlo Ancelotti added a fourth midfielder to their XIs for this Supercopa final — and it was Barca who were on top in the battle for possession and territory from the start. Their midfield seemed more compact than in recent Clasicos, helped by Frenkie de Jong and Sergio Busquets working together at the base.
Pedri was also extremely influential from a No 10 position, with Gavi coming in from the left to excellent effect. Meanwhile, Luka Modric struggled to get involved, while Eduardo Camavinga and Federico Valverde were physically imposing but did not retain possession effectively.
The opening goal soon came when Busquets chose his moment to push right up the pitch and take advantage of Antonio Rudiger's poor pass to rob Camavinga, with Pedri close by to help out, and Gavi over on the left to score.
Barca's better midfield shape was also clear in the second half, with supposed 'holder' Toni Kroos caught out of position and De Jong and Gavi combining to give Lewandowski a relatively simple finish.
Both goals came directly from how Xavi's team had won the tactical battle. Ancelotti sending on Rodrygo for Camavinga at half-time was both an admission that he got his XI wrong, and that Madrid needed something very different at 0-2 down. They did not find it.
Dermot Corrigan
How did Real's poor defending lead to Barca's fast start?
Real Madrid's defensive instability was evident in the first half. Only Thibaut Courtois and his saves prevented Xavi's team from scoring more, and they took full advantage of the fact that Rudiger was still dizzy after a knock. The centre-back gave up possession in his own half — perhaps even to Barcelona's surprise — before Lewandowski coolly set up Gavi for the opening goal.
https://d1f9dd4f7ca956e323eb8758b4f3af6a.safeframe.googlesyndication.com/safeframe/1-0-40/html/container.html
But Madrid's mistakes didn't stop there. Their press was too uneven, Modric failed to cover Andreas Christensen's pass out from the back and Kroos also failed to stop Busquets' pass.
tps://platform.twitter.com/embed/Tweet.html?creatorScreenName=TheAthletic&dnt=false&embedId=twitter-widget-
Dani Carvajal lost his duel with De Jong, who delivered a crucial pass into the heart of the box, and Rudiger was left alone to cover another onslaught from Gavi and Lewandowski. The Barcelona duo swapped roles and Courtois could do little to stop Gavi's pass to Lewandowski, who virtually turned home into an empty net to make it 2-0. Their defence was also cut apart with ease for Pedri's effort.
Guillermo Rai
Where has Madrid's spark gone?
Ancelotti was asked on Saturday whether his players would have 100 per cent motivation for this Supercopa, given how much they have previously won, and everything else they have to play for this season.
"This club is very demanding, these players' bellies are never full," the Italian replied, adding that they were fully focused on winning another Supercopa as part of a step-by-step process towards a possible haul of six trophies across 2022-23.
Madrid's performance did not suggest his players' focus was complete. Not for the first time recently, their key players looked to be below their top competitive level.
Throughout the game, Barca were just sharper both mentally and physically, winning their individual battles. The difference between the performances of thirtysomethings Kroos and Modric and youngsters Gavi and Pedri was striking, with the latter two teaming up for Barca's third goal.
ADVERTISEMENT
Madrid's last complete team performance was the 3-1 La Liga Clasico win over Barcelona at the Bernabeu in mid-October. They had 14 wins and two draws in their first 16 games in all competitions. But then the focus seemed to switch slightly to the World Cup, and they have lost four of their last 10 either side of many of their players' trip to Qatar.
All the disruption to the season is not helping, and on Thursday they have a very tricky Copa del Rey last-16 tie at Villarreal (where they lost in La Liga last weekend). Next month, they have to travel again to Morocco for the Club World Cup, just before their Champions League round-of-16 tie with Liverpool.
Though Benzema contributed a late effort, Ancelotti has a job to do to get his team's focus back, rapido.
Dermot Corrigan
How impressive was Gavi?
There are not many players who can say they have played five Clasicos at just 18 years of age, but Gavi showed once again he is more than capable on this stage. He was the standout player.
Gavi took full control of the spaces Real Madrid left in behind, he linked up wonderfully with Pedri and Lewandowski and also showed that he can play as a left-winger.
He played a part in all three Barca goals. He scored the first goal after a great link-up with Lewandowski and became the youngest scorer in the Supercopa de Espana's history, in the process surpassing his own coach Xavi.
He also became the youngest player to score in a Clasico (at 18 years and 163 days old) since Ansu Fati in 2020. He assisted Lewandowski's second goal and Pedri's third.
The teenager showed a technical flair and a mentality that belied his young age in a game like this, with a trophy at stake and against Barca's eternal rivals.
ADVERTISEMENT
https://d1f9dd4f7ca956e323eb8758b4f3af6a.safeframe.googlesyndication.com/safeframe/1-0-40/html/container.html
Laia Cervello Herrero
What should Madrid do at right-back now?
Between Carvajal's poor form and the lack of reliable alternatives at right-back, Real Madrid are having a torrid time this season, and that continued in this Clasico.
Alvaro Odriozola does not figure in Ancelotti's plans, centre-back Eder Militao did not work out in that position when he played there in the 2-1 defeat to Villarreal and, despite Carvajal still not being at his best, he had no choice but to play.
In other circumstances, Nacho would have played as a starter, but his involvement in the team this year is practically non-existent (he has only played 140 minutes in La Liga).
With all that in mind, and despite the fact that Ousmane Dembele was on the pitch, those who benefitted most were actually midfielders Gavi and Pedri, who had plenty of space to run into. And for Barca's second and third goals, Xavi's side could raid Madrid's right flank to ensure the Supercopa was theirs.
Guillermo Rai
How big a boost is this win for Xavi?
This win was huge for Xavi — for lots of reasons.
Most obviously, the former playmaker now has his first trophy as Barca coach. His first 12 months in charge had brought disappointments: last year's Supercopa semi-final defeat to Madrid, a Copa del Rey exit to Athletic Bilbao, a Europa League defeat to Eintracht Frankfurt, and last autumn's inability to progress through their Champions League group.
But now Xavi can point to a big win, and one in which his own tactical acumen was crucial. Doubts about his game plans, team selections and substitutions had been getting louder around Camp Nou, where some were wondering if the he had the experience and nouse to get the most out of the squad that Barca president Joan Laporta and his board had pulled so many financial levers to assemble.
This is extra important given the club's still perilous financial position, which means that more difficult transfer decisions will have to be taken, both during this month's transfer window and in the summer.
ADVERTISEMENT
https://d1f9dd4f7ca956e323eb8758b4f3af6a.safeframe.googlesyndication.com/safeframe/1-0-40/html/container.html
A trophy victory, in a Clasico against Madrid, will significantly strengthen Xavi's position everywhere — with his players, with his president and with the fans. The Supercopa may not be the most important competition there is, but the manner of the victory makes it more likely that Xavi will be able to follow it with bigger trophies over the months and years to come.
Crucially, the legendary midfielder has put a smile back on the face of even the most sceptical Cule. He has returned Barca to winning ways after a period of change at the club and has enhanced his credibility as coach with this Supercopa victory.
USWNT thinking about the past, preparing for the future in New Zealand
By Meg Linehan Jan 16, 2023
---
ttps://62b2e0e237b2dfb52b69fb56b5c6ad22.safeframe.googlesyndication.com/safeframe/1-0-40/html/container.html
The USWNT's first "business trip" is fully underway in New Zealand, with the team now a few days into January camp in Auckland. On Tuesday, they'll take the short trip down to Wellington for their first friendly against the Football Ferns, before returning to Auckland for the rematch.
As part of the test run for this summer's World Cup, eight players got their first taste of the local interest as part of an event set up by U.S. Soccer to provide access for New Zealand media.
ADVERTISEMENT
https://62b2e0e237b2dfb52b69fb56b5c6ad22.safeframe.googlesyndication.com/safeframe/1-0-40/html/container.html
Alex Morgan, Crystal Dunn, Becky Sauerbrunn, Naomi Girma, Sofia Huerta, Mal Swanson, Lindsey Horan and Rose Lavelle all took their 10-minute turns at each of the media stations in The Cloud, at the end of Queen's Wharf overlooking the Auckland harbor. On the pier below, a few fishermen tended to a number of rods as ferries passed back and forth out in the water.
Compared to other USWNT media events, it felt relatively calm — for as many cameras that were packed into the room and on the balcony overlooking the water, it was considerably less chaotic than other media days the team has experienced ahead of major tournaments.
But before the first batch of four players arrived, the FIFA Women's World Cup mascot, Tazuni, waited at the top of the stairs. Everyone wanted a photo with Tazuni (myself included). As Morgan, Dunn, Sauerbrunn and Girma climbed the stairs, Tazuni was waiting, all six feet-plus of penguin mascot topped with blue hair, waving, fully in character. The slightly surreal media grind ahead of a World Cup had officially begun.
Lindsey Horan meets Tazuni, the 2023 World Cup mascot. (Photo: Hannah Peters/Getty Images)
As the only American reporter in the room, it was fascinating to see the team and its players through the eyes of the New Zealand writers I was seated with. Everyone else at the table remarked how impressed they were with the set-up — from the written bios and photos of players the U.S. Soccer communications staff had sent out in advance, to the fact that pretty much any topic was on the table. These are all things any U.S. reporter would not only expect, but take for granted.
At our table, some themes started to emerge: The local press was just as captivated by the pressure surrounding the USWNT on their quest to win a third consecutive World Cup and the dynamics of the team. There wasn't much new ground in this line of questioning, but maybe it was something about the distance, or the fact that it's finally a World Cup year, or that every session was less about the specifics of the team now and more about the big picture, but there was a reflective nature to each of these 10-minute sessions.
https://62b2e0e237b2dfb52b69fb56b5c6ad22.safeframe.googlesyndication.com/safeframe/1-0-40/html/container.html
"That's an expectation that this team has carried for many years, almost since the existence of this team, or a few years after starting with the '91 World Cup," Alex Morgan said. But like every other player, she was ready to also look beyond the USWNT.
"It's a mentality that has been passed down, but at the same time, there are so many amazing teams in this sport now, countries that are putting so much more effort into their women's side. You're seeing that with the expansion of the World Cup to 32 teams, the domestic leagues doing so well around the world, the NWSL going through its 10th season, knowing that there are so many leagues supporting women's football players around the world. It's been a really exciting journey to go through this and just know what we've fought for and where we are now — and just how incredibly important it is for us to continue to push, raise the bar a little bit on the national team level because every single match is incredibly competitive now, and it wasn't like that 10 years ago."
The expanded tournament was a recurring topic, but it also invited questions about competitive balance. As exciting as the debuts of multiple countries in this tournament will be, it could reopen the same conversation from 2019 if there are lopsided results.
"There was so much commotion and talk about the Thailand game (at the 2019 World Cup)," Crystal Dunn said, "but at the end of the day, a team like Thailand is in a World Cup for the very first time, people know about that team now. That's the biggest takeaway from that moment."
For Dunn, the expansion to 32 teams was crucial for global exposure and awareness, something the women's game still needs.
Becky Sauerbrunn echoed those exact sentiments.
"With that Thailand game, we have to remember that Thailand tied Australia in the qualifiers for that tournament," she said "On any given day, a team can beat another team."
Sauerbrunn also brought up the additional eyeballs a World Cup draws, but continued, "Now you've got money from FIFA being earmarked to these teams that will hopefully go into the infrastructure of the system, potentially creating a domestic league."
More attention, more investment, more infrastructure are all wins, even if they may not be perfect at this moment in time.
ADVERTISEMENT
https://62b2e0e237b2dfb52b69fb56b5c6ad22.safeframe.googlesyndication.com/safeframe/1-0-40/html/container.html
And there is something very specific to the World Cup bump.
"These tournaments are what changes everything people see," said Lindsey Horan. "Some of the best players, some of the best players on the Ferns," she added, nodding at the table, "people go and Google, look it up. This is what these World Cups are meant for. It puts these players on a stage that they've waited to be on for four years. I really hope that (level of awareness) changes for certain teams, and for teams that have never been in a World Cup, as well."
Whether it was reflecting on Thailand, or these two upcoming friendlies against the Ferns — which could have some lopsided results of their own, with many key New Zealand players not released by their clubs due to these two games taking place outside a FIFA window — or the USWNT's group-stage opponents aside from The Netherlands, there was a clear ethos and respect: No opponent is taken lightly, no matter what the expectations are for the USWNT.
"We always think teams are going to put their best performance out against us," Dunn said. "We've seen it before where we're expected to always win, we're expected to dominate games, and we don't take our foot off the pedal. It doesn't matter who we're playing against. It's always about us, it's about our preparation, it's about us fine-tuning things and getting better and better. It can't be about the outside noise of what people think and expect us to do. It's about who we are as a team, and who we want to be. And we're always striving to be the best versions of ourselves as players."
Outside noise always seems to be a topic that comes up for the USWNT in a World Cup year (nothing might beat the 2019 World Cup, considering the number of off-the-field narratives swirling about the team, from the fight for equal pay to the Thailand game to Twitter beef with the then-President to the completely absurd Hotelgate), but in this particular case, there's still some fresh memories from how the fall went sideways for the team with their three-game losing streak.
"We had some highs (in 2022), and we had some really low lows," Rose Lavelle said. "I've always felt this personally, and I think on a team level too, you learn the most about yourself in those moments. Obviously, when we lose three in a row, there's always going to be a lot around it. Nobody has higher expectations for us than us, so it was a tough period."
As uncomfortable as that three-game stretch was, as much as they didn't want to go through it, Lavelle firmly believed it will benefit the team heading into 2023.
"You see everything on social media saying it's the first time we've lost three games in a row since 1993, and when you're seeing that as a player, it's hard not to let it get to you," said Sofia Huerta. "During that time, we addressed that in the locker room. We all talked about how people are going to say what they're going to say, but we know what we're capable of, which is what you saw in that last game versus Germany."
ADVERTISEMENT
https://62b2e0e237b2dfb52b69fb56b5c6ad22.safeframe.googlesyndication.com/safeframe/1-0-40/html/container.html
Huerta pointed to the team's resiliency as a factor for the USWNT's current and historical success. The break between those fall friendlies and the World Cup year allowed a re-focusing, though she noted the team is still watching film from the final Germany game. "There are things we can get better at," she said.
January camp has always had its own tradition in the USWNT year — the new start, a chance to settle back in — and once again the team is taking the opportunity to head to the World Cup host country just like they did in 2019. Still, as Dunn pointed out, "It's the first camp of the year. It's a great time for people to come back in and reset after spending some time off in the offseason."
Naomi Girma, coming off her rookie and defender of the year performance in the NWSL, already seemed a seasoned pro at the particular challenge of a media day. "Rosters change for most camps," she noted, when asked about the number of players returning from injury between this camp and potentially over the next two FIFA windows.
"Change is normal, and something that's expected on a team like this one," Girma continued. "It's great to have (Emily Sonnett and Lynn Williams) back, I'm excited that they're both back. But each roster, each camp, our goal is always to focus on the group that we have there, and then move on from there."
There are specific benefits to being here in Auckland, followed by the pair of friendlies at Sky Stadium and Eden Park. Sauerbrunn pointed out that FIFA is mandating the team travels from their Auckland base camp to their tournament matches on matchday minus-one; the USWNT is replicating that travel to and from Wellington during this trip as they've never done it before as a team. There's also benefits to getting in some time at all the various sites ahead of the summer (technically winter here, which caused multiple players to turn the tables on the local media to try to get a better sense of what weather to expect for matches).
"Getting a feel for even the grass of the stadiums, the little things that maybe to an outsider don't seem so important, but for us, it's the difference between an own goal or not," Sauerbrunn said.
"You also get a sense of the people in the country, and the culture. That's really important, to be respectful as Americans coming in here, and you're doing the right thing and you're representing the USA really well. But you're also representing New Zealand well, in that you're bringing eyes to this country, and so you want to do it as well as possible."
NWSL DRAFT GRADES: KANSAS CITY, ORLANDO PRIDE AMONG BIG WINNERS
It's rare for any NWSL team to come out of draft day without improving, but the questions following the chaos remain the same: Who got better immediately, who opted for slow, high-value growth, and who took too many risks?
Drafts are best analyzed at least a year after they occur, and hindsight is 20/20. But with one of the strongest draft classes in years, each team carved out a path for the 2023 season. Armed with picks, trades and team quotes, let's evaluate how they did.
BIG WINNERS
Kansas City Current – A
No. 2 Michelle Cooper, F; No. 10 Alexa Spaanstra, F; No. 15 Gabby Robinson, D; No. 18 Jordan Silkowitz, GK; No. 35 Mykiaa Minniss, D; No. 38 Ella Shamburger, D; No. 42 Rylan Childers, M; No. 47 Ashley Orkus, GK
Traded forward Lynn Williams to Gotham FC for the No. 2 overall pick
In both volume and impact, the Current cleaned up. Kansas City made a steep choice in sending Williams to Gotham to pick up Michelle Cooper, but general manager Cami Levin Ashton and head coach Matt Potter were adamant that they wanted Cooper as their cornerstone going forward.
Selecting Spaanstra at No. 10 was perhaps the team's biggest steal. It was a bit of a surprise that she was still on the board at that point, and the winger is going to bring dynamism to the team's wide attack. From there, the Current drafted solid players in positions of need, particularly at defense and goalkeeper. With eight total picks entering training camp, competition for contracts is going to be fierce in Kansas City in February.
Team says: "​​Michelle is somebody that we've obviously watched over the course of the last couple of years. And she's somebody that we really wanted to be part of this organization. She's an incredible talent and has showcased that at the collegiate level, and we're very excited to have her with us in Kansas City." — GM Cami Levin Ashton
Orlando Pride – A
No. 3 Emily Madril, D; No. 21 Messiah Bright, F; No. 25 Tori Hansen, D; No. 39 Summer Yates, M; No. 41 Kristen Scott, F
Traded the No. 24 and No. 34 picks to Washington Spirit for $75,000 in allocation money
The Pride made the right strategic pick at pretty much every point in the draft. Madril already has professional experience in Sweden and will be a crucial piece to Orlando's backline rebuild. Messiah Bright is a fantastic pick-up at No. 21, since many (myself included) thought she'd be off the board by the middle of the second round.
Hansen and Yates were two other players projected to go higher than they ultimately landed. The Pride had the benefit of selecting not only the best players available, but also players at positions where they could use good, young talent. Yates is a little less proven against strong competition, and Hansen likely suffered positionally with few teams going all-in on defense, but both can make an impact in Orlando.
Team says: "[We gained] variety. We highlighted key players in key positions and you look at the picks that we got, they can come in and make an immediate impact to the team. I spoke about having a competitive environment in our training, and I think we have that in our draft picks." — head coach Seb Hines
Gotham FC – A-
No. 4 Jenna Nighswonger, M; No. 44 Iliana Hocking, M
Traded the No. 2 pick for forward Lynn Williams; traded forward Paige Monaghan, an international slot and $150,000 to Racing Louisville for the No. 4 pick; also traded the No. 13 pick to the San Diego Wave for $100,000
It almost feels like you have to take a deep breath before even coming close to analyzing Gotham's furious amount of activity this offseason, but with the dust mostly settled, things are looking good in New Jersey. Williams should be back to full fitness, and the cost of selecting Nighswonger seems reasonable considering the talent Gotham has picked up in other trades. Nighswonger has the ability to be the creative playmaker in the attacking midfield that Gotham has long wanted.
The only questions remaining from Gotham's draft day are mostly in the "what if" category. What if Gotham had held onto the No. 1 pick? What if they had selected Michelle Cooper at No. 2? How do young players fit into the team's vision, with the choice of a proven forward in Williams over the potential of a rookie? We'll see how it plays out over time, but for now general manager Yael Averbuch West should be proud of her work.
Team says: "All of today was the culmination of thousands of conversations, and every decision we made was not taken in a vacuum. It's part of a holistic look at how we, from yesterday to now, become a significantly better team." — GM Yael Averbuch West
Portland Thorns – A-
No. 5 Reyna Reyes, D; No. 12 Izzy D'Aquila, F; No. 24 Lauren Debeau, F; No. 32 Lauren Kozal, GK
Traded No. 36 pick and $20,000 to Houston for the No. 32 pick, as well as the No. 48 pick for Houston's 2024 third-round pick and $10,000
The Thorns didn't need much, and yet the players they picked up could have a lasting impact on the club. Reyes can play outside back as well as midfield, and D'Aquila is an excellent addition to the team's attacking depth, especially with a number of players likely out for the World Cup this summer. The only question mark following the Thorns' draft is what the long-term plan is at center back, but that's simply now a position to watch for other moves.
Anytime Thorns goalkeeper coach and former Germany international Nadine Angerer selects a goalkeeper, you can feel good about that player not only having an impact in Portland but also on the league at large in a few years' time. Angerer has developed a number of players who currently start at other NWSL clubs, and if she thinks Lauren Kozal has what it takes, expect big things.
Team says: "For us, we wanted to keep our group together. As you've seen we haven't had too much turnover in the offseason, and we wanted to know where can we add to our roster to make us better" — GM Karina Leblanc
Houston Dash – A-
No. 20 Sophie Hirst, M; No. 22 Jylissa Harris, D; No. 36 Lindsi Jennings, D; No. 48 Madelyn Desiano, D
Traded the No. 8 pick, their 2024 first-round pick, an international slot and $100,000 to North Carolina for forward Diana Ordoñez; sent the No. 30 pick to Washington for the No. 32 pick and $30,000; sent the No. 32 pick to Portland for No. 36 and $20,000, and their 2024 third-round pick and $10,000 to the Thorns for the No. 48 pick.
The Dash benefited from player wishes and a North Carolina team in flux with their trade for Ordoñez, who set a rookie goal-scoring record last year with 11 goals. They will pay for the opportunity next year, trading out of the 2024 first round, but when a player of Ordoñez's caliber becomes available, you jump at the chance to take her.
The Dash's other picks fill positional needs, with Harvard product Hirst giving cover in the midfield and arguably the second-best center back on the board in Harris. Houston has to feel like they can get more out of the players they currently have while the additions give the whole team balance.
Team says: "One of the reasons to bring Ordoñez in was to get more out of María Sánchez, because she's going to beat the player 1v1 on the dribble, she's got an incredible delivery in the box, and one of the assessments that I had was that we need to get on the end of those deliveries." — head coach Sam Laity
PERFECTLY GOOD DRAFT DAYS
Chicago Red Stars – B+
No. 7 Penelope Hocking, F; No. 14 Grace Yochum, M; No. 23 Allison Schlegel, F; No. 43 Sophie Jones, M
Traded No. 19 to OL Reign for No. 23, an international spot, and a 2024 third round pick
This was a sneaky good draft from the Red Stars, a team where this year's rookies will have the opportunity for a lot of playing time. Hocking was one of the best players still available at No. 7. The Penn State grad will be a good center-point to combine with Mallory Swanson up top and pick up attacking steam while the USWNT forward is away at the World Cup.
Fear of positional imbalances also fell away with Chicago's selections of Yochum and Jones, both of whom have a chance for serious playing time in the midfield. Questions about Jones' defensive capabilities were likely the reason she fell to the fourth round, but she is a first-round level passer. If the Red Stars can stay patient and give her support, she might be the steal of the draft.
Team says: "I think that you'd be a little bit naive to think that we don't have good players, because we do have some very good players. We got some building blocks that we'll build around, and we've got some players that I think a lot of people would like to have. So we're not walking around with our tail between our legs. We do feel like we're gonna have a good team." — head coach Chris Petrucelli
Angel City FC – B+
No. 1 Alyssa Thompson, F; No. 27 Angelina Anderson, GK
Angel City had the most significant selection of the night, picking up the youngest draft pick in NWSL history in 18-year-old Alyssa Thompson. Thompson already has experience with the USWNT first team, and her potential to be L.A.'s next superstar is sky high. The team went all-in on an expensive top choice, and it could pay off for years to come.
When looking at the draft holistically, however, the $450,000 ACFC spent to select Thompson was noticeable. Angel City has worked with a deficit of assets in both of the drafts they've participated in so far. On Thursday, they had only one other pick after Thompson, which they used on goalkeeping depth. They're going to have to use other transfer opportunities to fill positions of need, and it will be interesting to see how they move money around to have the depth they need to make it through the season.
Team says: "I think it shows a massive intent by the club, in terms of being aggressive to trade up and get the No. 1 pick. And we couldn't be happier with getting a talented player who's got a massive ceiling and who's going to be able to make a difference. And then obviously getting someone so young and then being able to develop the person is huge." — head coach Freya Coombe
Washington Spirit – B
No. 26 Nicole Douglas F; No. 28 Lyza Bosselman, GK; No. 30 Riley Tanner, F; No. 34 Lena Silano, F; No. 37 Civana Kuhlmann, F; No. 40 Delaney Graham, D
Traded defender Emily Sonnett to OL Reign for No. 32 and a 2024 first-round pick; sent No. 32 and $30,000 to the Dash in exchange for No. 30; sent $75,000 to Orlando for No. 29 and No. 34; sent No. 29 and a total of $55,000 to Racing Louisville for No. 28 and No. 40
The Spirit came into the draft with only two picks and came out with six, wheeling and dealing in the later rounds to buy in. Head coach Mark Parsons said at the draft that he had 2024 league expansion in mind with the moves the team made, and their late-round picks could pay dividends in the future.
Washington's biggest move was the trade that sent Emily Sonnett to Seattle, marking the second time Parsons has traded the defender in their careers. The Spirit's decision not to carry as many national players in order to maintain roster consistency has some logic to it, but Sonnett has been very good for Washington and was a big part of their 2021 championship season.
Team says: "We have a structural problem that we had to rebalance. If five players go to the World Cup, if five players — with expansion potentially coming — and also looking at how many of those players are going to play consistent minutes in the World Cup and how they will return, we've been open about the direction we feel that we're gonna have to go." — head coach Mark Parsons
San Diego Wave – B
No. 13 Sierra Enge, F; No. 33 Lauren Brzykcy, GK; No. 45: Giovanna DeMarco, M
Traded $100,000 to Gotham FC for the No. 13 pick
The Wave went with known properties over positions of need after making some strong free-agency moves. Enge, out of Stanford, should provide depth to the attacking line, as San Diego looks for consistent scorers outside of 2022 Golden Boot winner Alex Morgan.
The Wave will also need another backup keeper when Kailen Sheridan is out for the World Cup, and Brzykcy is fresh off a national championship with UCLA. Overall, San Diego has set itself up well through strong drafts last year and smart transfer pick-ups. Their rookies are coming into a good situation without a ton of pressure to carry the load.
Team says: "Sierra was a big target for us, we're really pleased we got her. The fact that she can play multiple positions gives us a bit of versatility. Lauren has been in training with us anyway, so we know her character and we know what she's like. And then Giovanna, I can't believe she dropped so low down the order, because that is one really talented player. So we're really, really happy with our picks." — head coach Casey Stoney
OL Reign – B
No. 19 Shae Holmes, D; No. 46 Natalie Viggiano, M
Traded No. 32 and their 2024 first-round pick for defender Emily Sonnett; sent the No. 23 pick, a 2023 international spot and a 2024 third-round pick to Chicago for the No. 19 pick
Laura Harvey has never been a manager who prefers to build through the draft, and her team got better mostly through other moves this week. The Reign picked up Elyse Bennett from Kansas City on Wednesday, acquired Emily Sonnett in a late-round trade with the Spirit and re-signed Megan Rapinoe to a one-year deal.
Bennett and Sonnett will both have to compete for playing time, but the Reign's strength has long been their level of depth. In a World Cup year, they've set themselves up to make another run at the NWSL Shield and maybe even the elusive NWSL championship.
Team says: "I think we all knew that there wasn't going to be a ton of business this offseason for our team with where we're at … I think that might be something that happens throughout the year is we we tend to do a little bit of business here and there just to tweak and make our team as good as it possibly can be to get over the hump at the end of the season, and try and get what our ultimate goal is, which is to win a championship" — head coach Laura Harvey
LINGERING QUESTION MARKS
North Carolina Courage – B-
No. 6 Olivia Wingate, F; No. 8 Sydney Collins, D; No. 9 Clara Robbins, M; No. 11 Haley Hopkins, F
Traded forward Diana Ordoñez and the No. 30 pick to Houston for the No. 8 pick, Houston's 2024 first-round pick and $100,000
North Carolina's draft night felt somewhat odd to the outside viewer, and not for the first time. The unexpected trade of Diana Ordoñez set the tone early, though it was later explained that the forward had requested a trade.
From there, the Courage seemed to get more value out of their late-round picks than the swings they took on their early selections. Robbins is ready for pro-level games, having anchored a strong Florida State midfield for five years, and head coach Sean Nahas said he sees Hopkins as a possible replacement for Ordoñez up top.
Team says: "I think the realistic situation is that players are in a situation now where they want to make decisions that best suit them as well. And from the business side of things, you have to make sure you're doing the right thing for your business. I think at the end of the day, we wanted to make sure [Ordoñez] was happy." — head coach Sean Nahas
Racing Louisville – B-
No. 16 Kayla Fischer, F; Brianna Martinez, D; No. 29 Jadyn Edwards, M; No. 31 Riley Mattingly Parker, F;
Traded the No. 4 pick for forward Paige Monaghan, $150,000 and an international slot; traded No. 28 and No. 40 to Washington for No. 29 and a total of $55,000
Racing Louisville's draft day started with a player they weren't going to get rather than one they were. Emily Madril is a player Louisville knows well, and it seems that when they heard Orlando was picking her at No. 3, they started looking for exit strategies out of the first round.
Monaghan is a hard-working winger who can get in behind a defense and will do the defensive work from an attacking position that Louisville can use. Martinez will likely start at right back, opposite Emily Fox on the left, and Mattingly Parker is a great pick-up late in the draft. The biggest mark against Louisville's draft is that they missed out on a key center back, which is a huge area of need for the club.
Team says: "In our preparation leading up to today, there was only one center back we wanted, but on draft day it became clear we weren't going to have that chance at No. 4. We sought the best value for our pick, and we moved for a player in Paige Monaghan who has league experience, a great personality and positional versatility. She will be a great addition to our team." — head coach Kim Bjorkegren
Claire Watkins is a Staff Writer at Just Women's Sports. Follow her on Twitter @ScoutRipley.
===================RackZ BAR BQ ====Save 20% ======================
AFTER YOUR PRACTICE or GAMES AT
BADGER FIELDHOUSE
Try out the Best BarBQ in Town right across the street (131st) from Northview Church & Badger Field on the corner of Hazelldell & 131st. RackZ BBQ
Save 20% on your order
(mention the ole ballcoach)
Check out the BarBQ Ribs, pulled Pork and Chicken, Brisket and more. Sweet, Tangy or Spicy sauce. Mention you heard about it from the Ole Ballcoach — and Ryan will give you 20% off your next meal. https://www.rackzbbqindy.com/ Call ahead at 317-688-7290 M-Th 11-8 pm, 11-9 Fri/Sat, 12-8 pm on Sunday. Pick some up after practice – Its good eatin! You won't be disappointed and tell 'em the Ole Ballcoach Sent You!
=====================RackZ BAR BBQ ======Save 20% ======================
Earn Your Accredited College Degree at ½ the Cost and Time of Traditional Schools www.achievetestprep.com/shane
Check out The Ole Ballcoach online https://theoleballcoach.wordpress.com/
Proud Member of the Brick Yard Battalion – http://brickyardbattalion.com, Sam's Army-http://sams-army.com , American Outlaws https://www.facebook.com/IndyAOUnite