US Women lose to England then Spain 2-0.
Just in case we thought it was an accident – the USMNT put a bow on their European trip with an EMBARASSING 2-0 loss to Spain's B-team. Now the US is without some key starters and contributors as Coach A gave the ball to the kids and well they dropped it – big time. This as a B team – depleted by Spanish player defections due to complaints about the coaching and federation of Spain from the Spanish starters – most of which start in Champions League on strong European teams. The US of course was missing our top 2 #9s I Alex Morgan, along with our top defenders. But the team they put out managed to get blown out by this depleted Spanish squad – putting into question just what the heck is the US and Coach A doing? Is he setting up for next summer's World Cup by making the US ladies – #1 in the World despite playing absolutely NO ONE of quality since the Olympics? To say the rest of the world has caught up is one thing – the get blanked by the #10 team in the World missing 9 of 11 starters is another. Is it time to panic – oh I think so.
Indy 11
Great to see former Carmel FC GK Coach and Indy 11 GK Jordan Farr win the Player of the Month award for his new team San Antonio – they are headed to playoffs as the #1 Seed In the Western Division they play this Saturday? Also huge congrats on a personal level as he and his lovely wife Ale welcomed their first child into the world this week. A healthy baby girl named Ivy Jean. Oh the Indy 11 lost their last game of the season to finish 8th in the East.
Games to Watch
Big games this weekend at El Classico with Barcelona fresh off near elimination in Champions League this week will travel to Real Madrid trying to right the ship at Sat at 10:15 am on ESPN+. Sunday gives us Liverpool hosting Man City at 11:30 am on USA. That's right after Leeds United and the American's travel to top seated Arsenal at 9 am on Peacock., while Man United host New Castle on USA at 9 am. Sun at 11:30 US players in Germany's top 4 Union Berlin (Jordan Pefok) and Dortmund (Gio Reyna) battle on ESPN+. While MLS and NWSL Playoff action gets underway this weekend.
High School Local back to back games Sat at Murray – #2 CHS Boys host Regional Final 4:30 pm, #3 CHS Girls host Regional Final at 2 pm Sat
The Carmel High School boys host the Sectional Finals tonight at 7 pm at Murray Stadium. Here's the shootout from Thursday night where long time Carmel FC forward Will Latham hit the winner.
Goals from former Carmel FC players Olivia Cebalo and Claire Swigart carried the CHS Lady hounds to the Sectional Championship last week. They defeated Brownsburg 3-0 and host the Regional finals Sat at 2 pm at Murray vs Cathedral. The Carmel High Boys won 1-0 win over Pike to advance to the Sectional Finals at home vs Cathedral at 4:30 pm at Murray Stadium.
BIG GAMES ON TV
Sat, Oct 15
7:30 am USA Leicester City vs Crystal Palace
10 am USA Wolverhampton vs Nottingham Forrest
10 am Peacock Fulham (Ream, Jedi) vs Bourmouth
10:15 am ESPN+ Real Madrid vs Barcelona EL CLASSICO
12 noon unimas Cincy vs NY Red Bulls – PLAYOFFS
12 noon Paramount+ Torino vs Juventus (Mckinney)
12:30 NBC Tottenham vs Everton
Sun, Oct 16
9 am USA Man United vs New Castle
9 am Peacock Arsenal vs Leeds United (Aaronson, Adams)
11:30 am USA Liverspool vs Man City
11;30 ESPN+ Union Berlin (Pefuk) vs Dortmund (Reyna)
12 noon CBS Sportsnet Napoli vs Bolonga
3 pm ABC Austin vs Real Salt Lake PLAYOFFS
5 pm Para+ Houston vs KC Current NWSL Playoffs
8 pm ESPN Montreal vs Orlando City PLAYOFFS
10 pm CBS SN San Diego Wave (Morgan) vs Chicago Red Stars (Saubraun) NWSL Playoffs
Mon, Oct 17
7 pm FS1 NYCFC vs Inter Miami MLS Playoffs
9:30 pm FS1 Dallas (Matt Hedges) vs Minn United
Wed, Oct 19
2:30 pm USA Brentford vs Chelsea (pulisic)
3:15 pm Peacock Man United vs Tottenham
Thur, Oct 20
1 pm Para + Arsenal vs PSV Europa
2:30 pm USA Fulham (Ream, Jedi) vs Aston Villa
3 pm ESPNd + Barcelona vs Villareal
3:15 pm Peacock Leicester City vs Leeds United (Aaronson, Adams)
8 pm FS1 Philly vs Cincy MLS Playoffs
10 pm FS1 LAFC vs LA Galaxy
Sat, Oct 21
7:30 am USA Nottingham Forest vs Liverpool
9:30 am ESPN+ Dortmund (Reyna) vs Stuttgart
10 am USA Everton vs Crystal Palace
12 noon unimas Cincy vs NY Red Bulls – PLAYOFFS
12:30 NBC Chelsea (pulisic) vs Man United
3 pm ESPN+ Real Madrid vs Sevilla
Sun, Oct 22
9 am USA Leicster City vs Wolverhampton
9 am Peacock Leeds United (Aaronson, Adams) vs Fulham (Ream, Jedi)
9:30 am ESPN+           Bochum vs Union Berlin (Pefuk)
11:30 am NBC              Tottenham vs New Castle United  
2:45 pm CBS Sportsnet Roma vs Napoli
1 pm ESPN CF Montreal vs NYCFC PLAYOFFS
8 pm ESPN                  Austin vs Dallas (Matt Hedges) PLAYOFFS
Mon, Oct 23
3 pm USA West Ham vs Bournmouth
Tues, Oct 24 CHAMPIONS LEAGUE
12:45 pm Para+ Salzburg vs Chelsea (Pulisic)
3 pm Para+ Benefica vs Juventus (McKinney)
3 pm Para+ Real Madrid vs RB Leipzig
3 pm Para+ Dortmund (Reyna) vs Man City
Wed, Oct 25
12:45 Para+ Club Brugge vs Porto
3 pm Para+ Barca vs Bayern Munich
3 pm Para+ Tottenham vs Sporting
3 pm Para+ Ajax vs Liverpool
3 pm Para+ Napoli vs Rangers ()
Thur, Oct 26
12:45 pm Para+ PSV vs Arsenal
12:45 pm Para+ Union Berlin (Pefuk) vs Bragga
3 pm Para+ Man United vs Sheriff
3 pm Para+ West Ham vs Silkeborg
Sat, Oct 29
8 pm CBS                     NWSL Championship Game
Soccer Saturday's are every Sat 9-10 am on 93.5 and 107.5 FM with Greg Rakestraw
US Ladies
US Women lose 2 in a row – should we be worried ? Yahoo Sports – Bushnell
What the US Ladies Need to Do next
MLS
World
Barca to wear Drake Jersey in El Classico
EPL
EPL betting preview: Liverpool needs a win at home against Manchester City
Box office Erling Haaland's persuasive power stretches far beyond pitch for Man City
Why this season's duel for the USL Championship's Golden Glove is one for the ages
By NICHOLAS MURRAY – nicholas.murray@uslsoccer.com, 10/14/22, 12:51PM EDT
---
SAFC'S JORDAN FARR, LOUCITY'S KYLE MORTON SEPARATED BY SLIMMEST OF MARGINS GOING TO FINAL GAME
San Antonio FC's Jordan Farr and Louisville City FC's Kyle Morton are separated by 0.001 in goals-against average going into the final game of the regular season on Saturday for their respective clubs.
San Antonio FC's Jordan Farr and Louisville City FC's Kyle Morton have been two of the best offseason acquisitions of the 2022 USL Championship season.
Now, they've got 90 minutes – and a margin of 0.001 in goals-against average – separating them from the USL Championship's Golden Glove on Saturday night in one of the major storylines on the final day of the regular season.
Farr currently sits with a goals-against average of 0.737 in 30 appearances this season for San Antonio, having played a key role for the side that could claim single-season records for wins, points and shutouts this weekend. Narrowly behind him is Morton, who is at a goals-against average of 0.738 in 28 appearances for the two-time USL Championship title winners and No. 1 seed in the Eastern Conference.
It's a margin that even in the closest races in past Championship seasons is unprecedented.
Because make no mistake, there have been narrowly decided Golden Glove honors in the past. The closest of all came two years ago in the abbreviated 2020 regular season when Pittsburgh Riverhounds SC's Danny Vitiello edged out San Diego Loyal SC's Jon Kempin by a margin of 0.004 for the award. The closest full-season race? That was in 2018 when FC Cincinnati's Evan Newton defeated Pittsburgh Riverhounds SC's Dan Lynd by 0.005 for the award.
And yet, there's a strong argument that this is the best race for the Golden Glove we've ever seen in the Championship's history. For one, both Farr and Morton have been at the top of their games for a full season and are almost certainly sitting 1-2 in most people's minds when it comes to this year's Goalkeeper of the Year award. More importantly, they're both currently leading their sides on the field.
(The irony of Newton's Golden Glove in 2018 is by the end of the season, he was no longer FC Cincinnati's starter, replaced by Spencer Richey. He won the award after Lynd conceded in second-half stoppage-time of Pittsburgh's final game of the regular season against the New York Red Bulls II, qualifying for the award having previously started 20 of FCC's 34 regular season games, above the 50 percent of a team's minutes threshold.)
As slim as the margin is between the two going into LouCity's game against Hartford Athletic at 7:30 p.m. ET and San Antonio FC's clash with Orange County SC an hour later, one goal – especially that of the kind conceded by Lynd and Pittsburgh four years ago – could make all the difference.
A shutout by Farr – which would clinch the Championship's single-season record as well – would end the race.
If Morton posts his 14th clean sheet in a campaign that has seen him yet to concede more than two goals in a game, then the second half at Toyota Field will have even greater intrigue.
On a night where there's plenty at stake for teams and individuals, this duel across time zones and venues should have your close attention.
JORDAN FARR AND KYLE MORTON – BY THE NUMBERS
JORDAN FARR, SAN ANTONIO FC
Photo courtesy Darren Abate / San Antonio FC
30 appearances
2,686 minutes
22 goals conceded
0.737 goals-against average
15 shutouts
72 saves
76.6 save percentage
-1.41 G-minus-xG
KYLE MORTON, LOUISVILLE CITY FC
Photo courtesy Em-Dash Photography / Louisville City FC
28 appearances
2,439 minutes
20 goals conceded
0.738 goals-against average
13 shutouts
52 saves
72.2 save percentage
-2.85 G-minus-xG
The U.S. Division I pro leagues still need to figure out ways to make their regular seasons matter more, but the playoffs are awesome.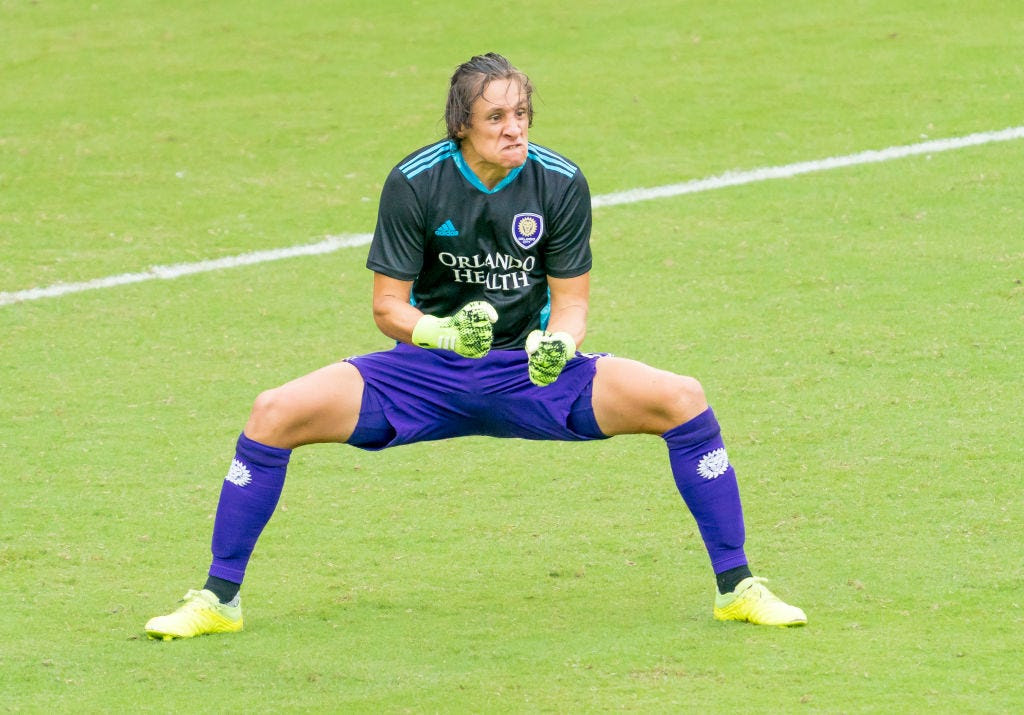 This is a huge weekend in the soccer world, with the planet's most storied club rivalry game (Real Madrid-Barcelona), the most compelling club rivalry in recent years (Liverpool-Manchester City) and three other dynamite matchups in Europe (Leeds-Arsenal, Union Berlin-Dortmund, Bayern Munich-Freiburg). If it feels like club soccer is trying to get everything done in October ahead of next month's World Cup, including the Champions League group stage, that's because it is.
But I want to save some love for the MLS and NWSL playoffs, which are also taking place starting this weekend (earlier in the calendar than usual due to the World Cup). Say what you will about the not-always-high-stakes regular seasons in both leagues, but all that goes out the window once the single-elimination playoffs get going. From Saturday to Monday, I will be watching eight playoff games: six in MLS and two in the NWSL.
Why do I love the MLS and NWSL playoffs? Let's break it down:
---
GrantWahl.com is reader-supported. Free and paid subscriptions are available. This is how I make a living, and quality journalism requires resources. The best way to support me and my work is by taking out a paid subscription now.
---
• Desperation soccer is compelling soccer. Too often regular-season games don't feel like the stakes are very high. That's not the case in the playoffs. In fact, things can get downright wild when teams know their season is over if they lose the game. And crazy things can happen, like Roy Miller taking a decisive free kick instead of Thierry Henry or teams melting down once they realize things aren't going to go their way.
• The games are more appealing to a national audience. MLS and the NWSL have had success building local interest, but they have yet to become attractive to national audiences, at least in the regular season. The playoffs are different; it's all one national tournament, so MLS fans in, say, Orlando should have more interest in LA Galaxy-Nashville than they might during the regular season.
• Dumb little storylines get magnified into big deals. Which, frankly, is always kind of hilarious. My favorite this week is everyone at Inter Miami getting so worked up about New York City switching the location of their playoff game to Citi Field.
• You never know who might become a playoff hero. Also known as the Rodrigo Schlegel/Trinity Rodman Rule.
OPENING THE MAILBAG
The latest pod discussion with Chris Wittyngham mentioned that it is unlikely that Julie Ertz and Sam Mewis will return to the national team. I've heard that hinted at elsewhere, but there never are any details provided. Ertz is now a mom and Mewis has an injury that doesn't seem to be improving. Are you hearing that neither is ever going to play soccer again at all—club or national team? Can you provide any more details on either of them?
Jo Wilhelm
I totally understand the importance of your question: Ertz and Mewis were integral parts of the World Cup run in 2019—and, in Ertz's case, 2015. It's kind of crazy that in ESPN's Top 50 global players list just 19 months ago Ertz was No. 8 and Mewis was No. 1.
I tend to err on the side of caution, so what I would say is that it is impossible that 2019-quality Ertz and Mewis will be part of the U.S. World Cup campaign in 2023, and right now I do not expect they will be on the U.S. World Cup team. With Ertz, I wonder if her situation might be similar to the players from Germany's 2014 World Cup-winning team, so many of whom retired from the sport at an unexpectedly young age. Did that career triumph change your goals and how you saw the end of your career playing out? In Mewis's case, there are real questions now being asked whether her playing career is in jeopardy due to her injuries. I'd love to see them dominating on the field again, but I don't really expect it at this point.
What's holding up more info on the 2023 MLS/Apple+ deal? The price point is critical to success. When is the optimal time for the league to announce the package specifics?
Dan Skinner
I don't have any inside information on this, but I wouldn't expect there to be much coming out until after the men's World Cup and the winter holiday season are over. The focus for MLS right now is the playoffs, and then everything is about the World Cup, and then people will be busy with Christmas and New Year's. So I'd look for something in January as the ramp-up to the new season starts.
It seems very optimistic to imagine the Paulsons selling the Portland Timbers and Thorns during this offseason. But what are the odds of a sale happening in the next 365 days?
MH
From what we've seen, it's very clear that Merritt Paulson does not want to sell either team. And from what we know about MLS rules, it does not look like the framework or support from fellow owners is in place for the league to force a Timbers sale like we saw with Dell Loy Hansen and Real Salt Lake. The questions from my perspective are: 1) Would public and sponsor pressure force the Paulsons to sell the Thorns or both teams? 2) Would NWSL owners push them to sell?
Any chance Vlatko Andonovski will be replaced before the World Cup?
Abby Howe-Heyman
I don't think it's impossible, but I do think it's highly unlikely. My sense is it would require shambolic USWNT performances against Germany next month, which I don't think will happen at home. If Andonovski wasn't going to be let go after the disappointing Olympic performance, then U.S. Soccer was basically saying: We're giving him the World Cup and will make a decision on his future after that.
Of the Serie A, Bundesliga, Ligue 1, and the EPL, which do you think is the most likely to end up with a surprise winner this season?
Willie
It depends what you mean by "surprise winner," because I'm inclined to say Serie A based on the view that Napoli would have been seen as a "surprise winner" before the season. Obviously, there's still a long way to go in all these countries, and current Bundesliga leader Union Berlin would certainly be viewed as a surprise after Bayern Munich has won the last 10 league titles. That said, I'm still convinced Bayern will win in Germany, PSG will take France and Man City will win the Premier League. That leaves Serie A, where the two teams that wouldn't be surprises are Milan (currently fifth) and Inter (currently seventh). Can they rebound? Of course. But the way first-place Napoli is playing is absolutely glorious right now.
With the controversial World Cup approaching, how have you found your more "independent" journalistic status changes your ability to cover it? Have you spoken to other journalists (off the record) about hurdles they are encountering that you have not (or vice versa)? Is there a big change in the broader approach after lessons were learned (rather late) about how sportswashing helped Putin maintain control and advance his violent and dangerous goals after the 2018 World Cup?
professorllanas
Great questions. I'm definitely independent on the writing side now compared to when I was at Sports Illustrated. But I would also say that in my years at SI (when it was under prior ownership) I was never prevented from doing any journalism for political reasons, not wanting to offend an advertiser, etc. Where things are different is I'm my own assigning editor now, so I don't have story pitches turned down. I'm not sure that today's Sports Illustrated—whose current owners are literally running the brand of David Beckham, who has a lucrative deal with Qatar—would have approved my story about going to Qatar and interviewing migrant workers about the new laws there.
One thing I never had to worry about at SI was being credentialed by FIFA to cover the World Cup. It's a little more up in the air when you're independent like I am now, but I got confirmation of my World Cup credential this week. U.S. Soccer recommended me to FIFA for a credential in large part because I spent the money to report on the ground for all 14 U.S. World Cup qualifying games.
I don't know of other U.S. journalists who are facing any particular hurdles covering Qatar. However, we did get confirmation on Thursday that Fox Sports, the U.S. English-language broadcaster for the World Cup, says it will not be covering anything connected to Qatar's migrant workers, LGBTQ rights, women's rights, etc.
World Cup broadcaster Fox Sports says it won't cover Qatar's migrant workers, LGBTQ concerns, etc. Not surprising given how much money Fox is making from state-owned sponsor Qatar Airways, but still embarrassing sportswashing. I wrote about it recently: grantwahl.substack.com/p/friday-newsl…
---
It's not surprising that Fox is ignoring the elephant in the room, but it's also one of the reasons I chose not to extend my contract with Fox in 2019 after what I had seen at Russia 2018 and at other points in my time there. That company is just not a good fit with journalism.
Some great games to see this weekend. Enjoy!
USMNT weekend viewing guide: Playoffs and Returns
MLS Playoff action starts and several players have returned from injury across the ocean
By jcksnftsn Oct 14, 2022, 8:46am PDT
We're making a slight modification to the viewing guide over the next month or so as we'll try to expand coverage a bit to include matches outside of the Top Five and MLS where there are streaming options available that allow you to watch a match of a player who seems like they have a solid chance to make the World Cup roster, you can call it the Josh Sargent exception (though perhaps more importantly it applies to a couple goalkeepers as well). In addition this weekend in Europe we have some players returning to health and stateside we have the MLS playoffs starting this weekend with two matches a piece Saturday through Monday. It should be a full weekend so let's get to it.
Saturday
Valencia v Elche – 10:15a on ESPN Deportes and ESPN+
Yunus Musah also returned from injury last weekend to get 28' off the bench as Valencia secured a 2-1 win in their midtable clash with Osasuana. The club face an Elche side this weekend that has managed just two points through eight matches and currently sit solidly at the bottom of the table. Valencia are in seventh place, just three points back of Atletico Madrid for fourth and Champions League qualification though it looks like it's already a two horse race for the La Liga title with Barcelona and Real Madrid tied on 22 points, five points ahead of the next closest competitor.
Other notes:
Chris Richards has yet to return from injury with reports that he has yet to return to group training. Crystal Palace face Leicester at 7:30a on USA Network
The New York Red Bulls and Cincinnati kick off the MLS Playoffs at Noon on UniMas and TUDN. Aaron Long and John Tolkien will start for the Red Bulls while Brandon Vasquez will lead the attack for Cincinnati.
Walker Zimermann and Nashville SC travel to Los Angeles to take on the Galaxy at 3p on Univision and TUDN.
Streaming overseas:
Timothy Chandler's Eintracht Frankfurt face Bayer Leverkusen at 9:30a on ESPN+.
Kevin Paredes and Wolfsburg host Joe Scally and Borussia Monchengladbach at 9:30a on ESPN+.
Pellegrino Matarazzo has been dismissed from Stuttgart so we won't be tracking the club moving forward. They do face Bochum at 9:30a on ESPN+ this weekend.
Antonee Robinson also returned to the field last weekend but Fulham fell to West Ham 3-1. Robinson, Ream and Fulham now face aOther Bournemouth side whose only loses have come to Man City, Arsenal, and Liverpool this season. The match will be at 10a on Peacock.
Weston McKennie and Juventus continue to flounder, their most recent dissapointing result being a 2-0 loss to Josh Cohen and Maccabi Haifa in Champions League play midweek with McKennie getting pulled at half-time. Juventus will now face Torino at Noon on Paramount+.
Some of that bonus Championship action as Josh Sargent's Norwich side will face Watford at 2:45p on ESPN+.
Sunday
Leeds United v Arsenal – 9a on Peacock
Jesse Marsch, Tyler Adams, and Brendon Aaronson need to get things back on track as they have just two points from their past five matches but they'll have their work cut out for them as they face first place Arsenal. Leeds have fallen to fourteenth in the league standings just three points out of the relegation zone. It's not a terrible position for a team that narrowly avoided relegation last season but it is a bit disappointing after their hot start to the season that included a 3-0 win over Chelsea. Unfortunately, that defeat of Chelsea was the sides last real positive result.
Other notes:
Austin FC host Real Salt Lake in a first round playoff matchup at 3p on ABC and ESPN Deportes.
Djordje Mihailovic and Montreal take on Orlando City SC at 8p on ESPN.
Streaming overseas:
Celta Vigo and Luca de la Torre face Real Sociedad at 8a on ESPN+.
Christian Pulisic got the start and scored a nice goal last weekend but didn't see time off the bench midweek for Chelsea. They face Aston Villa at 9a on Peacock.
Erik Palmer Brown and Troyes face Ajacio at 9a on beIN Sports.
Jordan Pefok and Bundeslgia leading Union Berlin take on a Borussia Dortmund side that scored in the dying minutes to draw with Bayern Munich last weekend. Giovanni Reyna made his return from injury on Tuesday, playing 30 sharp minutes in BVB's 1-1 draw with Sevilla.
Sergino Dest is looking to break his way back into the starting lineup for an AC Milan team that face Hellas Verona at 2:45p on Paramount+. Dest came on as a first half substitute in Milan's 2-0 loss to Chelsea with his team already down by two and playing with 10 men.
Monday
Monday bonus action:
What will you be watching this weekend? Let us know in the comments section below.
USWNT loses consecutive games for first time in 5 years. Is it time to worry?
Henry Bushnell Tue, October 11, 2022 at 4:28 PM
Three days after the U.S. women's national team lost to England, and as it readied to meet a Spanish team devoid of 17 top players, U.S. head coach Vlatko Andonovski came to a pre-match news conference prepared with some basic math.He knew he'd be asked about those missing Spanish players, who'd temporarily resigned in a dispute over working conditions; and about the Roja remnants that, surely, we all assumed, the U.S. would beat. And he repeatedly made a point that the American narrative seemed to be missing."They can say the same thing about us," Andonovski argued, almost preemptively. Unprompted, he rattled off the names of 15 players whom his team was missing, and whose absences severely weakened the USWNT on their European tour.Without them, the U.S. lost 2-0 to Spain on Tuesday. The Americans put zero shots on goal until late in the game, and looked disjointed going forward. They were physically superior to a Spanish side missing roughly nine of 11 starters, but tactically and technically inferior. They conceded a sloppy first-half goal, and never recovered.They dropped a second consecutive game for the first time since 2017, and naturally, worries spiked. The World Cup is nine months away. The team's only major tournament so far under Andonovski ended in disappointment. Preparations for the next one are going far worse. As Esther Gonzalez volleyed home Spain's second goal, a fan base wondered in unison: Is it time to panic?But the answer, according to Andonovski and to common sense, is an emphatic no. Among the names that Andonovski rattled off on Monday were Alex Morgan, Mallory Pugh, Sam Mewis, Julie Ertz, Kelley O'Hara, Emily Fox and Tierna Davidson. He initially forgot to mention Catarina Macario, arguably his best player. All of them are currently injured or otherwise absent. All should be in Australia and New Zealand next summer.Without them, the USWNT still should have been better than a Spanish B-team. That they weren't was less a cause for alarm, and more a reminder of longstanding flaws. Even with Pugh and Morgan present, their attack has often been inefficient. Its structure and rhythms don't generate the type of chances that such a talented front six should.
But without half of those six — and especially in the context of a "heartbreaking," emotionally draining week after the release of the Yates report — the USWNT's performance really isn't worth overanalyzing."There's no excuse with the team that we have, because I think we have incredible players," Andonovski clarified Monday. "And I think every single one of them has earned the spot on the team."But he knows that half of his starting lineup is missing. He knows that he could've added Crystal Dunn, who remains on a minutes restriction five months after giving birth, to his list. He knows that they all have the better part of a year to get healthy, and that he and the entire team have the better part of a year to fix their flaws.And there are flaws, certainly, even beyond the incoherence of the attack. The defensive personnel is unsettled. Given the spate of injuries and pregnancies, on-field chemistry is lacking. The USWNT is very much not a finished product.But the one certainty is that it will be far more of a finished product at next summer's World Cup.The last time it lost two consecutive games, in 2017, it went on to lose only two of its next 78. Among the dozens of wins was a 2019 world championship.The loss to Spain will give renewed rise to the narrative that Europe has "caught up." But that was the narrative four years ago. "The rest of the world caught up 15 years ago," Andonovski said. "But the U.S. always figured out a way to stay a little bit ahead, or find a way to get on top."And it can do so once again in 2023. Two tight losses away from home, with its roster and emotions both tattered, aren't reasons for doubt.
The U.S. women's national team lost to Spain 2-0 on Tuesday in Pamplona, Spain. It marks the first two-game losing streak for the USWNT since 2017. Here are my three thoughts on the game:
• The U.S. midfield is a huge concern and needs a formation change now. You can say all you want about the missing U.S. players from this game, but if we're being honest 2015-era Julie Ertz and Sam Mewis aren't walking through that door ever again, and Vlatko Andonovski needs to change his midfield set-up ASAP. Specifically: He has to go to a double-pivot, at least against top competition, because a single D-mid in Andi Sullivan just isn't going to work. No single D-mid can do what Ertz used to do, including Ertz herself. The U.S. needs to switch to a 4-2-3-1 and use the added stability to help create the conditions for Rose Lavelle to do what she does best as a No. 10 in a central role. Right now the U.S. midfield isn't controlling possession and isn't creating the chances for whomever is on the front line to score goals. Spain's B-team midfield outplayed the U.S., which can't rely on forcing turnovers as the only way to create scoring chances. It's that simple. Time for a change now.
GrantWahl.com is a reader-supported soccer newsletter, and this is how I make my living. Quality journalism requires resources. The best way to support me and my work is by taking out a paid subscription now.
• There is time for the U.S. to right the ship, but not much. Several players missing from these losses to Spain and England should be back in the picture as we get closer to the World Cup, including Catarina Macario, Mal Pugh, Alex Morgan, Tierna Davidson and perhaps Kelley O'Hara, Emily Sonnett and Midge Purce. And it's unlikely that future U.S. games will have the debilitating emotional context that surrounded the team over the past week in the wake of the Yates Report release. I'm glad the U.S. scheduled two away games in Europe against difficult opponents—although a Spain team missing 15 striking players was obviously far from full strength—in part because it shows us exactly how much the U.S. needs to improve in the coming months. Playing Germany twice in November will help as well. But the vibe around the USWNT right now feels a lot like it did during the disappointing Olympics run, and recognizing that is necessary if things are going to get better.
• This result won't help the cause of progress with the Spanish team. Beating the World Cup champion 2-0 (after tying Sweden 1-1) without the 15 prominent players who refuse to play for Jorge Vilda will only give Vilda and the Spanish federation more ammo in their refusal to listen to the concerns of those players. Obviously, there's a giant problem there, and the Spanish federation's strategy of infantilizing the players and refusing to meet with them is of a piece with the unwillingness to engage serious matters that we saw from American soccer officials in the Yates Report. This has to stop. Spain got a good result today, but it's remarkable to me how much turmoil several European World Cup contenders are in just a few months before the tournament, whether it's Spain, France (which has somehow retained coach Corinne Diacre), the Netherlands (which just fired coach Mark Parsons) or Norway (which replaced its coach after the Euros). That may be a saving grace for this U.S. team: things aren't quite as bad for the Americans as they are for several other contenders.
TRUST THE NEW GUARD, DITCH THE 4-2-3-1, AND OTHER NEXT STEPS FOR THE USWNT
The USWNT beat Mexico 1-0 on Monday night, finishing the group stage at the Concacaf W Championship
With a semifinal game against Costa Rica coming up later this week, let's talk about what the U.S. still needs to accomplish in this tournament
It wasn't pretty, but the U.S. finished the group stage at the Concacaf W Championship with a 1-0 win over Mexico on Monday night. That result helped the USWNT secure the top spot in Group A and set up a semifinal match against Costa Rica on Thursday.Now that the group stage is over, what does the United States still need to do at the W Championship?Let's talk about that.
QUALIFY FOR THE OLYMPICS
Simple, right?
Qualifying for the Olympics was always one of the two results-based goals for the USWNT heading into this tournament down in Mexico. The other goal was to qualify for the World Cup, which the United States did after two games. To qualify for the 2024 Olympics, the U.S. needs to make it past Costa Rica in the semis and then take down their next opponent, likely Canada, in the final.With all of the USWNT's quality players, they're more than capable of winning the W Championship and earning that auto-qualification spot for 2024. But being capable of winning this tournament isn't enough. Making it to the final – and then winning it – is a must for the United States. After finishing third at the Olympics last summer, these next two games are two of the biggest of Vlatko Andonovski's tenure. Because the U.S. underperformed in Tokyo, it's critical that they improve and get results over this next week. Unfortunately for the U.S., Monday's game against Mexico doesn't give them much momentum. It was the worst of their three group stage games by some distance: there were far too many sloppy touches, poor passes, and questionable tactical choices. The United States' only goal came late in the game once Mexico had already gone down to 10 players.Overall, the game felt eerily similar to the USWNT's matches at last year's Olympics, albeit with much lower stakes. The U.S will need to be sharper and more consistent in the knockout rounds if they want to win this tournament.
TRUST THE NEW GUARD
It's becoming increasingly clear that the United States' new guard is ready to change games. That new guard includes an immensely talented group of young forwards (see: Mallory Pugh and Sophia Smith). It also includes creative midfielder Ashley Sanchez and up-and-coming center back Naomi Girma.
At least one, if not both, of the USWNT's young wingers is going to start however many games the U.S. has left in Mexico. But setting the forward group aside, I think Andonovski should continue to start Sanchez in the midfield and Grima in the back in the knockout rounds.
Girma was strong defensively in both of her group stage starts, one against Jamaica and one against Mexico. Her patience and quick reads help her elevate the United States' backline. More than that, she looks like an upgrade over Becky Sauerbrunn in pretty much every phase of play. I'm not sure if Andonovski would be willing to start Girma over Sauerbrunn, a U.S. legend, in big games at this tournament, but I think he should consider it.
And then there's Sanchez. Sanchez tries stuff, people. Her ambition on the ball, creativity in the attack, and defensive mobility make her an extremely valuable presence for the USWNT. She's appeared in all three games for the U.S. so far, mostly playing as a No. 8, but also playing some as a No. 10 in a 4-2-3-1 against Mexico (more on that later). I don't think it's a coincidence that the U.S. had their best attacking performance against Jamaica when Sanchez and Rose Lavelle started together in central midfield. At this point, Sanchez has shown that she should be starting as one of the No. 8s.
STAY AWAY FROM THE 4-2-3-1
Before this tournament, Andonovski mentioned that the United States might play with a "double six". They did just that for long stretches against Mexico on Monday, with Andi Sullivan and Lindsey Horan sitting deeper in midfield.The U.S. had the edge on Mexico, but they didn't play well. The 4-2-3-1 shape (or, at the very least, a super lopsided 4-3-3 with Horan playing lower on the left and Sanchez playing higher on the right) and the USWNT's execution in that shape was poor, to say the least. With both Sullivan and Horan sitting deep, there was a massive gap between the back four/double pivot and the front three/No. 10. That gap forced Sullivan into too much distribution. In general, she struggled to control the game and her errant passing hurt the USWNT. As the game wore on, the U.S. primarily advanced the ball through long balls over the top from Sullivan and Horan, which didn't lead to many meaningful chances. You can see that gap in midfield in this image, with Horan setting up for a ball over the top.Looking a little higher up the field, Sanchez didn't get enough touches playing as a No. 10 or even as a second forward next to Alex Morgan. Finally, because Andonovski flipped the central midfield shape and because the fullbacks were very reserved, there weren't as many FB-CM-W combinations. As the clock ticked towards 90 minutes, the U.S. reverted to hopeful long balls and scattered play even against a 10-player defense.With all of those attacking issues in mind, the United States should stay away from the 4-2-3-1 and go back to the 4-3-3 against Costa Rica.If the U.S. can find their attacking rhythm and create consistent chances with the possession that most opposing teams give them, they'll be in great shape. If not…we'll all be reliving last summer's Olympics.