US Men – First Game Mon vs Wales 2 pm FOX, Black Fri 2 pm vs England on Fox
I have full World Cup breakdowns and predictions from lots of sites below. Not sure I am ready to share my full picks just yet – however I do like Argentina vs Brazil in the final. US Hype Video  I also think the US will beat Wales 2-1, lose to or tie England and then beat Iran 1-0 on some great saves by Turner. We will advance to the 2nd round – what happens then – I will answer after I see us play Monday. Oh England wins today 3-0. Also over 15 pages of World Cup below. Keep reading!
Shane's Starters for Monday
Pulisic, Ferriera, Reyna
Musah, Mckinney
Adams
Robinson, Ream, Zimmerman, Dest
Turner
First off bench Aaronson, Weah, Wright
Thrilled to see Tim Ream here and the partnership he has with Jedi Robinson on the left – makes him a lock for the entire tourney in my mind on the back line. He's captaining Fulham to a top 10 ranking in the best league in the world and playing the best soccer of his life –he starts and is defacto captain = especially of the D. Turner starts and is your GK the entire tourney unless hurt. I like the MMA midfield – with Aaronson the only chance to break in and play serious time here. Pulisic is up top on the left with I think a rejuvenated Reyna on the right and Ferria in the middle though I would prefer Sargent get a run up top to start. Love these 26 stories on our 26 players going to Qatar its awesome. More US hype videos
Full U.S. Men's roster for 2022 World Cup:
GOALKEEPERS (3): Ethan Horvath (Luton Town/ENG; 8 appearances for U.S./0 goals), Sean Johnson (New York City FC; 10/0), Matt Turner (Arsenal/ENG; 20/0)
DEFENDERS (9): Cameron Carter-Vickers (Celtic/SCO; 11/0), Sergino Dest (AC Milan/ITA; 19/2), Aaron Long (New York Red Bulls; 29/3), Shaq Moore (Nashville SC; 15/1), Tim Ream (Fulham/ENG; 46/1), Antonee Robinson (Fulham/ENG; 29/2), Joe Scally (Borussia Monchengladbach/GER; 3/0), DeAndre Yedlin (Inter Miami CF; 75/0), Walker Zimmerman (Nashville SC; 33/3)
MIDFIELDERS (7): Brenden Aaronson (Leeds United/ENG; 24/6), Kellyn Acosta (LAFC; 53/2), Tyler Adams (Leeds United/ENG; 32/1), Luca de la Torre (Celta Vigo/ESP; 12/0), Weston McKennie (Juventus/ITA; 37/9), Yunus Musah (Valencia/ESP; 19/0), Cristian Roldan (Seattle Sounders FC; 32/0)
FORWARDS (7): Jesus Ferreira (FC Dallas; 15/7), Jordan Morris (Seattle Sounders; 49/11), Christian Pulisic (Chelsea/ENG; 52/21), Gio Reyna (Borussia Dortmund/GER; 14/4), Josh Sargent (Norwich City/ENG; 20/5), Tim Weah (Lille/FRA; 25/3), Haji Wright (Antalyaspor/TUR; 3/1)
World Cup News
The World Cup commercials are out – which ones do you like best?  Nike  Addidas  check them all out here .  The world Cup Opening Ceremonies are Sunday at 10 am on FS1 – before the 1st game kicks off at France's Ballon D Or Winner Karim Benzema has been ruled out of the World Cup who along with the missing Paul Pogba and #6 Kante – might mean trouble for the defending World Cup Champs.  Also missing the Cup with injury are Mane for Senegal and _____ ??   Funny that no beer will now be allowed at stadiums in Qatar – ridiculous that the World Cup is in this backward, incredibly oppressive country  – (Worse than Russia).
Carmel FC GK Coach Noelle Rolfsen has 4 saves in shutout win for her Marian U Knights
MARIAN PUNCHES TICKET TO NAIA National Championships WITH 1-0 WIN
Women's Soccer | Sat, Nov. 19, 2022 at 9:30 PM
INDIANAPOLIS – The Marian women's soccer team punched their ticket into the NAIA National Championships on Saturday night, winning the Opening Round Final over Campbellsville 1-0. The Knights improve to 19-0-2 with the victory, advancing to Alabama for the fourth consecutive season.Marian wasted no time getting the offense going as Naomi Walters took the first attempt 26 seconds into the game that would go wide left before Campbellsville fired one back in the 2nd minute. The Knights continued to put pressure on the Tigers' defense as Erin Oleksak fired one wide in the 13th minute.Olekak's efforts would pay off around seven minutes later when she broke through the Campbellsville defense, booting one in back netting to give Marian the 1-0 lead. The Knights didn't stop their offensive threat as Maya Decker would take her shot, making the Campbellsville goalie make the save. The Tigers responded with four shots in the half with Noelle Rolfsen making the save on two of the shot attempts.The Knights would see another great look after Gretchen Mallin found Walters in the box on a corner kick that would see a header by Walters go just high to send Marian into halftime with the 1-0 lead over Campbellsville.The second half of play remained an even matchup with both teams taking five shots in the half. Marian took the first two shots of the half with Jacelyn Smith and Decker each taking attempts before the momentum seemed to switch to Campbellsville for around the next eight minutes of action. The Tigers made the Marian defense work in the second half as they continued to pose a threat with their offensive attack, but it was the Knights also making the Tigers' defense work as Walters found herself right in front of the goal, leading to the Campbellsville goalie making a miraculous save.The Tigers fired off three shot attempts in the final seven minutes to try and tie thing up, but Marian was able to hold off the #2 seeded Campbellsville to earn the 1-0 victory.Campbellsville outshot Marian 11-10, but it was the Knights executing on their attempts with Oleksak having the lone goal of the match on two shots. Walters took four shot attempts, while Smith and Decker each took two. Rolfsen recorded the shutout, making four saves in the win.Marian now advances to the NAIA Women's Soccer Championship final site in Orange Beach, Alabama.MUKnights.com:
WORLD CUP GAMES ON TV
Sun, Nov 20
10 am FS1 World Cup Opening Ceremonies
11 am FS1 World Cup Starts Qatar vs Ecudor
12 noon Big10N Indiana U vs St. Louis U. NCAA's
Mon, Nov 21
8 am FS1 England vs Iran
11 am Fox Senegal vs Netherlands
2 pm Fox USA vs Wales
Tues, Nov 22
5 am Fox Sport 1 Argentina (Messi) vs Saudi Arabia
11 am Fox Mexico vs Poland
2 pm Fox France vs Austrailia
Wed, Nov 23
5 am Fox Sport 1 Morroco vs Croatia
7 am Fox Sport 1 Germany vs Japan
11 am Fox Spain vs Costa Rica
2 pm Fox Belgium vs Canada
Thur, Nov 24 – Thanksgiving
5 am FS1 Switzterland vs Cameroon
8 am FS1 Uruguay vs Korea
11 am Fox Portugal (Renaldo) vs Ghana
2 pm Fox Brazil (Neymar) vs Serbia
Fri, Nov 25
5 am FS1 Wales vs Iran
8 am FS1 Qatar vs Senagal
11 am Fox Ecuador vs Netherlands
2 pm Fox USA vs England
Soccer Saturday's are every Sat 9-10 am on 93.5 and 107.5 FM with Greg Rakestraw
US Men
26 Stories See How our 26 Players Made it to Qatar
How Christian Pulisic became American soccer's reticent and resilient trailblazer Yahoo – Henry Bushnell
How a controversial youth soccer overhaul put the USMNT on a path toward World Cup contention Yahoo – Henry Bushnell
Ted Lasso wishes USMNT luck at World Cup by writing letters to players … on billboards Adam Snavely
===================RackZ BAR BQ ====Save 20% ======================
AFTER YOUR PRACTICE AT BADGER FIELDHOUSE
Try out the Best BarBQ in Town right across the street (131st) from Northview Church & Badger Field on the corner of Hazelldell & 131st. RackZ BBQ
Save 20% on your order
(mention the ole ballcoach)
Check out the BarBQ Ribs, pulled Pork and Chicken, Brisket and more. Sweet, Tangy or Spicy sauce. Mention you heard about it from the Ole Ballcoach — and Ryan will give you 20% off your next meal. https://www.rackzbbqindy.com/ Call ahead at 317-688-7290 M-Th 11-8 pm, 11-9 Fri/Sat, 12-8 pm on Sunday. Pick some up after practice – Its good eatin! You won't be disappointed and tell 'em the Ole Ballcoach Sent You!
=====================RackZ BAR BBQ ======Save 20% ======================
US Men
GatorShane – The Ole Ballcoach – Coach Shane shanebestsoccer@gmail.com if you have any questions.
After squaring off against continental rivals to qualify for a spot at the quadrennial competition, 31 teams join Qatar, our problematic hosts, for the month-long tournament in hopes of being crowned world champs.
During the preliminary, round-robin stage of the World Cup, the 32 teams are divided into eight groups of four (A through H). Each will play three round-robin matches against their group foes.
At the end of the group stage, the top two teams based on points (three points for a win, one for a draw, zilch for a loss) advance to the round of 16. If teams are tied on points, there's a handy list of tiebreakers that will decide who breaks through.
Each knockout-round match is a winner-take-all affair. The round-of-16 teams will duke it out for a ticket to the quarter-finals before hopefully earning spots in the semis and the December 18th final.
If teams can't get the job done in 90 minutes, they'll play a 30-minute extra time period. If they're still tied? A nailbed-ruining penalty shootout beckons.
Group A
SOURCE: DEAN MOUHTAROPOULOS/GETTY IMAGES
The favorite: After failing to qualify for the 2018 edition and making an earlier-than-expected exit from the Euro 2020, a resurgent world No. 8 Netherlands team is eyeing the group's top spot. Veteran head coach Louis van Gaal came out of retirement for the team's rebound, but the Dutch will need attackers Frenkie de Jong and Memphis Depay to stay healthy for a deep run.
The dark horse: No. 44 Ecuador qualified for the World Cup thanks to a squad rejuvenation, arriving in Qatar with one of the youngest rosters in the tourney. And though the team will be without a few key players because of injuries, they still have a group of attackers eager to make this trip a memorable one.
The biggest question mark in Group A? Hosts No. 50 Qatar, which will make their World Cup debut this year. They held a uniquely long training camp but posted inconsistent results in their final pre-tournament friendlies.
The players to watch: Defender Virgil Van Dijk is a beacon of stability for the Netherlands, while attacker Boulaye Dia will be tasked with filling in for Senegal in Mané's absence. Midfielder Moisés Caicedo will be crucial for Ecuador's success, while Qatar attacker Akram Afif is peaking at just the right time.
Group B
SOURCE: VISIONHAUS/GETTY IMAGES
The favorite: No. 5 England has spent the last few years making its case as a contender, reaching the 2018 World Cup semis and the 2020 Euro final. Several important players from those teams made the trip to Qatar, but the aim for a young yet experienced English team is to quit being the bridesmaid and to bring the country's second World Cup title home.
No. 16 U.S. is feeling ambitious, too. The Ted Lasso–backed team returns to the World Cup for the first time since 2014 with the tourney's second-youngest squad and talent at each position.
The dark horse: No. 20 Iran enters its third consecutive World Cup as Asia's highest-ranked team and has a reputation of showing impressive defensive mettle while struggling to score goals. Team Melli is hoping to boost themselvesinto their first-ever knockout berth, despite the risk that Iranian officials will use it to detract attention from the country's continuing human rights crisis.
No. 19 Wales qualified for its first World Cup since 1958 with a world-renowned talisman — Gareth Bale. The team's all-time goals leader has built a habit of bale-ing the team out of trouble, while Ben Davies will hold down the fort on defense.
The players to watch: England's Harry Kane set an English record with 13 international goals in 2021, and fellow forward Phil Foden is in the best form of his career. Christian Pulisic will be key to solving the U.S.' attacking issues while his teammate, 19-year-old midfielder Yunus Musah, is poised for a breakout tourney.
Like Wales relies on Bale, Iran will count on forward Sardar Azmoun.
Group C
SOURCE: RICH GRAESSLE/ICON SPORTSWIRE VIA GETTY IMAGES
The favorite: You just don't bet against Lionel Messi, who's back at the World Cup with perhaps his best supporting squad yet. The reigning South American champs, No. 3 Argentina, are one of the favorites to win the whole thing, boasting a mix of veterans and younger players hungry to win the country's third World Cup.
No. 13 Mexico may put up a fight for Group C's top spot if talented attackers like Hirving "Chucky" Lozano and Alexis Vega are firing on all cylinders. After a lengthy string of poor results, though, expectations aren't that high.
The dark horse: No. 26 Poland's hopes of earning its first knockout berth since 1986 rest almost entirely on star striker Robert Lewandowski. He scored nine goals during World Cup qualifying and has solid attacking support from forward Karol Świderski.
Entering the World Cup as the second-lowest-ranked team competing, No. 51 Saudi Arabia's weak offense will need to step up for them to have a chance.
The players to watch: While Messi dazzles, center back Cristian Romero will lead Argentina's defensive strategy and spur their offensive approach (as long as he stays fit). Mexico's longtime goalkeeper, Guillermo "Memo" Ochoa, is a must-know, and the same goes for Saudi midfielder Salem al-Dawsari, nicknamed "The Tornado."
Group D
SOURCE: TNANI BADREDDINE/DEFODI IMAGES VIA GETTY IMAGES
The favorite: Defending champions No. 4 France will aim to sideline internal squabbles so they can lift back-to-back World Cups, boasting a stacked squad. Forward Kylian Mbappé is ready to succeed Messi as soccer's biggest star, while midfielder Aurélien Tchouaméni is an ideal candidate to maintain balance in the absence of injured N'Golo Kanté and Paul Pogba.
Euro 2020 semifinalists No. 10 Denmark can also do some damage. Gifted midfielder Christian Eriksen is in fine form after successfully recovering from a cardiac arrest during the continental championship last year. Amazing.
The dark horse: No. 30 Tunisia is eyeing its first-ever knockout-stage spot after steadily improving over the last few years thanks to new recruits like midfielder Aïssa Laïdouni. The team is also feeling hype after impressive wins over Japan and Chile in June.
A few short months after the dancing goalkeeper helped No. 38 Australia clinch a spot in Qatar, the Socceroos come to the World Cup without some key players who fell to injury. Midfielder Ajdin Hrustic, though, will be around to wreak havoc.
The players to watch: Denmark can count on Pierre-Emile Højbjerg and Thomas Delaney to find balance in midfield. Tunisia's goalscoring hopes lie with Youssef Msakni, while midfielder Jackson Irvine will provide stability for the Aussies.
2022 World Cup guide: Star players, must-see games, betting and more
Nov 17, 202 Adam Snavel
The biggest sporting event in the world, the FIFA World Cup, is upon us, with play set to kick off in Qatar on Nov. 20 when the host nation faces Ecuador at 11 a.m. ET. And in order to get you ready for the biggest competition in the world, we've put together a primer for the fan. From tournament favorites and popular narratives to sleeper picks and some of the more obscure storylines to follow, there's something here for everyone.
Why a winter World Cup?
First things first: yes, you are correct if you feel like this is the wrong time of year for a World Cup. The tournament is usually a June-July event, but it's being hosted by Qatar this year, which has "fry an egg on the road" weather in the summertime. Originally, Qatar's bid promised that they could completely air-conditioned stadiums and create artificial flying clouds that would shade entire matches. Seriously. The mockups looked like giant anime war aircraft.
– Stream on ESPN+: LaLiga, Bundesliga, more (U.S.)
All of those promises did not come to fruition in a way that would negate an average summer temperature of 105 degrees Fahrenheit, and so the World Cup is taking place in November and December. Even then, the stadiums are still going to need air conditioning for temperatures that will likely reach into the 80s. The timing of the tournament also means most major soccer leagues around the world are pausing for a month in the middle of their seasons.
Is Qatar ready to host the World Cup?
Mark Ogden reports from outside the Lusail Stadium, which will host the World Cup final.
Schedule
Put your coffee or tea on. During the group stage, which goes from Nov. 20 to Dec. 2, the games are played at 5 a.m., 8 a.m., 11 a.m. and 2 p.m. ET. USMNT fans, the stars and stripes play all of their group-stage matches at 2 p.m. ET, and with a few exceptions, such as Argentina vs. Saudi Arabia on Nov. 22, most of the 5 a.m. games fail to get the pulse really racing, if you need some extra sleep and want to binge the feisty games later on in the day.
Games in the round of 16, quarterfinals and semifinals will take place at 10 a.m. and 2 p.m. ET, and the final will start at 10 a.m. on Dec. 18.
Keep your eyes on these players
This World Cup seems like it will finally be the last hurrah for several players who have defined and dominated the game for the past decade and beyond. At the same time, plenty of players are waiting to step into the voids they'll inevitably leave, and there's no better place to do that than the World Cup.
The aging stars: The two most obvious players to mention here are Lionel Messi and Cristiano Ronaldo. They're both at the World Cup, but their chances at hoisting a final trophy don't seem equal.
While Ronaldo has languished on the bench at Manchester United and Portugal had to sneak into the World Cup through the playoffs, Argentina is coming off of Messi's first ever major international trophy at last year's Copa America. Argentina are unbeaten in 35 matches and also have the emotional boost of Messi saying that this is his last World Cup, while Ronaldo … well, it's Ronaldo. He's probably got some cyborg strength and conditioning coach, and we wouldn't bet against seeing him in 2026 when the World Cup comes to the U.S., Canada and Mexico. Portugal also have a much tougher group than Argentina, which doesn't bode well for Ronaldo's hopes of winning his first World Cup.
Outside of the big two, there are plenty more icons likely taking their final World Cup bows. Luka Modric will undoubtedly feature for Croatia at 37 years old. Brazil is bringing along Dani Alves (39) and Thiago Silva (38). Uruguay will lean into their pair of 35-year-olds in Luis Suarez and Edinson Cavani.
Laurens likes Argentina & Messi's chances of World Cup glory
Gab & Juls preview Group C at the 2022 World Cup, with Argentina expected to cruise into the knockout rounds.
The young guns: A new generation of talent is ready to make their mark. There's a cavalcade of young Englishmen who would love to get the country its first World Cup since 1966, such as Jude Bellingham, Phil Foden, Declan Rice, and Bukayo Saka. Bellingham will be of most interest, as his exploits for Borussia Dortmund have many Premier League fans putting him on their club's wishlist for the January transfer window.
Spain also have a pair of young stars in Pedri and Gavi who'll be making their way from Barcelona to the World Cup. Both teenagers are skilled on the ball, as befits the traditions of their club. If they see the field in Qatar, they'll undoubtedly produce highlights.
There's also the interesting case of Jamal Musiala, Bayern Munich's German winger by way of England. Musiala, born in Germany but raised since age 7 in England, finally decided to represent Germany at the senior level last year, becoming an integral part of manager Hansi Flick's set-up.
One bummer for this World Cup: the world's most electric young player, Erling Haaland, won't be making an appearance after Norway failed to qualify.
A point to prove: This group is interesting because it includes several players at very different stages of their careers. Kylian Mbappe has been the "next big thing" for almost his entire life, and announced himself to the world at the 2018 World Cup in Russia, where France won. But he has yet to dominate the game like a Messi or Ronaldo, and some have even questioned his status amongst the world's best players in light of him staying in France with PSG, where the competition isn't as strong as it is in LaLiga and the Premier League, for example.
Yes, Mbappe's clearly good. But he has stayed in a cushy role with PSG, who routinely outshine all domestic competitors. After the Real Madrid transfer debacle and subsequent tendencies to look lackadaisical and dissatisfied in Ligue 1, will Mbappe reestablish himself as the heir apparent to Messi in this World Cup?
Meanwhile, Christian Pulisic is just trying to prove that he deserves more respect than he seems to get at Chelsea. His playing time with his club has been infrequent at best, he has been prone to long cold streaks and he has struggled with injuries ever since he joined the club. Pulisic has questions to answer in this World Cup if the USMNT want to make it out of the group stage.
Southgate: Pulisic isn't where he wants to be yet
England manager Gareth Southgate gives his thoughts on Christian Pulisic as a player ahead of the World Cup in Qatar.
Vinicius Junior has proven himself worthy of the £38 million fee Real Madrid spent to bring him several years ago, becoming a staple member of their first team and one of LaLiga's feared wingers. Now, it's time for him to leave his stamp for Brazil as well. For the last two World Cups, Brazil have gone as Neymar has gone, and it's great news for them that he has been in vintage form for PSG lately. The standard quality of the team rarely wavers from year to year, but it's often been up to Neymar to give Brazil the special sauce they need to get over the hump.
Obviously, that hasn't been enough to bring the most successful country in history back to World Cup glory (they won their fifth World Cup title in 2002, making the 20-year title drought one of the country's longest), and it's time for Brazil to get themselves a new talisman attacker. Enter Vinicius Junior, or Vini for short.
Breakout candidates and comeback stories: Qatar will also be an excellent chance to put faces to names you may have heard but haven't seen play, and also spot new talent. 23-year-old Rafael Leao is a known quantity to fans of Portugal and Serie A, but the AC Milan man has a tendency to pull off the stupendous that could considerably raise his profile in Qatar.
Even less well-known is Australian wunderkind Garang Kuol, an 18-year-old who has already signed an agreement to join Newcastle in 2023. Kuol is undeniably green, but he's a dynamic attacker who makes things happen when he gets on the ball.
Then there are players whose mere presence at the World Cup is a distillation of joy and relief. Christian Eriksen will most likely feature for Denmark, a little more than a year after suffering cardiac arrest at Euro 2020. He has since staged a remarkable comeback to become a vital part of Erik ten Hag's Manchester United squad. If he features in the World Cup, it'll be a welcome sight to fans around the world.
A World Cup of firsts
This is the first World Cup in the Middle East, and the first World Cup staged in the winter. But that doesn't mean coats and scarves.
Temperatures in Qatar are still going to be toasty during the day, which means 2022 will be the first air-conditioned World Cup. Outdoor air conditioning in the desert probably sounds like a monstrous task with massive energy consumption, but Qatar is trying to use the sun to their advantage. These air-conditioned stadiums will run off of solar power. It's practical, and it's also part of FIFA's attempt to make this tournament the greenest World Cup to date. Both FIFA and Qatar have pledged to make this World Cup carbon-neutral. However, carbon analysts and climate advocates have cast doubt on Qatar's claims and say that major sources of emissions are being ignored in their calculations.
Naturally, with air conditioning and carbon-neutral promises, Qatar 2022 will be the most expensive World Cup ever staged. It's estimated that Qatar will end up spending well over $200 billion on stadiums, hotels and other vital infrastructure. By comparison, Russia spent about $14 billion to stage the 2018 World Cup.
Must-watch games
While so much of the drama of the World Cup happens in the knockout stage, the group stage will have plenty of juicy games that fans and neutrals alike can enjoy.
Qatar vs. Ecuador (Nov. 20): It's the first match of the tournament, and many people's first time watching Qatar play. While they're not expected to go particularly far in this tournament, as the 50th best team in the world according to FIFA's rankings, their first match against Ecuador (FIFA ranking: 44) will be an excellent barometer to gauge their strengths and weaknesses.
Senegal vs. Netherlands (Nov. 21): Senegal finally broke through on the international stage last year, winning their first Africa Cup of Nations. Now, Aliou Cisse's men will look to prove they're one of the best teams in the world against the Netherlands to start their tournament.
Senegal are routinely one of the world's most entertaining squads to watch, and this match between Group A's heavyweights looks like it will be a crowd-pleaser, but the Lions of Teranga will also hope against all hopes that their best player, Sadio Mane, will have recovered from injury in time for it. The game also carries the added weight of being the opener for Louis van Gaal's third and likely final World Cup as manager for the Dutch, especially as he has spent the year battling health issues while guiding the Netherlands to a 15-game unbeaten run.
EDITOR'S PICKS
Brazil vs. Serbia (Nov. 24): Brazil enter the World Cup as favorites to win it all, and they're bringing nine forwards with them. Nine. It seems to us like they plan on scoring a lot of goals, and they'll need to given how light they are in defense. They kick off their tournament against Serbia (and their forward tandem of Luka Jovic and Aleksandar Mitrovic).
England vs. United States (Nov. 25): Celebrate Black Friday with some good old fashioned imperialist dread. Group B is a tricky one for everyone involved, with Iran and Wales rounding out the group. And while it won't be do-or-die for either of these teams as the second match, the U.S. have a winning record against England in FIFA competitions. The Three Lions will look for revenge after finishing second in their group behind the Americans in 2010.
Argentina vs. Mexico (Nov. 26): On one side, Messi is hoping to win his first World Cup. On the other is Mexico, a team that haven't managed to crack through to the quarterfinal stage since they were the hosts in 1986. Former Argentina manager and current Mexico manager Tata Martino gives this match an interesting wrinkle, too.
Why should I watch if the U.S. go out?
Let us break it to you, friend: the U.S. almost certainly will go out. Only one team of the 32 gets to win, and the U.S. are not considered a favorite. They failed to qualify for 2018 and this squad is high on youthful energy but low on experiences, with almost every player competing in their first World Cup. No worries, however: there's plenty of tension and drama elsewhere.
Brazil enter the World Cup as betting favorites to win the whole thing, which would be massive for the country. While they are the most decorated country in all of international soccer, it's been 20 years since their last World Cup triumph. After the infamous loss to Germany in the 2014 World Cup and being bested by Belgium in 2018, Brazil are desperate for another triumph.
Defending champions France are also worth watching if for no other reason than you never know what you're going to get. They're a strong squad, which could net them consecutive titles. They'd be the first team to win back-to-back men's World Cups since Brazil in 1962. Then again, France have a habit of imploding when it comes to World Cups (remember the player revolt in South Africa in 2010?). Never far from crisis or glory, France are a must-watch.
And did we mention Messi? Because man, does that guy deserve a break in the international game. Argentina won the World Cup in 1978 and 1986, but have often faltered at the last possible moments with Messi in the team. After finally winning a Copa America last year, can he end his World Cup career at an all-time high and secure GOAT status over Ronaldo?
Or course, you can always root for some underdogs. Only eight teams have ever won the men's World Cup to begin with, leaving a decent chance that the tournament might see a first-time winner.
Marcotti raises doubts over France's World Cup prospects
Gab Marcotti says he has no idea what to expect from defending champions France at the 2022 World Cup.
Who are you betting on?
If you're looking to make the games even more interesting, you can always take a look at some of the most popular betting lines from Caesars Sportsbook and DraftKings heading into the tournament. (All odds are from Caesars Sportsbook unless noted otherwise.)
Golden Boot
Harry Kane +800: He may do it just by virtue of England going far in the tournament, but the team has played far too conservatively lately for me to like betting on Kane here.
Kylian Mbappe +900: It's difficult not to bet on Mbappe, all things considered. If there is one reason that I wouldn't, however, it's because I'm betting on his teammate, the 2022 Ballon d'Or winner.
Karim Benzema +1100: Benzema scores oodles of goals, and he scores them in the biggest moments. This line is probably our favorite right now.
Neymar +1200: The upside of betting on Neymar for the Golden Boot is that Brazil will likely be one of the highest-scoring teams in the tournament. The downside is that those goals will likely come from many different sources.
Lionel Messi +1200: Messi is a decent shout here, as he'll likely be in charge of penalties and free kicks for Argentina, but he often turns into a facilitator and orchestrator first for Argentina with the attention that he draws from defenders.
Cristiano Ronaldo +1400: Ronaldo also draws lots of attention from defenders, but there's the simple fact that he hasn't really looked like Ronaldo in a very long time.
Why Brazil are World Cup favorites
Alejandro Moreno explains why Brazil are the clear-cut favorites to win the World Cup in Qatar.
To win World Cup
Brazil +375: If you're going to throw your money at a country, this Brazil team are as good as any. And if you want to bet on a "favorite," this seems like the bet to make.
France +650: France are another favorite, but maybe not enough of a favorite for odds this low on them. Betting on a winner of the World Cup being a crapshoot anyway, you're probably looking for smaller bets with better odds.
England +1000: England have a great team and nearly won the 2020 Euro, but they'll likely have to defeat talented squads right out of the group stage if they advance.
Argentina +500: I don't think Argentina will win the World Cup. But they've got Messi. So who's to say?
Spain +850: This actually feels like a very good line for Spain, who I think should be favored a bit more than their current betting line suggests.
Germany +1000: This line reflects Germany's current place amongst European squads. They're good, but they've lost their way a bit in the last four years.
Belgium +1600: Tempting, especially given this may well be Belgium's last hurrah for their golden generation. There are far worse teams you could throw money at here.
Netherlands +1400: It's the same odds as Belgium, but if things work out close to the way they look like they will on paper, Netherlands will have a much tougher draw to worry about.
Portugal +1400: I know there are Portugal truthers out there, but I think they're more likely to exit in the group stage than they are to win the World Cup.
And a few more fun ones
Brazil under 9.5 goals +120 (DraftKings): This one goes out to all the haters. Do you think Brazil will crumble and not be nearly as prolific in goals as everyone is making them out to be? +120 on the under for the tournament isn't bad.
First time winner +175 (DraftKings): Hey, only seven teams playing in this tournament have won the World Cup before. Most of those teams constitute the favorites, sure, but this bet might give you some extra inventive on rooting for the underdog.
A hat trick scored in the final +2500 (DraftKings): We know this looks like a lucky shot, because it is one. But Geoff Hurst did pull this off for England in 1966, so it's not impossible. And it's great odds for a fun long shot bet.
Closing in on milestones and records
Messi looks to overtake Maradona: Diego Maradona holds the record for most individual appearances in World Cup matches at 21. Messi is hot on his tail at 19, and will almost surely overtake him this World Cup.
Five World Cups, Part 1: Four men's players in history have scored at four different World Cups: Pele, Miroslav Klose, Uwe Seeler and Cristiano Ronaldo. If Ronaldo scores in Qatar, he'll be the only man ever to score in five.
Five World Cups, Part 2: The record for most World Cups won by a single country is five, which only Brazil has managed to accomplish. On the other hand, Germany could equalize Brazil's record of five if they win in Qatar.
The Long Shot: The record for most goals in a World Cup was set by France's Just Fontaine in 1958, recording an incredible 13 goals. The last time any player even got to double digits was Gerd Muller in 1970 with 10. This record doesn't seem to be in particular danger of falling.
Sleeper teams
Senegal: We've already sung their praises in this guide, but Senegal are a great team that will punish you if you don't give them the respect they've earned. They know their system back-to-front and are led by longtime coach and former player Aliou Cisse.
They just won AFCON, then had to qualify for the World Cup through one of Africa's most difficult paths to the tournament, drawn in the final round with Mohamed Salah and Egypt. Their only major question mark is Sadio Mane's health, and whether the Bayern Munich attacker will be able to play in the tournament or not.
Canada: Canada haven't been to the World Cup since 1986, but they've emerged from CONCACAF as the team to beat, with a crop of talent featuring some of the best young players in the world in Alphonso Davies and Jonathan David.
Iran: Much attention has been given to the matchups in Group B between England, the United States and Wales. But Iran has a legitimate shot at winning the group. Their friendly results from September indicate they're certainly up for it, playing Senegal to a 1-1 draw and beating Uruguay 1-0. They're a tough team to play against at all times, and that's the type of team that can cause upsets at a World Cup.
Denmark: The Danes are part of the World Cup furniture at this point, but the way they went through the Euros last year was something to behold, even while dealing with the traumatic events surrounding Eriksen. Eriksen is back and leads a solid midfield consisting of Pierre-Emile Hojbjerg and Thomas Delaney. They're a team that can pour on the attacking verve when they need to, and they have one of the easiest groups in the entire competition. Look out for them in the knockout rounds.
How to watch the 2022 World Cup
FOX holds the rights to the 2022 World Cup, and matches will be spread across FOX and FS1 for English-language viewers in the United States. Telemundo will carry Spanish-language coverage of games.
Dan Thomas is joined by Craig Burley, Shaka Hislop and others to bring you the latest highlights and debate the biggest storylines. For those looking to stream games, a wide variety of options will be open to you. You should be able to catch games on Fubo, Peacock TV, YouTube TV, Sling TV, and Vidgo.The World Cup final will take place on December 18th starting at 10 a.m. ET, and will be broadcast on FOX's main network channel.
Tune into ESPN FC
During the tournament, you can keep up with all of ESPN FC's analysis, reaction and news via YouTube, Twitter and Instagram. We'll also have the Gab & Juls podcast where Gabriele Marcotti and Julien Laurens dive into the latest news and gossip, analyze matches with special guests, and give their unique perspective.
World Cup predictions: Winner, Golden Boot – and which big team will disappoint?
Daniel Taylor, Carl Anka and more ov 18, 2022
Qatar 2022 is the most controversial World Cup ever staged, but it might also be the most unpredictable.
European teams have been crowned champions at every tournament since 2002, with the trophies shared among Italy, Spain, Germany and France, but expectations are swelling in Argentina and Brazil that the time has come again for one of the two South American powerhouses.
ADVERTISEMENT
https://1eb1052c14b213a8e63346a46358be82.safeframe.googlesyndication.com/safeframe/1-0-40/html/container.html
There are plenty more sub-plots to occupy us: can Harry Kane become the first player to win two Golden Boots? Has Denmark replaced Turkey as everyone's favourite dark horse? And which youngster will make the stage his own?
Our experts offer their verdicts on the big issues that will dominate the football agenda over the next six weeks.
---
Daniel Taylor, senior writer and a four-time Football Journalist of the Year
'Argentina are the romantic choice'
Winner: Listen, before we go any further, can I just point out that when I was asked this question in 2014 I picked Spain — the holders, the winners of Euro 2012, not exactly a terrible team, huh? — to do it. They went out at the group stage and Alastair Campbell, that bastion of football knowledge, wrote a blog on the strength of it to point out how stupid football journalists could be. So I'm tempted to pick Spain again, purely to upset him again. Argentina would be my choice, though, simply as I'm a bit of a football romantic and, oh, I'd love Lionel Messi to do it.
The team who will surprise us… Without wishing to be pedantic, it wouldn't really be a surprise if I could predict it now. I do have a soft spot for Denmark, though, and they surprised a lot of people at Euro 2020. True story: my first-ever trip to the bookmakers, with nothing better to spend my pocket money on, involved a £1 bet on Denmark at 100-1 to win the 1992 European Championships. Now that was a proper surprise.
The team who will disappoint us… It has already happened. The World Cup feels worse already without Italy. I love the Azzurri, their shirts, their wild-eyed defending, their national anthem, their style. Plus I will always have a soft spot for Roberto Mancini because of his days at Manchester City when he would take out the football writers every Christmas, explain the art of making good gnocchi and then leave his credit card behind the bar. A rule really ought to be passed that Italy get mandatory entry to future World Cups.
Breakthrough young player: Can I say Phil Foden? I mean, everyone who watches the Premier League knows all about him. But his international career hasn't really ignited yet. Maybe this will be the competition when he plays for England like he does Manchester City.Golden Boot winner: Harry Kane of England, with five goals (three penalties).
Golden Ball winner: Remember when FIFA gave Messi this award in 2014? I do and, let's be honest, there were a lot more worthy winners. If Argentina get far into the competition, I would expect it will be the same again, though. Messi, on form, could light up this tournament. Though we have said that in a few World Cups.
The game I cannot wait to watch… The final, of course. It's genuinely an occasion like no other. I can still vividly remember getting the ticket in my hand for the Maracana, 2014, and the Luzhniki, 2018, and just thinking: bloody hell, this is what it's all about. For Brazil, in particular, I've never got to a game earlier, just to take it all in. Yes, I know that's a bit schmaltzy and this tournament is going to be… well, different in all sorts of ways. But the final is still the biggest occasion in football.
---
'Don't let me down, Netherlands…'
Winner: Three attempts through various 'World Cup Predictor' apps/websites saw me come up with a Brazil triumph. I have a working theory that the first two World Cups you remember watching have an effect on which nations you think will be good at World Cups for the rest of your life. I would be pleased if there were both Germany vs Brazil and a Brazil vs France matches in the coming weeks.
The team who will surprise us: Hello! It is me! One of the fools who predicted Turkey to be a dark horse at Euro 2020! I will now tell you that the Netherlands are unbeaten in their 15 games under Louis van Gaal! I will tell you they have a fun squad with multiple centre-back options! I will ignore the amount of space Denzel Dumfries vacates when he runs forward from right wing-back to say they are likely to play Argentina in the quarter-finals! I will also handwave how important a 32-year-old Daley Blind is to their ball progression!
The team who will disappoint us: England cannot disappoint me as I've spent the last year mentally preparing myself for Southgate's sad demise. France cannot disappoint me as implosions are part of their footballing history. Belgium cannot disappoint me as they've never had the full-backs to take their 'golden generation' to the next level. I think this World Cup will catch Croatia between cycles; too early for the newer generation that will likely peak at Euro 2024. They'll start brightly, mind you.
Breakthrough young player: I really like Cody Gakpo. The 23-year-old Dutch winger is fast approaching 'Too Good For The Eredivisie' status at PSV and bigger clubs around Europe are sniffing. Gakpo will play as the No 10 for the Netherlands in this tournament. If he has a good one, he'll probably start getting quoted with silly numbers in the transfer market.
Golden Boot winner: The Golden Boot is won by the forward who takes penalties for his country. Nearly all the goals scored by said player will come in the group stages. Memphis Depay! Come on down! (I also predicted this for Euro 2020.)
Golden Ball winner: The last two World Cup Golden Balls have been won by the best player on the losing finalist. I'm predicting Vinicius Junior to buck that trend.
The game I cannot wait to watch: No group-stage game matters more to me than Ghana vs Uruguay. Ghana have scratched and clawed (and maybe even dived to get a penalty) to get to this World Cup and they will go all out in order to get some payback for 2010 here. I really, really, really want to see Argentina vs Netherlands in a quarter-final match, too.
World Cup 2022 team guides: Everything that you need to know
---
Amy Lawrence, Arsenal and France expert
'It's time for Brazil to rise again'
Winner: Brazil. So here's the thing about predictions. Every World Cup Brazil are a potential winner, yet every World Cup since they last conquered in 2002 thanks to the beautiful, goofy-smile-triangle-haircut tale of redemption tale written by O Fenomeno Ronaldo, they have fallen flat. Three quarter-final exits and a semi-final that felt even worse (1-7). Anyway, with these forwards and more, it's time to rise again.
https://theathletic.com/report/podcast-clip?clip_id=6186
The team who will surprise us: Uruguay. It is a really nasty group, one of those where you can make a case for any team beating any other. But if Uruguay emerge safely, they will have the confidence to go with their quality. In front of an ageing but street-smart defence is the quality of the wondrous Federico Valverde helped by Rodrigo Bentancur, the creativity of Giorgian de Arrascaeta and the presence of Darwin Nunez. A dark horse with bite, if you pardon the expression.
The team who will disappoint us: Oh, France. Merde. What appalling luck to lose so many important players. It has really decimated what would have been the central block of the team at the back and in midfield. The loss of N'Golo Kante, Paul Pogba and Presnel Kimpembe is worrisome. The attacking class led by Kylian Mbappe and Karim Benzema may not be enough to compensate.
Breakthrough young player: Pedri, whose experience at the age of 19 dwarfs that of your average teenager, is ready to ease onto the World Cup stage with aplomb. As an outsider, if Borussia Dortmund's 17-year-old striker Youssoufa Moukoko gets some minutes for Germany he could cause a stir.
Golden boot winner: Lautaro Martinez. Having backed Brazil, as evidence of the dilemma between the two South American heavyweights, there's a good case for Argentina to flourish at this World Cup. If so, in-form Martinez has the capacity to plunder goals, and plenty of them.
Golden ball winner: Messi. Oh please. All the hopeless football romantics out there surely want him to win this, his last World Cup (and if he does that, inevitably this individual honour will follow). Having said that, I felt the same about Zinedine Zidane in 2006 and look where that ended up…
The game I cannot wait to watch: Sorry group stage, but coming to terms with the conflicting feelings about this World Cup as a whole will take some getting used to. By the time it gets to the knockouts, I guess it will feel different.
---
James Horncastle, Italy expert (but they didn't qualify so now he's leaning into his extensive South America knowledge)
'Luis Enrique needs to prove he's the best'
Winner: Form suggests Argentina. They're on the longest unbeaten run in international football and destroyed Italy in the Finalissima, and it's Messi's last World Cup. My only doubt is a 20-year trend in this competition. The World Cup keeps getting passed around Europe. Spain coach Luis Enrique has declared himself the best-ever national team manager. I want to see him prove it, especially now he's going to brief us regularly on Twitch during the tournament.
The team who will surprise us… I probably need to stop imagining Graham Potter left Brighton to take the Ecuador job rather than the Chelsea one. Why I can't is the career trajectory: Ostersunds, Swansea, Brighton, Ecuador. It feels so right — so early 20th century. But I digress.
More or less everyone here is going to say Denmark, a team England needed extra time to beat in a European Championship semi-final played at home. So I'm sticking with Ecuador even without Potter. They held Brazil and Argentina to draws in Quito and Guayaquil and though Doha probably isn't at the same altitude, I don't care. It's Moises Caicedo. It's Pervis Estupinan. They have a guy called Djorkaeff por el amor di dios and for that reason, they get my vote. SOMOS ECUADOR.
The team who will disappoint us… No one has retained the World Cup since Brazil in 1962 and the holders always go out in the group stage so au revoir, Les Bleus. In all seriousness, I suspect France will buck this trend regardless of the absences of Paul Pogba and N'Golo Kante. They beat Spain in the last Nations League final, for goodness sake, and we all know the Nations League was launched as a predictor of World Cup winners. Inevitably there'll also come a point in the tournament when we ask ourselves: how can a team with as much talent as Portugal be so…
Breakthrough young player: Benfica's teenage centre-back Antonio Silva has been outstanding this season and Pepe's age and recent injury problems give him a chance of playing. But no one talks about defenders. His compatriot Rafael Leao is the reigning Serie A MVP and, on his day, goes past players with the same ease as Kylian Mbappe. It's between him and Cody Gakpo who is bound to send Premier League Twitter into meltdown with a hat-trick against Qatar.
Golden Boot winner: He can be streaky but Lautaro Martinez goes to Qatar in excellent form. He was Argentina's top scorer in qualifying and brings the best out of whoever he's partnered with up front. So it'll be Lauti or Messi.
Lautaro Martinez will be setting his sights on the Golden Boot (Photo: Giuseppe Cottini/Getty Images)
Golden Ball winner Providing Argentina don't go out to Denmark or France in the first knockout stage, it'll be Messi.
The game I cannot wait to watch… Any game involving Iran's Mehdi Taremi. He's got a quality I love in a striker: the ability to wind defenders and commentators up. A dive here, a cheeky penalty there, the controversy often gets in the way of what talented player he is. Taremi scored five goals in the Champions League group stage and I suspect he's going to upset England or the US.
Other than that, it's going to be the moment Cristiano Ronaldo and Messi's World Cup legacies are decided. One has won the Euros. The other has won the Copa America. This is their last World Cup. Messi goes into it with the better shot. If he wins it, it's another differentiator (as if one were necessary). Messi will then return to PSG and probably take Ronaldo's record as the all-time top scorer in the Champions League if not this season then next.
---
Liam Tharme, tactics and data expert
'Argentina have quality everywhere'
Winner: This is a tough split between Brazil and Argentina but I'm going for the latter. They are 35 games unbeaten because of Lionel Scaloni's tactical flexibility and have quality across the pitch, even without factoring in the sheer brilliance of Lionel Messi. Argentina controlled European champions Italy for 90 minutes in the Finalissima but more importantly, got the better of Brazil in their recent meetings, most notably last summer's Copa America final.
The team who will surprise us: Serbia! They didn't qualify for the Euros last year so will naturally be overlooked. But they went unbeaten in qualifying, beating Portugal in Lisbon to secure top spot and then won their Nations League group too. Aleksandar Mitrovic and Dusan Vlahovic offer different options to break down defences and Filip Kostic provides a crossing threat from the left.
The team who will disappoint us: Belgium. Perhaps this just feels like a repeat of previous tournaments when they had high expectations but it does not feel like the squad has evolved sufficiently and Roberto Martinez is not the most tactically flexible.
Breakthrough young player: Scoping wider than Europe, Lee Kang-in (provided Paulo Bento plays him). Now 21, he shone at the under-20 World Cup in 2019, winning the Golden Ball. He is a diminutive, creative No 10 who could find space in a phone box. Lee brings a goal threat from distance and can split a defence with a through ball, as well as offering a set-piece threat.
Could this be Lee Kang-in's breakthrough tournament? (Photo: Cristian Trujillo/Quality Sport Images/Getty Images)
Golden Boot winner: Harry Kane. He did it four years ago and is in even better form and shape now. Say what you like about Gareth Southgate's tactics but they generate crossing and cutback situations for Kane to score one-touch finishes. His 10 major tournament goals are tied with Gary Lineker as England's best, but score three in Qatar and he becomes England's all time top scorer across all competitions, usurping Wayne Rooney.
Golden Ball winner: Predicting Argentina to make the final, I would be heavily surprised if Messi does not play a key role in their success. His to lose.
The game I cannot wait to watch: As an England fan, I'm excited about all three group games from a tactical perspective, but narrative-wise Ghana facing Uruguay for the first time since 2010 feels like it has all the ingredients to be an all-timer.
---
Dominic Fifield, senior writer who covered England across five tournaments
'Beware Denmark'
Winner: It is tempting to pinpoint Qatar as this 'golden generation' of Belgian players' last last chance but, instead, I will be delivering the kiss of death to Brazil's hopes of securing a first World Cup in 20 years. The tournament does not appear to have one outstanding favourite but, rather, plenty of fine contenders. Yet the attacking resources available to Tite do feel exceptional. Whether he can mould them into a coherent unit, and overcome Argentina at some stage en route, remains to be seen, but they can aspire to end two decades of European dominance at this level.
The team who will surprise us… Denmark. That may not constitute much of a surprise given they reached the semi-finals at Euro 2020, but the Danes have only made it into the last eight at the World Cup once, and that was back in 1998. They bullied the French home and away in their Nations League section earlier this year and will be relishing taking on Les Bleus again in their group in Qatar. Their quarter-final opponents (possibly England) should beware.
The team who will disappoint us… France. This is virtually a guarantee Didier Deschamps' side will now win it, but France's build-up to the defence of their trophy has hardly been serene. They have been denied their first-choice midfield from 2018 through injury, with fitness issues eating into defensive options, too. Their form in the Nations League was slack, controversy swirls around the FFF, and Deschamps already looks rather tetchy in his media briefings. There is a nagging sense that they arrive primed for a World Cup implosion, rather like in 2002 and 2010 — both tournaments that followed French appearances in the final.
Breakthrough young player: Jamal Musiala. I mean, he already plays for Bayern Munich so his impact should not catch people entirely unawares yet, even if he has to impress initially in cameos to earn his opportunity, Musiala boasts all the talent to impress in Qatar. The teenager could end the tournament as Germany's young inspiration.
Golden Boot winner: Neymar. The Brazilian has been irrepressible with Paris Saint-Germain of late and arrives at the tournament having scored in four of his last five club appearances. Brazil have so many forward options from which to choose, but they should create plenty of opportunities and Neymar — with 75 goals in 121 caps, the 30-year-old is only two shy of Pele's Brazilian record — will probably take their penalties and plenty of their free kicks.
Golden Ball winner: Thiago Silva. If Brazil are going to win it, then they must provide their attacking talents with a foundation upon which to perform. Establishing that will fall upon Thiago Silva. The 38-year-old remains a force of nature, and will feel he still has something to prove when it comes to the World Cup. It will be intriguing to see how Tite eases the veteran through the tournament.
The game I cannot wait to watch… A meeting between Brazil and Argentina, potentially in the semi-final, will be mouth-watering. Germany against Spain in the group stage feels like a knockout tie played early. But the third round of games in the section tends to hog the drama, so Ghana against Uruguay — no one mention Luis Suarez — or Tunisia against France might provide some drama.
---
Tim Spiers, London football correspondent and Portugal expert
'It's coming home (yes, really)'
Winners: Well, football sure won't be the winner, am I right?! Head says Argentina partly because of their crazy unbeaten record, heart says Brazil because they picked nine attackers. Shame they probably won't meet in the final. Either way, it would be nice to end the two-decade hegemony of European winners with an overdue South American triumph.
The team who will surprise us… Not sure if you can call World Cup 2018 semi-finalists and Euro 2020 finalists England a surprise package, but everyone apart from Lionel Messi seems to be writing them off and I'm really not sure why. Yes, they have obvious weaknesses, but those weaknesses were there last year when they reached the Euros final and it's basically the same squad and manager. They know how to progress deep into tournaments — something England haven't had for a very long time.
There seems to be a general consensus that England are quarter-finalists at best, but if the groups go to plan they'll play France — whose impending failure to retain their crown is another general consensus — in the quarters. Basically what I'm saying is forget my previous answer: it's coming home and I'll see you in Trafalgar Square on December 18 for the coldest party of all time.
The team who will disappoint us… Like you, perhaps, I tend to support the World Cup's home nation as a second team. I showed love for South Korea with their shrieking, uniformed fans and their brilliant referees in 2002. I shared sorrow with Brazil when they were humiliated in 2014. And in 2006 I cheered on Germ… no that's just not true.
I'll be disappointed if Qatar do well as it'll be painted as justification for taking the best tournament in sport there despite the hundreds of reasons that it's a very bad idea. I'll also be disappointed if Qatar, as expected, do very badly and will paint it as further justification for my belief that the best tournament in sport shouldn't be played there. Qatar will disappoint me.
Breakthrough young player: He's yet to win a cap for Portugal but given the struggles of his fellow forwards (Joao Felix took 16 games to get off the mark this season, Diogo Jota is injured and Cristiano Ronaldo appears more on TalkTV than the Old Trafford pitch these days) 21-year-old Benfica striker Goncalo Ramos could end up front and centre of Portugal's attack.
Ramos is a man bang in form — nine goals in 11 league games for Benfica, plus 14 in 18 for Portugal Under-21s in the past couple of years. His movement, finishing and goalscoring instincts are his greatest strengths. As former team-mate Carlos Vinicius said recently: "With him (around) there are no loose balls in the box."
Goncalo Ramos has the ability to eclipse Cristiano Ronaldo in Qatar (Photo: Gualter Fatia/Getty Images)
Golden Boot winner: The top-scoring player in European football who's going to Qatar is Robert Lewandowski on 13 goals. I'll go with the guy tied in second with Kylian Mbappe on 12 goals, the soon-to-be Sir Harry Edward Kane. Having watched a lot of Spurs this season I'm here to tell you that more often than not they've been about as creative as an obese sloth on a two-day hangover, yet Kane has still scored a dozen goals. He's bang in form, he'll play every minute for England and he takes penalties. Next.
Golden Ball winner: The Golden Ball hasn't been handed to a World Cup winner since 1994 (Brazil's Romario). In five of the last six editions, it's gone to a player from the losing finalists. Ergo, if I'm predicting probably Brazil to win the tournament then the Golden Ball winner comes from their final opponents, who will be… (checks wallchart)… Belgium! In fact maybe they should be my surprise team. No, it's too late for that now. Anyway, the Golden Ball winner will be Leander Dendoncker Kevin De Bruyne.
The game I cannot wait to watch… This might be ruined by getting used to the probable muted atmospheres and general weirdness of the tournament's location but it's the first round of group games for me, especially watching the tournament favourites in action for the first time. It's that moment the towels come off and everyone has to show what they've got, sometimes, understandably given the hideous nature of what's underneath, with nervous trepidation and sometimes with extreme and fully justified confidence. Let the games begin.
---
Stuart James, senior writer and former professional footballer
'Messi's glory would cap Ronaldo's year'
Winner: My predictions for Euro 2020 were dismal, so let that be a warning to you. Apart from comparing Sophie-Ellis Bextor to Denmark (both unfancied, and I fancied them both), I got everything else wrong, starting with saying that France would win it. So apologies in advance to Argentina – I've got you down to triumph in Qatar. Right now, Argentina are international football's 'invincibles'. On top of that, Lionel Messi holding the World Cup is surely the way that 2022 ends for Cristiano Ronaldo.
The team who will surprise us… Heart not head with this one – I really hope Canada do well. I say 'heart' because I'm so taken by John Herdman's story and the way the Canada coach has transformed the fortunes of the national team. But – and this is a problem – Canada have a really tough group (in with Belgium, Croatia and Morocco). As an aside, Denmark isn't an acceptable answer – you can only surprise us once.
The team who will disappoint us… What a category – egg-on-your-face territory here. On the face of it – and I don't mean the egg – there are some strong candidates, with Belgium and France among them. As for England, I already feel like there's been a lifetime of World Cup disappointment (to varying degrees – Italia 90 was a lot of fun before the penalties). Thankfully the office sweepstake has come to my rescue on this one: I pulled out France.
Breakthrough young player: The days of a relative unknown taking the World Cup by storm are gone. Clubs can't even be bothered to scout major tournaments (partly because they know they can ring The Athletic hotline and ask Liam Tharme to give them the lowdown on anyone and everyone). Anyway, I'm going for Jude Bellingham. And before you ask, he definitely qualifies – he's a teenager and he's played 55 minutes of tournament football for his country. Oh, and I think he's fantastic. Let him do his thing, Gareth.
Golden boot winner: No disrespect to some of the past winners, but the bar has not been set that high in recent years – six goals in 2018 and 2014 and five in the two World Cups before that. On that basis a hat-trick in the group stage against a weak opponent could go a long way – Harry Kane against Panama in Russia comes to mind. After trawling through the list of No 9s and feeling slightly underwhelmed, I ended up being drawn to Messi… especially if he fills his boots against Saudi Arabia.
Golden ball winner: A part of me is tempted to say Kevin De Bruyne, but that's more a reflection of what I think of him rather than any faith I have in Belgium going far, if that makes sense. So I'll go with Messi.
The game I cannot wait to watch… For me, there's still a fascination about the South American nations. Yes, we watch their players all the time in Europe, but seeing them representing their country is totally different. For that reason, I hope we get the Brazil-Argentina semi-final that's on the cards. Memories of Diego Maradona wriggling through a posse of Brazil players before releasing Claudio Cannigia in 1990 spring to mind – right foot assist too. As for the group stage, Ghana v Uruguay should be fun. England v Wales will be, too, if either team needs a result to qualify. Let's not sugarcoat it, the Welsh hate the English – which, talking from personal experience, can be a tricky situation for an Englishman who supports a Welsh club.
---
George Caulkin, senior writer, World Cup veteran and expert on North-East England
'England will surprise me — and disappoint me'
Winner: England. There, I've said it (unlike anybody else, the cowards). I haven't said it because I have even the minutest amount of logic to back it up, but I'm also not sure that logic is going to be one of the prevailing themes of this World Cup. Domestically, it's already shaping up to be a weird season and with no preparation time, no build-up, no warm-up games, no anything at all except peculiarity and heat, why would form or injuries or the manager being too safe or any of that stuff matter very much? And nothing would be weirder than England actually winning something.
The team who will surprise us… If England win it I'd be absolutely astounded!
The team who will disappoint us… England, because of course they're not going to win it. But — groping blindly for a serious point — I'm convinced this will be a tournament where a few outsiders coalesce, pull off a shock win and get momentum behind them and a few bigger teams absolutely fall flat. It's just difficult to predict which ones.
Breakthrough young player: I've been very tempted to answer "Nick Pope" to all of these question in honour of the bizarre moment from earlier this season when a Burger King Twitter poll was hijacked by Newcastle fans (hello @ToonPolls) and the goalkeeper's name was trending everywhere. However, let's go for Garang Kuol. He hasn't started a professional league game and has only played once for Australia, but he has been scoring goals off the bench for Central Coast Mariners and is quite a talent. He joins Newcastle — and Nick Pope — in January.
Garang Kuol, recently signed for Newcastle, could cause a stir with Australia (Photo: Serena Taylor/Newcastle United via Getty Images)
Golden Boot winner: Harry Kane. And that could actually happen. Nobody has won two before, but he has his eyes on the prize (check out his forthcoming interview with Alan Shearer), and has been in good form for Spurs. If he starts quickly, you could see him going on a run, winning three penalties and building an unassailable lead before the quarter-finals.
Golden Ball winner: Yeah, I know. If I say Messi I'm just copying everybody else and I'm conforming to Argentina being one of the favourites which completely undermines the whole 'this will be an illogical World Cup' thesis, but I am an old softie and I do love a nice happy ending. He's been so good for so long — let him have the stage.
The game I cannot wait to watch: I don't know yet. Honestly, I don't feel like we've had time to look forward to any of this, to really savour it (or to start filling in my sticker album). It'll be great when it gets going and I'll watch everything, but at this point, my head is still full from the last round of Premier League fixtures. I hate feeling like that, but it's a total nonsense, isn't it?
A brief history of modern soccer: Or, how to understand the World Cup
Nov 18, 2022
f you want to sound like a smart soccer fan, here's your word: gegenpressing. If you don't want to alienate your friends and loved ones, then perhaps peel back the accent and just go with: pressing or even counter-pressing.
Whatever language you land on, the broader concept is the defining feature of the modern version of the world's most popular sport. For the majority of the sport's history, the most important player was the No. 10 — the attacking midfielder who would be positioned at the top of the penalty area, between the opposition defensive and midfield lines, and play balls into the penalty area or score the goals himself. These are the geniuses, the artists, the players who'd frequently be referred to in magical terms: Pele, Maradona, Zinedine Zidane and Ronaldinho all wore 10.
Eventually, though, as clubs became modernized, started raking in hundreds of millions of dollars in annual revenue, and thus grew their coaching and analysis staffs, they got really good at destroying the magic. In response to the dominance of the No.10, coaches simply began to pack extra players into the areas where the attacking midfielders once flourished. The position is now all but extinct.
What followed was a brief period where most of the best teams in the world were reactive and destructive. Jorge Valdano, a teammate of Maradona on the World Cup-winning Argentina side in 1986, famously described a match between English sides Liverpool and Chelsea as such: "Put a s— hanging from a stick in the middle of this passionate, crazy stadium and there are people who will tell you it's a work of art. It's not: it's a s— hanging from a stick".
Thankfully, that, uh, "era" was quickly overtaken by the "Pressing Era. The best teams now push all their defenders high up the field and try to win the ball back in the attacking third. While there was no space at the top of box for the creative geniuses anymore, these teams created all kinds of new spaces for themselves by swarming their opponents as soon as they lost the ball, winning it back, and attacking the gaps in the now-unsettled defense. "No playmaker in the world can be as good as a good counter-pressing situation," according to Liverpool manager Jurgen Klopp.
The major stylistic lever — the pre-planned strategy that most affects what you see in a given game on a given Saturday — is the press: how aggressive both teams are in trying to win the ball back, and how successful they are at doing so.
Got it? OK, now forget it all, because the first step toward understanding what you're about to see in Qatar is accepting that it's going to look very different from the soccer you might've seen over the past four years.
Why not press?
Although Cristiano Ronaldo recently claimed to have never heard of him, there's perhaps no single person who's had more of an impact on the modern game than a tiny, bespectacled German nerd named Ralf Rangnick.
While managing at then-third-division club Hoffenheim back in 2006, Rangnick came across a piece of research that suggested goals are most often scored within eight seconds of winning possession back from your opponent. Eight years prior, while coaching a tiny club called Ulm, Rangnick had appeared on a national talkshow called Das aktuelle Sportstudio. Among other things, he suggested that teams could be more proactive in attempting to win the ball back from their opponents. By saying this on national TV in a massively successful and very traditional soccer-playing nation, Rangnick earned the mocking nickname of "football professor."
However, there was a virtuous connection between the two ideas. Rangnick became convinced that his teams should pressure the ball high up the field and then attempt low-probability passes quickly toward the opposition goal because if those passes failed, they could just start the cycle up again. "We are prepared to play risky passes, at the danger of them going astray, because that opens up the possibility to attack the second ball," he's said.
– World Cup 2022: Schedule, how to watch
Fully committed to these ideas, Hoffenheim quickly were promoted through the lower leagues and up to the Bundesliga, Germany's first division.
Swayed by his style, Red Bull — yes, that Red Bull — gave Rangnick the keys to their soccer project, and he helped to define the style for what would become their network of clubs across the globe: lots of energy, forward passing and chasing after loose balls. It's mostly worked because Red Bull are able to recruit across the world and find players who fit their ideas, and are then trained toward them through their network of teams. The same goes for all of the big clubs across Europe that have adopted their own version of the press: They can sign whoever they want and then coach them up, day after day after day.
Who will captain USMNT at the World Cup?
Sam Borden joins Futbol Americas to talk the USMNT captaincy situation as well as the latest on injury news.
You know who can't just sign anyone and who doesn't get to train every week? National teams. For even the best national teams, the player pool is constantly changing, and the teams only get together a few times per year to train.
When I asked him about the occasional high-profile breakdowns that come from playing an aggressive high-press, current Leeds manager and former Red Bull coach Jesse Marsch said: "Most of those times that it looks bad is a tactical breakdown where the players behind the ball, when we lose a ball, are not in tactically sound positions. Then the game looks more open than it should be. It's aggressive. There's no doubt, but it's also intelligent. The goal is to not be wild; the goal is to still be in control."
EDITOR'S PICKS
To play an aggressive press, the players need to have the physical capacity, and then they need to know how to move in concert with one another. Otherwise, a couple of simple passes and boom: The other team is in on goal. Unfortunately, international sides don't get to pick who was born where, and they really just don't have the training time necessary to play in such an aggressive way without constantly getting torn to shreds.
– World Cup rank: The top 50 players in Qatar
France are the defending champs and the current third-favorites to win the whole thing, according to the betting markets. Brazil, meanwhile, are the favorites. According to a collection of projections combined together by Jan Van Haaren, a data scientist for a Champions League club in Belgium, Neymar & Co. have a 20% chance of winning the whole thing, while no one else is above 10%. In all competitive matches played since the beginning of last August, Brazil have allowed their opponents to complete 83% of their passes. Only two teams in the World Cup field were easier to pass against: Costa Rica … and France.
That doesn't mean everyone is going to abandon the press, though. Since last August, Germany have won possession 7.4 times per game in the final-third — second among all 32 teams, behind just Japan. In addition to those two, a pair of other teams have both held their opponents to a completion percentage of 75% or lower and won at least six possessions per game in the attacking third: Spain and the United States.
In the club game, the full-season success rate of pressing makes it a good risk-reward bet in the long run. But at the World Cup, you play no more than seven games, and the risk of a leaky press is way higher. So, the defining strategic facet of modern soccer I talked about in the intro? It'll mostly be absent from its most popular modern event.
So what will we get instead?
On soccer's journey toward analytical enlightenment, the sport has gotten really good at measuring what happens around the goal.
Throughout the World Cup, you'll no doubt hear "expected goals" mentioned. Abbreviated as xG, it's just an estimated probability that a given chance will be converted based on a number of historical characteristics. For example, a tap-in on the goal line would be worth something like 0.99 expected goals (99%) because Eric Choupo-Moting exists:https://www.youtube.com/embed/qc1rXDbWQ9s?wmode=transparent
Meanwhile, a shot from 50 yards out would be worth something like 0.01 xG. And then there's everything in between. Why do we care about this? Well, xG is more predictive of future performance than any other single statistic. In the short term, anyone can turn two or three low-probability shots into goals, but in the long run, the best teams are the ones that create lots of high-quality chances and concede very few of them.
On an individual level, though, the same thinking applies. The best goal-scorers are the ones who get on the end of the largest collection of great chances, not the ones who are most likely to turn a particular shot into a goal. Lionel Messi actually is better than everyone else at converting shots into goals, but per Stats Perform data going back to 2010, he's scored 533 goals in competitive club games over that stretch from chances worth about 435 expected goals. In other words, more than 80% of his scoring can be predicted from a number of factors recorded before he ever kicks a ball: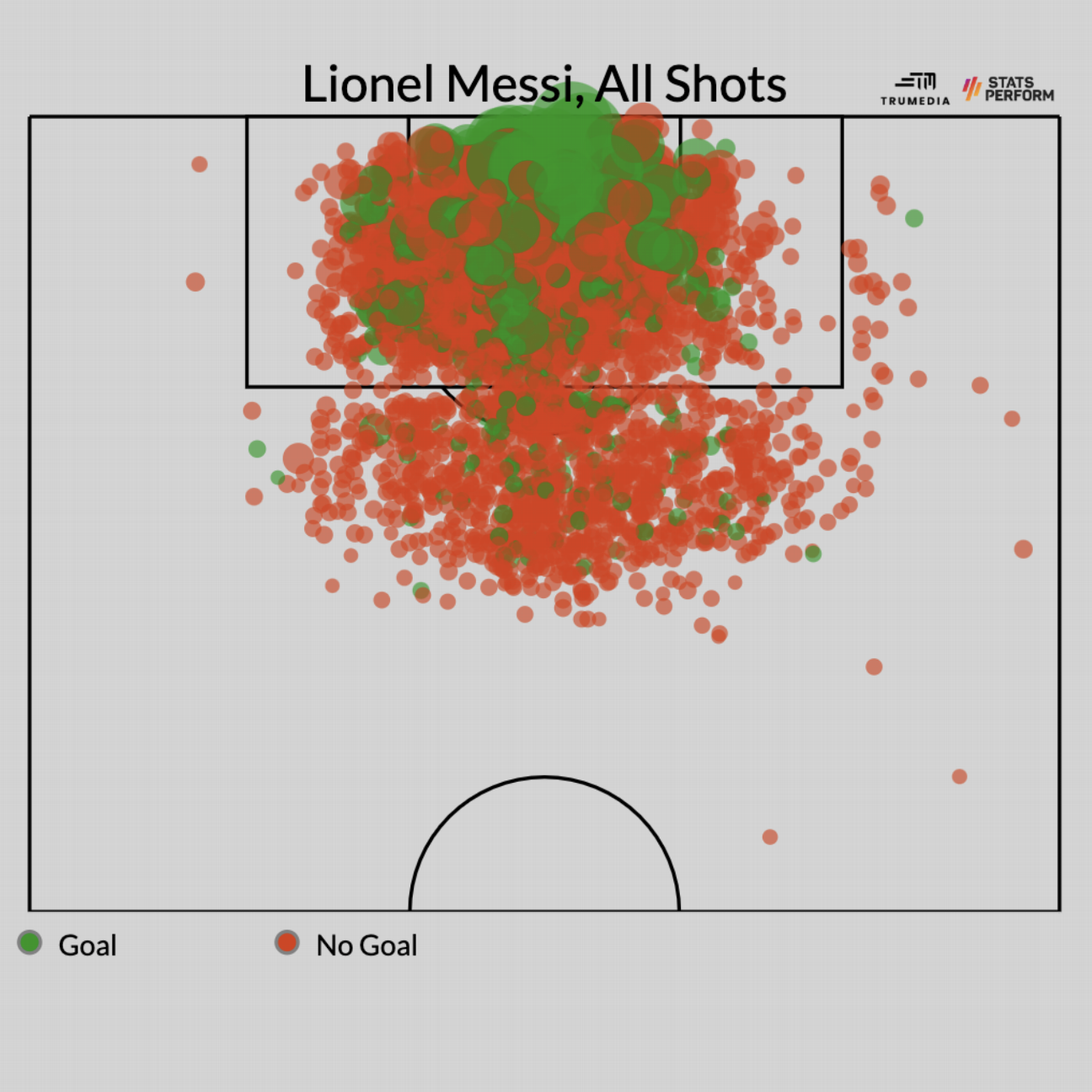 From expected goals, you can then take a step to expected goals assisted: Reward the passer with whatever the xG his pass created is. This strips out the quality of the shooter and instead rewards the passer for the quality of his passes, rather than what happened after he passed the ball. Leading all players across Europe's Big Five leagues in expected goals assisted this season is Messi's teammate at Paris Saint-Germain, Brazil's Neymar: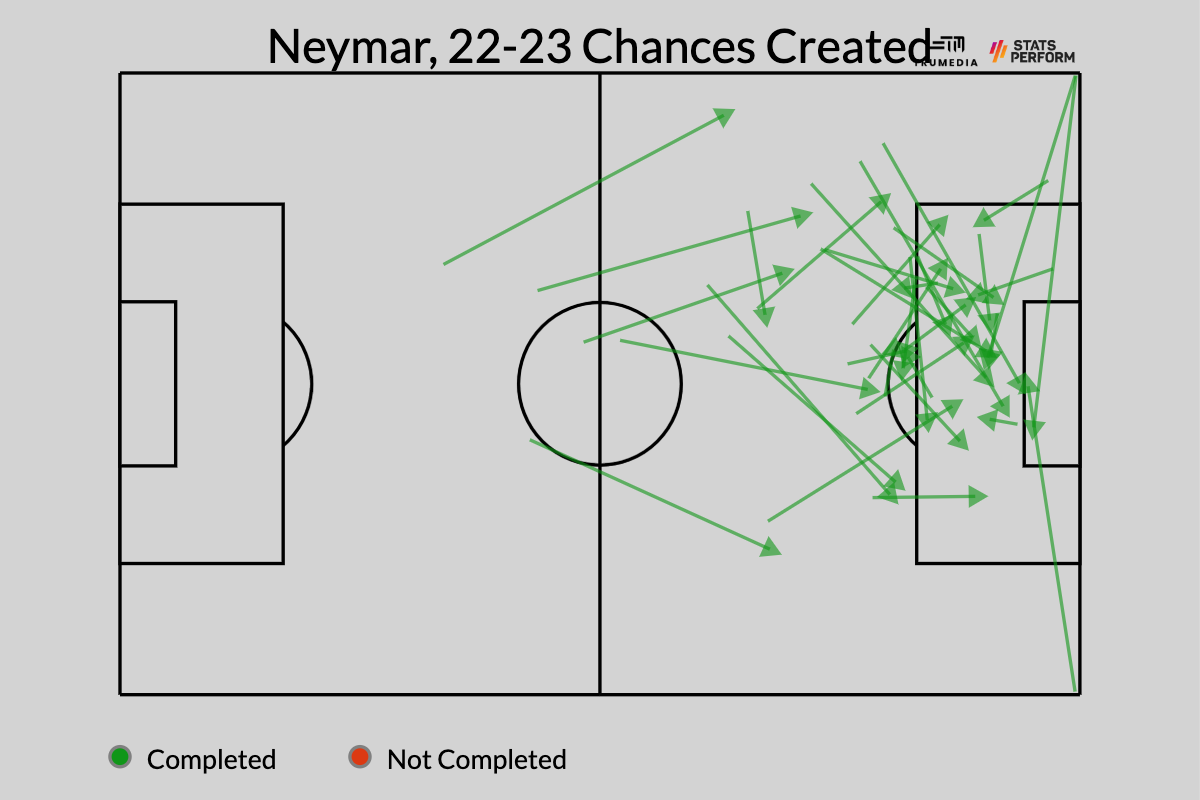 From there, you can take another step back and see who's playing the pass before the pass — or, say, the pass into the penalty area. Messi, who's fourth in expected goals assisted, leads all players in Europe with 68. Next best is Manchester City and Belgium midfielder Kevin De Bruyne, with 50: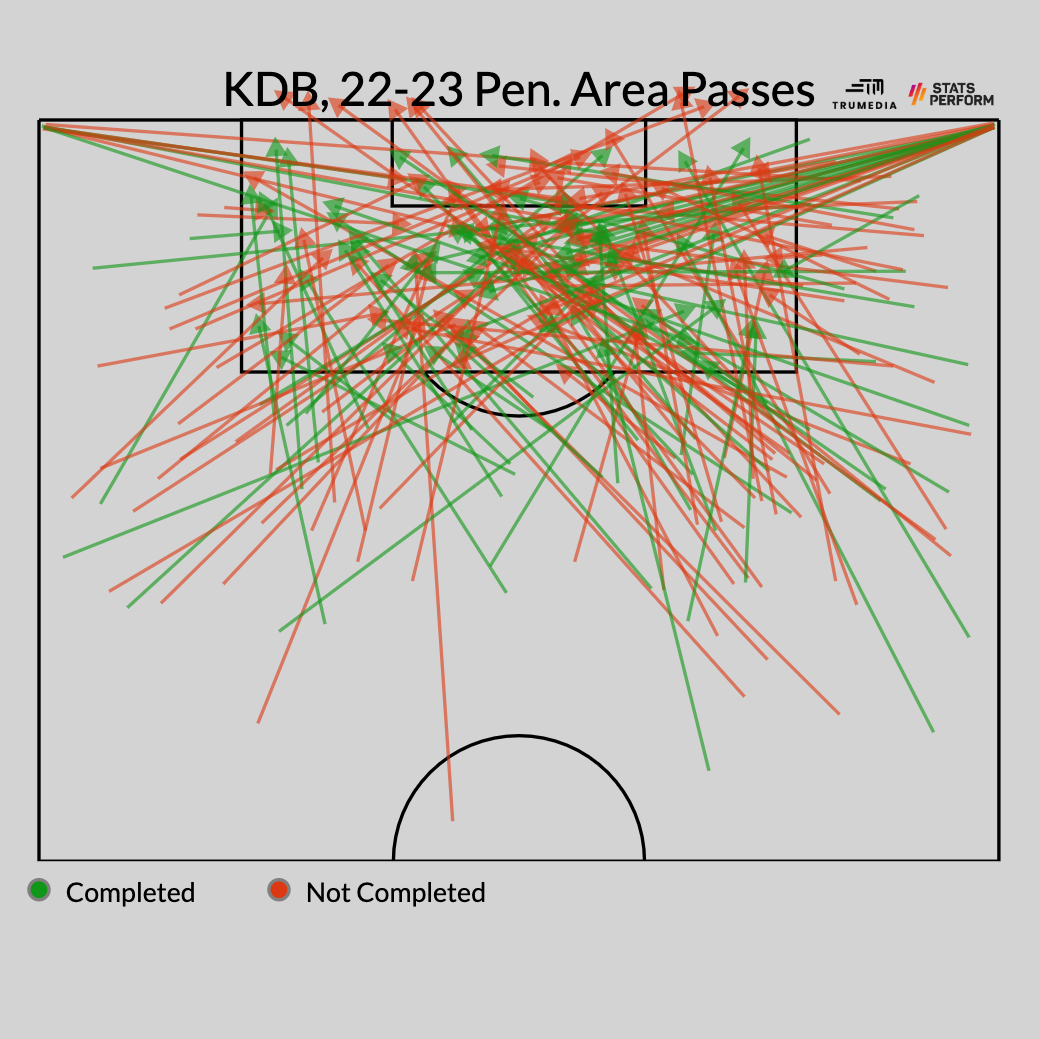 Take a step back from there, though, and things start to get really murky.
Luke Borrn, who was the head of analytics at Italian giants Roma before leaving to become the vice president of Strategy and Analytics with the Sacramento Kings, and is now a co-owner (along with Billy Beane) of French club Toulouse and Italian powers AC Milan, described the state of our objective knowledge of what's valuable on a field as such: "It's like the equivalent of if we only had data on dunks."
What happens in the midfield — from a valuation standpoint — mostly remains a mystery. When you look at actions that increase or decrease a team's likelihood of scoring a goal, everything that happens in the middle of the field pales in comparison to what happens near both goal mouths.
– Ranking every single World Cup: Which one is No.1?
Is this a calculation issue? Or does it require a re-imaging of the hierarchy of what happens on the field? It's probably a bit of both, but because of the patterns of play we're likely to see in Qatar, these players are going to have a much bigger influence on proceedings than they do in a given weekend across Europe.
Can ESPN beat Phil Foden in a shooting challenge?
Manchester City and England star Phil Foden takes on ESPN in a special shooting challenge ahead of the World Cup.
At the most recent European championships in the summer of 2021, passes were completed 84% of the time. In the Premier League season that followed, the number dropped down to 81%. On top of that, the ball moved toward the opposition goal at an average speed of 1.27 meters/second at the Euros, then leapt up to 1.39 meters/second in the Premier League. These seem like small differences, but with close to 1,000 passes occurring per game and around 200 total possessions per match, those differences really start to add up. There are fewer turnovers, and the game simply moves to a different rhythm.
With there being less pressure on the ball and with the ball moving upfield at a slower pace, the players in the middle have more time and space to make decisive plays. If you've only watched international soccer, you probably think that France's Paul Pogba is the best soccer player in the world.https://www.youtube.com/embed/iUf9Zt3s8Ic?wmode=transparent
If you've only watched club soccer, you probably think that Paul Pogba is one of the most inconsistent and hard-to-fit players in the world. That difference is due, in no small part, to the dysfunction of his former club Manchester United, but it's also due to the context in which he's performing. On the international stage, midfielders have more room and more opportunities to influence play near the opposition goal. With Pogba and his midfield partner N'Golo Kante out injured for France, that might spell trouble for what's been the heart of an uber-talented and successful team.
Germany lost Toni Kroos, one of the great midfielders of the 21st century, to retirement, while Spain opted not to select Thiago, who, when healthy, might just be the best midfielder in the world right now. Of course, a world-class midfielder is born every 15 seconds in Spain, so they're not wanting for depth. Croatia, meanwhile, made a run to the finals in 2018 behind a world-class midfield, and that group might be equally as good this time around. And if you're looking for a reason to be bullish about the USMNT, perhaps it's here: midfield is one of their strengths. With Tyler Adams (a destroyer and ball-winner), Yunus Musah (a vertical ball-carrier), and Weston McKennie (an off-ball runner and goalscorer), the pieces fit really nicely together.
Where does it all come together?
It used to be that coaches bemoaned set-piece practice: corners, free kicks, throw-ins, etc. Some, including Spain's Luis Enrique, still do.
Paul Power, now the director of Artificial Intelligence with the data company Skill Corner, used to work as a consultant with the Premier League club Everton. At the time, their manager was current Belgium manager, Roberto Martinez.
"There's this whole perception that scoring from set pieces is almost cheating," Power said. "You know, like it's not part of the beautiful game. Roberto Martinez just didn't practice set pieces. He wanted to know everything about open play: synchronization between players, how to create space through intricate movements. But if you looked at a set piece, there was no interest. This still kind of plagues soccer, from top to bottom."
How do you pronounce Qatar?
Professor of Islamic history Jonathan Brown gives the definitive pronunciation of Qatar with Gio Reyna, Reggie Cannon and Sam Vines.
In addition to the stigma around the set-piece goal — as if it were an unfair or impure way to win games — coaches would claim that any time spent practicing set pieces would take away from practice time elsewhere. In other words, if you started scoring more goals from set plays due to more practice, it would be canceled out by the decline in open-play goals caused by the decline in open-play practice time.
It's a sound-enough theory; it's also dead wrong, and proof of its invalidity came in the Danish first division.
FC Midtjylland, the most forward-thinking soccer club on the planet, scored 25 set-piece goals in the 2014-15 season en route to their first-ever first-division title. Eventually everyone else caught on and started to copy the champs. And a funny thing happened: Everyone else started scoring a ton of set piece goals, too, but their open-play goal-scoring remained unchanged. Despite spending more time on set-piece practice, their ability in open-play remained the same.
"It pointed to a huge under-exploited tactical wrinkle in the game that could help teams score enough goals to win a title," said Ted Knutson, who used to work for Midtjylland and now runs the data company Statsbomb. "And it's repeatable across the entire sport. That's a pretty big deal."
– Is Qatar's World Cup about "sportswashing" or something more?
Both Knutson and Power estimate that a good set-piece program can add somewhere around 15 goals in a given 38-game season. Why do they work so well? As the previous 2,000 words suggest, a lot of what happens on a soccer field is either random, difficult to quantify, impossible to comprehend, or all of the above. While you can't really pre-practice any specific open-play patterns, a set piece is the only time in the game the ball stops moving and a team can execute an exact plan: a chosen kicker, a pre-selected ball-flight, and then a collection of routes not unlike an NBA in-bounds play or any given NFL play.
According to research from Power, the average open-play possession leads to a goal 1.1% of the time while the mostly-still-poorly-performed set pieces lead to a goal 1.8% of the time. On corners, out-swingers lead to shots more often than in-swingers (20.9% vs. 18.6%), but in-swingers are more likely to lead to goals: 2.7%, compared to 2.2%. While much of the success comes down to the creativity of the play design, Power also pointed to the effectiveness of a ball flicked-on by a near-post header compared to one that's simply served into the "meat" of the box. Flick-ons are scored 4.9% of the time, while shots directly from the corner have a 2% success rate.
Pedri? Bellingham? Valverde? Who will have the best World Cup?
The ESPN FC crew debate who will have the best World Cup out of Jude Bellingham, Federico Valverde and Pedri.
While there hasn't been a full-scale adoption of those ideas, the landscape is shifting, and quickly. Some groups, including Midtjylland and England manager Gareth Southgate, have even consulted with NBA and NFL teams on how best to create space in these situations. At the 2018 World Cup, there were 70 set-piece goals — 43% of all the goals scored at the tournament. England themselves scored nine, breaking the record set by Portugal in 1966.
In Qatar, don't expect any drop-off in set-piece scoring. Hell, there might even be an increase. Given the limited training time afforded to national teams and the difficulty creating the kinds of cohesive creative structures that can conquer open-play, set-piece practice is even more time-effective at the international level. In 2018, the average team scored 1.3 goals per game. In a tournament that, at most, features seven total games for a given team, a couple extra set piece goals could be the difference between an early exit and a run all the way to the end.
There's bound to be plenty of uncertainty over the next month, but I feel pretty confident in making at least one prediction: At least one important game is going to be decided in the moments after the ref blows his whistle, when all that chaotic and dynamic movement briefly comes to a halt.
Who am I rooting for? — A newcomer's guide to the USMNT
A look at the players representing the USA at this year's World Cup.By jcksnftsn Nov 19, 2022, 8:00am PST
So you're relatively new to the US Men's National Team (USMNT) or even the World Cup? Welcome to the party, whether this is your first time or you're a regular we're not doing any gatekeeping around here, the more the merrier. We can't exactly blame you for showing up late either, the USMNT hasn't played on the world's largest stage in over eight years, having missed out on the tournament four years ago in embarrassing fashion. But we aren't here to dwell on the past either, we're here to look forward and celebrate the players that are representing the U.S. of A in Qatar in 2022.
The information below probably isn't going to make you sound any smarter if you're discussing the team or players with your soccer-head friends but hopefully it will help give you a good introduction to the team – it's always more fun to feel like you can connect with the players representing your colors. What you'll see below is that we have an incredibly youthful, but also diverse, melting pot of a team. Players from around the world, whose paths to get to this point have been incredibly varied, some of whom play at historic clubs across the globe, and some who have taken a harder path. Here's an introduction to who you are cheering for in Qatar.
Goalkeepers:
Ethan Shea Horvath, 27, Luton Town – 27-year-old Ethan Horvath who was born and raised on the Denver suburb of Highlands Ranch, Colorado. As a teenager Horvath had interest from European sides but in order to meet visa requirements and sign with Norwegian side Molde his parents were required to move to Norway where they took jobs as janitors for the club. After Norway Horvath spent time in Belgium and most recently in England where he currently starts for Luton Town, a team in the English Championship (one step below the English Premier League). Horvath seems to be the perfect second goalkeeper as he has shown the willingness, as well as the ability to come off the bench mid-match and put in an outstanding performance. The most recent example of this was his substitute appearance against Mexico (our biggest soccer rival) in the National League Final in June of 2021. Horvath, put in an outstanding performance, leading the US to victory, including stopping a game tying penalty.
https://platform.twitter.com/embed/Tweet.html?dnt=false&embedId=twitter-widget-0
Sean Everet Johnson, 33, New York City FC – At 33 years old Sean Johnson is one of the senior most members of this year's USMNT. Born in Georgia to parents of Jamaican descent, Johnson is one of the many players who is considered a dual national, that is he had opportunities to play for two (or in some cases three) national teams but has chosen to represent the USA. Johnson has played his entire career in MLS, first with the Chicago fire and for the past five years with New York City FC where he led the team to the MLS Cup in 2021.
Matt Charles Turner, 28, Arsenal – Growing up soccer was an afterthought to Matt Turner, who picked up the sport to stay in shape for basketball and baseball and had dreams of being a professional pitcher. However, Turner ended up in goal due to an injury to his high school teammate but though didn't immediately vault him to success either. Tuner was initially a walk on at Fairfield University in Connecticut before going undrafted in the MLS Super Draft and signing a contract with the New England Revolution. It would take Turner two more years to make his MLS debut for the Revolution in 2018. In 2021 he was named the MLS Goalkeeper of the year and in June of this year he moved to English Premier League side Arsenal where he is the backup keeper at one of London's most historic clubs.
Defenders:
Cameron Carter-Vickers, 24, Celtic – Born in England, playing in Scotland, but eligible to represent the US as he is the son of an American, Cameron Carter-Vickers (CCV) is one of four center backs to make the 2022 World Cup squad. Carter-Vickers father Howard was a professional basketball player who played two years in the NBA before a long career overseas that included meeting CCV's English mother while playing in Greece. Carter-Vickers grew up primarily with his mother in England with visits to his father, who he remains close with, in Louisiana. CCV grew up playing soccer in the Tottenham Hotspurs academy and went out on a series of loans to clubs in the English Championship before being loaned to Scottish side Celtic who made the loan permanent this summer signing Carter-Vickers to a long term contract.
Sergiño Gianni Dest, 22, AC Milan – The son of a Surinamese-American father and a Dutch mother, Sergiño Dest surprised many when he spurned pursuit from the Dutch national team and committed to representing the USMNT. Dest is the type of modern defender who believes the best defense is a good offense and will unleash some random skill just for the fun of it. He might also be the most chill player on the team, he nearly missed Lionel Messi's farewell press conference at Barcelona and showed up in a fake Chicago Bulls jersey because he was playing soccer on the beach with a bunch of kids. Dest came up through the Ajax system in the Netherlands, spent two years with Barcelona, and moved to Italy's AC Milan in September.
Aaron Ray Long, 30, New York Red Bulls – A coast-to-coast American and late bloomer, Aaron Long was born in California, he took the college route and graduated from UC Riverside before being drafted by the Portland Timbers. However, it wasn't until he was transferred to the New York Red Bulls in 2016 that Long started to break through. Long ruptured his Achilles tendon in 2021 but has worked his way back from the injury in time to be included in the World Cup squad.
Shaquell Kwame Moore, 26, Nashville SC – A native of Powder Spring, Georgia, Shaq Moore moved to Spain ahead of his 18th birthday and spent the next seven seasons playing in several divisions, including a season with Levante in La Liga, at the time becoming just the fourth American to play in Spain's top division. Moore also spent three years in the Canary Islands with CD Tenerife who play in Spain's second division. In June of this year Moore move back stateside, taking a role at right-back with Nashville SC.
Timothy Michael Ream, 35, Fulham – The elder statesman of this year's team is Tim Ream who hadn't been called up for a national team game in over a year and at 35 had made peace with saying goodbye to the dream of playing World Cup soccer. However, a hot start to the season with Fulham in the English Premier League was apparently enough to catch the eye of Gregg Berhalter who called Ream up. Fulham are a "yo-yo club" that typically see themselves relegated straight back to the Championship on the occasions that they've been promoted to the EPL for a season. The 2022-23 season has had a bit of a different feel thus far though as the side, captained by Ream, currently sit in 9th place in the standings. Ream is in his eighth season with Fulham, after four years spent with the Bolton Wanderers.
Antonee Robinson, 25, Fulham – Arguably the best Left-back in USMNT history, Antonee Robinson (or Jedi as he prefers) is an Englishman whose father was also English but gained US Citizenship while being raised in White Plains, New York. USMNT eligible through his father's citizenship Robinson elected to represent the US and there's been no looking back as he started eleven of the fourteen qualifying matches for the team. Robinson is a speedster who seems to come flying out of nowhere to make his presence felt for club and country. Robinson pairs with Tim Ream on the left side of defense for Fulham so is likewise contributing to a surprising start for the club this Fall. If that weren't enough he's also a bit of a magician and back flip expert.
Joseph Michael Scally, 19, Borussia Monchengladbach – Just 19 years old, Joe Scally is already in his second season in the Bundesliga, Germany's topflight of football, where he's regularly matching up against the likes of Bayern Munich and Borussia Dortmund. Scally is a native of Lake Grove, New York who became the second youngest professional soccer player in United States history when he signed with New York City FC just a few months after his 15th birthday. After just seven appearances with NYCFC across three years Scally moved to Germany late in 2020 and would make his first appearance for Gladbach last Fall. Scally appeared in thirty matches for Gladbach last season, including twenty starts, and has started every match for his team this year. Scally is also close friends with Giovanni Reyna as the two spent time together in the NYCFC system.
DeAndre Roselle Yedlin, 29, Inter Miami – The only member of the 2022 World Cup squad with previous World Cup experience is DeAndre Yedlin who eight years ago was a 20-year-old backup right back making his ascent. Yedlin appeared in three matches off the bench and following the tournament would make a move from his hometown Seattle Sounders to Tottenham in the EPL. Yedlin made just one appearance for Tottenham and played the following season on loan with Sunderland before transferring to Newcastle United and playing five seasons with the Magpies. In 2020 Yedlin moved to Turkey and spent two seasons playing with Galatasaray before coming back to MLS in 2022 to play for Inter Miami. Most importantly Yedlin's middle name, Roselle, is presumably a nod to the Women's National Team's Rose Lavelle and thus Yedlin is a very, very good human being. Seriously though, in addition to providing some much-needed World Cup experience, Yedlin has been described as a "vibes" guy who is close friends with Timothy Weah.
Walker Dwain Zimmerman, 29, Nashville SC – Perhaps the most surprising revelation of the 2022 World Cup qualifying cycle has been Walker Zimmerman who was a bit of an afterthought as the cycle started but has become one of the first names written down on the team sheet. Zimmerman is a native of Georgia, who started his professional career with FC Dallas, before a move to LAFC, and now he plays for Nashville SC with teammate Shaq Moore. While "Captain America" is the most overused nickname for the US team, Zimmerman looks to have laid sole claim to the American Thor throne.
Midfielders:
Brenden Russell Aaronson, 22, Leeds United – Hailing from Medford, New Jersey and a product of the Philadelphia Union academy, Brenden Aaronson joined RB Salzburg in January 2021 at the age of 20. Aaronson played a year and a half with RB Salzburg, scoring nine goals in 46 appearances before moving to Leeds United in the English Premier League this summer where he joined forces with Tyler Adams (more on him below) and American manager Jesse Marsch. Aaronson is a little buzzing, bundle of energy, who channels that energy into causing chaos for the opponent.
Kellyn Kai Perry-Acosta, 27, Los Angeles FC – The USMNT is filled with dual nationals but one that might fly under the radar is Kellyn Acosta whose father was born in Japan making Acosta (whose surname comes from his Mexican step-grandfather) eligible to represent Japan or the USA. Acosta will be the first Japanese-American to represent the US at a men's World Cup. Acosta started his career in the FC Dallas system before being traded to the Colorado Rapids. This year he was traded to LAFC where he would help the club to finish the regular season in first place and capture their first MLS Cup title, including scoring the opening goal in the Final.
Tyler Shaan Adams, 23, Leeds United – There are approximately fifty-seven "Captain America" nicknamed players on this roster but the one that seems most likely to actually be the captain is Tyler Adams whose demeanor, intelligence, and communication make him a natural for the role, whether he is wearing the armband or not. A native of Wappinger Falls, New York, Adams grew up in the Red Bulls Academy which he joined at the age of 12. Adams would make his senior team debut shortly after his 17th birthday and would go on to play three years with NY Red Bulls before moving to RB Leipzig early in 2019. Adams moved to Leeds United this summer where he reunited with his former coach Jesse Marsch and fellow USMNT teammate Brenden Aaronson. Adams has been at his best this season against the EPL heavyweights such as Liverpool and Chelsea where he has been a menace all over the field, shutting down attacks.
Luca Daniel de la Torre, 23, Celta Vigo – Born and raised in San Diego, Luca de la Torre moved to London shortly after his freshman year of highschool to join the Fulham academy. Luca spent seven years in the Fulham system, seeing little playing time at the senior level before moving to the Netherlands in 2020 to join Heracles Almelo. de la Torre spent two years at the club and made enough of an impression to start seeing callups to the senior US side and make a move to his father's home country of Spain and join La Liga side Celta Vigo this past summer.
Weston James Earl McKennie, 24, Juventus – A youth product of the FC Dallas system, Weston McKennie chose to bet on himself, declining a homegrown contract with the club to make a move to the German Bundesliga and join FC Schalke in 2016 shortly after his eighteenth birthday. McKennie played with Schalke for four years in the Bundesliga, showing himself to be a versatile piece as he was played all over the pitch. Then in 2020 as Schalke was being relegated and experiencing extreme financial issues McKennie joined the Italian giants Juventus. Now in his third season with the club McKennie is a clear favorite of manager Massimiliano Allegri though rumors of a move to the EPL continue to swirl. McKennie is a real set piece threat with an ability to get his head through a ball to smash it home. If you see the Harry Potter fan whip out his magic wand celebration than something has gone well for the USMNT.
Yunus Dimoara Musah, 19, Valencia – It's possible that no one represents the melting pot of America better than Yunus Musah whose nationality options are outpaced only by his enormous smile. Musah is the son of Ghanian parents, who were living in Italy but visiting family in New York City when he was born, thus making him eligible to represent the US. In addition to Ghana, Italy and the US Musah was also eligible to represent England after his family moved there when he was nine. In fact, Musah came up through England's national team system and it wasn't until March of 2021 that he committed to playing for the US. Musah joined the Arsenal academy when he was nine and his family moved to England but he made the move to Spain and La Liga to join Valencia when he was 16, making his debut a year later. Don't take your eyes off of Musah, who can change the game in a moment.
https
Cristian Roldan, 27, Seattle Sounders – Speaking of dual national experiences Cristian Roldan has had the unique experience of suiting up against his brother in international competition. Cristian and his brother Alex were both born in the US and play together for the Seattle Sounders but were both eligible to represent the United States, El Salvador, or Guatemala in International competition. The Roldan's father is Guatemalan while their mother is from El Salvador. While the younger brother Alex chose to represent El Salvador, Cristian has chosen to represent the United States. While he has not seen much playing time in qualifying Cristian is lauded by teammates as being an exemplary teammate and he has been known to pull out the occasional banger for his club.
Forwards:
Jesus David Ferreira Castro, 21, FC Dallas – Born in Colombia, Jesus Ferreira moved to Texas when he was 10 and his father signed a contract with FC Dallas. Fast forward 11 years and it's Jesus who is scoring goals for club and country. Ferreira led FC Dallas with 18 goals in the 2022 season, ironically this was made possible in part by Ricardo Pepi moving to Germany in January which led to Dallas signing Ferreira to a long-term contract. Ferrira was named the 2022 MLS Young Player of the Year and named to the MLS Best Eleven.
Jordan Perry Morris, 28, Seattle Sounders – Born and raised in Seattle, Jordan Morris has found himself living the dream of playing for his hometown Sounders where his father is also employed as the team's Chief Medical Director. Still a student at Stanford University when he was first called up to the USMNT in 2014, Morris became the rare type of player to be called up to the senior team while still playing at the collegiate level. Morris is also a rarity in that he was diagnosed with Type 1 diabetes at the age of nine and has become one of the few professional athletes to play through the condition. The challenges don't stop there, Morris has recovered from two separate ACL tears, the most recent occurring while on loan with Swansea City in the Championship League in February of 2021.
Christian Mate Pulisic, 24, Chelsea FC – If you've heard of just one USMNT player it's probably Christian Pulisic. Pulisic, a native of Hershey, Pennsylvania was able to acquire a European passport at the age of 16 thanks to his Grandfathers Croatian citizenship. Pulisic signed for perennial Bundesliga contenders Borussia Dortmund at 16 and made his debut for their first team when he was 17. After four seasons with Dortmund Pulisic moved to Chelsea FC in the English Premier League in 2019 for the largest fee ever paid for an American soccer player. In 2021 Pulisic would help Chelsea to win the Champions League, in the process becoming the first American to score in the tournaments semi-final with a goal against Real Madrid, and the first American to play in the final.
Giovanni Alejandro Reyna, 20, Borussia Dortmund – If this name rings a bell, it could be because Giovanni Reyna is US Soccer royalty. The son of USMNT legend Claudio Reyna and Danielle Egan, who played for the US Women's national team, Reyna's ascent to the USMNT has seemed like a foregone conclusion. Reyna is a part of the U.S. crew that was actually born in England, Reyna while his father was playing for Sutherland. Giovanni was raised in New York City and played for the New York City FC academy until 2019 when he moved to Borussia Dortmund as a 16-year-old in 2019. In early 2020 Reyna would become the youngest American to make their Bundesliga, just two months after turning 17. While he certainly has the pedigree the path hasn't always been easy for Reyna, who's story includes tragic family loss, and more recently a series of highly frustrating injuries that have kept him out of action. When he's on the field Reyna shows the ball control and finishing skills to be a true difference maker for the US.
Joshua Thomas Sargent, 22, Norwich City – A native of O'Fallon, Missouri, Josh Sargent joined Bundesliga side Werder Bremen on his eighteenth birthday in 2018. He would play in Germany for three season before moving to EPL side Norwich City in 2021. It was a rough season for player and club as Sargent scored just two goals in twenty-six appearances and Norwich were relegated to the English Championship. Sargent stuck with the club and things have gotten back on track this fall as Sargent has banged in nine goals already in nineteen appearances for his club.
Timothy Tarpeh Weah, 22, Lille – Actual soccer royalty, Timothy Weah is the son of the President of Liberia who also happens to be former Ballon d'Or winner George Weah (the award given annually to the best soccer player on the globe). Tim was born in Brooklyn in 2020 and was actually eligible to represent four different countries: Jamaica, Liberia, France, and the U.S. Weah has represented the US through various Youth Levels, starting at the age of 12 on the Under 14 team and has said the decision to represent the U.S. at the senior level was an easy one based on his love of the country and his teammates. Weah's professional career has been based in France where he started with Paris Saint-Germain and has now spent the past four seasons with Lille.
Haji Amir Wright, 24, Antalyaspor – Another product of the U.S. youth national teams Haji Wright played for the youth sides beginning at the U-15 level and continuing throughout to the U23 level where he has developed friendships with a number of his senior side teammates including Christian Pulisic who reportedly argued for Wright to get his first callup to the senior side in May of this year. Wright's professional career has been a bit more unconventional and has included stops in Germany, the Netherlands, Denmark, and most recently in Turkey where he signed a three-year deal with Antalyaspor in July.
Predicting the entire 2022 World Cup, from Qatar vs. Ecuador to the final
Nov 16, 2022
Ryan O'HanlonESPN.com writer
When I first did this, seven months ago, I wrote the following: "Players can get injured, players can play poorly, players can appear out of nowhere, managers can quit their jobs — the list of complicating factors is endless." And yet, I still went ahead and made a prediction for all 64 of the matches scheduled to be played in Qatar.
Since then, the final two slots in the tournament were confirmed. (Sorry, Peru!) And so have the 26-man rosters for all 32 teams. (Sorry, Paul Pogba, N'Golo Kante, Diogo Jota, Reece James, and on and on.) We now know who's playing, both at a micro and macro level, in a way I did not, back in April. Players have been injured, players have played poorly, players have appeared out of nowhere, and managers have left their jobs.
So, with this added information, we're running it back and predicting all the matches from Nov. 21 through Dec. 18 — again. Some of the predictions and analysis from the first time around will not change, while other parts will read very differently. Like last time, all of the stats mentioned in the piece come from Stats Perform, but unlike last time, we are only looking at data from competitive matches played since August 1, 2021..
And also like last time, I've employed the help of the consultancy Twenty First Group, which has built a model that combines individual player ratings and team performance to create a rating for every international team. With international soccer, there aren't enough games to truly judge a team based on its recent results, and the rosters are always changing, so this player-based method attempts to address those problems. I'll reference their ratings throughout this journey; it's just another tool to help guide us from start to finish.
All right, let's get to it — again!
---
The group stage
Nov. 20
Qatar vs. Ecuador (Group A): One big thing that's changed since the first go-round? The date of and participants in the opening game! Senegal–Netherlands was supposed to be the opener, but tournament organizers have since bumped up this match a day to ensure the host nation gets Game 1. Does the fact that no one had thought about this until a couple of months ago bode well for the general logistical success of a massive global event taking place in a tiny desert nation? It does not, but we've already lost the thread here. Back to the games …
There's no other way to say it, really: Qatar are the worst host nation team in the history of the World Cup, and the Qataris are only in the tournament because of the incredibly dubious process that led to their country being awarded the tournament.
– Is Qatar's World Cup an attempt at sportswashing, or something more?
They're 50th in the FIFA rankings, and Twenty First Group's model rates them as the worst defensive team in the tournament by a good margin. Per the ratings, the gap between them and the 31st-ranked defensive team (Costa Rica) is bigger than the gap between Costa Rica and No. 17 Senegal. Qatar can play some nice possession soccer at times (see: their match against the United States at the 2021 Gold Cup) — but it's hard to see them not getting overpowered by bigger and stronger teams.
Despite some fun talent, Ecuador don't seem all that good — they barely eked out a positive goal differential in qualifying — but they should cruise in this one.
Result: Qatar 0-2 Ecuador
Laurens tips Group A's Senegal to be the surprise package
Gab & Juls preview Group A at the 2022 World Cup, which contains hosts Qatar, Netherlands, Senegal and Ecuador.
---
Nov. 21
England vs. Iran (Group B): England have been awful ever since I wrote those first predictions. They were relegated from the first tier of the Nations League and haven't won any of their past six games. Since 1998, teams that made the semifinals of the World Cup have, on average, won better than 60% of their final five games before the tournament. Gareth Southgate's team, of course, have won 0%.
After Spain, England are the slowest team in the tournament, moving the ball upfield at a crawl's pace of 0.96 meters per second. And while Iran can't score, they've always been tough to score against. This one, especially the first half, could be a slog for the Three Lions.
Result: England 2-0 Iran
Senegal vs. Netherlands (Group A): OK, now that we've reached what should be the first competitive game of the tournament, it's time for some ground rules, base rates, what have you. Over the past two World Cups, 80% of the matches were won by one team or another, with the remaining 20% ending in draws. And there have been an average of 2.6 goals scored per game.
When a team wins, they score 2.3 goals and concede 0.6. When it's a draw, the scores, very nicely, add up to 1.0 goals for and 1.0 goals against. So roughly, the average win at the World Cup is a 2-1 margin, and the average draw is 1-1.
Among teams that have appeared in the past two tournaments, France have averaged both the most goals scored (2.0) and conceded the fewest (0.8). At the other end of the spectrum, among teams with appearances in both events, Iran have scored the fewest goals (0.5 per game), while Australia have allowed the most (2.3). If we limit it to teams who have made at least one appearance, then Panama have allowed the most goals (3.7), while Cameroon and Honduras (0.3) have scored the fewest.
While they missed out on Russia 2018, Netherlands have scored the most goals (2.1) and conceded the second fewest (0.6, behind Denmark's 0.5) among teams to appear in at least one of the previous two tournaments. Their manager in 2014? Louis van Gaal. Their manager in 2018? One Louis van Gaal.
Befitting what is widely considered the worst group in the tournament, Netherlands are the eighth-best team, according to the Twenty First Group model, while Senegal rank 18th. One stylistic indicator to keep an eye on: Senegal have moved the ball upfield faster (1.73 meters per second) than any team in the tournament other than Morocco. In contrast, LVG's teams have a history of slow-moving, sideways possession. Should be a fun one, and it's a nice matchup for Sadio Mane & Co. The winner of this likely wins the group.
Result: Senegal 1-1 Netherlands
United States vs. Wales (Group B): The U.S. had a really hard time with teams that could effectively sit back and counter during qualifying; and with a supposedly fit and healthy Gareth Bale leading the way, the Welsh have been one of the most effective sit-back-and-counter teams in international soccer over the past decade. Of course, we have seen Bale sprint approximately one time since April, and that was after he scored the tying goal in the dying minutes of the MLS Cup for Los Angeles FC against the Philadelphia Union. He sure can dunk; can he still run?
The U.S. truly do have more talent than Wales, but their Day 1 opponents will present a tactical puzzle that Gregg Berhalter's team haven't yet solved.
Result: U.S. 1-1 Wales
Has Southgate learned from England's recent heartbreaks?
Gab & Juls preview Group B at the 2022 World Cup, with Marcotti wondering if England can finally go all the way.
---
Nov. 22
Argentina vs. Saudi Arabia (Group C): The vibes around Argentina are as good as they've ever been right now, and the Saudis just match up terribly with them — and frankly, with most teams in the tournament. They like to possess the ball, so there should be plenty of space for Argentina's dynamic attackers to run into as Lionel Messi continues to drop deeper and deeper as he gets older, pinging pinpoint passes up and across the field. Their 35-game unbeaten streak continues apace.
Result: Argentina 3-0 Saudi Arabia
Denmark vs. Tunisia (Group D): In international soccer, everyone knows you've got the Big Nine. (Actually, don't use this term; I just made it up, and people will look at you funny if you try to drop it in conversation.) There's Brazil and Argentina from South America, along with the European septet of France, Spain, England, Germany, Portugal, Belgium and the Netherlands. But after that group, Denmark have the shortest odds to win the whole thing. They made the semis of the Euros, and it wasn't a fluke.
– World Cup 2022 team-by-team previews
The level of coaching at this tournament and at international soccer in general will vary widely, but Kasper Hjulmand showed an ability to build a really fun, interesting and flexible side last summer. The Danes are still lacking a truly standout goal scorer, but they're one of the more cohesive and well-thought-out teams in the event. They'll smash the set-piece button, too.
Result: Denmark 2-0 Tunisia
Mexico vs. Poland (Group C): Yes, Poland do have Robert Lewandowski, the red-hot best striker in the world. But also: Poland have had Robert Lewandowski for over a decade at this point and never really accomplished anything of note at the international level. I don't see much of a difference in these two teams overall.
Result: Mexico 1-1 Poland
France vs. Australia (Group D): Sure, France lost the entire midfield that made this team go, but there's still no need to overcomplicate this. Despite attempting to qualify out of a comparatively easy region, Australia produced an expected-goal differential of plus-0.22 per 90 minutes in their competitive matches since last August. Only Uruguay, Costa Rica and Ghana were worse — with the latter two somehow making it into the tournament despite consistently getting buried under great chances by their opponents.
France will probably play this more conservatively than they should, but hey, it worked last time, didn't it?
Result: France 1-0 Australia
Laurens likes Argentina & Messi's chances of World Cup glory
Gab & Juls preview Group C at the 2022 World Cup, with Argentina expected to cruise into the knockout rounds.
---
Nov. 23
Morocco vs. Croatia (Group F): These are two teams that illustrate the dual beauty and curse of international soccer: some global superstars playing with some guys from the Croatian and Moroccan first divisions. In April, I wrote, "It would be a massive boost for Morocco if Chelsea's Hakim Ziyech decides to unretire before the World Cup, but we're counting him out for now." Guess what? Ziyech is back, baby! Croatia, meanwhile, are essentially just a worse, older version of the unlikely team that made the World Cup final last time around.
Among tournament sides, Croatia rank 10th according to Twenty First Group, while the Moroccans sit 17th. INCREDIBLY MINOR UPSET ALERT.
Result: Morocco 2-1 Croatia
Germany vs. Japan (Group E): Don't sleep on this game — metaphorically, that is. For some of you, this game will be played while you literally are sleeping, but DVR it if you have to because it could be a lot of fun.
In the sample of games mentioned in the intro, Germany had the best expected-goal differential per game, while Japan were sixth. By hiring former Bayern manager Hansi Flick, the Germans have basically doubled down on the push-everyone-forward high-wire act that saw them get dumped out in the group stages in 2018; all of their matches are a must-watch.
Result: Germany 3-2 Japan
Spain vs. Costa Rica (Group E): Time for some introspection. I stand by the phrase, uttered in April, "Spain have the best coach in the tournament." But Luis Enrique is really testing my resolve here and making me wonder what "coaching" even means. He left the likes of Liverpool's Thiago and PSG's Sergio Ramos off his roster, and he recently admitted that he thought practicing set pieces was a waste of time. Despite, you know, some people (me) writing whole chapters of whole books about how set-piece practice is the most cost- and time-effective way to score goals.
That being said, Spain mopped the floor with Italy in the semifinals of the Euros only to lose in a shootout, and the team is built around a core of young, dynamic, flexible winger/attacker/midfielder/whatever types that have produced some really intricate and club-team-like possession play.
Costa Rica, meanwhile, might be the oldest team at the tournament. I'm not buying their late surge in CONCACAF or their win over New Zealand, either.
Result: Spain 2-0 Costa Rica
Belgium vs. Canada (Group F): This is just an awful matchup for Belgium. They're weak at the back and can't really defend in space, but Roberto Martinez has the team playing in a way that requires his aging slew of center backs to sometimes still do that. Alphonso Davies and Jonathan David are both one-man counterattacks … and they play on the same team.
The Belgians might overwhelm Canada with possession, but it's really hard to imagine any pattern to this game that doesn't involve David and Davies streaking up the field into wide-open space at least a couple of times.
Result: Belgium 1-2 Canada
Which CONCACAF stars make ESPN FC's top 50 World Cup players?
Sebastian Salazar and Herculez Gomez take a look at which CONCACAF players make ESPN FC's World Cup rank.
---
Nov. 24
Switzerland vs. Cameroon (Group G): Will Xherdan Shaqiri finally take off all of his clothes during a World Cup match? Tune in on Thanksgiving morning as we begin our collective journey.
Result: Switzerland 1-0 Cameroon

Uruguay vs. South Korea (Group H): I must repent.
April me: "Sorry, but I just can't get excited about a team that (A) is managed by a coach who was fired by the worst club in MLS, (B) conceded as many goals as it scored in qualifying and (C) still relies on a pair of 35-year-old strikers. This will be South Korea's last World Cup with Son Heung-Min somewhere near his peak. I like that a little better."
– World Cup vignettes: People in Qatar talk about what it means to them
November me: Darwin Nunez is the most exciting player in world soccer. He's averaging more than a goal or an assist per 90 minutes. He frequently looks like he doesn't know how to tie his shoes, let alone walk and chew gum at the same time, let alone play professional soccer for one of the best teams in the world. He will, on a single play, dribble the ball 60 yards, beat three defenders, and then somehow shoot the ball … backward. He's complete chaos — and he's likely going to be paired with a mild-mannered veteran named … LUIS SUAREZ. Throw in midfielders Federico Valverde and Rodrigo Bentancur, neither of whom can stop scoring, then add in a recent injury to Son Heung-Min, and we're taking Uruguay this time.
Result: Uruguay 1-0 South Korea
Portugal vs. Ghana (Group H): Remember all those Ghana teams the U.S. had trouble with? Good, now wipe that from your memory. Although they've added some new, nationalized talent like Inaki Williams and Tariq Lamptey, the Black Stars limped into the tournament off a lucky Thomas Partey goal in a match that Nigeria dominated. This team didn't get out of its group at the Africa Cup of Nations.
Result: Portugal 2-0 Ghana
Brazil vs. Serbia (Group G): When they played four years ago, the match ended 2-0. When they play while you're falling asleep on your couch from too much turkey …
Result: Brazil 2-0 Serbia
---
Nov. 25
Wales vs. Iran (Group B): It probably won't happen, but this match could consist of 90 minutes of both teams staring at the ball while it sits in the middle of the center circle, daring the other side to take the initiative. With both sides at their best without the ball, this feels like a terrible matchup for everyone, especially those who decide to wake up early to watch it.
Result: Wales 0-0 Iran
Qatar vs. Senegal (Group A): Senegal soaks up possession from Qatar, the hosts can't break down the likes of Everton's Idrissa Gueye and Chelsea's Kalidou Koulibaly, the ball turns over and all of a sudden, it's Sadio Mane breaking into the penalty area — over and over and over again.
Result: Qatar 0-2 Senegal
Netherlands vs. Ecuador (Group A): The Netherlands have been on fire over the past few months. The Elo ratings get updated each time a team plays a game based on the result and the competitiveness of the match, and only Brazil, Argentina and Spain are currently ahead of the Dutch. But this roster … just doesn't make much sense. They have a bunch of good center backs who can't all play together and a bunch of gigantic strikers who can't all play together. Beyond that, the midfield feels very light, and then it's a bunch of wide attackers who all like to occupy the same spaces and not many guys who can stretch a defense.
Top stories of the week from
Get exclusive access to more than 3,000 premium articles a year from top writers.
• O'Hanlon: World Cup predictions »
• Doolittle/Schoenfield: 2023 MLB picks »
• Barnwell: Lucky, unlucky NFL teams »
• Lowe's 10 things: Golden State issues »
More ESPN+ content »
It can work when all the players are world class — elite players can figure out the fit on the fly — but the standard of the Dutch attackers this cycle is a couple of ticks below the Robin Van Persie and Arjen Robben generation. The lack of talent is why the Twenty First Group model isn't so high on them, either.
This could be a tricky match for LVG's side.
Result: Netherlands 2-1 Ecuador
England vs. United States (Group B): The "It's Called Soccer, Lads" derby!
Despite all of the exciting attacking talent on both sides, both teams are much better defensively than they are going forward. It's a weird matchup, and that's going beyond the anxieties and emotional complexes both nations have developed against, and in concert with, each other over the past 300 years. England should be able to dominate with the ball more than they typically do, while the USMNT have typically fared better without the ball despite wanting the ball more often. Am I talking myself into both teams swapping managers before the tournament starts? I asked this question in April, and I'm still asking it today.
– Borden: Introducing the USMNT's "Class of 2022" for the World Cup
This is also a matchup between perhaps the two most out-of-form teams in the tournament; England have dropped eight spots in the Elo ratings over the past year, while the U.S. tumbled nine places. There are still all kinds of ways to overthink this one, but despite a pretty volatile seven months for both sides, I'm sticking with the reasoning I went with back in April: "The more talented team wins."
Result: England 2-1 U.S.
Marcotti raises doubts over France's World Cup prospects
Gab Marcotti says he has no idea what to expect from defending champions France at the 2022 World Cup.
---
Nov. 26
Tunisia vs. Australia (Group D): Based on the Twenty First Group ratings, this would be the worst game of the tournament: No. 25 vs. No. 29.
Result: Tunisia 1-1 Australia
Poland vs. Saudi Arabia (Group C): This feels like one of those "guy wins the Golden Boot in one game" type matches, doesn't it? Would the over/under on Lewandowski goals be 1.5? Maybe even 2?
Result: Poland 4-1 Saudi Arabia
Argentina vs. Mexico (Group C): The last time Tata Martino coached an international match involving the greatest soccer player of all time, Lionel Messi immediately retired after the game. Let's all hope that's not the case this time around! I'm skeptical that Martino's familiarity with the Argentina setup will provide too much of an edge, but it certainly can't hurt.
Result: Argentina 2-1 Mexico
France vs. Denmark (Group D): The holders against the Euro semifinalists makes for a fun group stage rematch. They drew 0-0 when they played in the group stages in 2018. Denmark have definitely improved since then, and although Pogba and Kante are gone, Karim Benzema is back.
Result: France 1-1 Denmark
---
Nov. 27
Japan vs. Costa Rica (Group E): It's time for the transitive property of analysis. Japan pummeled the USMNT in their tuneup friendly a couple of months ago. Despite the score lines over their matches, the U.S. were clearly a better team than Costa Rica over the course of qualifying. Therefore …
Result: Japan 1-0 Costa Rica
Belgium vs. Morocco (Group F): In April, I said, "This is a much better matchup for Belgium than Canada, I think." I'm proud of myself for absentmindedly inserting "I think" there because it suggested some trepidation. And while I do think Morocco are a slightly better matchup, I no longer think they're a much better matchup. After all, as mentioned earlier, the Moroccans are the fastest team in the tournament. This is a less talented, and much older, Belgium team than the one we saw at the last World Cup, and the situation hasn't improved much since April. Eden Hazard has essentially fallen off the face of the earth but is expected to play a prominent role, while Romelu Lukaku has scored a whopping one goal in Serie A this season. He's on pace to score fewer goals for Inter than he did during last season's disastrous stint at Chelsea.
– What big European clubs are doing during the World Cup
Remember: A favorite goes out early in every tournament …
Result: Belgium 1-1 Morocco
Croatia vs. Canada (Group F): Against Canada in Canada, the U.S. dominated possession, pressed well and put together some really nice combinations, but it rarely ever led to a quality shot on goal. Croatia should be able to control this game in the same way, and with more midfield talent than the Americans can offer, they also should be able to turn that possession into some more dangerous chances.
If they can't, they'll just bop crosses into the box and shoot from range — two specialties of Ivan Perisic — opting for a more industrial Plan B the U.S. never resorted to.
Result: Croatia 2-1 Canada
Spain vs. Germany (Group E): With Nos. 2 and 7 in the Twenty First Group ratings, this is, theoretically, the Game of the Group Stages. But more often than not, the Game of the Group Stages ends in disappointment because both sides have more to lose than to gain by going all-out for the win. Hell, and even when they do, like with Spain and Portugal in 2018, the match can still end even.
Result: Spain 1-1 Germany
How do you pronounce Qatar?
Professor of Islamic history Jonathan Brown gives the definitive pronunciation of Qatar with Gio Reyna, Reggie Cannon and Sam Vines.
---
Nov. 28
Cameroon vs. Serbia (Group G): This just isn't a good group for Cameroon. Brazil might be the best team in the tournament, while Serbia and Switzerland both rank within the top 15 of the Twenty First Group rankings. As such, TFG gives the Indomitable Lions just an 11% chance of reaching the knockout rounds. Only Qatar (9%) and Costa Rica (8%) have a smaller chance of advancing.
Result: Cameroon 1-2 Serbia

South Korea vs. Ghana (Group H): Among all the teams in the tournament, Ghana are the only ones who were outscored in all of their competitive matches since last August. This isn't a vintage South Korea side by any means, but they should be alive come the final Matchday.
Result: South Korea 1-0 Ghana
Brazil vs. Switzerland (Group G): They tied 1-1 in the group stages last time around, but Brazil totally dominated the shot count 21-6. There's no good reason to suggest any different this time around, and there's no good reason to expect the bounces to fall Switzerland's way a second time.
Result: Brazil 2-1 Switzerland
Portugal vs. Uruguay (Group H): Funnily enough, the Twenty First Group model rates Uruguay as exactly the same as Serbia. And that Serbian team beat and drew Portugal en route to winning the World Cup qualifying group and forcing Fernando Santos' team into a playoff. Portugal lost Diogo Jota since I first wrote this thing, and Cristiano Ronaldo seems to be rapidly declining and killing the vibes at every possible opportunity, while Uruguay have a bunch of ascending soon-to-be-if-they're-not-already superstars. But even without Jota and with a big question mark over Ronaldo's performance up top, Portugal still have way more talent up and down the roster.
Uruguay knocked Portugal out in the round of 16, but these two teams are in very different places four years later — even if the headline names remain the same.
Result: Portugal 2-1 Uruguay
---
Nov. 29
Netherlands vs. Qatar (Group A): One of those classic World Cup matchups between one team that's already eliminated and another team that's trying to score as many goals as possible in order to win the potential goal-differential tiebreaker atop the group.
Result: Netherlands 4-1 Qatar
Ecuador vs. Senegal (Group A): While the incentives tend to be uniform over the first two matches of the group stages — win as many points as you can — by the third game, you're just trying to do whatever you think maximizes your chances of qualifying. While a win would put Ecuador through, a draw or a win would be good enough for Senegal.
It was the same exact situation when Senegal played Colombia in the final group stage game in 2018 — and lost. Four years later, they've learned their lesson.
Result: Ecuador 1-1 Senegal
Wales vs. England (Group B): Based on the prior outcomes, England will have already clinched first place in the group through the first two matches. That, theoretically, bodes incredibly well for Wales … until you remember that England's second-choice team is likely to be nearly as good as its first. Southgate rotated his squad during the group stages of the Euros without much issue, and the same should be true this time around.
Result: Wales 1-1 England
Iran vs. United States (Group B): Another team that doesn't want the ball.
In April, I wrote: "Hopefully you're sensing a theme here … and hopefully Gregg Berhalter is too. While, paradoxically, it seemed like the U.S. might match up better against better competition come the World Cup — less of the ball, but more transition opportunities, and more space in the attacking third — they've drawn a collection of teams who also function better without it. Figuring out how to break these teams down — hint, hint, set pieces! — should be the goal of the next seven months."
Spoiler: They did not figure it out over the next seven months. However, I am now dangerously close to proclaiming, "The USMNT is better against good teams than bad teams," and that's step too cute, even for me. This seems likely to be a very frustrating three-match slate for American fans, but after a tense first half, the U.S. breaks through — and then breaks through again as Iran now have to push forward to stay alive.
Result: Iran 0-2 U.S.
Berhalter: USMNT to continue 'Be the Change' message at World Cup
USMNT coach Gregg Berhalter says he and his team will continue to push the team's "Be the Change" message while in Qatar.
---
Nov. 30
Tunisia vs. France (Group D): Finally, a decisive win for the defending champs.
Result: Tunisia 0-3 France
Australia vs. Denmark (Group D): Australia would have to win this by a large margin in order to advance and so we'll say that they get a goal, but then leave themselves open at the back over the full 90 minutes. Denmark and France both finish the group with seven points and the same goal differential, but the Danes top the standings thanks to the goals-scored tiebreaker.
Result: Australia 1-3 Denmark
Poland vs. Argentina (Group C): A chance for Lewandowski to avenge Messi for stealing his Ballon d'Or? Or not. When both teams benefit from a draw, I expect both teams to — ultimately — benefit from a draw.
Result: Poland 1-1 Argentina
Saudi Arabia vs. Mexico (Group C): Feels like the right way for Tata Martino's reign as Mexico manager to come to an end, right? A decisive win gets them to four points, but thanks to a schedule quirk, Argentina doesn't have as much to play for against Poland, so Poland gets an extra point from the final match to send El Tri packing.
Result: Saudi Arabia 1-3 Mexico
---
Dec. 1
Croatia vs. Belgium (Group F): The Belgium attackers finally click, as Croatia controls possession but leave the Red Devils too much space to play into on the counter. Will it be enough?
Result: Croatia 1-2 Belgium
Canada vs. Morocco (Group F): What did I say earlier? When a draw suits both parties, don't be surprised when both parties end in a draw. Morocco tops the group, and Canada and Belgium finish tied on points, on goal differential, and on goals scored. The next tiebreaker? Head-to-head, and so the second- and third-place finishers from 2018 both get dumped out before the round of 16.
Result: Canada 1-1 Morocco
Japan vs. Spain (Group E): The way to frustrate Spain is to limit space in your defensive third and force them to circulate the ball from side to side. The issue with that in this particular situation? Japan need to win, not just grind out a draw. The incentives are against them in this one.
Result: Japan 0-2 Spain
Costa Rica vs. Germany (Group E): The Costa Rica of two World Cups ago would have given Germany some problems. The problem with this year's Costa Rica is that they have many of the same players as the Costa Rica of two World Cups ago. Four players on the roster have 100-plus caps; that's not a good thing.
Result: Costa Rica 1-3 Germany
Will Germany or Spain take top spot in Group E?
Gab & Juls preview Group E at the 2022 World Cup, home to heavyweights Germany and Spain.
---
Dec. 2

South Korea vs. Portugal (Group H): I fear that the scheduling really works against the Koreans here. Playing the most important group match — against Uruguay — first isn't ideal with Son only just coming back from injury in time to kick things off. We don't know how effective he'll be in his first game back. And then, to wrap, they get to play a frustratingly conservative Portugal team who are incentivized to be conservative in this one, as they only need a draw to top the group.
Result: South Korea 1-1 Portugal
Ghana vs. Uruguay (Group H): Originally, I projected this to be the only meaningless game of the group stages, based on how everything shook out. Instead, we get a rematch of the time Luis Suarez punched a ball off the goal line in extra time of a World Cup quarter final — and it worked. Suarez was sent off, Asamoah Gyan missed the ensuing penalty and Uruguay won in a shootout.
– World Cup kit rankings: Every nation ranked from 32 to 1
While typically Uruguay would benefit from playing an already-eliminated team, Ghana should be up for this one with the opportunity to eliminate the team that eliminated them, tragically, 12 years ago. I see this one getting really weird and emotional. It ends with lots of goals — just enough for Uruguay to sneak past South Korea via tiebreaker.
Result: Ghana 2-2 Uruguay
Cameroon vs. Brazil (Group G): Just a brutal draw for Cameroon. They were also in Brazil's group — in Brazil — in 2014. Sorry, guys!
Result: Cameroon 1-2 Brazil
Serbia vs. Switzerland (Group G): Serbia vs. Switzerland was the best game of the group stages in 2018, and it's setting up for that to be the case again in 2022. Switzerland would just need a draw, Serbia would need a win. Last time, Shaqiri got naked from the waist up after his 90th-minute winner and he and Granit Xhaka were charged by FIFA for politically charged celebrations.
Switzerland has the slightly better — and more balanced — team, but this would be an electric match.
Result: Serbia 1-1 Switzerland
---
OK, here we go: the round of 16
Dec. 3
Netherlands vs. United States: Ah, yes, finally a matchup that might suit the USMNT's strength. As we already went over, the Dutch might be the worst best team from the group stages, so this part of the draw worked out well for Berhalter's team. Only Germany and Spain had a higher percentage of the final-third possession in their matches than the Dutch did, and they'll likely look to do the same against the Americans. However, they also don't have the devastating attacking talent of other top teams to turn that possession into goals. Tim Ream and Walker Zimmerman should be able to hang with the likes of Wout Weghorst and Luuk De Jong.
Of course, on the other end, is it hard to imagine a team without a true striker scoring against a team with Virgil van Dijk? Sure, but hey, Christian Pulisic always plays well against Liverpool, doesn't he?
Result: Netherlands 1-2 U.S.
Can Belgium finally live up to their potential in Qatar?
Gab & Juls wonder if 2022 is finally the year for Belgium's "golden generation" to come good.
Argentina vs. France: Argentina's reward for winning their group? A game against France, who, in 2018, were rewarded for winning their group with a game against Argentina. The Albiceleste are way better equipped to handle France this time around, but it's just a brutal draw for them.
So much of winning the World Cup comes down to good fortune, and unfortunately, Lionel Messi knows that as well as anyone. I have this sneaking suspicion that one of Argentina's talented but volatile center backs — Nicolas Otamendi, Cristian Romero or Lisandro Martinez — is going to do something silly at the wrong moment, and it's going to cost them the tournament.
Result: Argentina 1-2 France (after extra time)
---
Dec. 4
Denmark vs. Poland: Poland have the best player; Denmark have the better team. It might seem like an unlikely outcome for either side to reach the quarterfinals, but based on Twenty First Group's projections, there's about a 5042% chance that at least one of them does.
Result: Denmark 1-0 Poland
England vs. Senegal: This would be a fun one, huh? A colossal battle between Sadio Mane and The Narrative That Trent Alexander-Arnold Can't Defend. Just kidding; I doubt TAA will be out there, unless multiple other players get hurt. This could be a difficult one for England, but I just don't think they'll concede the same kind of space Senegal are likely to see during the group stages.
Result: England 2-0 Senegal
---
Dec. 5
Laurens backs 'best Neymar ever' to take Brazil far
Gab & Juls explain what we can expect to see from Neymar and Brazil at the 2022 World Cup.
Spain vs. Canada: Now this could be a really tricky matchup for Luis Enrique's team. Canada are the exact kind of team that has historically given Spain trouble, and there's just no one in their squad who can handle Alphonso Davies. But Spain are just going to have so much of the ball in this one, and they're better equipped than just about anyone else in the tournament to convert all that ball control into high-quality chances.
Result: Spain 1-0 Canada
Brazil vs. Uruguay: Brazil outscored Uruguay 6-1 in their two qualifying matches and outshot them 22-10. While Uruguay do have Darwin, Suarez, Bentancur and Valverde, Brazil have Neymar, Thiago Silva, Alisson, Casemiro, Ederson, Marquinhos, Vinicius Junior, Fabinho, Bruno Guimaraes, Gabriel Martinelli, Gabriel Jesus, Raphinha, Rodrygo, Richarlison …
Result: Brazil 2-0 Uruguay
---
Dec. 6
Morocco vs. Germany: While Argentina finish first in their group and land France, Germany finish second in theirs and luck out with a matchup against Morocco. Germany's big problem under Hansi Flick is that they haven't really played well against any big teams but they've absolutely pummeled any team they've had the definitive talent advantage against. While Morocco handled Belgium in our tournament, the Germans are essentially a much better version of the same team: Push the attack dials up to 100 and deal with the fallout.
Result: Morocco 1-3 Germany
Portugal vs. Switzerland: The Swiss are the kind of organized, know-who-we-are team that Portugal have struggled with over the years. I think the same thing probably happens here, much like with France at the Euros. Each team grabs a goal, it goes to penalties and, well, it's pretty much a coin flip from there.
Result: Portugal 1-1 Switzerland, Portugal advances on penalties
---
Quarterfinals
Dec. 9
Spain vs. Brazil: Wow. These teams were circling each other during the late aughts and early 2010s, with Spain dominating Europe, Brazil doing the same in South America but neither team ever meeting on the world's biggest stage. These seriously might just be the two best teams in the tournament.
Tite has turned Brazil into the best defensive team on the globe, and that's been true for the better part of a decade. Since he took over as coach, they've allowed 3.7 goals — per year. Meanwhile, Luis Enrique has Spain playing like an elite club team: pressing high and dominating games with complex positional rotations in possession. This would be a title fight, but I think this is where Enrique's refusal to mine for edges — leaving talented veterans off the squad, laughing away set pieces — comes back to bite him.
Result: Spain 1-2 Brazil (after extra time)
Pedri? Bellingham? Valverde? Who will have the best World Cup?
The ESPN FC crew debate who will have the best World Cup out of Jude Bellingham, Federico Valverde and Pedri.
United States vs. France: Yep, that's going to do it for the Americans. Could they theoretically pull off the upset here? Yes, sure, but just because North Macedonia beats Italy doesn't mean you should predict that it'll happen. It's close to impossible for me to imagine the U.S. scoring against France. And at the other end, who's going to slow down Kylian Mbappe, Karim Benzema, Ousmane Dembele, Kingsley Coman and on and on and on?
Result: U.S. 0-2 France
---
Dec. 10
Germany vs. Portugal: We saw Germany absolutely annihilate Portugal at the Euros in 2021, and outside of the retirement of Toni Kroos, they're now a better — and better coached — team. Flick manages in a way that attempts to raise his team's ceiling, while Portugal's Fernando Santos opts to pull up his team's floor.
The latter gets you out of the group stages; the former gets you to the World Cup semifinals.
Germany 2-1 Portugal
England vs. Denmark: It's a day of Euro 2020 rematches!
Denmark really were worthy semifinalists in the summer of 2021, dominating the balance of chances in every match they played … until England showed up.
Although it went to extra time, England outshot the Danes 20-6, putting nine on target to their opponent's three. The game was in England, of course, but England might have even more talent in Qatar than they had at the Euros. They overwhelmed Denmark last time, and the bounces didn't quite go their way until extra time.
The big difference this time — beyond the match not being at Wembley Stadium? The tournament is happening in the middle of the season and most of the England roster falls into one of two camps: (1) those who have played an absurd number of minutes over the past 18 months or (2) those who have not played an absurd number of minutes over the past 18 months only because their club managers dropped them due to poor performance. When I looked in mid-September, England had 10 players who had logged at least 5,000 minutes over the previous 365 days, while Denmark only had one: Tottenham's Pierre-Emile Hojbjerg.
For a number of reasons, this World Cup is going to be unlike anything we've seen, and so I think we should all just be way less confident in our predictions, in general. He says, after predicting every game in the tournament? Rather, I mean that I think there's more room for an underdog run and for big teams going down early than there has been in any other modern edition of the tournament. And so, the Danes get their revenge.
Result: England 1-2 Denmark (after extra time)
E60 Qatar's World Cup
In 2014, E60 went to Qatar to report on the plight of migrant workers there. This spring, they went back, to see what has changed, and not changed, in the last eight years.
---
Semifinals
France vs. Brazil (Dec. 13): Whenever these two teams play, it feels like you're watching history unfold in real time. You know the things you're seeing are things people will be talking about in 50 years, and you know it while they're happening: Roberto Carlos violating every law of physics with a free kick; Zinedine Zidane looking like he escaped one of the four mendicant orders to come dominate the 1998 World Cup final; Zidane turning back the clock to knock Brazil out in 2006 round of 16.
This one shouldn't be any different. It'll be decided by a single moment or two that everyone in both countries will remember forever. Since it hasn't really happened for them since 2002, Brazil seems due for a few of those to go their way.
Result: France 1-2 Brazil
Denmark vs. Germany (Dec. 14): This would be as close as we'll come to a Bundesliga game breaking out in Qatar. Most of the top teams in this tournament like to play slowly and carefully. They grind through games that don't feature many turnovers. Not these two, though.
Among qualifiers from Europe, Denmark's matches featured the most possessions per team (93.5), while Germany were essentially the same (93.4). They both won roughly seven possessions per match in the attacking third — both ranking behind only Japan in that regard. And they both moved the ball upfield at almost exactly the same speed: Denmark at 1.24 meters per second, Germany at 1.23.
We can be more specific than just "a Bundesliga game" — this might actually look like a Bayern Munich game, if they were to play themselves. The main reason Bayern Munich have won 10 league titles in a row is their large financial advantage over the rest of the league; but another — very minor — reason is that most of the league tries to go toe-to-toe with them whenever they play. It makes for a great spectacle, and this theoretical matchup would present the same possibility, but it typically just doesn't work. When you try to press and unsettle Bayern Munich, you're essentially trying to beat them at their own game, and you're typically not going to be able to do that because Bayern Munich will always have better players than you.
This match might feature a similar dynamic.
Result: Denmark 2-3 Germany
Gab & Juls have high expectations for a thrilling Group H
Gab & Juls preview Group H at the 2022 World Cup, with Portugal, Uruguay, Ghana and South Korea fighting to qualify.
---
Third-place game
France vs. Denmark (Dec. 17): Out of principle, I am not going to analyze an imaginary soccer game that shouldn't even exist in the first place. BAN THE THIRD-PLACE GAME. THE PLAYERS DON'T CARE. THE FANS DON'T CARE. THIS TOURNAMENT IS HAPPENING IN THE MIDDLE OF A DOMESTIC SOCCER SEASON. WE DON'T NEED THIS, FIFA. REFUND YOUR SPONSORS.
---
The 2022 World Cup final
Brazil vs. Germany (Dec. 18): The main story, of course, would be the 7-1. Can Brazil get revenge for perhaps the most embarrassing defeat in the history of the World Cup? Neymar, theoretically, would be playing, which also would mean that his teammates wouldn't be in tears, moments before kickoff, while they held up his jersey during the national anthem. Also, theoretically, Thiago Silva wouldn't be suspended. Meanwhile, the current German squad features only three holdovers from 2014: Manuel Neuer, Thomas Muller and Mario Gotze.
It's 1 vs. 2 in the Twenty First Group ratings; it's the best defense vs. the best attack.
However, there's also a larger narrative at play in this one: Influenced by a number of innovations that began or were popularized in the Bundesliga, the European club game has become the global epicenter of the world's most popular sport. The best players and coaches and trainers and executives all tend to work in Europe. Pressing is Germany's major tactical export, and the national team does it as aggressively as anyone. Only Morocco and Senegal held their opponents to a lower pass-completion percentage than Flick's team (72.5%). Brazil, meanwhile, stand in refutation of the dominant trend, as they've allowed 82.7% of opposition passes to be completed — a higher number than everyone in the tournament other than Costa Rica and France.
While there was supposed to be a global leveling in the international game, it seems like it's actually going in the other direction, with European sides becoming ever more dominant thanks to their proximity to the highest echelon of the sport. Among the past 12 top-three finishers at the World Cup, just one (Argentina, in 2014) comes from outside of Europe.
A win for Brazil would be a welcome, if temporary, reversal of where the game is going. Of course, if they do win, they'll be doing it with a roster composed almost completely of players who all work in the same place: Western Europe.
Result: Brazil 2-0 Germany
It's not about the beer. It's about Qatar's rulers running this World Cup, and FIFA can't do anything about it.
DOHA, Qatar — Do you really think Qatar's authoritarian rulers just decided today—two days before the start of the World Cup—that they weren't going to allow alcoholic beer to be served in World Cup stadiums? I sure don't.
But what I do know is the big take-away isn't about beer at all. It's that FIFA is not in control of this World Cup. Qatar's rulers are, and that makes anything we've heard from FIFA or national federations speaking about, say, how Qatari security forces will treat LGBTQ visitors here should be regarded as meaningless.
So, FIFA and national federations: Don't speak about how you're told that everything will be OK. You really don't know for sure, and the Qataris go out of their way not to be reassuring.
---
GrantWahl.com is reader-supported. Free and paid subscriptions are available. This is how I make a living, and quality journalism and traveling to Qatar require resources. The best way to support me and my work is by taking out a paid subscription now.
---
We're two days away from the opening game of the World Cup (Qatar-Ecuador). By all expectations, the soccer should start to take center stage with four games a day beginning on Tuesday. But the truth is that I'm less confident than ever that security forces here will avoid escalating interactions with fans—gay fans, drunk fans, protesting fans—that turn into significant incidents.
This is the trend in Qatar: People can say there are codified laws and rules, but then they don't get observed on the ground. Qatar can pass new worker-protection laws, but as I found out speaking to workers here, many of them aren't enforced. FIFA can develop PowerPoint presentations about how security forces should avoid escalating situations with visitors, but they can't guarantee that will happen.
The only people truly in control here are the Qatari royal family, and that is a certifiably opaque group. The default in this country is for security people to demand that you delete a picture from your phone, even a totally innocuous picture, because that's what happens with the people who live here, most of them migrants, when it's not in the fantasyland of WorldCup-ville.
On Wednesday, the day after I wrote about my small incident with the phone-deletion-demanding security guard at the media center, I had a strange thing happen. I was in my house here doing a live video event with Front Office Sports, and a random person walked straight in through the door. He looked at me. I looked at him. Remember, it's a live video event.
The most likely scenario was that he was a neighbor who had just walked into the wrong house, since all of our townhouses here look the same. But there was just enough doubt planted in my head by my own incident, the Qatari record and what we have been seeing this week that I asked myself if this guy was the police coming to my door. I hate that seed of doubt.
So what's it going to be, Qatar? Is the soccer going to be the dominant story starting Sunday? Or are we going to keep seeing the control of this World Cup ceded to this country's rulers?