US Men's World Cup Roster is Set
So the Roster has been named for the US World Cup team going to Qatar in just 11 days – Berhalter stayed true to his normal rotation but did have a few surprises. First and foremost is the omission of Zach Steffan – I feel bad for Zach that his injuries and poor form have come over the past year – but the 26 year old is simply not up to snuff right now in Europe and in my opinion should not be on this roster. I am relieved to think that baring injury Arsenal GK Matt Turner our BEST shotstopper will be between the pipes. I believe he's got great games in him and will have to have a game changing performance along the way if the US is to advance to the Knockout Rounds. (love this snippet on Turner from ESPN). The other huge omissions were #9s Ricardo Pepi and Jordan Pfok for Haji Wright who is playing fantastically in Turkey and grew up playing with Pulisic, Adams & McKinney on US Youth National teams. (don't discount that relationship he has had since childhood with the heart and soul of this young team). I am still not convinced he shouldn't bring a 4th striker in Pfok but he hasn't been as hot the last month in Germany as Wright and Josh Sargent have been in Europe. Thrilled to see Tim Ream in Defense he should start between Robinson on the left and Zimmerman on the right in my mind. He starts for Fulham who is 10th in the EPL and has faced many of the players for England and Wales. (He gets the nod in game 1). Also thrilled Joe Scally from M'Gladbach – he can play either wingback and should start if Dest is not ready to go on the right. I am a little disappointed to see Cristian Roldan/Jordan Morris rather than Paul Arriola. I know he's MLS – but Paul bleeds Red /White and Blue and would have represented the US
Full U.S. Men's roster for 2022 World Cup:
GOALKEEPERS (3): Ethan Horvath (Luton Town/ENG; 8 appearances for U.S./0 goals), Sean Johnson (New York City FC; 10/0), Matt Turner (Arsenal/ENG; 20/0)
DEFENDERS (9): Cameron Carter-Vickers (Celtic/SCO; 11/0), Sergino Dest (AC Milan/ITA; 19/2), Aaron Long (New York Red Bulls; 29/3), Shaq Moore (Nashville SC; 15/1), Tim Ream (Fulham/ENG; 46/1), Antonee Robinson (Fulham/ENG; 29/2), Joe Scally (Borussia Monchengladbach/GER; 3/0), DeAndre Yedlin (Inter Miami CF; 75/0), Walker Zimmerman (Nashville SC; 33/3)
MIDFIELDERS (7): Brenden Aaronson (Leeds United/ENG; 24/6), Kellyn Acosta (LAFC; 53/2), Tyler Adams (Leeds United/ENG; 32/1), Luca de la Torre (Celta Vigo/ESP; 12/0), Weston McKennie (Juventus/ITA; 37/9), Yunus Musah (Valencia/ESP; 19/0), Cristian Roldan (Seattle Sounders FC; 32/0)
FORWARDS (7): Jesus Ferreira (FC Dallas; 15/7), Jordan Morris (Seattle Sounders; 49/11), Christian Pulisic (Chelsea/ENG; 52/21), Gio Reyna (Borussia Dortmund/GER; 14/4), Josh Sargent (Norwich City/ENG; 20/5), Tim Weah (Lille/FRA; 25/3), Haji Wright (Antalyaspor/TUR; 3/1)
USA Women LOSE 2-1 to Germany play again Sun 5 pm on ESPN
So the all the new players for the US were there – but it took the old guard of Alex Morgan and Megan Rapinoe to weave some magic to bring the US to a tie with Germany 1-1 in the 85th minute – in what should have been a disappointing tie. But instead Germany struck late in the 88th minute on a breakaway were the German forward Julie Brand destroyed our weak center back Alana Cook who owned her on the way to an easy pass to Krumbiegel for the tap in goal. (high-lights) I thought the team looked good with multiple shots off the post, but once again the final 3rd let them down – the US had tons of chances in the first 60 minutes and scored ZIP. Nothing – NADA. The young new stars – the Sophie Smith's and the Malory Pugh's are all cute until they play good teams and then its NADA. NO GOALS. The new young defenders are ok until again good team – and NADA. The Center back pair of Cook and Girma were split and exposed all night long. And only a solid stint in goal by new favorite GK Casey Murphy kept it close This is 3 consecutive loses for the first time since 1993. I know we have injuries – and literally no longer have a #6 (oh Julie Ertz – please come back). But Coach Andownzovski's continued use of Alana Cook – should have him looking over his shoulder. SHE IS NOT THE ANSWER – please give me Veteran Centerback Becky Sauerbrunn back until we get more healthy center backs – because Cook has once again cost us a game vs a European foe. The US is not the #1 Team in the World anymore – We have played 3 teams ranked in the Top10 and been beaten by all of them now. Lets see what happens on Sunday at 5 pm on ESPN – but at this rate – the US will not be ranked #1 anymore.
USWNT DETAILED ROSTER BY POSITION (CLUB; CAPS/GOALS)
GOALKEEPERS (3): 21-Adrianna Franch (Kansas City Current), 18-Casey Murphy (North Carolina Courage), 1-Alyssa Naeher (Chicago Red Stars)
DEFENDERS (7): 3-Alana Cook (OL Reign), 19-Crystal Dunn (Portland Thorns FC), 23-Emily Fox (Racing Louisville FC), 12-Naomi Girma (San Diego Wave FC), 8-Sofia Huerta (OL Reign), 5-Hailie Mace (Kansas City Current), 4-Becky Sauerbrunn (Portland Thorns FC)
MIDFIELDERS (7): 14-Sam Coffey (Portland Thorns FC), 10-Lindsey Horan (Olympique Lyon, FRA), 20-Taylor Kornieck (San Diego Wave FC), 16-Rose Lavelle (OL Reign), 22-Kristie Mewis (NJ/NY Gotham FC), 2-Ashley Sanchez (Washington Spirit), 17-Andi Sullivan (Washington Spirit)
FORWARDS (7): 7-Ashley Hatch (Washington Spirit), 13-Alex Morgan (San Diego Wave FC), 9-Mallory Pugh (Chicago Red Stars), 15-Megan Rapinoe (OL Reign), 6-Trinity Rodman (Washington Spirit), 11-Sophia Smith (Portland Thorns FC), 25-Alyssa Thompson (Total Futbol Academy)
Indy 11 & USL Sun 8:30 pm ESPN2
Great to see former Carmel FC GK Coach and Indy 11 Goalie Jordan Farr is headed to the USL Finals with his #1 Seed In the Western Division San Antonio vs Louisville City FC – Sunday night on ESPN2 at 8:30 pm. Farr was named USL Goalkeeper of the Year. San Antonio beat Colorado Springs 2-0 (highlights) to advance to the finals USL Playoff Bracket
LAFC Wins MLS Cup over Philly in Best Ever MLS Final 4-3 in PKs as over 2 million watched on Fox Sat
So I must admit I traveled to Texas AM to see my Florida Gators win in College Station so I missed the MLS Finals – did watch some on the plane home. What a game I missed. If you missed it too – check out the hi-lights of what many are calling the Best Ever MLS Final. LAFC GK Crepo was carted off in the 116th minute on a red card before Philly took the lead in the 118th minute. But LAFC late sub Gareth Bale for a 10 man LAFC tied it in the last seconds of Extra Time(128th minute) leading to a Penalty shootout where the backup goalie John McCarthy (a former Philly Union GLK) and pentalty specialist saved 2 for the win as LAFC won it 4-3 on PKs. Wow !! Check out the 3252 section behind the goal in LA – tons of stories below.
Games Overseas to Watch This Weekend
The last weekend of league play before the World Cup features an American matchup as US defender Joe Scally and Borussia M'Gladbach will host fellow American WC bound forward Gio Reyna and Dortmund at 2:30 pm Friday on ESPN+. Leeds United fresh of this 4-3 thriller last weekend kicks things off Sat at 10 am on Peacock with American Manager Jesse Marsch taking his US World Cup participants Tyler Adams and Brendan Aaronson to Tottenham, while Liverpool hosts Southampton on USA. Sat at 12:30 pm on NBC Chelsea and Pulisic travel to top 3 contender Newcastle United, while league leaders Arsenal travel to Wolverhampton at 2:$5 p on USA. Sun American's Jedi Robinson and Tim Ream (who should start together in the WC) and Fulham host Man United at 11:30 am on USA. Of course the US Ladies play at 5 pm Sunday on FS1 vs Germany followed by the USL Championship game and former Indy 11 GK Jordan Farr for San Antonio vs Indy 11's hated rival Louisville FC at 8:30 pm on ESPN2. Also Sunday Indiana U is playing @ Rutgers in the Big 10 Finals Sunday at noon on the Big 10 Network.
Carmel FC Goalkeepers Training – We'll start Indoor Training at the Badger Fieldhouse on Wednesday nights in December

U11 5:30, U12 & U13 6:30 and U14/Highschool 8:30 pm.
Carmel FC Goalkeeper Coach Noelle Rolfsen (blue) has led her Marion University Knights to 16-0-2 mark clinching the Crossroads League Regular Season title. The #2 Ranked Knights won Wed night 3-2 and will host the League Finals Sat at home. Sat 2:00 pm — #2 MU vs Spring Harbor (at Marian U) on MyIndy TV 23 — Video ($) | Live Stats Tickets just $8
BIG GAMES ON TV
Thur, Nov 10
12:30 pm Para+ Hellas Verona vs Juventus
3 pm ESPN+ Man United vs Aston Villa
7 pm FS1 USWNT vs Germany
Fri, Nov 11
2:30 pm ESPN+ Borussia M'Gladbach (Scally) vs Dortmund (Reyna)
Sat, Nov 12
7:30 am USA Man City vs Brentford
10 am USA Liverpool vs Southampton
10 am Peacock Tottenham vs Leeds United (Adams, Aaronson)
12:30 pm NBC Newcastle United vs Chelsea (Pulisic)
2:45 pm USA Wolverhampton vs Arsenal
12:30 pm ESPN+ Schalke vs Bayern Munich
Sun, Nov 13
6:30 am CBSSN Atalanta vs Inter Milan
7 am beIN Sport PSG vs Auxerre
9 am USA Brighton vs Aston Villa
11:30 am Freiburg vs Union Berlin (Pefok)
11:30 am USA Fulham (Robinson, Ream) vs Man United
12 noon BTN Rutgers University vs Indiana University Men
5 pm ESPN USWNT vs Germany
8:30 pm ESPN2 San Antonio (Jordan Farr GK) vs Louisville City
Sun, Nov 20
11 am Fox World Cup Starts Qatar vs Ecudor
Mon, Nov 21
8 am FS1 England vs Iran
11 am Fox Senegal vs Netherlands
2 pm Fox USA vs Wales (Bale)
Tues, Nov 22
5 am Fox Sport 1 Argentina (Messi) vs Saudi Arabia
11 am Fox Mexico vs Poland
2 pm Fox France vs Austrailia
Wed, Nov 23
5 am Fox Sport 1 Morroco vs Croatia
7 am Fox Sport 1 Germany vs Japan
11 am Fox Spain vs Costa Rica
2 pm Fox Belgium vs Canada
Thur, Nov 24 – Thanksgiving
5 am FS1 Switzterland vs Cameroon
8 am FS1 Uruguay vs Korea
11 am Fox Portugal (Renaldo) vs Ghana
2 pm Fox Brazil (Neymar) vs Serbia
Fri, Nov 25
5 am FS1 Wales vs Iran
8 am FS1 Qatar vs Senagal
11 am Fox Ecuador vs Netherlands
2 pm Fox USA vs England
Soccer Saturday's are every Sat 9-10 am on 93.5 and 107.5 FM with Greg Rakestraw
CARMEL FC PLAYERS : Winter Players League (WPL) – Badger Indoor Fieldhouse
As the fall season comes to a close over the next month, we wanted to let you know that we will be launching an indoor soccer league over two six week sessions within our new Badger Fieldhouse. Games will be played on either Friday night ( 6pm to 10pm) or Sunday afternoon (1pm-5pm) depending on age groups: U8s, U9&U10, U11&U12, U13-U15 and U16+ (Coed Teams allowed). Referees for each game, 50 minute games, 5v5, 7v7 and 9v9 matches.
Session One (6 weeks): Jan 6th, 13th, 20th, 27th / Feb: 3rd, 10th
Session Two (6 weeks): Feb 17th, 24th / Mar 3rd, 10th, 17th, 24th
===================RackZ BAR BQ ====Save 20% ======================
AFTER YOUR PRACTICE AT BADGER FIELD
Try out the Best BarBQ in Town right across the street (131st) from Northview Church & Badger Field on the corner of Hazelldell & 131st. RackZ BBQ
Save 20% on your order
(mention the ole ballcoach)
Check out the BarBQ Ribs, pulled Pork and Chicken, Brisket and more. Sweet, Tangy or Spicy sauce. Mention you heard about it from the Ole Ballcoach — and Ryan will give you 20% off your next meal. https://www.rackzbbqindy.com/ Call ahead at 317-688-7290 M-Th 11-8 pm, 11-9 Fri/Sat, 12-8 pm on Sunday. Pick some up after practice – Its good eatin! You won't be disappointed and tell 'em the Ole Ballcoach Sent You!
=====================RackZ BAR BBQ ======Save 20% ======================
US Ladies
USWNT vs. Germany, 2022 friendly: What to watch for Stars and Stripes By Donald Wine II
USWNT Friendly: Scouting Germany By Brendan Joseph Stars and Stripes
USWNT is not just Womens Soccer Any More – Says Englands Bronze
For NWSL players, there's work, play, and the things not in the job description
US Men
US Roster Complete – Stars and Stripes
Berhalter names his 26 players for Qatar: a deep ASN breakdown
USMNT World Cup 3 biggest Snubs – the 18
Crystal Palace Defender Chris Richards to Miss World Cup
From refugee camp to World Cup: Davies relishing Canada mission
USL Final San Antonio vs Louisville Sun 8:30 pm
USL Final San Antonio vs Louisville City
USL Goalkeeper of the Year – Jordan Farr former Indy 11 GK & Carmel FC GK Coach
MLS
The MLS Cup Final had everything, including Will Ferrell drinking beer out of the trophy
Analysis: Bale & McCarthy lift LAFC to MLS Cup over Philly in an all-time classic
MLS Cup: Ranking every Major League Soccer championship game
World Cup
World Cup team previews: Portugal, Ghana, Uruguay, South Korea ESPN
World Cup 2022 kit ranking: Who has the best jerseys in Qatar? ESPN Austin Lindberg
Qatar is housing World Cup fans in shipping containers in the middle of the desert
Champions & Europa League
Goalkeeping
US Starting GK Matt Turner – his Story from Playground in 2002 to the World Cup and Playing for Arsenal
Reffing
USWNT vs. Germany, 2022 friendly: What to watch for
The final window for the USWNT begins in what could be a wild, rainy affair. Stars and Stripes
By Donald Wine II@blazindw Nov 9, 2022, 7:00am PST
The United States Women's National Team are slated to take on Germany this weekend in a pair of friendlies, the first being tomorrow at DRV PNK Stadium in Fort Lauderdale. As the USWNT enter the final international window of the year, they have another incredible test against the #3 ranked team in the world. However, it's not a given whether tomorrow's test will proceed as scheduled, as Tropical Storm Nicole bears down on the Sunshine State and is expected to hit somewhere along the eastern shore as a hurricane tomorrow.
It's probably irresponsible to play the match in those conditions, so we'll keep an eye on the skies and U.S. Soccer's social media feeds to see if this match will be determined, but if it does, we shall hopefully see a spirited friendly match against two teams that want to prove they're the team to beat when the 2023 Women's World Cup begins next summer.
Roster
USWNT head coach Vlatko Andonovski has called in 24 players for this window, most of whom we've continued to see on the team over the last few months since the Concacaf W Championship.
GOALKEEPERS (3): Adrianna Franch (Kansas City Current), Casey Murphy (North Carolina Courage), Alyssa Naeher (Chicago Red Stars)
DEFENDERS (7): Alana Cook (OL Reign), Crystal Dunn (Portland Thorns FC), Emily Fox (Racing Louisville FC), Naomi Girma (San Diego Wave FC), Sofia Huerta (OL Reign), Hailie Mace (Kansas City Current), Becky Sauerbrunn (Portland Thorns FC)
MIDFIELDERS (7): Sam Coffey (Portland Thorns FC), Lindsey Horan (Olympique Lyon), Taylor Kornieck (San Diego Wave FC), Rose Lavelle (OL Reign), Kristie Mewis (NJ/NY Gotham FC), Ashley Sanchez (Washington Spirit), Andi Sullivan (Washington Spirit)
FORWARDS (7): Ashley Hatch (Washington Spirit), Alex Morgan (San Diego Wave FC), Mallory Pugh (Chicago Red Stars), Megan Rapinoe (OL Reign), Trinity Rodman (Washington Spirit), Sophia Smith (Portland Thorns FC), Alyssa Thompson (Total Futbol Academy)
What To Watch For
Nicole will be a disruptive fan. When a tropical storm is bearing down on you, you need to prepare. If the game is played, expect it to be windy and rainy, and that will truly affect the play on the field. The USWNT need to prepare to have short passes and really work on maintaining possession in the midst of a torrential downpour.
Keep Germany on their heels. Germany is going to try and push the USWNT to the brink, but it's the USWNT that needs to take the game to the Germans. Keeping them on their back feet is the key, as it will neutralize any instincts Germany have to counter.
Production, production, production. Last month, the USWNT were not able to generate a ton of production, and it's something that should be a point of emphasis. You can't win the games if you don't put the ball in the net, and they need to focus on their execution inside the attacking third.
Prediction
The real prediction is that this match isn't played, and we move onto New Jersey. If it does proceed as scheduled, it's a 1-1 draw.
USWNT SET TO FACE GERMANY IN FORT LAUDERDALE
WATCH USA-GERMANY ON THURSDAY, NOV. 10 AT 7 P.M. ET ON FS1
NOVEMBER 9 2022 ON THE PITCH
The U.S. Women's National Team is set to play its penultimate match of 2022, taking on Germany at 7 p.m. ET on Nov. 10 at DRV PNK Stadium in Fort Lauderdale, Florida. The match will be broadcast on FS1 and is the first of two meetings in a four-day span between the USA and Germany. The USWNT, ranked No. 1 in the latest FIFA World Rankings, will take on Germany, runners-up at this summer's Women's EURO and the third-ranked team in the world, to close out the calendar year.
The games against Germany continue a highly competitive fall for the USWNT, which will play its final eight games of the year against teams that have qualified for the 2023 FIFA Women's World Cup, which kicks off in just over eight months. Since the knockout rounds of the Concacaf W Championship, the USA has played Costa Rica and Canada, both of whom will also represent the region in New Zealand and Australia, played two games against perennial African power Nigeria and traveled to Europe for matches against England and Spain, both of whom are amongst the favorites to win the tournament. The USA, which has won a record four FIFA Women's World Cup titles, enters Thursday's game in Florida on a 71-game home unbeaten streak, the second-longest such streak in program history.

Following the match on Thursday night, the teams will travel to Harrison, N.J. where they will play again on Sunday, Nov. 13 at Red Bull Arena (5 p.m. ET on ESPN). Fans will also be able to follow the action via Twitter (@USWNT), Instagram (@USWNT), Facebook and the official U.S. Soccer App.

USWNT DETAILED ROSTER BY POSITION (CLUB; CAPS/GOALS)
GOALKEEPERS (3): 21-Adrianna Franch (Kansas City Current), 18-Casey Murphy (North Carolina Courage), 1-Alyssa Naeher (Chicago Red Stars)
DEFENDERS (7): 3-Alana Cook (OL Reign), 19-Crystal Dunn (Portland Thorns FC), 23-Emily Fox (Racing Louisville FC), 12-Naomi Girma (San Diego Wave FC), 8-Sofia Huerta (OL Reign), 5-Hailie Mace (Kansas City Current), 4-Becky Sauerbrunn (Portland Thorns FC)
MIDFIELDERS (7): 14-Sam Coffey (Portland Thorns FC), 10-Lindsey Horan (Olympique Lyon, FRA), 20-Taylor Kornieck (San Diego Wave FC), 16-Rose Lavelle (OL Reign), 22-Kristie Mewis (NJ/NY Gotham FC), 2-Ashley Sanchez (Washington Spirit), 17-Andi Sullivan (Washington Spirit)
FORWARDS (7): 7-Ashley Hatch (Washington Spirit), 13-Alex Morgan (San Diego Wave FC), 9-Mallory Pugh (Chicago Red Stars), 15-Megan Rapinoe (OL Reign), 6-Trinity Rodman (Washington Spirit), 11-Sophia Smith (Portland Thorns FC), 25-Alyssa Thompson (Total Futbol Academy)

The 24-player roster for these matches against Germany features 20 players who took part in the European Tour in October, including now 18-year-old Alyssa Thompson, who made her international debut on Oct. 7 against England to become the youngest player to earn a first cap for the USWNT since 2016. Thompson, who became the 70th teenager all-time to appear for the USWNT, celebrated her 18th birthday on Monday. Returning to this roster are forwards and NWSL MVP candidates Alex Morgan and Mallory Pugh, both of whom were unable to participate in the October camp but bring a wealth of international experience and attacking flair to this roster. Taylor Kornieck is back in the midfield while goalkeeper Adrianna Franch earns her first call-up since October 2021 after a stellar season with the Kansas City Current in which she collected NWSL Best XI Second Team honors while leading the club to the NWSL Championship Game. Defender Emily Fox is also back in the squad after suffering an injury in the opening stages of the Oct. 7 match against England that kept out of action for the Oct. 11 game in Spain.

ALEX 200
Alex Morgan heads into these matches against Germany on 198 career caps, two away from becoming just the 13th player in USWNT history to reach the 200-cap milestone. Since making her international debut in March 2010, Morgan has tallied 119 goals and 46 assists in her 198 international appearances, good for fifth on the USA's all-time scoring charts and 11th in assists. Should Morgan appearance in both matches against Germany, she could reach the milestone in the Nov. 13 match at Red Bull Arena and become just the sixth active player in the world with 200 caps, joining her USWNT teammate Becky Sauerbrunn, who reached the milestone in February of this year, along with Canada's Christine Sinclair and Sophie Schmidt, Sweden's Caroline Seger and Sherida Spitse from the Netherlands.
BACK IN THE SUNSHINE STATE
After a pair of hard-fought defeats in Europe, the USWNT looks to return to its winning ways on home soil, where it is working on a 71-game home unbeaten streak and has gone over five years without a home loss. This is the second-longest home unbeaten streak in USWNT history, the longest lasting 104 games from December of 2004 to December of 2015.
During this home unbeaten streak, the USA has outscored its opponents 266-29, including a 136-5 margin during its last 33 matches at home, all of which have been wins save for the 0-0 draws with Czech Republic on Feb. 17 and with Korea Republic on Oct. 21, 2021.
Thursday's match in Fort Lauderdale will be the 38th game all-time for the USA in the state of Florida, where it holds an all-time record of 33-3-1. The United States has won 19 consecutive matches in Florida, outscoring opponents, 60-6, in those games and will be playing its first match in the state since the 2021 SheBelieves Cup in Orlando.
SERIES HISTORY: USA VS. GERMANY
The USA and Germany have played 33 times previously with the USWNT leading the overall series 22-4-7. Despite the long history between the teams – which dates back to 1988 – this will be the first meeting between the sides since 2018, when the teams met on March 1 in the SheBelieves Cup. The USA won 1-0 behind a 17th minute goal from Megan Rapinoe on a snowy and windy night in Columbus, Ohio on the first match day of the tournament.The gap of more than four years between meetings is the longest in the history between the two countries. The last three meetings between the USA and Germany all came during the SheBelieves Cup, with the teams meeting during the 2016, 2017 and 2018 editions of the tournament. The USA won all three matchups – and is unbeaten in the last 15 head-to-head meetings with Germany – though all three games were decided by just one goal. In 2016, the USA won 2-1 behind goals from Alex Morgan and Samantha Mewis, followed by a 1-0 victory in 2017 behind a game-winner from Lynn Williams.

Thursday's game in Fort Lauderdale will be the 17th meeting between the teams on U.S. soil, where the USA has a record a 11-2-3 in the previous 16 meetings. Germany will be the fifth different European opponent the USA has faced this year and the ninth since the start of 2021, having played Sweden twice during that span and the Netherlands, Portugal, France, Czech Republic, Iceland, England and Spain once each.

Ranked No. 3 in the world in the latest FIFA rankings, Germany is the highest-ranked opponent the USA has faced this year and the highest-ranked foe for the top-ranked Americans since playing third-ranked France in April of 2021. The USA won that match in Le Havre on April 13, 2021, 2-0, behind goals from Alex Morgan and Megan Rapinoe.

USA ROSTER NOTES
The loss to England Oct. 7 snapped a 13-game winning streak for the USA, which dated back to its second match of the year against New Zealand. The loss against Spain on Oct. 11 marked the first time the USA had lost back-to-back games in over five years.
The two goals allowed in both games in Europe were the most allowed by the USA this year – having conceded just two goals total through the first 14 matches of the year.
Since the start of 2020, the USWNT has played 31 matches in the United States and 18 outside the country. The USA is 29-0-2 in domestic matches and has outscored the opposition 127-3 (+124) at home and is 10-4-4 with a 35-16 goal margin (+19) when playing outside the USA.
The most capped player on this roster is Becky Sauerbrunn at 210, followed Alex Morgan (198), Megan Rapinoe (196), Crystal Dunn (125) and Lindsey Horan (120) while the least capped players are Casey Murphy (10), Adrianna Franch (10), Trinity Rodman (9), Naomi Girma (8), Hailie Mace (7), Taylor Kornieck (5), Sam Coffey (3) and Alyssa Thompson (2).
Becky Sauerbrunn is the oldest player on the roster (37 years old) while Thompson (18) is the youngest.
Through 16 games in 2022, the USWNT has had 27 goals scored by players under the age of 24. Over the course of 2019, 2020 and 2021 – a total of 57 games – the USWNT had a combined total of 10 goals scored by players under the age of 24.
Morgan is the top scorer on the roster in international play with 119 goals while Rapinoe has 62. Lindsey Horan has 26. Dunn and Pugh both have 24 goals for the USWNT while Rose Lavelle has 22. Smith has 11, including a team-high 10 goals in 2022.
Smith comes into the National Team after a trophy-laden month in which she became the youngest NWSL MVP in history after scoring 14 regular season goals, then scored in the NWSL title game to earn Championship Game MVP honors while leading Portland Thorns FC to its third league title.
With 10 international goals so far this year with the USWNT, the 22-year-old Smith will be looking to become the youngest player to lead the WNT in scoring in a calendar year since a 21-year-old Mia Hamm led the USA with 10 goals in 1993, seven years before Smith was born.
Sixteen different players have scored for the USWNT so far in 2022 – Smith (10), Mallory Pugh (6), Catarina Macario (5), Alex Morgan (4), Rose Lavelle (4), Kristie Mewis (3), Ashley Sanchez (3), Ashley Hatch (2), Trinity Rodman (2), Midge Purce (2), Kelley O'Hara (1), Jaelin Howell (1), Andi Sullivan (1), Taylor Kornieck (1), Emily Sonnett (1) and Lindsey Horan (1).
The USA's other six goals this year came via own goals, the most ever in a calendar year in program history with three on Feb. 20 vs. New Zealand, and one each on April 12 vs. Uzbekistan, June 28 vs. Colombia and Sept. 6 vs. Nigeria.
Fourteen different players have tallied an assist for the USWNT soc far in 2022 – Pugh (7), Lavelle (6), Sanchez (3), Alana Cook (2), Sofia Huerta (2), Megan Rapinoe (2), O'Hara (2), Purce (1), Hatch (1), Naomi Girma (1), Macario (1), Smith (1), Sullivan (1) and Emily Fox (1).
Andonovski is 41-4-6 in 51 games and went unbeaten (22-0-1) in his first 23 matches in charge of the USWNT, setting a record for the best start for a head coach in USWNT history. The USA opened the Andonovski era on a 16-game winning streak.
Of Andonovski's first 51 games, 33 have been at home and 20 have been against teams ranked in the top-13 in the world.
With Alyssa Thompson's debut on Oct. 7, Trinity Rodman's debut on Feb. 17, Naomi Girma and Aubrey Kingsbury's first caps on April 12, Taylor Kornieck's debut on June 25, Carson Pickett's first cap on June 28 and Sam Coffey's first cap on Sept. 6, 17 players have now earned their first cap under Andonovski, with seven debuts coming in 2022.
Nine of the 12 NWSL clubs are represented on this roster, along with 2021-22 UEFA Women's Champions League winners Olympique Lyon and Los Angeles youth club Total Futbol Academy, for whom Alyssa Thompson plays. Four players are from the 2021 NWSL Champions Washington Spirit, 2022 NWSL Shield Winners OL Reign and 2022 NWSL Champions Portland Thorns FC.
IN FOCUS: GERMANY | FIVE THINGS TO KNOW
Current FIFA World Ranking: 3
UEFA Ranking: 2
FIFA Country Code: GER
World Cup Appearances: 8 (1991, 1995, 1999, 2003, 2007, 2011, 2015, 2019)
Best World Cup finish: Champions (2003, 2007)
Record vs. USA: 4-22-7
Last Meeting vs. USA: March 1, 2018 (1-0 win for USA in Columbus, OH)
Head Coach: Martina Voss-Tecklenburg (GER)
GERMANY WOMEN'S NATIONAL SOCCER TEAM ROSTER BY POSITION
GOALKEEPERS (3): 1-Merle Frohms (VfL Wolfsburg), 12-Almuth Schult (Angel City FC, USA), 30-Ann-Katrin Berger (FC Chelsea, ENG)
DEFENDERS (10): 2-Carolin Simon (FC Bayern München), 3-Kathrin Hendrich (VfL Wolfsburg), 4-Sophia Kleinherne (Eintracht Frankfurt), 5-Jana Feldkamp (TSG 1899 Hoffenheim), 8-Maximiliane Rall (FC Bayern München), 17-Felicitas Rauch (VfL Wolfsburg), 23-Sara Doorsoun (Eintracht Frankfurt), 24-Sjoeke Nüsken (Eintracht Frankfurt), 25-Nicole Anyomi (Eintracht Frankfurt), 28-Joelle Wedemeyer (VfL Wolfsburg)
MIDFIELDERS (9): 6-Lena Oberdorf (VfL Wolfsburg), 9-Svenja Huth (VfL Wolfsburg), 14-Lena Lattwein (VfL Wolfsburg), 16-Linda Dallmann (FC Bayern München), 20-Lina Magull (FC Bayern München), 22-Jule Brand (VfL Wolfsburg), 26-Chantal Hagel (TSG 1899 Hoffenheim), 27-Paulina Krumbiegel (TSG 1899 Hoffenheim), 31-Janina Minge (SC Freiburg)
FORWARDS (4): 10-Laura Freigang (Eintracht Frankfurt), 11-Alexandra Popp (VfL Wolfsburg), 19-Klara Bühl (FC Bayern München), 33-Melissa Kossler (TSG 1899 Hoffenheim)
GERMANY ROSTER NOTES
The USA and Germany have won 11 out of the 15 world championships that have been contested in women's soccer history. The USA has won four Women's World Cup titles and four Olympic gold medals while Germany has two Women's World Cup titles and one Olympic gold medal.
On Sept. 3, Germany qualified for the 2023 FIFA Women's World Cup with a 3-0 victory over Turkey (followed by an 8-0 trouncing of Bulgaria on Sept. 6) and topped Group H in UEFA qualifying with a 9-0-1 record while scoring 47 goals and allowing five. Germany is one of seven countries to have qualified for every Women's World Cup that has been staged. The other six are USA, Sweden, Norway, Japan, Brazil and Nigeria.
At the end of July, Germany made an impressive run to the title game of the 2022 UEFA Women's Euro, but fell in overtime to host England, 2-1, in front of a record crowd at Wembley Stadium. Midfielder Lina Magull scored Germany's lone goal in the final, which was played without star forward Alexandra Popp, who was injured during warmups and could not add to her six tournament goals, which tied for most in the competition.
Seventeen of the 26 players on this roster for the matches against the USA were a part of Germany's roster for the 2022 EURO.
Popp is the most-capped player on this roster with 122 international appearances and has 61 career goals, good for fifth all-time in the history of the Germany Women's National Team.
Midfielder Svenja Huth is the next most experienced player on the roster with 75 caps while Magull has 22 goals in 66 international appearances, the second-most goals by any player on this roster.
Midfielder Lena Oberdorf is another standout on this German roster. The 20-year-old was named the EURO 2022 Young Player of the Tournament and has 33 caps already in her young career.
With the Women's Bundesliga long being one of the world's top leagues, most of the German players stay home to play professionally and 24 of the 26 players on the roster play for top German clubs. Twenty-two players come from just four clubs: eight from VfL Wolfsburg, the defending league champions, five players turn out for FC Bayern Munich and five for Eintracht Frankfurt.
Germany head coach Martina Voss-Tecklenburg is a former Germany Women's National Team great who played 125 times for her country. She played three FIFA Women's World Cups (1991, 1995, 1999), one Olympics (1996) and five UEFA Women's Championships (1989, 1991, 1993, 1995, 1997). Before taking charge of her home country, Voss-Tecklenburg took Switzerland into the upper echelon of European women's soccer as head coach from 2012-2018.
USMNT 2022 World Cup roster led by Pulisic, McKennie; Pepi, Steffen miss out
5:18 PM ET Jeff CarlisleU.S. soccer correspondent
United States manager Gregg Berhalter announced his 26-player roster for the 2022 World Cup in Qatar on Wednesday, amid much fanfare in New York City.The roster is headlined by players who have become familiar names to U.S. fans, including Chelsea attacker Christian Pulisic, Juventus midfielder Weston McKennie, Borussia Dortmund midfielder Giovanni Reyna and Leeds United midfielder Tyler Adams.The biggest shock was the exclusion of Middlesbrough goalkeeper Zack Steffen.
When healthy, Steffen had been locked in a battle with Arsenal's Matt Turner for the starting spot during World Cup qualifying, with Berhalter usually picking Steffen for the bigger matches.His loan move to Boro from Manchester City was done for him to get more first-team minutes, and he largely achieved that goal, playing in 16 of the club's 20 matches in England's second-tier Championship.But it wasn't enough to make the roster, with Turner, Luton Town's Ethan Horvath and New York City FC's Sean Johnson preferred."In some of the cases it's more about what we have than what we don't have," Berhalter told ESPN during Wednesday's roster reveal show. "With the three goalkeepers listed on the roster, we feel great, we feel really good about it. We saw a lot of progress with Matt Turner in this last six months, we know Ethan Horvath has been competing at a good level at Luton in the Championship, and Sean Johnson has been a mainstay in this group since day one."Berhalter added that "the lean is toward" Turner starting in goal, though noted that "he had a slight injury that he has been working on so we will get him into camp and see exactly how he is."
Every World Cup roster has its share of near misses, and this one was no different, with injuries playing a role in the makeup of the roster. Center backs Miles Robinson of Atlanta United and Crystal Palace's Chris Richard both missed out because of Achilles and hamstring ailments, respectively.However, other players healed up in time — including McKennie, Turner and Norwich City forward Josh Sargent — at least ahead of this weekend's last round of club fixtures before players are released.In terms of surprise inclusions, Fulham defender Tim Ream was among the biggest.The opening World Cup qualifying fixture against El Salvador in September 2021 was the only qualifier Ream played in. But the injuries to Robinson and Richards, plus his fine form for the Cottagers this year in the Premier League, paved the way for him to be selected.The center forward position has been an area of focus for almost the entire cycle, with none of the candidates really staking their claim to a starting spot.That said, the inclusion of Antalyaspor forward Haji Wright at the expense of Groningen FC striker Ricardo Pepi was something of a surprise.Both players had been in excellent form of late for their clubs, with Wright scoring nine goals on the season — and four in his past four games — while Pepi had five goals and two assists since moving to the Dutch side on loan in September.Yet it is Wright who got the nod alongside Sargent and FC Dallas striker Jesus Ferreira."In the case of Ricardo, that was a really difficult conversation that I had to have with him," Berhalter said. "It's always difficult when a guy helps you get to the World Cup, he scores three goals in World Cup qualifying, and isn't going to be a part of the program."And again, it's more about who we did add that we felt good about."Josh is competing in the Championship, he played in the Premier League last year. We're playing Wales and England; both teams are stocked with players from those leagues."Haji Wright is in great form with his team in Turkey, scoring nine goals so far. And Jesus has been good for us and a guy who really understands the game plan and how to execute it."
Shaq Moore is another player who seemed to be on the outside looking in, but with Sergino Dest dealing with an adductor issue, Berhalter opted for additional cover at right back and selected Moore over Boavista's Reggie Cannon.
The 26-player roster will be the second-youngest USMNT roster at a World Cup, with an average age of 25 years, 175 days at the time of its opening World Cup game against Wales on Nov. 21. Only the 1990 squad (24 years, 24 days) was younger.After the U.S. failed to qualify for the 2018 World Cup, DeAndre Yedlin is the only player selected with previous World Cup experience, having been a part of the USMNT's run to the round of 16 in 2014.After taking on Wales, the U.S. will face England (Nov. 26) and Iran (Nov. 29) in Group B.
Full U.S. roster for 2022 World Cup:
GOALKEEPERS (3): Ethan Horvath (Luton Town/ENG; 8 appearances for U.S./0 goals), Sean Johnson (New York City FC; 10/0), Matt Turner (Arsenal/ENG; 20/0)
DEFENDERS (9): Cameron Carter-Vickers (Celtic/SCO; 11/0), Sergino Dest (AC Milan/ITA; 19/2), Aaron Long (New York Red Bulls; 29/3), Shaq Moore (Nashville SC; 15/1), Tim Ream (Fulham/ENG; 46/1), Antonee Robinson (Fulham/ENG; 29/2), Joe Scally (Borussia Monchengladbach/GER; 3/0), DeAndre Yedlin (Inter Miami CF; 75/0), Walker Zimmerman (Nashville SC; 33/3)
MIDFIELDERS (7): Brenden Aaronson (Leeds United/ENG; 24/6), Kellyn Acosta (LAFC; 53/2), Tyler Adams (Leeds United/ENG; 32/1), Luca de la Torre (Celta Vigo/ESP; 12/0), Weston McKennie (Juventus/ITA; 37/9), Yunus Musah (Valencia/ESP; 19/0), Cristian Roldan (Seattle Sounders FC; 32/0)
FORWARDS (7): Jesus Ferreira (FC Dallas; 15/7), Jordan Morris (Seattle Sounders; 49/11), Christian Pulisic (Chelsea/ENG; 52/21), Gio Reyna (Borussia Dortmund/GER; 14/4), Josh Sargent (Norwich City/ENG; 20/5), Tim Weah (Lille/FRA; 25/3), Haji Wright (Antalyaspor/TUR; 3/1)
Steffen left off the 26-man squad, while Ream makes his first national team roster since October 2021. In: Wright, Sargent, Moore, Roldan, Morris. Out: Pepi, Pefok, Cannon, Arriola, Tillman.
NEW YORK CITY — USMNT coach Gregg Berhalter released his 26-player World Cup roster on Wednesday at an event here at Brooklyn Steel attended by several U.S.-based players.
---
GrantWahl.com is reader-supported. Free and paid subscriptions are available. This is how I make a living, and quality journalism requires resources. The best way to support me and my work is by taking out a paid subscription now.
Upgrade to Paid Give a gift subscription
---
There are more surprises than expected, given that Berhalter usually is pretty conservative about sticking with "his guys." The biggest news is that Berhalter has left goalkeeper Zack Steffen, who is not injured, completely off the roster and chosen instead Matt Turner, Sean Johnson and Ethan Horvath. Steffen started six of the U.S.'s 14 World Cup qualifying games, splitting duties with Turner.
Based purely on Steffen's performance for club and country for a while now, you can make the case that he shouldn't be on the roster as one of the top three U.S. goalkeepers. But it's stunning that he's not even on the World Cup squad of Berhalter, who has favored Steffen over Turner as the starter when both are healthy, citing Steffen's ability to play out of the back. Even heading into this week I would have suspected that Steffen would start in Qatar if healthy based on Berhalter's decision-making process.
Also making news is centerback Tim Ream, who is on the World Cup roster for his first national team call-up since October 2021. (Ream ended up declining that invitation for family reasons, giving a chance to Walker Zimmerman, who was called up to replace Ream and eventually won a starting job.) Ream had obviously been left off for a while, but he has played well in the Premier League this season while serving as Fulham's captain. His inclusion makes total sense.
The other position that seemed the most in flux was the centerforward spot. In the end, Berhalter chose Jesús Ferreira, Josh Sargent and Haji Wright. It's a big call to leave out Jordan Pefok, who has started this season for Union Berlin, the surprise team in the Bundesliga. While Pefok may not be a great fit for Berhalter's system, he appeared to be a smart choice if the U.S. was desperate for a goal late in the game.
And it's also surprising that Berhalter chose to leave off Ricardo Pepi. The 19-year-old was called up for the September games and has started producing more goals and assists while on loan with Groningen in the Netherlands.
Here are the roster (club/country; caps/goals; hometown) and my thoughts on the selections and omissions:
GOALKEEPERS (3): Ethan Horvath (Luton Town/ENG; 8/0; Highlands Ranch, Colo.), Sean Johnson (New York City; 10/0; Lilburn, Ga.), Matt Turner (Arsenal/ENG; 20/0; Park Ridge, N.J.).
Notable Omissions: Steffen.
My Thoughts: See above. I fully expect Turner to start for the U.S. in Qatar, as long as his recent minor injury troubles subside. Turner was in uniform for Arsenal again over the weekend, suggesting that he'll be fine for the World Cup.
DEFENDERS (9): Cameron Carter-Vickers (Celtic/SCO; 11/0; Southend-on-Sea, England), Sergiño Dest (Milan/ITA; 19/2; Almere, Netherlands), Aaron Long (New York Red Bulls; 29/3; Oak Hills, Calif.), Shaq Moore (Nashville; 15/1; Powder Springs, Ga.), Tim Ream (Fulham/ENG; 46/1; St. Louis, Mo.), Antonee Robinson (Fulham/ENG; 29/2; Liverpool, England), Joe Scally (Borussia Mönchengladbach/GER; 3/0; Lake Grove, N.Y.), DeAndre Yedlin (Inter Miami; 75/0; Seattle, Wash.), Walker Zimmerman (Nashville; 33/3; Lawrenceville, Ga.)
Notable Omissions: Reggie Cannon, Mark McKenzie, Erik Palmer-Brown, James Sands.
My Thoughts: My guess is the starting back line will be Dest, Zimmerman, Long and Robinson. With Chris Richards's inability to go due to injury, Ream is the headline addition in the central defense corps. He actually looked pretty good against Erling Haaland over the weekend, which is a positive sign. Long will enter the tournament as the most questioned U.S. player who's likely to start. But I think Ream has a chance to replace him, and Ream's club familiarity with Robinson isn't a bad thing, either.
The biggest surprise among the fullbacks is that Moore has been selected, while Cannon has not. But this was for the third-string spot at right back, so it's not that big of a deal.
MIDFIELDERS (7): Brenden Aaronson (Leeds United/ENG; 24/6; Medford, N.J.), Kellyn Acosta (LAFC; 53/2; Plano, Texas), Tyler Adams (Leeds United/ENG; 32/1; Wappingers Falls, N.Y.), Luca de la Torre (Celta Vigo/ESP; 12/0; San Diego, Calif.), Weston McKennie (Juventus/ITA; 37/9; Little Elm, Texas), Yunus Musah (Valencia/ESP; 19/0; London, England), Cristian Roldan (Seattle Sounders; 32/0; Pico Rivera, Calif.)
Notable Omissions: Malik Tillman, Djordje Mihailovic.
My Thoughts: My expected starters in the central midfield are Adams, McKennie and Musah. McKennie's injury for Juventus is not believed to be serious enough to prevent him from playing at the World Cup, but it could be a tight squeeze with the short turn-around time.
It's also interesting that Aaronson is listed as a midfielder when he has always ben listed as a forward/winger before. An indication that he might have a greater chance of playing an attacking midfield role?
De La Torre appears to have recovered from an injury, and Berhalter clearly has some trust in him, even though he has played little at club level. Roldan has recovered enough from his groin surgery to make the team, which will be met with criticism from some fans, but he has been a stalwart in Berhalter's roster when healthy.
And while Tillman appeared to be making a run to the roster earlier in the club season, his performances declined noticeably for Rangers.
FORWARDS (8): Jesús Ferreira (FC Dallas; 15/7; McKinney, Texas), Jordan Morris (Seattle Sounders; 49/11; Mercer Island, Wash.), Christian Pulisic (Chelsea/ENG; 52/21; Hershey, Pa.), Gio Reyna (Borussia Dortmund/GER; 14/4; Bedford, N.Y.), Josh Sargent (Norwich City/ENG; 20/5; O'Fallon, Mo.), Tim Weah (Lille/FRA; 25/3; Rosedale, N.Y.), Haji Wright (Antalyaspor/TUR; 3/1; Los Angeles, Calif.)
Notable Omissions: Pefok, Pepi, Paul Arriola, Brandon Vázquez.
My Thoughts: If I had to name a starting front line right now from Berhalter's perspective, the only lock would probably be Pulisic. I think Berhalter will lean toward Reyna on the other wing (he started him in both September games), but it could also be Weah (who has produced for the national team) or Aaronson (who's in good form at club level). Just having all those guys healthy for the World Cup is a positive.
Starting centerforward? That's a tougher call than ever. Ferreira seemed to be Berhalter's guy, but he had a rough time down the stretch in MLS. Maybe Sargent or Wright? Who knows?
Wright looked like he had played himself off the roster in June and wasn't called up in September, but he's the second-leading scorer in the Turkish Super Lig and clearly did enough to be chosen over Pepi and Pefok. And while Morris might not have made the roster if it was 23 players instead of 26, that doesn't matter now. He's here.
You have to feel for Arriola, who has been a regular contributor during qualifying but has now been left off the team for Qatar. One source told me he recently picked up an injury.
U.S. men's World Cup team full of surprises: Haji Wright and Tim Ream in, Zack Steffen out
U.S. manager Gregg Berhalter picked Ethan Horvath over Steffen, and Wright over Ricardo Pepi. by Jonathan Tannenwald Philly Star
Striker Haji Wright (left) was a surprising inclusion on the U.S. men's World Cup team. Jeff Dean / AP
NEW YORK — The U.S. men's soccer team's World Cup roster unveiled by manager Gregg Berhalter on Wednesday had a lot of surprises — including one that stung one of the Philadelphia area's top players.While Medford's Brenden Aaronson and Hershey's Christian Pulisic made the team, Downingtown's Zack Steffen was perhaps the biggest omission from the 26-player group.Berhalter made a late turn away from a goalkeeper he has known and trusted for years. Ethan Horvath was picked instead, alongside the expected pair of presumed starter Matt Turner and Sean Johnson.Steffen went on loan from English power Manchester City to second-tier Championship team Middlesbrough this season so he could get regular playing time. He has gotten it, but it hasn't always gone well.Horvath also made a loan move, from the Premier League's Nottingham Forest to the second division's Luton Town, and it has gone better for him: 19 goals conceded and eight shutouts in 19 games, to Steffen's 19 goals conceded and four shutouts in 16 games.Berhalter took a slew of questions from reporters and ESPN's broadcasters during the roster announcement about why he dropped Steffen, and never gave a direct answer."Me and Zack go way back," said Berhalter, who coached Steffen on the Columbus Crewfrom 2016-18. "Zack's been there for me a bunch of times, and to tell him he's not going to be a part of the World Cup team was heartbreaking for me. But those are the decisions that we made as a staff."Beyond that, Berhalter spent a lot of time aiming to redirect the conversation."Sean Johnson [has] been with this program since Day 1, and we think he's a really valuable piece of the team," he said. "Ethan is a guy that always responds when his number's called. … He's a guy that's Johnny-on-the-spot — if you need him, he's ready, and I think that's valuable in a World Cup-type of competition."Berhalter noted that Horvath came in as a sub for Forest in the win last season that clinched promotion to the Premier League; and starred as a sub for the U.S. in last year's Concacaf Nations League final win. He told ESPN that "the lean is toward Matt being the No. 1.″Left unsaid was that Horvath subbed in for an injured Steffen in the latter game; and that Steffen withdrew from this summer's set of games because of family issues, giving Johnson and Horvath the games Turner didn't play.
The rest of the defense
Among defenders, there were two surprises: Shaq Moore over Reggie Cannon at right back, and veteran Tim Ream as the last of four centerbacks. Ream has been playing well for Fulham in England's Premier League, including games against powerhouses Liverpool and Manchester City, and that earned him a return to the national team for the first time since September of last year."Have you watched any Fulham games lately? Then you know why we brought him in," Berhalter quipped. "It's really hard to ignore stuff like that. … I think Tim, based on what we're seeing, the level he's playing at, he's ready to play in a World Cup for sure."It wasn't too surprising that former Union centerback Mark McKenzie — who grew up in Bear, Del. — didn't make the cut, because he had some high-profile struggles in national team games over the last year and a half. But a recent run of good form at Belgium's Genk raised hope that he might get the spot opened by Chris Richards' injury, or that Berhalter might take five centerbacks instead of four.In the end, Berhalter stuck with four: presumed starters Walker Zimmermanand Aaron Long, Cameron Carter-Vickers, and Ream.
In the midfield
The midfield had not so much a surprise as a gamble: the inclusion of Luca de la Torre, who suffered a muscle tear in his left leg in late October."He was training, he's up to 95% of his top speed, he's doing a bunch of fitness work," Berhalter said of the 24-year-old from Spanish club Celta de Vigo. "I would say now, my guess would be he wouldn't be 90 minutes fit [for] Game 1, and he's a guy that we're going to have to ramp up during the tournament."The closest thing to a true surprise was Cristian Roldan over Malik Tillman, but Tillman has had a rough time lately at Scotland's Rangers. Roldan might not play much in Qatar, but he can play multiple positions and is a strong locker room presence. With 26 players on World Cup squads now instead of the 23 of the past, there's space for such a player.Among the wingers, Roldan's Seattle Sounders teammate Jordan Morris edged FC Dallas' Paul Arriola. It seemed that Berhalter picked Morris' versatility across the front line over Arriola's solid history as a defensive closer."For one reason or another, we haven't always had our wingers fit and available, and now as we lead up to the World Cup, every one of those players is fit and available," Berhalter said. "And it just made [it] that Paul was the odd man out. … It's the worst thing to have to tell him that we feel that there's other players, there's other wingers that are ahead of him."After the announcement, Arriola wrote on social media: "I am heartbroken to not be included on the final World Cup roster … This year my goal was to put myself in the best position possible to get to this point and I believe I did, unfortunately it wasn't enough."
» READ MORE: Cristian Roldan earned his shot at the U.S. World Cup team
» READ MORE: Zack Steffen looks beyond the World Cup to his community service goals
Striker shocker
Perhaps the biggest surprise of all came at forward: Ricardo Pepi didn't make the cut after being one of Berhalter's most trusted players in World Cup qualifying. Pepi moved from Germany's Augsburg to the Netherlands' Gronigen on loan this summer to regain his scoring form, and he seemed to have found it with six goals and two assists in nine games.But Berhalter chose otherwise: Haji Wright, a 6-foot-3 target striker who made his senior national team debut this past June after being a big-time teenage prospect. He played with current U.S. stars Pulisic and Weston McKennie back then, but he didn't make it to the big time until going to Turkish club Antalyaspor last year. Wright has scored 24 goals in 47 games there, including nine in 12 games this season.Wright, Josh Sargent, and Jesús Ferreirawill be the three strikers — and it turns out Wright wasn't judged directly against Pepi. He was judged against Jordan Pefok, a fellow target forward who plays for Germany's Union Berlin. Pefok shot out of the gates in the Bundesliga season with four goals and two assists in the first month and a half, but he hasn't scored since Sept. 18."When we were looking at this as coaches, we were evaluating Haji vs. Jordan Pefok, and that's what it came down to," Berhalter said. "They're both physical strikers, Jordan maybe a little more so. But Haji has pace, he's got the ability to go one-v-one, he's got finishing with his head [and] both feet, and he's performing really well in the Turkish league."
» READ MORE: How Haji Wright earned a return to the U.S. national team this past summer
READ MORE: Last year, Ricardo Pepi was the USMNT's hotshot rising star
He also revealed that not calling in Pefok since last March was not in fact a sealing of the player's fate."If we would have made the decision [in] mid-September, Jordan Pefok would have probably been a lock to be in based on his form at Union Berlin," Berhalter said. "But since then, it's a different story."And if this was a normal World Cup with a full training camp before games, he added, Pefok might have been brought in to regain form and chemistry.As for Pepi, Berhalter said he was judged against Ferreira and Sargent. Ferreira has been a lock to make the squad for months. Sargent got bonus points for playing on English second-tier club Norwich City — and thus facing some of the players the U.S. will see in group stage games against Wales and England. "The Dutch league, I think, is a great league, but it doesn't bring the same physicality that the Premier League brings and the [second-tier] Championship brings," Berhalter said.However many people were involved in picking the roster, Berhalter knows the ultimate responsibility lies with him. And the ultimate verdict will be rendered when the U.S. takes the field in Qatar, starting Nov. 21 against Wales (Fox29, Telemundo 62)."These may not be the right choices — these are the choices that we picked," he said. "Ricardo Pepi could have a great argument for why he should be there, and I can understand that argument. But we had to choose, we chose to bring three strikers, and these are the three that we chose."
USMNT 2022 World Cup squad analysis: The surprises and biggest takeaways
By Paul Tenorio and Sam Stejskal The Athletic
---
Much of the U.S. men's national team's 26-man roster for the 2022 World Cup turned out as expected. Christian Pulisic, Weston McKennie and Tyler Adams are the main headliners, with Brenden Aaronson, Sergiño Dest, Yunus Musah, Gio Reyna, Antonee Robinson, Matt Turner, Tim Weah and Walker Zimmerman also expected to play significant roles in Qatar. But there were a few surprise decisions, too.On Wednesday, the U.S. Soccer Federation hosted a group of VIPs, sponsors and select fans at concert venue Brooklyn Steel in New York City for the announcement of the full roster.The event provided a touch of the absurd to an important occasion. Pre-announcement festivities included a playlist of clubby electronic tracks and the USMNT's very own, very enthusiastic hype man — a middle-aged guy named Devin who was also at every home World Cup qualifier. The buildup wrapped with a sizzle reel narrated by rapper Jack Harlow. Then, ESPN's Kay Murray, Taylor Twellman and Jermaine Jones took the stage to reveal the team that head coach Gregg Berhalter will bring to Qatar. Among the more surprising inclusions was Fulham center back Tim Ream, who was recalled to the team after more than a year away, making the squad ahead of Mark McKenzie and Erik Palmer-Brown. At striker, Antalyaspor's Haji Wright was included over Ricardo Pepi, who had been a regular call-up since the start of qualifying. At goalkeeper, Middlesbrough's Zack Steffen, the U.S.'s No. 1 keeper for most of the last four years, was left off of the roster entirely. Luca de la Torre was also deemed healthy enough to make the team after he recently suffered an injury in training with Spanish club Celta de Vigo.The other controversial inclusions came further down the roster and involved players who probably won't make a big impact at the tournament. Seattle winger Jordan Morris and Nashville right back Shaq Moore made the team ahead of Paul Arriola and Reggie Cannon, respectively, despite the fact that Morris and Moore were less involved in qualifying than Arriola and Cannon. Seattle midfielder Cristian Roldan was called into the team over young German-American Malik Tillman, who was involved in the last two U.S. camps.Berhalter and several players spoke about the roster with reporters in Brooklyn on Wednesday night, while several of the Europe-based members of the team called in for video press conferences. We have a quick glimpse at how the team might line up in Qatar here; a piece on realistic expectations for the U.S. in Qatar will be out on Thursday. We'll have plenty, plenty more over the coming days and weeks, as both of us head to the Middle East this weekend ahead of the full USMNT arrival on Monday. Until then, here are our our main takeaways from the announcement:
Ream returns at center back
Just a few weeks ago, Ream making the final roster felt like an extreme long shot.
Though the 35-year-old was excellent for Fulham in the Championship last season, has been solid for the club thus far in the current Premier League campaign and has spent the last two seasons forming a good on-field relationship with U.S. and Fulham left back Antonee Robinson, Berhalter had not called Ream up since last October. He had to withdraw from that camp due to personal reasons, then wasn't brought back to the USMNT in any of the subsequent five international windows.Berhalter was consistent in his reasoning for excluding the St. Louis native, leaving him out not because of form, but because of fit. Berhalter prefers to use a high defensive line. As such, he wants his center backs to be relatively mobile and strong in the air. Those aren't Ream's best qualities, which Berhalter pointed out after leaving him off the roster for the September friendlies against Japan and Saudi Arabia.Ream's strengths and weaknesses didn't change over the last two months, but the circumstances shifted at center back for the U.S. Chris Richards, who Berhalter said in September would've been selected for Qatar if healthy, didn't recover from a hamstring injury in time to make the World Cup squad. Mark McKenzie was given a chance in September, but he, like Aaron Long, performed relatively poorly that window. Berhalter said Wednesday night that Ream's convincing form in the Premier League made it easy to include him in the roster."In Tim's case, you know, he was in the Premier League (two) years ago, and he struggled," Berhalter said. "The whole team struggled. And he went to the Championship and he started performing better and they got promoted, and now he's in the Premier League and he's a top performer for his team. It's really hard to ignore stuff like that. And by the way, he's been a guy that's been with us since day one. So to me, all the pieces were aligned to bring him back into the squad. And there is, in my opinion, a difference between qualifying in CONCACAF and playing in the World Cup. And I think Tim, based on what we're seeing, the level he's playing, he's ready to play in a World Cup for sure."
Long and McKenzie struggled with their distribution in September, an area in which Ream excels compared to the other U.S. center backs. Their struggles on the ball hindered the U.S.'s ability in possession against both Japan and Saudi Arabia. With the Americans set to face two teams during the World Cup group stage in Wales and Iran who will likely sit in organized, compact blocks, that quality could become particularly important to the U.S.'s chances of advancing out of Group B."To be there representing the U.S, 300 million people, the pressure is immense but it's what I've dreamed of since I was a kid," Ream told Fulham's website about his selection. "It's a dream come true and something that I'm proud of. I'm proud that I've earned it."
Of course, Ream still has his limitations. He has won 57.6 percent of his aerial duels this season, according to TruMedia, and ranks in the 18th percentile of center backs in the top five leagues this season in that area, according to FBref.com. Playing him alongside Zimmerman would probably prevent the U.S. from using as high of a line as Berhalter likes. For that reason, it'd be a surprise to see him start every game in Qatar. Long, who has started the last six games for the U.S., and Carter-Vickers offer more athletically than Ream and will no doubt be in contention to start alongside Zimmerman.
Regardless of how much he plays, Ream should bring a calm, veteran presence to an otherwise overwhelmingly young U.S. team. He only played one match in qualifying, starting and performing solidly in the opener at El Salvador last September, but he seemed like a positive influence throughout that up and down first window, going as far as to get up off the bench repeatedly in the U.S.'s 1-1 draw with Canada in Nashville to offer instruction to different defenders. That's a small thing, but World Cup rosters — and games — are often decided by fine margins.
Ream's inclusion is a great capstone to his career, as well. He made his debut for the U.S. all the way back in November 2010, before some of his teammates in Qatar had even turned 10, but wasn't selected for the 2014 World Cup squad. Now, at 35, he's set for what will likely be a lifetime highlight.
McKenzie will no doubt be feeling quite different. He was the center back left off the roster at the expense of Ream. He's been playing quite well for Genk and, while he's had a bit of a bumpy ride with the U.S., it seemed like a decent bet that he would make this squad.
In one way, it's puzzling that he didn't. Despite the unsettled nature of the position, Berhalter chose to only bring four center backs to the World Cup. He brought five fullbacks instead, even though Robinson and Sergiño Dest are likely locked-in as starters at those spots. Not included in those five fullbacks was Reggie Cannon, who has experience playing center back and could have provided depth in a pinch.That could loom large in what is a troubling position for the Americans. The U.S. center backs will have difficult tests at the World Cup, facing a Wales team that will include Gareth Bale in the opener, then a dangerous England attack spearheaded by Harry Kane, then an Iran team likely to include a trio of big-time forwards in Porto's Mehdi Taremi, Bayer Leverkusen's Sardar Azmoun and PSV's Alireza Jahanbakhsh. If they falter, it'll more than likely be a short stay in Qatar for the U.S.
USMNT World Cup 2022 squad
| POSITION | PLAYER | CLUB | AGE | CAPS |
| --- | --- | --- | --- | --- |
| GK | Matt Turner | Arsenal | 28 | 20 |
| GK | Ethan Horvath | Luton Town | 27 | 8 |
| GK | Sean Johnson | NYCFC | 33 | 10 |
| DEF | Antonee Robinson | Fulham | 25 | 29 |
| DEF | Joe Scally | Borussia M'gladbach | 19 | 3 |
| DEF | Sergiño Dest | AC Milan | 22 | 19 |
| DEF | Shaq Moore | Nashville SC | 26 | 15 |
| DEF | DeAndre Yedlin | Inter Miami | 29 | 75 |
| DEF | Cameron Carter-Vickers | Celtic | 24 | 11 |
| DEF | Aaron Long | NY Red Bulls | 30 | 29 |
| DEF | Tim Ream | Fulham | 35 | 46 |
| DEF | Walker Zimmerman | Nashville SC | 29 | 33 |
| MID | Kellyn Acosta | LAFC | 27 | 53 |
| MID | Tyler Adams | Leeds United | 23 | 32 |
| MID | Luca de la Torre | Celta Vigo | 24 | 12 |
| MID | Weston McKennie | Juventus | 24 | 37 |
| MID | Yunus Musah | Valencia | 19 | 19 |
| MID | Cristian Roldan | Seattle Sounders | 27 | 32 |
| MID | Brenden Aaronson | Leeds United | 22 | 24 |
| FWD | Jordan Morris | Seattle Sounders | 28 | 49 |
| FWD | Christian Pulisic | Chelsea | 24 | 52 |
| FWD | Gio Reyna | Dortmund | 19 | 14 |
| FWD | Tim Weah | Lille | 22 | 25 |
| FWD | Jesus Ferreira | FC Dallas | 21 | 15 |
| FWD | Josh Sargent | Norwich City | 22 | 20 |
| FWD | Haji Wright | Antalyaspor | 24 | 3 |
A surprise at the No. 9
Over the last year there has been plenty of debate and speculation about which strikers Berhalter would bring to Qatar. For months, that was because none of the options were scoring with any regularity. Then, suddenly, it was because all of them were scoring.
After all that debate, Berhalter still somehow managed to surprise with his picks.
Most considered it to be a four-forward race for the final three spots: Jesús Ferreira, Ricardo Pepi, Josh Sargent and Jordan Pefok. In the end, two of those four did not make the roster. Berhalter opted instead to bring Haji Wright, who is in fine form in the Turkish Süper Lig, over both Pepi and Pefok.
Pefok started the season excellently with Bundesliga club Union Berlin, recording three goals and two assists in his first six appearances, but he's fallen off more recently, not scoring in his last 10 games across all competitions. Berhalter confirmed on Wednesday that Wright, who has nine goals in Turkey this season, was taken over Pefok. Berhalter also noted that Belgium forward Michy Batshuayi has five goals this season in the Turkish league, four fewer than Wright.
"In this particular case we felt like Haji is in a great goalscoring form," Berhalter said. "They're both our physical strikers — Jordan, maybe a little more so, but Haji has pace, he's got the ability to go one-v-one, he's got finishing with his head, both feet, and he's performing really well in the Turkish league."
Pepi had a brutal goalless run from October 2021 through this September, but has rebounded nicely since he began his loan at Dutch club Groningen this fall, tallying five goals and two assists in eight appearances in the Eredivisie. He was also part of the U.S. squad in September and has been a consistent call-up since the start of qualifying; his exclusion was one of the biggest surprises. Berhalter said Pepi was in competition with Sargent and Ferreira for a role. He believed Sargent's success in the more physical Championship would translate better against Wales and England than Pepi's success in the Netherlands.
"These may not be the right choices, right?" Berhalter said. "These are the choices that we picked and you know, Ricardo Pepi could have a great argument for why he should be there and I can understand that argument. But we chose to bring three strikers and these are the three that we chose."
The debate now pivots to which striker should start in Qatar.
Berhalter has quite clearly favored Ferreira in the months leading into the tournament, but things have changed since the U.S. last met up in September. The FC Dallas forward had scored six goals in six games leading into that international window. Ferreira now heads into the World Cup having failed to score in his last five games of the season. He also hasn't played since FCD was eliminated from the MLS playoffs on Oct. 23, though he did recently participate in a USMNT fitness camp with other out-of-season MLS players in Texas.
Sargent has eight goals this season for Norwich, but he hasn't scored since Oct. 15. The St. Louis-area native was able to get back into the picture with his strong early form in the Championship, however, and despite getting just 45 minutes across the two friendlies in September, he clearly did enough to show Berhalter he deserves a spot in Qatar.
Wright, meanwhile, is the hottest striker in the pool. The 6-foot-3 forward has scored in a variety of fashions recently. He has three goals from headers off crosses, found space with runs in behind the back line, has capitalized off of pressing and turnovers and has also netted two penalties.
In tournament play, Wright should be able to bring something different than both Sargent and Ferreira: a target up top for more direct play who will also be valuable on crosses and set pieces. That style of striker could be particularly useful if the U.S. is in need of a goal late in a game.
Steffen left off roster
The biggest surprise of the day wasn't a player who is going to Qatar, it was a player left off the list.
Steffen, who had been the USMNT's No. 1 for most of the last few years, was excluded entirely. The 27-year-old has a long history with Berhalter, playing for him in 2017 and 2018 with the Columbus Crew and starting under him 23 times with the national team.
He missed a good number of matches in qualifying because of injury but, when healthy, he was typically the starter in the Octagonal round. Though Turner probably outperformed him in qualifying, Steffen never seemed completely out of the picture.
Steffen missed the June camp due to "family reasons," however, and then was left out of the September camp. Despite taking several questions about Steffen, Berhalter did not directly address why he left him out of the picture except to say that he was comfortable with the goalkeepers he was bringing to Qatar.
"Me and Zack go way back, and Zack's been there for me a bunch of times and to tell him he's not going to be a part of the World Cup team was heartbreaking for me," Berhalter said.
Ethan Horvath and Sean Johnson were the two other goalkeepers who made the team ahead of Steffen. Berhalter said that Johnson has been an important member of the squad as a respected veteran. He noted that Horvath has shown an ability to step into games and perform at a high level — both for Nottingham Forest late in a promotion playoff last season and for the U.S. in the Nations League final in June 2021, when he entered as a sub and stopped a penalty against Mexico.
Notably, Berhalter did not commit to starting Turner in Qatar, citing the injury that he recently suffered with Arsenal as a potential hindrance to his making the XI against Wales. Turner missed three games for Arsenal because of the knock, but returned to the bench for their match against Chelsea on Sunday and the Carabao Cup contest against Brighton on Wednesday.
De la Torre recovers in time
De la Torre had a major question mark around his status going into Wednesday's roster announcement. Celta de Viga announced on Oct. 28 that he suffered a hamstring injury that would hold him out for at least three weeks. That pegged his earliest possible return as Nov. 20, just one day before the U.S. takes the field against Wales.
The Spanish club has since posted multiple videos of De la Torre working out and running in the last week, and clearly Berhalter felt confident enough that the midfielder could get fit in time for the tournament. It's a crucial inclusion. De la Torre is one of the few options on the roster capable of providing a similar skill set to Yunus Musah in his ability to pick up the ball, carry it forward and distribute and link up with the forward lines.
There are still some major concerns, however. In addition to the fact that De la Torre is working back from injury, he also hasn't featured much since moving to Celta de Vigo in the summer. He has played just 50 minutes in La Liga this season and did not look sharp in his minutes with the U.S. in September.
Berhalter said De la Torre is running at about 95 percent of his full speed, and while he will not be 90 minutes fit for the first game, Berhalter said they could ramp him up as the tournament goes on.
Arriola, Cannon, Tillman out; Morris, Moore, Roldán in
Berhalter also made some tough calls in some areas deeper down the depth chart.
Among the more surprising decisions was the omission of FC Dallas winger Paul Arriola. Arriola was one of the few carryovers from the pool of players who had failed to qualify for the World Cup in 2018. He played in five qualifiers for the U.S. in the Octagonal round of this cycle, starting three times and scoring once.
Berhalter said cutting Arriola was among his more difficult decisions, but that the health of the other wingers — Jordan Morris, Christian Pulisic, Gio Reyna and Tim Weah; Brenden Aaronson is listed as a midfielder — simply meant that Arriola was the odd man out.
Making the team is a huge moment for Morris, who most certainly had doubts about his future after tearing an ACL for a second time in February 2021 while on loan at Swansea. Morris worked his way back into the national team picture and made six appearances in World Cup qualifiers, including a start in a 3-0 win over Honduras in February.
Roldan, Morris's club teammate and close friend, had a similar experience more recently as he worked to come back from groin surgery to try to get back into form ahead of the World Cup. The 27-year-old was able to get back on the field for the Sounders at the end of the regular season, is well-liked by his teammates and valued by U.S. coaches for his attitude and work ethic in training.
"I was pushing to get back for the Sounders to make the playoffs, and obviously the United States, and making the World Cup squad was part of the bigger picture, as well," Roldan said. "There's always doubt in your mind, whether you'll make it or not when you're going through so much pain and rehabbing and at times, not even getting better. Jordan has dealt with it plenty of times. It puts life into perspective. … That was going through my head, thinking that if I can give myself a chance to find my way back and work extremely hard and give every ounce of energy into rehab and getting back onto the field, I was going to give myself the best chance to make the squad."
Berhalter also opted to bring Nashville right back Shaq Moore at right back over Cannon, who has featured regularly for the U.S. during the head coach's tenure. Berhalter said Moore's one-v-one defending ability gave him an edge, especially when they considered some of the opponents they would face at the tournament.
On the whole, Wednesday was a pretty festive evening for the USMNT. There were a few surprises, but nothing approaching the shock of the U.S.'s last World Cup roster announcement, when manager Jurgen Klinsmann left Landon Donovan out for the 2014 World Cup. Berhalter certainly seemed loose, cracking jokes on stage with the ESPN crew and looking incredibly relaxed in his press conference with reporters after the team was revealed. He'll fly to Qatar later Wednesday night. The entire team will arrive in Doha no later than Monday. From there, they'll have just a week to prepare for their opening match against Wales on Nov. 21. Wit the group that will be available for that match set, it's now time to really gear up for it.
Meet the USMNT's Class of 2022: Introducing Gregg Berhalter's World Cup squad
5:19 PM ET Sam Borden ESPN Senior Writer
It has been a long four years for the U.S. men's national team, but finally — finally — graduation day is here.On Nov. 21, these young American students (of the game) will walk across the biggest stage (in sports). They'll leave behind their classrooms and confront the harsh realities of the real world (of international soccer).Those weak performances in the September friendlies? Nothing more than some senioritis, perhaps. Because now, with everyone watching, these graduates are ready — ready to make an impact, ready to make themselves heard, ready to shine.Here, then, is your team: The USMNT Class of 2022, grouped, of course, according to their "majors."
---
FINANCE
These are the "money" players for the U.S., the ones responsible for delivering currency (that is, goals). A World Cup isn't about long-term investments, either. In a four-week tournament, these are the players whom the U.S. need to go on a heater.
Christian Pulisic
Age: 24
Club: Chelsea (England) | Position: Forward
Debut: Mar. 29, 2016 vs. Guatemala
Appearances: 52 (21 goals)
Look for him to … Create goal-scoring chances and attack from the edge of the field (he prefers it to be from the left). Pulisic has struggled to find regular minutes with Chelsea under two different managers this season, but he remains the American linchpin.
Notable or Quotable: "[It's] a team that no one loves to play against — it's that American spirit, that we can always win. That we can beat anyone." — On the identity of this USMNT
Weston McKennie
Age: 24
Club: Juventus (Italy) | Position: Midfielder
Debut: Nov. 14, 2017 vs. Portugal
Appearances: 37 (nine goals)
Look for him to … Perpetually be around the ball, pushing it forward into dangerous areas, as well as offer a stout presence in the defensive midfield. McKennie's work rate makes him a game-breaker for the U.S., the player most capable — if he's on — of disrupting the opposition.
Notable or Quotable: Frequently celebrates goals by waving an imaginary wand, in homage to Harry Potter. (For the record, McKennie says he would be a Gryffindor.)
Timothy Weah
Age: 22
Club: Lille (France) | Position: Forward
Debut: March 27, 2018 vs. Paraguay
Appearances: 25 (three goals)
Look for him to … Show speed on the outside, frequently from the right, and deliver penetrating crosses. Weah, who missed seven games of the club season with an ankle injury, also likes to get on the ball and interchange with the wide defender on his side of the field.
Notable or Quotable: "My dad is in the history books so I just have that fire in me all the time." — On his father, George Weah, who is the president of Liberia and one of the greatest African players in soccer history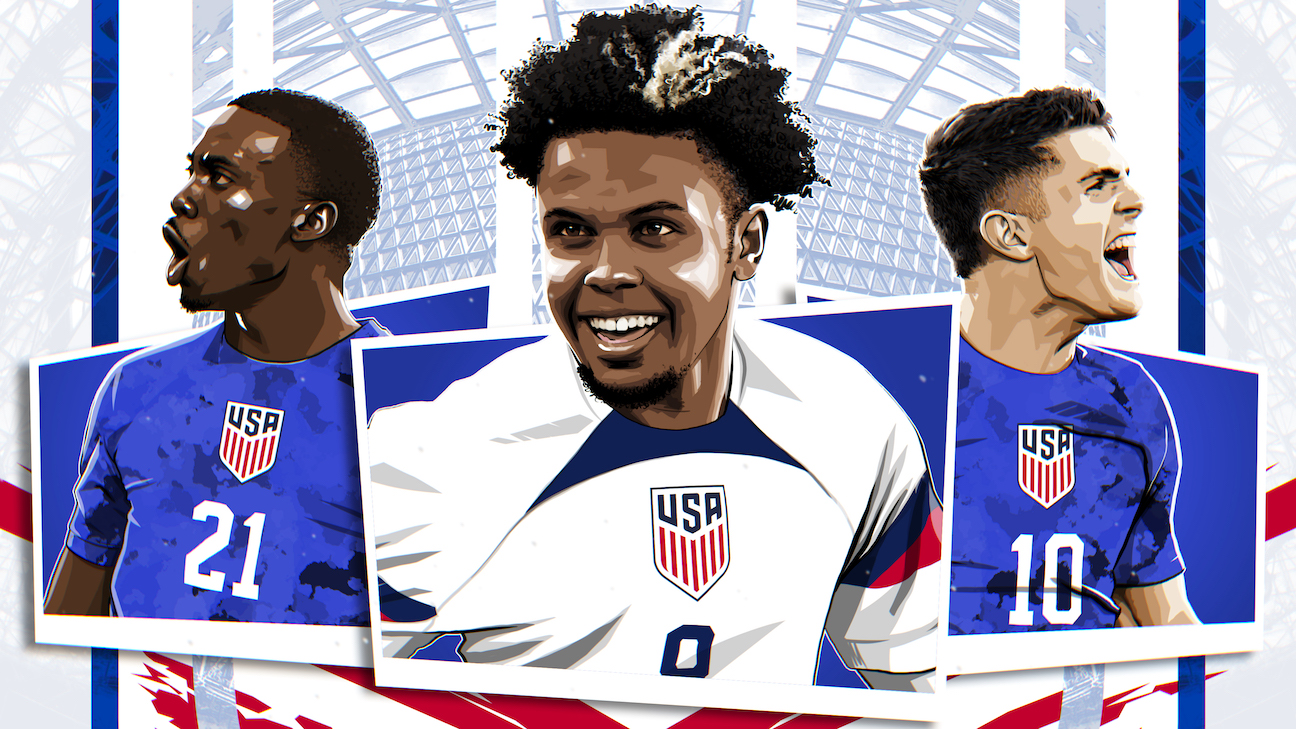 Jesus Ferreira
Age: 21
Club: FC Dallas (USA) | Position: Forward
Debut: Feb. 1, 2020 vs. Costa Rica
Appearances: 15 (seven goals)
Look for him to … Score, likely by using his speed (Second Spectrum data showed he was the second-fastest player in MLS in 2022). Ferreira isn't the prototypical No. 9, but he scored 18 goals for Dallas this season and has a unique skill set among U.S. striker candidates.
Notable or Quotable: "Cheetah — cheetah is my favorite animal of all time." — On what kind of animal he'd like to be if he wasn't a human (Ferreira wants to become a zoologist after retiring).
Josh Sargent
Age: 22
Club: Norwich City (England) | Position: Forward
Debut: May 28, 2018 vs. Bolivia
Appearances: 20 (five goals)
Look for him to … Provide versatility, as he can play both as a central striker and in the wider role he is often used in at Norwich. Sargent can be streaky — six of his eight goals this season came in a six-game stretch from mid-August to mid-September.
Notable or Quotable: "There will be hundreds of comments saying how great you are, how amazing you are. And that one comment that says you're the worst player will stay in your head all night." — On why he's one of the few USMNT players who stay off social media entirely
Haji Wright
Age: 24
Club: Antalyaspor (Turkey) | Position: Forward
Debut: June 1, 2022 vs. Morocco
Appearances: 3 (one goal)
Look for him to … Be a total X factor offensively, as he hasn't featured much with the USMNT but is their most dangerous No. 9. After scoring 14 goals last season, he has already scored 9 in 12 matches this year.
Notable or Quotable: Wright comes from an athletic family; one of his cousins is Joseph Addai, the former NFL running back who won a Super Bowl with the Indianapolis Colts in 2007.
---
CYBERSECURITY
Safety. Stability. Reliability. These are the guys charged with protecting U.S. assets. Gregg Berhalter needs them to keep things under control in the most fraught moments, and especially when being threatened by a rogue striker.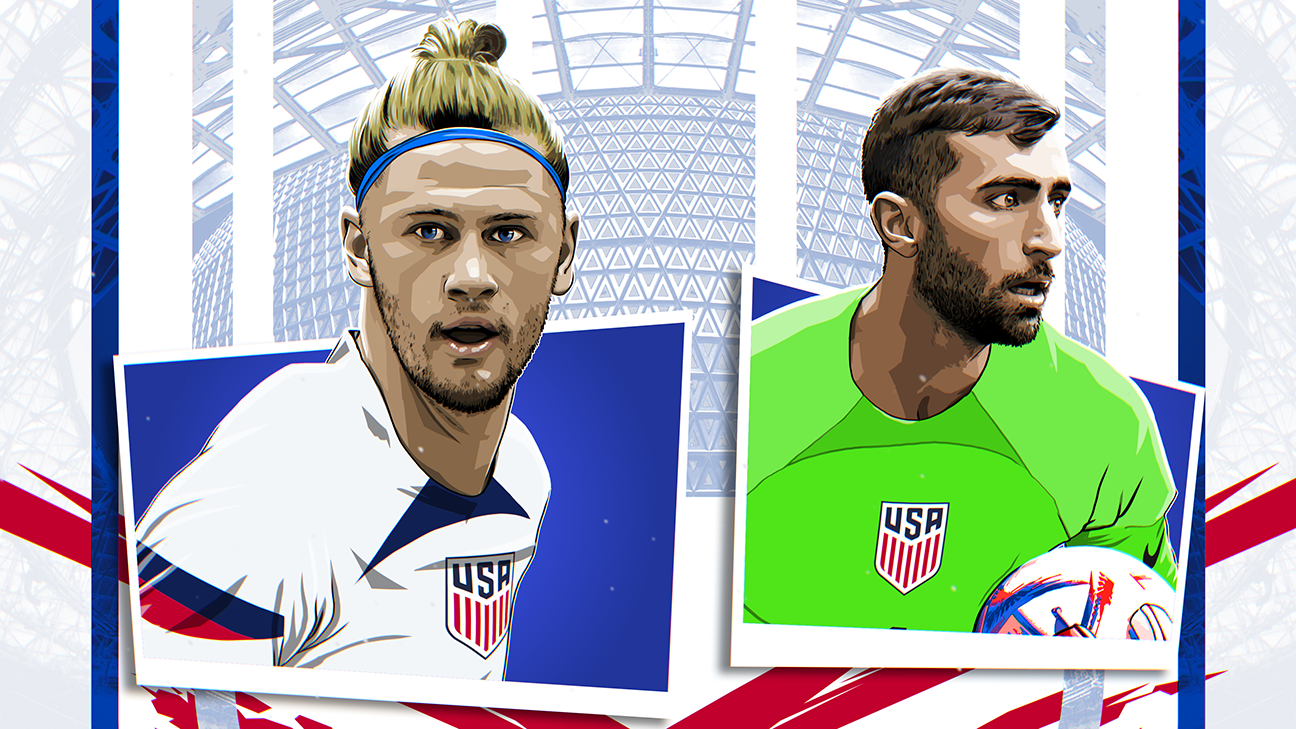 Matt Turner
Age: 28
Club: Arsenal (England) | Position: Goalkeeper
Debut: Jan. 31, 2021 vs. Trinidad & Tobago
Appearances: 20
Look for him to … Start in goal for the U.S. after the surprise omission of Zack Steffen. A relative latecomer to the sport, Turner's shot-stopping ability is top-shelf, but he does struggle to offer as much as other keepers when it comes to playing with the ball at his feet.
Notable or Quotable: "I decided to join soccer just to meet some new people and sort of integrate myself and stay in shape for basketball and baseball." — On why, at age 16, he decided to play on the soccer team at his new high school
Walker Zimmerman
Age: 29
Club: Nashville SC (USA) | Position: Defender)
Debut: Feb. 3, 2017 vs. Jamaica
Appearances: 33 (three goals)
Look for him to … Stabilize the backline, with the rare trip forward on a set piece or corner. Unlike the many young phenoms on the team, Zimmerman is a bit of an international late bloomer, but he has become a defensive mainstay under Berhalter.
Notable or Quotable: "I think it comes with a lot of responsibility. You're expected to kind of do the right thing, say the right thing. I took a lot of pride in that, and I think it helped develop me as a person." — On growing up with a father who was the pastor of a Baptist church
Aaron Long
Age: 30
Club: New York Red Bulls (USA) | Position: Defender
Debut: Oct. 16, 2018 vs. Costa Rica
Appearances: 29 (three goals)
Look for him to … Be safe and sturdy in defense, generally taking a conservative approach to marking. Like Zimmerman, Long is a veteran who has been overlooked (and sidelined by various injuries) for much of his career but now seems to finally have found his chance.
Notable or Quotable: "I think I led the league in interceptions that year — we went to the state finals, too." — On moonlighting as a cornerback and kicker on the high school football team his senior year
Cameron Carter-Vickers
Age: 24
Club: Celtic (Scotland) | Position: Defender
Debut: Nov. 14, 2017 vs. Portugal
Appearances: 11
Look for him to … Be assertive in duels and use improved passing skills to push for playing time at center-back. CCV is a quiet leader, too — when Callum McGregor got injured, Celtic turned to Carter-Vickers to stand in as their team captain.
Notable or Quotable: Was loaned by Tottenham to seven different teams over five years — Sheffield United, Ipswich, Swansea, Stoke, Luton, Bournemouth and Celtic — before finally signing a new permanent deal with Celtic in June
Tim Ream
Age: 35
Club: Fulham (England) | Position: Defender
Debut: Nov. 17, 2010 vs. South Africa
Appearances: 46 (one goal)
Look for him to … Defend fiercely and intelligently (which offsets a lack of speed). Ream isn't necessarily a perfect fit in Berhalter's preferred high-line system, but he's thriving at Fulham, and a slew of injuries to other U.S. defenders pushed him back onto the radar.
Notable or Quotable: Ream has lived through a series of emotional swings with Fulham: Over the past five years, he has been part of two relegations and three promotions.
Ethan Horvath
Age: 27
Club: Luton Town (England) | Position: Goalkeeper
Debut: Oct. 7, 2016 vs. Cuba
Appearances: 8
Look for him to … Compete for time as the backup to Matt Turner. With Steffen not selected, Horvath — who has been in excellent form for Luton and is particularly skilled at long-range ball distribution — will battle Sean Johnson for the No. 2 spot.
Notable or Quotable: Despite having only 8 caps, Horvath has already had a historic USMNT moment: in June 2021, he replaced an injured Steffen in the second half and made four critical saves, including a dramatic penalty save, as the U.S. beat Mexico 3-2 to win the Nations League final.
Sean Johnson
Age: 33
Club: New York City FC (USA) | Position: Goalkeeper
Debut: Jan. 22, 2011 vs. Chile
Appearances: 10
Look for him to … Provide a reliable pair of hands if the U.S. get into an emergency goalkeeper situation. Third keepers are (by definition) rusty whenever they're called on, but it's especially true for Johnson: Playing in MLS means his last game action came on Oct. 23.
Notable or Quotable: "I think I got my first cap when some of these guys were 10 or even younger." — On what it's like to be an older player on a young team
---
ENGINEERING
What does the foundation of the U.S. team look like? It's these players, the ones who build the American infrastructure, the ones who create the framework for the team's success. They're thoughtful and purposeful, dedicated to the system that could (should?) take the U.S. into the knockout rounds.
Tyler Adams
Age: 23
Club: Leeds United (England) | Position: Midfielder
Debut: Nov. 14, 2017 vs. Portugal
Appearances: 32 (one goal)
Look for him to … Be the engine for the U.S., with wide defensive field coverage and a steady sense for moving the ball. Adams embodies the "gritty midfielder" label, but he also shows the occasional flair for a colorful interchange with the wingers.
Notable or Quotable: "I do some of the dirty work that not everyone wants to do." — On what distinguishes him as a midfielder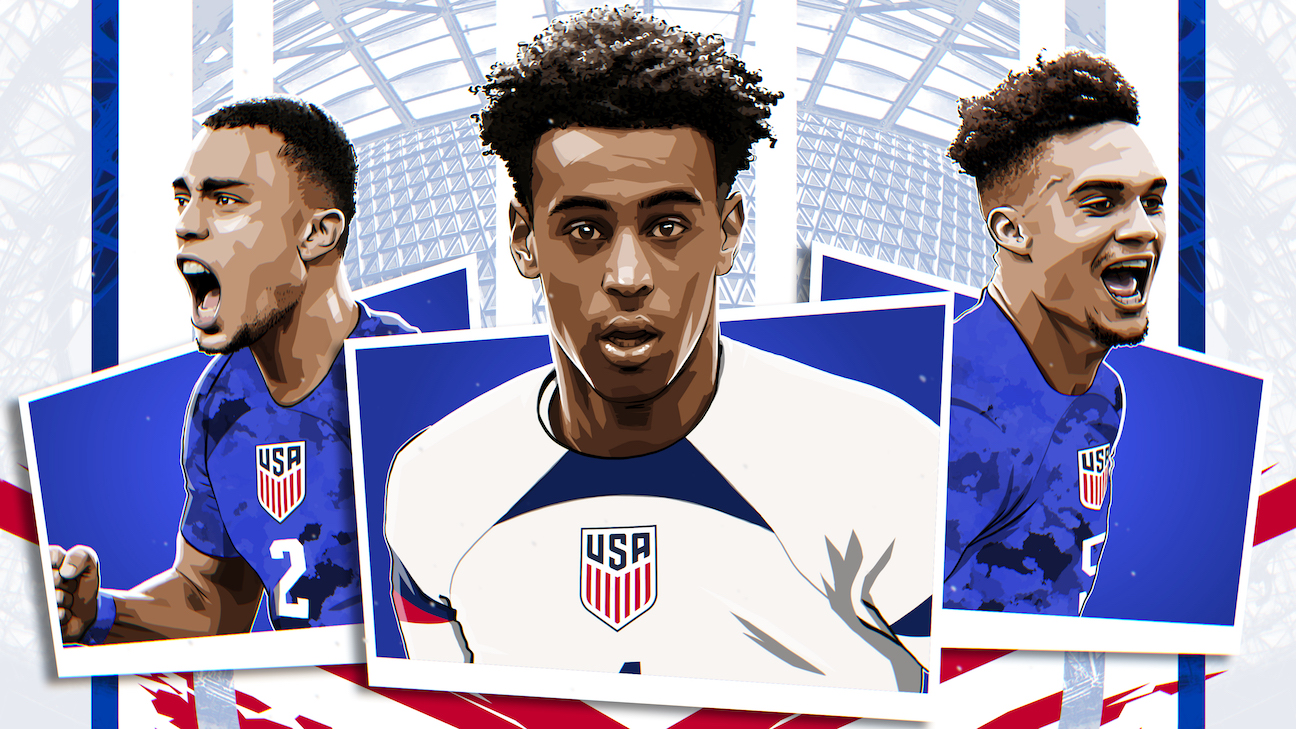 Sergino Dest
Age: 22
Club: AC Milan (Italy) | Position: Defender
Debut: Sept. 6, 2019 vs. Mexico
Appearances: 19 (two goals)
Look for him to … Wear out the right wing, making penetrating runs to link the U.S. defense and attack. Dest, who has battled injuries and muscle soreness, remains indispensable to the U.S. even as he has struggled to get the regular playing time he wants at Milan.
Notable or Quotable: "Orange chicken and fried rice — I always get that at Panda Express. The sweet chicken is just perfect." — On his favorite meal when he's in the United States
Kellyn Acosta
Age: 27
Club: LAFC (USA) | Position: Midfielder
Debut: Jan. 31, 2016 vs. Iceland
Appearances: 53 (two goals)
Look for him to … Be a steady hand off the bench in the midfield, particularly when it comes to set-piece delivery. Berhalter has talked often about the importance of intangibles with a young team, and Acosta is the embodiment of the idea.
Notable or Quotable: "I thought my national-team career was done. And it was a sad feeling because I experienced a lot but I felt like I still had a lot to give." — On going more than two years between call-ups before getting another opportunity in 2020
Cristian Roldan
Age: 27
Club: Seattle Sounders (USA) | Position: Midfielder
Debut: July 12, 2017 vs. Martinique
Appearances: 32
Look for him to … Read the game as well as any player on the field, allowing him to be serviceable off the bench in a variety of roles, either in midfield or on the wing. Throughout qualifying, Berhalter raved often about Roldan's tactical awareness and energy.
Notable or Quotable: Roldan had a choice when it came to which country he would represent internationally. While he chose the U.S., his younger brother, Alex, plays for the El Salvador national team.
Antonee Robinson
Age: 25
Club: Fulham (England) | Position: Defender
Debut: May 28, 2018 vs. Bolivia
Appearances: 29 (two goals)
Look for him to … Push forward (a lot) on the left, helping to create chances as well as attacking at the back post when the ball comes from the opposite side. Robinson is also a robust defender. Over the past year, he's been statistically top-level in blocks, clearances and aerials won.
Notable or Quotable: Often goes by the name Jedi, which he has been called since he was young because of his love for the Star Wars movies.
DeAndre Yedlin
Age: 29
Club: Inter Miami (USA) | Position: Defender
Debut: Feb. 1, 2014, vs. South Korea
Appearances: 75
Look for him to … Add versatility off the bench either as an attacking wing-back or in a more defensive role. Yedlin is the only player who has previously been on a U.S. World Cup roster: He played in three games during the 2014 tournament in Brazil.
Notable or Quotable: "We were just too complacent in the last game, too complacent going into it. So every game I play in, I try to just be in the moment. Because if you get too far ahead of yourself, things that are happening in the present will pass by you. And all of a sudden, you have like the situation what happened to us in 2018." — On the crushing feeling of failing to qualify for the World Cup four years ago
Joe Scally
Age: 19
Club: Borussia Monchengladbach (Germany) | Position: Defender
Debut: June 1, 2021 vs. Morocco
Appearances: 3
Look for him to … Offer insurance at full-back as a player who is stout in defense and likes to push forward, while also serving as an option at center-back. If he sees an opening in the attacking third, too, be ready: Scally has shown a penchant for shooting from distance.
Notable or Quotable: "I feel like the Europeans always think they're better in all these ways just because they're from Europe. So that's definitely one perception I've taken when I came over here: that they think we're just like NFL players running with the ball." — On how he feels European players see American players
Jordan Morris
Age: 27
Club: Seattle Sounders (USA) | Position: Forward
Debut: Nov. 8, 2014, vs. Republic of Ireland
Appearances: 49 (11 goals)
Look for him to … Give the starters on the wing a break and offer needed energy late in a game. Even at 27, Morris is still a speedster and can finish when given the chance: He scored seven goals for Seattle this season.
Notable or Quotable: The tattoo on his right forearm is of the caduceus, a medical symbol, with the characters T1D above it; it's there to let medics know, in case of an emergency, that Morris has Type 1 diabetes.
---
FINE ARTS
Inventive. Whimsical. Innovative. These are the creatives, the maestros for the U.S. They're the ones charged with unlocking the Americans' flair, the ones who will use their talents to showcase the beauty that lies within the U.S. team.
Gio Reyna
Age: 19
Club: Borussia Dortmund (Germany) | Position: Midfielder
Debut: Nov. 12, 2020, vs. Wales
Appearances: 14 (four goals)
Look for him to … Run with the ball at his feet, creating space and opening lanes for his teammates. Injuries have been regrettably constant for Reyna, but if he can stay healthy for the whole tournament, he figures to be a legit candidate for the team's most valuable player.
Notable or Quotable: Reyna's father, Claudio, was a USMNT legend, and his mother also represented the U.S. Danielle Egan, as she was known then, made six appearances (and scored one goal) for the USWNT in 1993.
Gio Reyna opens up about mental health while sidelined with injuries
Sam Borden chats with USMNT midfielder Gio Reyna about dealing with his mental health and his injury struggles.
Yunus Musah
Age: 19
Club: Valencia (Spain) | Position: Midfielder
Debut: Nov. 12, 2020, vs. Wales
Appearances: 19
Look for him to … Be assertive, both on the ball and defensively, as a critical piece of the McKennie-Adams-Musah midfield trio. Musah is one of the team's most complete players: In LaLiga, he's statistically strong among midfielders in everything from assists and dribbles to tackles and clearances.
Notable or Quotable: "I feel like we want to be on the field and express ourselves, and when you're on the field and trying to express yourself, I think the best version of yourself comes out." — On what he likes about the USMNT's philosophy
Brenden Aaronson
Age: 22
Club: Leeds United (England) | Position: Forward
Debut: Feb. 1, 2020, vs. Costa Rica
Appearances: 24 (six goals)
Look for him to … Never stop running, whether on the wing or centrally (and he may be used in both spots). Aaronson, whose energy has made him a quick fan favorite at Leeds, finds ways to open up the opponent: He's in the 94th percentile among midfielders when it comes to delivering key passes.
Notable or Quotable: "The way I would describe myself is just energetic — I like to get after it, I'm relentless. Anybody I've ever talked to says I'm like a little pest." — On how he tries to impact a game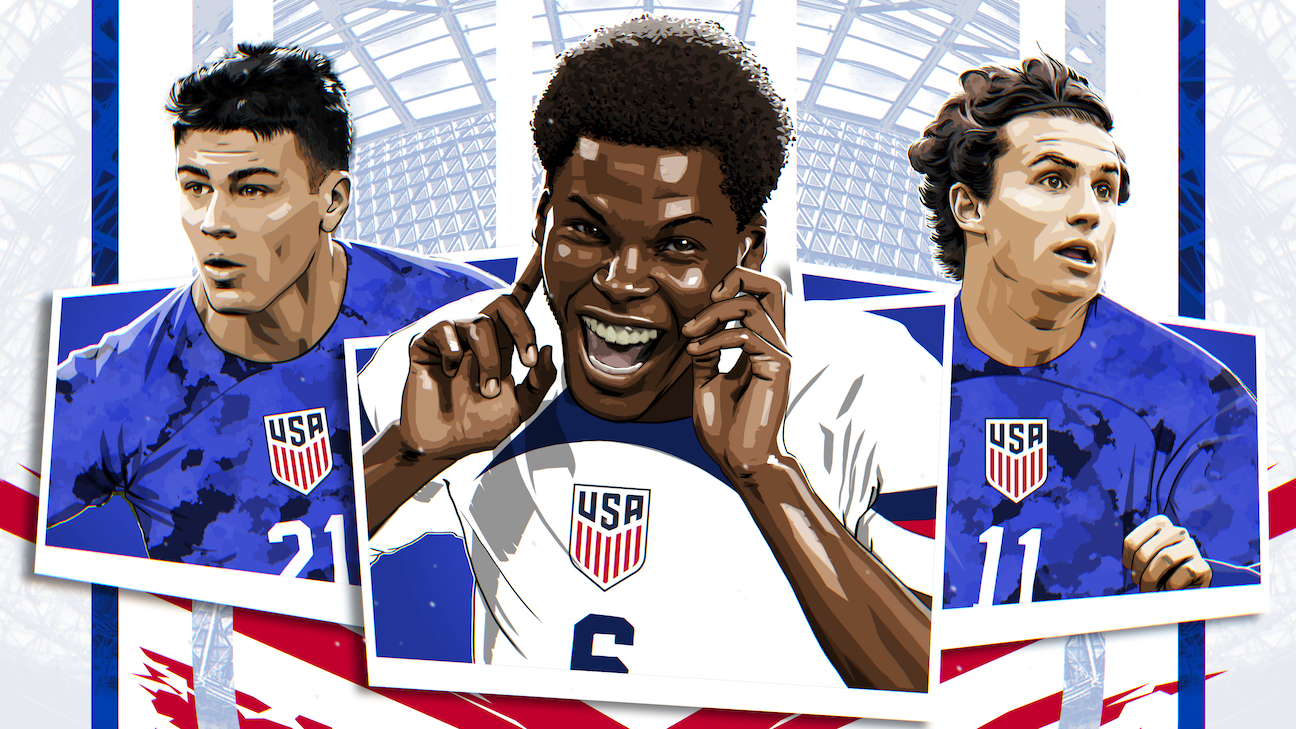 Luca de la Torre
Age: 24
Club: Celta Vigo (Spain) | Position: Midfielder
Debut: June 2, 2018, vs. Republic of Ireland
Appearances: 12
Look for him to … Make good decisions, utilizing excellent field awareness, when used as a rotational starter or substitute, though inactivity could be a concern. De la Torre hasn't played more than 20 minutes in a game for Celta Vigo this season.
Notable or Quotable: "I think I have a skill set where I try to put players around me in better positions. So, I think I can make other players better." — On his role with the USMNT
Shaq Moore
Age: 26
Club: Nashville SC | Position: Defender
Debut: June 2, 2018 vs. Republic of Ireland
Appearances: 15 (one goal)
Look for him to … Be an option off the bench at outside back, where he's a very strong tackler and aggressive in creating chances. After bouncing around Spanish clubs since 2015, he joined Nashville this summer for the late-season MLS playoff push.
Notable or Quotable: Moore has just a single international goal, but it's a memorable one: In the 2021 Gold Cup, Moore scored after just 14 seconds against Canada, setting the record for the fastest goal in USMNT history.
Leaving Zack Steffen out of World Cup was 'heartbreaking' – Gregg Berhalter
8:22 PM ET ESPN Jeff CarlisleU.S. soccer correspondent
United States manager Gregg Berhalter said it was "heartbreaking" to tell goalkeeper Zack Steffen that he had been left off the World Cup squad for Qatar.Steffen was thought to be a lock to make the team after featuring regularly for the U.S. during this World Cup cycle and battling Arsenal's Matt Turner for the starting spot during World Cup qualifying.Steffen was also viewed as a favorite of Berhalter's given that the two worked together at the Columbus Crew from 2016-18.But when the squad was announced on Wednesday Steffen was left off the team, with Turner, Luton Town's Ethan Horvath and New York City FC's Sean Johnson preferred."Me and Zach go way back, and Zach's been there for me a bunch of times," Berhalter said of Steffen during Wednesday's press conference after the squad announcement. "And to tell him he is not going to be part of the World Cup team was heartbreaking for me."But those are decisions that we made as a staff and we move forward and now it's about, 'Well, who do we have in camp and how are we going to be successful?'"
When asked from a technical perspective what went into the decision, Berhalter said: "I think it's more about who we do have, and the comfort level with the guys that are on the roster. We felt really comfortable with [Turner, Horvath and Johnson], and that's the direction we decided to go."Berhalter was also questioned about this choice of central strikers, with FC Dallas forward Jesus Ferreira, Norwich City striker Josh Sargent, and Antalyaspor forward Haji Wright chosen.The U.S. coach lauded Ferreira's link play, movement in the box, and ability to initiate the team's press. As for Sargent, Berhalter said the forward "does a lot of things well" and valued his physicality and familiarity with English and Welsh opposition, who will make up the U.S. team's first two opponents in Qatar.
Wright, who was something of a surprise selection given that he didn't play in a single World Cup qualifier, was praised for his aerial threat on set pieces, ability in transition and finishing. The striker selections came at the expense of FC Groningen forward Ricardo Pepi — scorer of three goals in CONCACAF qualifying — and Union Berlin's Jordan Pefok."I think when we were looking at this as coaches, we were evaluating Haji versus Jordan Pefok and that's what it came down to," Berhalter said. "And in this particular case we felt like Haji is in a great goal-scoring form."They're both are physical strikers. Jordan may be a little more, but Haji has pace. He's got the ability to go one-v-one, he's got finishing with his head, both feet and he's performing really well in the Turkish league."Berhalter added that timing also played a part in the Wright-Pefok decision."If we would've made the decision mid-September, Jordan Pefok would've probably been a lock to be in based on his former with Union Berlin," Berhalter said. "But since then, it's a different story now. Now Haji has come on more. So that was the tricky thing about it."As for Pepi, Berhalter said he lost out in a competition against Ferreira and Sargent."We felt it was valuable that Josh was playing in that competition where two of our three opponents are coming from," the U.S. coach added. "We think that that brings value. The Dutch League I think is a great league, but it doesn't bring the same physicality that the Premier League brings and the Championship brings."The U.S. begins play in Group on Monday, Nov.21, against Wales, followed by matches with England and Iran in its first World Cup since 2014.
San Antonio FC's Jordan Farr Voted Championship's Goalkeeper of the Year
By USLChampionship.com Staff, 11/08/22, 11:30AM EST
---
OUTSTANDING SEASON SAW OREGON NATIVE EQUAL SINGLE-SEASON SHUTOUT RECORD AS SAFC EARNED BEST RECORD
TAMPA, Fla. – San Antonio FC's Jordan Farr was on Tuesday named the 2022 USL Championship Goalkeeper of the Year, honoring a career-best season for the 28-year-old that saw him equal the league's single-season shutout record and finish second in the race for the Championship Golden Glove while helping San Antonio earn the best record in the 2022 regular season and a first trip to the USL Championship Final.
Farr is the second San Antonio FC goalkeeper to have claimed the award, following Diego Restrepo's award in the 2017 USL Championship season.Farr signed with San Antonio this offseason having served as an emergency loanee for the club last postseason after an injury to starter Matt Cardone saw him acquired from Indy Eleven. A run to the Western Conference Final under SAFC Head Coach Alen Marcina before the side fell in a penalty shootout made a big impression on Farr. "I remember going into the coach's office at the end of the Orange County game last year, and I didn't know if I was going to see them again, I didn't know what the future held," he said. "But I remember seeing [Marcina's] disappointment, and seeing how much he wanted it, and in that short month how much I felt that I was ingrained into the fabric of the team and to feel those feelings of sorrow and closeness to achieving something great."Farr wasn't initially San Antonio's starter to begin the 2022 campaign, but after the early-season departure of Cristian Bonilla after three games, he grabbed his opportunity. That's the way it's often had to be for the Salem, Oregon native, who played at NAIA program Corban College and in USL League Two prior to finding an opportunity with Indy prior to the 2018 season.
"For guys like me, coming from where I've come from, don't normally get recognized at this level or even get a chance to play at this level," he said. "This means a lot for not only me but my family. Every coach and teammate that believed in me. This goes to my wife, I can't do anything without her. And for us as a family, it validates a lifelong dream of being a professional soccer player playing at one of the highest levels."Off the field, 2022 has been a memorable one as well for Farr and his wife, Ale, who in October welcomed daughter Evie Jean Farr to their family. "It's amazing to look back and see how much can change in one year," he said. "It's crazy how God works, and we kind of have to pinch ourselves every once-in-a-while to make sure we're not dreaming."
Next for Farr is the chance to cap his year in this Sunday night's 2022 USL Championship Final (8:30 p.m. ET | ESPN2 | ESPN Deportes | SiriusXM FC) in which San Antonio looks to become the first team to lift the trophy after ending the regular season with the best record since the New York Red Bulls II side that featured current United States Men's National Team players Tyler Adams and Aaron Long in 2016. "We're just really proud as a family to represent ourselves well but also represent San Antonio well," said Farr. "And I credit that to our team. This award's impossible to win on your own, and I couldn't be happier to play on a team like this."Farr earned 48 percent of the ballot to claim the award, while Louisville City FC's Kyle Morton took second place with 39 percent, and Phoenix Rising FC's Ben Lundt took third place on 12 percent.The 2022 USL Championship Awards were voted on by team technical staffs and executives and a league-wide media panel that included representation from every USL Championship market. Voting was conducted following the conclusion of the 2022 Championship regular season.
LAFC finds Hollywood ending, beats Philadelphia on penalty kicks for first MLS Cup title
By Sam StejskalNov 5, 2022 athletic
---
LAFC beat the Philadelphia Union to win its first MLS Cup in unbelievable fashion Saturday at Banc of California Stadium. Here's what you need to know:
LAFC got a 128th-minute equalizer from Gareth Bale to bring the game level at 3-3 and force penalties, where backup goalkeeper John McCarthy, a former Union player and Philadelphia native, made two saves to lead the Black and Gold to an unreal win.
McCarthy, who was named MVP, was substituted on after starting keeper Maxime Crepéau was carted off with an injury — and got a red card — late in extra time.
LA is the eighth team in MLS history to win both the Supporters' Shield and MLS Cup in a single season.
How it happened
The two teams traded goals in the final 10 minutes of regulation and in stoppage time of the second period of extra time, which was extended by nine minutes because of the brutal injury suffered by Crépeau. Crépeau was shown a red card for his role in the play, on which he brought down Philadelphia forward Cory Burke, who otherwise would've been alone on goal.Center back Jack Elliott scored his second goal of the match to put the Union ahead 3-2 in the 124th minute, tapping home a rebound from close range following an incredible initial save by McCarthy. Bale, who arrived this summer to huge fanfare but came nowhere near living up to expectations this season, somehow answered four minutes later, rising above Elliott to head home a cross to make it 3-3. It was the latest goal in MLS history, breaking the record set four minutes earlier by the same man he beat to the equalizing cross.McCarthy, who was born in Philadelphia, went to college in Philadelphia and spent the first four seasons of his MLS career in Philadelphia, stole the show in the shootout. Both teams missed their first attempt, with Union goalkeeper Andre Blake saving Cristian Tello's weak effort before Philadelphia midfielder Daniel Gazdag slipped on his runup and sent his shot over the bar. McCarthy then saved the Union's next two attempts, denying Jose Martinez and Kai Wagner, while Denis Bouanga and Ryan Hollingshead converted the subsequent two attempts for LAFC to make it 2-0 heading into the fourth round of kicks.Ilie Sanchez took it from there, narrowly beating Blake with a penalty to the bottom right corner to give LAFC the title.
The match, as MLS commissioner Don Garber said just before he presented the trophy to LAFC captain Carlos Vela, was "Major League Soccer at its very best." It was one of the best in league history, an incomprehensibly dramatic battle between the two best teams in the league this season in front of a raucous crowd at a state-of-the-art stadium. It was far from the prettiest game of soccer, but what it lacked in beauty it more than made up for in excitement, with LAFC eventually emerging as champions.
While LA ended the day on top, Philadelphia was actually the better team for most of the opening half hour, comfortably playing over and around LAFC's pressure and tilting the field toward the Black and Gold's goal. LAFC still managed to score first, however, taking the lead against the run of play in the 28th minute.Martinez committed a sloppy turnover in the Union half, then chopped down LAFC striker Chicho Arango to give the hosts a dangerous free kick 25 yards from goal. Midfielder Kellyn Acosta stepped up to the free kick, firing a shot that deflected off the head of Union midfielder Jack McGlynn, flew past a wrong-footed Blake and went into the bottom corner to make it 1-0.LAFC improved after going ahead, nearly making it 2-0 in the 39th minute. Vela created the chance, playing a gorgeous ball directly into the path of an onrushing Diego Palacios in the left side of the area. Palacios attempted to play the ball back across the face of goal and into the path of a teammate, but Blake made a tremendous play to deflect the ball out of danger.LAFC had another good look in the 41st minute, when Acosta nearly picked out Vela at the right post with a driven cross. Vela couldn't quite reach the ball with his outstretched leg, otherwise he would've had a tap-in goal.The Union's best chance of the first half came a couple of minutes later. Bouanga played an errant back pass directly to Philadelphia forward Julian Carranza, who quickly played fellow forward Mikael Uhre into the penalty box. Uhre beat center back Sebastian Ibeagha, but defender Jesus Murillo and Crépeau quickly converged to prevent him from putting a shot on target.
Philadelphia equalized in the 59th. Martinez collected a recycled set piece and attempted an ambitious shot from about 35 yards out, but didn't get much power on the effort. That ended up working in Philadelphia's favor, with the ball rolling directly into the path of Gazdag, who collected, turned and calmly slotted his shot past Crépeau to make it 1-1Neither club was able to generate much else until the 83rd minute, when Murillo headed home a Vela corner to retake the lead for LAFC. Vela curled in an inswinger from the right side, with Murillo beating Martinez to the ball and heading home from six yards out at the near post.With the clock winding down and Philadelphia struggling to generate chances, LAFC looked like a safe bet to hold on for the title, but Elliott stunningly pulled the Union level in the 85th. Wagner, who tied for second in the league with 15 assists in the regular season, whipped a free kick into the box from the left sideline. The 6-foot-6 Elliott lost his mark, got on the end of the cross at the near post and powered a header in from 10 yards. Crépeau actually got a hand to the shot, but the ball had too much pace for him to keep it out.All four goals in regulation came directly from or immediately after set pieces, appropriate for a game in which both teams struggled to string together sustained attacks.The Union had a scary moment in the second minute of extra time. Blake came out of the box to sweep up a Vela through ball, but Bouanga blocked his attempted clearance. The ball redirected toward the goal, but Bouanga couldn't quite get to it before it trickled over the line and out for a goal kick.Philadelphia had a chance in the 104th. Wagner curled in a cross from the left that popped high into the air after it was deflected by an LAFC defender.Carranza maneuvered himself underneath it in the right side of the area, heading a looping shot toward that far post that only narrowly missed the top corner.The second half of extra time was marred by the brutal collision between Crépeau and Burke in the 110th minute. Union right back Olivier Mbaizo played a long clearance out of his own box to midfield. Burke challenged for it, but the LAFC center backs appeared to have it handled, with Murillo running onto the ball and playing a pass back to Crepéau. He underhit the pass, however, and Burke continued his run. Crepéau came out of the box in a desperate attempt to clear the danger, but slid in late and fouled Burke, who would've been in on goal had he not been brought down.Referee Ismail Elfath initially only gave Crepéau a yellow card for the challenge, but changed it to a red after review, bringing LAFC down to 10 men for the remainder of the match.Both players went down injured, with Crepéau appearing to suffer a serious leg injury; neither Fox nor Univision showed replays of the incident in an apparent attempt to avoid showing the gruesome collision. The game was stopped for nearly eight minutes as both Burke and Crepéau received treatment. Crepéau was eventually taken off on a golf cart, replaced by McCarthy. Burke attempted to continue playing, but he had to be subbed out shortly after play resumed.The delay led to a remarkable nine minutes of stoppage time, which, even more remarkably, included two more goals.Elliott scored the first in the 124th. LAFC initially dealt with a Philadelphia corner, but the Union kept them pinned in the final third, serving ball after ball into the box. Wagner had the final delivery, hitting a cross from the right side that Carranza and Sanchez contested at the back post. McCarthy made an incredible reaction stop to keep out the redirected shot, but Elliott pounced on the rebound, tapping home from close range to give the Union a 3-2 advantage.That should've been it. It wasn't. LAFC somehow hit back, with Bale, who had been so quiet all season, getting the crucial finish in the 128th. That set up the shootout, where McCarthy took over, leading LAFC to their first-ever league title directly in front of the club's supporters' section.
How Gareth Bale and a backup goalkeeper contributed to the greatest ever MLS Cup match
Jeff RueterNov 6, 2022
As the second half of MLS Cup progressed, it looked like Gareth Bale wouldn't play a part in the biggest match in Los Angeles FC's five-year history.Bale was brought in over the summer after his contract with Real Madrid expired, and he arrived with every intention to play enough minutes to prepare for the upcoming World Cup after making just a handful of appearances last season for his previous club. He worked with the club's staff to build a load management plan that would simultaneously benefit the Welshman and the Western Conference leaders. However, he followed infrequent availability during the regular season with a knock that kept him from participating as LAFC began its quest to win a first postseason title.By the week of MLS Cup, Bale and the staff agreed he could play 25 to 30 minutes — if LAFC needed a goal, that is."I knew if the game was close, then yeah, I'm obviously a good player to call upon," Bale said with a self-aware smirk after the match, and who can blame him?
To chronicle Bale is to document more goals in big moments than many clubs experience in a century. There was his levitation act in the 2014 Champions League final against Atlético Madrid and his lung-busting run in the Copa del Rey final against Barcelona the same year, then a pair — including an overhead stunner — against Liverpool in 2018. There have been a slew of vital goals for Wales as they made Euro 2016 and the 32-team field for Qatar, and Tottenham fans have a whole catalog from which to choose their favorite.LAFC signed Bale with every hope that he had an iconic goal or two left to contribute. Unfortunately, he entered Saturday with just 347 minutes played to show for his $2.39 million salary.As fate would have it, he needed just 23 more to make clear that he was, in fact, priceless."You see there's so many players that are dropping out, and now they are missing the World Cup," Bale said of his infrequent availability. "It's been difficult mentally, and I'm sure it has been for a lot of players going into the World Cup. For sure it's been in the back of my mind, trying to make sure I'm 100 percent fit. Today, obviously, I felt good enough to come on the pitch and help the team."When Bale entered for Carlos Vela in the seventh minute of extra time, he was given a singular focus. The match was still level at 2-2, and surely it would just take one connection with the ball to send the home faithful into rapture. However, an already excellent match took a turn for the unforgettable, and by the 128th minute, it appeared that Los Angeles would once again fall short of their desperate push to win MLS Cup.Then came the Bale-out in the form of the latest goal in MLS history to equalize at the very end of extra time and send the match to a shootout."It's always nice to score in finals, and I seem to have a knack for doing that," Bale said. "It's big. It's important for the club. It's important for the fans."The emphatic header was vintage Gareth Bale — needing just one opportunity to come through in the clutch. Still, the game wasn't yet won for LAFC as Bale ran to the corner flag to celebrate with the fans. It was just another stunning moment in the most incredible game in the history of MLS.
---
The overshadowed excellence of Jack Elliott
Fans spent their Saturday morning milling about outside of Banc of California Stadium before the 1 p.m. kick off. The smell of bacon-wrapped hot dogs and fajitas on the grill narrowly powered through that of some other California greenery being ignited. Dozens of vendors prepared identical tubular entrées while beckoning fans to order another cerveza.
While the Black and Gold were out in full force, they weren't alone. Three sections worth of Philadelphia Union fans were also in attendance, though many steered clear of the tailgate. One embraced his heel turn by walking down the street that had been blocked off for the occasion, holding his Union scarf high as he was booed by most he passed. Another quintet of fans kept just outside of the congregation, each wearing jerseys with the No. 3 on the back.When asked if they'd come all the way from Philadelphia, one of them, a six-foot-tall blonde man, replied: "No, I'm from London," he said, looking confused. "I'm Jack Elliott's brother."It was five years ago, also in Los Angeles, when the center back was selected 77th overall in the MLS SuperDraft. By the time the West Virginia University defender was taken by the Union, three teams had passed on the opportunity to make a pick — deciding they were better off not taking any player than getting the rights to Elliott or another collegiate player at that point.
His brother predicted a 5-1 win; another in the group asked if 7-0 was a reasonable guess. While both were bullish ahead of the biggest game of Elliott's career, neither could have imagined him playing as crucial of a role as he would. The defender drew the match's first yellow card in the 14th minute, forcing him to take a more conservative approach in front of goalkeeper Andre Blake. Fortunately for the Union, he was able to avoid a second yellow throughout the rest of the match, keeping him on the field to score a set piece equalizer in the 85th minute — just two minutes after LAFC thought they'd won it in similar style to go up 2-1.As the match extended into extra time, Elliott stayed out there, tracking both Vela and Bale as they led the line. Then, in the fourth minute of added time in extra time, Elliott scored his second goal of the day to give Philadelphia what seemed like an untouchable 3-2 lead.It's bound to be one of MLS' great forgotten goals — for a few moments, it was the latest goal in the league's history. Four minutes later, both the lead and that distinction were cruelly taken away from him thanks to Bale's gilded forehead. While Blake, Kai Wagner and Jakob Glesnes (who also won defender of the year) represented the Union defensive corps on the league's year-end best XI, head coach Jim Curtin took Elliott's performance as an opportunity to highlight the importance of Philly's SuperDraft steal."​​I thought Jack Elliott is a guy that maybe flies under the radar," Curtin said. "So many others got individual accolades this year, and sometimes they can't choose so many players from one team, and I understand that. Maybe he got overlooked quite a bit. An incredible final from Jack, a great performance."And as incredible as it was, it will likely still fly under the radar given everything else that happened in this match.
---
Crépeau puts MLS Cup above the World Cup (sort of)
Since making his debut for Canada's national team in 2016, goalkeeper Maxime Crépeau has earned only 15 caps due to Milan Borjan's firm grip on the position, but he has remained a regular inclusion in John Herdman's rosters and was all but guaranteed to make the roster for this month's World Cup.
Although Crépeau's international standing has been secure, he struggled throughout much of Saturday's match. By the time Elliott scored the equalizer that sent the match to extra time, Crépeau had failed to stop either of Philadelphia's only two shots on target.
As the 110th minute neared, Crépeau was determined to redeem himself. Center back Jésus Murillo had underhit a pass toward the Canadian, and the Union's Cory Burke eagerly ran onto the ball as Crépeau darted out of his box. It was a high-stakes chase between two players hunting for glory. Unfortunately, Crépeau came a bit later than the speedy Jamaican, and was eventually shown a red card for denying a clear goalscoring opportunity.
However, by the time he was shown that red card, he was being loaded onto a cart since the collision with Burke left him in excruciating pain with a fractured leg.
Despite some miscues earlier, Crépeau was there when his team needed him, sacrificing his body and so much more. Granted, the sweeping act left his team a man short for the final three minutes plus eight minutes of stoppage time, but he kept Burke from scoring before Elliott or Bale played their final part in the action. Ultimately, it kept his team in the game at the expense of his World Cup trip.
"He made a big-time decision by coming out and making that play," McCarthy said after the game. "I'm absolutely devastated for him because it seems like it's a pretty serious injury and he's going to miss the World Cup. I don't know the extent of it, but if you come out of a game in that situation, you're not coming out for a Band-Aid."
---
McCarthy faces old friends
When McCarthy woke up on Saturday, he didn't expect to take the field.
The LAFC backup goalkeeper had featured just twice in competitive action during his first year with the club. The first appearance was a U.S. Open Cup third-round match against second-division Orange County SC on April 20 that resulted in a 5-1 victory, and the other came a few weeks later in a loss at Colorado. Still, he knew two scenarios could bring him into the game.
"It was crazy to talk to family and friends the past three weeks," McCarthy said of the postseason run. "'Hey, if PKs come around, I might have an opportunity to play.' Or if something tragic happened, which it did, I might have an opportunity to play."
Just moments after the Fox commentators discussed McCarthy's previous success in penalty shootouts and how LAFC head coach Steve Cherundolo might opt to substitute him in near the end of extra time for that reason, the injury to Crépeau forced the manager's hand.
But where did Cherundolo get the idea to use McCarthy as a shootout specialist? From the Philadelphia Union, McCarthy's hometown club. McCarthy played parts of four seasons for the Union, and in the 2015 U.S. Open Cup final against Sporting Kansas City, Curtin made the bold move to pull Blake for McCarthy at the end of extra time so he could be in goal for the shootout.
Back in the present, LAFC's Cristian Tello started the shootout with a tame penalty attempt that was smothered by Blake. It seemed like McCarthy would need to bail his team out.
Fortunately for him, Philadelphia's Gazdag slipped and sent his follow-up attempt into the supporters section. Then McCarthy saved the ensuing penalty taken by José Martínez after the Venezuelan attempted a stutter-step approach. When Wagner stepped up next, McCarthy again dove to parry the penalty away from goal. LAFC went on to win the shootout and McCarthy became the fifth goalkeeper to win MLS Cup MVP, needing just 13 minutes to do it. It was such a whirlwind that McCarthy had begun to walk back to the goalmouth for a fourth shot from the Union that wasn't meant to come. Only when midfielder Ilié Sanchez converged on him did he realize his shift was over.
"To be put in that moment and come on, I just was hoping we find a way to keep it clean and then save a PK and hopefully something good happens," McCarthy later said. " But it's a dream come true. And I had no idea when Ilié scored that it was done. I had no clue. I was walking towards the goal, and Ilié scared the (expletive) out of me."After the match, McCarthy played the role of reluctant hero as he gnawed on a corner piece of a tavern-cut pizza. It wasn't just false modesty or a subdued celebration due to the sequence which had led to his inclusion in the game, though.
"To be a Philly kid and play against my hometown team in their first MLS Cup, it's something special," McCarthy said. "I would root for them any day of the week besides today, and I genuinely mean that. There's a lot of good people in that organization, and they mean a lot to me. From that aspect, they have a lot of meaning in my heart, but there's something that the group of people there actually taught me: when you cross a white line, (it) doesn't matter who you are playing against. You play to win."
It was going to take something remarkable for anybody but Bale to win the MVP honor. As it turned out, no player was better prepared to outdo the global superstar than a backup goalkeeper.
After the game, cameras caught McCarthy FaceTiming with Crépeau in the middle of the celebrations, repeatedly expressing his love for his absent teammate. In Steve Cherundolo's post-match press conference, a team employee brought his phone to the front of the room, where the injured goalkeeper was able to see his coach and the assembled media for a congratulations on the triumph.If Crépeau is able to recover and return to starting status, he should still be in line to challenge for playing time when Canada co-hosts the World Cup in 2026. For now, however, he'll have to make due with wearing his MLS Cup winners' medal in his hospital bed.
---
Cherundolo instantly proves himself
While Curtin was forced to take a gradual approach to becoming one of MLS' great coaches, his the man leading the opposition on Saturday cut right to the chase.Just 12 months ago, Cherundolo hadn't been preparing for LAFC's 2022 season. He was still toiling in the second division."I was preparing for the USL season with the Las Vegas Lights again, to be honest with you," Cherundolo said on Friday, "finishing their roster and was partaking in the MLS roster for LAFC, as well. Then obviously, things changed pretty quickly."On November 18, 2021, Bob Bradley resigned from his post as the only head coach in LAFC's brief history to try turning Toronto FC around. Bradley had been among the earliest sporting hires made by LAFC, and his departure left many outside of the club wondering if they'd need a rebuilding phase after missing the playoffs for the first time since joining the league in 2018.
When Cherundolo was interviewing for the job, he didn't want to propose a clean slate. In fact, he hardly even saw a need to take an eraser to the club's longtime plan."What's working, hold onto, and what's not working, change," Cherundolo said after the triumph. "That was my approach in the interview process and I was able to convince the right people to give me a shot, and I think they are happy with their decision now."The former U.S. national team defender took the pragmatic approach to revitalizing the Black and Gold, preaching balance and an aversion to the concept of pressure. It galvanized the newcomers to the team and the old guard alike, bringing an air of confidence back into a humbled locker room.Three years ago, Cherundolo was out of a job. He had left his longtime home at Hannover and a brief pair of roles in 2018 with Stuttgart and the U.S.'s senior team under then interim manager Dave Sarachan. In early 2021, Cherundolo told media he had interviewed for multiple MLS vacancies before heading up Las Vegas in the USL. On Saturday, he added an MLS Cup triumph to the season's prior Supporters' Shield capture.So much for a rebuild."Yeah, it's pretty wild," Cherundolo said. "This business as a coach or as a player is not plannable. Things happen. You need to be ready for them. The worst thing you can do as a coach is jump into a situation you're not prepared for. So during those times when you are looking for the right job or looking for a job, it's about preparing yourself when it does come."I felt very well prepared for this job, and I think maybe (winning) two titles speaks for itself."
---
Vela gets a taste for silverware
After the 2021 season, Bradley wasn't the only franchise mainstay to wonder what other opportunities he might find. Carlos Vela was the team's first signing and first designated player. In 2019, he won MVP with arguably the greatest individual campaign in league history, scoring a league-record 34 goals and adding 15 assists. By 2022, he had begun to slow a bit, as Second Spectrum data showed he had lost half a meter per second on his sprint speed.With his contract set to expire at the end of June this season, he mulled over his options. Ultimately, however, he found his desire to deliver an MLS Cup to LAFC too strong to overlook."Everything in life needs to change sometimes," Vela said on Saturday. "When something is not getting the way you want, you have to move things. You have to try something different, and that is what the club did. In my case, I was not thinking of Bob Bradley — I was thinking about myself. I finished my contract and (was) thinking about if I (should) stay here or not. In the end, we talk about the future, and say, 'Come on, we need the trophy before I can leave the club or I can retire. Give me the chance.'"While he may not be the same pacey winger he once one, Vela was still impactful in 2022. Still the club's captain, he made his third MLS best XI since 2018 with a 12 goal, 11 assist campaign. In his first full season since that record-shattering display, he helped quickly bring fellow global stars Bale and Giorgio Chiellini (who didn't feature on Saturday after suffering a muscle injury against Austin last week) into the fold.
Vela wasn't a 90-minute player for much of the home stretch, and his attempt to play on into extra time was cut short for Bale's cameo. But he finally won the first true league title (not counting the Supporters' Shield) of a career that also included stints with Arsenal and Real Sociedad. He compared watching Crépeau's injury from the sidelines as "a Halloween film" before Bale's goal and McCarthy's heroics turned it into a "Hollywood movie." When asked what his future held, he quickly suggested he test his luck with a trip to Las Vegas.After months spent in a contract standoff, he's now locked in for 2023. After finally lifting the Philip F. Anschutz trophy on Saturday, he may stay even longer."I want to still be here," Vela said of his future. "I want to enjoy the CONCACAF Champions League, the new (Leagues) Cup is coming — and win more. When you get a trophy, you want more. Maybe it's a bit selfish, but ah, how cool it is. So I want more. … This is special, the first one, but if you get more, you can say 'okay, I can retire now.' So maybe one more, two more and I retire. So take me for a couple of years."
---
Glitz, glamor and growing respect
For a league that sometimes operates with an unhealthy inferiority complex, this MLS Cup was a perfect combination of drama and spectacle worthy of the Hollywood matinee it was set up to be. LAFC co-owner Magic Johnson addressed the crowd before kickoff, Rob McElhenney and Colin Hanks brought out the trophy and, throughout the game, cameras highlighted the stars among the 22,384 in attendance: Justin Bieber, LAFC co-owner Will Ferrell, Wiz Khalifa and Sia, to name a handful.That's not to say a league is undeniably respected if Justin Bieber can be found sitting pitchside with a mystery beverage in hand, but how many leagues in the world can claim such a hybrid of entertaining play and celebrity endorsements?MLS is in a very different place than it was even when LAFC first began play in 2018. Its teams are getting more adept at nimbly operating within the league's wonky roster rules, building greater depth and bringing in top talent beyond their three designated players. Coaches are getting increasingly diverse with their tactical approaches, and the days of most teams playing in similar styles and formations are fortunately behind us.On Saturday, MLS played its final game of the pre-Apple broadcast deal era with its two greatest teams of the year squaring off. They delivered arguably the league's wildest and most unforgettable contest, and while neither team was flawless — the teams' combined 71.6 percent passing rate was only better than New York Red Bulls' putrid 66.6 percent clip this year — they both came through to exceed any reasonable expectation for this year's MLS Cup.In total, this myriad of storylines only affirms MLS' growing stature — and they combined for an amount of showtime glamor even Magic Johnson had to admire.
Leeds United and chaos: Why Jesse Marsch's side have embraced high-risk, high-reward soccer
Nov 8, 2022 EPSN+ Ryan O'Hanlon
If you've watched a single Leeds United match this season, you've likely had one of two reactions: "OH MY GOD, WHY DOESN'T EVERY TEAM PLAY THIS WAY?" Or: "OH MY GOD, WHY WOULD ANY TEAM PLAY THIS WAY?" And, well, if you watched Leeds United play AFC Bournemouth on Saturday, you likely had both of those reactions before you had lunch.
Amid the chaos, it seemed like Jesse Marsch's job was on the line two weeks ago. Hell, the Leeds manager even said as much after a 3-2 loss to Fulham on Oct. 23. That marked four defeats in a row, and the result pushed the club into the relegation zone.
"I'm not done here," Marsch said. "But I'm not dumb. … I understand that, if we don't win, I put the board in a difficult position."
If you wanted to read into body language, you could've said the players seemed defeated. And if you wanted to read into the history of the relegation battle, you could've said that a team that continued to insist on pressing high and trying to score lots of goals was doomed. From a certain, traditional vantage point, it certainly looked like Leeds had to make a change. They were, in an overused word, naive.Since then, they've won twice, and in increasingly thrilling fashion. First, a 2-1 win at Anfield, thanks to an 89th-minute goal from 21-year-old Charles Dickens protagonist Dutch winger ​​Crysencio Summerville. Then, at home to Bournemouth, they blew a 1-0 lead, were down 3-1 by minute 50, and won the match, 4-3, thanks to another Summerville goal in the 84th minute. All of a sudden, they're all the way up in 12th place.Winning games this way might still feel unsustainable, but that's to misunderstand what this team is trying to do. When I talked to Marsch for my book, "Net Gains: Inside the Beautiful Game's Analytics Revolution," he told me: "I love scoring goals way more than I love giving them up. If we're winning 2-0, I'm always thinking about 3-0 and rarely thinking about protecting 2-0."The volatility of these first few months? That's the whole point.
Leeds are normal
Despite everything you've seen and everything you just read, Leeds United are basically an average Premier League team.Through 13 games, they've scored 1.5 goals per game (10th in the league) and conceded 1.7 (tied for 14th) for a per-game differential of minus-0.2 (tied for 11th). They've been slightly better than their goals or points suggest, too. They've created 1.5 expected goals per game (7th) and conceded 1.4 (tied for 10th). Their cumulative xG difference is plus-1.3 — eighth in the league, one spot behind Liverpool and better than Manchester United and Chelsea.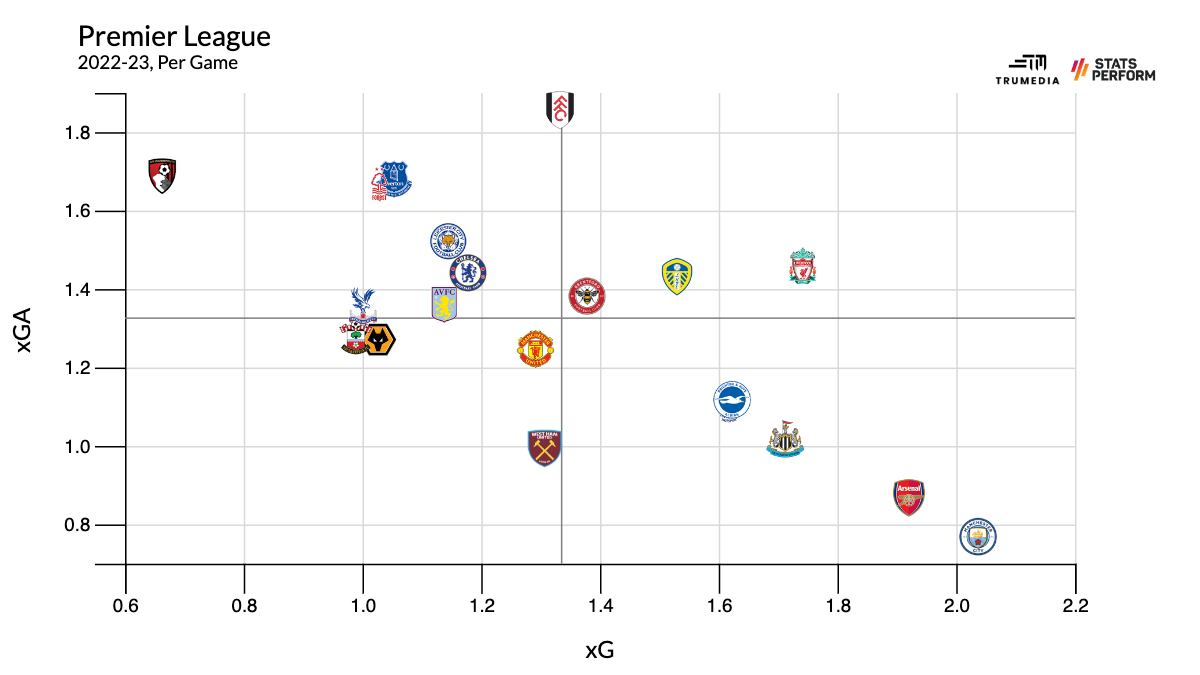 All things considered, this is quite good. While the salary data from the site FBref requires lots of estimates, it's still a useful ballpark number. And according to FBref, Leeds are carrying the second-lowest wage bill in the league after Brentford. Meanwhile, the data provider Off the Pitch has wage data for two seasons ago; it's for all personnel at a club — not just players — but the only teams that paid lower wages were three teams that have since been relegated (Burnley, West Bromwich Albion and Sheffield United) plus a fourth, Newcastle United, that has since been purchased by a nation state with a comparatively unlimited amount of money.
– Stream on ESPN+: LaLiga, Bundesliga, MLS, more (U.S.)
Either way, in a sport in which wages tend to be destiny, a positive xG differential or league-average performance across 38 games would be a massively successful season for a team with the second-lowest wage bill. Throw in the fact that Leeds sold Raphinha to Barcelona and Kalvin Phillips to Manchester City over the summer, and the consternation over Marsch's credibility starts to seem absurd. Some of that comes down to the fact that most soccer watchers still haven't come to grips with how random the sport is on a game-to-game basis. Leeds had impressive underlying numbers even before the wins against Liverpool and Bournemouth. A team that's playing well and not getting the bounces being dubbed "in crisis" is nothing new, but the way Leeds got there and then got it out of it? That's different.
Leeds are abnormal
The history of coaching across all sports is a slow march away from conservative decision-making. Baseball teams have all but abandoned the sacrifice bunt, in favor of swinging for the fences despite the risk of a strikeout. NBA teams have only recently discovered that three-pointers are worth more than two-pointers. And you're seeing the same trend play out in real time across the NFL every weekend, as coaches grapple with fourth-down decisions, over and over and over again.While this has all been driven by "analytics," it's really just an increased understanding of probabilistic thinking. The more conservative decision is more likely to succeed in the short-term. The sacrifice bunt is probably gonna work out. The midrange 2-pointer will go in more often than the 3. The punt or the field goal is less likely to end in catastrophic failure than the attempted fourth-down conversion.However, in the long run, the conservative decisions actually make you more likely to lose. If a 2-point shot is converted 50% of the time, but a 3-pointer has a 35% make rate, you're going to score more points by replacing all those 2s with 3s, even though you're also more likely to have more individual possessions that end with zero points, too. It's the same calculus across all the other sports. In a strange way, to increase your chances of long-term success, you also have to increase your chances of immediately failing — and then dealing with all the inevitable fall-out that comes with it.
According to data provided by Seth Walder from ESPN's fourth-down decision-making model, which accounts for all kinds of contextual factors to suggest the option that most increases a team's chances of winning a game, coaches have made the "correct" decision in what we call "non-obvious situations" 79% of the time this season. There's data going back to 2001, and the all-time low was 68% in 2008.If other sports have seen similar trajectories, but remain a ways away from anywhere near an optimized level of aggression, why shouldn't soccer? And while the sport's dynamic nature mostly eschews this kind of analysis, I think the risk-reward nature of a high-press comes closest to mirroring the evolutions we've seen across the major American sports.
"We're pretty sure that pressing is the most high expected-value system," said Ted Knutson, CEO of the consultancy StatsBomb. "But it's got the highest costs."Pressing not only demands a heroic physical output from your players; it's also more likely to produce more high-profile, demoralizing breakdowns. Marsch's teams both try to win the ball back high up the field as soon as they lose it, and then they try to immediately take advantage of the gaps in the defense by playing difficult vertical passes. They currently have the most aggressive pressing rate (measured by passes per defensive action (PPDA) in the league, and they complete the second-lowest percentage of their passes: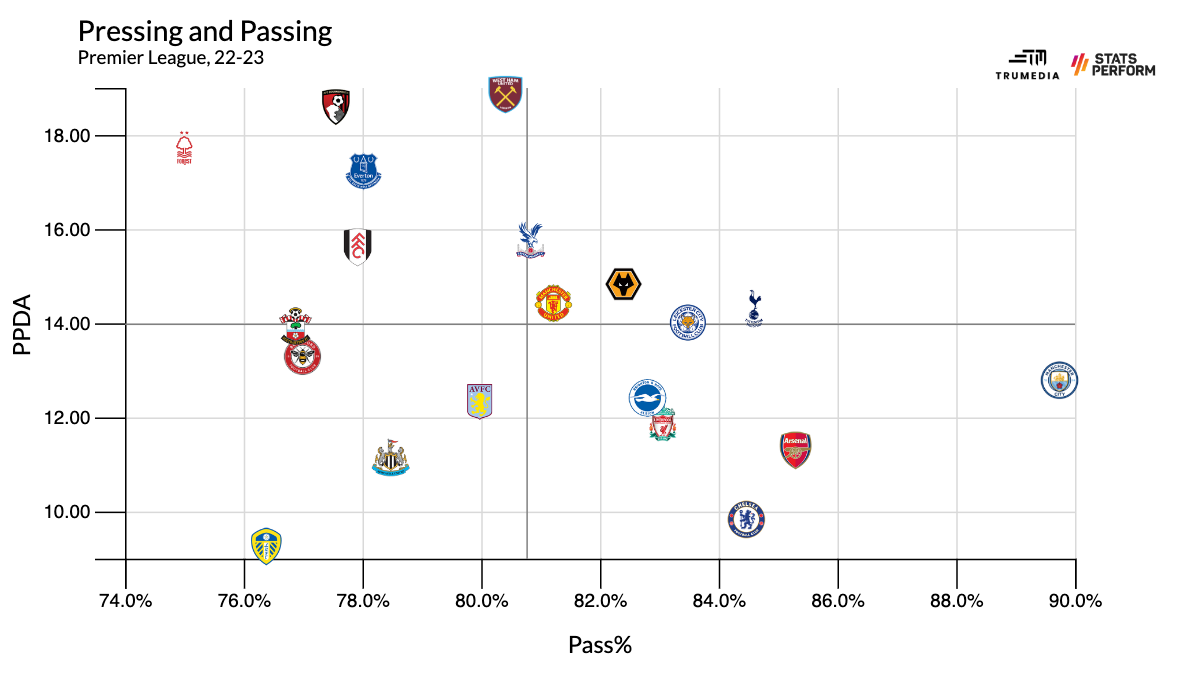 As such, their matches feature 101 possessions per team — more than anyone else in the Premier League. The bet is that they are both better than opposition at living in the chaos, and that most of the turnovers are happening in the other team's half. But there's also an obvious downside that doesn't exist if a team plays in a conservative, low-block shell. More turnovers simply mean more opportunities for your opponent to break you down, but then on top of that, Leeds are pushing all 11 players high up the field so they're way more prone to egregious-looking breakdowns, where the opponent beats the press and creates an easy-to-convert chance at the other end.Like any good manager, Marsch didn't admit to me that a few terrible goals a season were a natural byproduct of playing this way. "Most of those times that it looks bad is a tactical breakdown where the players behind the ball, when we lose a ball, are not in tactically sound positions," he said. "Then the game looks more open than it should be."In reality, no players are perfect across 90 minutes, and so no unit can be tactically bulletproof for an entire season, let alone an entire match."It's aggressive," he said. "There's no doubt. But it's also intelligent. The goal is to not be wild; the goal is to still be in control."
It's intelligent because it's based on a number of relatively sound assumptions. Despite the downsides, the idea is that you're ultimately going to concede fewer chances across a whole season because the ball spends most of its time in the opposition half. And you're going to score more goals because you're creating thousands of moments where the opposition defensive structure is unsettled. For a team with the resources of Leeds, it's a lot easier to find athletic, hard-running players who can create and thrive in these transitional situations than to land the dominant in-possession players that only the best teams in the world can afford. But it works only if you fully commit to it."You have to be willing to either enforce that across your whole club and say this is our ethos even if you don't like it," Knutson said. "This is what we're going to be as a club, so it's not the head coach's fault."Leeds appear to be committed to playing this way. You don't replace the Argentine godfather of the high press, Marcelo Bielsa, with Marsch in the middle of a relegation fight, as they did last season, if you're not fully bought into pressing high. And you also don't cut bait when the bounces don't go your way because you know, by design, you're playing in a way that invites as many bounces as possible. They didn't, and things have finally started to even out.Now, could a more traditional defend-deep-and-counter approach have produced a similar level of results for Leeds and maybe a roughly equivalent level of performance? Perhaps. But what would you rather watch?
Champions League draw: Real Madrid play Liverpool and Bayern meet PSG
Nov 7, 2022 Mark OgdenSenior Writer, ESPN FC
EDITOR'S PICKS
With the 2022 World Cup due to kick off in less than two weeks, the focus of the game is now beginning to be fixed on international football's biggest tournament. But there will be no time for a World Cup hangover with the Champions League returning in mid-February with a series of outstanding ties.
While Liverpool-Real and PSG-Bayern are the standout fixtures, there are some finely balanced ties between AC Milan and Tottenham, Borussia Dortmund and Chelsea, and Club Brugge and Benfica.
Manchester City and Napoli, two of the strongest teams in the group stage, will also face RB Leipzig and Eintracht Frankfurt respectively. So how will it all play out, and which teams will make it to the quarterfinals?
Liverpool vs. Real Madrid
The tie that neither side would have wanted. Liverpool's failure to finish top of Group A left them vulnerable to facing a big hitter in the round of 16, and they don't come any bigger than defending champions Real Madrid, who would also have preferred to avoid Jurgen Klopp's team at this stage.
Liverpool's mixed form this season make Real favourites to extend their hold over Klopp's side, having beaten them in their last three Champions League ties. In fact, aside from winning the Champions League against Tottenham in Madrid in 2019, Liverpool's hopes in the competition have been extinguished by either Real or Atletico in 2018, 2020, 2021 and 2022, so the omens are with Carlo Ancelotti's team.
Liverpool have lost five of their last six encounters with Real, dating back to October 2014, but they are capable of ending that miserable run. Real are unbeaten in LaLiga this season, however, and can go top by winning their game in hand on leaders Barcelona, so they are in impressive form and will be favourites to beat Liverpool.
WINNERS: Real Madrid
---
A repeat of the 2020 final, when Bayern beat PSG in Lisbon in the French club's first appearance in the Champions League final. But having been eliminated in the round of 16 by Real Madrid last season, PSG face a daunting challenge if they are to overcome that disappointment against Bayern.
Kylian Mbappe, Neymar and Lionel Messi have delivered in the competition this season, with PSG unbeaten after six games, but Bayern qualified with six wins from six in a group containing Inter Milan and Barcelona.
It will be a huge clash over two legs, and the winners could go on to lift the trophy in Istanbul next June. Bayern are as tough an opponent as PSG could have faced.
WINNERS: PSG
Juls devastated as PSG draw Bayern Munich
Gab & Juls look ahead to a mouthwatering Champions League clash between PSG and Bayern Munich.
---
Pep Guardiola's City will be strong favourites to win this tie, but Leipzig are a dangerous outsider and their 3-2 win against Real Madrid in Group F proved crucial in their qualification for the round of 16.
If Erling Haaland and Kevin De Bruyne are fit, it is tough to see past a City victory over the two legs, but Marco Rose's club have quality in their squad, and it all depends on whether they can hold onto the likes of Christopher Nkunku and Josko Gvardiol — both of whom are Chelsea targets — during the January transfer window.
If Leipzig can keep their best players and if forward Timo Werner can recover from the ankle ligament injury that has forced him out of Germany's World Cup plans, they could pull off a shock. Make no mistake, City are outstanding favourites to go through; they just need to respect this opponent.
WINNERS: Man City
---
Chelsea duo Pierre-Emerick Aubameyang and Christian Pulisic will get the chance to return to former club Dortmund in this tie, and there will also be a huge focus on Dortmund midfielder Jude Bellingham against one of the many clubs who want to sign him next summer.
Both teams are struggling for consistency this season, but they are also packed with top-level experience, so it will be a case of which side has enough players who can rise to the occasion. Dortmund have the likes of Mats Hummels, Marco Reus and Niklas Sule; Chelsea boast Thiago Silva, Raheem Sterling and N'Golo Kante.
There is also the battle between U.S. teammates Pulisic and Gio Reyna, so there is no shortage of storylines in this tie.
WINNERS: Chelsea
---
An intriguing tie between two teams that have been inconsistent in the Champions League this season but are both capable of going deep into the competition. It also hands Spurs boss Antonio Conte the chance to return to San Siro, where he guided Milan's rivals Inter to the Serie A title in 2021, so there will be plenty of noise off the pitch as well as on it.
This one could come down to a battle of the forwards. Will Harry Kane and Son Heung-min blow Milan away with their quality, or will former Chelsea and Arsenal forward Olivier Giroud return to haunt Spurs again? And does 41-year-old Zlatan Ibrahimovic still have one big goal in him?
A tough tie to call, and it will be a fascinating battle between Conte and Milan coach Stefano Pioli.
WINNERS: AC Milan
Burley: Spurs make life so difficult for themselves
Craig Burley doesn't understand how Tottenham continue to start games so poorly after they came back from 1-0 down to win 2-1 vs. Marseille.
---
Inter made it into the round of 16 by edging out Barcelona, but Simone Inzaghi's team go into this tie as outsiders.
Domestically, Inter are struggling for form, with Inzaghi's position under threat due to five defeats in 13 games, leaving the club in seventh spot. Romelu Lukaku's return on loan from Chelsea has yet to work out, too, with injuries restricting the former Manchester United striker to just five appearances.
Porto qualified as winners of Group B, beating Atletico Madrid and Bayer Leverkusen along the way, and Sergio Conceicao's team have bags of Champions League experience. It will be a closely fought tie, but Porto are the favourites at this stage.
WINNERS: Porto
---
Two of the surprise teams of the Champions League so far this season. Benfica beat Juventus twice in Group H, forcing the Italian giants into the Europa League, while a 6-1 win against Maccabi Haifa on Matchday 6 was enough to snatch top spot, and a place among the seeded teams, from PSG.
Brugge, meanwhile, made a flying start in Group B with three straight wins and only eased off after qualification had been confirmed — a loss of focus which saw them surrender top spot to Porto.
Carl Hoefkens' squad has a blend of youth and experience, including ex-Liverpool keeper Simon Mignolet and former Benfica forward Roman Yaremchuk, along with youngsters such as Abakar Sylla. But Benfica possess the greater Champions League experience, reaching last season's quarterfinals, so the Portuguese giants will be favourites.
WINNERS: Benfica
---
Two of the most exciting teams in this season's Champions League, but runaway Serie A leaders Napoli look more of the finished article than Eintracht, who qualified for the competition by winning last season's Europa League.
Luciano Spalletti's Napoli destroyed Liverpool 4-1 at home in their Group A opener and dominated at Anfield until two late goals consigned them to defeat. But Victor Osimhen, Khvicha Kvaratskhelia and Giovanni Simeone give Napoli the attacking threat to make life very tough for Eintracht.
Oliver Glasner's Eintracht showed incredible spirit to win at Barcelona and West Ham in last season's Europa League, and they have grown into the Champions League. They have pace in attack and will score goals, but Napoli might just be too strong for them in February.
WINNERS: Napoli
World Cup 2022 team previews: United States, England, Iran, Wales GROUP B
Nov 8, 2022
ESPN is previewing each of the World Cup's 32 teams ahead of the tournament. Here's what you need to know about the four sides set to do battle in Group B.
Jump to: United States | England | Wales | Iran
Also read: Group A | C | D | E | F | G | H
Manager: Gregg Berhalter
Nickname: The Stars and Stripes
FIFA Rank: 16
How they qualified
The U.S. were fairly well positioned throughout the eight-team final round in CONCACAF World Cup qualifying, but the failure to reach the 2018 event hung on the team like a weighted vest. Every stumble brought back nightmarish memories of the night in Trinidad when the U.S. squandered qualification. The Americans also seemed to lack a killer instinct on the road to get results that would have eased the path to Qatar.
But ultimately, the U.S. got the job done. A road win in Honduras that concluded the first qualifying window settled nerves. Consecutive home wins over Costa Rica and Mexico created some momentum. There was still work to be done heading into the last trio of games, but a priceless road draw against El Tri and a 5-1 rout of Panama effectively clinched qualification.
Style of play
Early in his tenure, manager Gregg Berhalter had the U.S. playing out of the back almost to a fault. But the dogmatic approach eventually morphed into something more pragmatic, with the U.S. aiming to press the opposition and create chances that way. Berhalter also aimed to get full-backs Antonee Robinson and Sergino Dest into the attack and utilize the likes of Christian Pulisic, Brenden Aaronson and Tim Weah on the flanks.
Biggest strength
The U.S. enjoy significant attacking depth on the wings. Beyond Pulisic, Aaronson and Weah, there's also Giovanni Reyna. All four players are skillful on the ball in their own ways. Aaronson is all energy, and his ability to initiate the press often kickstarts the U.S. attack. Weah's pace gives the American side a different element, and Reyna — when healthy — has the kind of close control and vision that can torment defences. Pulisic's dynamism is vital as well (more on him later.)
Biggest weakness
Both the striker position and the center-backs are causes for worry. No center-forward has really made the position their own, with Jesus Ferreira, Josh Sargent, Jordan Pefok and Ricardo Pepi all being given ample opportunity. Just four of the U.S. team's 20 goals in 14 qualifying matches came from a center-forward. All four have been finding the net of late for their clubs, but the extent to which that translates to a World Cup is a massive unknown.
The center-back slot was once a strength for the Americans. Walker Zimmerman was solid throughout qualifying. But this area of the field has been hit hard by injuries. Miles Robinson suffered a torn Achilles back in May and will miss the World Cup. Chris Richards has been slow to recover from a hamstring injury and is ruled out. John Brooks has long been out of favor, despite his experience. That leaves one of Aaron Long, Cameron Carter-Vickers and Mark McKenzie to duke it out now Richards can't recover. Given the way the U.S. struggled to play through Japan's press in a recent friendly, this position is a huge area of concern.
Star player: Christian Pulisic
Pulisic is still the main man when it comes to the U.S. attack, with his ability to run at defenses, score goals and set up chances all critical elements. His ability to win free kicks — he was by far the most fouled U.S. player during qualifying with 26 fouls suffered, despite missing four games — is another important asset in a tournament where games are often decided by set pieces.
But is Pulisic up to the task of carrying the load? It's a responsibility that has, at least outwardly, weighed heavy. The U.S. certainly have more talent playing beside him in Aaronson, Weah and Reyna than there has been in the past. But if the U.S. are to make to the group stage, Pulisic will need to be at his best.
Projected starting XI
(4-3-3) Steffen; Dest, Zimmerman, Long, Robinson; McKennie, Adams, Musah; Weah, Ferreira, Pulisic.
What the stats say
– Best World Cup finish: Semifinals (1930)
– The U.S. are the youngest team to qualify to this World Cup, by average age of players used in qualifying.
FiveThirtyEight SPI: 53% chance to make the round of 16, 11% to make semifinals
Betting odds: +10000 (via Caesars Sportsbook)
Prediction: Group B is deceptively difficult. At No. 21 in the FIFA rankings, Iran are the worst-ranked team. And while those rankings have to be taken with some skepticism, every other group has a team ranked at least 30th or worse. For that reason, the U.S. team's odds are 50-50 in terms of advancement. Based on recent form, their odds don't look to be improving. Health will be a huge factor, but at this stage, it looks like the U.S. will fall just short. — Jeff Carlisle
---
Manager: Gareth Southgate
Nickname: The Three Lions
FIFA Rank: 5
How they qualified
England were unbeaten in qualification and scored more goals (39) than any other team in Europe. However, 24 of those were against minnows San Marino and Andorra, suggesting the team's potency was perhaps slightly inflated. They needed a late Harry Maguire goal to see off Poland 2-1 at Wembley in their first meaningful test in March 2021. Gareth Southgate's side recovered quickly from their Euro 2020 final disappointment by beating Hungary 4-0 at the Puskas Arena last September, but a 1-1 draw in Poland later that month and the same scoreline at home to Hungary in October raised more questions than answers. Two facile wins against Albania and San Marino in November ensured England ended their campaign on a high, but the Nations League campaign that followed is a different matter entirely (more of that later).
Style of play
Pragmatic. One of the widespread criticisms of Southgate is that England should be more expansive given the attacking talent they have at their disposal. However, he is more calculated as a result of concerns over England's habitual struggle to retain possession in tournaments and a lack of top-class centre-back options. England can switch between systems and they may play with a back four at some point in Qatar, but the recent Nations League matches strongly suggest 3-4-3 is his preferred formation.
Biggest strength
The sheer number of attacking options. Although Harry Kane is clearly England's first-choice centre-forward, Southgate has an embarrassment of attacking riches to call on with Raheem Sterling, Phil Foden, Bukayo Saka, Jack Grealish and Mason Mount among those vying for two attacking positions either side. And that's not to mention Marcus Rashford, Jadon Sancho and James Maddison, who all might not make the squad at all. England have an exciting and dynamic blend of forwards, many of whom will be more acclimatised to the demands of tournament football after last year's run to the delayed Euro 2020 finals. The emergence of Jude Bellingham is also an exciting prospect to inject some flair into England's central midfield. If it all clicks, England could be very good.
Biggest weakness
There are a few concerns, but the biggest is at centre-back. Maguire's form has fallen off a cliff at Manchester United yet Southgate continues to select him on past performance for England. That is both a reflection of his importance in 2018 and 2021 but also the lack of top-class options at centre-back. England, still, do not keep the ball well enough in major finals. The pattern of the matches against Croatia (semifinal in 2018) and Italy (final, 2020) was markedly similar in that England started well before giving the ball away too often, conceding control of the game to their opponents. Bellingham is England's big hope there. Injuries have also mounted in recent weeks with Kyle Walker, Reece James and Kalvin Phillips all major doubts for the finals while form in general is a problem: England have not won for six matches, and although there were mitigating factors, they were relegated from the Nations League as they failed to win any of six matches against Italy, Germany and Hungary.
Star player: Harry Kane
Kane won the Golden Boot at the past World Cup and will likely target the same outcome in Qatar. The 29-year-old is two goals short of equalling Wayne Rooney's England record of 53, but he hasn't netted from open play since November 2021, when scoring four against San Marino. He remains England's talisman, however, and any injury or loss of form would be a major blow given he is Southgate's best centre-forward option by such a big margin. The Tottenham striker will also attract attention of a different kind as one of several captains to wear a "OneLove" armband during matches — even if it is prohibited by FIFA — as part of an anti-discrimination initiative.
Projected starting XI
(3-4-3): Pickford, Walker, Stones, Maguire; Trippier, Bellingham, Rice, Shaw; Foden, Kane, Sterling.
What the stats say
– Best World Cup finish: Champion (1966)
– England enter the tournament on poor run of form, as they were winless in the 2022 UEFA Nations League (0-3-3.)
FiveThirtyEight SPI: 47% chance to make the quarterfinals, 6% to win title.
Betting odds: +700 (via Caesars Sportsbook.)
Prediction
England will expect to get out of Group B, but the draw quickly gets tricky. A last-16 tie — most likely against either the Netherlands or Senegal — looks tough before a possible quarterfinal against France or Argentina. England simply have not defended well enough, often enough, for anybody to have a high degree of confidence they could win back-to-back matches against elite opposition. If they benefitted from more inviting knockout draws in 2018 and 2021, the same cannot be said this time. — James Olley
---
Manager: Robert Page
Nickname: The Dragons
FIFA Rank: 19
How they qualified
Wales reached their first World Cup since 1958 after a dramatic and emotional playoff against Ukraine. By their own admission, Wales had the will of the world against them in September given the war in Ukraine, but a Gareth Bale free kick was enough to snatch a 1-0 win and a place in Qatar. Prior to that, Wales finished second in a group containing Belgium (winners) and Czech Republic (third), winning four of their eight matches and losing only once (to Belgium in March 2021). Head coach Robert Page was rewarded for qualification with a new four-year contract in September.
Style of play
Counter-attacking. Wales averaged 45.1% possession in their World Cup qualification group and that figure dropped to 40.9% in their six UEFA Nations League games against Poland, Netherlands and Belgium (five of which they lost). Wayne Hennessey is a fine goalkeeper, and Wales will try to stay defensively compact before hitting teams on the break through the pace of Dan James, the guile of Aaron Ramsey and the star quality of Bale.
Biggest strength
Team spirit. This is not intended to be patronising, especially given Wales possess several talented individuals including most obviously Bale and Ramsey, but this is a team whose recent history has proved time and again they can become more than the sum of their parts. Reaching the semifinals of Euro 2016 was a truly remarkable feat, subsequently backing up their presence on the biggest stages by qualifying for Euro 2020 and now a first World Cup in 64 years. The presence of old rivals England in Group B will only multiply that collective stirring of the soul; England were heavy favourites to beat Wales six years ago in France but needed a stoppage-time winner to snatch a 2-1 victory.
Biggest weakness
A lack of strength in depth. An injury to Bale or Ramsey would be a hammer blow to Wales' hopes. Joe Allen is already a doubt with a hamstring problem and has seen a specialist in recent days to try to ensure he is fit in time. Although younger talents have emerged to bolster Page's options — for example, defender Ethan Ampadu is 22 but already has 37 caps to his name — Wales are reliant on their smattering of big-name stars for goals, in particular. Bale was top scorer in qualifying (with five) while the absence of an elite centre-forward is a problem. Kiefer Moore scored twice for Bournemouth against Tottenham recently, but the 30-year-old has plied his trade outside the Premier League until this season and has just nine international goals to his name.
Star player: Gareth Bale
Rumours persist that the 33-year-old has delayed his retirement just for this World Cup. Bale signed a one-year contract with LAFC in June, and although there is an option to extend to 2024, it remains possible Bale could choose to bow out shortly after Qatar depending on what happens. His club career might have all but ground to a halt at Real Madrid, but Bale has always been Wales' talisman, amassing 40 goals in 108 appearances. Don't be fooled by his mixed form in MLS — Bale retains the capacity to rise to the occasion like few other players and he revels in the role of carrying a nation's hopes on his shoulders.
Projected starting XI
(3-4-3): Hennessey; Ampadu, Rodon, Davies; Roberts, Allen, Ramsey, Williams; Bale, Moore, James.
What the stats say
– Best World Cup finish: Quarterfinals (1958).
– The 64-year gap between appearances is the longest in World Cup history.
FiveThirtyEight SPI: 32% chance to make the round of 16, 13% to make quarterfinals
Betting odds: +10000 (via Caesars Sportsbook.)
Prediction
Wales face a tough task to replicate their recent tournament heroics. Nevertheless, although England are clear favourites to top the group, Page's side will expect to be competitive for one of the top two spots, and the fact they play England last could help in that regard. It might be only the first game, but United States vs. Wales already feels huge for both team's prospects. The round of 16 might be the best they can hope for.
---
Manager: Carlos Queiroz
Nickname: Team Melli
FIFA Rank: 20
How they qualified
Having made their World Cup debut in 1978, Iran return for a sixth time, and a third in a row, having exited at the group stage at each of the previous attempts. An 18-match AFC qualification journey that started all the way back in September 2019 saw Iran win 14 matches, draw once and lose just three times on route to Qatar. An early hiccup in the form of back-to-back defeats to Bahrain and Iraq proved insignificant as Team Melli topped their group in the second round. In the decisive third round, they were as clinical as ever, winning eight of their 10 matches to book their place at the World Cup with three games to spare, finishing ahead of South Korea and the United Arab Emirates.
Style of play
The reappointment of Carlos Queiroz as head coach at the start of September signalled a return to the familiar for Iran. The Portuguese coach had led them for eight years between 2011 and 2019, including at the two previous World Cups. Under the former Real Madrid boss, Team Melli play a 4-3-3 system relying on compact defence and a hardworking midfield, while the attacking burden is largely left for their target man flanked by two out-and-out wingers.
Biggest strength
Iran's approach under Queiroz has always been defined by an exceptional defensive solidity. The side did not concede a single goal in their first five games at the AFC Asian Cup 2019, and their record in international tournaments under the Portuguese coach includes an impressive 10 clean sheets in 16 games. At Russia 2018, they conceded only twice in a group that featured the past two European champions at the time: Spain and Portugal. Expect more of the same in Qatar. Iran will make it difficult for the likes of Pulisic, Kane and Bale to find a way through.
Biggest weakness
Key to Queiroz's "defence-first" method is to remain focused for the full 90 minutes under opposition pressure and, while his players are adept at the tactical and physical aspects of the game, it can be the mental side that lets them down. In 2014, they earned a 0-0 draw against Nigeria and lost to Argentina only thanks to a last-minute Lionel Messi wondergoal, but then capitulated in a 3-1 defeat to Bosnia & Herzegovina. Their five-game clean sheet run in the AFC Asian Cup 2019 came to an end in a spectacular 3-0 collapse against Japan, while at Russia 2018, they failed to stay composed to take any of their chances against Portugal, which could have sent them through to the round of 16.
Star player: Mehdi Taremi
Any of Iran's front three could lay a claim to being the side's talisman. For the best part of seven years, Alireza Jahanbakhsh, Sardar Azmoun and Mehdi Taremi formed an undroppable trio for Team Melli, but it is the latter who has reached new heights in recent years. With 18 goal contributions in 16 matches across all competitions this season so far, Taremi has been in impressive form for Portuguese giants FC Porto, where he had already netted 20+ goals in each of the past three seasons.
Projected starting XI
(4-3-3): Beiranvand; Moharrami, Kanaani, Hosseini, Hajsafi; Ezatolahi, Amiri, Ansarifard; Jahanbakhsh, Taremi, Azmoun.
What the stats say
– Best World Cup finish: Group stage (all five times).
– Queiroz was hired as coach in September (his third World Cup with the team) and won 60 of his 100 games in his first spell from 2011 to 2019.
FiveThirtyEight SPI: 40% chance to make the round of 16, 18% to make quarterfinals
Betting odds: +50000 (via Caesars Sportsbook.)
Prediction
In 2014, Iran picked up just one point from their group. Four years later, that tally was up to four points despite a more difficult draw. With years of experience under their belts and a coach who knows the ins and outs of this team, it might finally be time for Iran to reach the round of 16 at the sixth time of asking. — Wael Jabir.
World Cup 2022 team previews: Group A Portugal, Ghana, Uruguay, South Korea
ESPN is previewing each of the World Cup's 32 teams ahead of the tournament. Here's what you need to know about the four sides set to do battle in Group H.
Jump to: Portugal | Ghana | Uruguay | South Korea
Also read: Group A | B | C | D | E | F | G
Manager: Fernando Santos
Nickname: Selecao (The Selection)
FIFA Rank: 9
How they qualified
"Nothing to see here" was the Portugal mantra as the Euro 2016 champions edged their way to within 180 minutes of direct qualification — a 2-2 draw in Serbia tucked tidily under their belt. Then, a road bump. A 0-0 draw against Republic of Ireland in Dublin left Portugal needing to beat Serbia at Estadio Da Luz but, leading from the second minute, they fluffed their lines and lost in the 90th minute to finish second in the group. Frustrating, but the beginning of some notable spirit. Beating Turkey 3-1 in Porto in the playoff semifinal was heart-stopping — Burak Yilmaz missed a late penalty to make it 2-2 — but taking Italy's conquerors North Macedonia to the same stadium five days later for the final was a walk in the park as Bruno Fernandes scored twice to send Portugal to Qatar.
Style of play
Four clean sheets in the qualifying group and another when it really counted in the playoffs should, theoretically, bring pride and praise. But fans and analysts alike seem unified in the idea that coach Fernando Santos isn't just too defensive-minded but significantly too conservative in maximising a terrifically talented emerging generation of quick, creative footballers.
Biggest strength
In qualifying it was arguably Diogo Jota as he had a far better goal-per-minute ratio than Cristiano Ronaldo, more assists, a big goal in the playoff semifinal (plus one of those assists in the final) … but he's not fit to make it to Qatar. Can it be goalkeeper Diogo Costa? One of three keepers used in qualifying, the 23-year-old Porto player has a penchant for saving penalties and now looks to have made himself No. 1. Or, let's face it, is it still Ronaldo? Troubled at club level with Manchester United, but the 37-year-old was born to compete when the curtain raises.
Biggest weakness
The Fernando Santos factor. Having won Portugal their first major international trophy at Euro 2016, he is lucky enough that there are high quality players bursting through in every position, so he should really be presiding over a golden era. Instead he has been castigated for a poor Euro 2020 and failed to qualify for the Nations League final four, despite only requiring a draw in their last qualifying match at home to Spain. On the positive side, Santos knows how to win a tournament. On the negative are the growing, but unconfirmed, reports that his players feel mutinous about the team's lack of flair, daring and "front-foot" attitude.
Star player: Rafael Leao
Why wouldn't midfielder Bernardo Silva be in the team of the tournament come the end of the World Cup? Or centre-back Ruben Dias? Some will say Ronaldo, of course, because there's few who have been a bigger star anywhere in the world over the last 20 years. But AC Milan forward Rafael Leao has the capability of surprising everyone.
Projected starting XI
(4-2-3-1): Diogo Costa: Mendes, Dias, Danilo Pereira, Cancelo; Carvalho, Neves; Bernardo Silva, Bruno Fernandes, Leao; Ronaldo.
What the stats say
– Best World Cup finish: 3rd place (1966.)
– Ronaldo is looking to become first player to score in five different World Cups.
FiveThirtyEight SPI: 43% chance to make the quarterfinals, 7% to win the title.
Betting odds: +1200 (via Caesars Sportsbook)
Prediction
Not only do Portugal need to cope with an interesting and disparate group but they've got to be canny. Few teams have greater variety of styles and philosophies than Portugal-Ghana-Uruguay-South Korea. But should Santos' team finish second then, almost certainly, it's Brazil next in the round of 16. Too much, you might say. So if they win the group they may get to face Serbia, who forced them into the playoffs for this tournament in the first place. Life ain't easy. — Graham Hunter.
---
Manager: Otto Addo
Nickname: Black Stars
FIFA Rank: 61
How they qualified
Ghana pipped South Africa — against a backdrop of refereeing controversy — to top Group G of CAF's qualification campaign, losing just once. This set up a mouth-watering double-header against fierce rivals Nigeria, by which point optimism was low after they finished bottom of their group at the Africa Cup of Nations. However, buoyed by the appointment of Otto Addo, the Black Stars held their nerve to advance on away goals. A 0-0 draw in Kumasi was followed by a 1-1 draw in Abuja, with Thomas Partey's 10th-minute opener ultimately securing progression.
Style of play
Midfield is key, where Partey will attempt to control the play alongside the more defensive-minded Iddrisu Baba. In-form Mohammed Kudus offers a goal threat through the middle, with the Ayew brothers Andre and Jordan and likely Inaki Williams, who was born in Spain but made the switch to represent Ghana earlier this year. Whether playing with a back four or a back three, full-backs such as Denis Odoi, Tariq Lamptey and Abdul Rahman Baba can offer a threat from out wide.
Biggest strength
The new arrivals — particularly Lamptey and Williams — have raised Ghana's quality and given them new energy, helping the Black Stars turn the page after the miserable AFCON campaign. The pair's technical attributes, coupled with the tactically astute Addo, should give Ghana the flexibility to switch between a 3-4-3 and a 4-2-3-1 formation, depending on the demands of each fixture.
Biggest weakness
While Ghana demonstrated resilience and maturity to edge past Nigeria in the qualifiers, that showing was an anomaly for this squad. It remains to be seen if Addo has truly eradicated the brittleness that has affected them in the past; witness Andre Ayew's petulant behaviour at the conclusion of Ghana's AFCON draw with Gabon, his inflammatory comments after that match or his early red card when the Black Stars needed him most in their subsequent fixture against Comoros. Partey's fitness is similarly fragile — he withdrew from a friendly against Brazil in September just moments before kick-off — and both mentally and physically there remain serious questions about Ghana's durability.
Star player: Mohammed Kudus
Kudus has replaced Partey as Ghana's great hope for the World Cup following a sensational start to the season with Ajax. It's been a remarkable turnaround for the 22-year-old, who was reportedly pushing for an exit from the club in the summer transfer window, skipping training in a bid to force a move having struggled for game time. It's been all change since, as Kudus has had a hand in nine goals in the Eredivisie and Champions League since the start of September, including a stunner scored against Liverpool. Ajax's use of him as a false No. 9 could be an interesting blueprint for Addo to explore.
Projected starting XI
(4-2-3-1): Wollacott; Baba, Djiku, Amartey, Odoi; Iddrisu, Partey; A Ayew, Kudus, J Ayew; Williams
What the stats say
– Best World Cup finish: Quarterfinals (2010.)
– Ghana are the last African team to reach the quarterfinal stage of a World Cup and were the 3rd all-time to do so.
FiveThirtyEight SPI: 12% chance to make the round of 16, 2% to make quarterfinals.
Betting odds: +15000 (via Caesars Sportsbook)
Prediction
The 3-0 thumping by Brazil in September has dampened expectations, prompting a reality check after the euphoria of their playoff triumph. A tough group means they're up against it, and a first round exit looks likely. However, Ghana may be quietly confident that in grudge matches against ageing Portugal and Uruguay teams, their youth and vitality can cause an upset. — Ed Dove, ESPN Africa.
---
Manager: Diego Alonso
Nickname: La Celeste (The Sky Blue)
FIFA Rank: 14
How they qualified
With problems … and with a late change of coach. With four rounds to go, the epic, and hugely successful, 16-year reign of Oscar Washington Tabarez came to an end and in came Diego Alonso for the last few rounds. Tabarez could not resist the urge to stay on after Russia 2018, for obvious reasons. His young midfielders — now the best part of the team — would come of age and the old guard — the likes of Luis Suarez, Edinson Cavani and Diego Godin — would still be around for a fourth World Cup. But Tabarez never managed to get the balance right. More than anything, though, he was undone by a combination of injuries and a nightmare run of fixtures. Uruguay's World Cup place was at risk with four defeats on the bounce until Alonso, with the benefit of much easier fixtures against Paraguay, Venezuela, Peru and Chile, saw them over the line.
Style of play
Variable. Alonso likes to prepare on a game-by-game basis, and his team have already used a number of different formations and approaches, with the capacity to change during matches. They are more likely to sit deep and create space for a counter attack, but can also push up higher if necessary.
Biggest strength
Uruguay can count on centre-backs such as Jose Maria Gimenez and Ronald Araujo (assuming he wins his fitness battle), midfielders like Federico Valverde and Rodrigo Bentancur, and Darwin Nunez, Suarez and Cavani up front. That is an inspiring array of talent from a country with a population of little more than three million. Over the last two decades, Uruguay have done splendid work at U20 level, which has provided them with a conveyor belt of talent with which to refresh their senior side. And if Alonso can get the balance of the side right, then, with individual ability backed up by Uruguay's fighting spirit, no one will relish facing them.
Biggest weakness
A spate of recent injuries has not helped, but it is still not clear how the team will line up. Coach Alonso has some big decisions to take, both about personnel and about formation. Playing to the side's current strength almost certainly means a trio in the centre of midfield. But that makes it hard to have two up front (unless perhaps there is a move to a back three, which could be the best way to fit in 36-year-old centre-back and captain Godin). But if there is only room for one out-and-out striker, then should it still be Luis Suarez? And does the side have enough attacking pace to stop them being pinned back?
Star player: Federico Valverde
Valverde was the first of Uruguay's new generation of midfielders to be promoted to the senior side, but then succumbed to injury and was forced out of Russia 2018. He is no longer the new boy. The Real Madrid man is now the beating heart of the Uruguay side with his stamina and versatility. Becoming an important part of the Madrid first team has done wonders for his confidence, giving him the self-belief to quietly proclaim himself as the most important member of the Uruguay side, desperate to go to Qatar and make up for the disappointment of missing out on Russia.
Projected starting XI
(4-3-3): Rochet; Suarez, Araujo, Gimenez, Olivera; Vecino, Bentancur, Valverde; Pellistri, Suarez, De Arrascaeta
What the stats say
– Best World Cup finish: Champion (1930, 1950).
– Changed head coaches in January and still made tournament by rattling off four straight CONMEBOL qualifying wins.
FiveThirtyEight SPI: 66% chance to make the round of 16, 15% to make semifinals.
Betting odds: +5000 (via Caesars Sportsbook)
Prediction
Uruguay are one of the hardest teams to predict, because of their own dilemmas and also the ferociously balanced nature of the group. Alonso says the team are aiming to win the trophy, but if he fails to get the balance right, it could be a case of elimination at the group stage. However, it is worth recalling that, statistically at least, Uruguay have been South America's best team in two of the last three World Cups. — Tim Vickery.
---
Manager: Paulo Bento
Nickname: Taegeuk Warriors
FIFA Rank: 28
How they qualified
South Korea were hardly troubled as they maintained their impressive record of qualifying for every World Cup since 1986 — with this year's tournament set to be their 10th consecutive appearance. Entering the Asian qualifiers in the second round, the Taegeuk Warriors topped a fairly comfortable Group H with five wins and a draw, scoring 22 goals and conceding just once. Things expectedly got trickier in the third round but they were arguably handed a favourable draw and were always expected to claim a top-two finish alongside Iran, which duly proved to be the case as South Korea finished a comfortable 11 points ahead of third-placed United Arab Emirates.
Style of play
Since finishing fourth at the 2002 World Cup under Guus Hiddink, South Korea have been associated with a brand of high-octane football where they rarely give their opponents time and space in their defensive third. Under current coach Paulo Bento, they tend to be a little more conservative but boast plenty of penetration to hurt teams in transition.
Biggest strength
Without trying to make this all about one player, South Korea's greatest strength arguably lies in the fact that they have a genuine world-class player at their disposal — which is not something many of the other 32 teams can lay claim to. After a stunning season with Tottenham that saw him share the Premier League golden boot with Mohamed Salah, Son Heung-min has already stated his determination to do well at this World Cup, especially after a disappointing group-stage exit last time out, but has to recover from facial surgery first. There is also a capable supporting cast of fellow Europe-based names, including Kim Min-jae (Napoli), Hwang Hee-chan (Wolves) and Lee Kang-in (Mallorca.)
Biggest weakness
Of course, the fact that the Taegeuk Warriors boast such a talismanic star also means they run the risk of being overly reliant on Son. But perhaps the greater weakness is that, apart from Napoli defender Kim, the South Korea backline will hardly strike fear in the hearts of opposition attackers. It is perhaps for this very reason that Bento tends to adopt a conservative approach and his insistence on deploying an anchorman to shield the defence — usually Jung Woo-young — usually prevents South Korea from deploying their three most creative playmakers together, with Hwang In-beom, Lee Jae-sung and Lee Kang-in usually vying for just two berths.
Star player: Son Heung-min
It is impossible to look past Son as South Korea's star player. But given his fitness is in doubt and the side will be coming up against some formidable opposition attackers — including Cristiano Ronaldo and Luis Suarez — the man who could have the biggest influence on how far the Taegeuk Warriors go might just be Kim. Standing at 6-foot-3 and strongly built, Kim is perfectly equipped to handle any striker he comes up against and it is hardly a surprise that he has already emerged as one of Serie A's leading centre-backs just months after joining Napoli from Fenerbahce in the summer.
Projected starting XI
(4-2-3-1): Kim Seung-gyu; Kim Tae-hwan, Kim Min-jae, Kim Young-gwon, Kim Jin-su; Jung Woo-young, Hwang In-beom; Hwang Hee-chan, Lee Jae-sung, Son Heung-min; Hwang Ui-jo.
What the stats say
– Best World Cup finish: 4th place (as hosts in 2022.)
– South Korea's 10 straight World Cup appearances are the longest by a team outside of Europe or South America.
FiveThirtyEight SPI: 45% chance to make the round of 16, 16% to make quarterfinals.
Betting odds: +25000 (via Caesars Sportsbook)
Prediction
Games against Portugal and Uruguay, two teams perennially expected to reach the knockout round, will not be easy — and Ghana are no slouches either. But if Son is fit and firing, South Korea could stand a chance. Victory over Ghana is a must and, should they manage to get a point off either Portugal or Uruguay, a round-of-16 berth could be on the cards. — Gabriel Tan, ESPN Asia.
World Cup 2022 team previews: Group D – France, Denmark, Australia, Tunisia
Nov 8, 2022
ESPN is previewing each of the World Cup's 32 teams ahead of the tournament. Here's what you need to know about the four sides set to do battle in Group D.
Jump to: France | Denmark | Australia | Tunisia

Manager: Didier Deschamps
Nickname: Les Bleus (The Blues)
FIFA Rank: 4
How they qualified
France finished top of their group and unbeaten to qualify for Qatar 2022. However, they struggled and drew with Ukraine (home and away) and Bosnia & Herzegovina (at home), so it was not the most convincing journey ever. Their mini-drop in form happened on the back of the disappointing end to Euro 2020, as they were knocked out against Switzerland on penalties in the round of 16, which really hurt the squad. But wins against Finland (twice) and Kazakhstan were enough to get the job done.
Style of play
Deschamps has tried to play a more proactive style of football since winning the 2018 World Cup. To fit Karim Benzema, Kylian Mbappe and Antoine Griezmann in the team, he moved to a 3-4-1-2 formation which had mixed results for Les Bleus. But while the French are more attacking and press a bit higher, Deschamps is still a defensive-minded coach so he might revert to what worked well years ago if things don't go as planned.
Biggest strength
The talent and depth in the squad are what make it so special. Even with a host of injuries, the names on show are impressive. From the genius of 2022 Ballon d'Or winner Benzema, to Mbappe, and top young stars such as Aurelien Tchouameni and William Saliba, France are packed in every position with so many options to choose from. They also have experience, having been there and done it in 2018. They know how to control the game and want to use the disappointment of Euro 2020 to bounce back in style like they did at Russia 2018 after losing to Portugal in the Euro 2016 final.
Biggest weakness
Ideally, France would have gone to Qatar to retain their crown with all their best players who are available and fit. Instead, there will be no Paul Pogba, no N'Golo Kante and maybe no Raphael Varane either, which is a huge blow. Pogba and Kante will be hard to replace in midfield and have been so important for this team. There will be a slight lack of experience too as the 2022 version of France will be younger than the 2018 one. There are question marks over Deschamps as well regarding his ability to make this team play better and win again. With the likes of Benzema, Mbappe and other attacking talents such as Griezmann, Christopher Nkunku, Kingsley Coman and Ousmane Dembele, the coach's conservatism could be a problem.
Star player: Karim Benzema
After a six-year exile from the national team, Benzema has had to wait eight years to play in a World Cup again. He missed the win in 2018 and now wants to make up for lost time. The Real Madrid striker has had an incredible few years, winning the Champions League and LaLiga with his club as well as the Nations League with France and the individual prize of the 2022 Ballon d'Or. Now, Benzema has his eyes set on delivering the World Cup. The 34-year-old's partnership with Mbappe up front — and their ability to gel with Griezmann — will be one of the keys to France's success. Les Bleus have a real chance of winning the tournament again, but only if Benzema performs at his best.
Projected starting XI
(3-4-1-2): Lloris; Kounde, Varane, Kimpembe; Pavard, Tchouameni, Rabiot, Theo Hernandez; Griezmann; Mbappe, Benzema.
What the stats say
– Best World Cup finish: Champion (1998, 2018), the side have two titles and three finals since 1998 (the most in that span).
– No defending World Cup champion from Europe has advanced past the group stage of the next tournament since Germany in 1994.
FiveThirtyEight SPI: 50% chance to make the quarterfinals, 9% to win the title.
Betting odds: +600 (via Caesars Sportsbook)
Prediction
It is very hard to retain a World Cup. The fact that the last time it happened — Brazil in 1962 — was so long ago shows it. However, France have the qualities to do it: incredible talent, experience and a team spirit to bring them together. If Mbappe and Benzema are at their best, France will be hard to stop. — Julien Laurens.
---
Manager: Kasper Hjulmand
Nickname: De Rod-Hvide (The Red and Whites)
FIFA Rank: 10
How they qualified
Kasper Hjulmand's side steamrolled through a fairly straightforward qualification group. In fact, the Danes were so dominant they didn't even concede a goal before the penultimate round of games — Austria, Israel and Moldova were all brushed aside, with the latter suffering an 8-0 defeat in Herning — when the Faroe Islands grabbed a late consolation score. Their only defeat, and loss of points, came at the hands of Scotland in the final round of games.
Style of play
Whether deploying his preferred 3-4-3 (3-4-2-1) formation — which can either appear with two auxiliary attackers wide or tucked in behind the centre-forward, or even two central attackers with Christian Eriksen operating in the spaces behind — or lining up in a 4-2-3-1/4-3-3 shape, Hjulmand remains true to his principles of high pressing, a compact midfield and quick transitional play. While hurrying the opposition into making mistakes, and then capitalising quickly, has proved particularly efficient, the Danes are also capable of controlling games, often with Barcelona's centre-back, Andreas Christensen, playing the first pass out of defence.
Biggest strength
The collective. While not short of high-quality players performing in top European leagues, Denmark remain a team rooted in rigid organisation, loyally deployed match plans and an evenly matched squad. They have plenty of quality in depth, dependable options across the field with clearly defined roles, and are a cohesive unit (which was evident in how they rallied together in the wake of Eriksen's cardiac arrest during Euro 2020). While such an approach can appear ambitious at the international level — where proper training groundwork is a luxury for the head coach — Hjulmand has made it click to the extent that he's considered one of the most meticulous and astute head coaches on the European circuit.
Biggest weakness
With an average of three goals per game — and having beaten France home and away in the Nations League during the past five months — the lack of a high-scoring centre-forward won't necessarily give Hjulmand issues, as it's not essential for the way he sets up his team. However, going into the tournament he would want his striking options — the likes of Kasper Dolberg, Martin Braithwaite, Andreas Cornelius (if picked) or Jonas Wind (if picked) — to register better recent tallies than they have been doing from club level. Winger Mikkel Damsgaard is also struggling to regain the momentum that saw him emerge as one of the most exciting attacking prospects of Euro 2020, while in goal, Kasper Schmeichel has faced adverse periods of form since he left Leicester for Nice in the summer, though his performances have picked up in recent weeks.
Star player: Christian Eriksen
Given Denmark's "team before individuals" ethos, the need for a standout profile is secondary. However, based on pure footballing talent, pedigree, the dramatic nature of his comeback and positive displays for Manchester United — let alone nearly 120 caps — Eriksen remains the most obvious candidate. From a more advanced midfield role than he plays at club level (more akin to the position he played at Spurs), Eriksen was excellent during the home win against France in September. The No. 10 dictated the rhythm of the game (70 passes over 90 minutes), identified the right spaces between the French defensive lines and orchestrated waves of attacks.
Projected starting XI
(3-4-1-2): Schmeichel; Christensen, Kjaer, Andersen; Skov Olsen, Hojbjerg, Delaney, Maehle; Eriksen; Braithwaite, Poulsen.
What the stats say
– Best World Cup finish: Quarterfinals (1998.)
– Denmark have reached the round of 16 in four of their previous five appearances at a World Cup.
FiveThirtyEight SPI: 56% chance to make the round of 16, 28% to make the quarterfinals.
Betting odds: +2800 (via Caesars Sportsbook)
Prediction
No matter how well they perform in qualifiers or previous championships, Denmark are never mentioned in the same breath as the traditional European or South American heavyweights. The Danes won't mind though; they'll embrace their underdog status and enter the World Cup as possibly the trickiest opponents to face. They have already shown they can compete with France, while with Australia and Tunisia as their two other Group D adversaries, Denmark should be confident of advancing to the round of 16. In fact, nobody should be surprised to see this well-balanced, diligent side make the latter stages and possibly even repeat last summer's feat of reaching a semifinal. — Tor-Kristian Karlsen.
---
Manager: Graham Arnold
Nickname: Socceroos
FIFA Rank: 38
How they qualified
In short, an absolute rollercoaster. At its commencement, the Socceroos looked like they were cruising through AFC qualification when they became the first nation to register 11-straight wins in a single FIFA World Cup qualifying campaign. However, the underlying weaknesses that were papered over by this streak eventually began to show and, as results began to align with performances, coach Graham Arnold slowly came under pressure. But wins over the UAE in the AFC fourth round and Peru in the intercontinental playoff — the latter in a dramatic 5-4 penalty shootout — secured the side a place at a fifth-straight World Cup.
Style of play
After starting his tenure by declaring that his side would play like Liverpool, Arnold has settled into a much more familiar and pragmatic style more attuned to his dominant Sydney FC sides. In Qatar, the Socceroos' approach will be built on principles of containment, physicality, mental battles and seeking to hit sides on the counter.
Biggest strength
The Socceroos are at their most threatening when they are able to get out in transition and run at their opponents — particularly when they win the ball high up the pitch on the few occasions they utilise a high press. As qualifying wore on and his side's position became more fraught, however, Arnold increasingly identified "Aussie DNA" as his side's biggest asset: a nostalgic call to the supposed spirit of a bygone age where "you kick, you fight, you scratch, you run till you drop and leave nothing on the park and have no regrets."
Biggest weakness
Given that they are at their best when getting out in transition and exploiting the physicality that Arnold has identified, it should perhaps come as no surprise that, like a great many nations around the world, the Socceroos struggle during extended periods in possession, particularly against a low block. Fortunately for them, this likely won't be too much of a problem against group opponents France and Denmark — the conundrum instead is the sheer disparity in the number and depth of top-end talent. The Socceroos have also at times proved wobbly defending against transition, which could play into their game against Tunisia.
Star player: Ajdin Hrustic
The Socceroos' preparations for the World Cup have been blighted by a wave of injuries and a dearth of minutes, none more concerning than those experienced by creative dynamo Ajdin Hrustic. One of the few Socceroos playing in one of Europe's Big Five leagues, their most skilled attacker and an important reference point in possession, Hrustic has seen a lack of game time at Eintracht Frankfurt — where he won a Europa League in 2021-22 — resulting in a move to Serie A side Hellas Verona in September. He was just beginning to find form only to suffer an ankle injury in late October. The Socceroos are bullish that he will be ready for Qatar, but any absence would constitute a major blow.
Projected starting XI
(4-1-4-1) Ryan; Behich, Souttar, Rowles, Karacic; Mooy; Irvine, Hrustic, Mabil, Boyle; Duke.
What the stats say
– Best World Cup Finish: Round of 16 (2006.)
– The Socceroos have been eliminated in the group stage in four of their previous five tournament appearances.
FiveThirtyEight SPI: 18% chance to make the round of 16, 6% to make quarterfinals.
Betting odds: +40000 (via Caesars Sportsbook)
Prediction
True to form, Arnold has presented a publicly optimistic outlook, telling ESPN in August: "My expectation is the second round." However, delivering on that target would be one of the shocks of the tournament and a more realistic target would be a first World Cup win since 2010. What is certain, though, is that predictions such as that will likely be used as motivation by this group. — Joey Lynch.
---
Manager: Jalel Kadri
Nickname: Eagles of Carthage
FIFA Rank: 30
How they qualified
Tunisia rode their luck to qualify, at no point giving an indication that they are a team who can make a big impact in Qatar. They won all three of their home games and away at a dysfunctional Zambia side to progress from their group, losing in Equatorial Guinea in the process, and were drawn in the third round of qualifying against Mali — the only one of the eight playoff qualifiers never before to reach a World Cup. Moussa Sissako's bizarre own goal in Bamako ultimately proved decisive, with the Eagles of Carthage largely content to neutralise their opponents at home having nabbed that fluke away goal.
Style of play
Tunisia will sit deep, absorb pressure, give little away and attempt to eke out every available minor advantage possible. Fans call the team's battling spirit "grinta," which is true for this particular generation, whose combative, workaholic midfield will need to compensate for ageing legs up top.
Biggest strength
Tunisia's reputation as being defensively stout and tough to break down may well be re-evaluated after their recent 5-1 demolition by Brazil, although it is worth noting that they didn't concede a single goal in their previous seven games, stretching back to the Nations Cup. Indeed, the Eagles of Carthage had only let in three goals in 12 matches throughout 2022 to that point, and they'll be looking to lean (heavily) on this infamous resolve during the tournament. Ageing legs also mean experienced heads, and the underdogs won't be overawed by the task ahead of them.
Biggest weakness
All of Tunisia's star attackers, with the exception of Seifeddine Jaziri, are the wrong side of 30, and it remains to be seen whether the likes of Youssef Msakni or Naim Sliti still have enough zip to truly express themselves against a higher level of opposition at the World Cup. Beyond the forward unit, there's also a lack of the kind of top-level quality and experience that both Denmark and France will bring to the table in Group D.
Star player: Wahbi Khazri
Msakni may be the more flashier of the forwards — and has a point to prove having missed Russia 2018 through injury — but it's Wahbi Khazri whose performances will likely be decisive in determining what Tunisia can achieve in Qatar. He's had a strange career, evolving from a creative midfielder who struggled to establish himself at Sunderland into a consistent goal threat and regular line-leader for club and country. He struck 10 goals for relegated Saint-Etienne last term, and Tunisia lost a dimension after he was missing with COVID-19 during the AFCON. He is struggling under new management at Montpellier, but he netted twice during the last World Cup, and from set pieces or open play he can trouble Tunisia's Group D opponents.
Projected starting XI
(4-3-3): Dahmen; Drager, Talbi, Ifa, Maaloul; Laidouni, Skhiri, Sassi; Khazri, Jaziri, Msakni
What the stats say
– Best World Cup finish: Group stage
– Tunisia have five group-stage eliminations, which is tied for 2nd most by a team that have never advanced. Scotland have 8.
FiveThirtyEight SPI: 47% chance to make the round of 16, 20% to make quarterfinals
Betting odds: +30000 (via Caesars Sportsbook)
Prediction
On paper, Tunisia don't have enough quality to progress. Australia represent eminently beatable opponents, but Denmark were among the toughest teams in Pot Two and could be tournament surprises. Even though confidence has been dented by that demolition by Brazil, Tunisia's defensive solidity gives them optimism of neutralising the Danes and troubling France, but realistically, neither side will be too concerned. — Ed Dove, ESPN Africa.
World Cup has 3 women set to referee matches in Qatar
Soccer WCup Female Referees
STEPHEN WADE n Tue, November 8, 2022
TOKYO (AP) — Japanese referee Yoshimi Yamashita knows that being one of three women picked to officiate matches at the World Cup — the first time a woman will be in charge on the game's biggest stage — is not simply about soccer.
Stephanie Frappart of France and Salima Mukansanga of Rwanda must be of the same mind. They are in a pool of 36 referees listed for Qatar — the rest are all men. FIFA has also named three female assistant referees in a pool of 69: Neuza Back of Brazil, Karen Diaz Medina of Mexico and Kathryn Nesbitt of the United States.Yamashita is aware that her selection put the focus on Japan's low ranking on most measures of equal pay for women, and in global studies of gender equality."I would be very happy if women could play an active role in sports in this way, and if sports and especially soccer could lead this," Yamashita said in an interview with The Associated Press. "In Japan, there is still a long way to go in the world of soccer (regarding participation of women), so it would be great if this could connect to the promotion of female participation in different ways, not only in soccer or in sports."All three have worked men's matches, and their World Cup debut comes in a Middle Eastern country where the role of women is closely prescribed.Frappart is the best known and has already worked men's games in World Cup qualifying, and the Champions League. She also handled the 2019 Women's World Cup final, and refereed this year's men's French Cup final.Yamashita has worked games in Japan's men's league, and has also been in charge of the Asian equivalent of the men's Champions League. She was also a referee at last year's Tokyo Olympics.Earlier this year, Mukansanga became the first woman to referee an Africa Cup of Nations match, leading an all-female officiating team."As always, the criteria we have used is 'quality first' and the selected match officials represent the highest level of refereeing worldwide," said FIFA referees committee chairman Pierluigi Collina, who worked the 2002 World Cup final. "In this way, we clearly emphasize that it is quality that counts for us and not gender."I would hope that in the future the selection of elite women's match officials for important men's competitions will be perceived as something normal and no longer as sensational."Yamashita said the difference in the men's and women's game was, of course, speed. But not simply that some men might run faster."It's the speed, but not just the players' speed," she told the AP. "Not the ball speed. It's just the game speed. It means for me I have to make quicker decisions — more speed."Then there's the stress, the largest stage, and the attention she is certain to generate at the World Cup."Of course, I think the pressure is huge," she said, "and I think I have a lot of responsibility. But I am really happy to take this duty and pressure, so I try to take it positively and I try to be happy."Though it's likely that all three will be in charge of games, it's not a given. They could alsobe used as "fourth referees" on the sideline. However, they cannot be used as assistants.Like many referees, Yamashita said her job was to stay out of the way and let the game shine."One of the big goals as a referee is to bring out the the attractiveness of soccer," she said. "I do my best for that, and I will do what I should at that time toward that end. So if I need to communicate with the players, I will do that. If I need to show a card, I will show a card. Rather than control, I'm thinking about what to do toward the big goal of bringing out the appeal of soccer."Yamashita conducted most of the interview with the AP in Japanese, but said she would use English and "facial gestures, body gestures" when communicating with players in Qatar."Usually when I give a card, I say nothing," she said, shifting to English. "But when I give a warning, I just tell them I'm not happy. They understand."